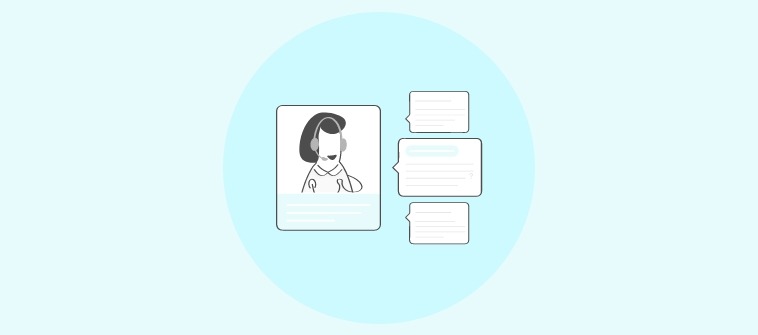 Are you struggling to keep up with a flood of customer inquiries and support tickets? If so, investing in customer service automation software may be the solution you need.
With the right software, you can automate repetitive tasks, such as responding to frequently asked questions and routing customer inquiries to the right department or agent. You can also use automation to prioritize urgent issues and ensure that your customers receive timely responses.
This can result in faster response times, higher customer satisfaction, and, ultimately, increased revenue and customer loyalty.
So, if you want to take your customer service to the next level, you must invest in the best customer service automation software for your business. This blog will explore the top software options available in 2023 and help you choose one that best fits your business needs.
What Is Customer Service Automation?
Customer service automation refers to the use of technology to automate customer support interactions and processes. This includes chatbots, automated email responses, self-service portals, and other tools designed to streamline customer service processes and improve the overall customer experience.
One of the key benefits of automated customer support is that it can help provide faster, more efficient support to their customers.
For example, chatbots can provide instant answers to frequently asked questions, eliminating the need for customers to wait on hold or navigate complex phone menus. Self-service portals allow customers to quickly find the information they need, such as order status or product details, without contacting customer support.
It's important to note that while automated customer service can be incredibly useful, it's not a replacement for human interaction. Sometimes, customers may still prefer to speak to a live representative, especially if their issue is complex or sensitive.
Therefore, it's important to strike the right balance between automation and personalized customer service to ensure that all customers receive the best possible experience.
Read More: What Is Automated Customer Service & Why It Is Important
Benefits of Customer Service Automation Tools
Customer service automation is crucial for businesses dealing with a rising tide of customers. Following are some of the most significant benefits of using customer service automation systems:
1. Reduces Customer Service Costs
Automation reduces costs by cutting down human intervention to a large extent. As you continue to grow, you will need automation to manage rising customers and their requests. Using an automated customer service tool means you can work even with a small team.
2. Reduces Human Errors
Using technology also reduces human errors. Even with easy tasks, agents can become complacent after a while and end up making errors. By automating customer service, human mistakes can be minimized, and agents can work more efficiently.
3. Capture Customer Feedback
Customer support automation can help you collect data about customer expectations through NPS (Net Promoter Score) and CSAT (Customer Satisfaction). With this data, you can identify reasons for higher churn rates, customer disappointment, and mid-purchase drop-offs.
Read More - 12 Channels to Capture Customer Feedback
4. Allows Round-the-Clock Support
Human agents can deal with customers only at certain times of the day, whereas service automation allows you to offer support 24×7. This works well for modern customers who prefer flexibility and convenience more than anything else.
For example, the majority of customers prefer a live chat function because it offers quick replies at any time, day or night.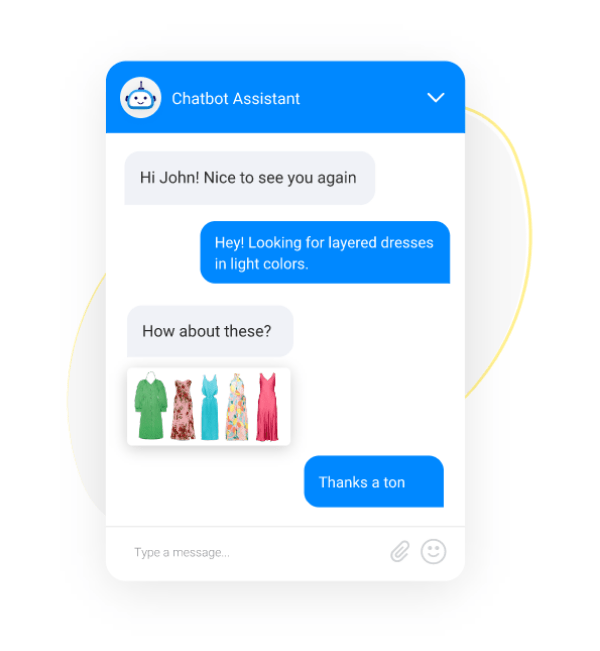 How to Automate Customer Service
Automating customer service can provide several benefits, including improved efficiency, faster response times, and reduced costs. It can also help you examine responses to uncover commonalities and customer expectations.
However, it's important to consider some factors to ensure that automation is successful and effective. These include:
Identify the right tasks to automate
Not all customer service tasks are suitable for automation. Start by identifying the most repetitive and time-consuming tasks that can be automated, such as handling common inquiries, directing customers to the right resources, or processing routine requests.
It's important to strike a balance between automating tasks that can be done without human intervention and tasks that require a personal touch.
Use the right technology
The technology you choose will depend on the type of tasks you want to automate. For example, chatbots or virtual assistants can handle simple customer inquiries, while more complex tasks may require machine learning algorithms or natural language processing (NLP). Make sure the technology you use is reliable and easy to use for both customers and support agents.
Provide a seamless experience
The customer experience should be seamless, regardless of whether they interact with a chatbot or a human representative. Make sure your automation strategy integrates with your existing customer service processes, such as call centers or live chat.
Provide clear instructions and feedback to customers throughout the process, and ensure they have an easy way to escalate to a human representative if needed.
Maintain a human touch
While automation can help reduce the workload for your customer support team, it's important to maintain a human touch. Ensure that your automation strategy includes a way for customers to connect with a human representative if they need additional assistance or have more complex inquiries.
Routing to live agents is one such example. Additionally, ensure your customer service team is trained to provide personalized support when needed, so customers don't feel like they're interacting with a robot. It should also explain techniques to meet customer expectations.
Monitor and improve
Once you've implemented an automation strategy, it's important to monitor its performance and make adjustments as needed. Use metrics such as customer satisfaction, response times, and error rates to evaluate the effectiveness of your automation strategy.
Make adjustments to improve the customer experience and ensure that your automation strategy continues to meet the evolving needs of your customers.
Read more: Top 15 Benefits of Chatbots for Your Business & Customers in 2023
15+ Customer Service Automation Tools
Following are the top 15 customer service automation tools to help you upscale your business and upsell your products and services.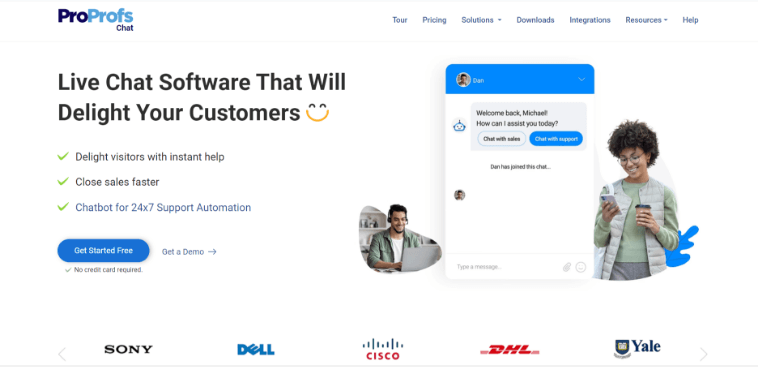 ProProfs Chat is an easy-to-use live chat tool that helps you proactively assist customers and answer their questions in real-time. It allows you to track customers' activities on your website and initiate conversations at the right time. Being a customer service automation tool, it offers canned responses that work well for repetitive questions.
In addition to this, you get detailed reports to track chat data, response time, and operator performance. The best part about ProProfs Chat is that it comes with a chatbot that can fully automate your customer support process.
Key features of ProProfs Chat
Boost automation with a 24×7 accessible chatbot.
Respond faster to customer requests with canned responses.
Share notifications in real-time to keep customers updated.
Connect customers with the right operators through chat routing.
Track customer ratings and improve operator performance.
Best for: A comprehensive online chat solution.
Suitable for: ProProfs Chat is best suited for businesses that provide customer service or support online, including e-commerce, software, and SaaS companies. It offers live chat, ticketing, and knowledge base features to enhance customer engagement and satisfaction.
Pricing: Starts at $0 for a single operator (View pricing and compare plans).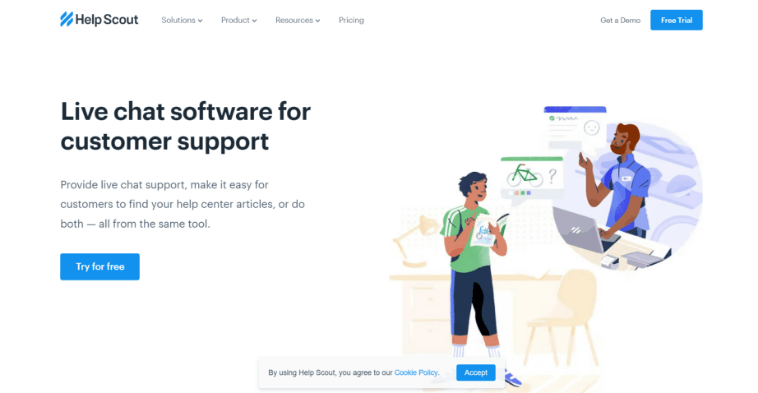 HelpScout is an all-in-one support platform perfect for your customer support teams. It helps you create a comprehensive knowledge base to reduce agent workload and offer self-service features to your customers. Seamless app integrations can help you connect with numerous chat, CRM, communication, and e-commerce tools.
You can even import Google users by integrating the tool with Google apps. HelpScout also offers real-time reporting and insights to evaluate your team's performance across channels. What's more, you can keep an eye out for trending queries searched by customers and create relevant content.
Key features of HelpScout
Send private notes to teammates to collaborate on customer issues.
Lead your customers to your knowledge base for quick problem-solving.
Beacon allows you to manage customer tickets and answer queries.
Prioritize tickets and manage escalations to expedite issue resolution.
Track your team's workload with detailed and insightful reports.
Best for: All-in-one customer service software.
Suitable for: HelpScout is suitable for businesses of all sizes looking for an affordable solution to engage customers.
Pricing: Starts at $20/user/month.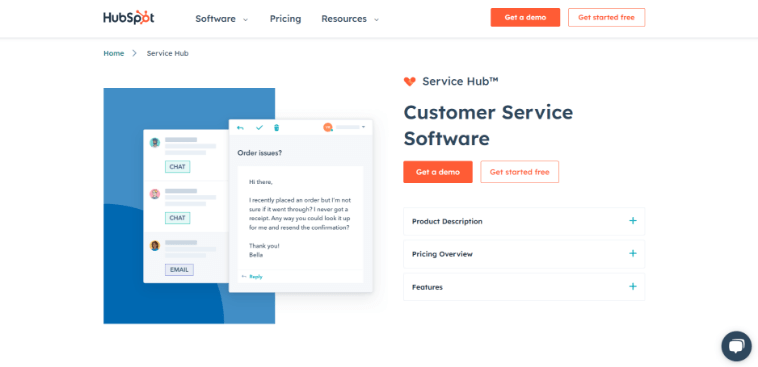 HubSpot is a free CRM platform that equips you with all the bells and whistles you need to manage customer relationships. It also helps you simplify customer service through its ticketing system that can track, assign, and route tickets to the right agents without manual effort.
You can create visual workflows to simplify automation that otherwise requires months of training. You can also build omnichannel marketing campaigns by referencing customer data from different platforms. All of this data can be viewed easily from a single dashboard.
Key features of HubSpot
Track, route, and consolidate customer tickets with its help desk system
Convert your FAQs into a searchable library of helpful articles.
Collaborate with your agents on complex issues using a shared inbox.
Connect with your website visitors in real time to generate leads.
Communicate with customers across various channels on a unified platform.
Best for: Inbound marketing and sales.
Suitable for: HubSpot is ideal for small to medium-sized businesses looking to streamline their marketing, sales, and customer service operations. It is particularly beneficial for companies to prioritize inbound marketing strategies and customer relationship management to drive growth and revenue.
Pricing: Starts at $45/month.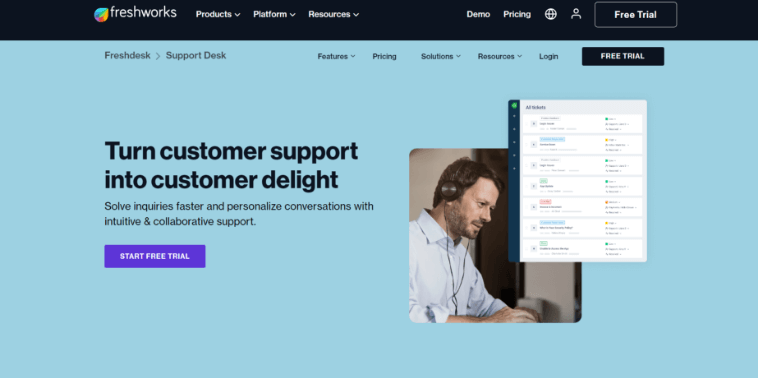 Freshdesk is an intuitive, cloud-based customer service software that allows you to organize your helpdesk and provide omnichannel support. You can improve your team's productivity through excellent ticketing software that converts issues into tickets and auto-assigns them to the right agents. It also offers collaboration features to help agents stay on top of tickets.
You can also consolidate tickets from all channels onto a single platform. Freshdesk includes a team inbox that helps agents prioritize tickets based on keywords.
Key features of Freshdesk
Manage customer emails and automatically convert them into tickets.
Integrate Freshdesk with over 1000 Marketplace apps.
Interact with visitors in real time and generate leads.
Offer a self-service platform to reduce support requests.
Collaborate with agents to offer quick answers to customer questions.
Best for: Omnichannel support.
Suitable for: Freshdesk is best suited for small to medium-sized businesses in industries such as IT, e-commerce, education, finance, and healthcare that require a robust helpdesk solution.
Pricing: Starts at $0(with limited features).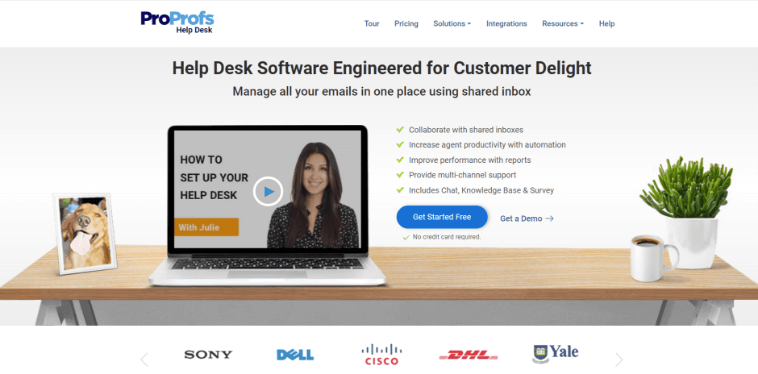 ProProfs Help Desk is designed to automate the process of customer support by bringing tickets generated across channels to a shared inbox. Once tickets are consolidated in a shared space, they are automatically routed to the right agents to ensure quick resolution. You can also share NPS and CSAT surveys with customers after support interactions.
Customers can connect with your team across multiple channels – live chat, email, web forms, etc., to raise tickets. What's more, you can also share self-help articles with customers for a top-notch support experience.
Key features of ProProfs Desk
Boost team collaboration with shared inbox.
Deliver convenience to customers through self-service portals.
Capture valuable customer feedback through NPS and CSAT surveys.
Build chatbots to offer 24×7 support to customers.
Measure agent performance and customer satisfaction through reports.
Best for: Centralized information and support management service.
Suitable for: ProProfs Desk is a versatile help desk software suitable for small to medium-sized businesses in various industries, including technology, education, healthcare, and retail. Its features can be customized to meet the unique needs of different businesses, making it ideal for those who require flexibility in their customer support solutions.
Pricing: Starts at $10/user/month.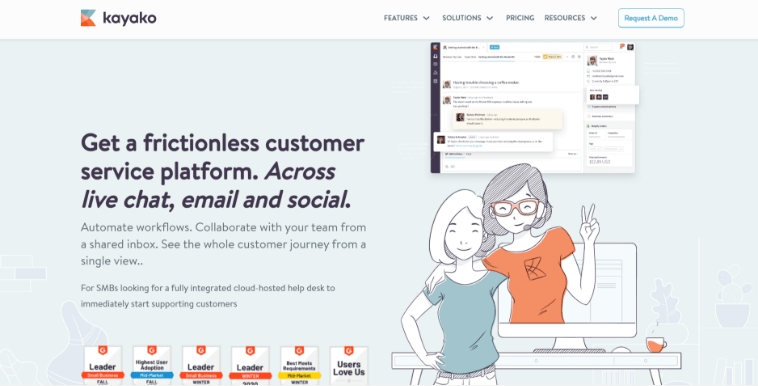 Kayako is a user-friendly customer service automation tool with an intuitive interface. Its ticketing software helps assign and route tickets automatically. It is flexible and built for teams of all sizes looking to manage rising customer issues. With the help of an internal inbox, it helps teams solve customer issues quickly and efficiently.
This tool helps offer contextual support to your customers by identifying their problems right from the start of the interaction with Kayako SingleView. Also, with its live chat feature, you can offer canned responses to customers.
Key features of Kayako
Offer 24×7 personalized support through live chat.
Keep your inbox tidy through custom view options.
Offer a self-help platform for quick problem-solving.
Accurately respond to customer queries with Kayako Single View.
Best for: Unified customer support inbox.
Suitable for: Kayako is best suited for businesses that need a flexible, customizable, and easy-to-use solution for managing customer support tickets and interactions. It is particularly useful for businesses that rely heavily on email as a primary support channel and need features like automation, team collaboration, and customer insights
Pricing: Get in touch with the company for a quote.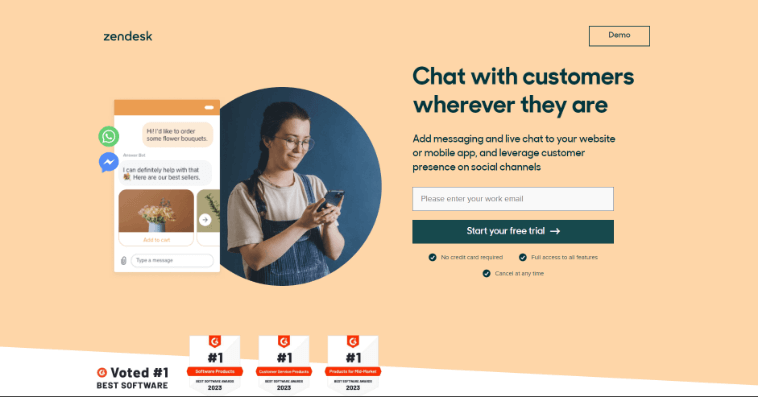 Zendesk is a powerful and flexible customer service tool perfect for a small business as well as large enterprises. As a holistic customer support solution, it helps you offer seamless support services to your customers across multiple channels, including emails, ticket forms, social channels, and live chat.
The tool consolidates all your customer data into a single platform for a 360° view of customers, so you can offer contextual and personalized support at every step.
Key features of Zendesk
Deliver engaging, personalized conversational experiences.
Offer a quick solution to your customers through a smart knowledge base
Stay connected with your customers with the help of messaging tools
Track customer service metrics with built-in reports and analytics.
Best for: Larger teams.
Suitable for: Zendesk is suitable for businesses needing centralized customer support, ticket management, and team collaboration platform. It is well-suited for small to mid-sized businesses, startups, and e-commerce companies.
Pricing: Starts at $49/month.
Read More - 10 Best Zendesk Chat Alternatives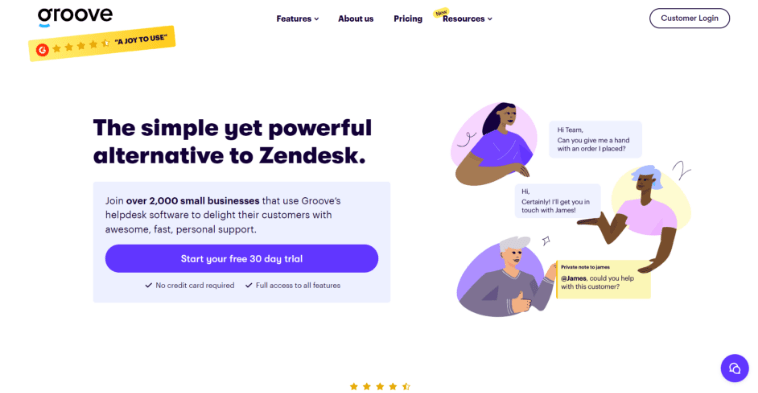 Groove offers a shared inbox for small businesses looking for a superior alternative to emails. Its omnichannel capabilities help you bring all customer conversations across email, chat, and social media, to a single platform.
The software comes with collaboration features which include internal notes, tagging and mentions, and task assignments. Groove also offers a knowledge base that can be quickly customized to your liking. After all, self-service tools are crucial for both your team and customers.
Key features of Groove
Organize your support emails and route them to the right people.
Offer round-the-clock self-service to reduce your support volume.
Do more with powerful integrations with Slack, Shopify, Recharge, Stripe, etc.
Communicate with team members through internal notes and tagging.
Best for: Native integrations.
Suitable for: GrooveHQ is a helpdesk software best suited for small to mid-sized businesses, startups, and e-commerce businesses looking for an easy-to-use and affordable customer support solution.
Pricing: Starts at $20/user/month.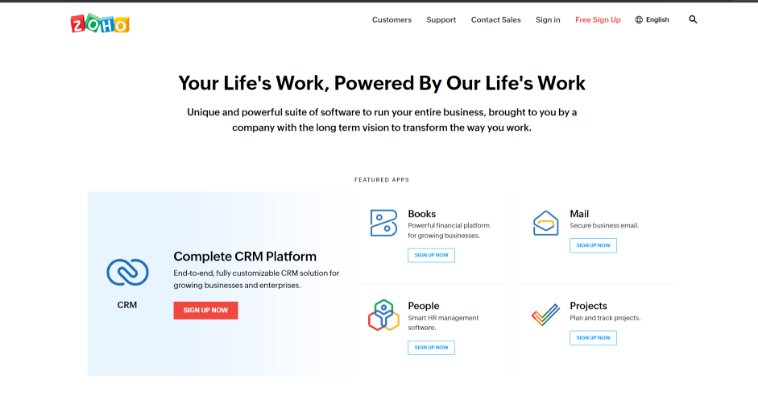 Zoho Desk is an omnichannel customer service tool that offers workflow automation and ticketing tools for quick tracking and routing of tickets. The workflows are the highlight of the tool as they allow you to visualize processes and find bottlenecks. This helps you respond to customer issues efficiently.
Customers can also access a searchable knowledge base that can be integrated with Google Analytics to gain deeper insights into customer behavior. What's more, Zoho Desk works seamlessly on mobile phones as it allows you to manage, track, and prioritize tickets on the go.
Key features of Zoho Desk
Boost the capabilities of your help desk through add-ons and integrations.
Engage with customers and convert chats into tickets.
Build a knowledge base that can be fully customized
Create a visual blueprint of tasks by assembling them based on conditions.
Best for: Sales focussed teams.
Suitable for: Zoho Desk is best suited for SMEs that need customer support software with comprehensive features such as ticket management, automation, reporting, and multiple integrations. It is particularly suitable for businesses with a remote or distributed workforce as it offers cloud-based access and collaboration tools
Pricing: Starts at $9.78/user/month.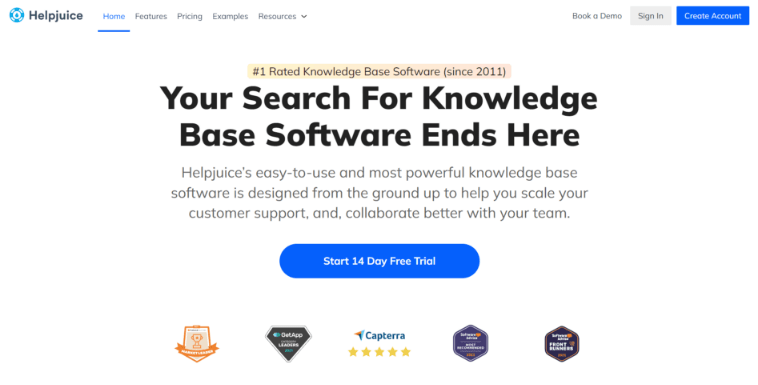 Helpjuice is a cloud-based knowledge base software that allows you to create a self-help knowledge base. Its key feature is that your business can get the knowledge base customized down to the T. If your brand follows strict protocols for formatting, color, and layout, then you should try this.
The tool allows you to view analytics for each of those articles to see which one makes an impact. In addition, you get insightful reports that offer deep insights into how well your knowledge base is performing. Such insights are instrumental in keeping your articles updated.
Key features of Helpjuice
Measure the performance of all your articles to view which one makes the most noise.
Optimize intelligent authoring tools to design content to the strictest brand rules.
Boost functionalities through robust integrations with Zapier, Olark, and other apps.
Effectively format your content with the help of content styling tools.
Best for: Powerful knowledge base software.
Suitable for: Helpjuice is a knowledge management software ideal for businesses of all sizes and industries looking to organize, centralize, and share internal knowledge effectively. It is beneficial for companies with a high volume of information and a need for streamlined, intuitive search functionality.
Pricing: Starts at $120/4 users/month.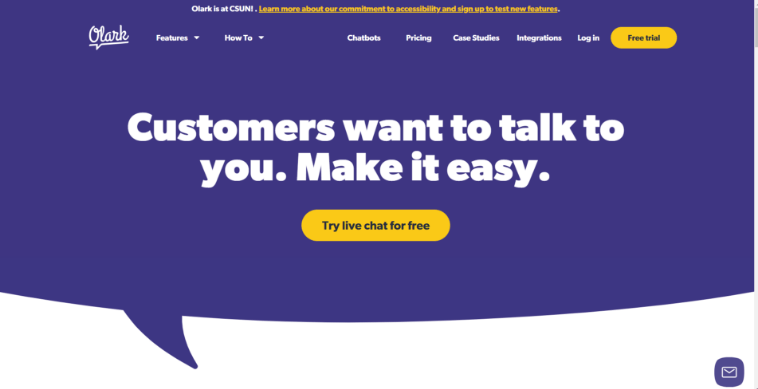 Olark is a cloud-based live chat software that allows businesses to provide real-time support to their customers. Its key feature is the ability to engage customers in meaningful conversations and provide personalized support. If your business is looking for a way to enhance customer experience and build strong relationships with your clients, then Olark is the tool you should try.
With Olark, you can monitor and analyze customer behavior on your website in real time. This enables you to proactively engage with customers, resolve their issues quickly, and provide the best possible support.
In addition to this, Olark offers a range of customization options, allowing you to match the chat widget to your brand's style and tone.
Key features of Olark
Offer customizable chat boxes that match your brand's style and preferences.
Analyze and monitor chat conversations to improve your customer service.
Access chat transcripts to gain insights into your customer's needs.
Integrate with other business tools such as Helpjuice, Zendesk, and Zapier.
Provide real-time chat support to engage with website visitors and answer their questions promptly.
Best for: Standalone live chat.
Suitable for: Olark is best suited for businesses that rely heavily on customer interactions and support, such as e-commerce, SaaS, and other online businesses. It is particularly useful for businesses that want to improve their customer engagement and provide constant support to their website visitors.
Pricing: Starts at $29/month.
Read More - Best Olark Alternatives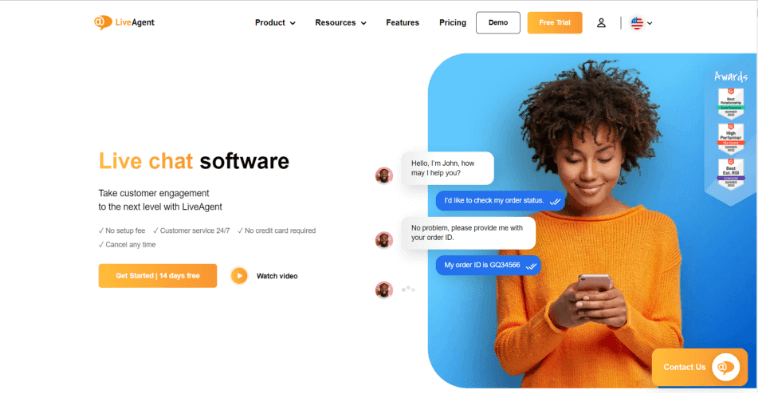 LiveAgent is a cloud-based customer support software that enables you to provide outstanding customer service through multiple channels, including email, phone, live chat, and social media. Its key feature is its ability to consolidate all customer communication into a single, centralized platform, making it easier for businesses to manage and respond to customer inquiries.
With LiveAgent, you can create a comprehensive customer service experience, from ticket management to live chat and social media integration. Its intuitive interface enables agents to manage customer queries efficiently, ensuring that they are resolved promptly.
Key features of LiveAgent
Easily manage and prioritize customer support with an efficient ticket management system.
Integrate with a range of third-party tools for powerful customer support capabilities.
Collaborate on customer support requests with features like internal notes, ticket assignments, and team inboxes.
Automate customer support workflows, including canned responses, tags, and rules.
Best for: Gamification.
Suitable for: LiveAgent is a versatile customer support software that can benefit a wide range of businesses, from small to large. It is particularly suited for businesses handling a high volume of customer inquiries across multiple channels, such as email, live chat, and social media.
Pricing: Starts at $29/agent/month.
Read More: Best LiveAgent Alternatives to Improve Customer Support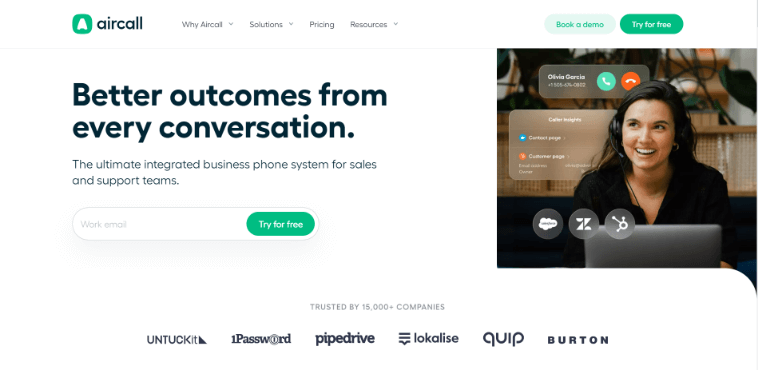 Aircall is a cloud-based phone system that helps businesses enhance customer enaggement. It is an AI-powered virtual assistant designed to help businesses handle customer inquiries and support requests. It uses natural language processing to understand customer queries and can provide automated responses or route conversations to the appropriate team member.
The tool also offers features, such as call routing and analytics, to provide a comprehensive communication solution for businesses. It can handle basic inquiries, gather customer information, and escalate complex issues to human agents.
It can also integrate with popular messaging apps such as Facebook Messenger and WhatsApp. Moreover, you can use analyticsto monitor and optimize your customer service performance.
Key features of Aircall
Efficiently manage your calls with detailed call metrics and insights.
Streamline your workflow by integrating Aircall with your favorite apps like Salesforce, Hubspot, and Slack.
Customize call settings and rules to fit your business needs with Aircall's advanced call routing.
Deliver top-notch customer service with Aircall's call monitoring and coaching tools.
Best for: Call center support.
Suitable for: Aircall is best suited for businesses that require a reliable and flexible cloud-based phone support system. It offers advanced call management features such as call routing, recording, and real-time analytics.
Pricing: Starts at $30/user/month.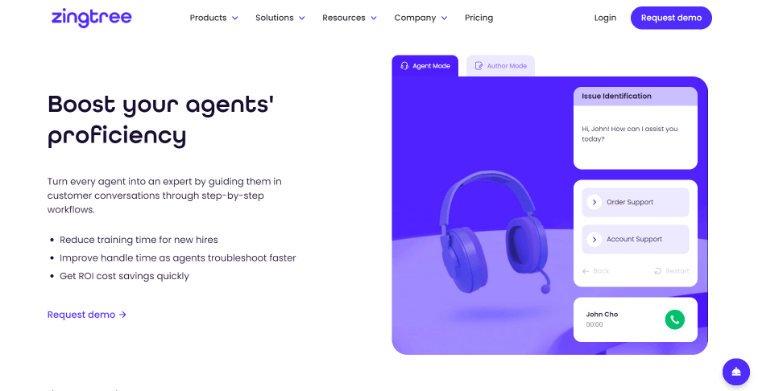 Zingtree is a customer automation software that helps businesses create and deploy interactive decision trees, troubleshooters, and process guides. It allows organizations to automate customer support, sales, and training processes by providing personalized guidance to customers. Zingtree offers analytics, integrations, and multilingual support to enhance the customer experience.
The software can be embedded in websites, chatbots, and other customer-facing platforms to provide 24/7 support. Overall, Zingtree simplifies complex processes, reduces customer effort, and increases efficiency.
Key features of Zingtree
Measure customer satisfaction by analyzing chatbot conversations to determine the most effective responses.
Use intelligent scripting tools to design chatbot conversations that align with your brand's messaging.
Boost productivity through robust integrations with popular business tools like CRM software, help desk software, and more.
Customize your chatbot's responses with advanced natural language processing and machine learning.
Best for: A comprehensive chatbot solution.
Suitable for: Zingtree is best for businesses that require interactive decision trees to automate customer support, troubleshoot issues, and guide users through complex processes. It's particularly useful for software, healthcare, e-commerce, and finance industries
Pricing: Starts at $25/user/month.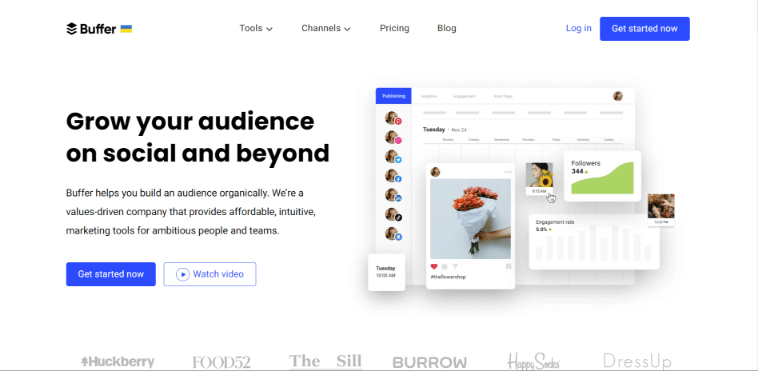 Buffer chatbot will help you manage your social media accounts and enhance customer engagement. It allows you to schedule posts, track analytics, and engage with your audience across multiple platforms.
The chatbot integrates with popular messaging apps like Slack, Facebook Messenger, and Telegram and can provide real-time alerts and suggestions based on user behavior.
With its AI-powered algorithms, Buffer makes it easier for users to manage their social media presence and grow their online communities.
Key features of Buffer
Schedule, publish, and analyze your social media posts to maximize engagement and reach.
Streamline your social media management with intuitive workflows and collaboration features.
Customize your posts with eye-catching visuals and easy-to-use editing tools.
Track your performance with advanced analytics and insights to optimize your social media strategy.
Best for: Social media management.
Suitable for: Buffer works best for businesses that require a user-friendly tool to manage their social media presence across multiple platforms. It is particularly useful for businesses that value scheduling, analytics, and collaboration features.
Pricing: Starts at $6/month(restricted to a single channel).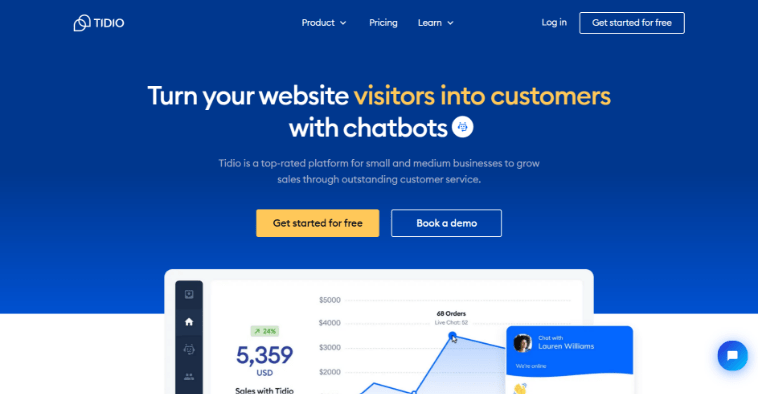 Tidio chatbot is a powerful tool that can help you streamline your customer communication and increase your online sales. It allows you to connect with your customers via live chat, email, and messenger apps like Facebook Messenger and Instagram, all in one place.
With Tidio, you can easily manage and respond to customer inquiries, set up automated responses, and track user behavior across multiple platforms.
Using AI-powered algorithms, Tidio can help you identify customer needs and preferences and suggest personalized recommendations to enhance their experience.
Key features of Tidio
Leverage customer browsing data to deliver hyper-personalized recommendations.
Automate chats with AI-powered chatbots that use natural language processing.
Get insights into your customer's browsing behavior to offer personalized recommendations.
Integrate your live chat with your existing CRM, e-commerce, and other third-party tools to provide a unified and consistent user experience.
Best for: A comprehensive customer engagement solution.
Suitable for: Tidio suits businesses looking for an affordable chat platform without compromising on features.
Pricing: Starts at $0(with limited features).
Read More - Top 11 Tidio Live Chat Alternatives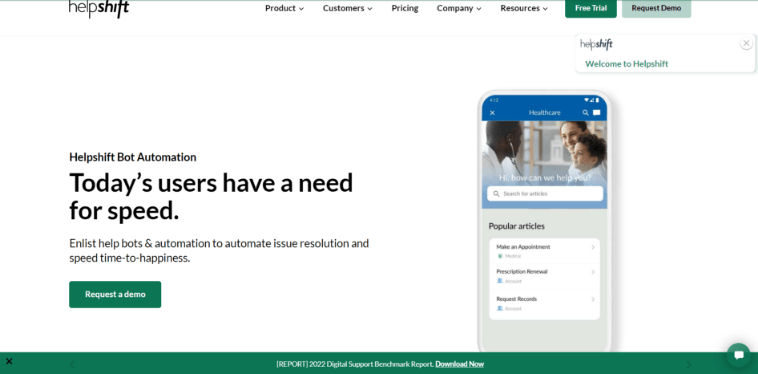 HelpShift chatbot is a powerful customer support solution that enables you to deliver exceptional customer experiences across multiple channels. It provides real-time customer support, automated ticket management, and in-depth analytics to help businesses gain insights into customer behavior.
The chatbot is designed to integrate seamlessly with popular messaging apps like Facebook Messenger and WhatsApp, allowing you to engage with customers on their preferred channels.
Powered by AI and machine learning, HelpShift's chatbot delivers personalized and contextually relevant responses to customer queries, helping you to improve customer satisfaction and loyalty.
Key features of Helpshift
Automate common, time-consuming tasks with Robotic Process Automation(RPA).
Understand customer intent automatically with help bots.
Leverage multilingual capabilities with 180+ languages.
Collect customer information automatically to generate and qualify leads.
Best for: Automated software solution.
Suitable for: Helpshift is suitable for businesses of all sizes looking for an advanced automated help center integrated with bots.
Pricing: Starts at $150/month.
How to Choose the Right Customer Service Software?
Customer service software is integral to providing high-quality customer service. It helps streamline communication between your business and customers, creating an efficient and seamless experience for everyone involved.
However, with so many options available, choosing the right customer service software can be challenging.
Define Your Business Needs
Before you start researching customer service software, it's essential to define your business needs.
What type of customer support service do you offer? What are the channels your customers use to communicate with your business? What metrics do you track to measure the effectiveness of your customer service?
Answering these questions will help identify the features and functionalities that the customer service software must have.
Determine Your Budget
Budget is a crucial factor when choosing customer service software. There are many options available, and the cost varies depending on the features and functionalities. Determine how much you are willing to spend on customer service software and look for options that fit within your budget.
Consider Integration Capabilities
Your customer service software should integrate with other business tools you use daily. For example, if you use a CRM system, your customer service software should integrate with it. Integrations save time and prevent data silos by ensuring customer information is up-to-date and accessible across all platforms.
Look for Multi-Channel Support
Customers use various channels to communicate with businesses, including email, social media, phone, and chat. Your customer service software should support multiple channels to provide a seamless and consistent experience across all these channels.
Evaluate Automation Capabilities
Automation can streamline customer service operations by reducing response times and improving efficiency. Look for customer service software offering automation features such as chatbots, automated ticket routing, and canned responses.
Check User-Friendliness
Your customer service team will use the software daily, so it's essential to choose user-friendly software that doesn't require extensive training. The software should have an intuitive interface and simple navigation, enabling your team to quickly access customer information and respond to queries.
Review Customer Feedback
Feedback from existing customers can provide valuable insights into the pros and cons of different customer service software. Look for reviews on popular websites such as G2, Capterra, and Trustpilot to evaluate customer satisfaction and identify any recurring issues.
Upscale Your Business With the Top Customer Service Automation Software
The top 15 customer service automation software listed in this blog have been carefully selected based on their features, functionalities, and user-friendliness. These software solutions offer an array of benefits to businesses, including improved customer satisfaction, increased efficiency, reduced workload, and lower operational costs.
Whether you are a small business or a large enterprise, incorporating customer service automation software can give you a competitive edge in the market. With the right software solution, you can streamline your customer service processes, build stronger relationships with your customers, and ultimately drive growth and success for your business.
Take your customer service to the next level and enhance your business performance in 2023 by investing in one of these top 15 customer service automation software today.
If you are looking for a comprehensive solution that offers advanced automated chatbots and robust integration options, ProProfs Chat can be your best bet. So, why wait? Get started today!
FAQ's On Customer Service Automation Software
ProProfs Chat can automate your customer service by providing a range of AI-powered features such as chatbots, canned responses, and auto-triggers.
The chatbots can handle basic queries and provide instant support, while canned responses allow agents to quickly respond to frequently asked questions.
Auto-triggers allow the system to proactively engage customers based on their behavior on your website. These features can help reduce response times, increase efficiency, and improve customer satisfaction.
To know if your automated customer service is working, track metrics such as customer satisfaction scores, average resolution time, and response accuracy. Conduct customer surveys & gather feedback to improve the system.
Additionally, conduct A/B testing to compare the effectiveness of the automated service with human interactions.
Automating customer service offers several benefits, including faster response times, 24/7 availability, and reduced costs.
By using automated technologies such as chatbots, you can efficiently handle routine customer inquiries and free up customer service representatives to focus on more complex issues.
Additionally, automation can provide a consistent and personalized customer experience, increasing customer satisfaction and loyalty.
Do you want a free Live Chat software?
We have the #1 Online Live Chat Software for instant customer support 24x7