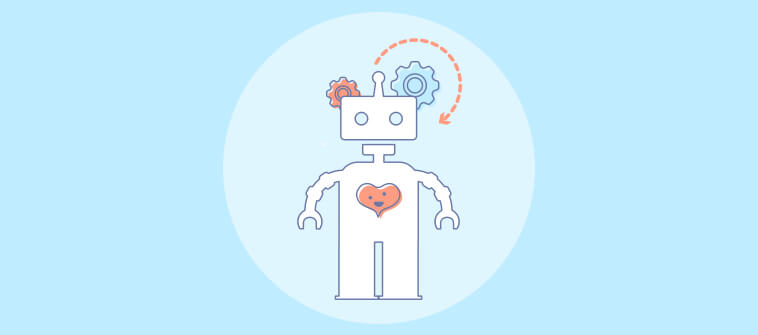 Email marketing stands out from the crowd of digital marketing strategies as it boasts a successful median ROI of 122%.
But, of course, you can't build a house without bricks, and you can't use email marketing without an email list. That's why adding a chatbot to the concoction will help you capture and increase your existing email list hassle-free.
While there are other ways such as buying lists, using a free email finder, or driving sign-ups with social media, chatbots will allow your business to capture the right amount of information that needs your email list to grow further.
So let's skip the noise and focus on what works – using chatbots to gather customer data.
Why Chatbots Work For Email List Building
You've probably realized that most customers prefer to communicate over chat. It's faster, more convenient, easier to use, and doesn't require much effort on the customers' part. In addition, many consumers expect to see chatbots – especially those browsing the websites of organizations in the retail, healthcare, utility, entertainment, and financial services sector.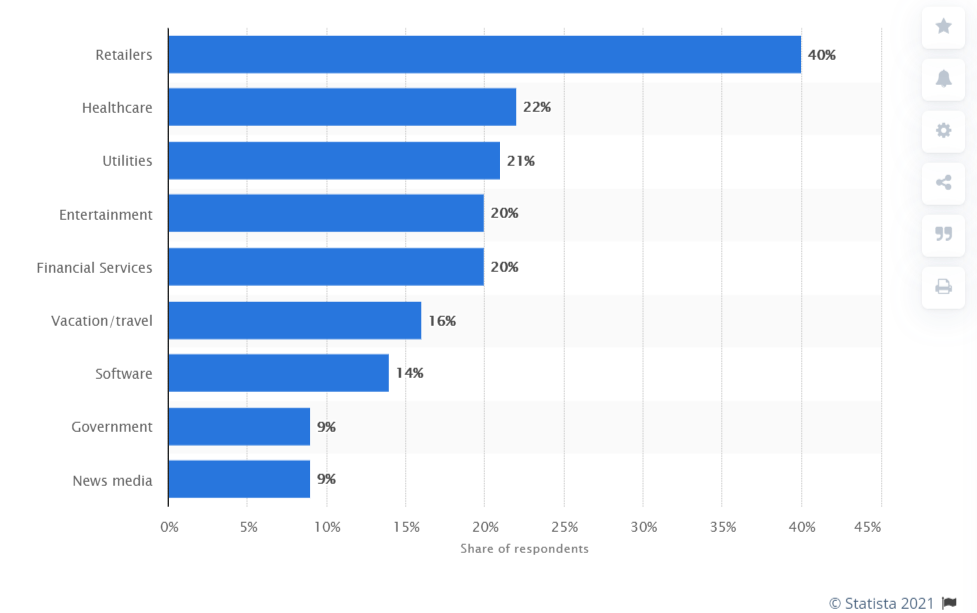 Source: Statistica
Naturally, building your email list with a chatbot or Facebook messenger bots makes perfect sense. Using chatbots to interact with customers will help you collect email addresses and consumer data for your email marketing campaigns quickly.
We could go on and on, but the bottom line is that chatbots get the job done for email campaigns. Here's why.
They Build Relationships With Customers
The process of getting a customer's email address is like making a new friend. You want to build a relationship first by having an entire conversation about relevant information before asking for an email address.
Chat communication is personal, and a customer will only answer questions if they feel like they're having a conversation. Your chatbots can help you gain the user's trust if it successfully engage them in a relevant and entertaining conversation.
Chatbots can do what social media posts, blog posts, and advertisements cannot: have a conversation.
They Allow You To Collect Data 24×7
Another reason that chatbots are fantastic is that they allow you to collect data uninterrupted.
Unlike human users who can only work during certain hours or operate from different time zones, chatbots can collect data round the clock. They are always ready for customer service conversations, making them ideal for email marketing.
How To Get Email Subscribers With A Chatbot
So how do you go about setting up a chatbot and getting users to give you their email addresses? Let's walk you through it step-by-step.
Step 1. Build A Chatbot And Design Your Dialogue
Start by finding a chatbot builder that works for you. We recommend ProProfs ChatBot, which you can demo here.
You want to pay extra attention to how you set up the dialogue because it's critical. If you're having trouble coming up with a conversation, try checking out some of these chatbots.
You may notice that many of these chatbots speak naturally. They are likely using Natural Language Processing (NLP) – which tailors the chatbot's response to the visitor. Here's how NLP works:
Step 2. Connect Your Chatbot To Your Email Marketing Platform
Make sure you integrate data from your chatbot and email marketing platform to create automated subscriber lists easily. Automated subscriber lists will add new subscribers for you as well as remove people who click "unsubscribe."
This is a very convenient way to build an email list, as automated lists will reduce the amount of manual labor you and your team need to do because you won't need to maintain your email list.
Step 3. Test Your Chatbot
Most chatbots fail because people don't test them regularly. Remember, you're trying to build an email list. You need your bots to be effective in gathering customer data while leaving a good impression.
Don't waste time with long, complicated messages. Get straight to the point in your online chat. Your bot needs to be informative, accurate, and exceed the user's expectations. If you do this right, you're guaranteed to succeed.
Testing will also ensure that you iron out any kinks in the process. Sometimes, chatbots have issues you wouldn't see unless you used them multiple times. Here are a few things to look for:
Is the chatbot quick to respond?
Does the conversation flow?
Can the chatbot identify the question and respond accordingly?
Does the chatbot provide a consistent experience to mobile and desktop visitors?
You'll need to adjust your chatbot based on your answers to those questions. If you are using a ProProfs Chatbot, this guide can help you make sure you have set your bot up correctly.
Tips For Optimizing Chatbots For Email List Building
Now that we've walked through the set-up process, you're ready to put your chatbot to work. Here are four tips to help you succeed.
1. Use Triggers
Using triggers is a great way to optimize your chatbot's performance. Essentially, triggers make your bot behave a certain way or perform a specific action when certain conditions are met. The conditions could be as simple as someone visiting a page for the first time or a return customer coming back to the site. As soon as the action is performed, a pop-up window will appear.
Using triggers can help you choose when to make the chatbot ask for the visitor's email address. If you time it perfectly, your chances of getting an email address are better.
You should also use triggers to send email addresses at peak times.
For example, you don't want to be sending emails in the middle of the night and disturb someone if their notifications are on. Not only is this annoying, but disturbed sleep can lead to poor productivity, health, and wellbeing. It also increases the odds of your customers unsubscribing from your emails.
Therefore, always consider the best time to send an email, depending on your niche, audience, and your email's contents.
2. Offer Incentives To Customers
If you want customers to hand over their email addresses, then you should incentivize them. Fortunately, you can convince visitors to give you their email addresses by providing value during a chat.
As soon as a conversation begins, you should provide users with customized information about sales, discounts, and offers available to them. For example, you could throw in free items like ebooks, promo codes, or even limited discounts if they sign up in a given time frame. You can also host an occasional giveaway (but make sure you time this right, so it doesn't lose its charm).
Incentives are a great way to create a loyal email list with a chatbot. However, remember that users need to opt into your freebies and shouldn't feel forced at any point.
3. Ask For Data At The Right Time
Asking for user data upfront can be a little uncomfortable, especially for new visitors. You want to connect with and build a relationship first before you ask. If possible, aim to bring value to the visitor before asking for their data.
After getting the data for your customers, you need to implement the DMARC policy and take other email security measures to ensure that customer's data is safe from attacks.
Users are more likely to share details when they're looking forward to what you have to say, or they want to hear more about something in particular. You can leverage this by giving a hint and then providing the rest of the information after they hand over their email inbox address.
Once you've already asked for user data and gotten no answer, you might want to follow up in case they've been busy. But don't do this too often because it may be overwhelming. Make use of this follow-up email template to make sure you're not coming off as annoying.
4. Add Chatbots To Both Your Website And Social Media Accounts
If you're going to use chat marketing, especially for an online store, you need to ensure that you reach customers by adding chatbots to your social media accounts. This is a no-brainer, and anyone who understands the importance of social media is already doing this.
You should also add chatbots to your website for all your online businesses. To optimize their performance on your site, design your web pages to push users to your chatbot. For example, using the rule of thirds on your webpage will make the chatbot look subtle yet noticeable at the same time. Here's an example from the ProProfs Chat homepage.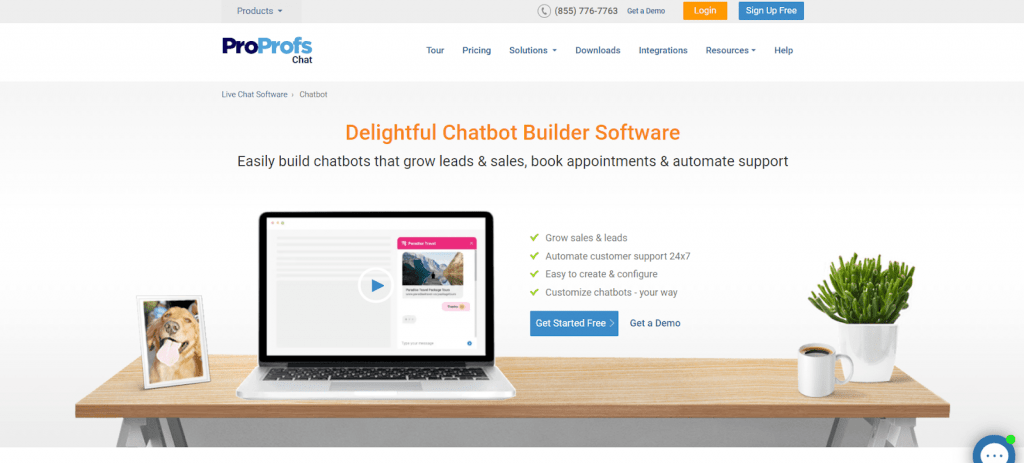 Smart marketers will make their websites, and social media accounts capture attention without completely stealing the spotlight from the chatbot. You've got to find the balance between an in-your-face chatbot and an invisible one.
Get Creative With Your Chatbot
If you've read through this article, you now have some of the top tips for creating and using chatbots to boost the number of email addresses you collect. If you've set up your bot well and done everything right, you're bound to succeed – provided you stay true to your brand and customers.
Don't forget to get creative with how your bot interacts with customers. If your brand has something unique that your customers appreciate, make sure your bot brings that same spirit with the dialogue you set up.
Keep things informative, helpful, and personalized, and then sit back and let the email addresses roll in.
Do you want a free Live Chat software?
We have the #1 Online Live Chat Software for instant customer support 24x7