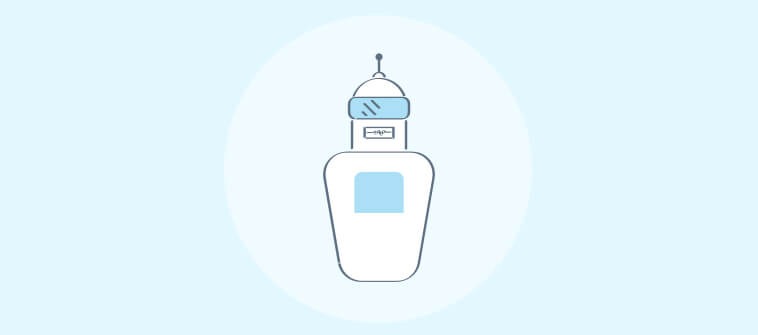 We've come way ahead of the time when what is a chatbot was the talk of the town.
It is one of the most effectively used customer service platforms to delight customers while equipping your reps to handle more than usual. Whether it is to get information on order tracking or simply raise a support ticket, the use of chatbot in the customer service industry has definitely expanded.
What's more, businesses belonging to different sectors understand that chatbot software can help them manage their incoming support requests and streamline them as per priority.
That's just from the business point of view.
According to a study by Statista, 40 percent of U.S.-based consumers state that they have used chatbots to engage with the retail industry.
These benefits of chatbots do encourage businesses to incorporate one into their website. However, some still feel the need to be convinced further about chatbot technology before investing in one right away. In case you're one of them, then our chatbot beginner's guide is here to help you out.
In this quick guide, we aim to explore:
Let's dive in!
What is a Chatbot?
Chatbot, an artificial intelligence (AI) software, helps a business simulate human-like interactions. Using a chatbot, a business can offer digital assistance for commonly asked questions, provide order status, and more.
The customer support tool can be deployed on multiple platforms such as social media like Twitter and Facebook, business websites, and others.
That's how a chatbot conversation may turn out to be like. It'll be your customer's virtual assistant, helping them find answers faster. At the same time, it will help you streamline support requests and reduce incoming chat conversations for operators to manage.
Besides this, chatbot for customer service will also help your business to:
Offer guidance to visitors if they've spent too long searching for products or services on your website
Capture leads and helps you store them automatically to your customer relationship management and email marketing tool
Simulate human-like conversations in case your operators aren't online and answer frequently asked questions
If you thought that's all to the chatbot introduction, then think again. In the next section, we plan to explore how AI chatbots work and how they can be implemented for your business in detail.
How Does a Chatbot Work
A lot of businesses before adopting a chatbot to their support process end up asking "how do chatbots work?"
That's probably because these virtual assistants are new to a lot of sectors even though they were first introduced to the world in 1966 at MIT in the form of ELIZA. But over the years their use, language, and conversation style have taken a 360-degree turn.
Today, chatbots don't sound like a bot on your website.
That's because they work on the basis of three classification methods. These methods are inclusive of the following.
Natural Language Understanding (NLU)
Natural language understanding or NLU is seen to be a chatbot's ability to understand what a human says during a conversation by converting the text into structured data. This is done on the basis of three concepts which are entities, context, and expectations.
While entities describe an idea to your chatbot, context helps it to identify the request that has no previous conversation history. As for expectations, that is something a chatbot must fulfill when a customer asks a question.
Pattern Matching
Another classification method you should know of is pattern matching. Chatbot technology makes use of pattern matches to produce a response for your website visitors. Bots use Artificial Intelligence Markup Language (AIML) to create a structured model for the identified patterns. Once it identifies a structured pattern in the conversation, it is easy for the chatbot to identify these patterns and build up a conversation accordingly.
Natural Language Processing (NLP)
Natural language processing or NLP is a process where bots are designed to convert the text of a conversation into structured data. Once the data accumulated, it is further used to choose a relevant answer by the bot.
During this process, you'll see the chatbot working through the following steps.
Tokenization where bot filters a set of words in the form of tokens
Sentiment analysis that helps a bot interpret the user's emotions
Normalization where the bot check any typo errors that can give a different meaning to the user's query
Entity recognition that helps the bot ask for information required for different categories
Dependency parsing where the bot searches for common phrases to convey an answer to the user
These three classifications enable the chatbot technology to simulate human-like conversations and help your business to offer instant support to customers.
---
Learn: Essential Chatbot Features to Consider in 2022
---
What is an Artificial Intelligence Chatbot? How are they Implemented in a Business?
Artificial intelligence chatbots harness the power of data processing by making use of artificial intelligence to improve the quality of the conversation with visitors on the website. In fact, AI-powered chatbots help you understand visitors' intent and enable them to arrive at a decision.
These AI-powered chatbots can be used for:
Offering enterprise support where you integrate chatbots to the backend such as customer relationship management or inventory management. It helps you offer information on orders faster than operators.
Providing help to customers at the call center by helping them scheduling their appointments, offering them account balance details, and more without involving operators.
Offering support as a digital assistant just the way Apple's Siri, Microsoft's Cortana, or Google's Alexa offer to their users. They become the personal assistant to their users and help them navigate through their activities.
While these may be counted as benefits, they do not tell the whole story. There are more reasons why businesses prefer implementing a chatbot on their website.
Growing Importance of Chatbot for Your Business
In this section, we aim to explore some of the reasons why we see the importance of chatbot growing in the market today.
Please note: These reasons aren't restricted to the ones mentioned below.
Connect Faster with Visitors
With chatbot technology, businesses get to connect with their website visitors faster than ever. No more do they have to wait for their prospects to perform a certain website behavior and initiate a chat. Simply set a welcome message that encourages your visitors to connect with your chatbot in real-time.
Offers 24×7 Support Anytime, Anywhere
Unlike the traditional support platforms such as email or phone, a chatbot on your website helps you address client queries irrespective of the time of the day or place. You don't need an actual operator 24×7 to address frequently asked questions when a chatbot is integrated with your website. It gives you the liberty to never miss out on support or sales opportunity, and manage incoming requests with greater efficiency.
Capture Leads in Real-Time
While we see lead generation forms across various websites, they still fail to capture the relevant client data that is critical to call a lead a prospect. However, a well-integrated chatbot can easily perform the lead generation task and assist your business in the identification of market-qualified leads.
Showcase Product Suggestions
Chatbot software can also help your business to showcase product suggestions besides simply answering frequently asked questions or conversing in a specific pattern. You can either see product suggestions in multiple-choice format or a single one that matches the relevant page.
---
Learn: Chatbot Marketing: What it is & How to Implement it
---
Reduces Support Cost
The use of a chatbot also helps your business to lower support costs easily. That's because chatbot software doesn't need an operator intervention unless the chat is actually transferred to an operator for an in-depth support request.
This also means that your chatbot can manage all the frequently asked questions or order management queries while directing only technical queries to your operators. That's where you get to reduce the manpower of your support team and invest that saved capital elsewhere.
Besides these reasons, you may also come across the following important benefits that help you see what a chatbot can do for your online business.
Reduces customer wait time
Improves real-time engagement
And the list goes on. These benefits of chatbot highlight their importance for online businesses and why they should be implemented in the first place.
Top 3 Chatbot Use Cases
Now that we've understood the benefits of chabot and why it is important for your business to implement one on the website, it is time we take a look at some of the use cases for it.
Let's dive in.
Use Case #1: Customer Service
Did you know that 64% of internet users say 24-hour service is the best feature of chatbots?
Chatbots have swept the customer service industry in a matter of 3-4 years now. That's probably because both businesses and their customers like how this support feature is available 24×7 on a website to offer support to people. It's like a win-win situation for all when a chatbot is implemented on the website.
Some of the popular customer support use cases are as follows:
Offering support on social media is one of the latest use cases for chatbot for customer service and support. Businesses can integrate a chatbot on their social media pages to help their followers find answers to some of the frequently asked questions easily.
Offering support on online websites is another chatbot user case that has become quite popular. It's easy to spot them on websites and offer instant, spontaneous support to customers looking for information.
Offering in-app support can also help you manage and answer FAQs. This customer support use case also engages people in real-time.
Use Case #2: Sales
Sales are yet another field where we see multiple use cases for chatbots. Some of the popular use cases for chatbots are inclusive of the following.
Capturing leads is one of the most popular use cases for chatbots in sales. You can program your chatbot and create a conversation pattern where you get to capture more details about your customers than a normal pre-chat form does.
Segmenting your audience in the right category of buyers and non-buyers. This helps your sales team understand which leads should they work on nurturing and which won't convert for your business.
Enabling your business to book appointments for customers during an ongoing chat is yet another use case for a chatbot for sales.
Use Case #3: Marketing
Besides being used for customer support and sales, chatbots are increasingly being used for marketing purposes as well. Some of the popular marketing use cases for chatbots are as follows:
Sending personalized notifications where the chatbot addresses the visitor by their name and remembers whether it is their first visit on the website or not.
Sending product recommendations to customers during an ongoing chat or before the conversation initiates.
Initiating a proactive conversation with the visitor in case they've been on a page for long.
How to Build a Chatbot
There are two basic ways to build a chatbot for your business. The first way is to make use of a chatbot platform and the other is to create one from scratch.
But before you start working on building your chatbot, you need to consider the following stages.
Stage 1: Understand and Define Your Objectives
You need to understand and define your need for a chatbot. Understand how its use can help your business on a daily basis.
Stage 2: Identify the Right Channel
You also need to identify the right channel to place your chatbot on. It can be your website or mobile app or your social media platform pages. You need to select the right channel on the basis of engagement.
Stage 3: Work on Responses
You need to decide the conversation flow of your chatbot and that's only going to happen when you train our bot for the responses it offers to people during an ongoing chat. Add relevant links to FAQs or offer multiple options when the conversation flow changes.
Stage 4: Synchronize the Voice & Tone of Your Chatbot
This is one of the most important stages of building a chatbot for your business. When you work along with your chatbot, you need to decide what tone and voice will your chatbot have while interacting with visitors on the website. If you'd like to match it with your operator's friendly and empathetic tone, then you need to customize its conversation flow accordingly.
Stage 5: Identify Areas Where Operator Needs to Intervene
While adding a chatbot is a great idea to streamline your support process, you need to make sure that your visitors get the opportunity to connect with an operator when the need be. Identify the areas in your chatbot conversation flow where you get to introduce the operator to visitors so they find a solution faster.
Stage 6: Preview, Test, & Implement Chatbot
Finally, you need to test your chatbot and see if it maintains the conversation flow for which you trained it in the first place. However, changes are an ongoing process and you can make them even when they are live on your website.
Once you follow these six stages, it'll be easier for your business to build and implement a chatbot on your website.
Now, let's take a look at how you can build a chatbot for your website with a chatbot builder.
Please note: We are using ProProfs ChatBot as an example here to help you learn how the building and setting up process actually takes place.
Let's get started!
Step 1. To create a new ProProfs ChatBot, go to Settings from your ProProfs Chat dashboard >> then select Bot and click Create New Bot.
Step 2. When a ChatBot template like in the screenshot below appears, click Edit to start creating your customized ProProfs ChatBot.
Step 3. Here's a screenshot explaining how to customize a ChatBot template.
1. This box is called the 'Interaction Panel.' You can click anywhere inside it to customize it.
2. Alternatively, you can find the Edit option in the more options menu (3 vertical dots). Doing so will slide-open the 'Interaction Panel' for customization, as shown in the screenshot below. Let's see all the customization options it offers.
1. Customize the 'Interaction name.' The first interaction panel is ideally meant for welcoming the visitor to the chat. The 'Interaction name' is only meant for recognizing this particular interaction message or response. It's not visible to the visitor.
2. Enter the welcome message here. For example, 'Hello there! I'm ProProfs ChatBot.'
3. If you want your visitor to respond to this particular message, enable the option 'Would you like the user to respond?' Since this is simply a welcome message, you may not want the visitor to respond to it.
Note: If you enable the option 'Would you like the user to respond?,' the Bot will wait for the visitor's response before sending the next message.
When you're done, click Save. Your Bot's first interaction message is ready. You can click Preview to see how it appears in a chat.
Here's how the message appears to the end-user.
Based on the current message (and on the visitor's expected response, if applicable), you can create your next message or response by clicking on the + button.
For example, the Bot could next ask the person's name. Follow the numbering in the screenshot below to see how to create such a response.
1. Enter the 'Interaction name' and your response.
2. Since it requires a reply from the visitor, enable the option 'Would you like the user to respond?'
3. Select the most appropriate 'Response Type' for your question. For example, you're asking the visitor's name, so it's suitable to select 'Text Response'. This allows your visitor to type in their name. Similarly, you can choose a different 'Response Type' according to the nature of your question.
Let's take a quick look at what each 'Response Type' means:
Multiple Choice: Use this when you want the visitor to make a choice. For example, you can ask them which product they are interested in from the available options
Text Response: Use this when you want the visitor to write their response. For example, their name, email, query, etc
Date & Time: Use this in case you want to fix a call appointment with the visitor
Choose from a list: Like 'Multiple Choice,' the options are shown in a list from which the visitor can select one
KnowledgeBase: Use this to share some of our help articles (Requires ProProfs Chat integration with ProProfs Knowledge Base)
Send to Operator: Use this to enable the visitor to transfer the chat from the Bot to an operator
When you've created the next response, click Save. The screenshot below shows how the interaction flow appears so far.
You can continue to add more responses by clicking the + button. You can also click on the + button between two 'Interaction panels' and modify the interaction flow if you want.
Here's an example of how the ChatBot messages appear in a chat window.
And there you have it! It's that easy to create your own chatbot with the use of the software. While it is easy to create or edit an existing template in your chatbot builder, it can be quite a task if you have to create one from scratch.
Except, some chatbot builders today enable their users to create one from scratch and help you learn how to set up chatbot on your website easily. That's right, you get to decide your conversation flow and design your specific type of chatbot in a matter of a few minutes. In case you'd like to see what all types of chatbots you can build for your business from scratch, then read the section below.
Types of Chatbots & Examples
In this section, we'll explore some of the popular chatbot types and examples that different businesses can refer to build one for their own website.
Type 1: Natural Language Processing or NLP Chatbots
This messaging platform uses AI technology such as natural language processing to understand and map out the intent of the conversation.
As you can see in the chatbot example above, the one equipped with NLP sounds more like a conversation. Here it understands the intent of the conversation and explains to the visitor how they can get the best deal easily.
Type 2: Social Messaging Chatbots
You would also find social messaging chatbots to be quite popular today. They are used for providing support and marketing products or services via recommendations.
In the above chatbot example, you can see how the chatbot approaches the buyer via their social media page and asks them what they are looking for. Based on the preference, the chatbot pulls out options that the buyer can check out immediately.
Type 3: Voice-Enabled Chatbot
You will also come across voice-enabled chatbots as well. These are inclusive of popular examples such as Siri from Apple, Alexa from Google, and Cortana from Microsoft.
The voice enables chatbot such as these to help users to manage their daily tasks or find necessary information faster. In case you'd like to create one for your business, then you will have to make use of text-to-speech and voice recognition APIs. You can say that these two are the heart and soul of voice-enabled chatbots.
Type 4: Scripted Chatbots
Another type of chatbot that's become popular is the scripted chatbot. The interaction that takes place with the visitor happens on the basis of a pre-defined knowledge base.
In the example above, you can see how the chatbot offers multiple knowledge base articles for the customer to read for different scenarios. This helps the customer get an answer faster and avoid losing time getting a solution.
Type 5: Service/Action Chatbot
For this type of chatbot, you present a few options from which the customer chooses one and the conversation flow takes place based on that. Your options encourage the customer to take a specific action and help your chatbot towards the same concern faster.
As you can see in the example above, Domino's uses the chatbot on its website and mobile app. It gives the customer the option to track orders, view recent orders and even log in to their accounts in that place itself.
Type 6: Context Enabled Chatbots
Finally, you also come across context-enabled chatbots. These are the advanced types of chatbots that help you create a conversational flow just the way human agents do during an ongoing chat. These run on machine learning and artificial intelligence rules and conditions that help them grow over a period of time.
As you can see here, the chatbot here simulates a human-like conversation flow with the customer by using expressions such as "Fun! Let's do it." or "the more the merrier". These help the customer feel at ease and gives them a more personalized experience hassle-free.
Given that these types of chatbot services help you create the best possible customer experience, it is time we take a look at a few chatbot applications that will be a good fit for your online business.
Which Chatbot Application is Right for Your Online Business
In this section, we aim to explore the top three chatbot applications that you can give a try. We'll also list some of their top features to help your business understand which one matches your needs effectively.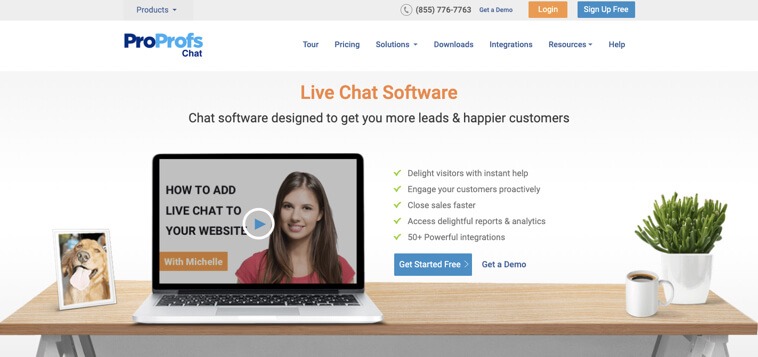 ProProfs Chat, being a SaaS-based online support software, offers chatbot features to its customers as an add-on service. This support tool helps your business to create a chatbot from scratch or simply edit an existing template. You can even customize the conversation flow with branching logic and even personalize the look and feel of your chatbot's window. Other than that, ProProfs ChatBot also helps you out with the following activities:
Generate a ticket for your customers who'd like to get more in-depth information or solution from your support team
Transfer chats to the right department in case the customer's request is quite specific or requires niche knowledge
Qualify leads and stores them to your favorite customer relationship management software (in case you've integrated one with it)
Ask multiple-choice or even open-ended questions from customers during an ongoing chat
Easy access to existing chatbot templates that help users capture leads, book an appointment, or create a support ticket
Learn: How to Create a ProProfs ChatBot
Chatbot Option #2: Botsify
Botsify is an AI-powered chatbot platform that is known for helping its users build virtual assistants for websites, social media platforms such as Facebook, and other messaging apps. The company takes pride in offering faster response times, the ability to capture leads in real-time, and creating multiple chatbots for different purposes. Besides that, the company also offers the option for customers to switch to their native language while having a conversation with the chatbot in real-time. You can also come across features such as:
Stores conversation and helps you make changes to the story tree (conversation flow) that empowers your support process and create a conversational experience for all
Generates leads through customizable conversational forms and easily stores that data into your CRM
Transfers the chat to the right department and make sure that the customer gets to interact with the operator instantly
Creates multiple chatbots that help you perform different activities while helping the customer get a solution
Creates chatbot for messaging apps like Whatsapp, Facebook Messenger, and SMS
Chatbot Option #3: MobileMonkey
MobileMonkey is another top contender on our list of chatbot options. This chatbot platform is capable of creating messaging platforms that meet all chatbot use cases such as marketing, support, and sales. The brand uses an OmniChat technology that helps its users to capture customer chats across all messaging platforms in one place. It even leverages AI to create a chatbot that understands the user intent efficiently. Besides that, you also get access to features such as:
Grows your contact list and helps you store new contacts on your email marketing platforms
Auto-responds to Facebook comments with apt responses in the absence of your operators
Enables your live chat operators to take over a chat in case they see the customer would like to have more in-depth knowledge around an issue
Segments your audience on the basis of their demographic area and interaction with the bot
Sends alerts to your sales team if the chatbot comes across a quality lead during an ongoing conversation
You can test and try these three chatbot options and settle with one that matches your customer support and sales needs.
Wrapping Up: What is a Chatbot & Why You Need One
Now that you know what is a chatbot and how crucial it can be for your business, you can easily overcome the doubt of whether to have one or not.
This intuitive customer service, sales, and marketing tool helps you capture leads, reduce response time, manage multiple people at the same time (more than what a chat operator can handle), reduces customer churn, and a lot more.
Given the number of benefits one can reap from its use, the next step for one is to see how one can build its own chatbot and deploy it on the website. You can either use a chatbot builder such as ProProfs Chat or simply work on creating one from scratch.
You can also refer to the various types of chatbots while creating one for your business from scratch. These will be inclusive of context enabled, service/action chatbots, scripted bots, natural language processing chatbots, and others. You will have to decide which type of chatbot matches the support needs of your business and accordingly settle with one during the creation process.
In case you've got any questions for us or would like us to incorporate more crucial sections to the blog, then feel free to leave a comment below.
Do you want a free Live Chat software?
We have the #1 Online Live Chat Software for instant customer support 24x7