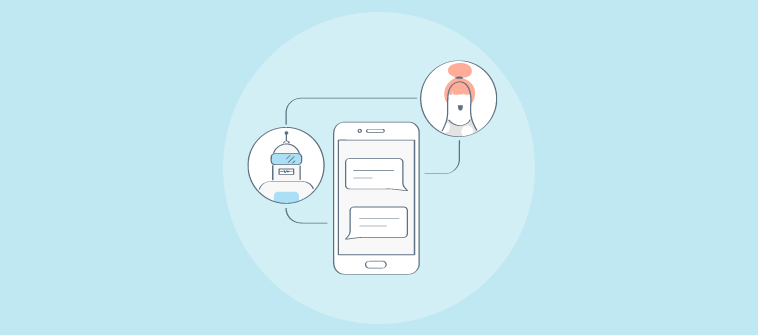 Chatbots can form a central aspect of your marketing and support strategy.
A chatbot benefits your business in many ways, such as higher leads, quicker issue resolution, and a well-managed sales funnel. Also, the best part of chatbots is that they are super easy to deploy and get started with.
So, what does a chatbot do for your customers?
Great question! Turns out that chatbots have benefits for both customers and your business. If you delight your customers, then your business also improves customer engagement. But the real benefits of chatbots come when you use them in tandem with live chat.
Using chatbots leads to a win-win situation for your customers. Also with detailed reports and analytics, which is something most chatbot software have, you can find novel ways to engage them.
In this blog, we will talk about 15 such benefits your business can experience by employing chatbots.
What Are Chatbots and How Do They Work?
A chatbot is a computer program that allows you to interact with customers and offer real-time support. It is designed to simulate human conversations. Such emulation of human conversational tone, vocabulary, and voice is done through conversational interfaces.
One of the key differences between chatbots and live chat is the approach to customer service. Chatbots offer instant resolution and automate responses to support requests. Whereas, live chat focuses on delivering a great customer experience (CX) while focusing on empathy.
One of the key reasons why businesses invest in chatbots is because automation means repetitive tasks get done with more accuracy.
What are the types of Chatbot?
Chatbots can be broadly categorized into 3 types– Rule-based, AI, and Hybrid chatbots. Let us discuss all three of them in brief:
These are chatbots that follow conditional statements to carry out certain functions. A set of conditional statements form a flowchart. So, real quick, a flowchart is a visual representation of your process flow. Take this scenario for an example:
Suppose you have someone ordering coffee from your website. The person places a request for a 12 oz of coffee grounds through your chatbot. However, you have run out of the 12 oz packet, so the chatbot responds with "sorry! But this is currently out of stock."
So, for each action made by the customer, there is a dedicated response. That's why rule-based chatbots are also known as decision tree bots. These chatbots offer answers to customer queries by analyzing previous customer interactions.
Here are some benefits of rule-based chatbots:
You can make changes to the conversation flow and customize it to match your target audience's expectations.
It is quick to set up. With ProProfs Chat, you can get started in less than a day.
A human agent can understand the basics of it quickly.
The answers offered are to-the-point and crucial for great customer satisfaction.
---
Want to grow sales or improve support 24×7 with Chatbot?
---
Although AI chatbots are a bit of a novelty in the field of customer service, these tools have had wide use cases. Even in their inceptive years, these tools were intelligent. For example – the ELIZA chatbot had a program called DOCTOR which could simulate therapy sessions.
So, what is a chatbot in AI?
An AI chatbot is an online programmed software that can engage with users by helping them, thus, automating conversations for live agents. One key technology is NLP, which stands for Natural Language Processing. It is the sole reason why chatbots can register linguistic nuances.
But what can chatbots do for customer service agents?
Chatbots' conversational AI offers a personalized experience to prospects. Using such interactive messaging shows real growth in website engagement metrics, such as bounce rate, time spent browsing, pages visited, and cart abandonment rates.
Furthermore, a 2020 report by the State of CX found that about 71% of customers would opt for messaging platforms if it meant that there would be an improvement in customer experience. These stats clearly reveal that there is a drive towards adopting AI in customer service.
Here are the benefits of AI chatbots:
Businesses save a lot of training time and money in the long run because of their self-learning capabilities.
Chatbots are able to use sentiment analysis to craft appropriate responses.
There is little to no manual intervention required in training and maintenance.
These chatbots can bridge AI technology with the intellectual capabilities of human agents. When a chatbot is unable to resolve a support query, then a human agent can step in to conclude the issue. In reality, most chatbots are unable to gauge the intent of a query correctly.
Research suggests that 50% of chatbots are unable to recognize what customers are asking. Such a situation leads to the query getting escalated to a human agent. Therefore, hybrid chatbots offer immense efficiency and constant availability when it comes to simple issues.
This is why hybrid chatbots have gotten adopted readily by businesses. Also, as we mentioned, there are certain limitations to chatbots that a human agent can tide over. A hybrid chatbot can solve routine queries through automation and escalate complex tickets.
Distributing support queries in this manner helps reduce the workload of your agents, and they can work on different issues comfortably. According to a study, 60% of customer service agents stated that they could work on more complex tasks if they could leverage automation.
Here are some benefits of hybrid chatbots:
Combines artificial intelligence and human aptitude to solve a variety of issues.
When a chatbot is unable to solve a problem, easy hand-offs save you time.
A trigger is sent to agents when a conversation has been handed over to the customer success team.
7 Benefits of Using Chatbots for Customers
In one of the stats, we mentioned that customers would prefer chatbots if they helped improve the customer experience. One of the key advantages of chatbots is their ability to support a better customer experience.
Here are the benefits of chatbots for customers:
1. Reduced Response Time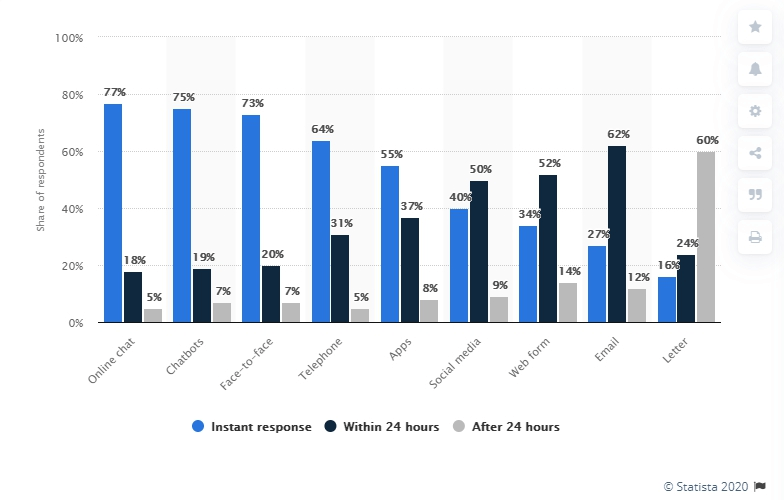 Reduced wait times are something that every customer values a lot. It is one of the reasons why chatbots help improve customer satisfaction. According to statistics, 73% of customers would prefer dealing with a chatbot if it made customer service processes more efficient.
At ProProfs, we understand the world is moving at a faster pace, and slow response times are detrimental to a business. A study conducted by Forrester suggested that 66% of adults felt that companies valuing their time are the key to offering a customer experience.
To further this point of reduced wait times, let us look at a survey by McKinsey. The organization took a survey of 1000 B2B decision-makers, all of whom agreed that a lack of promptness in interactions is a major customer pain point.
2. 24×7 Support
Customers should feel that a business values their queries and is proactive in helping them. Such a proactive approach helps foster an ethos of brand advocacy. Let us take the example of Copa Airlines:
Air travel can stress out many travelers as it requires numerous formalities and being cognizant of timings. So, Copa Airlines found a way to reduce friction in its customer service. Customers can get in touch with their support team 24×7 through chatbots.
If their customers have any questions regarding the trip, they can gain instant resolution anytime, anywhere. Copa Airlines has a dedicated webpage to outline the limitations of the chatbot behind its shift in customer service.
With chatbots, you can bring a holistic change in your customer experience, while improving public perception of your brand. Another side of 24×7 support includes making chatbots available to social media. Therefore, you can open another channel of communication.
Social media chatbots can be used to capture tickets coming in at any time of the day. Statistics suggest that 74% of customers had an improved perception of a brand because they could capture social media tickets.
3. Multilingual Support
Offering multilingual support is one of the key chatbot best practices. With numerous languages available for your customers to interact with your brand, you are opening up your doors to new customers and markets. After all, only 25% of online users use English online.
The easiest approach to multilingual support is simply using a machine translation. However, there are some languages that rely heavily on context, and their literal translation can be inaccurate. For instance, the translation of languages like pidgin and creole are inaccurate.
Hence, the best way to deliver personalized experiences to people of different nationalities is to work with linguists and native speakers. These language authorities can help you get the translation just right. Using machine learning is one way to improve the quality of translation.
4. Personalized Conversations
The best way to offer personalized interactions is to have a link with previous customer conversation histories. A study by Microsoft indicates that 72% of customers expect agents to know their names during the service interaction, meaning you need to leverage past data.
When switching from channel to channel, you need to transfer customer data effectively to offer the best service possible. Context switching is one of the key reasons behind a lack of productivity among your agents – this drop can be as high as 80%.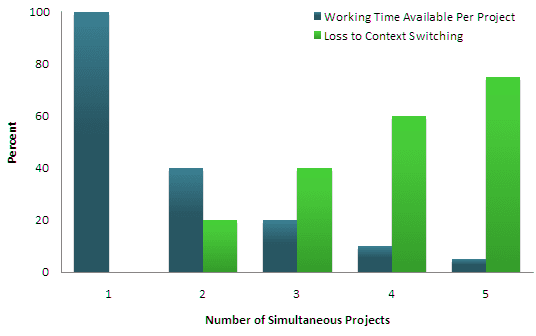 Customer data includes – a contact's name, phone number, and organization. If your chatbot can draw such information from other channels, then customer satisfaction improves.
5. Smoother Customer Journey
Customers are less likely to drop off if they face little to no problems with the customer experience.
But what if they face issues, how can you reduce drop-offs?
When guiding a prospect through the sales funnel, you need to ensure prompt service. A study by Forrester suggests that customers are 2.4 times more likely to stick with a brand if their problems are solved quickly.
Here are a few reasons why customers would drop off:
A complicated check-out process.
Hidden costs and lack of transparency in pricing.
A lack of information during the purchase process.
Chatbots can help you create a frictionless experience for your customers. Here's how:
You can provide additional information on products, key pages, and additional costs.
Chatbots can offer discount codes and promotional offers to make the product offering more appealing.
Share a targeted message that prompts the prospect to go through with the purchase.
6. Better Onboarding
When it comes to customer onboarding, we think of convenience, efficiency, and friendliness. Chatbots can offer an engaging and informative experience during basic onboarding, making the right guide for a new user.
To start with a chatbot onboarding process, all you need is a list of questions that customers might ask. Using these questions, you can build a flowchart to visualize the onboarding process. There are two stages of questions you can ask. Let us walk through stage 1 questions:
What do you hope to accomplish by using our tool?
Which industry do you work in?
What is the size of your company?
How did you get to know about us?
Then, in stage 2, your chatbot can use the answers it gets to shape the onboarding experience for the user. Here's what you could ask new users:
Is this your first time with a tool like ours?
Which topic would you like to start with?
Do you want to start with these functionalities? (provide a list of options)
Brand-new users will not know how to use your product unless you guide them through it. Hence, it is a good idea to put together questions that help shape the onboarding experience for them. Since you know your business well, it will be easy to come up with questions.
7. Less Pressure to Engage
Many customers might find it easier to talk to chatbots, while others might prefer engaging with live agents.
But what is the reason behind this?
Customers usually like to skip formalities when discussing a problem. With a chatbot, customers tend to feel less pressure to follow social norms. Many will avoid confrontation when talking to a live agent, whereas those same customers will unabashedly respond to chatbots in one-worded responses or blunt language.
A chatbot saves time because there is no obligation on the customer's part to be polite. Often, greetings and farewells can become too much for some clients looking to simply resolve their issues.
What's more, chatbot conversations can become quite engaging as well. As we mentioned, ELIZA, the chatbot psychotherapist; strangely, many patients disclosed really personal information to chabots. When the question of studying the chat data arose, there was plenty of interest!
So, when you want to engage users during the conversation, having a clear persona is key. Having a humorous tone, emojis, and GIFs, can really add to the conversational experience.
8 Benefits of Using Chatbots for Businesses
You might be wondering if your business should invest in chatbots. If so, then here is a statistic. More than 40% of customers use chatbots as a conversational tool to make purchases. Rest assured, if you invest in best chatbot software, you will notice a quick change in your sales and support.
Here are the key benefits of chatbots for businesses:
1. Lead Generation
Lead generation bots are tools used for capturing customer details and business information. So, you no longer have to use complicated forms; instead, the lead's details get captured with the help of a pre-chat form. Afterwards, the lead gets stored in a CRM, and teams can call them.
You can also target messages to come up according to certain user actions. Smart triggers can be activated with user actions like visiting the home page, browsing through products, or landing on the purchase page.
Also, you can qualify leads with chatbots by programming them to ask preliminary questions. These are called lead qualification questions and can help gauge the interest of the prospect. Based on the answers, your chatbot can create audience segments. Here is a scenario:
Suppose you are an industrialist and you are looking for a forklift. You visit a website that sells various tools for industrialists. When you visit the website, the chatbot asks you, "What is the size of your workforce?"
You get a list of ranges for workforce sizes. You select the largest range and receive forklifts perfect for your business. Making a purchase was never so simple!
One of the chatbot benefits for a business is offering a tailored experience for a certain audience segment. It determines the audience segment by asking the size of the business. Now, the chatbot can guide the prospect through the sales funnel, landing on the right products.
Chatbots are quite effective at convincing prospects to make a purchase. After all, the conversational approach is rather powerful. Along with a well-constructed sales funnel, you can use chatbots to ramp up conversions by 10-100%.
2. Cost Saving
Businesses need to find not just one way to save on costs, but multiple ways to do so. The top pain point for small businesses was that they do not have enough money. Naturally, if support costs are eating into your profits, you would want to explore a cost-effective service channel.
A study by IBM suggests that AI-infused virtual agents or chatbots can reduce customer support costs by 30%. Also, the same study suggested that 80% of routine tasks can get handled by chatbots.
So, not only are chatbots cost-effective but they can do almost all the tasks a human agent can at a fraction of the cost. What's more, it can handle repetitive customer queries and free up bandwidth of your live agents, allowing them to focus on more complex tasks.
3. Capture Customer Data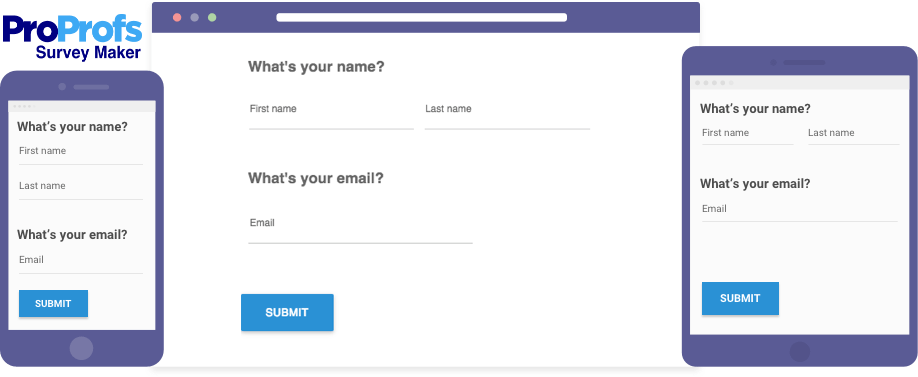 Chatbots can help you observe purchase patterns and user behavior, and can help you generate insights about your consumers. This data helps you configure your chatbots to market your products in different ways for each customer. Take the following scenario:
You cater to an audience between the ages of 18-25, and you sell garments. However, you find out that your jeans aren't selling well. So, when prospects looking for jeans visit your website, your chatbot directs them to the page with options for jeans.
At the end of the interaction, the prospect does not purchase the jeans. So, your chatbot asks "How could we improve our products?" The visitor responds saying that they wished the garment was baggier.
The chatbot asks lastly "Thank you for the tip. Would you like to subscribe to our newsletter?" The prospect being delighted with the experience decides to give their email address.
Chatbots can collect customer feedback with the help of post-chat surveys. These surveys give companies insights into how they can better cater to their target audience. Chatbots can also ask about features customers would want in their products in the future.
Lastly, you can pinpoint where there are gaps in your customer journey. If there are any areas of the customer journey that cause friction then that will reflect in the customer feedback given at the end of the chat. This ultimately allows you to more effectively optimize your website.
4. Serve More Customers
Chatbots handle large volumes of human interactions because, unlike phone support, chatbots can manage multiple service queries simultaneously. Thus, customers face shorter wait times. Also, they can solve customer issues with increased accuracy. So the question arises…
Do chatbots improve efficiency?
With chatbots, you can solve almost all routine tasks and queries. A study by IBM suggests that these tools can solve 80% of customer service requests effectively. As a result, the need for manual intervention is significantly reduced. Also, chatbots handle large volumes of customer data.
Therefore, chatbots help improve the efficiency of your support processes. One of the important benefits of chatbots is that they can offer an end-to-end resolution. Statistics suggest that chatbots can resolve 68.9% of requests completely.
5. Manage Sales Funnel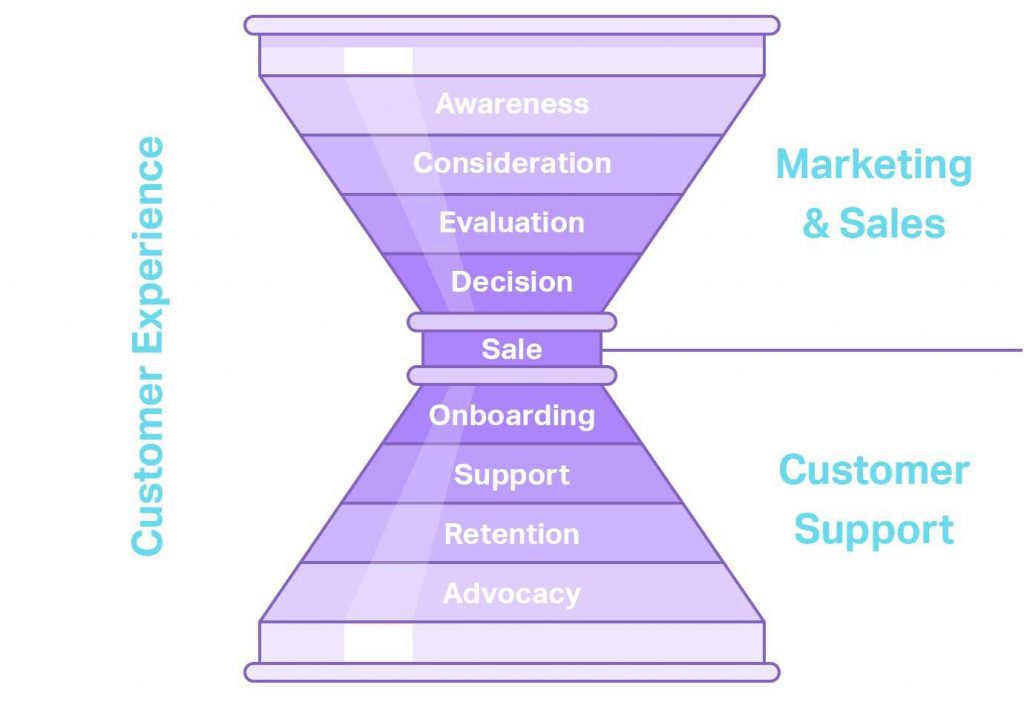 With chatbots, you can not only improve customer service but also manage your sales funnel effectively. You can qualify leads, drive conversions, and close sales too. Chatbots can help you manage the entire sales process by doing the following:
Generate interest for brand.
Improve product awareness.
Encourage prospects to take action.
Finally, complete the purchase.
In fact, chatbots are most commonly used for sales rather than customer support. Research suggests that 41% of businesses use chatbots for sales purposes and 37% of them use them for customer support.
Also, the sales process becomes much more streamlined when using chatbots. Many retailers use chatbots for upselling, marketing purposes, and cart recovery notifications. For instance, if someone abandons the cart, you can receive a notification, and use a chatbot to make the sale.
6. Conversational Marketing Strategy
A conversational marketing strategy makes use of a dialogue-driven approach to marketing. With chatbots, you can use human-like interactions to guide prospects through the sales funnel easily. Using chatbots allows you to build better customer relationships and improve CX.
Chatbots have become an integral aspect of a conversational marketing strategy for most businesses. In fact, the use of chatbots for this form of marketing has increased by 92% since 2019. What makes it so effective is that customers love receiving instant responses to queries.
These knowledge assistants can offer the following functionalities using a conversational approach:
Chatbots can gather data on customers.
These tools can offer further information to customers on products and services.
These automation tools can guide visitors down the funnel by qualifying them.
You can automate messages to prospects with smart triggers.
You can respond to customer queries individually.
Since chatbots have become much more common among businesses, it has raised customer expectations of brands. Statistics suggest that 54% of customers have higher expectations of brands than they had a year ago. Seems like it might be time to follow the trend, right?
7. Streamlines Workflows and Productivity
Chatbots offer an abundance of workflow benefits for businesses, especially those with small support teams. For example, businesses have to generate leads and offer customer support, all of which require gathering data. Chatbots help automate the process of data gathering.
Chatbots can effectively reduce the efforts made while working on tedious and repetitive tasks. Creating chatbots workflows can help you save time and money. Also, it completely removes the need for manual intervention, allowing your agents to work on complex issues.
So, what are chatbot workflows?
A chatbot workflow begins with a welcome message and moves on to asking questions from prospects. Afterward, it can offer options for prospects to select from. Lastly, it collects the necessary information and then ends the conversation. Thus, it simulates human conversations.
With chatbot workflows, the basic benefit is task automation. However, if you feel uncomfortable with the idea of giving up the reins of your core processes to a chatbot, you can configure the level of human intervention you want.
8. Reduce Agent Workload
With chatbots, your agents no longer work on the cumbersome aspects of sales and support. Agents can instead delegate routine tasks to chatbots, and focus on strengthening bonds with customers. Therefore, by using chatbots, you can help agents improve the customer experience.
Also, the business processes of today's organizations are much more complex. Chatbots can follow standard operating procedures, and guide agents to follow those protocols to offer a compliant support experience. After all, with more tickets, there are more errors.
Chatbots can trigger notifications when a customer has either a query or is on a key page. Based on the notification, service agents can prioritize their interactions with prospects. Once they act on a notification, they can initiate a conversation with that customer through a chatbot.
If the customer wishes to speak to an agent, the chatbot can route the chat to a support agent who is online. Also, it can offer relevant customer data to the representative, allowing the agent to know the entire context of the problem and even the customer's name.
Key Factors to Determine the Effectiveness of Chatbots
Chatbots are great tools to improve marketing, sales, and support for your business. However, to track how close you are to achieving your business goals, you need to know how effective your chatbots are. Here are key factors that determine the effectiveness of chatbots:
1. Conversation Length
This metric allows you to measure the average length of a conversation between a customer and the chatbot. This will vary from case to case. Some queries can be more complex in nature than others, and as a result require lengthier conversations.
For instance, if you are handling a lengthy query about the types of software available as opposed to the timings available for a movie show, the length will differ vastly. However, if efficiency is your priority, then this indicator will play an important role in finding the right chatbot for your needs.
2. Chat Volume
Chat volume displays the number of chats your chatbot has responded to in a certain amount of time. This metric indicates the level of engagement your chatbot can offer to prospects.
3. Use Rate by Open Sessions
It shows the number of sessions opened by your chatbot simultaneously. This metric becomes more insightful when weighted with the average number of sessions opened during a time span.
4. Engaged Users
It shows the number of users that engage with your chatbot on a daily or weekly basis, repeatedly. These users see value in engaging with your chatbot, and they are most likely to convert. After all, they keep returning to your business with more questions.
5. Bounce Rate
Bounce rate refers to the number of visitors that come to your website, but do not interact with your chatbot before leaving. If your bounce rate is high, it means your website navigation needs improvement or you do not have enough content.
Here's Why You Should Invest in Chatbots
Businesses that are growing quickly have to serve different customers with agility. While the number of customers grows, their expectations will as well. With competitors looking to take your customers, you have to stand out with a proactive approach.
Chatbots have succeeded in improving retention rates while displaying a slew of other benefits. These chatbot benefits include cost savings, customer engagement, and smoother customer journeys. But, the benefits do not extend to just businesses, customers experience them too.
Customers want an improvement in customer experience, and a proactive approach is the way to go about delivering it. Chatbots are a step up from the reactive approach. With chatbots, you will notice that your business is satisfying customers and growing fast.
It will become a win-win situation for both you and your clients. With a conversational marketing strategy, you can take your business to a new level. By driving sales growth and improving customer satisfaction, chatbots can become a core support tool.
While chatbots are important, hybrid support is crucial. That is why you should try ProProfs Chat. Our live chat solution offers the best of both worlds. With numerous automation features your agents can work productively and with a chatbot maker, streamline support processes.
Do you want a free Live Chat software?
We have the #1 Online Live Chat Software for instant customer support 24x7