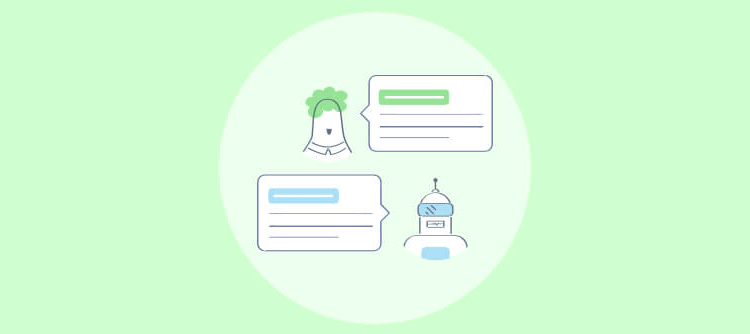 Are you still in the planning phase and feel undecided about which chatbot your business should invest in?
Don't worry; this can happen to anyone who is seriously considering a chatbot for their business. To overcome this dilemma, we recommend you consider the top chatbot features first. This will surely cut short your elimination process and help you learn which chatbot matches your business needs.
To help you get started, we've listed the top useful chatbot features that will help you choose the best one for your website or even messaging platforms.
Why Have Chatbots Created a Buzz in the Customer Support Industry?
"They automate the support process."
"Chatbots make it easier to manage 100's of customers or prospects simultaneously."
These are just a few benefits that one can attain from the use of chatbots. But there's a lot more that chatbots help you accomplish with their use. Let's take a look at some of these benefits below.
Reduces the Scope of Answering Standard Questions
Did you know that chatbots answer 80% of standard questions a business receives hassle-free?
That's right; chatbots help your business tackle all the frequently asked questions. This enables your support team to avoid answering the same questions repeatedly and frequent burnouts.
Reduces Customer Support Fees by 30%
Studies suggest that chatbots reduce per-query costs from USD 5–12 with human agents to just USD 1 with virtual agents. That's because chatbots can tackle more customer queries compared to live chat and phone support.
Generates Qualified Leads for the Business
Another benefit that businesses can gain from the use of chatbots is the ability to capture qualified leads. It doesn't just capture name, phone, and email address details. It even captures details like the product needs, company details, sets up callbacks, and much more. These details enable a business to identify potential customers hassle-free.
Builds a Customized Experience for Each Customer
Studies also suggest that 64% of businesses believe that chatbots will allow them to deliver a more customized customer support experience. Chatbots will use the captured details and use that data to help customers find the right product recommendations or connect them with the right teams for better support.
From suggesting product recommendations to helping buyers check out their products from the cart, chatbots help you do it all. It even messages visitors proactively and engages them in a conversation. This gives a company the opportunity to introduce products and services to visitors and generate curiosity about them.
---
Read More: Top 15 Benefits of Chatbots for Your Business & Customer in 2023
---
Now that these benefits are clear, let's get down to the feature list below.
12 Key Chatbot Features that Determine Your Bot Performance
1. Chatbot Conversation Builder
One of the first features to consider in your chatbot has got to be the chatbot builder. This core feature allows you to set up the chatbot conversation and helps you make changes to them based on their performance.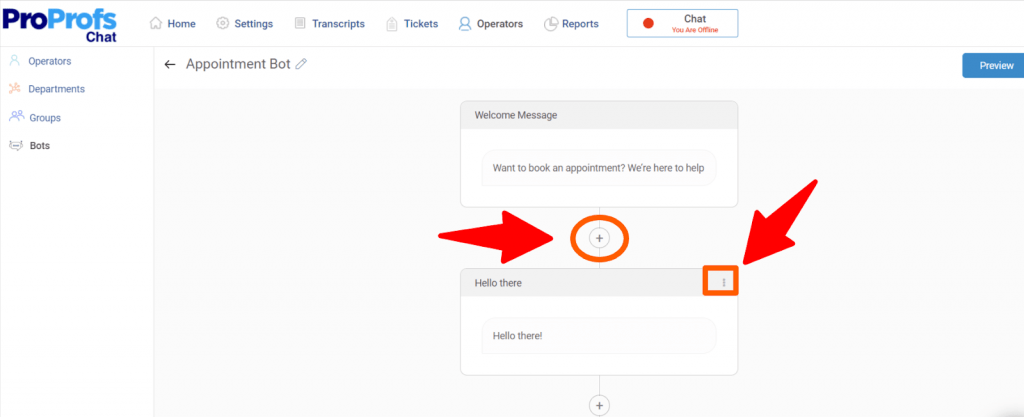 These builders should help you add a new conversation chain to the existing template or even remove certain dialogues based on how engaging they sound.
2. Customization Settings
Can you customize the look and feel of your chatbot as you seem fit? If the answer is no, it is time you switch to one that does allow you to build a customized chatbot that meets your needs.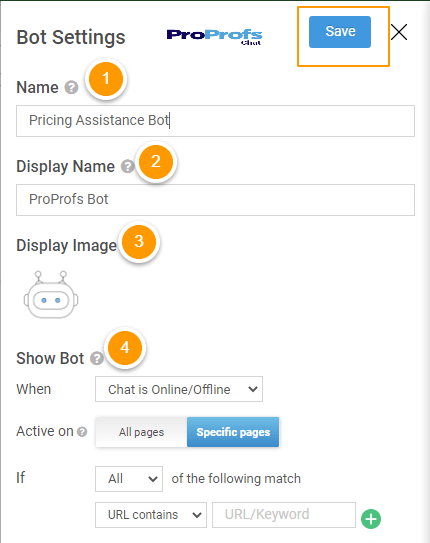 Basic customization settings should allow you to:
Change the bot name
Set its display name
Choose a different display image
Display the chatbot on pages you like
Some chatbot service providers also allow you to change the widget theme and design based on your requirements.
3. Conversation Preview
This is a mandatory feature that you can't miss. Your chatbot service provider should allow you to preview the chatbot conversations before you take them live.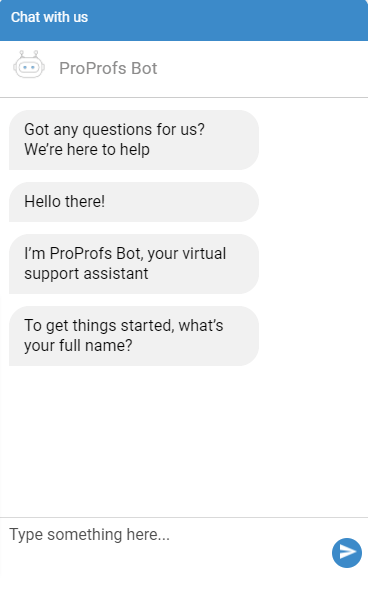 This way, you can check whether certain conversation elements look natural or not. You can always go back to the conversation builder and change the flow to add a human touch to the conversation between the chatbot and the customer.
4. Artificial Intelligence (AI)
If your chatbots don't understand what your customers or buyers are talking about, you may end up leaving them agitated and encouraging them to check out your competitors instead.
We all know that chatbots help you reduce the burden of incoming common queries. However, they can only do so if they understand the context of the conversation. If not, you may end up wasting your customer's precious time.
That's why opting for AI-based chatbots becomes a crucial feature to consider when choosing one for your business. An AI-powered chatbot can interpret what the customer is looking for and identify the best possible ways to provide them with an answer.
That's not all. Chatbots can continuously improve and grow as a tool that will help your business to further refine the support process for customers who approach you at odd hours. In a nutshell, you can help chatbots train with the help of AI technology and build better conversation experiences for customers.
5. Integrations with Other Support Tools
It will be great if the chatbot can integrate with support tools like the help desk and knowledge base to help you enhance the customer support experience.
When you integrate a chatbot with a knowledge base, you can answer frequently asked questions in seconds. This will allow you to speed up the support process and reduce the resolution time further.
However, the scenario is different when you integrate your chatbot with a help desk solution. With this integration, you make sure that in case the chatbot fails to answer a question, it can always convert that conversation into a ticket and assign it to the right department. This way, you can reassure the customers that the solution will be on its way.
6. Handover of Chatbot Conversation to Operators
Your chatbot should also be capable of identifying the situations where it needs to hand over the chat to an available operator.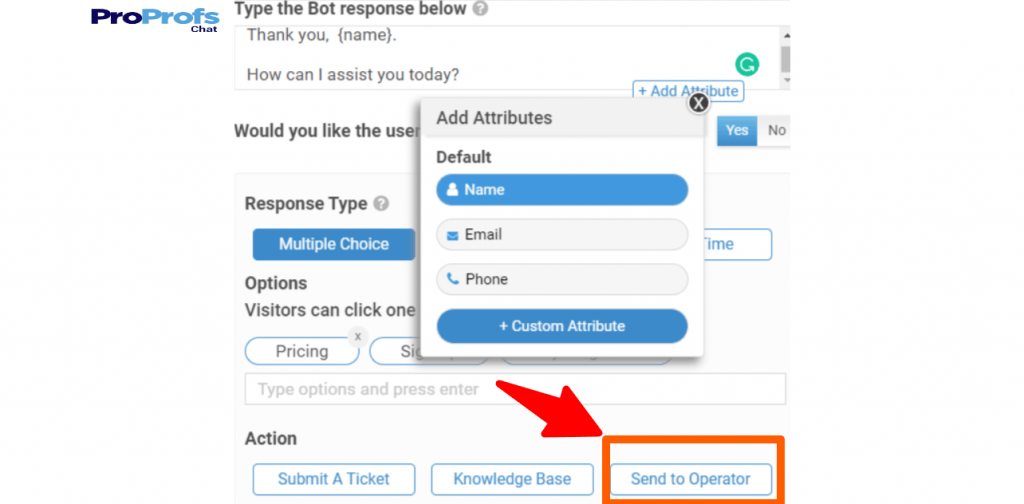 This action gives the customer an assurance that they will be connected to an operator right away and find a solution faster. This action can be chosen only when your operators are online. In case the operators already have a queue of customers, the chatbots should let the customer know about it and create a callback request instead. This will allow you to reach out to the customer and never miss out on support opportunities.
7. Reports & Analytics
It would also be great if the chatbot had a separate report section.
These chatbot reports should help you identify how your chatbots are performing. You should be able to see data around:
The total number of chats they've received
The total number of valid chats
The total number of invalid chats
An overview of the three metrics discussed above
How engaging your visitors found them on the website
These metrics and a few others will allow your business to further improve the performance of the chatbot and enable you to keep improving their output.
8. Omnichannel Platform
Your chatbots should have the ability to connect with messaging platforms like WhatsApp, Apple Business, Twitter, Facebook, and other communication platforms.
By adding them to such channels, you can capture support and sales opportunities for your business in no time. What's more, you can identify what interests your customers more and capture that data to improve all your sales, marketing, and support strategies accordingly.
9. Data Privacy & Security
Customers value organizations who secure their data and don't misuse it. This data can be inclusive of personal information like contact details or transaction information like bank or card details.
Since data privacy and security matters can't be taken lightly, you need to make sure you are investing in a service provider that believes in the same values. The chatbot software should have security features like authentication, authorization, scanning capabilities, end-to-end encryption, and more to avoid any malicious attacks from hackers.
10. Chatbot API
If you want to make sure that your chatbot customizes each conversation successfully, then having a chatbot API is a must. This feature will allow your chatbot to access information from platforms like customer relationship management solutions or product databases to provide relevant information or even connect the dots for the customer in the conversation.
With the help of an API, you can make sure that the chatbot gathers data smoothly and presents it faster in front of the customer during the conversation. This feature proves beneficial, especially when the chatbot helps to track order status or availability for the customer.
11. Sentiment Analysis
Is the customer happy when it engages with the chatbot? Are they irritated that they are not able to arrive at a solution faster? If you would like to find answers to these questions, it would be better to have a chatbot that supports features like sentiment analysis.
This is yet another pivotal feature that can help you decide whether the chatbot solution is worth your investment or not. While this feature has been popular in feedback tools so far, they've become a part of chatbot functionality as well. With this feature in place, you can:
Identify how happy, sad or neutral your customers are feeling
Measure their emotions and work upon better support and sales strategies
Understand how customers approve of your services
12. Marketing Capabilities
We are sure that when you seek a chatbot for your business, you wouldn't just want it to focus on support and sales. You would also want it to help you market your services and products equally.
Well, in that case, it would be better to consider chatbot solutions that allow you to promote your products before or during a conversation with the customer. A marketing chatbot should allow you to:
Show product recommendations
Display upcoming sales and discounts
Suggest promotions based on customer intent
Interact and engage with customers and inform them about upcoming events like webinars or in-person meets
The list can go on about a marketing chatbot, but if it succeeds at performing these basic functionalities, then you are good to go.
Time to Choose the Best AI Chatbot for Your Website
It can be tough to choose a chatbot, especially if you are not familiar with what features to look for in the first place. But that's okay; it can happen to anyone.
To help you avoid this dilemma, we've listed a few pivotal chatbot features that will help you choose the right solution for your business. Some of these features are inclusive of AI-Chatbots, reports, and analytics, chatbot builder, conversation preview abilities, customization options, and the list goes on.
We hope that our list of top 12 chatbot features helps you find the best AI-powered solution for your business.
Do you want a free Live Chat software?
We have the #1 Online Live Chat Software for instant customer support 24x7