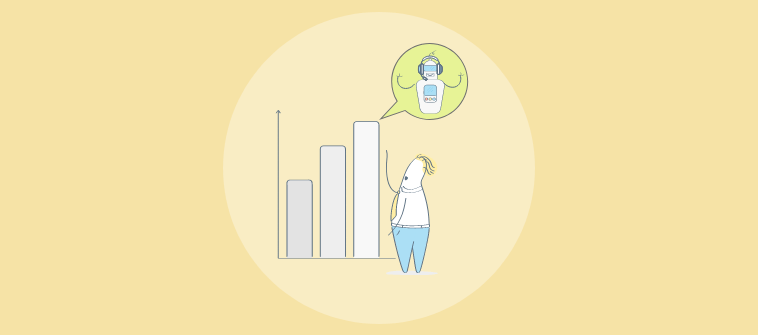 Chatbots act as saviors for businesses in several ways.
They have simplified and automated many complicated processes. Chatbots with conversational tone help small businesses attract and engage new leads. From answering customers' queries to responding to sales inquiries, the best sales chatbot holds the potential to transform business activities.
Companies (small or large) across the globe are using sales chatbots which has remarkably resulted in massive growth. These chatbots have become an integral part of lead generation strategy.
Imagine spending a lot on creating compelling content to planning an effective marketing strategy and forgetting about the one of easiest ways of lead generation and customer support?
Customers today expect you to answer their queries the moment they approach you, from anywhere, anytime; which makes chatbot an inevitable component of every business. These bots remain available around the clock for them to answer and address their queries without any friction.
In this blog, we will discuss a lot about chatbots for online sales, important features of sales chatbots one should look for, how chatbots help increase sales, top 10 sales chatbots, etc.
What is a Sales Chatbot?
Sales chatbots are AI-powered bots which help sales representatives be more productive. From speeding up the entire sales process to monitoring and controlling tedious tasks (lead qualification, customer acquisition, etc.), sales chat bots help in conversion. These chatbots act as store assistants, similar to those in physical stores.
As per a report published by Intercom on ROI of Sales Chatbots,
"Chatbots have helped businesses by increasing their sales up to 67%, whereas 26% of the sales initiated after interacting with chatbots. Nearly 35% of business owners have claimed that chatbots have assisted them in closing more sales."
---
Read Here – 20 Chatbot Use Cases to Help You Build Delightful Experience
---
How Can Chatbots Increase Sales?
Chatbots help businesses deliver fast and delightful customer experiences across industries. A delighted customer is likely to purchase from you, thus resulting in revenue growth. Proactive customer engagement with quick resolution is the key here.
From capturing the potential leads, to guiding them for what they need by interacting with them like humans, there's a lot that chatbots for sales do to increase business.
1. 24X7 Delightful Customer Support
24X7 customer support becomes highly crucial when you are running a global business. It's not possible to depend entirely on the support team. But chatbots are totally reliable. Since these are AI- programmed bots, this means uninterrupted service round the clock without any leave. Round-the-clock presence is a sure-shot way of gaining customers' trust.
2. Simplify Lead Generation Process
Chatbot is the best way when it comes to lead generation. Sales chatbots capture leads from different channels and simplify them with proactive communication. Chatbots have the potential to bring in high-intent leads if used appropriately. Businesses can easily target customers using conversational AI chatbots for websites. These conversational chatbots can engage visitors who are likely to bounce off.
3. Send Product Recommendations
Sending product recommendations does not just engage customers but also increases the chances of sales. Businesses can send product recommendations to customers based on their preferences/browsing activities across product pages using AI sales chatbots. Customers may change their mind or forget items in the cart. Sales chat bots can send them reminders about the items left in the cart.
4. Enhance Customer Satisfaction Level
Customer satisfaction is a top-level priority for every business to grow and survive. Customers are likely to shop from a business if they experience positive interactions. Chatbots facilitate quick interaction and personalized resolution resulting in delightful customer experiences. A quick response adds to customer satisfaction. Not only will they stay loyal to you, but also advocate for you to their friends and family.
---
Read Here – Everything You Need to Know About Chatbot Pricing
---
Features of a Sales Chatbot
What if your chatbot fails to understand a certain language? Or what if the chatbot lacks automation features?
We will discuss some of the must-have features of sales chatbot.
1. Personalized Welcome Greetings
Personalized welcome greetings are a great way to engage customers (for new customers as well as returning customers). Businesses can create engaging scripts and target customers. Automated greetings work the same way sales representatives greet customers in physical stores. Businesses can instantly send greeting messages to customers without delay using this feature.
Examples of welcome greetings for new customers:
Thanks for visiting xyz.com. I am Jake! I can answer your questions related to product, shipping, or pricing. Drop me a text.
Hey there! Welcome to The Bake Shop. Looking for a birthday cake or a wedding cake? I can help you with that.
Examples of welcome greetings for returning customers:
It's good to see you again, Maria. I am just around if you need my help. Happy shopping!
I am so excited to see you back here. We have added new products that you may love . Do not forget to check them out.
2. Self-Help & Canned Responses
40% of customers look for self-help only. Chatbot must be proactive in answering frequently asked questions. This also reduces the response time and increases customer engagement. Chatbots can share links to the self-help portal where customers can find solutions to their problems. The other side, canned responses accelerate customer service to a notch higher. It becomes easy answering FAQs and managing multiple customers. Moreover, there are no chances of any typos or grammatical errors.
3. Smart Routing
The chatbot must be capable of routing the conversation to the right operator. Routing chat to the right operator/department helps deliver a personalized experience. This further makes sure that customers get their queries resolved properly. Based on the set rules, chats can automatically be routed to groups, such as accounts, sales, etc. This way, you can capture qualified leads and plan on converting them.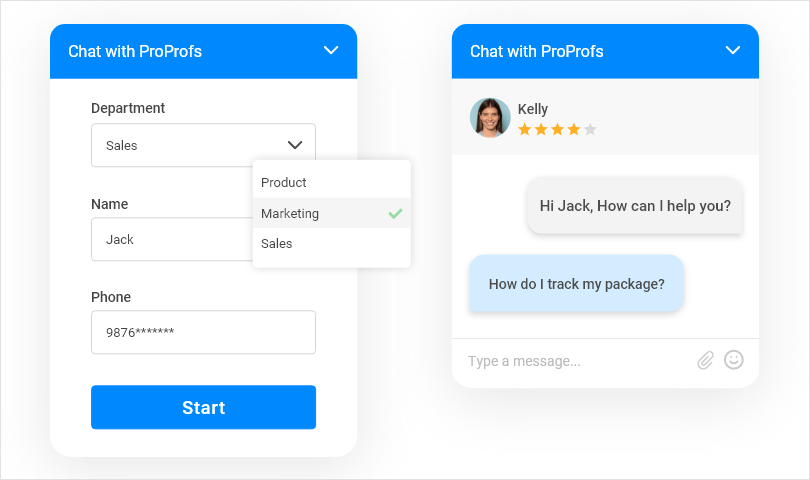 4. Personalized Experience
AI chatbot Software can understand the customers' requirements, collect data and understand the behavior to come up with more customized results. This ensures that the conversation and results aren't just robotic, based on certain codes, removing the passive and dull outcomes. The most important thing to keep in mind here is the chatbot scripts which make these sales chatbots capable of conducting human-like conversations.
5. Advanced Analytics & Reporting
A chatbot with independent reports and analytics section brings clarity on performance metrics. With the help of this data, you can learn a lot about valid and invalid chats, number of total chats, engagement rate, conversational behavior, etc. You can bring changes for further improvement based on these metrics and provide a more delightful experience to your customers.
6. Data Privacy and Security
This is probably the most sensitive part of using a sales chatbot. There have been several reports of data breaches. Thus, a chatbot provider must ensure that it's safe and secure to use with no leak. Chatbots collect a range of data from customers, such as their names, emails, transaction information, etc. which, if misused, is a serious threat. Your chatbot must have security features, such as end-to-end encryption, authorization & authentication, etc.
7. Omnichannel Support
What if your chatbot doesn't have this feature? You will miss a lot of potential leads coming from different channels, right? Ensure that the chatbot you are investing in can capture leads from other communication channels, such as Facebook, Twitter, Whatsapp, etc. which are largely used worldwide. This can help you understand your customers' behavior, interests, and improve your sales and marketing strategies for better customer support experience.
8. Easy Customization
Chatbot Customization is a great feature every sales chatbot must have. Using this feature, you can modify the chatbot as per the brand tone. This feature allows you to change the chatbot name (support, appointment, or sales bots), display name, add a display image, and put the bot on the pages of your choice. This personalization adds a lot to customer engagement and trust. You can even look for a chatbot that allows you to play around with the theme and design of the chat widget.
These are some common yet essential features you must consider when looking for the best website chatbots.
---
Read Here – 12 Chatbot Mistakes to Avoid
---
Top 10 Best Sales Chatbots in 2023
Now that you have well understood sales chatbot's features and importance, here's the list of top 10 best sales chatbots. The market is full of sales chatbot tools that can surely lead to confusion.
By the end of this list, you should be able to understand which sales chatbot fits your business requirements.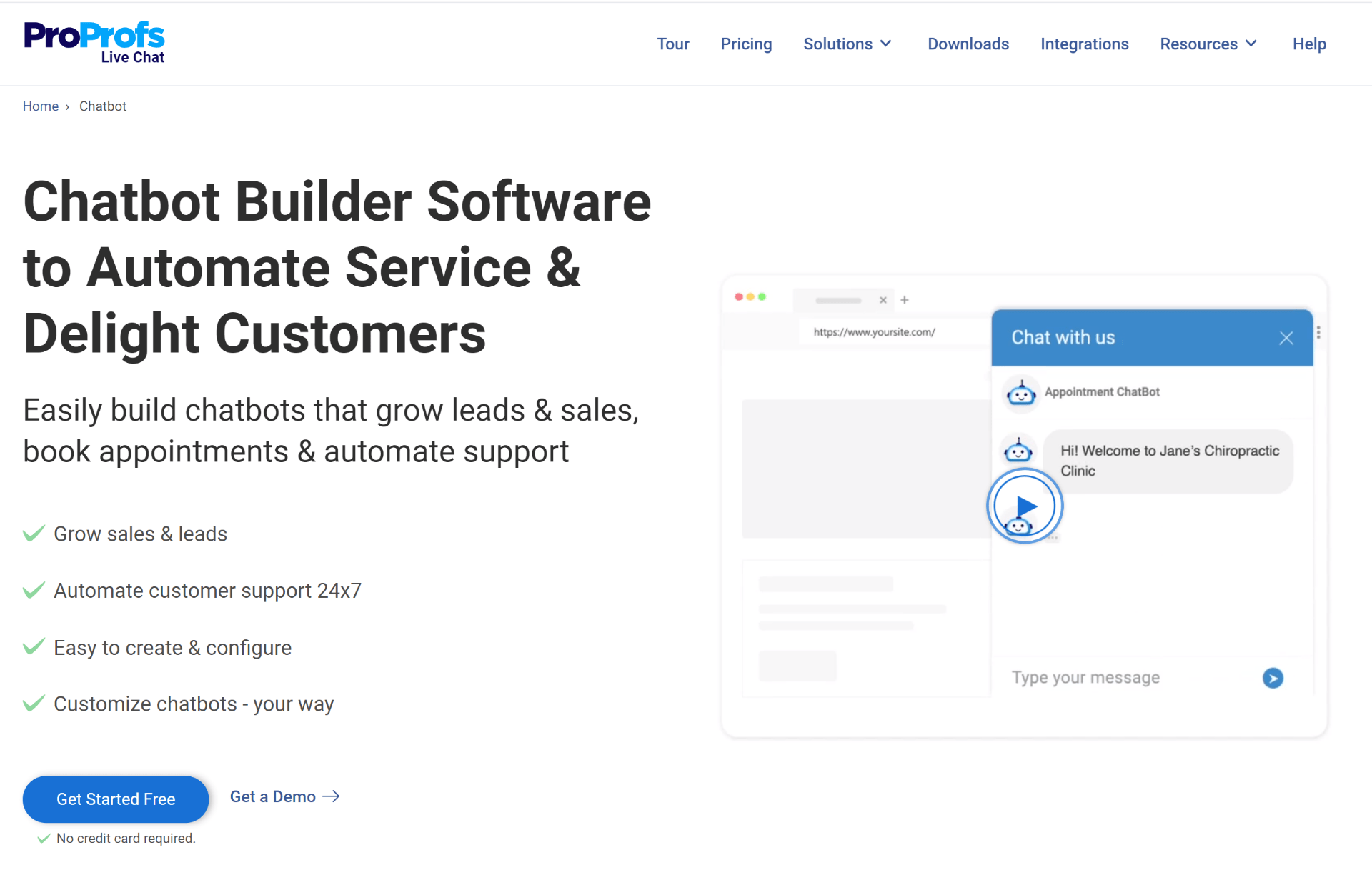 ProProfs Chatbot lets you provide quick support to your customers and capture high-quality leads through chat on your website. The tool is easy to install and use, requiring no coding knowledge. This interactive chatbot platform connects you with your customers round the clock, 24×7, with no friction.
You can even automate tickets, and integrate with ProProfs HelpDesk and ProProfs Knowledge Base to share help articles. The tool lets you build easy conversational flows using its drag-and-drop editor. Its customization feature lets you change the look and feel as per your brand voice.
Key Features of ProProfs Chatbot
Use pre-chat forms to capture quality leads
Use smart chat routing to transfer chats to operator
Use the visual editor to build conversational flow
Delight customers with human-like conversations
Use post-chat surveys to capture customer feedback
Pricing
Start exploring our live chat pricing today and enjoy our new options, including a FOREVER-FREE plan for a single operator and 19.99 USD for multiple operators.
What we liked: The tool is easy to use with no coding knowledge. You can add a name and change the display image to personalize it.
What could be better: It would be great if the tool can offer more designed templates.
Read More - Create Chatbot for a Website by using ProPorfs Chatbot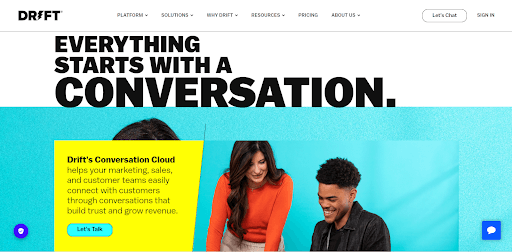 Drift lets you connect with your potential customers and grow sales with ease. This feature-packed tool enables you to create and deliver personalized conversations, which takes off the burden from your support representatives. The tool lets you deliver seamless customer service via AI and knowledge base integrations, reducing service time.
You can also align Drift Meetings to have a meeting with the customer once the conversation is over. The tool's reporting capabilities generate reports that can help you take business decisions for further improvement.
Key Features of Drift
Use customer routing for human support
Use self-help for instant customer service
Capture quality leads with AI-powered bot
Use CSAT Survey to learn customer satisfaction
Pricing
Get in touch with the company for a quote
What we liked: The tool lets you target customers with a personalized approach to enhance customer experience.
What could be better: The tool doesn't let you have multiple teams if you aren't an Enterprise plan subscriber.
Read More:  11 Best Drift Alternatives & Competitors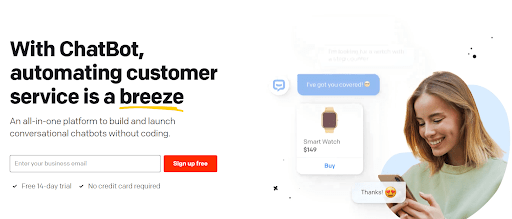 With ChatBot, customer support automation is an easy task. This chatbot software for sales lets you launch customized chatbot without any coding knowledge in just a few clicks. This tool further lets you strengthen your lead generation strategy without even increasing your sales team. Whether you are a growing business or an established one, ChatBot helps you qualify leads easily.
You can collect customers' information with this smart chatbot and organize data in CRM. It allows you to segment your customers and schedule meetings with them. Moreover, you can design conversational stories using its drag and drop elements.
Key Features of ChatBot
Lets you qualify leads and add them to your CRM
Provides customized recommendations to customers
Provides lead segmentation to be used by sales reps
Provides direct calling option from the chat widget
Pricing
The pricing starts at $52 per month with a 14-day free trial
What we liked: It has an easy-to-use flow builder and a training section where you can evaluate your chatbot's performance.
What could be better: The pricing can be a challenge for small and growing organizations.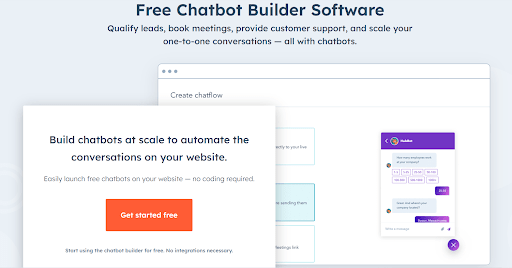 Hubspot's chatbot builder lets you create chatbots for conversation automation. You can easily launch this website chatbot without any coding knowledge required. If you are looking for unlimited & personalized chats with your potential customers, this tool will work best for you.
The chatbot can easily book meetings, qualify leads, answer FAQs and other tasks to take some burden off your support team. You can configure your chatbots to route conversations to an operator for better resolution. Consider this if you are looking for free chatbots for websites.
Key Features of Hubspot Chatbot
Easy to use and install, with no coding knowledge
Book meetings and qualify leads from chatbot
Send personalized messages using customer information in CRM
Customize chatbot to match with your website
Pricing
The tool is free to use.
What we liked: The tool has a two-way connection which lets you connect between CRM and chat widget to customize the chatflow.
What could be better: The chat interface needs improvements. Some users have reported being stuck in the conversation.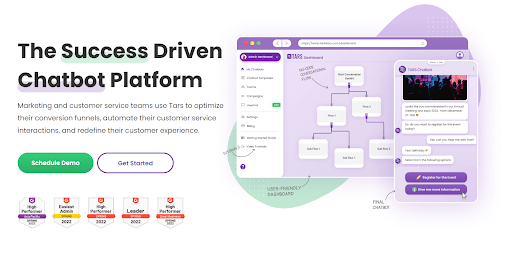 This chatbot builder platform lets you build chatbots to optimize conversion funnels and enhance customer support experience. You can customize the chatbot with its library of 1000+ chatbot templates as per your industry. This tool allows integration with 1000+ tools, such as Hubspot, Google Calendar, Zendesk, Salesforce, Zapier, etc., to transfer data to CRM.
Using this chatbot builder, you can either use your chatbot as a standalone, or your website, or even on Whatsapp. The tool's dashboard lets you view and analyze the conversation data.
Key Features of Tars
Get insightful reports to analyze the conversational data
Use personalization features to bring customization
Use drag and drop editor to create conversational flow
Seamless API integration with 1000+ tools
Pricing
Get in touch with the company for detailed pricing
What we liked: The tool comes with lots of API integrations and chatbot templates targeted to specific industries.
What could be better: The tool can be slightly expensive for small businesses and startups.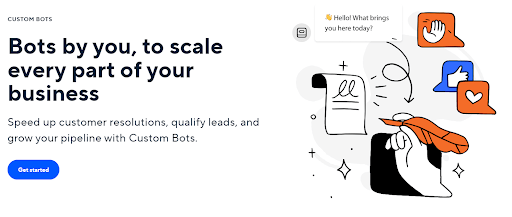 Intercom is well-known for delivering 24×7 customer service with proactive communication. This robust tool lets you target customers with personalized messages for better engagement. The chat automation feature enables you to be active and available for the customers.
Its integration with knowledge base reduces support time and eliminates any friction in the process. You can segment your audience based on the data and strategize a more personalized approach. Intercom lets you grow and qualify leads, and accelerate query resolution smoothly.
Key Features of Intercom
Use targeted messages to engage customers
Generate quality leads using customized bots
Share help docs in the chat using knowledge base
Use product tours for seamless customer support
Pricing
Get in touch with the company for detailed pricing.
What we liked: The tool's proactive support and targeted messages are great functionality.
What could be better: Performance tracking has been a major challenge using this tool.
Read More:  Explore These Alternative Platforms to Intercom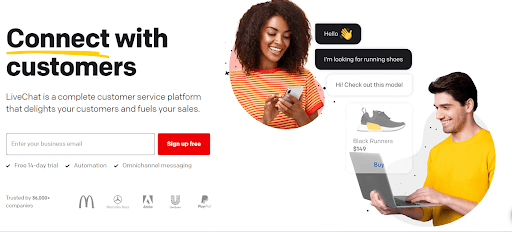 LiveChat's chatbot is based on AI algorithms. The chatbot reduces response time and can adapt according to the user interactions. Using this chatbot, capturing leads from other channels (social media) is an easy affair, thus enabling you to provide proactive omnichannel support. The chatbot can transfer the chat to operate whenever human touch is required.
This chatbot can also create help tickets if it cannot answer a question and operators aren't available. After finishing the conversation, this chatbot closes it smoothly, sending it to the archives.
Key Features of LiveChat Chatbot
Routing feature to transfer the chat to right department
Quickly answer using FAQs to reduce response time
Filter out any spam message on social media
Track sign-ups and purchases to measure chatbot performance
Pricing
The pricing starts at $20 per agent per month.
What we liked: The chatbot has a range of templates and it's easy to install without any coding.
What could be better: LiveChat has been reported to have certain website lagging issues leading to slow page loading.
Read More:  Best Alternatives and Competitors to LiveChat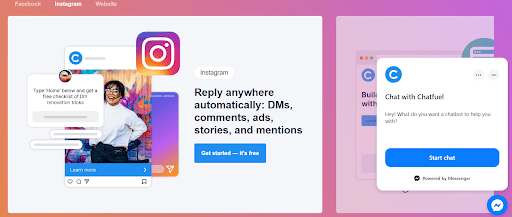 Chatfuel is among the top social media chatbots if you are looking to reach out to your customers on social media (Facebook and Instagram). The tool lets you automate customer support and sales from your social media page, comments, and messenger. This means you can reply to the customers automatically throughout the whole journey.
Further, you can easily answer FAQs, send product recommendations, and collect customers' feedback for any improvements. With the help of an internal CRM, the tool lets you segment your customers.
Key Features of ChatFuel
Automate support throughout the entire customer journey
Send pre-designed answers to common questions
Qualify leads and send promo codes on autopilot
Easy-to-use interface with no coding skills
Pricing
The tool is free to use; however, there are paid packages.
What we liked: A simple and easy-to-use chatbot designed for beginners; just a few clicks and good to go.
What could be better: Chatfuel works on Facebook Messenger; however, it would have been great if it would work on other platforms also (websites).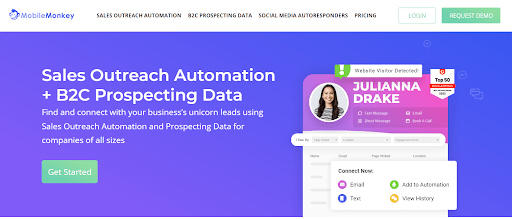 MobileMonkey is an AI-powered sales chatbot for eCommerce websites. This chatbot helps businesses deliver delightful customer experience by reducing response time. You can integrate this tool with several other famous communication channels, such as FB Messenger, WhatsApp, Instagram, Twitter, etc. and connect with your customers easily.
This all-in-one chatbot platform lets you capture, qualify and nurture leads anytime across the web. The chatbot follows a conversational and interactive approach and shares product recommendations to the customers to keep them engaged.
Key Features of MobileMonkey Chatbot
A multiplatform chatbot, works on any messaging portal
Route customers to operator or product pages
Mobile-friendly chatbot optimized for cross-devices
Follow-up messages to nurture and segment leads
Pricing:
Get in touch with the company for pricing
What we liked: Installation process is easy. Its multichannel functionality makes it a choice for every business.
What could be better: Customers have complained about spam emails. Also, the support can be better.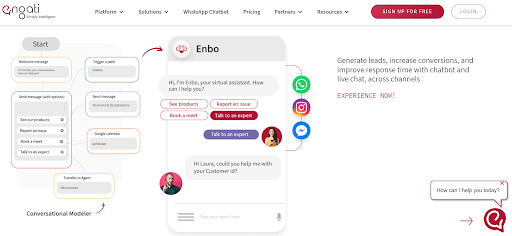 Creating custom bots using this platform is an easy affair. The fully automated chatbots come with AI and NLP features, making it a powerful chatbot for eCommerce businesses to boost their sales. You can establish an omnichannel customer support by integrating it with several channels, including Facebook, Whatsapp, Instagram, etc.
The tool uses DocuSense technology to answer complex questions in no time. Its built-in templates with simple and intuitive UI enable you to set up chatbots without any glitch or technical knowledge.
Key Features of Engati
Easy to create custom chatbots for omnichannel support
Machine learning & NLP capabilities to answer in conversational style
Easy to share FAQs to answer common queries
Offers Multilingual support along with simple conversational flow
Pricing
Get in touch with the company for price quote
What we liked: The AI and NLP features of the chatbot let it understand and learn customers' intent. Also, its multilingual and omnichannel support helps businesses stay ahead.
What could be better: Customers have faced issues renaming their bots which can be fixed. Also, there are some glitches connecting the bot with the website.
Read More:  Best Live Chat Tools for Website 
Pick the Best Sales Chatbot & Grow Your Sales
Selecting the right chatbot for sales for your business can be overwhelming. However, the easiest way to do so is by understanding your current support requirements and the resources available at the moment. Above, we discussed the top 10 best sales chatbots to use in 2022, which can help you grow your leads and convert them.
Designing and customizing a chatbot as per your needs and engaging customers are the key moves into delivering delightful customer experience. If the chatbot supports extra features, such as integration with knowledge base (in case you have one), that's a winning edge.
ProProfs Chatbot is the best chatbot for websites if you need an AI-featured chatbot that can automate support round the clock. This chatbot integrates with CMS and other marketing tools. You can use intelligent targeting for real-time customer engagement. If your business is largely focussed on social media, you can try Chatfuel.
Do you want a free Live Chat software?
We have the #1 Online Live Chat Software for instant customer support 24x7