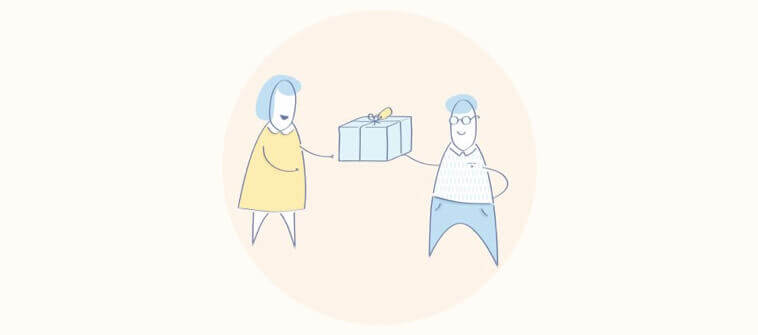 "How do we get to retain customers for our brand?"
"Where do we start?"
If you find yourself sharing the same concern frequently, then you need to build a customer loyalty program.
Before turning into global names, brands like Starbucks faced the same challenge. But with the awesome customer loyalty programs in place, they've successfully ensured that customers return to their store to make a purchase and earn more points.
The 'Starbucks Rewards' program helps their members get benefits like:
Free refills on brewed coffee and tea
Order ahead and pay using the smartphone app
Bonus reward days
Earn free add-ons, drinks, and food items
A free birthday treat every year
In fact, Candybar found that customers are 80% more likely to shop at stores that have loyalty programs. More importantly, members of loyalty programs spend 33% more, and generate 10x more revenue than one-off customers over time.
If these are the kinds of results you're looking for, then adding a well-designed customer loyalty program to your business would be the way to go.
That's why in this blog post we'll cover:
What's a customer loyalty program and why it is creating a buzz
Types of loyalty programs
Benefits of adding one to your business
How to create a well-designed loyalty program for your customers
What is a Customer Loyalty Program?
A customer loyalty program is a rewards program that a company creates for its most-frequent customers. The program helps the company to encourage loyalty and long-term business by offering free merchandise, rewards, coupons, or even advanced released products.
Why Is There A Buzz Around Customer Loyalty?
Loyalty programs work because they are like a shortcut to customer retention which is a game changer for many businesses.
Many studies have shown that investing in your brand advocates will yield more revenue in the long-run.
According to the Pareto Principle,
"20% of a brand's existing customers are responsible for 80% of its future revenue."
Tweet this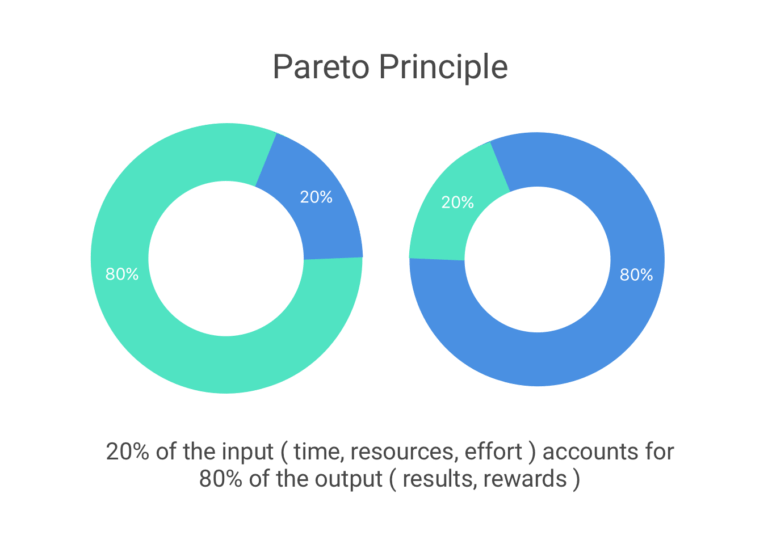 Getting new customers is not the only option to grow your business. You can add to your revenues by boosting customer retention via loyalty programs.
For example, Dunkin Donuts DD Perks loyalty program helps customers earn 5 points per dollar they spent. They also add killer features such as mobile payment and on-the-go ordering (picking up the order and skipping the queue) as incentives for their loyalty program members. By using their loyalty program to improve customer experience and give rewards, Dunkin Donuts is able to boost membership.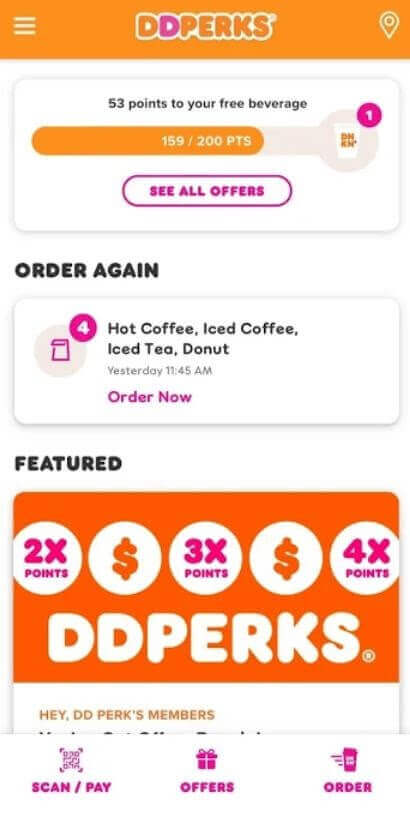 Interestingly, research also found that customer loyalty can be passed from one generation to another. 63% of millennials have similar brand loyalties as their parents. This implies that a loyalty program establishes customer retention for years, and generations, to come.
Benefits of A Customer Loyalty Program
The previous section highlighted one of the major benefits of customer loyalty programs – customer retention. But besides retention, a loyalty program can also help your business attain other benefits. Some of these benefits include:
1. More Customer Referrals
Your loyal customers will share their delightful experiences with friends and family encouraging them to check out your brand and see what's in store for them. This helps you acquire new customers without spending the actual cost of acquisition.
2. Cost-Efficient
Retaining a current customer turns out to be 5-25X cheaper than acquiring a new one. That means if your business successfully retains its existing customers, then you are likely to lower acquisition costs too.
3. User-Generated Reviews
Good loyalty programs encourage customers to leave positive reviews online. Programs that reward customers for reviews and ratings on listicles or social media platforms result in trustworthy and authentic testimonials.
How to Create a Customer Loyalty Program?
1. Create a Unique Name for Your Loyalty Program
2. Build a Community for Loyalty Program Subscribers
3. Help Customers Upgrade Services With One Time Fees
4. Create Opportunities for Customers to Enroll
5. Connect With Customers at Deeper Level
To create a customer loyalty program can be a challenge if you don't know where to start. That's why we've listed a few tips to help you build your own customer loyalty program from scratch.
1. Create a Unique Name for Your Loyalty Program
A unique name entices your customers to check out what's in there for them. It pulls them in and makes them feel valued. Brands like Sephora or Swarm Perks are a few examples of unique loyalty program names.
No doubt that their rewards are quite a catch for customers to return to them frequently. However, their names suggest that they are exclusively designed for their loyal customers.
2. Build a Community for Loyalty Program Subscribers
A sense of exclusivity doesn't end for your customers once they sign up for your loyalty program. They want more. And one way to offer them more is to create an exclusive community for them.
Build a community that's applicable for your users only, just like OnePlus community.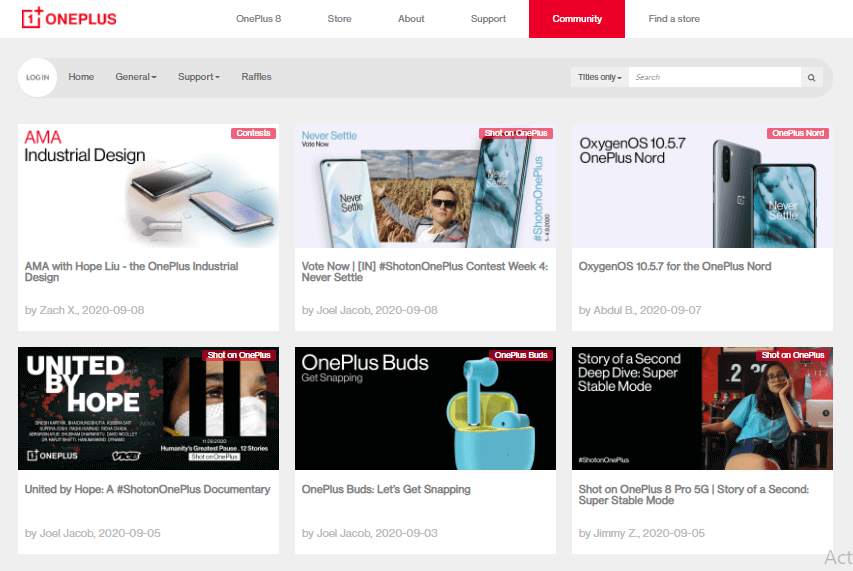 They have a OnePlus community where customers get access to latest updates on OS upgrades and product launch dates. What's more, their forum helps users discuss their first impressions and response to latest products with other community members. Such loyalty program ideas help your customers feel like they belong to a place and that a brand values them.
3. Help Customers Upgrade Services With One Time Fees
Simplify the common purchase barriers your customers may come across with exclusive and frictionless services by charging a one-time fee charge just like Amazon.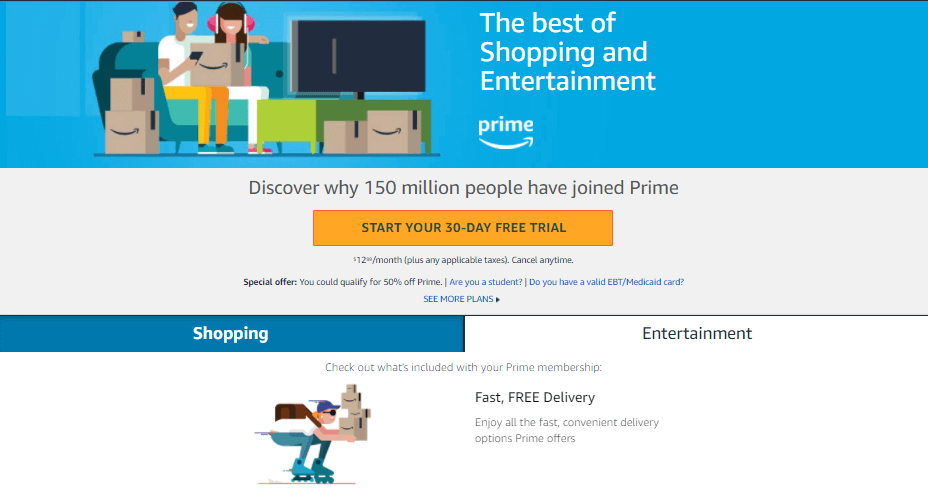 Amazon Prime upfront fees enables members to get free shipping on no minimum orders. Besides that, they also get to enjoy other Amazon services like joining a sale hours before it actually starts or access to Prime videos where they can watch latest shows or movies of their choice.
Keeping this example in mind, think of the benefits your customers may get once they enroll for your loyalty program. Also, think from the customer's perspective and see if the fee they pay as a one-time charge along with the benefits would be enticing for them to join your program or not.
4. Create Opportunities for Customers to Enroll
Launching one of the best customer loyalty programs is just the first step. You need to take multiple measures to make sure customers actually enroll for the program. That's why it is important to create opportunities that encourage your customers to enroll for them.
May be offer them discounts or find ways on how to reward loyal customers while they interact with your website through a live chat popup.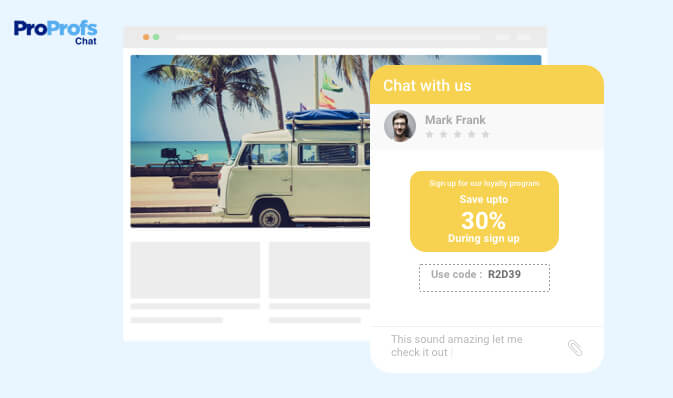 You can also drive in the message to join the loyalty program when a customer checks out with a few items in the cart and is ready to pay. Tell them that they can get a certain discount on every purchase and learn about flash sales once they join the loyalty program.
5. Connect With Customers at Deeper Level
If your customers get a feeling that they are pushed to a loyalty program to spend more money on your brand, then you need to stop and rethink your strategies.
You don't want your efforts to backfire like this. That's why it is important to introduce your loyalty program to customers in a way where they have something to take away or relate to.
For example, PetSmart has a loyalty program called PetSmart Treats. It helps pet owners get delicious food, new toys, even a haircut and more for their best friend while saving them money at every visit.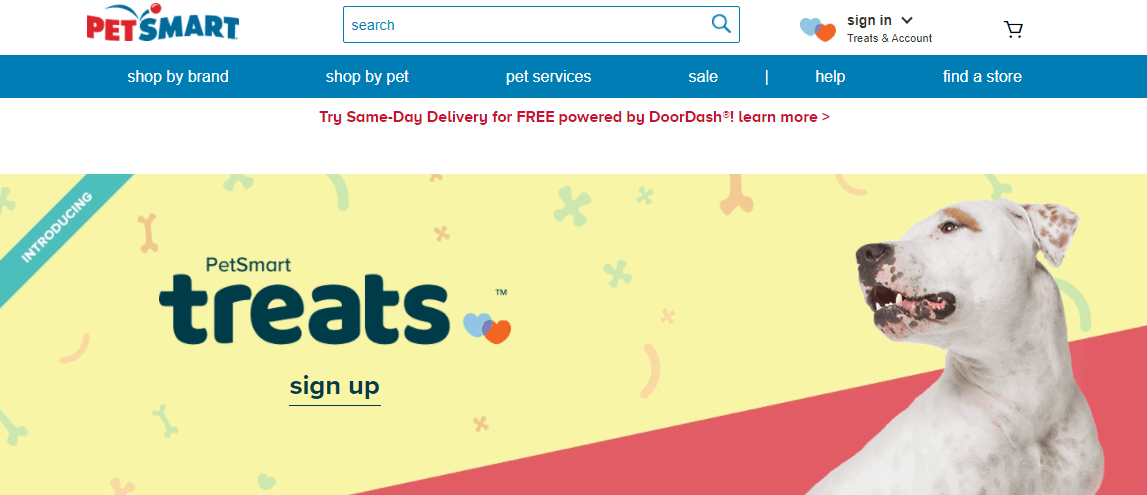 If pet owners sign up for a loyalty program, they get to earn points every time they purchase from their platform. What's more, loyalty program members get free shipping and notifications for members-only sales. And let's not forget, members get a free surprise for their pets on their birthdays. Now that's something a customer would love to pay for!
Types of Customer Loyalty Programs
1. Point Program
2. Value-based Program
3. Tiered Programs
4. Partnered Program
5. Paid Program
We are going to discover five types of customer loyalty programs in this section. Let's get started.
1. Point Program
This program works on a simple rule: get more, every time you shop!
Everytime your customers make a purchase at your store, they get to earn certain points based on their size of purchase that can later be redeemed on next visit.
2. Value-based Program
The essence of this program is to build a reward system that connects with the customer's values.
For example, you run a pet store and want to create a loyalty program. And you cater to customers who believe in animal welfare. Keeping their values towards animal welfare in mind, you can initiate a loyalty program where a part of their purchase amount gets donated in animal welfare organizations.
3. Tiered Programs
It is difficult to find the right balance between attainable and desirable rewards. But if that's the case, then a tiered program is the most suitable.
Under this program, you reward points to your customers on every purchase and at the same time their loyalty level changes. The more points they receive, the higher their loyalty level gets. And as their level increases, they are eligible for more rewards.
4. Partnered Program
A partnered program is a win-win situation for both your customers and you.
You get to grow your business by building new business relationships and offer relevant rewards under this program to your customers that match their values. This also goes on to show that you truly understand what their needs are and to what extent you are ready to fulfill them.
5. Paid Program
Paid programs are like VIP member clubs, where customers after paying a monthly or annual fee, enjoy access to special services, discounts or unique opportunities. So while you create such a program, make sure that its members get exclusive benefits that other customers don't.
Why Use a Rewards Program to Foster Customer Loyalty?
Customer satisfaction does not equate to customer loyalty.
You may be satisfied with a product or service. However, that does not always translate to repeat purchases and loyalty in the long-run.
For example, a customer may love a milkshake from "Candy Shake Bar" then end up purchasing from their rival competitor a few days later.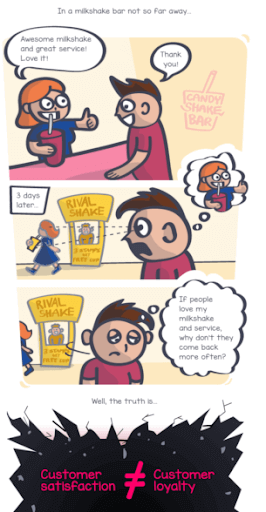 A loyalty program helps avoid this scenario by actively engaging and rewarding customers to make repeat purchases. These rewards can include discounts, freebies and access to exclusive products. Even a small discount gives customers a reason to patronize your brand because everyone loves to get more for less.
Having more loyal customers ensures that your business can expect continuous profit because people continue to patronize your brand. There's also no pressure to keep converting new customers because you have loyal patrons that can help your business stay afloat.
How to Measure the Success of Your Rewards Program
Like in any other program that you implement, you need a metric to measure the success of your loyalty program. Different businesses use different metrics to measure the success of their loyalty programs but these are the most commonly used metrics:
1. Net Promoter Score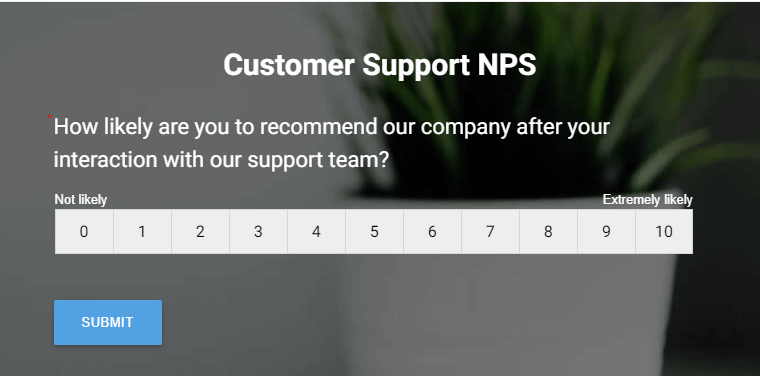 Net Promoter Score or NPS is a customer loyalty metric that measures how likely someone is to recommend your brand to their friends and family.
It asks customers a simple question,
"How likely are you to recommend this product/service to a friend or colleague?"
Customers give their answer on a scale ranging from 0-10. Based on the rating they provide, they are divided into three categories, these being promoters(9-10), detractors(0-6), and passives(7-8). The final score is calculated by subtracting the percentage of detractors from the percentage of promoters.
Watch: How to Calculate Net Promoter Score 🙂
Apple is known for conducting frequent NPS surveys at all its stores to identify detractors. They get in touch with detractors within 24 hours and try to resolve their issues. Studies have shown that for every hour spent contacting detractors, Apple has earned an additional revenue of $1000.
Read More: How to Create and Send a Net Promoter Score Survey to Measure Customer Loyalty
2. Customer Effort Score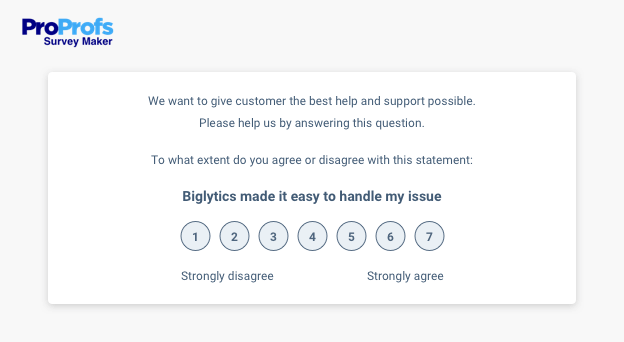 Customer Effort Score is measured by asking customers:
"How much effort did you personally have to put forth to solve a problem with the company?"
The scale on which this is measured depends on the brand but is usually between 1-5.
3. Customer Retention Rate
Customer retention is a metric to see how long customers continue their association with you. If your customer loyalty program is successful, it should be reflected with an increase in customer retention as well.
A common mistake made by young businesses is that they focus only on lead generation and customer acquisition. In this day and age, treating your existing customers like royalty is the key to ensuring that your business survives the cut-throat marketplace.
How to Grow your Business with a Loyalty Program
1. Offer Incentives
2. Give More Than Just Discounts
3. Give Meaning by Supporting Social Initiatives
4. Leverage Gamification
5. Train Your Employees
A loyalty program can bring a lot of perks to your small business and help improve your relationship marketing efforts.
Now, how can you maximize the revenue that you can earn from loyalty programs? Here's what you need to know.
1. Offer Incentives
The main perk of loyalty programs is its ability to offer discounts and rewards.
Not surprisingly, everyone loves to get more for less, right? That's exactly why members of top-performing loyalty programs are 77% more likely to choose your brand over the competition.
Customers also love to receive discount codes because they're fast and easy to apply to a purchase. In fact, 93% of shoppers use a discount or coupons throughout the year.
While you may be hesitant to offer discounts to all your customers, it seems to be cost-effective for loyal customers that regularly return to your online store. You want their loyalty to last forever so a small discount can go a long way to increasing customer retention.
For example, Adidas' 3stripes.co loyalty program lets participants get a $10 voucher for every $100 spent and many other benefits.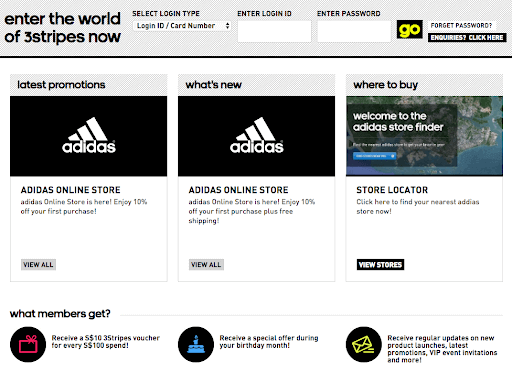 2. Give More Than Just Discounts
If you want to stand out from the crowd, then your program should offer more than a quick discount.
Spice up your referral program by giving members access to exclusive content and benefits that can boost their customer experience.
An example of a customer loyalty program that matches this idea is Sephora's Beauty Insiders loyalty program. It lets users enroll in free beauty classes. Booking a reservation at the nearest Sephora outlet only involves choosing a date and time. You can even indicate your phone number to receive notifications about your appointment.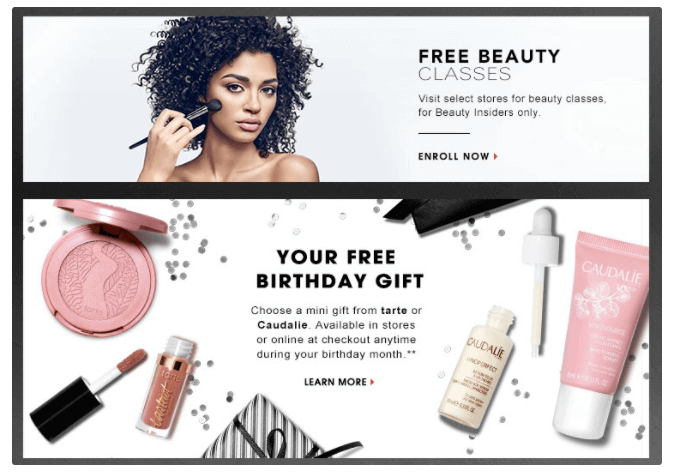 Members can also save points to snag exclusive products such as velour lashes, lipsticks and more.
Meanwhile, Starbucks has a dedicated mobile app to run its loyalty program. By signing-up, customers can get free drinks on their birthdays, order ahead and avoid queues, and get free refills.

These loyalty program benefits become the reason for consumers to stick to your brand. Just like Starbucks and Sephora, you can use your loyalty program as a platform that goes beyond generic offers by offering relevant content, mobile payments, birthday rewards and so on.
These types of perks are effective for attracting millennials who prefer instant service and convenience. Since the millennial generation spends $600 billion in spending annually, it is crucial to cater to their expectations to boost growth.
3. Give Meaning by Supporting Social Initiatives
Besides loyalty perks, consumers also love brands that support charitable causes.
With climate change and political issues on the rise, consumers are on the lookout for brands that support social initiatives and provide them an opportunity to give back meaningfully. In fact, 73 percent of Millennials prefer to work with socially responsible companies.
Two-thirds of consumers believe it's important for brands to take a public stand on social and political issues. Meaning using your loyalty program as a platform for social change will give you an edge over brands that don't.
As a result, brands can incentivize consumers to join their loyalty programs to indirectly support their social initiatives.
For example, Lyft's Round-up program gives users the option to support organizations that provide free and discounted rides to refugees, disaster survivors and many other organizations.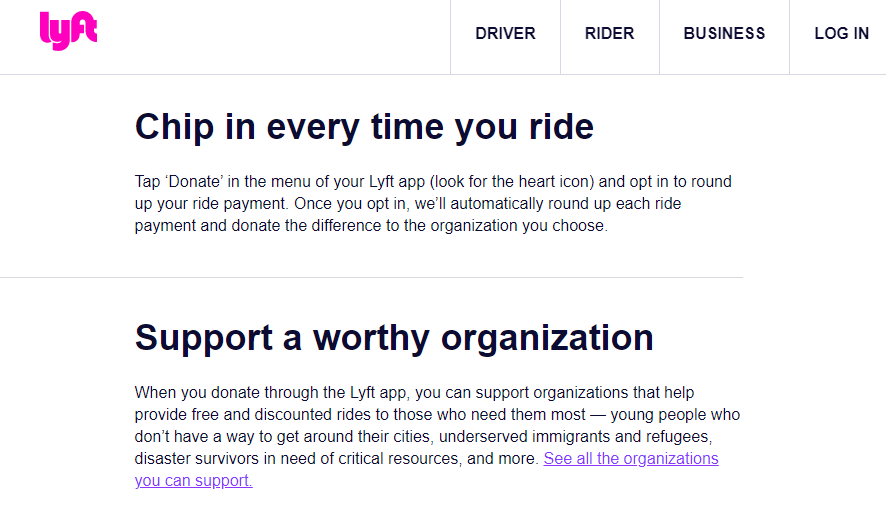 By giving consumers the opportunity to support a worthy organization, brands can forge a deeper connection with them. This emotional incentive also boosts customer commitment and retention in the long-run.
4. Leverage Gamification
Earning loyalty points can seem like a chore, especially if you have to make several purchases before you can attain your reward.
One solution is to leverage gamification in your loyalty program by including multiple tasks and achievements to unlock. Some even offer customers rewards based on certain actions like earning a new membership level after spending a certain amount of money.
A good tip is to give loyalty members badges for completing certain challenges or tasks. These challenges can include spending a certain amount of money within a specified timeframe or taking part in a 30-day challenge.
Captain Up – a social tool plugin – lets users earn up to 35+ badges for completing tasks such as adding items on a shopping cart or tweeting to earn rewards.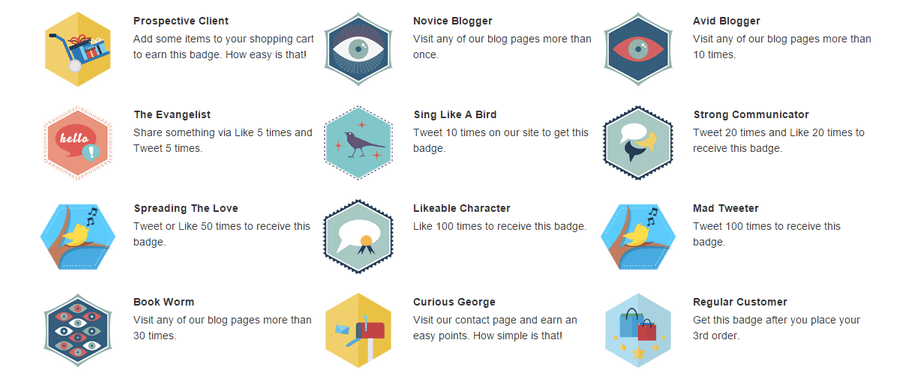 A performance graph can also be used to track a customers' progress in the game that you've created out of your loyalty program. This may motivate customers to boost their engagement to earn more points.
5. Train Your Employees
The push for digitization means companies are constantly using new apps and software for operations, marketing and sales.
If your employees are new to managing a loyalty program, then teach them so they understand how it works, interpret analytics and resolve customer issues.
We highly recommend holding demonstration sessions where employees can get hands-on experience in trying the loyalty program. You can start by training a few employees that can serve as mentors so everyone in the company can adapt and implement the loyalty program.
Prior to launching your loyalty program, you can get your sales and marketing teams to create a knowledge base. This will not only help your team learn the loyalty program, but ultimately, it will let them explain the new program to your current customers and get them onboard your new offerings.
Read More: Everything You Need to Know About Employee Training and Development
Ready to Start Your Loyalty Program?
Launching a well-designed loyalty program can help you retain your customers.
Choose incentives and rewards that will compel customers to patronize your brand. You can also boost membership by using the platform as an opportunity to share relevant content and convenient perks that will boost your customers' experience. Don't forget to leverage gamification and support social initiatives to stand out from other brands.
When done right, loyalty programs for customers can help you reap amazing benefits. And one of them is retaining your customers successfully. You can also undertake other measures such as adding a live chat to your website. This will make your customer's decision more confident as they'll know you will offer help when needed.
How will you build a well-designed loyalty program? Let us know in the comments below.
Do you want a free Live Chat software?
We have the #1 Live Chat software for delightful customer support starting at $0