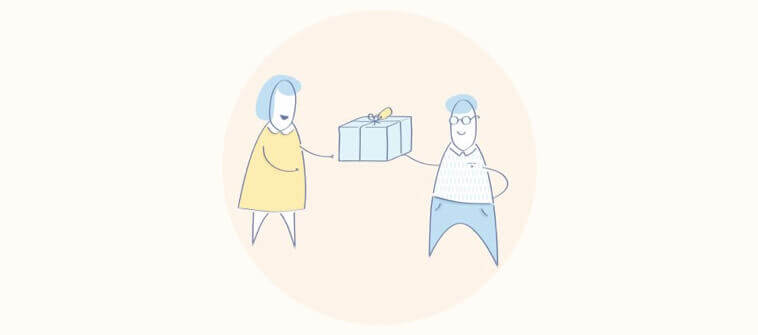 "How can we retain customers for our brand?"
"Where do we start?"
If you find yourself sharing the same concern frequently, you need a customer loyalty program.
Before turning into global names, brands like Starbucks faced the same challenge. But with the awesome customer loyalty programs in place, they've successfully ensured that customers return to their store to make a purchase and earn more points.
However, building a customer loyalty program from scratch can be challenging, and merely looking at what has been done won't help you make your own.
That's why we've built a quick guide to help you create a powerful loyalty reward program. Here's what our guide will cover:
What is a Customer Loyalty Program?
A customer loyalty program is a rewards program built to retain customers in the long run. It aims to encourage customers to return to the brand frequently. Customers who sign up for loyalty programs get free merchandise, rewards, coupons, early access to sales, detailed information about the next release, and more.
With a stable loyalty program, your business can bring in more customer engagement for your brand. It also reduces your customer acquisition cost. That means you can focus your capital on other marketing and sales tasks. Besides these benefits, other customer loyalty program benefits need your attention. We've listed the top five benefits for you in the next section.
Top Five Benefits of Customer Loyalty Program
In this section, you will come across some of the top benefits your business can attain by implementing a powerful customer loyalty program.
1. Brings in More Customer Referrals
Your loyal customers will share their delightful experiences with friends and family encouraging them to check out your brand and see what's in store for them. This helps you acquire new customers without spending the actual cost of acquisition.
2. Makes Customer Retention a Cost-Efficient Process
Retaining a current customer turns out to be 5-25X cheaper than acquiring a new one. That means if your business successfully retains its existing customers, you are likely to lower acquisition costs.
3. Helps You Generate Organic User Reviews
Good loyalty programs encourage customers to leave positive reviews online. Programs that reward customers for reviews and ratings on listicles or social media platforms result in trustworthy and authentic testimonials.
4. Offers Instant Access to First-Party Data
With loyalty programs, you can get to know your customers even better. You get to understand their likes and dislikes and what keeps them motivated to stay with your brand. Based on the collected data, you can build your marketing and sales acquisition strategies for future customers.
5. Brings Attrition Rate Significantly Down
Loyalty programs help you retain customers longer with your brand. You can say that it is a benefit of customer engagement. Customer loyalty programs bring in a significant amount of engagement that reduces the possibility of customers leaving your brand.
Five Type of Customer Loyalty Programs
We are going to discover five types of customer loyalty programs in this section. Let's get started.
1. Point Program
This program works on a simple rule: get more every time you shop!
Every time your customers purchase at your store, they get to earn specific points based on their purchase size that can be redeemed on their next visit.
2. Value-based Program
The essence of this program is to build a reward system that connects with the customer's values.
For example, you run a pet store and want to create a loyalty program. And you cater to customers who believe in animal welfare. Keeping their values towards animal welfare in mind, you can initiate a loyalty program where a part of their purchase amount gets donated to animal welfare organizations.
3. Tiered Programs
It is difficult to find the right balance between attainable and desirable rewards. But if that's the case, then a tiered program is the most suitable.
Under this program, you reward points to your customers on every purchase, and at the same time, their loyalty level changes. The more points they receive, the higher their loyalty level gets. And as their level increases, they are eligible for more rewards.
4. Partnered Program
A partnered program is a win-win situation for both your customers and you.
You get to grow your business by building new business relationships and offering relevant rewards under this program to your customers that match their values. This also shows that you truly understand what their needs are and to what extent you are ready to fulfill them.
5. Paid Program
Paid programs are like VIP member clubs, where customers enjoy access to special services, discounts, or unique opportunities after paying a monthly or annual fee. So while you create such a program, make sure that its members get exclusive benefits that other customers don't.
How to Create a Customer Loyalty Program
Creating a customer loyalty program can be a challenge if you don't know where to start. That's why we've listed a few tips to help you build your customer loyalty program from scratch.
1. Create a Unique Name for Your Loyalty Program
A unique name entices your customers to check out what's in there for them. It pulls them in and makes them feel valued. Brands like Sephora or Swarm Perks are a few examples of unique loyalty program names.
No doubt that their rewards are quite a catch for customers to return to them frequently. However, their names suggest that they are exclusively designed for their loyal customers.
2. Build a Community for Loyalty Program Subscribers
A sense of exclusivity doesn't end for your customers once they sign up for your loyalty program. They want more. And one way to offer them more is to create an exclusive community for them.
Build a community that's applicable for your users only, just like OnePlus community.
They have a OnePlus community where customers access the latest updates on OS upgrades and product launch dates. What's more, their forum helps users discuss their first impressions and response to the latest products with other community members. Such loyalty program ideas help your customers feel like they belong to a place and that a brand values them.
3. Help Customers Upgrade Services With One Time Fees
Simplify the common purchase barriers your customers may come across with exclusive and frictionless services by charging a one-time fee charge just like Amazon.
Amazon Prime upfront fees enable members to get free shipping on no minimum orders. Besides that, they also enjoy other Amazon services like joining a sale hours before it starts or accessing Prime videos where they can watch the latest shows or movies of their choice.
Keeping this example in mind, think of the benefits your customers may get once they enroll in your loyalty program. Also, think from the customer's perspective and see if the fee they pay as a one-time charge along with the benefits would be enticing for them to join your program or not.
4. Create Opportunities for Customers to Enroll
Launching one of the best customer loyalty programs is just the first step. You need to take multiple measures to make sure customers enroll in the program. That's why it is essential to create opportunities that encourage your customers to enroll for them.
Maybe offer them discounts or find ways to reward loyal customers while they interact with your website through a live chat popup.
You can also drive in the message to join the loyalty program when a customer checks out with a few items in the cart and is ready to pay. Tell them that they can get a specific discount on every purchase and learn about flash sales once they join the loyalty program.
5. Connect With Customers at Deeper Level
If your customers feel that they are pushed to a loyalty program to spend more money on your brand, you need to stop and rethink your strategies.
You don't want your efforts to backfire like this. That's why it is important to introduce your loyalty program to customers in a way where they have something to take away or relate to.
For example, PetSmart has a loyalty program called PetSmart Treats. It helps pet owners get delicious food, new toys, even a haircut, and more for their best friend while saving them money at every visit.
If pet owners sign up for a loyalty program, they can earn points every time they purchase from their platform. What's more, loyalty program members get free shipping and notifications for members-only sales. And let's not forget, members get a free surprise for their pets on their birthdays. Now that's something a customer would love to pay for!
6. Identify Opportunities for Offering Incentives
The main perk of loyalty programs is their ability to offer discounts and rewards.
Not surprisingly, everyone loves to get more for less, right? That's precisely why members of top-performing loyalty programs are 77% more likely to choose your brand over the competition.
Customers also love to receive discount codes because they're fast and easy to apply to purchase. 93% of shoppers use a discount or coupons throughout the year.
While you may be hesitant to offer discounts to all your customers, it seems to be cost-effective for loyal customers that regularly return to your online store. You want their loyalty to last forever, so adding a small discount can go a long way to increasing customer retention.
For example, Adidas' 3stripes.co loyalty program lets participants get a $10 voucher for every $100 spent and many other benefits.
7. Think Beyond Discounts
If you want to stand out from the crowd, then your program should offer more than a quick discount.
Spice up your referral program by giving members access to exclusive content and benefits to boost their customer experience.
An example of a customer loyalty program that matches this idea is Sephora's Beauty Insiders loyalty program. It lets users enroll in free beauty classes. Booking a reservation at the nearest Sephora outlet only involves choosing a date and time. You can even indicate your phone number to receive notifications about your appointment.
Members can also save points to snag exclusive products such as velour lashes, lipsticks, and more.
Meanwhile, Starbucks has a dedicated mobile app to run its loyalty program. By signing up, customers can get free drinks on their birthdays, order ahead, avoid queues, and get free refills.
These loyalty program benefits become the reason for consumers to stick to your brand. Just like Starbucks and Sephora, you can use your loyalty program as a platform that goes beyond generic offers by offering relevant content, mobile payments, birthday rewards, and so on.
These types of perks are effective for attracting millennials who prefer instant service and convenience. Since the millennial generation spends $600 billion annually, it is crucial to cater to their expectations to boost growth.
8. Capture Customer's Attention by Supporting Social Initiatives
Besides loyalty perks, consumers also love brands that support charitable causes.
With climate change and political issues on the rise, consumers are on the lookout for brands that support social initiatives and provide them an opportunity to give back meaningfully. 73 percent of Millennials prefer to work with socially responsible companies.
Two-thirds of consumers believe it's essential for brands to take a public stand on social and political issues. Meaning using your loyalty program as a platform for social change will give you an edge over brands that don't.
As a result, brands can incentivize consumers to join their loyalty programs to support their social initiatives indirectly.
For example, Lyft's Round-up program gives users the option to support organizations that provide free and discounted rides to refugees, disaster survivors, and many other organizations.
By allowing consumers to support a worthy organization, brands can forge a deeper connection with them. This emotional incentive also boosts customer commitment and retention in the long run.
10 Outstanding Examples of Best Customer Loyalty Programs
Building the right customer loyalty program is crucial to keep the engagement momentum going. To help you get the right motivation to build the best loyalty program, we've listed some of the outstanding examples.
1. The North Face
The first in our list of examples is The North Face. This brand is widely recognized for its VIPEAK loyalty program. This is designed for backpackers and has been divided into three tiers for their customers: Basecamp, Halfdome, and Summit Level.
The best part is, their loyalty program grants discounts between $20-$30!
After introducing their loyalty program to customers, The North Face has experienced that customers shop 2x more with them during their single visit to the store. Their products quality plays a significant role in convincing customers to sign up for the loyalty program. If they need any camping equipment, they look up to The North Face. This point-based loyalty program helps you understand how they could generate engagement with new and existing customers hassle-free.
2. Nordstrom
If we think about the best loyalty programs, we can't leave Nordstrom behind. This retailer is already known for its products and customer service. However, its loyalty program has encouraged customers to stay engaged with the brand further.
Nordstrom offers a four-tier loyalty program that includes Member, Insider, Influencer, and Ambassador. Their tired system helps them reward their high spenders more suitably and encourages them to come in more frequently. Due to this program, Nordstrom still gets to see a 35%-55% increase in their business.
3. Pulse Boutique
Another program that needs your attention is Pulse Perks by Pulse Boutique. This women's fashion store rewards their customers based on the content they publish on their social media channels.
Their loyalty program encourages customers to engage with their brand and allows them to get user-generated content (UGC) at the same time. That means they are building brand advocates for their business and rewarding these advocates for their efforts. This also helps them to reduce their customer acquisition cost too.
4. TOMS
TOMS is a famous brand in the shoe industry and is known for its excellent customer service experience. When you look at their customer loyalty program, you'll realize that it isn't like others in the market.
Their loyalty program, One for One, is known for making shoe donations every time a customer purchases a pair from their brand. Their program also supports Wildlife Conversation Society, where they share their profits with them for better animal conservation. TOMS efforts towards making a change in society help them become the game changer amidst all the shoe retailers in the market.
5. Marriott
When you think of luxury stay during vacations, you automatically think of Marriott. As one of the largest hotel brands with over 7,000 properties worldwide, Marriott certainly knows how to reward their returning customers at every visit.
Each visit to one of their properties helps their customers to earn points that can be used while paying a bill for their next visit. If that doesn't keep you hooked, their discounts to members from different elite tier program will surely do the trick. They offer separate time slots for checkout to members from different programs. They even provide particular benefits like mobile check-in, member rates and discounts, points bonus, and the list goes on.
6. The Body Shop
The Body Shop is already known for its animal cruelty-free products and is popular for its fantastic store experience. But their customers have also taken a liking towards their loyalty program called Love Your Body Club.
Under this loyalty program, their customers can enjoy rewards on all their purchases and be invited to member-exclusive events. While rewards can be redeemed on the next purchase, their events will help members get a sneak peek of their upcoming new collections and product deals.
7. Designer Shoe Warehouse (DSW)
Another leading company, DSW, is known for its awesome loyalty rewards and customer experience. Their reward system looks like a pyramid. That means the more their customers spend, the more they get to unlock their rewards.
But you may ask – what sets DSW VIP apart from other loyalty programs?
In 2017, they realized that most of their customers failed to use the reward points they earned during each purchase. That means they forgot they were a part of a loyalty program. This was also an indicator that, at one point, customers would fail to recognize themselves with the brand. At this point, DSW decided to run an email campaign that targets all their VIP members from the loyalty program.
Through their emails, they tried reminding members about:
Amount of points needed to earn their following $10 certificate
Different deals they'll be eligible for after gathering a certain amount of points
How many points they've collected so far, and how long they've been a part of the program
These subtle reminders helped them encourage their VIP members to start using their points again and encourage them to engage with the brand more frequently.
8. Air Canada
Air Canada's Aeroplan was rehauled in November 2020 after they collaborated with American Express. Due to their continuous efforts to create a better plan for their flyers, Aeroplan by Air Canada is becoming one of the best examples of customer loyalty programs.
Their members can earn points in multiple ways. They can earn points by:
Traveling in their airlines
Spending on their Aeroplan credit cards
Transferring points to one another
Stay with their travel partners like Marriott
Buying points online
These points can be added during the next flight to reduce the cost of the ticket. What's more, their card users get special discounts on all their flights. These benefits have encouraged people to become brand advocates of Air Canada.
9. Tarte
Want to learn how you can keep your customers engaged all the time on your social media pages? Well, Tarte Cosmetics teaches us all how to do that in the best way possible. Their loyalty program 'Team Tarte' rewards their customers based on how many referrals they get for their business.
You can call this social sneezing, but they like rewarding customers who spread the word about them to others. That's not all. They reward their members when they sign up for the program, purchase full-size products, sell items, and even when it's their member's birthday. These rewards keep their customers engaged for long with the brand and encourage them to return more frequently.
10. Lucy & Yak
Our last nominee in the category of best loyalty program weaver has got to be Lucy & Yak. This dungarees brand has a visually appealing loyalty page that discusses the benefits of having one at great length.
Just like Tarte, Lucy & Yak too make use of their user-generated content to reward their customers with points and other lucrative discounts. However, their rewards are tier-based. So, based on your loyalty program structure, their customers get awarded for their UGC. What attracts their customers is the name of each loyalty tier program named after the nature of their business – Comfort Lover, Yak Enthusiast, and Dungaree Devotee.
Ready to Start Your Loyalty Program?
Launching a well-designed loyalty program can help you retain your customers.
Choose incentives and rewards that will compel customers to patronize your brand. You can also boost membership by using the platform as an opportunity to share relevant content and convenient perks that will boost your customers' experience. Don't forget to leverage gamification and support social initiatives to stand out from other brands.
When done right, loyalty programs for customers can help you reap amazing benefits. And one of them is retaining your customers successfully. You can also undertake other measures, such as adding a live chat to your website. This will make your customer's decisions more confident as they'll know you will offer help when needed.
How do you plan to build a well-designed loyalty program? Let us know in the comments below.
Do you want a free Live Chat software?
We have the #1 Online Live Chat Software for instant customer support 24x7