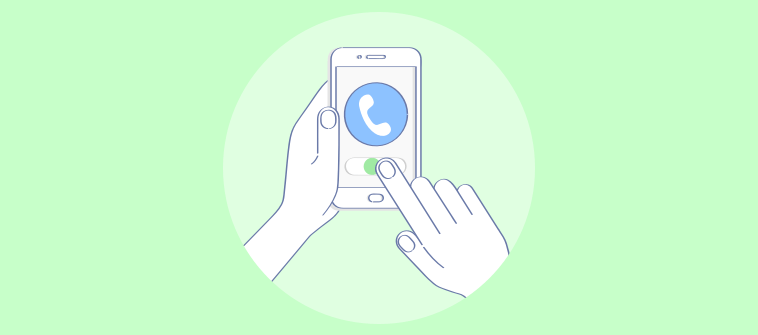 When almost 60% of customers believe that waiting on hold for a minute is too long, then imagine how a customer-obsessed CEO, Jeff Bezos, must have felt after waiting for more than four minutes to get on line with its own customer service team?
Honestly, your customer won't wait so long and they don't just expect a response, they expect first contact resolution. They aren't checking up on your customer service team like Bezos but looking for a solution.
And instant contact for help is just one side of the story. Even if customers successfully connect with your team in less than a minute, what's the guarantee that they'll get a solution on their first call?
If you fail to offer a first contact resolution, you might see more customers leaving your business. In that case, it is important to understand what first contact resolution means for your business, its importance, and how you can improve it successfully.
Don't worry, we've got your back. We'll help you learn everything about FCR in this blog post.
What is First Contact Resolution?
First-call resolution or first contact resolution (FCR) is defined as a contact center's ability to resolve customer issues or address their needs the first time they call, with no follow-up required. As a contact center metric, it is a vital part of the customer relationship management process.
But to say that it will help you know if customers are satisfied with your services would be a wrong assumption.
Adam Toporek, a customer experience expert and the host of a podcast Crack the Customer Code, shared the following two insights in one of his episodes when describing the first contact resolution.
First, you don't know if the solution helped the customer resolve their emotional dissatisfaction.
Yes, customers want to connect faster, but they also want to be left confident and satisfied with the solution they receive from a brand. And unfortunately, this metric doesn't really capture emotional dissatisfaction even if you did resolve a problem.
Second, you don't anticipate what other problems may arise once an issue is resolved. Does it sound complex to you?
Here's an example to help you understand the scenario better:
Amy and her family have recently shifted to a new place. Due to this change, she wants to make sure that her new address is updated in the bank. She reaches out to the bank and asks them if she could receive her bank statements and other related documents to the new address.
In a matter of a day or two, the address changes next to her records. Great! That's what we wanted right? Getting past a hurdle during the first contact. But does the bank anticipate that her other family members might have an account with them too and may approach them for the same? No, they don't.
In fact, the other members of the family are left to connect with the bank again and follow through the same process to get their address changed.
With Amy's problem addressed the first time she called for help, the bank fulfills the FCR criteria. But they fail to anticipate a problem that may rise in future.
What does it really say about this customer service metric?
FCR rate doesn't make you far-sighted or anticipate challenges your customers may face in future. This metric only indicates your responsiveness towards first contact and whether the challenge is met with a solution at the same time.
How to Calculate First Contact Resolution Rate
To improve your support team's responsiveness towards all customers, it is important you learn the first contact resolution formula. Only then you arrive at strategies that help them improve in this area further.
First Contact Resolution Formula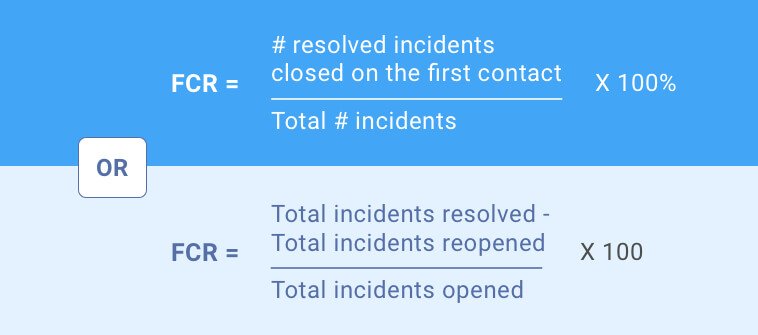 What Is a Good First Contact Resolution Rate?
Is there really a good first contact resolution rate for your business?
According to Call Centre Helper, the industry standards for FCR rate usually range from 65% to 75%. But does that indicate that anything above 75% will be seen as a good first contact resolution rate?
Well, every organization has its own customer service process and different stack of tools to offer help efficiently to their customers. That means their first contact resolution may vary too.
We also need to understand that every organization will have different standards to measure their FCR according to the sector they belong to. That's why, we can't compare FCR rates of one organization to another as it may vary due to their practices and decide what's a good FCR rate for your business.
Importance of First Contact Resolution
By now you must have understood why good FCR performance is important for your business. It's an indicator of how prompt your customer service team is to address and resolve customer issues.
But is that the only reason why this metric holds so much importance?
A study suggests that
"77% of customers end up using a self-service support portal to get a solution to their problem faster."
Tweet this
However, 12% of them fail to find the solution they need through these service portals. That 12% of customers who fail to find a solution through self-service portals end up escalating their problems to your customer support teams. And, during these circumstances they want their problem to be resolved on their first contact.
Microsoft's global research reveals that customers who get their issues resolved in a single interaction label it to be the most important aspect of a good customer service experience.
That means you need to offer a solution to your customer's problems on their first contact to create a delightful experience for them with your brand. In a nutshell, a good FCR performance is not just for your brand but also for your customers. You are trying to reduce customer efforts by offering them instant resolution on their first contact.
However, that's not possible either at your end. After all, different problems call for different solutions. But if that's the case, then how can you increase the first contact resolution rate for your business?
How to Improve the First Contact Resolution
1. Route Customers to the Right Contact Touch Points
72% of consumers consider explaining their problem to multiple people as a sign of poor customer service.
Your customers don't like to repeat themselves, period.
And to make sure that their experience isn't hampered by repeating themselves to one operator and then to another, make sure you route them to the right department immediately.
In a live chat, you can simply add a field in your pre-chat form that says Department.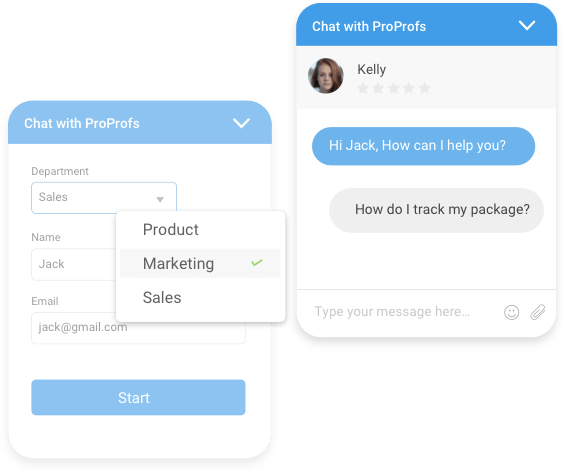 That way when your customers initiate a chat and fill this form, they'll be directed to the right department.
Outcome?
With live chat routing your customers:
a. Save their efforts to repeat their problem every time they get redirected to a relevant department.
b. Get a solution to their problems faster as they reach the right department on the first try.
The same can be done on call support through interactive voice response (IVR). Here callers get to choose from a predetermined list of departments to which they'd like to connect.
And for support tickets, the agent who comes across the new ticket can add the department tag or assign it to someone belonging to a specific department. But if you have the right help desk ticketing software, then there's a way to get tickets to the right department automatically.
You can add and manage customer-facing emails ([email protected], [email protected], [email protected], [email protected], [email protected] etc.) in your ticketing system. All emails will get converted into tickets and can be tracked through the shared inbox. To make sure these tickets get assigned to the right department, create categories.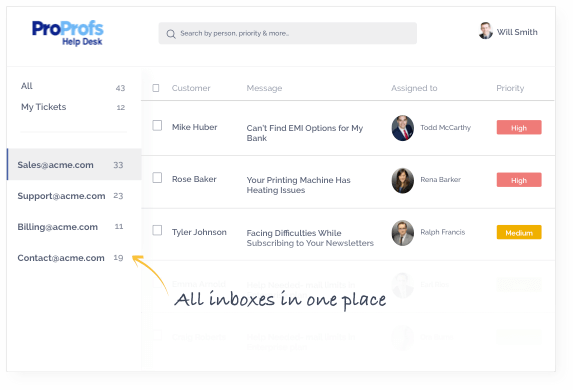 These will help you assign tickets to the right department automatically. And you will never miss a customer support request and always send timely responses, leaving your customer delighted.
Learn: How to Reduce Customer Service Response Time
2. Keep Your Knowledge Base Up-to-Date
To empower your operators with the ability to offer instant solutions, make sure you keep your knowledge base updated.
A knowledge base system will help them search relevant articles that help your customer support team respond to customer questions and offer possible solutions faster. This in turn helps you to:
Reduce the call length
Respond faster
Improve FCR rate
Learn: 7 Best Practices to Keep Your Knowledge Base up and Running
3. Avoid Leaving Your Customers on Hold
How does it feel when you are put on hold? Or get to see that your call is in a queue?
Honestly, you'd feel disappointed. But customers, they'll be more than disappointed. They'll be irritated if your team ends up putting them on hold for too long. After all, you give them the impression that their call is very important to you but your actions speak otherwise.
To avoid this from happening, you can opt for either of the two solutions or simply implement them both.
i) Make the Most Out of Callbacks
The option for callback will help you tone down the customer's emotions and let them know for a fact that their call is really important for your business. If customers select the callback option, they'll be able to disconnect the call and still be a part of the support queue. It'll help them avoid that background music and the automated message "Your call is very important to us. We will connect you to the next available agent soon."
ii) Let Live Chat Lead the Conversation
One of the reasons why 42% of consumers prefer live chat is because they don't have to wait on hold.
The option of live chat helps you bring the support queue down efficiently. By this we aren't implying that while using live chat your business may never come across a support queue. You can come across a queue even then. But it won't be as bad as the call support queue. That's because one operator can manage multiple customers at the same time.
4. Avoid Too Much Automation
You can't take the opinion of your customers lightly, right? Even if it's just 30% of them.
If 30% of customers express that not being able to reach a real human is the most frustrating aspect of a bad customer service experience for them, then you've got to take their opinion seriously.
Not all customers are open to the idea of automation. A lot of them would avoid having a conversation with a chatbot because it lacks the human touch they need. So, even if they are irritated or angry, they can't take it out on a chatbot. They would need someone to hear them out and not ask questions repeatedly or offer a helpful article link that may solve their problem.
Yes, we understand that the use of chatbot automates your support process. But at the same time, you've got to understand the customer point of view. If anything, such customers may not get a solution to their problem any faster and may even end up leaving without one. That's why reducing the use of automation can help you improve your FCR rate.
Read: Live Chat vs Chatbots
5. Train Your Operators to Gain Required Expertise
Another way to improve your first contact resolution rate is to help your operators become more knowledgeable about your products and services. Create training courses for them or online lessons on how to troubleshoot during an ongoing call in different situations.
Better training will help them gain the expertise that is needed for them to create a delightful experience for all your customers.
Watch: How to Create Online Training Courses 🙂
Delight Your Customers With Improved FCR
As crucial it is to improve your first contact resolution to keep customers satisfied, so is to do it right. With the best practices for first contact resolution rate for your business, you will be able to increase the base of delighted customers.
Most of all, you would also require tools that will help you offer solutions to customers on their first visit itself. And just in case you've been looking for one, then do sign up for ProProfs Chat. Its free trial will help you understand how to handle multiple customer queries at the same time efficiently and make the most out of features like canned responses, chat routing, chat greetings and more to offer a solution on their first visit.
---
Now that we've seen how to improve the first contact resolution, let's take a look at some of the frequently asked questions.
Why a high first contact resolution rate may not be good?
The problem with a high first contact resolution rate lies in its execution. It cannot be executed for B2B customer service as it is more complex than the B2C support process. What's more, it sets the wrong goals for support operators. It tells them to close a ticket or chat as soon as possible. This can impact their behavior during a conversation with the customer.
Also, this metric may not offer accurate measurements as it does not account the efforts of the self-service platform your business may offer. That's why a high first contact resolution isn't necessarily good for a business.
Why is the first contact resolution rate an essential customer service KPI?
It is an essential customer service KPI for business owners as it helps them get insights on whether they were successful at reducing the support cost or not. The more contacts they reduce to solve a problem, the better it becomes for them to reduce the support cost.
What is the link between customer satisfaction and first contact resolution?
A lot of people who are related to the customer service industry would know how closely related both customer satisfaction and first contact resolution are to each other. We have understood so far that FCR is the percentage of contacts that were resolved on the first interaction with the customer. This may help you know if the customer was satisfied or not, still it would be hard to say how satisfied were your customers with the solution received on their first interaction.
Do you want a free Live Chat software?
We have the #1 Online Live Chat Software for instant customer support 24x7