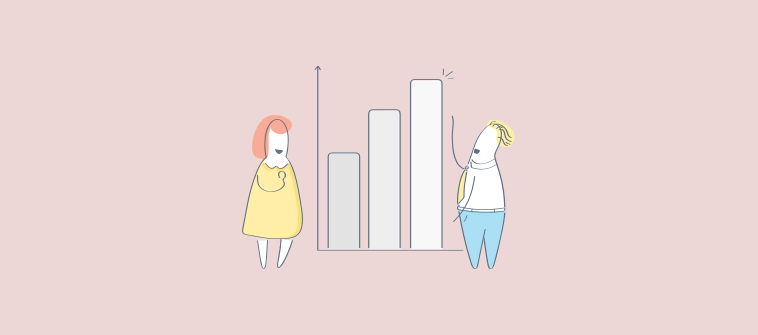 Technology has changed communication norms for good. With ongoing technological developments, a new term is born: Globalism. Thanks to its combination with the internet, there are no limits for communication. You can reach whoever you want, whenever you want, at any circumstances as long as you have a battery and an internet connection. This created new needs, desires, and expectations, and this has led to a different customer-brand relationship as well.
If customers are expecting more from your company, that's great. The important part is you shouldn't wait for them to ask. Aim to provide more than their expectations. That's why you need to know the ins & outs of your product. More than that, it is important to understand the areas that trigger their pain points and frustrations.
Exceptional customer success is one of the most important differentiates a brand can have to add value in the eyes of its customers. That's what customer success departments and its technologies are developing every day!
If you're working for a SaaS company like us, customer success is a bit more critical. We are operating in a highly competitive industry, where every single second of the day our pricing software needs to be up and running! It means that we need to plan every second of the day. That's the challenge of being global. And time-zone based working shifts are here for the rescue. Time-zone based shifts enable you to serve 7/24 up and successful customer success!
Effective Tips to Improve Customer Service
Customer success is only achievable once you work towards improving your SaaS customer service. In case you've already come across a lot of tips to improve customer service and don't know where to start, then we are here to help. Here are nine essential tips to improve your customer service and become successful at customer success.
#1. Embrace Customer Journey
No matter whether you're B2B or B2C, there is one important insight that every customer-facing specialist should know: customers don't buy products, they buy experiences. If you don't know anything about your customer's journey, you should immediately start doing that. There isn't a better turn-off than not knowing at what stage your customer is at their journey with you.
To successfully learn the progress of your customers, you can add a customer service chat software to your website. It allows you to monitor visitors in real-time and initiate a chat in strategic moments. This is a great way to keep track of your customer's journey on the website and work towards customer success.
#2. Know the Positives and Negatives
Every negative customer conversation should be managed as a crisis which may open up an opportunity to build strong bonds with your customer. So, if you're dealing with negative comments you might change the aim of the conversation and remind the advantages of service/goods that your company is providing. In crisis management, this move is called "reminding." In these kinds of situations, you might recall your previous experiences with the customers which are in a similar situation with the current and act accordingly.
#3. Make Your First Impression Count
After a sale, schedule a call with your customer according to their availability and be at your best. Every customer success professional should have the knowledge about human psychology and customer behavior so he/she can manage that communication processes successfully.
As a humble suggestion, I can say that, if you're a manager at a customer success department you should try hard to constantly educate your team. You should encourage them to read, exercise, and be enthusiastic about the customers while interacting with them via live chat for customer service. Lots of companies have monthly budgets for that need and it will be great once in a while to keep your team happy as well.
#4. Use Data Wisely
Every customer has different expectations, drives, and concerns. You need to treat everyone of them differently.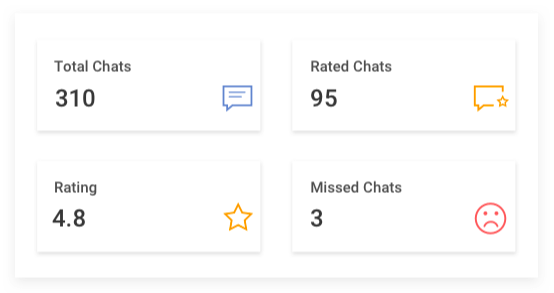 For example, ProProfs Live Chat for customer service provides this option to its users to track all data on the visitors and design their experience accordingly. It collects data such as:
Chat transcripts

Chat ratings

Average chat ratings

Missed chats

Total chats received
And much more. Based on all the metrics, you can build strategies that not only help you improve your products but also your interactions with the end customer.
#5. Be Proactive
Staying proactive through emails can become a daunting task. That's because your operators can miss out on emails, thereby leaving some customers wondering whether they will receive a reply or not. However, the same is not true in case you have a customer service chat software in place.
The use of a live chat for customer service allows your operators to be proactive and reach website visitors instantly. The software helps you track visitors in real-time and send them personalized messages so that people stay engaged with the brand hassle-free.
Understand, active engagement helps your business reduce churn rate effectively and the use of customer service chat software makes that possible for you.
Take a look at the leading churn reasons down below.
One of the most important duties of customer success is determined by churn. Yes, it might be the product's fault too, but if customer success couldn't detect a problem about the customer how could the product team know what's going on in the first place. So that's one more reason a proactive customer success team is crucial for a company.
#6. Dig Deeper
When a customer reaches you, it's probably because of a specific problem. Your priority should be on solving it but on the other hand, this situation might have a good opportunity hidden inside. Trying to understand the cause that leads to this issue and replicating it is an important exercise for strengthening both the product and customer's trust. So, don't just focus on solving the problem but get to the bottom of the issue.
#7. Offer Options
One Hubspot survey with more than 1,000 global customers found that 60% of people preferred to use phone and email for customer support. On the other hand, only 26% of customers liked to submit a form on a website — but more than half of companies offered that as an option. The lesson we need to take from this is we need to offer as many communication channels as our customers prefer to have without sacrificing the managerial or data collection issues that come with it.
#8. Collect Feedback
Getting honest feedback from customers is critical since it helps you to look at your products from a different angle, from customers' perspective. With this, each of your teams right from marketing to product development can be informed, so they can align their strategy properly. Keep your feedback mechanisms short and frictionless, because it's a sensitive matter where most people wouldn't want to spend even 1 minute of their time on.
So, while your operators interact with live chat for customer service, you can add a feedback form in the form of post-chat form to know how you really performed. Such forms can be filled instantly and do not require much time from the customer's busy schedule.
---
Related Read: The Importance of Collecting Customer Feedback
---
#9. Get Feature Request
Acting upon customer feedback is importance to gain business growth. For instance, a customer might raise a feature request for one of your products through customer service chat software. Getting that feature added from a single customer's perspective can be challenging. However, you will lose serious business opportunities if you ignore repeated requests for the same feature. Adding some features may benefit the interests of all your customers, while others may not. That's where you have to decide what works best.
Make Customer Success Happen With Tips to Improve Customer Service
Communicating with your customers with a human touch is the golden key to winning their hearts. Don't just be a brand but be a great listener and a problem solver for them. That's the only way you can earn media.
Brands and products can change but feelings cared for and heard makes something special about you. A well-planned and executed customer success management is a core part of the business that nobody can avoid anymore.
Do you want a free Live Chat software?
We have the #1 Online Live Chat Software for instant customer support 24x7