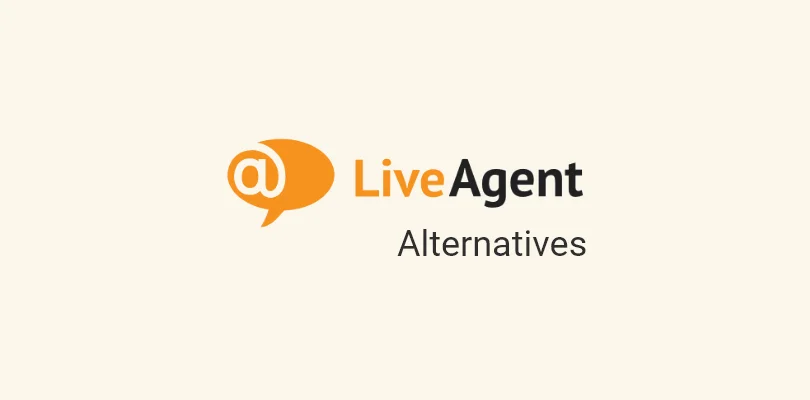 LiveAgent is a popular help desk software that offers live chat, email, social media, and phone support.
Despite its suite of tools, it may not be the best fit for your business needs. So, if you're looking for a more affordable, user-friendly, and feature-rich LiveAgent alternative, keep reading.
Whether you want to switch from LiveAgent or just explore other options, this blog post will help you find the right live chat software for your business.
We've compiled a list of the top 10 LiveAgent alternatives you can consider. These alternatives offer better functionality, pricing, and customer satisfaction.
What is LiveAgent?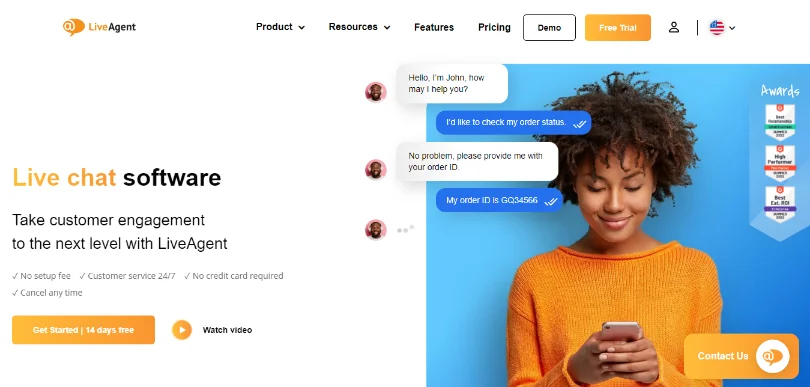 LiveAgent is a cloud-based customer support software that allows you to manage all your customer interactions from a single interface. LiveAgent has some key features, such as:-
A shared inbox that can handle multiple channels and email accounts.
A customizable live chat widget that you can embed on your website.
A call center to handle calls, as well as voicemail and IVR.
A knowledge base to help your customers find answers to their questions.
A customer portal that displays ticket status, history, and feedback.
A reporting and analytics dashboard that can provide insights into your customer service metrics.
It lets you integrate with various external apps and platforms, such as Facebook, Twitter, Instagram, WhatsApp, Shopify, WordPress, and more.
Nonetheless, LiveAgent has some drawbacks that can make you look for an alternative. Some of the common issues that users face with LiveAgent are:-
Slow loading time and frequent downtime
Complex pricing and billing system
Limited customization and branding options
Lack of advanced features such as chatbots, AI-powered suggestions, and sentiment analysis
If you are experiencing any of these problems with LiveAgent or simply want to try something different, here are the best 10 LiveAgent alternatives to check out.
Top 10 LiveAgent Alternatives & Competitors
We conducted extensive research on various live chat tools to carefully curate a list of the top 10 LiveAgent alternatives. Our evaluation was based on a thorough analysis of their features, USPs, benefits, drawbacks, user ratings, and reviews. These alternatives are:
Best LiveAgent Alternative for Automated and Personalized Customer Support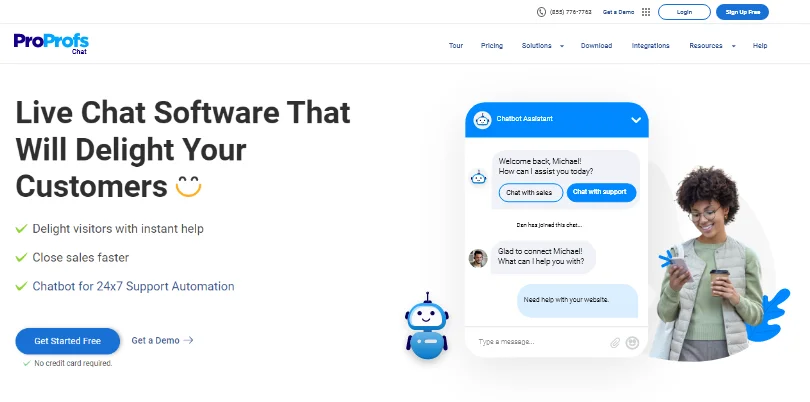 ProProfs is a top-notch live chat software designed to delight customers with instant and efficient support.
Whether you run a startup, a small business, or a large enterprise, the software empowers your support and sales teams to engage customers proactively, close sales faster, and automate customer service with AI chatbots.
This feature-rich platform offers a suite of tools, such as a helpdesk, knowledge base, CRM, and survey maker, to help you deliver exceptional customer experiences, boost conversions, and build lasting relationships with your customers.
What Makes ProProfs Chat the Best for Automated and Personalized Customer Support?
Proactive Chat Invitations & Personalized Greetings: With ProProfs, your operators can respond faster to customer queries, view what visitors type, and offer personalized assistance with Proactive chat invitations and customized greetings.
24×7 Support Automation with Chatbots: ProProfs Chat's AI-powered chatbots provide round-the-clock support, reducing support tickets by 35%. These intelligent bots help customers find solutions, book appointments, and even aid in sales and lead generation.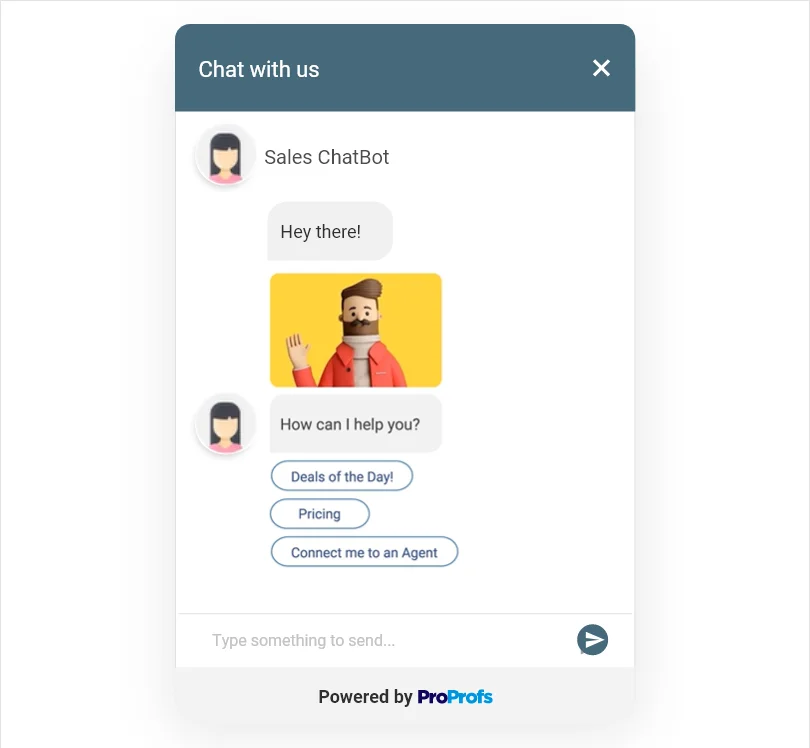 Multichannel communication: You can manage all communication channels in one place. It lets you respond to messages from social media, add live chat to your website or mobile apps, and integrate with leading CRM systems for a seamless customer experience.
Features
Capture customer information with pre-chat forms.
Utilize canned responses, tags, and chat routing for quicker response times.
Increase productivity with efficient multi-agent collaboration.
Helps you transfer chats and share chat sessions with other operators in real time.
Offer self-help articles by integrating live chat with ProProfs knowledge base.
Integrations: Salesforce, Wix, Shopify, etc.
Pricing: Get your team on board and start chatting today with ProProfs Chat's affordable pricing of live chat plans: forever free for a single operator and $19.99 for teams.
Benefits
✅Reduce response time and improve customer satisfaction with canned responses.
✅Boost sales and conversions by engaging customers at the right moment and offering relevant products or services.
✅Reduce support costs by automating repetitive tasks and FAQs with chatbots and self-service options.
✅Improve team collaboration by allowing operators to chat with each other, transfer chats, and share files.
Drawbacks
⛔The forever free plan offered by the platform is limited to a single operator. For multiple operators, businesses must subscribe to the paid Team Plan.
⛔Another potential drawback is the limited customization option.
Platform Compatibility
Web: Yes
iOS: Yes (Mobile app available)
Android: Yes (Mobile app available)
Reasons to Buy ProProfs Chat
Monitor website visitors, identify sales opportunities, and close deals faster with targeted assistance.
Manage multiple channels, such as social media and mobile apps (using Chat SDK), from one platform and integrate with popular CRM systems for efficient communication.
Gather feedback and customer insights from post-chat surveys and detailed reports.
Ratings & Reviews
2. Zoho Desk
Best LiveAgent Alternative for Real-Time Customer Engagement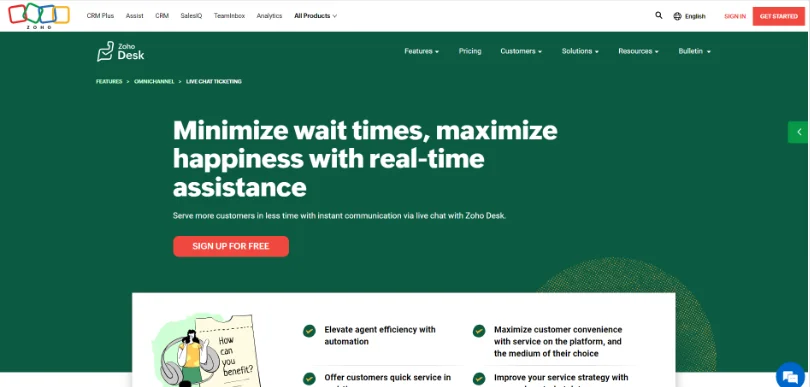 Zoho Desk is a powerful customer support tool that enables real-time interactions between customers and support agents. Its user-friendly interface allows businesses to provide instant assistance, resolve queries, and offer personalized support.
With this live chat software, agents can handle multiple conversations simultaneously, boosting efficiency and customer satisfaction. This feature is a part of Zoho Desk's comprehensive customer service software, empowering organizations to deliver seamless and responsive support experiences.
What Makes Zoho Desk Best for Real-Time Customer Engagement?
Instant Support Availability: Visitors can initiate chats anytime they need assistance, eliminating the frustration of waiting for email responses or long phone queues.
Transfer and Collaboration: If a customer's query requires the expertise of a different department or team member, this live chat software allows easy transfer and collaboration, ensuring the customer gets the best possible resolution.
Proactive Engagement: Zoho Desk allows your support agents to proactively initiate chats with website visitors, helping you reach out to potential customers, offer assistance, and guide them through their journey, boosting conversions.
Features
Offer in-app live support using Zoho Desk's mobile SDKs for Android and iOS devices.
Tailor the chat experience to your brand and website with customizable chat widgets.
Enable team collaboration in real time.
Automate actions based on customer behavior.
Integrations: Zoho CRM, G Suite, Slack, etc.
Pricing: Starts at $0 (with limited and basic features).
Benefits
✅Automate chat-to-ticket conversion and ticket assignments based on pre-defined parameters for efficient resolution.
✅Conduct parallel conversations with multiple customers using canned responses.
✅Get instant feedback and improve customer relations with customer happiness ratings.
✅Provide instant answers and support with chatbots even outside of working hours.
Drawbacks
⛔Users have reported issues regarding notification delays when a chat is transferred to another operator.
⛔The software's primary limitation lies in its limited integration capabilities with tools outside Zoho's suite.
Platform Compatibility
Web: Yes
iOS: Yes (Mobile app available)
Android: Yes (Mobile app available)
Reasons to Buy Zoho Desk
Interact with website visitors proactively, increasing user engagement and satisfaction.
Capture leads and guide potential customers through the buying process effortlessly.
Analyze chat performance and customer behavior to optimize support strategies and improve efficiency.
Ratings & Reviews
3. Help Scout
Best LiveAgent Alternative for Proactive Self-Service Assistance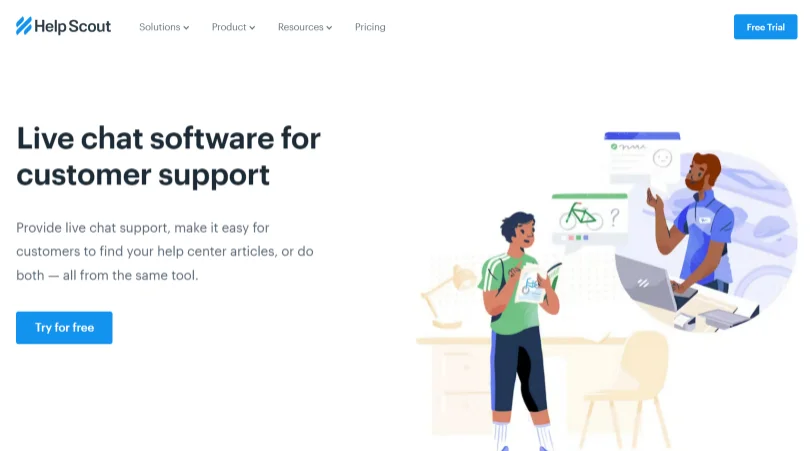 Help Scout is a leading live chat software that provides streamlined customer support solutions. With a focus on optimizing self-service options and efficient live chat, this tool empowers businesses to enhance customer satisfaction and reduce the burden on their support teams.
This user-friendly platform integrates its live chat support with its comprehensive help center, making it easy for customers to find answers to their questions seamlessly.
What Makes Help Scout Best for Proactive Self-Service Assistance?
Effortless Access to Information: Help Scout's intelligent article recommendations eliminate the guesswork of finding answers. When customers access a particular page or encounter a specific issue, the platform intuitively suggests relevant help center articles, ensuring immediate access to valuable information.
Reduction in Support Requests: The number of live chat inquiries decreases as customers find answers through self-service. It reduces chat volume and workload, and allows agents to focus on more complex issues that genuinely require human assistance.
Enhances Knowledge Base Utilization: Help Scout's proactive assistance encourages customers to explore the help center further to increase the utilization of the knowledge base.
Features
Manage and prioritize conversations effectively using workflows.
Provide personalized assistance with customer context and history.
Organize your inbox with rules, tags, and custom fields for improved email management.
Access detailed reports to track team performance, response time, and customer satisfaction.
Integrations: Jira, Trello, Asana, etc.
Pricing: Starts at $25/user/month.
Benefits
✅Deliver fast and personalized support to your customers across multiple channels.
✅Improve your team's collaboration and productivity with shared inbox and automation features.
✅Create a comprehensive help center with answers to frequently asked questions.
✅Recommend relevant articles to customers based on the page they are viewing.
Drawbacks
⛔Help Scout doesn't support omnichannel capabilities.
⛔It does not have a native phone support feature. You need to use third-party integrations for that.
Platform Compatibility
Web: Yes
iOS: Yes (Mobile app available)
Android: No
Reasons to Buy Help Scout
Boost agent productivity with efficient multitasking and canned responses.
Increase website engagement and conversions with proactive live chat invitations.
Streamline ticket management by converting chat conversations into support tickets seamlessly.
Ratings & Reviews
4. Intercom
Best LiveAgent Alternative for Personalized In-App Messages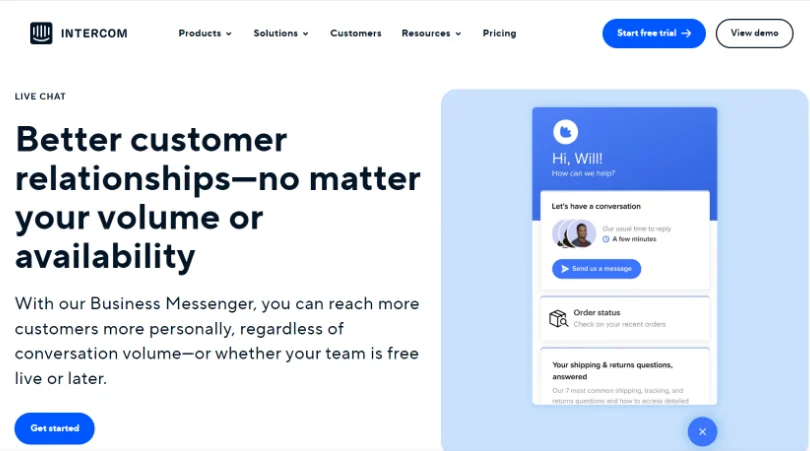 Intercom is one of the best LiveAgent alternatives facilitating real-time communication between businesses and their website visitors or app users.
With its user-friendly interface, automated workflows, and seamless integration, this tool facilitates personalized interactions, boosts customer engagement, and streamlines support processes.
What Makes Intercom Best for Personalized In-App Messages?
Contextual Targeting: Intercom allows you to send messages based on specific user behaviors, actions, or events within their application. By understanding the context of user interactions, you can tailor messages that resonate with customers, driving higher engagement and conversion rates.
Segmentation and Customization: You can create custom segments based on user attributes, such as location, subscription status, and user role. It enables personalized messaging that speaks directly to users' unique needs and interests.
Real-time Triggers: Intercom's in-app messages can be triggered in real-time, precisely when users are most active or engaged within the application.
Features
Automate your live chat with AI-powered bots and workflows.
Prioritize and route inquiries efficiently with smart automatic tagging.
Segment your audience based on their behavior, preferences, or their stage in the customer journey.
Analyze the performance of your live chat campaigns and conversations with metrics and reports.
Integrations: Stripe, Salesforce, HubSpot, etc.
Pricing: Starts at $74/month (Includes 2 seats and 1,000 People reached)
Benefits
✅Collect crucial customer details and redirect conversations to the relevant departments.
✅Efficiently address common queries and provide instant responses, reducing the workload on support teams.
✅Optimize chatbot flows to align with the brand's tone and cater to customer preferences.
✅Proactively engage with website visitors, assess potential leads, and gather valuable customer information.
Drawbacks
⛔Requires additional expenses for supplementary features.
⛔It can be challenging to shift from another platform to this LiveAgent alternative, especially if you have substantial historical data or integrations.
Platform Compatibility
Web: Yes
iOS: Yes (Mobile app available)
Android: Yes (Mobile app available)
Reasons to Buy Intercom
Provides a versatile platform for engaging customers with multiple communication channels.
Intercom Boosts supports team productivity by centralizing conversations and offering automation.
Benefit from a wide range of integrations, connecting Intercom with your existing tools for a streamlined workflow.
Ratings & Reviews
Also Read:  10 Best Intercom Alternatives 
5. HappyFox
Best LiveAgent Alternative for Streamlining Customer Support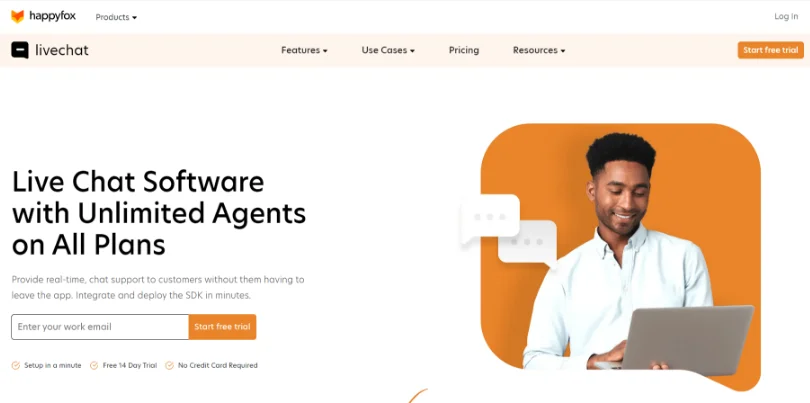 HappyFox is a leading live chat software that offers real-time chat support to customers, providing a seamless experience without them having to leave the app.
With its easy-to-integrate SDK, businesses can deploy HappyFox within minutes. This versatile platform is trusted by industry-leading companies, such as Whirlpool, LeapFrog, Jabra, and more.
What Makes HappyFox the Best for Streamlining Customer Support?
Quick and Efficient Customer Support: HappyFox Chat makes it easy for customer support teams to handle multiple chat sessions simultaneously, providing instant gratification to customers and boosting overall customer satisfaction.
Fully Customizable Branding: One of HappyFox's standout features is its fully customizable chat widget. You can easily match the widget's colors and messaging to align with your brand, offering a seamless and consistent user experience.
Automated Customer Service with HappyFox Chatbot: HappyFox Chatbot, an AI-powered solution, can help you automate customer service and reduce support requests by answering common questions and managing tickets efficiently.
Features
Initiate conversations with visitors based on their behavior and provide timely support.
Save time by using predefined responses to frequently asked questions.
Seamlessly convert chat conversations into support tickets for consistent follow-up.
Empower agents to handle multiple chats simultaneously to reduce response time.
Integrations: WordPress, Salesforce, Slack, etc.
Pricing: Starts at $29/user/month.
Benefits
✅Preview what your customers are typing before they send the message.
✅Utilize live chat analytics to identify trends and optimize support processes.
✅Engage customers with tailored responses and personalized recommendations.
✅Offer round-the-clock assistance, ensuring customers receive timely help whenever they need it.
Drawbacks
⛔Functionalities like SMS and chat support, asset management, and custom reporting are available at higher prices than other LiveAgent alternatives.
⛔Has limitations in terms of customization and flexibility of usage.
Platform Compatibility
Web: Yes
iOS: Yes (Mobile app available)
Android: Yes (Mobile app available)
Reasons to Buy HappyFox
Increase sales and conversions with instant communication and lead generation.
Automate customer service and reduce support workload with HappyFox Chatbot.
Access and sync customer data seamlessly with various integrations.
Ensure data privacy and protection with encrypted communication.
Ratings & Reviews
6. Hiver
Best LiveAgent Alternative for Cross-Team Collaboration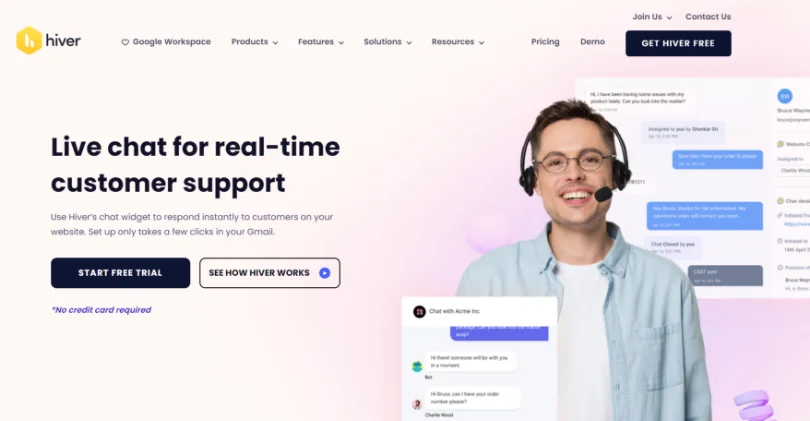 Hiver is an exceptional live chat solution designed to revolutionize customer support and facilitate real-time engagement for businesses of all sizes.
The software ensures timely issue resolution, prevents missed chats, and even offers escalation options. With collision alerts and message notifications, Hiver enhances team efficiency and prevents duplicate responses.
Whether you are a startup or an established enterprise, this tool offers an array of powerful features that enhance collaboration and streamline customer interactions on your website and Gmail..
What Makes Hiver the Best for Cross-Team Collaboration?
Effortless Collaboration: With Hiver's live chat app and agent-assignment feature, teams can efficiently collaborate on customer queries and allocate chats to specific team members directly from Gmail.
Automation: Teams can set up rules and workflows to automate tasks such as assigning emails, sending reminders, or updating statuses. This reduces manual work and human errors and increases efficiency and productivity.
Analytics: Your team can track and measure its performance using metrics such as response time, resolution time, CSAT, SLA, and more. This can help identify bottlenecks, improve quality, and optimize processes.
Features
Assign incoming customer chats to specific agents in Gmail with just a few clicks.
Automate warning emails for missed chats and leave message notifications for offline agents.
Facilitate effortless collaboration with agent assignment and custom chat templates right from Gmail.
Ensure smoother communication by notifying agents about ongoing responses from their colleagues in the chat box.
Integrations: Aircall, QuickBooks, Okta, etc.
Pricing: Starts at $13.33/user/month.
Benefits
✅Automate routine tasks and leverage extensive analytics to improve customer satisfaction.
✅Easily handle multiple channels such as email, live chat, phone, and more from your Gmail inbox.
✅Track service metrics, access in-built reports, and create customized reports.
✅Assign customer queries to support agents and gain a 360-degree view of their status.
Drawbacks
⛔It has limited features as a standalone tool and relies heavily on Gmail for its core operations. Users who do not use Gmail or prefer other email platforms may not be able to fully utilize Hiver's capabilities.
⛔Advanced features may require higher subscription tiers.
Platform Compatibility
Web: Yes
iOS: Yes (Mobile app available)
Android: Yes (Mobile app available)
Reasons to Buy Hiver
Hiver's integration with Gmail makes it a breeze to set up and use without needing to learn new tools or switch between platforms.
Engage leads promptly with Hiver's Email Capture feature, leading to higher chances of conversion due to personalized interactions.
Enable your team to work together seamlessly so the customers receive prompt, accurate responses to their inquiries.
Integrate Hiver live chat seamlessly into your existing workflow and CRM for a cohesive customer service solution.
Ratings & Reviews
7. Gist
Best LiveAgent Alternative for Streamlined Customer Engagement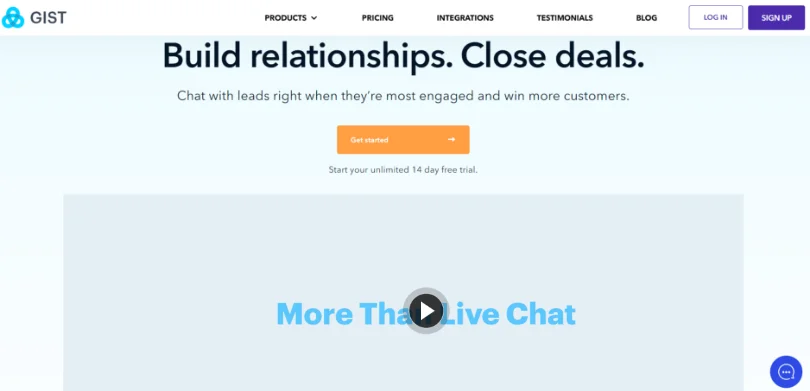 Gist is a cutting-edge customer engagement platform that helps you connect with your prospects like never before. It offers a suite of powerful tools and features that streamline communication, boost sales, and enhance customer support.
With real-time messaging, automation capabilities, and seamless integrations, Gist emerges as a comprehensive solution for businesses looking to build meaningful customer relationships.
What Makes Gist the Best for Streamlined Customer Engagement?
Real-Time, Personalized Experience: Gist enables you to engage with website visitors in real-time, catching them when they are most interested. By offering instant answers to questions and concerns, you can provide a personalized experience that leaves a lasting impression.
All-In-One Platform: It integrates various tools such as live chat, email marketing, chatbots, forms, knowledge base, and more into one platform. You can easily manage customer interactions and drive growth without switching between different platforms or tools.
Collaborative Team Inbox: Gist fosters teamwork by providing a unified inbox where team members can collaborate and respond to customer inquiries.
Features
Enhance user experience with online status, read receipts, and typing indicators for seamless conversations.
Prequalify leads and schedule meetings 24/7, ensuring sales teams connect with the most promising prospects.
Collaborate efficiently with a unified team inbox, automatic conversation assignments, and private notes.
Set up rules-based messages to engage visitors and capture their interest immediately.
Integrations: WordPress, Segment, Stripe, etc.
Pricing: Starts at $0 (with limited features and no chat transcripts).
Benefits
✅Connect with potential customers at the right time, nurture leads, and close deals faster with real-time engagement.
✅Provides instant answers and personalized assistance to delight customers and foster loyalty.
✅Automates lead qualification and appointment scheduling to save time and optimize sales efforts.
✅Proactively engage with visitors through targeted messaging, converting more leads into customers.
Drawbacks
⛔Gist's mobile app is not very functional and does not support all the features available on the web version.
⛔The live chat widget is not very customizable and does not have many animations or design options to match your branding.
Platform Compatibility
Web: Yes
iOS: Yes (Mobile app available)
Android: Yes (Mobile app available)
Reasons to Buy Gist
Gist provides a captivating chat experience on par with leading social media platforms, allowing you to seamlessly share GIFs and emojis.
It enables automatic chat assignment to team members, utilizing user profiles as criteria or distributing them equally through round-robin allocation.
Gist's collaborative features enable teams to work together seamlessly, improving customer support and satisfaction.
Ratings & Reviews
8. Vision Helpdesk
Best LiveAgent Alternative for Live Chat Automation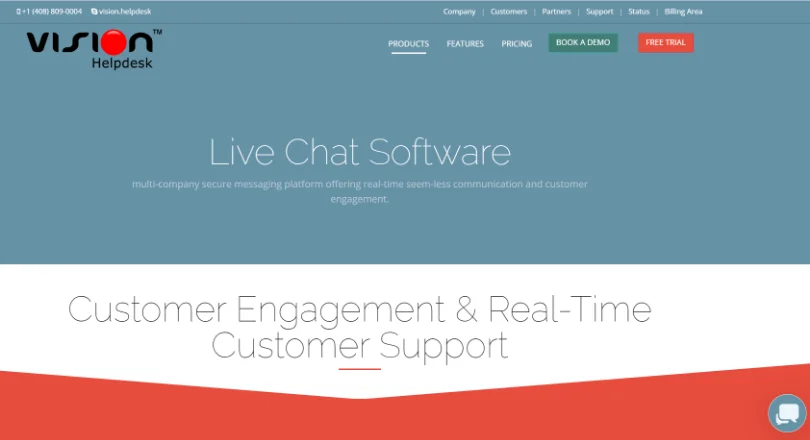 Vision Helpdesk is a top-tier live chat software with exceptional capabilities in streamlining customer engagement and real-time support. You can customize the chat widget, set up automation rules, use canned responses, and access chat reports.
It also lets you manage multiple companies, brands, or products with the same live chat platform. Vision Helpdesk's live chat can be integrated with its help desk and service desk software, making it a complete customer service solution.
What Makes Vision Helpdesk the Best for Live Chat Automation?
Virtual Agent Assistance: The Virtual Agent can handle frequently asked questions, filter chat traffic effectively, and redirect visitors to human agents when necessary, optimizing support team productivity.
Auto Assignment of Chats: Automatically route chats to the appropriate team or individual live chat agent based on predefined criteria.
Customizable Chat Escalation: You can automatically define rules to escalate chats based on specific criteria. It ensures critical or complex issues are promptly escalated to the appropriate authorities.
Features
Offers a secure, reliable browser-based messaging platform with staff role segregation and chat history.
Utilize powerful automation and chat routing workflow rules to increase efficiency and save organizational resources.
Manage customer support live chats for multiple products, companies, or brands from one centralized platform.
Provide instant responses with canned responses through a single click.
Integrations: Clickatell, Drupal, GoToMeeting, etc.
Pricing: Starts at $16/agent/month.
Benefits
✅Enhance customer support team productivity through real-time support capabilities.
✅Drive sales by engaging website visitors and guiding them toward informed purchasing decisions.
✅Offer a multi-company support system, ideal for businesses managing multiple companies or products.
✅Offer powerful automation features to optimize resource utilization and improve efficiency.
Drawbacks
⛔Initial setup and configuration process is slightly complex.
⛔Advanced features may require training for new users to fully utilize the software's potential.
Platform Compatibility
Web: Yes
iOS: Yes (Mobile app available)
Android: Yes (Mobile app available)
Reasons to Buy Vision Helpdesk
Simplifies your customer support by providing a unified platform for all your communication channels and platforms.
Enables you to support multiple companies or brands from one place without compromising on data security or quality.
Helps improve your IT service management with ITIL/ITSM-compliant features and best practices.
Automates chat assignments, escalation, notifications, and message forwarding for smooth customer interactions.
Ratings & Reviews
9. Freshworks
Best LiveAgent Alternative for Contextual Conversations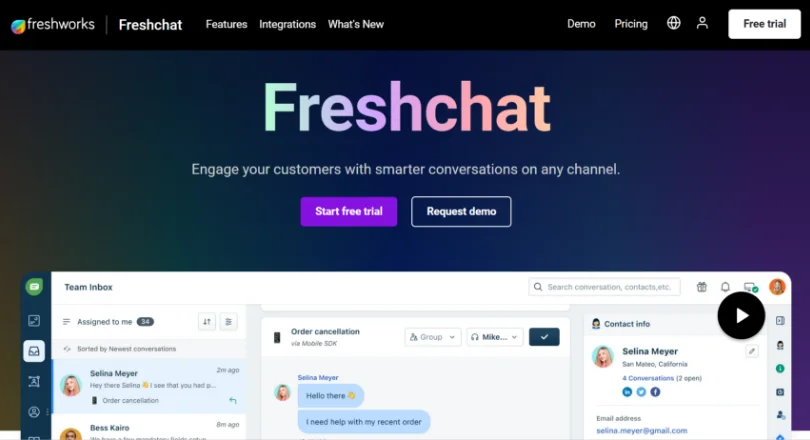 Freshworks live chat is a part of Freshchat, a messaging software that lets you have smarter conversations with your customers on any channel. You can use AI-driven bots, co-browsing, in-messenger FAQs, and more to provide proactive and personalized support.
The software also integrates with Freshworks' suite of products, such as Freshdesk, to offer a unified and contextual customer experience.
What Makes Freshworks the Best for Contextual Conversations?
Detailed Past Interactions: Freshworks keeps track of previous interactions and customer information. It provides agents with context during conversations and personalized and relevant support.
Unified Agent Workspace: Agents can access a comprehensive view of customer interactions, including past purchases, open issues, and conversations across channels, and provide personalized support.
Features
Scale support with AI-driven bots, offering quick and effortless self-service.
Proactively engage customers on the web or messaging channels.
Equip agents with a unified workspace for personalized customer experiences.
Utilize admin and analytics tools to make informed decisions about customer behavior, team performance, and bot effectiveness.
Integrations: Zendesk, Clearbit, Shopify, etc.
Pricing: Starts at $0 (with limited integrations).
Benefits
✅Streamline agent workflows with chat routing and canned responses for efficient communication.
✅Foster collaboration with team messaging and internal notes for seamless problem-solving.
✅Extend support beyond business hours with automated chatbots for 24/7 assistance.
✅Tailor your responses and recommendations to individual customers for a more personalized experience.
Drawbacks
⛔Frequently face some bugs and glitches that affect its performance or usability.
⛔Has a slower response time.
Platform Compatibility
Web: Yes
iOS: Yes (Mobile app available)
Android: Yes (Mobile app available)
Reasons to Buy Vision Freshworks
Empower your teams and bots to have smarter customer conversations across channels.
Equip your agents with the context they need for personalized support.
Leverage analytics to make informed business decisions and drive growth.
Optimize AI-powered features and insights to optimize your sales and support workflows.
Ratings & Reviews
Also Read: 11 Best Freshchat Alternatives & Competitors Worth Considering 
10. Crisp
Best LiveAgent Alternative for Shared Inbox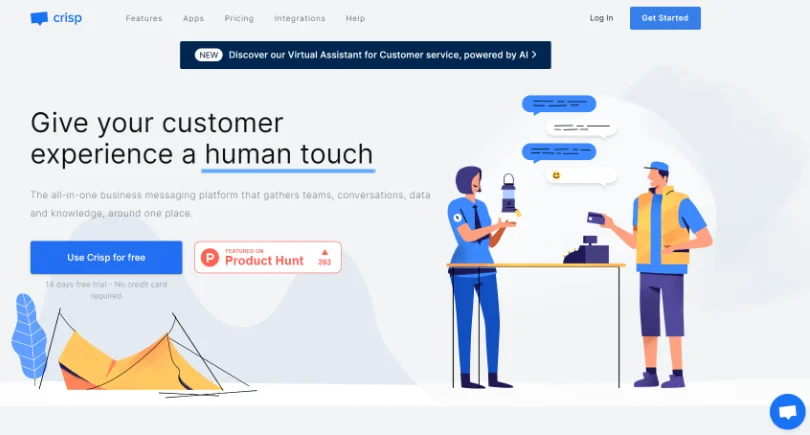 Crisp is a business messaging platform that helps startups and small businesses communicate with their customers and leads. The platform offers live chat, chatbot, email campaigns, co-browsing, knowledge base, and more.
With Crisp, you can engage with your customers in real-time, solve their queries promptly, and build stronger relationships.
What Makes Crisp the Best for Shared Inbox?
Consolidate Messages: It centralizes all your messages from external channels in one place so you can easily organize, collaborate, and manage social inboxes.
Collaborate with Internal Notes: It lets you write internal notes on each conversation and mention teammates to collaborate. You can also set reminders, access user ratings, and track your team's inbox efficiency.
Access Customer Information: Crisp provides a dedicated customer data management platform that connects your shared inbox to a CRM. You can access a complete picture of every customer or lead, including their location and activity.
Features
Create and maintain a comprehensive knowledge base to offer self-help resources for customers.
Implement chatbots to handle common queries and free up your team's time.
Seamlessly exchange files and documents with customers during conversations.
Save time and consistency by using predefined responses to common questions.
Integrations: Zapier, Quicklinks, Cloudflare, etc.
Pricing: Starts at $0 (without knowledge base and chat triggers).
Benefits
✅Send links, files, videos, and images to provide a personalized and interactive experience.
✅Enable screen sharing during live chat sessions to enhance communication.
✅Enhance team productivity with features like canned responses and chatbots.
✅Make data-driven insights for better decision-making with reports and analytics.
Drawbacks
⛔Limited customization options for the chat widget appearance.
⛔Users have reported delays in receiving replies due to server performance issues.
Platform Compatibility
Web: Yes
iOS: Yes (Mobile app available)
Android: Yes (Mobile app available)
Reasons to Buy Crisp
Helps businesses provide instant support, personalized interactions, and efficient issue resolution, leading to higher customer satisfaction.
Turn your potential customers into paying ones with real-time engagement and targeted responses.
Optimize your support team's productivity and reduce response times with features like chatbots and ticketing.
Crisp's analytics provide valuable customer behavior data, enabling data-driven decision-making and improved business strategies.
Ratings & Reviews
Also Read: 10 Crisp Chat Alternatives for Enhanced Customer Support 
6 Must-Have Features for All LiveAgent Alternatives
When looking for a LiveAgent alternative, consider the following features to take your customer support game up a notch:-
1. Automated Workflows
It can help you automate repetitive tasks such as ticket routing, prioritization, escalation, and resolution, save time and resources and ensure consistent service quality.
2. Service Level Agreement (SLA) Management
You can define and monitor the expected level of service you provide your customers, set up SLA rules based on various criteria, such as ticket type, channel, priority, and status, and track SLA compliance and performance with reports and alerts.
3. Branding Customization
This feature can help you personalize the customer support software to match your brand identity. You can customize the look and feel of your interface, chat widget, email templates, knowledge base articles, and customer portal. This way, you create a more professional and trustworthy image for your business.
4. Self-Service Capability
All LiveAgent alternatives should help you provide customers with a self-service portal that contains a knowledge base, FAQs, forums, feedback forms, and more. This can empower your customers to find solutions to their problems independently and reduce the workload on your agents.
5. Knowledge Base Management
This feature can help you create and maintain a centralized repository of information that both your agents and customers can access. You can store various types of content, such as articles, guides, videos, screenshots, etc., and optimize your content based on customer feedback and analytics.
6. Multi-Channel Support Functions
Multi-channel functionality allows you to support your customers across multiple channels, such as email, live chat, phone, social media, messaging apps, etc.
You can also integrate with other platforms and tools like CRM and streamline your communication and collaboration with your customers.
Also Read:  How Live Chat on Your Website Can Maximize Conversion 
How to Choose the Best LiveAgent Alternative as per Your Needs
Choosing the best LiveAgent alternative depends on various factors and your specific needs. Here are some parameters to consider to make the right decision:
1. Identify Your Requirements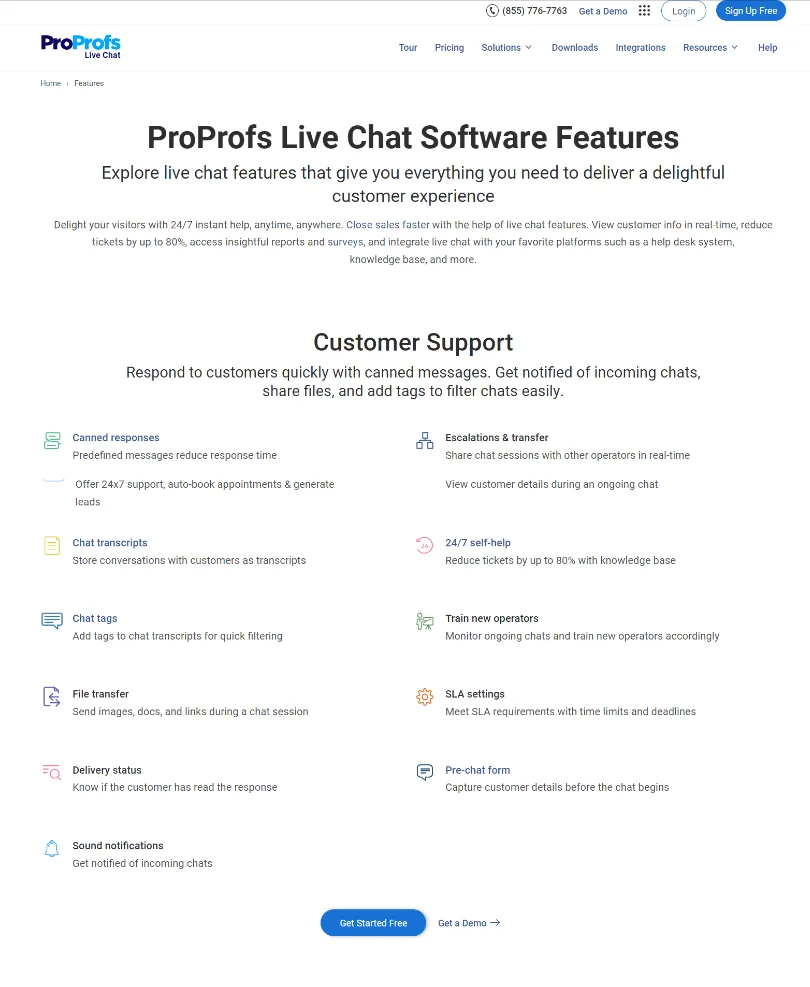 Before looking for alternatives, determine what features and functionalities are essential for your business. Consider functionalities you need, like pre-chat forms, canned responses, chat transcripts, chatbots, chat routing, etc.
2. Budget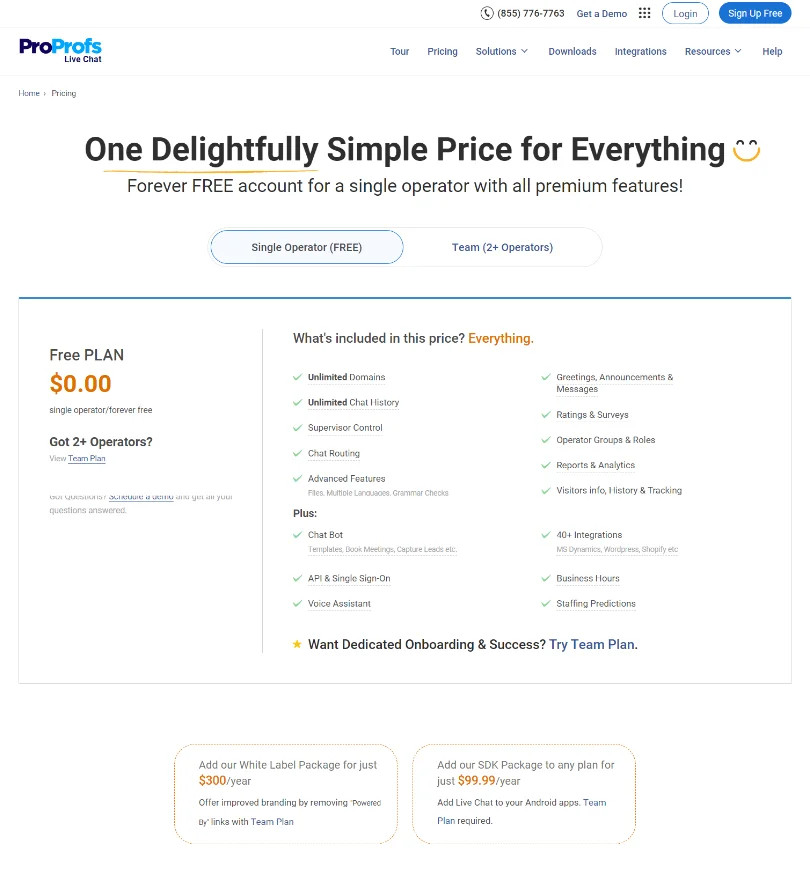 Set a budget for your customer support tool. Some LiveAgent alternatives offer more features but come at a higher price, while others may be more budget-friendly with all the necessary features you need.
So, based on the information provided in this blog, weigh your options against your budget and requirements.
3. Scalability
Consider your business's growth potential. Ensure that the alternative you choose can accommodate your future needs as your customer base expands.
4. Ease of Use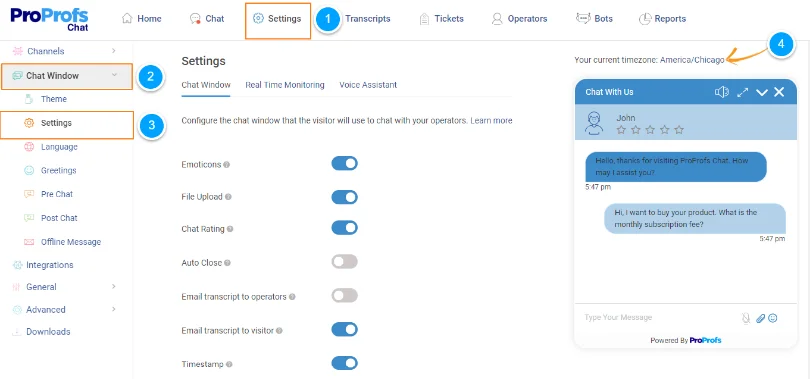 Look for a user-friendly interface and intuitive navigation. You don't want your team to spend excessive time learning a complicated system.
5. Integration
It is crucial to check whether your choice of LiveAgent alternative can integrate with other tools and software. Seamless integration can streamline your workflow.
6. Customization
Consider whether the alternatives you shortlist allow you to customize the platform to align with your branding and workflows.
7. Reviews and Rating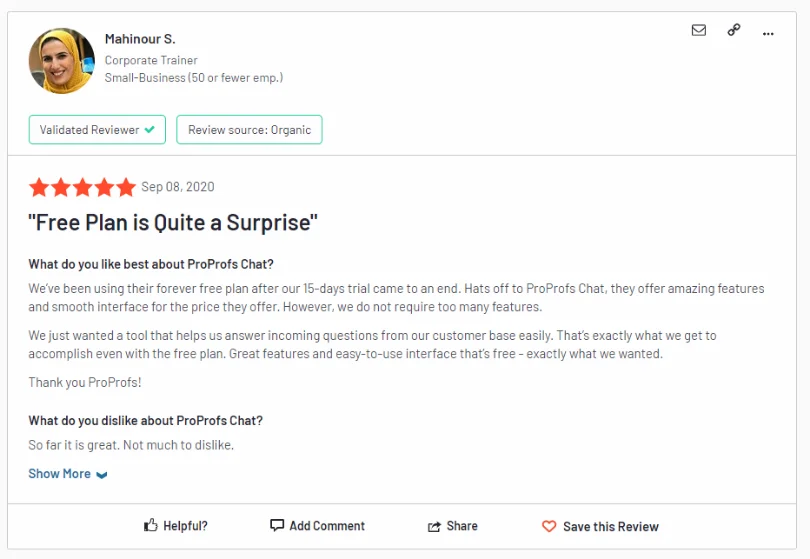 Read reviews and testimonials from other users to get insights into the strengths and weaknesses of the alternatives you are considering.
8. Free Trials and Demos
Take advantage of free trials and demos to test the alternatives firsthand. This will help you understand how well they fit your requirements.
Final Verdict: Which LiveAgent Alternative Should You Opt?
When finding the perfect LiveAgent alternative for your customer support needs, you must prioritize a solution that offers a comprehensive suite of features.
It's crucial to understand that the best alternative to LiveAgent will be different for each business, so conducting a thorough evaluation of each option is highly advisable.
While several alternatives are worth exploring, Help Scout is an excellent choice for proactive chat support, and Zoho Desk excels in delivering personalized in-app messages.
However, ProProfs consistently stands out due to its exceptional user-friendly interface, powerful features like chatbot, and unmatched customer service.
Do you want a free Live Chat software?
We have the #1 Online Live Chat Software for instant customer support 24x7