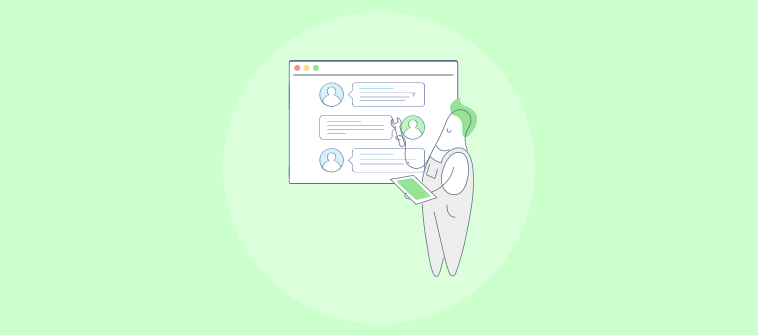 Chatbots have become the "new support heroes" that are helping millions of businesses reach out to customers and assist them with routine queries.
As Artificial Intelligence (AI) grows and chatbots become more intelligent, there will soon come a time when it will be nearly impossible to tell the difference between a chatbot and a human conversation.
When it comes to building chatbots, you do not need a technology degree from Harvard or a team of expert coders. All you need is the best chatbot builder.
We understand that filtering out the best options for your business can be challenging. Also, if you are new to chatbot builders, we are here to help.
With an automated chatbot builder, you can design conversational bots for appointment booking, feedback collection, sales, etc. In this blog, we will showcase 14 best chatbot builders that can help you assist customers 24×7, generate more leads, and grow your business.
So, let's get started right away.
What is a Chatbot Builder?
A chatbot builder is a development platform that helps in designing chatbots for your website. App, or SaaS product. These bots can capture leads, accept support requests, route chats, and do much more. With chatbot builders, you get features like chatbot templates to build bots for specific business needs.
Chatbot templates help you build chatbots without any coding knowledge. As a result, you can create bots within minutes. Also, chatbot builders are quite affordable. You can get a great solution, under $100 a month, that has features like custom styling and analytics.
What are the Key Features of Chatbot Builders?
We have briefly described the functions of a chatbot builder. Now let us look at the aspects of this tool that will help your business rise above traditional forms of support. Here are the salient features:
1. Integrations
When investing in a chatbot solution, it is critical to take a look at the integration options. With the right integrations for email marketing, CMS, and CRM, you can improve the functionality of your chatbot.
For example, If you have a chatbot capturing leads efficiently, you need to store them, right? Not just that, when a repeat customer visits your site, you need access to their past conversations. This is where integrations with popular CRMs can help in offering contextual support.
2. Chatbot Templates
With processes like medical appointments or insurance-related document submission, it becomes necessary to have conversation flows specific to them. Using chatbot templates, you can deliver a personalized experience for each procedure.
Each step should include a relevant question and industry terms to complement it. For example, if there are disclosures or important information that need relaying, then the template should include provisions for it.
We offer numerous chatbot templates ranging from appointment booking to lead generation.
3. Customization Features
When you try out a chatbot builder, you want the conversation bots to match your branding. Branding includes the colors, tone, and aesthetics of your chat window.
With customization features, you can personalize the support experience for your customers. Try sticking to vibrant colors and crisp copy to persuade your customers to chat with agents.
Look for important customization features:
Changing the style of the button.
Altering the colors of the widget.
Adjusting the positioning of your chatbot window.
4. Intelligent Targeting
When visitors access your website, you want to track their engagements and augment their experience. Intelligent targeting is a way to personalize their website experience even further. Using this feature, you can create messages that are designed for specific user interactions.
Imagine if a potential customer is on your product page, and while browsing they spend quite a bit of time.
How do you interact with them?
Well, you can prompt them with a message like "Still searching? Let's help you with the right pick." That's why when you search for chatbot builders, make sure this feature is included. Your customers will thank you for simplifying their journey.
5. Easy-to-Use Editor
A chatbot builder focuses on simplifying the process of bot creation. One of the most important features built for this purpose is a great editor. These days, chatbot builders use a drag-and-drop editor to make creating conversation flows easier for the user.
A drag-and-drop editor helps you visualize and sequence each segment of your conversation flow. Here are some benefits of this editor:
Viewing the entire conversation becomes possible.
Defining rules for each part of the bot becomes more straightforward.
Applying conditions for each question is so much simpler than writing long statements.
14 Best Chatbot Builders to Build a Chatbot
Now that we have covered the criteria for choosing the best chatbot builder, you must be wondering.
Read on to find out more about the various tools popular in the market.
1. ProProfs Chatbot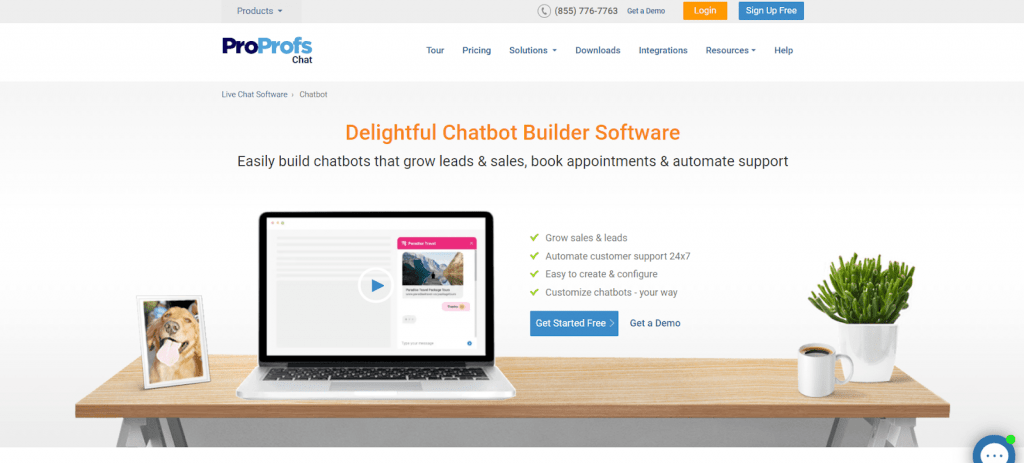 ProProfs Chatbot is a feature-rich tool that allows you to create AI-powered chatbots with ease. The chatbot tool offers features like detailed reports to measure chatbot performance. With a drag-and-drop editor, you can create conversation flows. It also allows you to capture leads with pre-chat forms and store them in your favorite CRM.
Also, you can measure customer satisfaction with post-chat surveys. ProProfs Chatbot streamlines your sales processes and seamlessly integrates with CMS and email marketing platforms.
What's more, with ProProfs Chatbot, you get the feature of intelligent targeting to engage customers in real-time. You also can get started with a free trial if you have a small business.
Features of ProProfs Chatbot:
Streamline lead generation with pre-chat forms.
Qualify leads with multiple-choice and open-response questions.
Build and visualize conversation flows with a drag-and-drop editor.
Integrate with email marketing, CMS, and CRM software seamlessly.
Pricing:
Explore pricing of ProProfs live chat today and take advantage of our new pricing options, including a FOREVER-FREE plan for a single operator and 19.99 USD for multiple operators.
What we liked: It has a robust report and analytics feature. You can access multiple metrics to measure the performance of your chatbots.
What could've been better: We would like to see the option to capture tickets from more social media platforms. Right now it is limited to Facebook.
2. TARS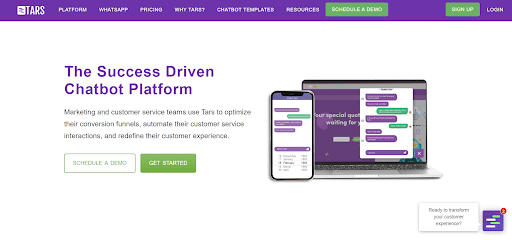 TARS is a chatbot builder that allows you to create chatbots to help optimize your conversion funnels. With this tool, you get 800+ chatbot templates that fit various industry-specific use cases. You can also offer chatbot services to customers connecting with you through Whatsapp.
With this chatbot builder, you get 1000+ integrations with popular tools like Zendesk, Google Calendar, and Hubspot. What's more, you can view analytics on your conversations data and generate reports for important meetings.
Features of TARS:
Simplify building conversation flows with the drag-and-drop editor.
Gain access to 1000+ integrations with popular CRM and other business tools.
View detailed reports and analytics for all your conversational data.
Customize your chatbot widget with advanced personalization features.
Pricing:
Get in touch with the company for a quote.
What we liked: The chatbot design tool offers a lot of flexibility for re-linking and de-linking gambits (conversation blocks). Instead of having to build it from scratch, you test various conversation flows for a single chatbot.
What could've been better: It runs quite costly compared to other chatbot builders.
3. ChatBot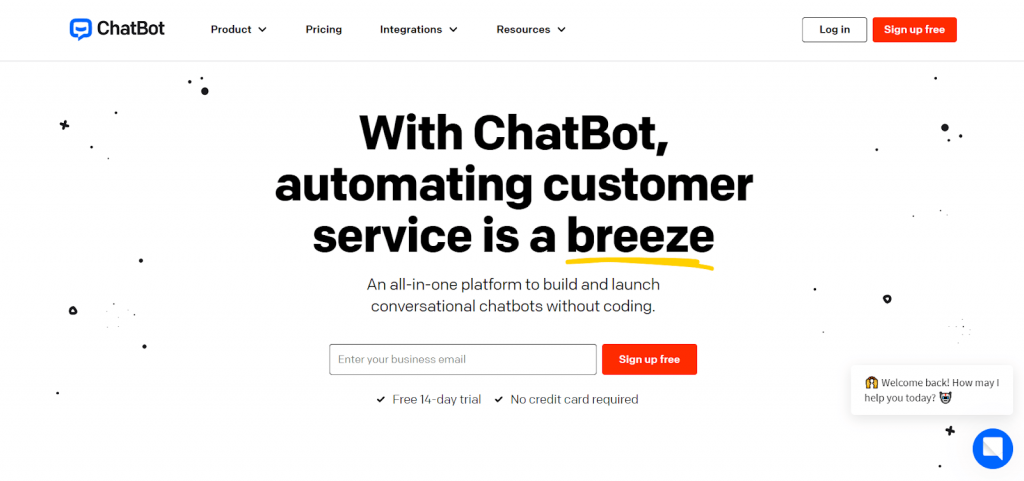 ChatBot is an all-in-one platform for tracking, creating, and deploying chatbots for improved availability across multiple channels. These chatbots support images and GIFs, making them quite interactive. You get access to essential chatbot templates like appointment booking, sales, booking, etc.
With ChatBot, your customers can create a ticket for complex issues, in the chat window. What's more, by using tags and applying smart filters, you can categorize and filter your conversations easily. It easily integrates with Freshdesk, Zendesk, etc.
Features of ChatBot:
Connect ChatBot with your messaging platform of choice.
Allow customers to create tickets right from the chat window.
Offer multilingual support to all your international customers.
Connect with secure 256-bit SSL data encryption.
Pricing
Starts at $42/month.
What we liked: It offers numerous customization features for the chat window.
What could've been better: It seems like an entry-level chatbot tool, despite, its steep pricing.
4. Aivo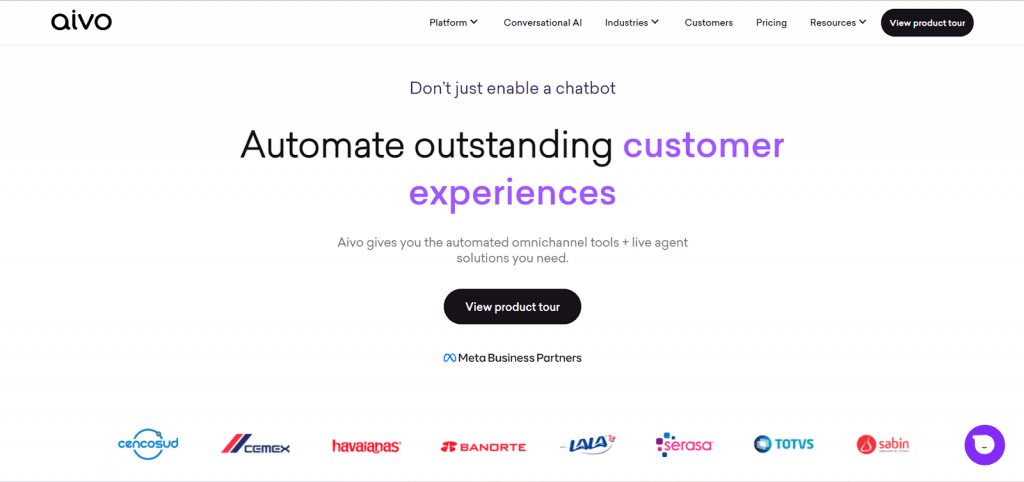 Aivo is an AI solutions provider that aims to transform the way businesses and customers interact. One of their SaaS products is a chatbot builder called AgentBot. AgentBot supports video content for instant query resolution.
The chatbot can gauge user intent accurately and offer relevant answers. Also, if there are spelling errors in the query, it can detect the intended question. Moreover, AgentBot supports omnichannel communication, allowing you to capture queries from multiple platforms.
Features of Aivo:
Capture queries from multiple channels with omnichannel support.
Deliver video content for complicated issues.
Integrate with CRM, live chat, or any other app.
Offer multilingual support with its semantic engine.
Pricing:
Starts at $75/month.
What we liked: The bot has an impressive response time and actively clarifies the doubts of customers.
What could've been better: For WhatsApp, we couldn't monitor the conversation taking place unless we visited the app.
5. MobileMonkey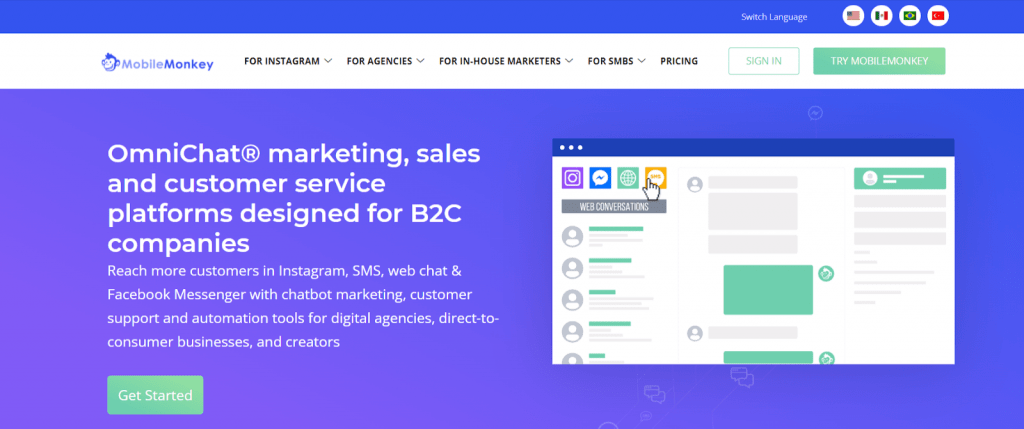 MobileMonkey allows you to build chatbots to offer immediate responses to customer queries. The tool offers 20+ chatbot templates that can be customized as per your liking. MobileMonkey's bots support a host of media such as images, GIFs, videos, etc.
It doesn't have a drag-and-drop editor like the other tools in the list. So the approach to building chatbots will be slightly different.
With omnichannel support options, you can connect with customers on multiple channels in addition to your website.
Features of Mobile Monkey:
Gain access to 20+ chatbot templates.
Deliver images, GIFs, videos, and attachments in the chat window.
Access a wider marketing stack through integrations to ad and drip campaigns.
Offer omnichannel support to your customers on social media.
Pricing:
Contact the company to get a quote.
What we liked: MobileMonkey offers great support for their products.
What could've been better: It can run costly, but you get a great tool for the price. Also, it doesn't have a drag-and-drop editor.
6. ManyChat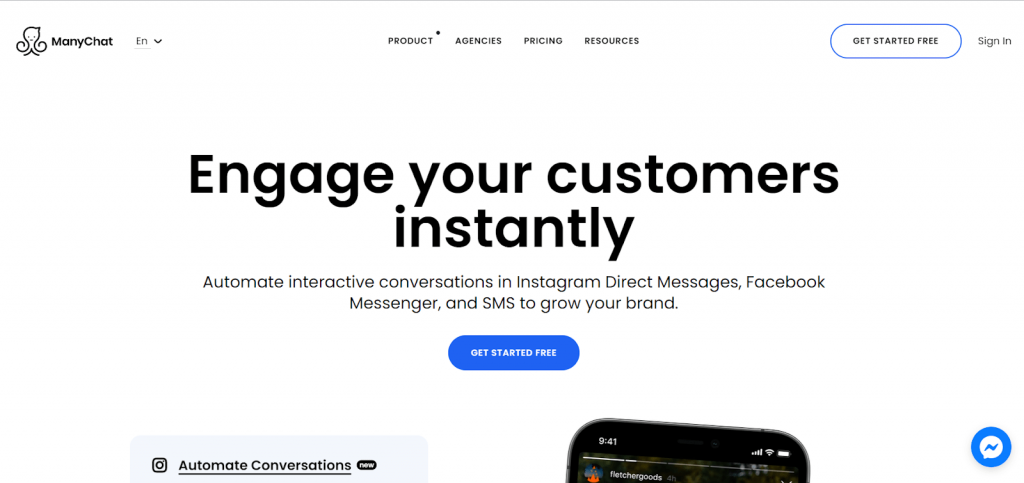 ManyChat is a powerful chat builder that allows you to create interactive chatbots for organic conversations. Thanks to its drag-and-drop editor, it doesn't require coding skills. As a result, it is quite easy to build bots to help drive conversions.
You can easily automate interactions for Instagram Direct Messaging and Facebook Messenger. What's more, you can deliver promotional discounts and offers through SMS and email. It integrates well with HubSpot, Zapier, Google Sheets, and many other popular tools.
Features of ManyChat:
Integrate with your favorite tools like MailChimp, Zapier, and other tools.
Automate interactions of Instagram DM and Facebook Messenger.
Promote your business through SMS and email with an interactive chatbot.
Gain access to over 25 chatbot templates.
Pricing
Starts at $15/month.
What we liked: Its provision for automating DMs for Instagram can prove highly useful for businesses on the platform.
What could've been better: It doesn't have a built-in calendar. Also, an integration with Facebook Appointments would help.
7. Flow XO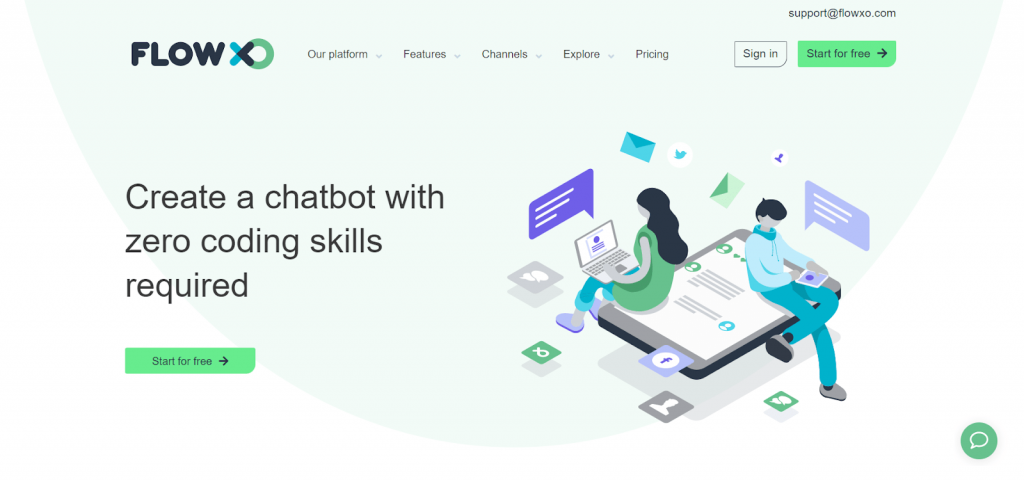 Flow XO is an all-in-one tool that allows you to build, host, and deploy AI chatbot solutions for your business. With workflow automation, you get a lot of flexibility for building logic paths around the bot.
Even if customers leave the website during the chat, they can come back and resume from where they left off. With Flow XO, your chatbots can ask lead qualification questions before they fill an online lead form. You can create chatbots for Slack, Telegram, and Facebook Messenger.
Features of Flow XO:
Create conversation flows that support multiple-choice questions.
Ask lead qualification questions to screen visitors.
Enable users to share your bot with others.
Allow visitors to continue conversations where they left off.
Pricing:
Starts at $19/month.
What we liked: Flow XO offers almost 100 integrations with popular tools like Google Drive, Google Sheets, and Knack.
What could've been better: It often runs slower than some of its competitors. But the performance of the tool is improving.
8. Botsify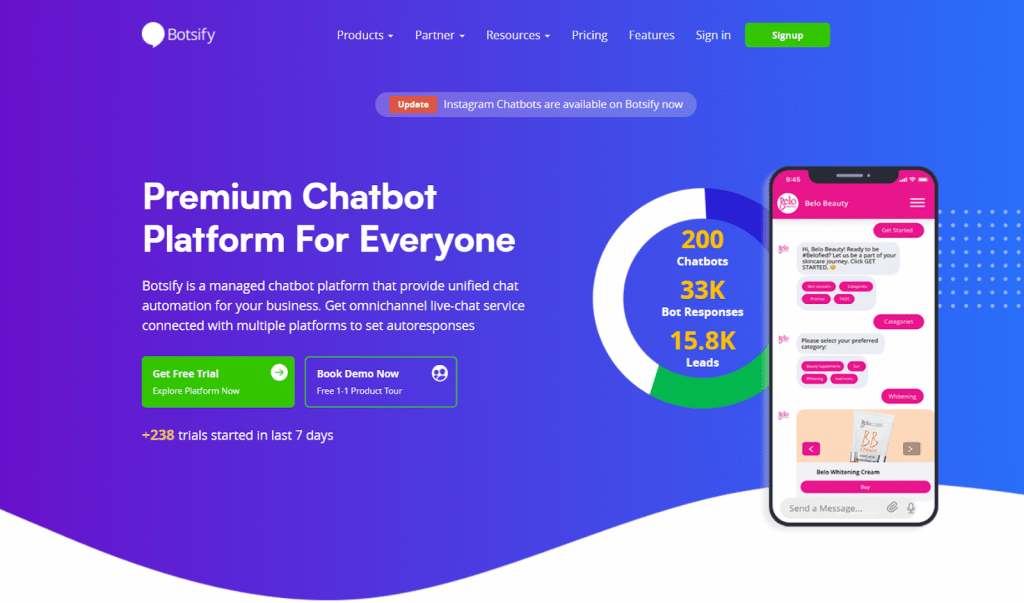 Botsify is a powerful chatbot builder that helps you create interactive chatbots and integrate them extensively. You get features like conversational forms, intelligent routing, and useful integrations. With conversational forms, you can capture leads and store them in any CRM.
With 100+ integrations, you can even integrate with tools such as Alexa, Shopify, WordPress, etc. You can create media blocks to engage with users and interact with them. What's more, you can enable intelligent targeting for key pages.
Features of Botsify
Transfer chats to human agents.
Store leads with integrations to any CRM.
Target personalized messages on your key pages.
Offer multilingual support to global customers.
Pricing:
Starts at $49.
What we liked: It seamlessly integrates with WordPress websites.
What could've been better: The bot builder needs to have a better UI to match up to its competitors.
9. Tidio

Tidio is a leading chatbot-building tool that allows you to engage with customers in real-time and drive conversions. It includes crucial chatbot features like chatbot templates, a drag-and-drop editor, and proactive messaging.
The drag-and-drop offers three kinds of nodes: triggers, actions, and conditions. With its feature of automated responses, you can offer quick replies to conversations that have been missed. With post-chat surveys, you can measure the level of customer satisfaction.
Features of Tidio
Build engaging conversations with a drag-and-drop editor.
Message customers who have been waiting for a reply.
Capture customer satisfaction ratings with post-chat surveys.
Gain access to 35+ chatbot templates.
Pricing:
Starts at $49/month.
What we liked: It is simple to set up chatbots in this tool because of its extensive chatbot templates.
What could've been better: The free plan is limited to three operators.
10. Pandorabots

Pandorabots is one of the trickier chatbot builders out there. While all the other tools on this list don't require coding skills, this tool requires some knowledge. With Pandorabots, you can make conversational AI bots that offer multilingual support.
It is one of the oldest and largest chatbot hosting platforms in the world. People have made over 300k bots on this chatbot platform. While beginners might struggle, the UI can be quite smooth for experienced users. It gives you a world of flexibility for building your bot. Hence with some programming knowledge, the sky's the limit.
Features of Pandorabots
Gain access to a small-talk library with over 10,000 chat inputs.
Create complex chatbots with multiple integrations.
View pre-built modules for speedy deployment.
Receive complete flexibility as it is an open-source platform.
Pricing:
Starts at $19/month.
What we liked: It has an amazing GUI that helps experienced developers in building bots easily. Also, Pandorabots offers a free plan.
What could've been better: While there is a steep learning curve, this is not a drawback. The tool is targeted toward developers and customers with similar tech-savviness. But an alternative plan for beginners could be worked on.
11. SnatchBot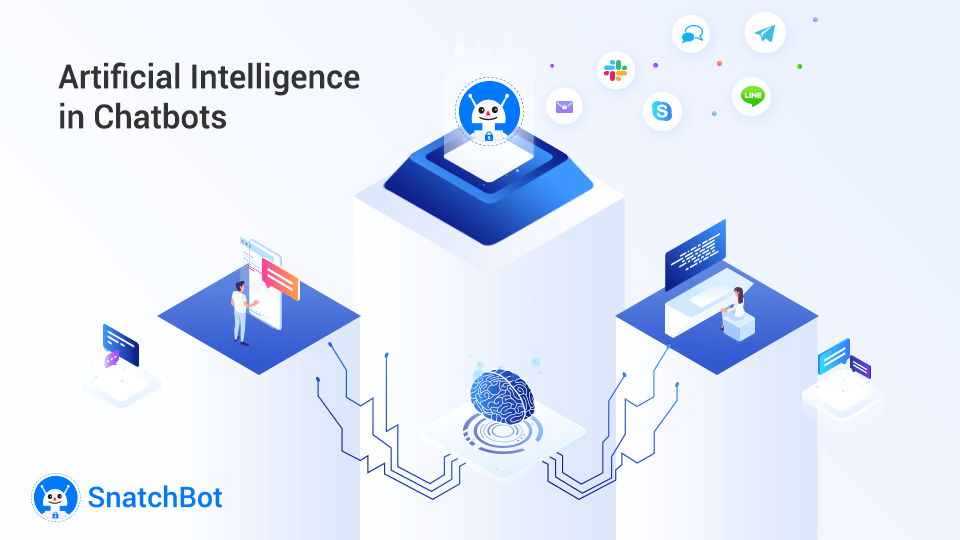 SnatchBot allows you to streamline your support processes with bots you can build in a matter of minutes. With its dedicated chatbot templates for each language, you can offer multilingual support. Plus, you can search through vast numbers of interactions using keywords.
What's more, it supports essential tool plugins like Jira, Giphy, Google Calendar, etc. With NLP capabilities, you can gauge the intent of customers accurately, and the chatbot will offer relevant answers. It also offers speech recognition, so that clients can avoid the hassle of typing.
Features of SnatchBot
Detect the tone of the user with sentiment analysis.
Allow your customers to use speech recognition.
Gain access to 50+ chatbot templates.
Search relevant interactions easily with keywords.
Pricing:
Starts at $30/month.
What we liked: Its deep analytics allow you to improve how you target the right customer. Also, it offers email notifications that let you know when a customer is engaging with your chatbot.
What could've been better: The company should implement more payment systems other than PayPal. After all, everyone might not have an account.
12. Giosg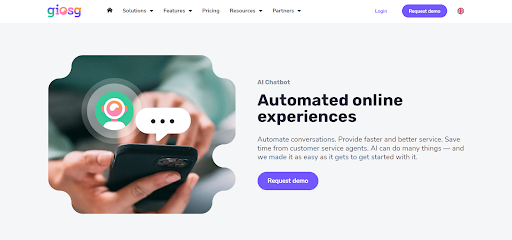 Giosg allows you to create chatbots that help deliver helpful online experiences to your audience. The chatbot answers questions by matching the query with the information in your Knowledge Base. If the issue gets too tricky for the chatbot to handle, it routes it to an agent.
With analytics, you can track how many chats it has automated successfully. You can offer a variety of responses ranging from videos, forms, and embedded content. Also, this chatbot builder leverages deep learning to solve customer queries.
Features of Giosg:
Route your chats to an agent when the issue gets complex.
Leverage analytics to improve your chatbot performance.
Offer a rich variety of responses ranging from video to embedded content.
Draw content from your knowledge base to train the AI chatbot.
Pricing:
Contact the company for a quote.
What we liked: The UI for managing multiple chats is simple and easy to use.
What could've been better: Getting an overall view on the bot performance is quite hard.
Also Read:  Check Out Our Reviews of the Best Chatbot Software for Websites 
13. Dialogflow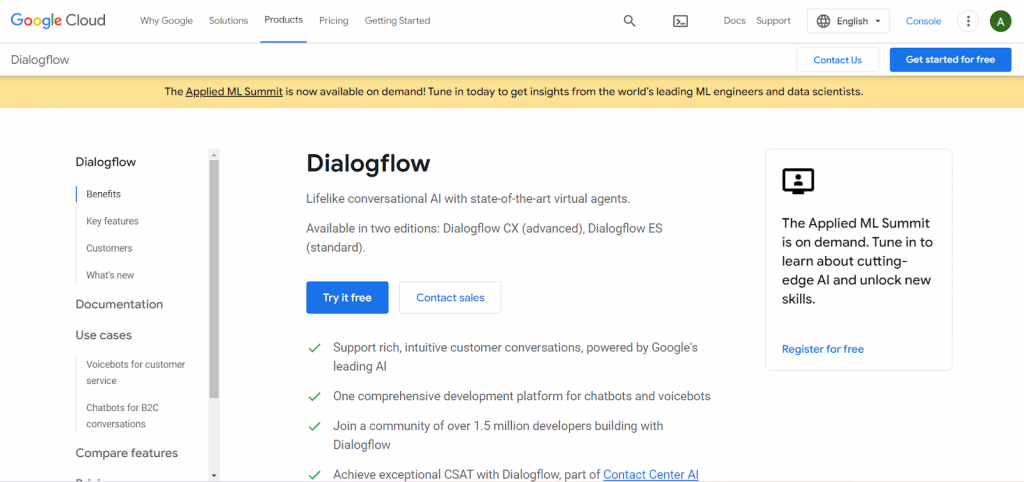 Dialogflow is a messenger bot builder that is offered as a Google Cloud service. It helps you build conversational AI products powered by Google's leading AI. Also, you can discuss your progress with your chatbot with over 1.5 million developers across the world.
It supports multi-turn conversations, thus, the bots are capable of answering follow-up questions. The builder utilizes an intuitive editor for a simpler chatbot-building experience. You can deploy your chatbot across web, mobile, and various messaging services.
Features of Dialogflow
Reduce the time required in development with a visual flow builder.
Deploy your chatbots across all channels such as web, mobile, and messengers.
Offer support in over 30 languages.
Simplify making queries with speech recognition.
Pricing:
Contact the company to get a quote.
What we liked: It offers many integrations to enable you to build chatbots of varying complexities.
What could've been better: The input and output context get skewered once the intent name has been changed.
14. ActiveChat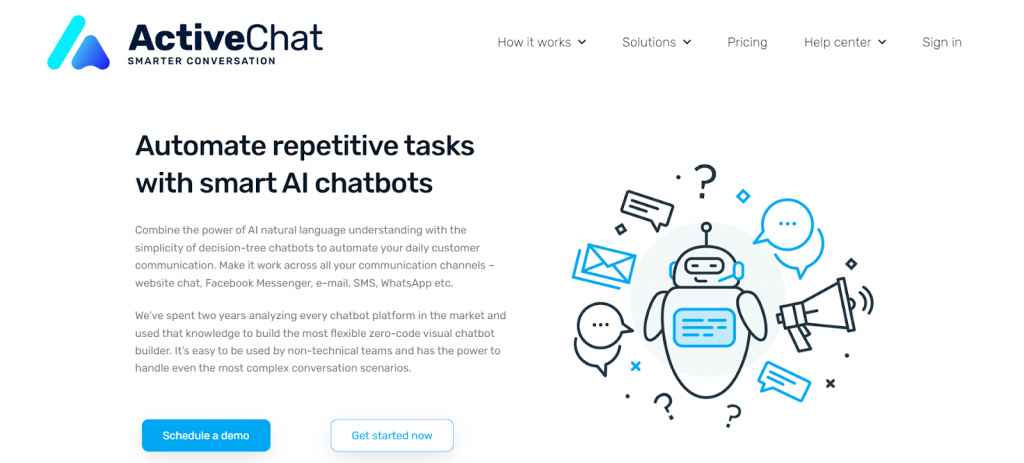 ActiveChat is one of the best messenger chatbot builders on the market that offers multi-channel support for your business. The tool allows you to deploy hybrid chatbots that use conversational AI for understanding natural language and reliable decision trees for chatbot flows.
You can create chatbots for email, SMS, Facebook Messenger, WhatsApp, and a host of other platforms. What's more, these chatbots can be easily built by non-technical team members. You can save the intent of user queries, and this makes these chatbots a great self-service option.
Features of ActiveChat
Get the best of both worlds with hybrid bots.
Offer chatbot services to users on any platform.
Automate routine queries with intelligent chatbots.
Create user intents for every user query.
Pricing:
Contact the company to get a quote.
What we liked: The easy NLP integration in the bot gives it great potential.
What could've been better: The interface needs significant work.
Automate Support With the Best Chatbot Builder
Chatbots have numerous benefits for your business. With the best chatbot builders, you can use a drag-and-drop editor to build chatbots immediately and automate your customer service process.
Before you invest your money, check whether the bots you can build are AI, rule-based, or hybrid ones. Rule-based bots are less costly and can be set up quickly. Whereas, AI bots need large data sets before they can go live.
Lastly, hybrid bots offer the best of human and bot support. If you are looking to strike the right balance, then you can try ProProfs Chatbot.
With ProProfs Chatbot, you get AI-powered bots that can be built with a simple drag-and-drop editor. We offer a plethora of chatbot templates to help you deploy your bots faster. As a result, you can keep customers engaged and delight them instantly.
Do you want a free Live Chat software?
We have the #1 Online Live Chat Software for instant customer support 24x7