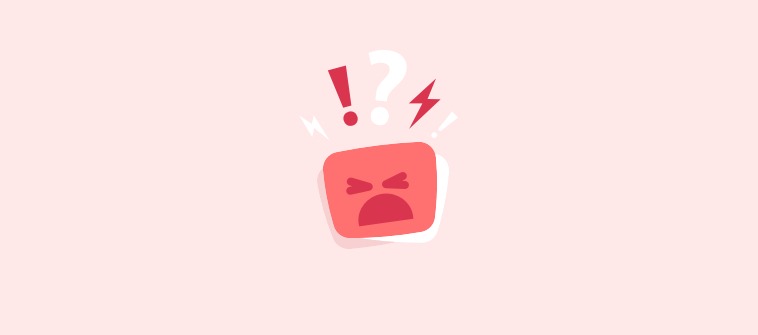 Are you witnessing customer attrition lately, and that too at a high rate?
You certainly need to start tracking all your customer service mistakes if this is true.
While it is essential to utilize the right tool for customer service, there are several other factors that impact customer satisfaction. Understand that it may not be your product but a service that's driving customers away from you. One unintentional mistake at your end can make your customers unhappy, drive them away from you, and even encourage them to share their bad experiences with others online. Your business not only loses existing customers but also misses out on prospects.
We're certain that's not on your wishlist. That's why we've highlighted some of the most common customer service mistakes your business can commit and how to avert them by suggesting the right measures.
But first, let's take a look at some of the common factors that lead us to these customer service mistakes.
Common Factors That Lead to Customer Service Mistakes
We know that customers expect the best service when approaching a business for support. However, there may be several factors that may hamper the interaction between the customer and the brand that may result in unhappy customers. Some of these factors that result in customer service mistakes are:
Availability of Operators
Let's face it; not all operators can be available at all hours to address customer queries. They may be busy working on other queries or discussing possible solutions with other teams. But when the customer reaches out for support and waits for an operator to connect with them, this leaves a bad impression.
Making your customers wait isn't done intentionally, but the customers might perceive so or may end up exhausting their patience while being in the queue. This is one of the factors that can lead up to multiple customer service mistakes.
Lack of Knowledge on Recent Information
In case you've released a new product or upgraded an existing one, customers would like to know more. But if you've failed to update your support team about these upgrades, they will likely fall short on answers. This may not leave a great impression on your customers and may leave your operators in a tough spot.
Adamant to Stick with One Support Platform
We all see multiple articles that talk about the growing importance of omnichannel customer support experience. However, not all companies follow the advice. End result: they end up missing out on a lot of customers who could have approached the business via different platforms. When you fail to integrate your core support channels together; the situation is even worse. This can prompt customers to repeat themselves several times as they switch from one channel operator to another.
These and many other factors can result in customer service mistakes which we know you wouldn't want to commit.
11 Most-Common Customer Service Mistakes & How to Avoid Them
In this section, we'd like to learn about the common mistakes one can make during the customer service process. That's not all. We'll also explore possible solutions to tackle these mistakes and avoid repeating them in the future.
Let's dive in!
1. Failing to be Proactive
From approaching customers first to informing them about the upcoming glitches of the products, such proactive measures are important to take. If you don't, you'll likely upset your customers.
How to Become Proactive with Customers?
Set Proactive Welcome Messages for Customers
You can start being proactive with customers by setting up welcome messages for both existing customers and prospects. These can appear based on the visitor's browsing experience in real-time. If they are returning customers, you can address them on a first name basis. If it's their first-time visit, show messages that target a pain point they may be suffering based on their browsing history since landing on your website.
---
Recommended Read: A Quick Guide to Set Up Proactive Live Chat
---
Send Proactive Notifications on Maintenance Updates
Did you know that 68% of consumers say that a brand's perception becomes positive when companies send proactive customer service notifications to them?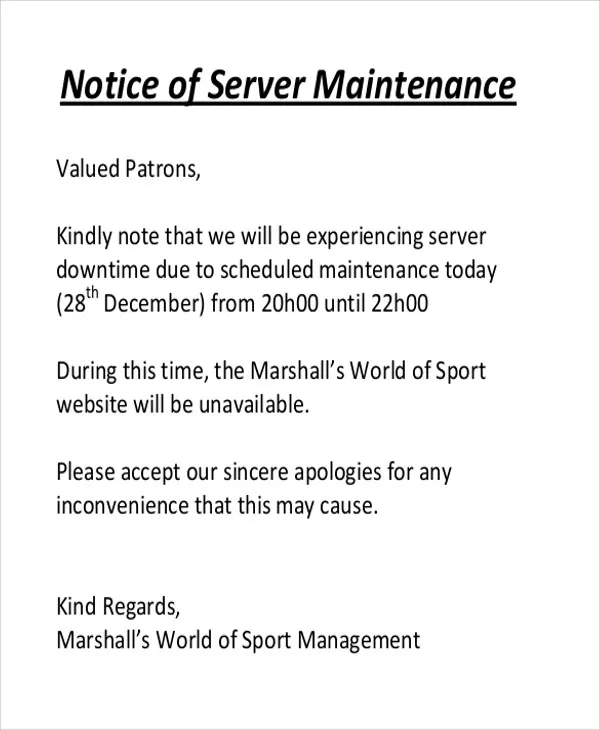 In case you've spotted an issue with your product, and you'd like to work upon them, make sure you update your customers about them. You can notify them via mobile push notification or via email.
2. Not Providing 24×7 Services
Your customers can encounter an issue any time of the day. It could be in the early hours or as late as 12 in the night. Even at odd hours, they expect you to offer them some source of support that helps them resolve their issues hassle-free. However, your operators can't be present at all hours. This poses a challenge for your customers as they will have to wait for your business to open support hours.
How to Provide 24×7 Services to Customers?
Set Up a Knowledge Repository
The first step towards providing round-the-clock services is to create and maintain a knowledge repository that customers can refer to at any time of the day. A knowledge repository helps you address common questions regarding your product and services. All you have to do is identify these frequently asked questions and create solution pages for each of them.
---
Must Read: A Comprehensive Guide to Building Customer Service Knowledge base
---
Add a Chatbot to Your Website
Help customers interact with your business even when operators are offline. Chatbots help you capture information and offer the best possible solution to customers. They will help you address common questions and even create tickets for queries that they may fail to address.
---
Also Read: A Quick Guide on What is a Chatbot & How it Works
---
Set Up Offline Message Form in Chat Widget
Another way to capture support requests in the absence of your operators is to set offline messages in the chat widget.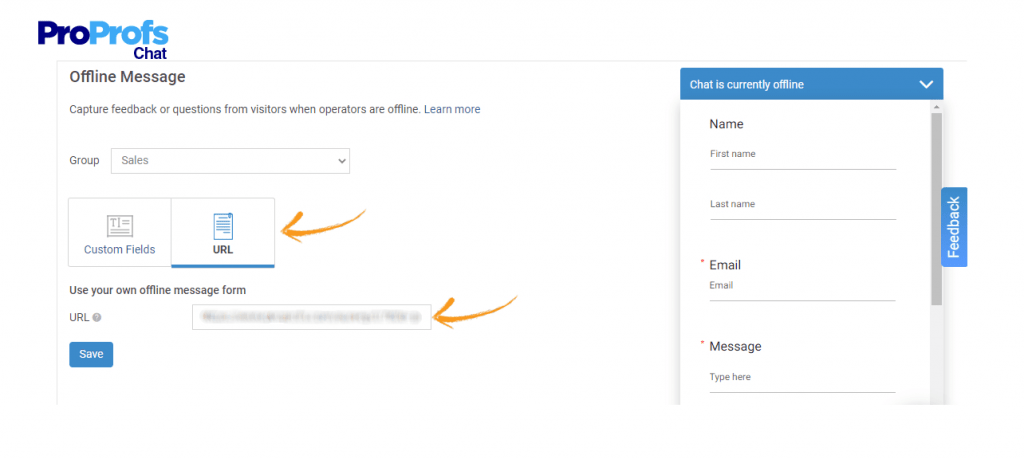 Adding these forms will benefit you in two ways. One, you can capture the query in the form of tickets. Two, you can assure customers that somebody from the team will reach out to them with a solution online once they fill out the form. Using offline forms gives you the ability to keep your support process going.
3. Failing to Reach Customers Via Their Preferred Platform
Not all customers would feel comfortable engaging with your brand using a particular platform, whether it is phone support or social media help page. They may want to reach using a different platform, let's say a live chat or even via an email. If you don't have options for support platforms, you are likely to miss out on customers who would prefer interacting with their favorite platform.
How to Reach Customers Using Their Favorite Platform?
You can create an omnichannel support suite for your business. This suite can have all the preferred platforms your customers would like to use to reach your business. And let's not forget, they should integrate with one another to store all customer information and interaction history in one place. If you are wondering how to determine which platform your customers would like to use, you can ask them via the feedback form. This approach will help you identify popular communication platforms and build your omnichannel support suite as well.
---
Read More: Difference Between Multichannel & Omnichannel Customer Support
---
4. Not Providing Regular Training to Operators
If you notice negative operator feedback, it could mean that your operators aren't able to deliver a service experience that matches the needs of the customers. This can happen due to various reasons that are inclusive of:
Not spending enough time listening to customers and arriving at a solution faster to close a support request.
Not receiving enough training around conducting a good conversation with customers or how to plug in a sales pitch during an interaction.
Not aware of upcoming deals or product upgrades that leaves the operators blank during the conversation.
The list can go on; however these reasons certainly indicate that the operators aren't receiving regular training that helps them improve their performance as service operators.
How to Provide Regular Training to Operators?
Here are a few tips that will help you improve the training process for your operators.
Build a Training Course

You can start by creating a training course that you can make mandatory for both new and existing operators in your team. While new operators can learn what your expectations are, existing ones can always brush up their skills.

Use Chat Transcripts for Training Purpose

Previous customer interactions can be used as a part of your training session as well. You can create teams that consist of old and new team members, and ask them to role play with chat transcripts to understand where they went wrong. This will also help them understand how they can improve the conversation quality if the same situation occurs.
---
Recommended Read: The Complete Customer Service Training Guide
---
5. Cutting Customers as They Speak
Another customer service mistake that you need to overcome is to avoid cutting your customers when they explain their challenges during a call or chat. Your customers can get frustrated if they are cut during a call. This may look like a bad experience for the customer and may prompt them to approach your competitors instead.
How to Avoid Cutting Your Customers During the Conversation?
The answer is simple: you have got to listen to them carefully. Listening is a much-needed skill that will enable your business to know your customers more closely. And as you listen, you need to be attentive towards the details of the conversation to arrive at the best possible solution for your customers.
Besides being attentive, you need to focus on being patient with your customers and avoid using any negative phrases like "No, we can't do this." or "We do not offer this service." These phrases can leave a bad impression on customers, and they would feel hesitant to reach out to your brand the next time.
---
Read Also: 20 Live Chat Etiquette Tips to Boost Your Customer Satisfaction
---
6. Making Customers Repeat Themselves
Customers are already flustered or irritated when they approach you for support. At a time like this, when you keep asking them to repeat their issues with the product, you can leave them feeling agitated and annoy them to the limit where they might leave the call in between.
How to Avoid Making Customers Repeat Themselves?
While patience and attentiveness are crucial factors in such a situation, you would also need tools like live chat or a help desk system in place. That's because they will help you keep track of all the customer interactions. Even if the chat is routed to another operator, they can see what conversation has taken place so far and avoid customers repeating themselves.
7. Asking Customers to Wait in Queue
Customers hate it when they are made to wait for long, especially in a queue. They expect fast responses and a solution to their problems. While that's from the customer's perspective, we certainly know that you do not intend to keep them waiting on hold, or for that matter, in a queue. So, what can be done at your end to avoid making customers wait for long?
How to Avoid Asking Customers to Wait in Queue?
Let Chatbot Come to Your Rescue

To avoid long queues, you can add a chatbot functionality to your website. This way, it can tackle common questions faster and help your operators avoid tackling multiple queries at the same time.

Let IVR Take the Lead in Phone Support

We know that many customers still prefer to opt for phone support to get answers to their questions. But phone support can allow your agents to manage only one call at a time. With IVR solutions, you can make sure that your customers aren't waiting for long in the queue and get to speak with the right department faster.
8. Routing Customers to Multiple Operators
Did you know that 72% of consumers consider it poor customer service if they had to explain their problem to multiple people?
That means they are sent to multiple operators before they finally meet the right person who can deal with their problems the right way. But this also means that a business can lose those 72% of customers who do not like being sent to multiple operators during the first contact.
How to Avoid Routing Your Customers to Multiple Operators?
Set Up Pre-Chat Forms

Using a pre-chat form, you can make sure that your customers reach the right department in the first point of contact itself. All you have to do is add another field for departments. Once the pre-chat form opens, customers can select the department of their choice. They also have to fill in their contact details to help operators better understand the customer's history with the brand so far.

Use Chatbots to Route Customers

Chatbots can also help you route customers automatically to the right department to improve the resolution time. As you know that chatbots ask for the details from the customers before diving into any possible solution. This is where you can add a conversation flow that helps allow them to ask which department the customer would like to connect right away.
9. Failing to Set the Right Conversation Tone
No matter what conversation techniques your operators adopt, there are situations where they can't avoid sounding rude to customers during a conversation. But this happens when you make use of phrases like:
"We will get back to you in a while."
"No, we do not offer this service at this moment."
"Fine, our team will look into this and connect with you later."
These are just a few examples of how a conversation can sound and read rude to customers during the support process. Such phrases can put off your customers and encourage them to leave your business.
How to Set the Right Tone for Your Conversation?
The answer lies in being empathetic towards your customers and being more considerate of their time. The statements above can be said in a different way. Here's how you can set the tone to same the thing but in an empathetic way:
Rather than saying, "We will get back to you in a while." you can say, "We apologize for the inconvenience. Our team member [name] will get in touch with you via call."
Rather than saying "No, we do not offer this service at this moment." you can say, "We can't confirm its possibility yet. But how about I catch up with you once I confirm with my team?"
Rather than saying, "Fine, our team will look into this and connect with you later." you can say, "This does look bad. We apologize for the inconvenience. Our team has been notified of the issue, and we'll get back to you with a solution."
10. Not Rewarding Your Customers on Time
According to a study, feeling unappreciated is the #1 reason for customers switching away from a brand's products and services.
That means if you are not making your customers feel appreciated for being a part of your brand for long, you may see a lot of them leaving the brand. In a nutshell, you are missing out on the opportunities where you can reward your customers for showing loyalty towards your brand.
How to Reward Your Customers the Right Way?
Send Freebies Their Way

One of the first things you need to start doing is sending freebies to your customers. If you run a B2B business, try giving access to your latest feature for free. This will help you in two ways. You can learn if the feature needs any further updates for better functioning. You can also introduce this feature for free only to subscribers who have been there for more than a year.

Whereas for B2C businesses, you can send free testers of new products during one of the orders to customers to increase their curiosity for the product. But you can send these testers with a card to let them know why they received them and how they can be used. This will make your customers feel special and may help you retain them as well.

Offer Access to Loyalty Program for Free

Loyalty programs work like magic as they help you reward the customers and even retain them for your business. Here's what you can try. You can give your loyalty programs for free to customers who have been a part of the business for long. Whereas, new customers can buy the loyalty program to receive its benefits early on in the journey.
---
Recommended Read: Customer Loyalty Program: The Ultimate Guide
---
11. Missing Out on Feedback Opportunities
Finally, the last mistake on our list is missing out on feedback opportunities. Understand that brands are viewed more favorably by 77% of consumers if they proactively invite and accept customer feedback.
If you fail to capture your feedback at the right time, you may end up leaving an impression to your customers that their feedback doesn't really matter.
How & When to Capture Customer Feedback?
Post a Chat Ends

You can capture customer feedback once a chat comes to an end. You can set up a post-chat form that will allow you to understand whether the customers were satisfied with your service or not.

Post a Support Call

You can notify your customers that once a call ends, they will receive a link to feedback form via email or message. They can share their experience and what they'd like to change during their future support experiences.

Quarterly Feedback

Send out a net promoter score survey to your customers once in every quarter or twice a year to understand their loyalty towards your customers. Results of the NPS survey will also help measure word-of-mouth traffic and even identify brand critics.
---
Also Read: Why Companies Need a Net Promoter Score (NPS) Software
---
How to Avoid Committing These Mistakes in the First Place?
Now that we know some of the most common customer service mistakes, it is time to see how they can be avoided in the first place.
Never Stop Training Your Employees

You need to make sure that your operators are always learning various ways to tackle a challenging support request. With regular training, your operators will be prepared to resolve any customer pain point and improve the satisfaction rate.

Always Ask for Customer's Feedback

Capturing feedback from customers regularly can help you identify service errors and improve your operator's performance hassle-free. What's more, it can help you identify loopholes in your product and work on improving it further.

Be 24x7x365 Days Present

Another method you can use to reduce customer service mistakes is to be present at all hours of the year for your customers. Become more approachable for them to express their challenges and find your brand more dependable.
Simple measures like these will help you avoid making frequent customer service mistakes and increase the satisfaction rate efficiently.
Time to Build Mistake Free Customer Service Experiences
There's not a single business that doesn't commit customer service mistakes. As a customer-facing employee, you will agree that no matter how much you try avoiding these mistakes, someone from the team might end up committing them.
The reasons for these mistakes to happen on a recurring basis could be lack of knowledge, training, availability of operators, and the list can go on. These factors end up compromising the quality of your service, and you end up making mistakes like
Not being available to your customers on their favorite platforms
Forcing them to speak to multiple operators and repeat the entire problem every time
Failing to capture their feedback at the right opportunities
Not setting the right tone since the beginning of the conversation
Committing these mistakes can take a toll on customer retention, loyalty, and advocacy. We hope that our measures help you avoid these mistakes the right way and boost your customer satisfaction rate even higher!
Do you want a free Live Chat software?
We have the #1 Online Live Chat Software for instant customer support 24x7