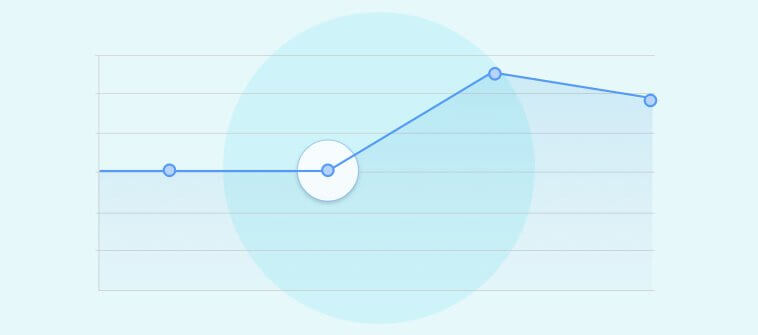 66 percent of consumers feel that valuing their time is the most important thing companies can do for them.
However, few companies (only 12 percent) prioritize responding quickly to their customers, consequently becoming one of the major reasons why businesses fail to retain customers successfully.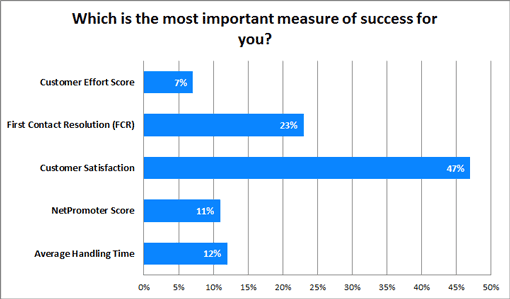 The question you should be asking is – how do I deal with this?
We'd recommend that you track and monitor your average customer service response time.
It'll help you understand what stops your operators to respond faster to your customers. And ultimately helping you retain those customers successfully.
Let's see what response time means in the customer service process and how you can reduce it to ensure that all your customers are delighted with your services.
What is Customer Service Response Time?
Response time is the average time taken (in days, hours, or minutes) to respond to a customer after receiving their request or complaint via the website contact form, on social media, through live chat, or any other online platform.
Thanks to the improved communication channels, customers can expect quick responses from brands they interact with.
Instant support creates a delightful support experience for customers. It helps you gain their trust and encourages them to keep coming back to you.
Besides, instant answers during the initial stages of the sales funnel can help you quickly convert prospects into customers, thus shortening the purchase cycle.
In a nutshell, your goal is to respond quickly, even if the customer reaches out to appraise, complain, or receive information. But first, let's take a look at how you actually calculate this metric.
How to Calculate Customer Service Response Time?
Customer service response time can be calculated easily via the formula below:

And, this is how you calculate average customer service response time:

With great response time, you can effectively engage customers with your brand.
Why Should You Work on Reducing Response Time?
77% of US respondents expressed how they expect to receive an instant response when communicating via online chat.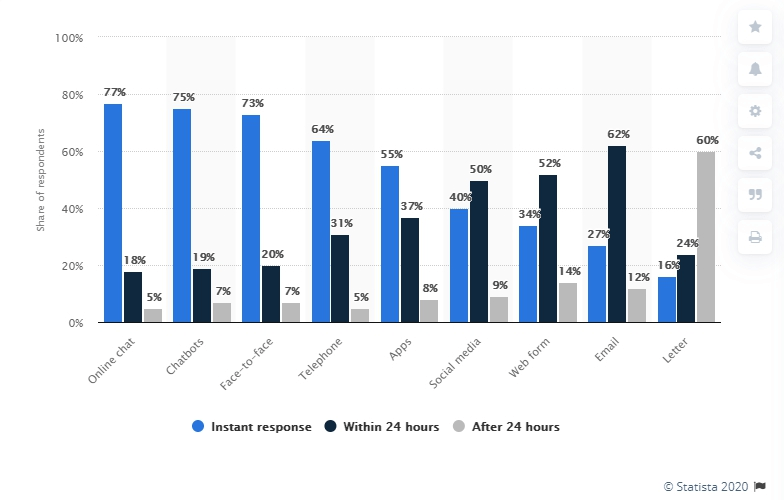 That's just the tip of the iceberg.
With reduced response time, your operators, customers, and the organization can attain multiple benefits.
Some of these benefits include:
Saving customer's time and efforts during the support process that ultimately prompts them to come back every time
Getting a competitive edge over other companies
Identifying opportunities to innovate better solutions when having a conversation with customers
Improving the productivity of your operators
Receiving more opportunities to increase profitability during a live chat
All the more reasons you need to learn how to reduce customer service response time! And keeping that in mind, let's explore some of the best tips below.
Five Tips to Reduce Customer Service Response Time
Let's dive in the 5 tips to reduce customer service response time and provide a delightful seamless experience to all customers.
1. Implement a Help Desk Software
To reduce response time, you can start off with the use of a help desk ticketing software. Its use will allow you to do the following two activities.
Track response time data trends over a period of time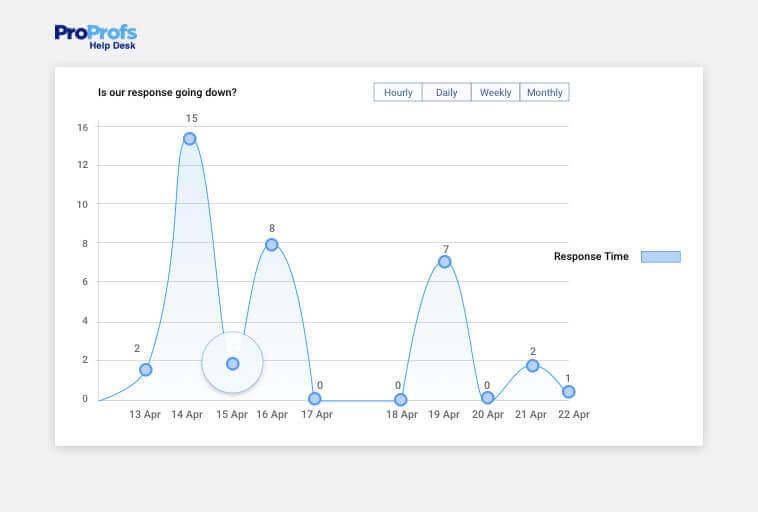 It is important to see whether your response time has reduced overall or not. For that, we'd recommend you to filter the reports section on the basis of a specific time period to see that for yourself.
For example, in ProProfs Help Desk, you can filter the reports section by selecting a specific time period.

This will allow you to see the average response time data trends that reveal whether your response time has reduced over a period of time or not.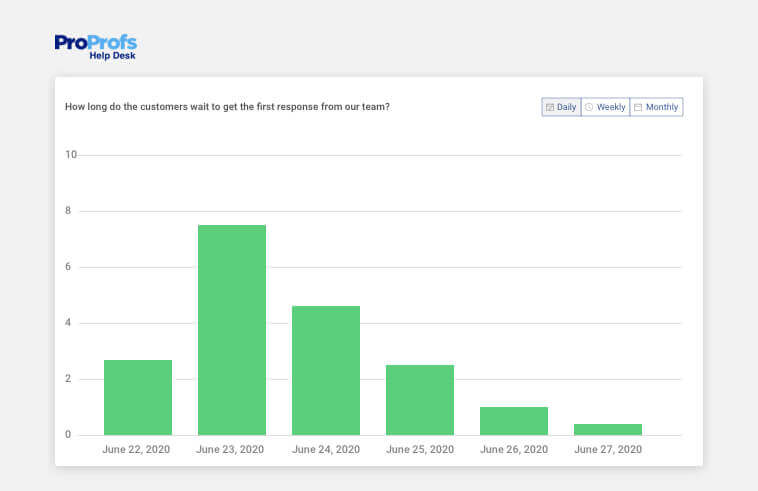 As we can see in this image, the data trends indicate that the response time has reduced on a daily basis. This helps you know whether you are heading in the right direction or not. With a great tracking system such as this, helps you get access to insightful data trends and work towards formulating strategies that allow your agents to reduce response time.
Track what impacts the first response time data in the first place
Ever wondered what stops your agents from providing an answer to your customers on time?
Well, there could be various reasons. However, the use of help desk ticketing software would help you understand them better.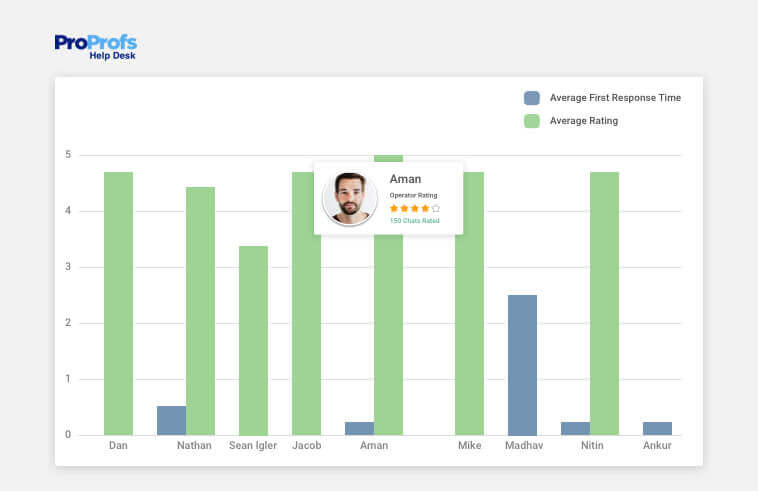 You can filter and check out the agent reports and see what keeps them from providing an instant answer to your customers.
Once you identify the areas that impact your response time, you can come up with best practices that could help you reduce it further.
For example, with a help desk you can opt for the following best practices:
Help your agents send prompt responses to customers with the use of help desk canned responses. They would help them save valuable time and effort. All they have to do is save answers to common questions to shorten your response time and save keystrokes on repetitive typing.
Sometimes, your customers only need to know you are looking into the matter. That means you can set up a simple "thank you" message for informing them that they will receive a response within a specified timeframe.
Less than 10 percent of businesses use autoresponders; however, this method tells the customers of the next step and assures them that they are working on their issue. You could add the expected response time in the email.
Sign me up for free ProProfs Help Desk Software!
2. Deploy a Live Chat Software
Live chat support helps your team to respond faster to customer questions. What's more, it is fast, easy-to-use, and helps you reduce response time effectively.
Watch: How to Install Live Chat to Your Website in Under 5 Mins 🙂
Now, unlike traditional support channels like email or phone support, live chat software allows you to manage multiple customers at the same time. It means two things for you:
1. You can provide support to customers 24X7
2. You can manage multiple customers at the same time
Other than this, a live support chat software also helps you to avoid losing to lengthy email response time by giving you the option to integrate with ticketing software.
Every chat that you miss in your operator's absence gets converted into a support ticket. That means – never miss out on a support opportunity.
You can also use features (the ones mentioned below) to lower your response time: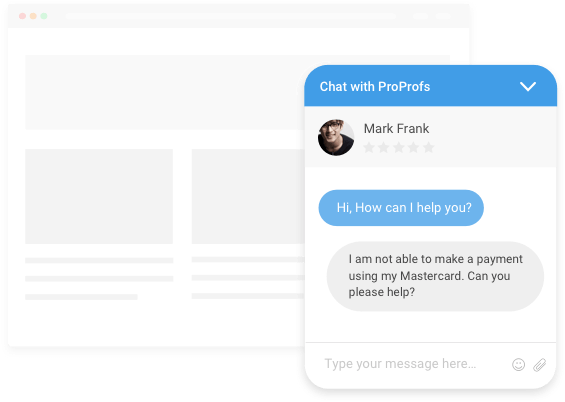 Greetings make sure that your customers get a message before they initiate a chat with your operators. This proactive messaging feature helps you create a rapport with customers by letting them know that they would never have to wait for a solution when you are always on it, delivering one on time.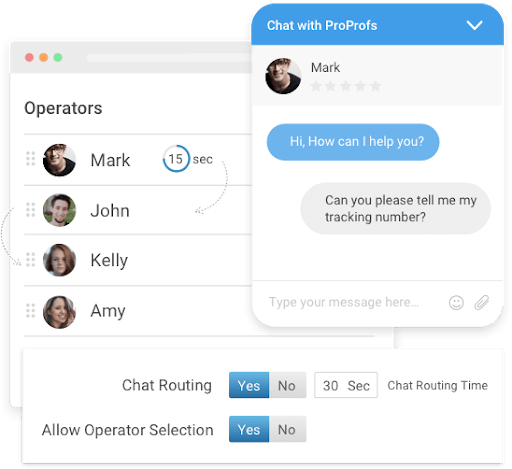 We know that customers need an instant response to their questions. The thing question you should really ask is – even if they do connect with my business in real-time, will they still receive a solution on time?
Well, it also depends on whether the operator in charge of the chat belongs to that particular department that can answer their questions faster.
Thankfully, with ProProfs Chat, you can make sure that your customers get directed to the right department at the right time with chat routing. It supports both automatic and manual routing that allows you to shape and shorten the customer journey effectively.
Sign me up for 15 days free trial for ProProfs Chat! 🙂
With ProProfs Chat, you don't just stop there. You can create your own support bundle and make sure that they help you reduce response time faster.
That's because you get the option to integrate the tool with platforms like:
Customer Relationship Management (CRM) Tools
A sales CRM won't just help you store leads, sales data, or a customer's purchasing history. It would also help your operators track information about the customer, know them better, and work towards a solution that matches their needs.
Now you can either miss chats or integrate a help desk software to allow your agents to get back to customers when back online. This way you never miss a support opportunity.
Check out our live chat and help desk pricing here!
Help customers find answers to their questions before they initiate a chat. Yes, with ProProfs Chat you can integrate a knowledge base to show relevant help articles in the chat widget that allows you to reduce tickets by up to 80%.
Capture feedback and learn about the issues that weren't satisfactorily resolved, and thereby left your customers waiting for a response.
---
Explore: All the ProProfs Chat Integrations Here!
---
3. Initiate a Multi-channel Response
Customers wait very little before they decide to contact the customer service team on a different channel. And yes, they want and expect to have the ability to communicate with businesses in more than one way.
Lack of preparation on your reps' part can unnecessarily increase their efforts and delay resolving queries – without adding any value to the customers. Therefore, treat all mediums of communication, such as live chat, email, or social media as a whole.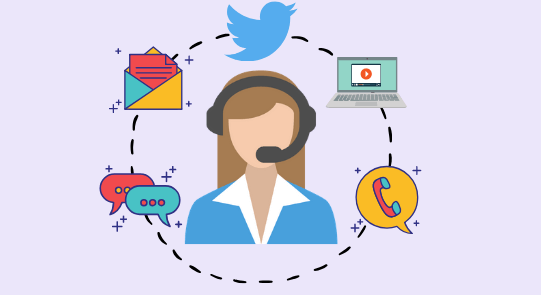 That means that every rep should have access to customer queries coming in from every platform, thereby enabling an exchange of information across channels.
For instance, setting up a knowledge base or a how-to blog bank will help you in two ways:
You can include their links in the email signature for customers to access, whenever required.
Your reps can pull out relevant whitepapers or blog posts and service several customers simultaneously.
Slow response times leave a wrong impression for any future business and act as a barrier to customer acquisition and retention. Therefore, keep all channels open.
---
Read More: What Is Multi-Channel Customer Service and Why It Is Important
---
4. Track the Performance of Your Customer Service Reps
It would help if you consistently calculated the average first response time of every rep and the whole department periodically. This way, you can get an idea of how quickly your team is reverting to customer queries and what roadblocks they are facing in their job.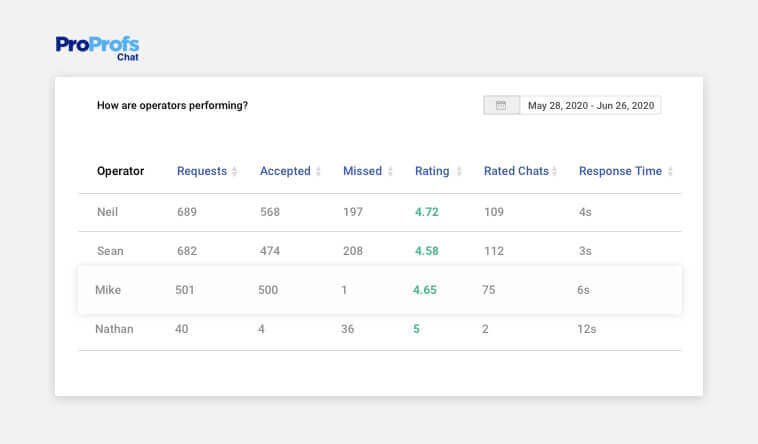 Keeping this as a reference, you can check if you are performing well or not. If your goal is to respond to a query within eight hours and if your reps are taking twelve hours, you must address this and find a solution to reduce the response time.
*Please note that customer expectations regarding response times vary from channel-to-channel.
---
Read More: Top Qualities All Customer Service Reps Should Have [INFOGRAPHIC]
---
5. Set Up Specialized Teams
Remember how we talked about routing customers to the right department to get a solution faster?
Well, for that to happen you need to make sure that you have the right departments in place. These departments allow you to implement chat routing even more precisely. You can create multiple departments and route incoming chat requests between the operators within a particular department.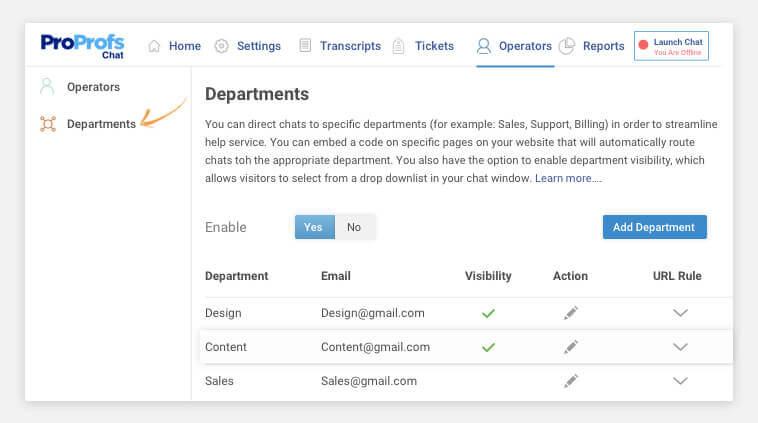 You can divide these departments on the basis of your products, services, niche (like support, billing, accounts, sales, marketing), and other criteria to make sure your customers reach the right department and receive a response instantly for their questions.
---
Learn: How to Create Department in Live Chat
---
Perfecting the Art of Reducing Customer Response Time
Reducing customer response time is incredibly important because it will help your business improve customer satisfaction. Not only that, but it will also improve efficiencies across your company.
Even though the average response time is more than 12 hours, there are many ways in which businesses can ensure their reps don't take much time to respond to customers. You can start by implementing the tips mentioned above.
---
Now that we've understood the importance of reduced response time and different strategies that would help you achieve that goal, let's take a look at some of the frequently asked questions around the same below.
How Response Time Impacts Customer Service?
Response time is a deciding factor for 90% of your customers to decide whether they'd like to do business with your brand. And that's not all. It even helps your customers decide whether they would be able to engage with your brand or not.
How Quickly do Customers Expect a Response?
This is quite subjective as to when customers really expect a response time. However, more than 80% of the customers expect a response within 24 hours.
What is Reasonable Time to Respond to a Customer's Text?
If we talk about a reasonable time to respond to customers, then many say it should not be more than 3-5 seconds. But what if your operators come across technical glitch or XYZ reasons that create roadblocks to provide an instant response to customers? In that case, you need to monitor how long your customers can actually wait to get an answer. Based on that, you need to set response time standards for your operators.
Do you want a free Live Chat software?
We have the #1 Live Chat software for delightful customer support starting at $0