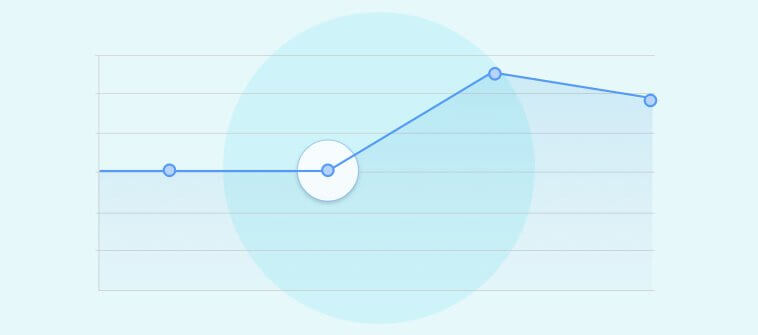 What is the best way for my business to reduce customer service response time?
If this question is bothering you a lot, that could mean one thing – you are struggling to engage with customers and keep them delighted.
Delayed responses induce frustration, especially for 66% of customers who feel valuing their time is the most important thing a company can do for them.
So, how do you deal with this and not make your customers wait for long?
Regularly tracking your average customer service response time can help.
This blog has some practical tips to help you monitor and reduce customer service response time. But before we come to that, let's understand a few basics.
What is Customer Service Response Time?
Customer response time is the average time (in days, hours, or minutes) it takes businesses to respond to customers after receiving their request or complaint via the website contact form, social media, live chat, or any other online platform.
Thanks to the improved communication channels, customers now expect quick responses from the brands they interact with. So, your goal should be to keep the response time as low as possible, without compromising on the quality of the support services.
Let's now take a look at how you can calculate this metric.
How to Calculate Customer Service Response Time?
Customer service response time can be calculated easily via the formula below:

And, this is how you calculate average customer service response time:

With great response time, you can effectively engage customers with your brand.
Why Should You Work on Reducing Response Time?
77% of US respondents expressed how they expect to receive an instant response when communicating via online chat.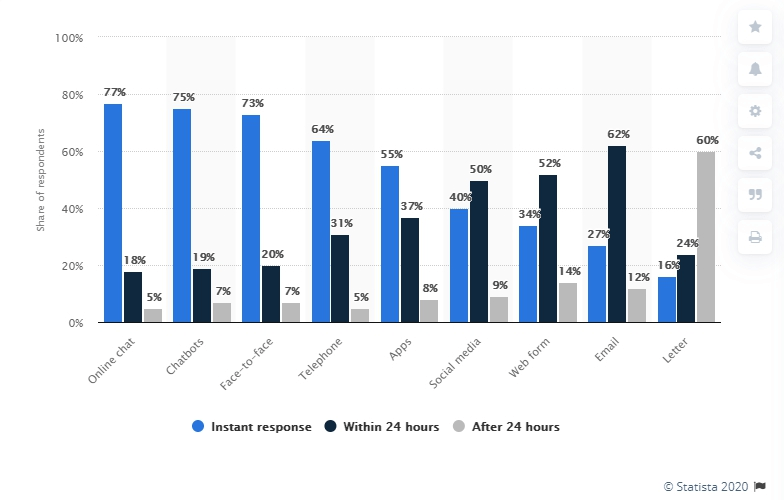 That's just the tip of the iceberg.
With reduced response time, your operators, customers, and the organization can attain multiple benefits.
Some of these benefits include:
Save customer's time and efforts and urge them to come back every time
Gain a competitive edge over other companies
Identify opportunities to innovate better solutions when having a conversation with customers
Improve the efficiency of your support team
Improve customer satisfaction and loyalty
Receiving more opportunities to increase profitability during a live chat
Keeping these benefits in mind, let's now explore some of the best tips to reduce your customer service response time.
8 Tips to Reduce Customer Service Response Time
Let's dive in the 5 tips to reduce customer service response time and provide a delightful seamless experience to all customers.
1. Implement a Help Desk Software
To reduce response time, you can start with help desk ticketing software. Its use will allow you to do the following two activities.
Track response time data trends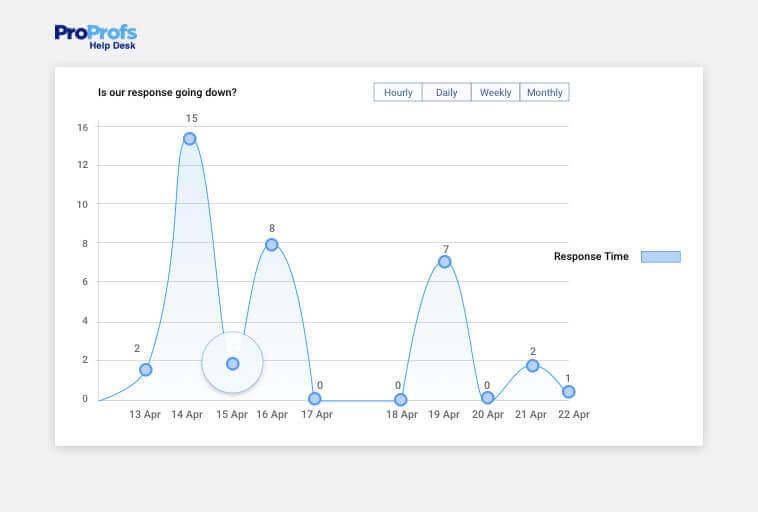 It is important to see how much your response time has reduced. With this software, you can filter the reports section based on a specific period.
For example, in ProProfs Help Desk, you can filter the reports section by selecting a specific period.

This will allow you to see the average response time data trends that reveal how much your response time has reduced over a period of time.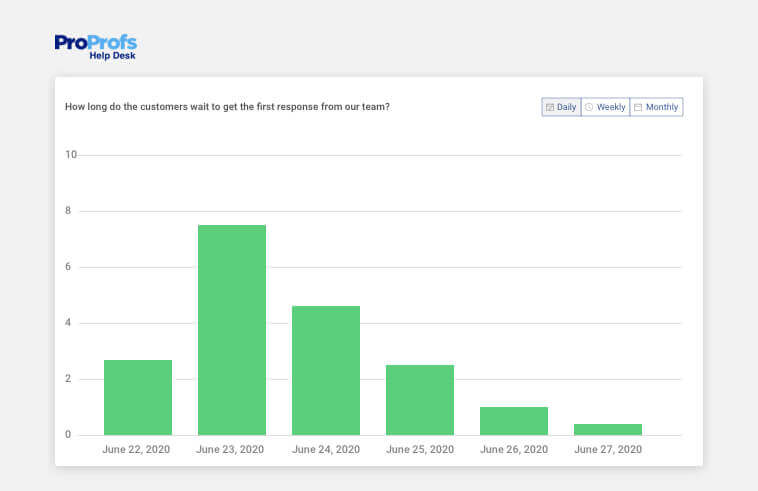 As we can see in this image, the data trends indicate that the response time has reduced daily. This helps you understand whether you are heading in the right direction or not. An excellent tracking system helps you access insightful data trends and work towards formulating strategies that allow your agents to reduce response time.
Track what impacts the first response time data in the first place
Ever wondered what stops your agents from providing an answer to your customers on time?
Well, there could be various reasons. However, the use of help desk ticketing software would help you understand them better.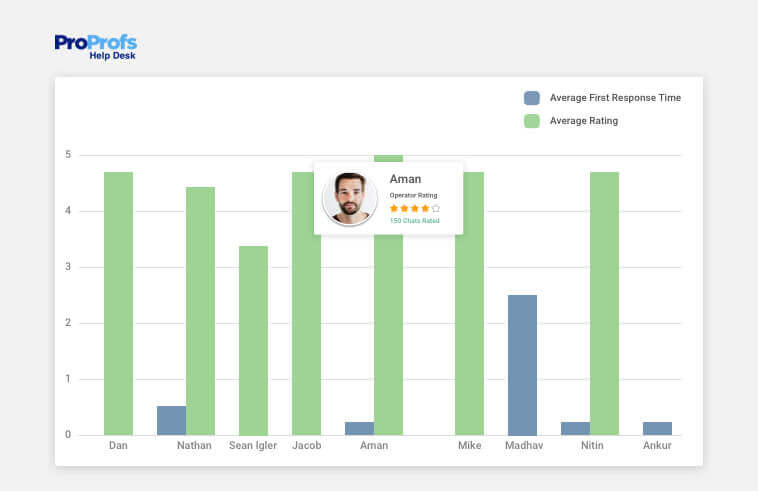 You can filter and check out the agent reports and see what keeps them from providing an instant answer to your customers.
Once you identify the areas that impact your response time, you can develop best practices to reduce it.
For example, you can opt for the following best practices using a help desk:
Help your agents send prompt responses to customers using help desk canned responses. This would help them respond to common questions quickly and save valuable time and effort.
Sometimes, your customers need reassurance that you are looking into their concerns. So, remember to respond with a "thank you" message to inform customers that they will receive a response within a specified timeframe.
This method tells customers of the next steps and assures them that you are in the process of resolving their issues. You can also add the expected response time in the email.
Sign me up for free ProProfs Help Desk Software!
2. Deploy a Live Chat Software
Live chat support helps your team to respond faster to customer questions. It is fast, easy to use, and enables you to reduce response time to a great extent.
Watch: How to Install Live Chat to Your Website in Under 5 Mins 🙂
Now, unlike traditional support channels like email or phone support, live chat software allows you to manage multiple customers at the same time. It means two things for you:
1. You can provide support to customers 24X7
2. You can manage multiple customers at the same time
Besides this, live support chat software helps you avoid lengthy email responses by giving you the option to integrate with ticketing software.
Every chat you miss in your operators gets converted into a support ticket. That means – never missing out on a support opportunity.
You can also use features (the ones mentioned below) to lower your response time: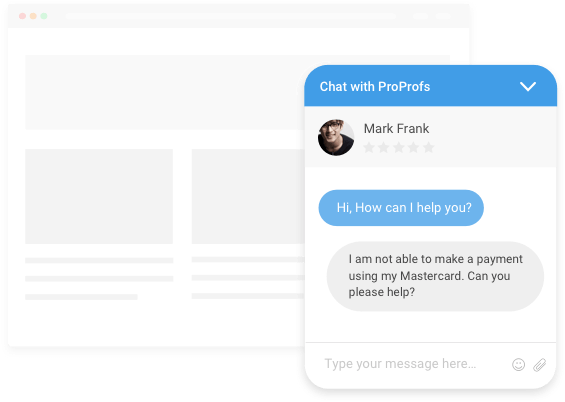 Greetings ensure that customers get a message before they initiate a chat with your operators. This proactive messaging feature enables you to initiate conversations with customers before they even come to you with a problem. Being proactive sets the right foundation for a long-lasting relationship.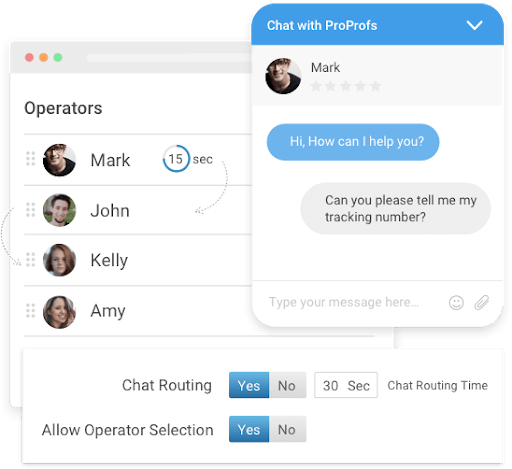 It can get irritating for the customers to keep waiting for the right operator in the queue to answer their questions. It not only increases the customer service response time for the business but also makes customers more impatient.
Thankfully, with ProProfs Chat, you can ensure that your customers get directed to the correct department at the right time with chat routing.
Sign me up for 15 days free trial for ProProfs Chat! 🙂
With ProProfs Chat, you can create a powerful support bundle by integrating it with platforms like:
Customer Relationship Management (CRM) Tools
The best sales CRM won't just help you store leads, sales data, or a customer's purchasing history. It would also help your operators track customer information, know them better, and work towards a solution that matches their needs.
You can integrate your live chat with help desk software to help your agents get back to customers when they come back online. This way, you never miss a support opportunity.
Help customers find answers to their questions before they initiate a chat. You can integrate your live chat with a knowledge base to show relevant help articles in the chat widget and reduce tickets by up to 80%.
Use your live chat and survey maker together to capture customer feedback on issues that weren't properly resolved
---
Explore: All the ProProfs Chat Integrations Here!
---
3. Initiate a Multi-channel Response
Today's customers expect to have the ability to communicate with businesses in more than one way. Since they are active on multiple channels, they like to have the flexibility to contact businesses on a channel of their choice.
A multi-channel response system can work wonders for your business. You should treat all communication mediums, such as live chat, email, or social media, as one unified whole to deliver delightful experiences on every platform.
With a multi-channel customer service platform, you give your customers the option to approach your brand from any channel and your operators the liberty to address the incoming support questions hassle-free.
In this multichannel customer service suite, you can set up a knowledge base, add a help desk, or activate a live chat on your website at the same time. With multiple channels at your aid, it will be easier for your business to reduce response time and avoid long wait times.
So, keep all channels open.
---
Read More: What Is Multi-Channel Customer Service and Why It Is Important
---
4. Track the Performance of Your Customer Service Reps
It would help to consistently calculate the average first response time of your customer service reps and the whole support team regularly. This way, you can understand how quickly your team is reverting to customer queries and what roadblocks they are facing in their job.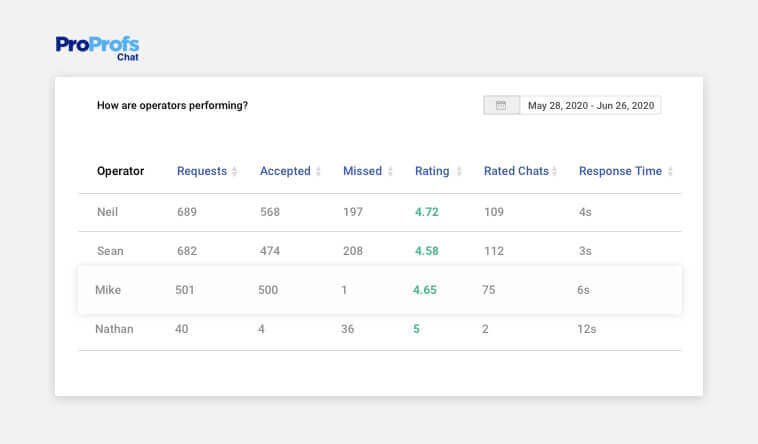 Keeping this as a reference, you can check how well your team is performing. If your goal is to respond to a query within eight hours and your reps take twelve hours, you must address this and find a solution to reduce the response time.
*Please note that customer expectations regarding response times vary from channel-to-channel.
---
Read More: Top Qualities All Customer Service Reps Should Have [INFOGRAPHIC]
---
5. Set Up Specialized Teams
Remember how we talked about routing customers to the right department to get a solution faster?
For that to happen, you need to make sure that you have the right departments in place. These departments allow you to implement chat routing even more precisely. You can create multiple departments and route incoming chat requests between the operators within a particular department.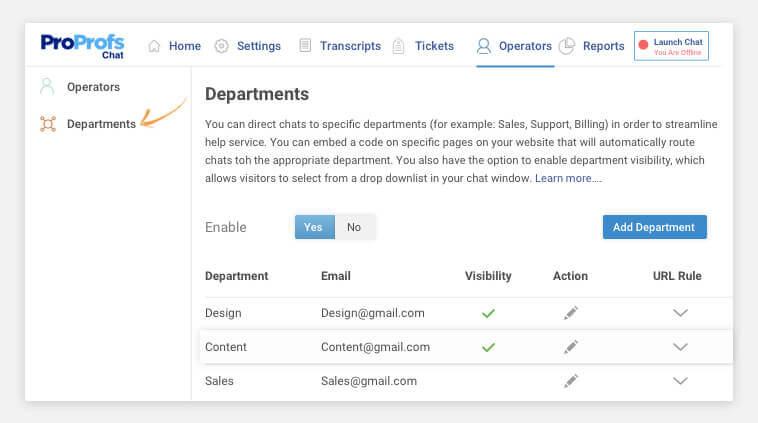 You can divide these departments based on your products, services, niche (like support, billing, accounts, sales, marketing), and other criteria to ensure your customers reach the right operator and receive instant responses.
---
Learn: How to Create Department in Live Chat
---
6. Add a Touch of Automation With Chatbots
Did you know that Chatbots can help businesses save 30% on their customer service costs by speeding up the response time and answering up to 80% of routine questions?
Chatbots are more prompt at responding to incoming questions. By adding a chatbot to your website, it'll be easier for your business to answer basic questions and ensure that none of them are missed.
The best part about using a chatbot is that it can manage incoming support queries when agents aren't online. It becomes the first point of contact for your customers and provides instant answers to their questions.
---
Recommended Read: A Quick Guide on What is a Chatbot & How it Works
---
7. Integrate an IVR System to Speed Up Call Support
There's no doubt that messaging platforms have become more reliable when getting instant responses from a business. However, call support hasn't lost its relevance. Many customers still call a business if they need help.
Customers today aren't scared that they will be kept on hold for long or won't receive the response they were looking for when calling the business for support. That's because interactive voice response (IVR) systems have made their customer support journey relatively seamless.
With an IVR system in place, you can:
Route customers to the right department
Help customers get a faster response from the support team
Help agents manage more incoming calls
Therefore, integrating it into your support system can help you reduce customer service response time significantly.
8. Build a Knowledge Repository Your Customers Can Refer 24×7
Another way to help your business reduce response time is by adding a knowledge base to your support suite.
With a knowledge base repository, your business can:
Help customers avoid going to support operators every time they have basic questions regarding your services or product
Help operators overcome the frequent burnout and focus on solving complex questions
Allow customers to seek assistance 24×7
A comprehensive information repository empowers customers with self-help and gives customers access to solutions faster than they expect.
---
Recommended Read: How to Create a Knowledge Base: Step by Step Guide
---
Perfecting the Art of Reducing Customer Response Time
Reducing customer response time is incredibly important because it will help your business improve customer satisfaction. Not only that, but it will also improve efficiencies across your company.
Even though the average response time is more than 12 hours, there are many ways in which businesses can ensure their reps don't take much time to respond to customers. You can start by implementing the tips mentioned above.
---
Now that we've understood the importance of reduced response time and different strategies that would help you achieve that goal, let's take a look at some of the frequently asked questions around the same below.
How Response Time Impacts Customer Service?
Response time is a deciding factor for 90% of your customers to decide whether they'd like to do business with your brand. And that's not all. It even helps your customers decide whether they would be able to engage with your brand or not.
How Quickly do Customers Expect a Response?
This is quite subjective as to when customers really expect a response time. However, more than 80% of the customers expect a response within 24 hours.
What is Reasonable Time to Respond to a Customer's Text?
If we talk about a reasonable time to respond to customers, then many say it should not be more than 3-5 seconds. But what if your operators come across technical glitches or XYZ reasons that create roadblocks to provide an instant response to customers? In that case, you need to monitor how long your customers can actually wait to get an answer. You can set response time standards for your operators and ensure that these standards are followed sincerely.
Do you want a free Live Chat software?
We have the #1 Online Live Chat Software for instant customer support 24x7