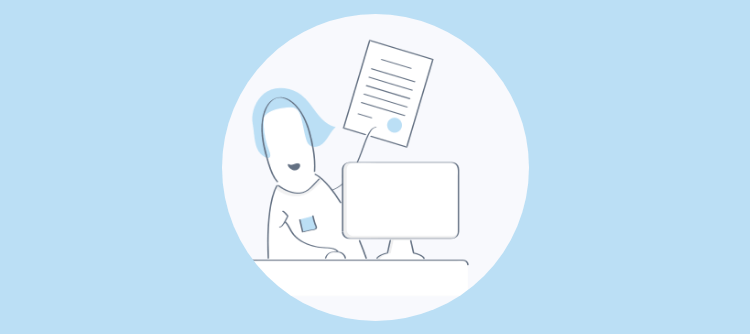 How many times do you wait for customers to report an issue with your product or services? Do you identify them yourself, or do they mostly get reported as they surface?
If you end up nodding your head to the second scenario, you're definitely failing at providing proactive customer service to customers.
There is no problem with missing out on a few errors at your end. You are human and are bound to make errors. Except, you can't make the same mistakes of not identifying pressing issues with your services every time. You need to step up your game and identify errors before customers do.
This proactive customer service strategy will allow you to:
Avoid irate customers (at least a few times)
Improve customer satisfaction
If you'd like to learn how you can become more proactive with your services, here's a quick guide for you. This guide will help you explore:
What is Proactive Customer Service?
Proactive customer service is a process where you come up with solutions for situations that customers may face in the future. This approach can be defined as an anticipated effort to identify and resolve customers' issues even before they perceive them or have them.
This customer-focused exceptional service approach will not only maximize customer satisfaction and convert them into long-term loyal customers but will also enhance your business's brand value. Your business will be recognized for outstanding customer services that always strive to deliver unique value to their customers.
An example of this proactive customer service can be airline services when they perceive any delay in flight schedules – they quickly inform their customers by email or phone call to avoid any inconvenience. Some proactive hotels inform their customers beforehand if there is any bad weather or adverse road condition issue before reaching the location so they could take any other direction to reach the destination or wait for some time before heading out.
Proactive vs. Reactive Customer Service: The Difference
We've clearly understood what proactive customer service is, along with examples. Now, it is time to see how different it is compared to reactive customer service.
Reactive customer service is where your business reacts to a problem or a service challenge once it gets reported by customers. Here you end up taking action once a complaint gets registered. In a nutshell, your customers make the first move, and you end up reacting to their concerns.
On the other hand, proactive customer service is all about you making the first move and resolving a problem even before your customers encounter it. That's how different both the services are from one another.
Top Five Benefits of Proactive Customer Service
There are multiple benefits of following the proactive customer service strategy that will likely encourage you to carry on with it even further. Here's a quick list to get you started.
Saves Your Customers' Time

Since you identify a problem before it surfaces in front of your customers, you help them save a lot of time. You help them avoid reaching out to you for support. You even help them avoid the waiting time for a solution. In a nutshell, you are saving their time by being proactive.

Improves Customer Retention for Sure

Your customers expect excellent customer service throughout their journey with the brand. When you identify upcoming challenges that might hinder their experience with your brand, solving them beforehand assures your customers that they are in good hands. They end up relying on your brand because they think you will take care of everything. This way, you encourage them to stay longer with your brand and boost retention.

Reduces Support Queries

If you are tackling challenges before they even arise, you reduce support calls and chats for your business. Understand that you won't be reacting to customer complaints but solving them before they surface before your customers. This gives you enough room to analyze upcoming challenges as well.

Builds Better Future Experiences Based on Feedback

Feedback plays a crucial role in implementing a proactive customer service strategy. If you're proactively capturing feedback from customers, you will identify areas that need to be modified, updated, or added to your existing services.

Improves Your Reputation Online

It goes without saying that customers, at some point, will discuss their experience with your business. They may even use social media platforms to share their experience and let others know why others should or shouldn't opt for your business. With proactive service, you can ensure that your customers share positive feedback with others and encourage them to check out your business.
As awesome as these benefits sound, let's not forget that building a proactive customer service experience would require the right set of practices. To help you build the awesome proactive experience, we've covered a few ways below.
10 Ways to Deliver Proactive Customer Service
Implementing a proactive customer strategy is not a big deal, and you can easily switch to this approach without making any massive changes in infrastructure or huge investments. Here are a few ways to help you get started.
1. Understand What's on Your Customer's Mind With Feedback
You intend to provide larger-than-life customer satisfaction. Right? Then why not focus on what your customers are really interested in?
Your customer's feedback is going to set the stage for you because if you want to delight them, implement the changes they expect to see in your product/services.
To capture your customer's valuable feedback, you can use the following methods: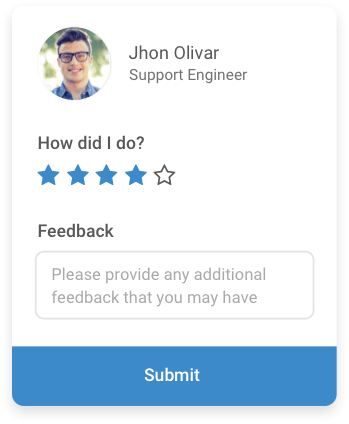 One way to capture feedback would be using your live chat. Once a chat comes to an end, you can display a post-chat form. It will help you understand whether the customers or curious prospects were satisfied with your service or not. Some tools even allow you to add more questions to the post-chat form. But we advise you to keep it short. This will be a great way to capture feedback and assess customer satisfaction rate when it comes to your service.
Send a Feedback Form Via Email
Another way to capture what your customers are thinking is by sending a form link or an embedded feedback form in the email. This feedback form can target any form of experience. Whether it is shopping experience, loyalty, or support, these email feedback forms can help you capture them all.
Implement a User Feedback Tool on Website
Other than the above-stated methods, you can also try implementing a user feedback solution on your website. With this tool, you can understand what your visitors think about your website and whether they found the information they came looking for. Tools like Qualaroo help you gauge not only customer feedback but also offer a complete sentiment analysis to help you identify the right areas of improvement.
Recommended Read: The Importance of Collecting Customer Feedback
2. Explain Adversity Before It Strikes
Things never go as expected. If you are facing uncertain situations, inform the customers about them before they escalate. For example,
You booked too many orders, and you ran out of inventory
The shipment company delayed picking the parcel
The new stock added to the inventory was received damaged during delivery
Create a newsletter or an email or post it on your social media platform to inform your situation. This will help them realize the case, and they won't rush to conclusions about your services.
Instead, they will get a feeling of personal involvement. You can also make up for these flaws by offering small discounts or exclusive coupons for value-added services.
3. Build an Elaborate FAQ Section
People acknowledge the efforts made by companies to solve problems proactively. So, it's somewhat meaningful to help them beforehand, and the most significant way to rescue customers in advance is to motivate them for self-help.
Implement an extensive FAQ section where you list some of the commonly asked questions to help customers find a solution faster.
Your FAQ section can address questions around:
Delivery, shipment, and shipment charges
Return and Refund policies
Terms and conditions of using your product
Information about how to use your product or a detailed manual for best practice
Read More: Live Chat Knowledge Base Integration: The Best Recipe for Customer Support
4. Use Previous Interactions to Identify Future Problems
One of the best ways to identify upcoming issues with your products or services is to go back to previous customer interactions.
Interactions with customers are a great source of learning. From "oh, I had troubles with the sign up" to "is there a faster way to get in touch with your brand?" you get to identify minor to major issues during these conversations.
For example, tools like live chat help you capture all the customer conversations in one place. They store conversations in the form of transcripts that your support and sales team can refer to further improve brand services. Transcripts will help you understand all the major and minor issues your customers had to face with your services.
They are a great source of learning for your support and sales teams as well. Transcripts will help them understand where they failed to connect with customers and identify areas they need to improve further.
Read More: The Complete Customer Service Training Guide
5. Employ Enough Staff Available for Peak Time
Always keep a record of how many staff members are available to serve the customers. If you fall short of support staff, you might end up losing customers. So, keep a schedule to manage your customer services for 24 hours, peak times, weekends, and holidays.
6. Recommend Services Based on Previous Actions
Another way to make your proactive customer care more efficient is to recommend products and services to your customers based on their previous experience with your brand. Here's a quick example of how brands like Amazon use it to their advantage.

The eCommerce brand shows product recommendations based on the visitors' browsing experience or purchasing history. These recommendations help customers find a product and arrive at a purchasing decision faster. This strategy not only helps the brand boost sales but also allows them to improve customer experience that encourages customers to return frequently to the brand.
7. Set Up a Live Chat to Send Proactive Messages
You can also use a live chat to send proactive messages to your returning customers on the website. You may ask, "how would this help our business?"
Well, here's how it will work in your favor:
Improves customer experience
Boosts retention
Increases customer retention
You can implement proactive messages in the following scenarios:
Welcoming returning customers and showing recommendations for products
Welcoming new visitors and introducing your business to them
Sending messages based on browsing behavior and encouraging a conversation
Sending messages based on a pain point and letting visitors know that they can find answers to them via chat
Other than these scenarios, you can even send proactive chat messages to avoid cart abandonment, improve cross-sell opportunities, identify pages with a high exit or bounce rate, and more.
Recommended Read: A Quick Guide to Set Up Proactive Live Chat
8. Become Proactive With Automation
Automation is another way to go about being proactive with your customers. There are various platforms that not only automate but allow your business to send in proactive messages and connect faster with the customers.
Here's a list of automation platforms that will enable your business to become more proactive at approaching customers.
Email marketing – They can help you send newsletters and marketing pitches to the right audience at the right time.
SMS messaging platforms – These can help you send billing, product tracking, or even maintenance-related messages.
Chatbots – With a chatbot, you can approach website visitors proactively by sharing product recommendations, announcing upcoming events and discounts, and even speeding up the support process by transferring pressing issues to available operators.
Explore: 21 Best Chatbot Software: Top Picks
9. Announce Product Feature Upgrades
Are you planning on bringing a new feature to your existing product or coming up with a minor upgrade to an existing feature? If the answer is a BIG yes, then it is important that you share this update with your customers once you take it live.
Here's how we, at ProProfs Chat, do it: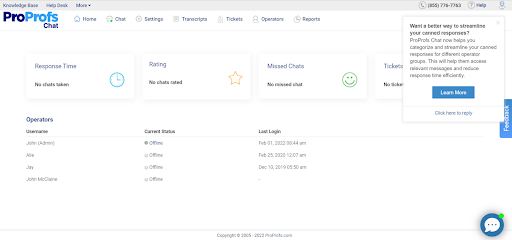 We use our Announcement feature to create quick announcements for our users. Once they log in to their account, they'll come across the announcement (as shown in the image). It will give a quick update on what the feature update or upgrade is and what it can do for them. We even add a link to our knowledge repository to help users understand the update in detail.
This is a great way to proactively share your updates with the customers and improve upsell opportunities further.
Learn: How to Set up Live Chat Announcements
10. Work on Service Transparency
Finally, make sure that you offer transparency to your customers when you come across a hitch. If you end up discovering a problem with your products or services, let your customers know about it.
You can send them emails or SMS to let them know that you've encountered a problem with the product and you are working on improving it.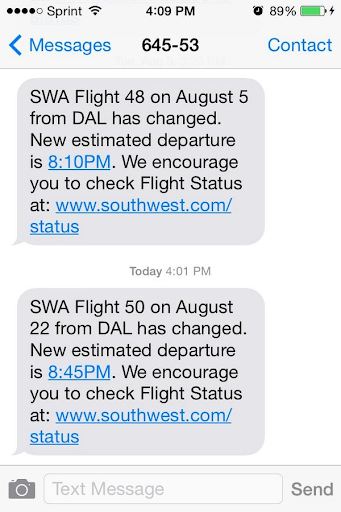 For example, airlines make sure that their customers get to know about any delays 48-72 hours prior to their flight. As you can see, Southwest Airlines sends flight delay messages to their customers prior to their scheduled flights. This proactive approach can help you improve service transparency and build trust with your customers.
Five Awesome Proactive Customer Service Examples
Proactive customer service has enabled businesses to build better experiences for the customers and encourage them to stay longer with the brand. To help you understand how beneficial this approach can be for the business, here're a few examples to get you started.
1. Amazon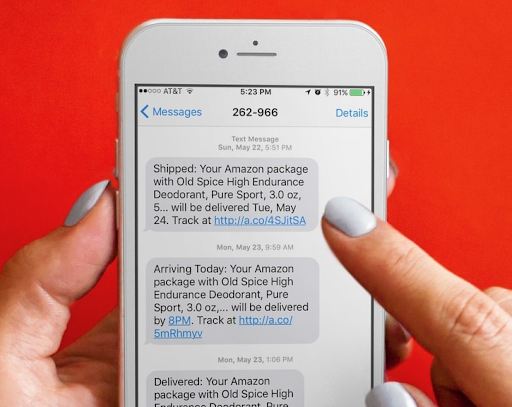 Amazon is one of the finest examples of proactive services. This eCommerce giant is known for keeping its customers updated on all their deliveries. Whether it is a delay in sending the order or updating the inventory and letting the customers know about product availability, Amazon does it all. It even sends push notifications to app users that keep them posted where their package is and when customers can expect them.
2. Netflix
Being a streaming platform, Netflix understands that they are likely to face a situation where their subscriber's viewing experience can get hampered. In case, if their subscribers do face streaming issues, Netflix sends in emails to let their customers know that the company plans on compensating them for the bad experience.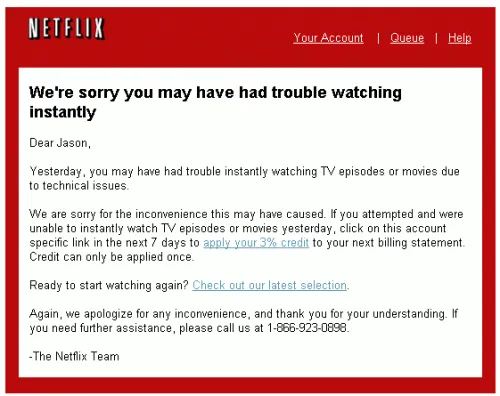 They send a link that allows their subscribers to avail themselves of a 3% credit in the next billing cycle. This gives the impression that the brand is ready to take full responsibility for building a bad experience and can also be relied on in case this may take place in the future. That's not all. Netflix is also proactive at announcing the new content that it will release the next month.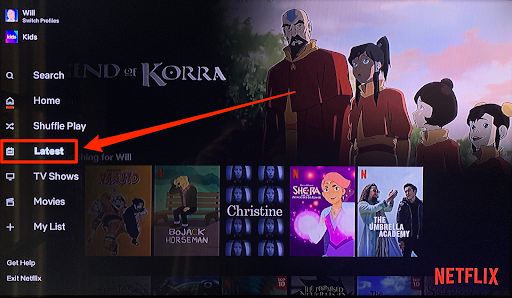 From dates to the storyline, Netflix provides detailed information on all their upcoming shows and movies. This gives their subscribers the idea of what they can anticipate and look forward to watching them.
3. ProProfs
There are multiple ways ProProfs offers proactive support to their customers. Here are a few ways they proactively deal with customer support queries and build a seamless customer experience.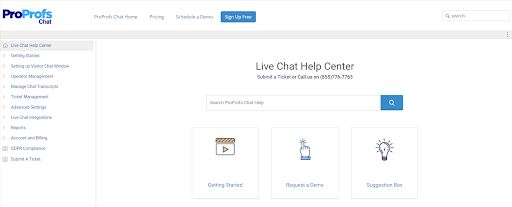 Sharing an in-depth knowledge repository with their customers and prospects to understand how their product features work and how they can be accessed.
Releasing announcements within the product to update users about the recent product updates or feature upgrades.
Setting proactive messages using their live chat and chatbot on the website to connect, engage, understand what the visitors are looking for, and directing them to that page.
Taking feedback using their live chat or feedback tool to understand whether the visitors were happy with their services or details on the website matched what they were looking for.
In simple and subtle ways, ProProfs proactively reaches out to its customers and ensures that they get a solution before planning on reaching out to the support team.
4. AT&T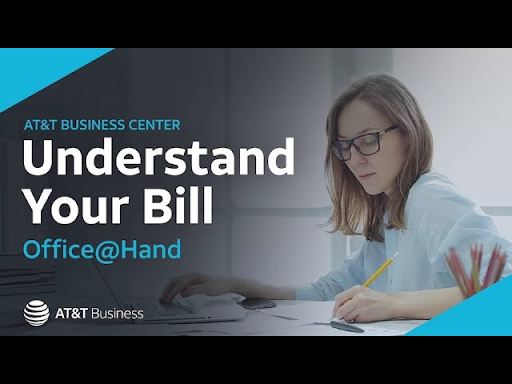 One of the proactive approaches for AT&T is to address billing-related questions. A lot of their first-time customers are likely to experience bill shock. To avoid any confusion and multiple support calls for the same, they decided to send a link with a video that explains to their customers how the billing process works. This has helped them bring down the call volume and keep their customer satisfaction number high.
5. Facebook
Strategically, Facebook also offers proactive service to all its customers. They've created an in-depth knowledge repository that answers questions related to features or how they can work in their favor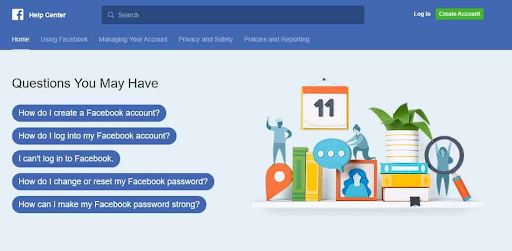 They keep on updating their inventory on the basis of repetitive questions. This allows them to answer more questions and help their support team focus on more pressing issues.
These examples help us understand how proactive support can be offered to customers and implemented efficiently.
Proactive Customer Support: The Perfect Support Strategy
You know that customers like it when you resolve a few challenges before they face them. This helps them use your products and services seamlessly and encourages them to connect with your business regularly.
What's more, proactive customer service allows you to reduce time spent on each request and boosts operator efficiency. That's not all. This practice also helps your business to improve retention and build loyalty towards the brand.
With the help of the right practices like regular training, taking feedback, or even automating the support process, you can deliver proactive service to customers. We hope our list of ways helps you implement the approach the right way and build a better experience for customers every time.
Do you want a free Live Chat software?
We have the #1 Online Live Chat Software for instant customer support 24x7