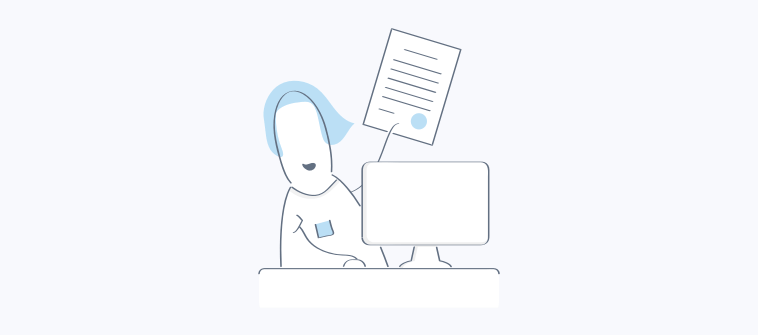 "Instead of focusing on the competition, focus on the customer," Scott Cook.
With the ever-changing scenario of business globalization, companies are thriving hard to retain their brand's loyalty by creating cutting-edge product sales strategies.
There was a time when offering a good product at a reasonable price was enough for a company to stand out from competitors. But, with the overwhelming consumer demands and customer expectations, you cannot afford to negate the importance of satisfactory customer services.
To set your brand above and beyond, you need to develop smart customer services, which ultimately focus on providing not just active, but proactive customer service along with offering a high-quality product at affordable prices.
Increasing customer retention rates by 5% boost profits by 25% to 95%.
And proactive customer support is the prime reason which can ace up the customer retention rate, which eventually boosts brand loyalty in return.
---
Another study by Forbes reveals that due to inadequate customer services, many brands are facing more than $75 billion loss per year approximately.
---
So, the question here is – how can a business revitalize its brand presence when everything is falling to pieces?
The secret lies in digging into the specifics of customer support and market trends to churn out solutions that fit into customer expectations. It might need packaging and repackaging of similar solutions to offer a bunch of delightful experiences to the customers.
This blog focuses on the proactive customer service approach and how can you shift from this reactive customer service to start a proactive one without overhauling any department entirely.
Let's start with clarity about the meaning of Proactive Customer Service.
What is Proactive Customer Service?
70% of consumers say they have already made a choice to support a company that delivers great customer service.
The other day, at ProProfs, when we were discussing what makes excellent customer service, we realized it's the ability to respond and resolve customer issues even before they have surfaced. And this is precisely what we can refer to as Proactive Customer Service!
So, what is proactive customer service?
Proactive customer service is thinking wisely about problems that the customers may face in the future and resolving them before the customers start facing them. So, this approach can be defined as an anticipated effort to identify and resolve customer's issues even before they perceive them or have them.
This customer-focused exceptional service approach will not only maximize customer satisfaction and convert them into long-term loyal customers but will also enhance your business's brand value. Your business will be recognized for outstanding customer services that always strive to deliver unique value to their customers.
The example of this proactive customer service can be airline services when they perceive any delay in flight schedules – they quickly inform their customers by email or phone call to avoid any inconvenience. Some proactive hotels inform their customers beforehand if there is any bad weather or adverse road condition issue before reaching the location so they could take any other direction to reach the destination or wait for some time before heading out.
Proactive vs. Reactive Service – Why Proactive Customer Service is Better Than Reactive?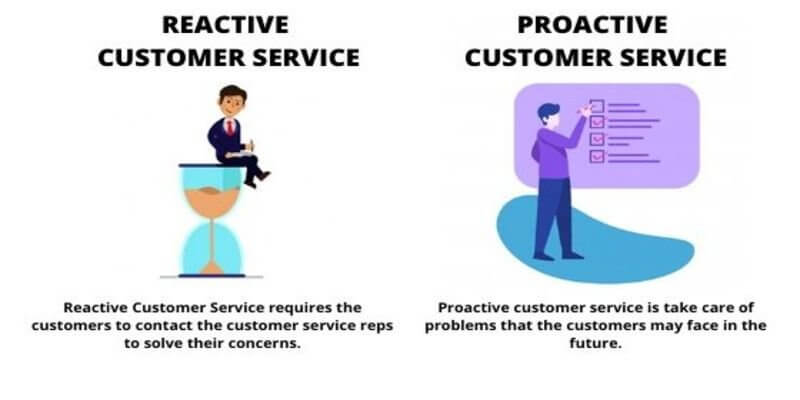 As we mentioned earlier, Proactive services revolve around the company's preventive measures that they take before a specific issue evolves. In contrast, the reactive service requires the customers to contact the customer service reps to solve their concerns; they lack in preventive measures and react only once they get approached by the customers regarding their problems.
So, which service is a better choice for companies to achieve higher customer satisfaction? Of course, people love to get their problems addressed even before the issue surfaces to a noticeable point because it adds value to customer experience and delights them.
On the contrary, with a reactive approach, no matter how quickly your reps respond and solve the problem, still, the customers might not get a great experience.
Therefore, the proactive service strategy of addressing the problems before they arise is an attractive and profitable approach to get close attention and promote brand loyalty.
Why Should You Adopt a Proactive Customer Service Approach?
Proactive customer service is an intuitive way to boost your product loyalty by maintaining customer's satisfaction and fulfilling their expectations on a long-term basis.
You can acquire the following benefits via this approach:
✔️ Attract new customers: When customers will get prompt help, they will also get a first-hand experience of your company's proactive approach. This will encourage them to recommend your brand to friends and family members to enjoy the same royalty, and your business will bloom with new customers.
✔️ Protect your brand from negative reviews: Once you improve your customer services, you will notice less noise in social media regarding unhappy customers, and this is the best way to protect your brand from negativity. Altimeter research says that the most critical cause of dissatisfied customers is inadequate customer service portrayed loudly on social media.
✔️ More efficient customer service staff: When you try to provide excellent customer services beyond all means in the form of FAQs, preemptive guides, it will eventually lead your customer service staff less stressed, and there will be fewer complaints to sort out. This will allow some scope to provide training for employee enhancement.
How to Implement Proactive Customer Services in Your Company?
Implementing a proactive customer strategy is not a big deal, and you can easily switch to this approach without making any massive changes in infrastructure or huge investments. Some simple changes can turn the table in your favor in no time.
1. Customer Feedback Is Most Important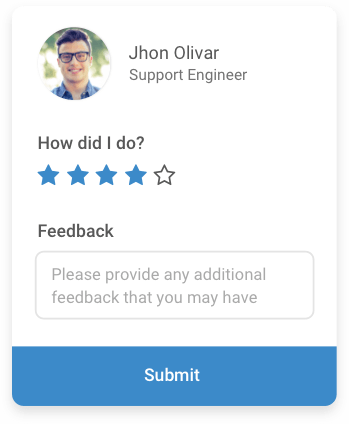 You intend to provide larger-than-life customer satisfaction. Right? Then why not focus on what your customers are really interested in?
Your customer's feedback is going to set the stage for you because if you want to delight them, then implement the changes they expect to see in your product/ services. For the customer feedback, you can contact them directly through forums, encourage them to take a survey, or by sending them an email asking them if they find the product following their demands.
This will significantly reduce negative word of mouth, and customers will feel satisfied that they are getting proper follow-ups. And the most important aspect; it will help you in implementing strategies that will help you nip customer issues in the bud.
2. Explain Adversity Before It Strikes
Things never go as expected. So if you are facing uncertain situations, inform the customers about it, before they escalate. For instance,
You booked too many orders, and now you run out of inventory.

The shipment company delayed picking the parcel.

New stock is damaged during delivery.
Create a newsletter or an email or post it on your social media platform to inform your situation. This will help them realize the case, and they won't rush to utter negative words.
Instead, they will get a feeling of personal involvement, and you can also make up to these flaws by offering small discounts or exclusive coupons for value-added services.
3. Elaborate FAQ Section

People acknowledge the efforts made by companies to solve problems proactively. So, it's somewhat meaningful to help them beforehand, and the most significant way to rescue customers in advance is to motivate them for self-help.
Implement an extensive FAQ section where you put the best self-help solutions if they find any unfavorable situations.
You can add such FAQs on your website for prior knowledge:
Answer frequently asked questions regarding delivery, shipment and shipment charges

Return and Refund policies

Terms and conditions of using your product

Information about how to use your product. Or a detailed manual for best practice.
4. Keep a Record of Every Customer's Problem
Let your customers register complaints in an organized way and record customer feedback. Recordkeeping helps you understand many problems so you can rectify them over time. Moreover, if you are receiving the same complaint over and again regarding a particular product, you can segregate its appropriate solution and share it with multiple customers facing the same issue at the same time.
5. Employ Enough Staff Available for Peak Time
Always keep a record of how many staff members are available to serve the customers. Because, if you fall short of support staff, you might end up losing customers. So, keep a schedule to manage your customer services for 24 hours, peak times, weekends, and holidays.
How Can You Switch From Providing Reactive Support to Proactive Support?
Switching from reactive to proactive support is like getting out of the backseat and taking the steering wheel in your hand. Following strategies can be implemented to shift from reactive to proactive support:
☛ Analyze chat history and identify the common problems that customers are facing to develop a comprehensive solution.
☛ Track the customer journey and look for an opportunity to introduce the customer to self-help documentation or FAQs section wherever you think they are getting stuck.
☛ Scan the feedback forms, emails and try to frame strategies to implement changes based on customer feedback.
☛ Monitor social media conversations of customers to outline a few parameters that can form the base of proactive strategies. Like you can track comments of customers on specific programming tools and then suggest them your line of tools on their feed.
☛ Use Artificial Intelligence to analyze the current trends and predict future needs to develop next-gen products, services, and solutions.
These are some effective ways to initiate proactive support strategies. Customer data is the storehouse of inputs that can get you on track with developing support solutions that can delight your customers.
Brand Following Proactive Customer Services to Drive Their Business
Most of the brands have acknowledged the need for proactive customer services to compete and boost their business rather than relying on reactive customer services.
It is time to identify where your business can grow progressively by implementing a proactive customer care approach to gain customers trusts who expect companies to deliver exquisite help at the right time.
Therefore, the brand that has substantial time-framed the customer's lifecycle journey from pre-purchase to post-purchase by delivering value to them is enjoying additional revenue, improved customer engagements and also customers' brand loyalty in return.
We have highlighted some of these brands that have revealed how proactive customer services transformed their business journey.
HorseSaddleShop

As a retailer of quality horse saddles and western boots, HorseSaddleShop is one of the proactive customer service examples we'd like to share.
Charlie Hueni, VP of Purchasing & Sales department at HorseSaddleShop, states how the use of ProProfs Chat helped them reach faster to their customers. He even states, "Anything that helps us communicate better with our customers improves our revenue."
MilitaryCruiseDeals.com

Mitchell Bank, Founder of MilitaryCruiseDeals, states "With ProProfs Chat, we can communicate with the overseas clients who cannot call us". The company specializes in selling cruise deals to military personnel and their families.
The founder explains how proactive live chat became the perfect medium for their team to communicate with overseas clients who wanted instant answers for cruise deals. They even get to initiate a chat with customers and provide proactive support effectively.
Besides these, there are an ample amount of examples that will help you understand how important this strategy is to excel in the business.
Proactive Customer Support: The Perfect Support Strategy
So, if your prime concern is to focus on how to satisfy your customer's needs, then this proactive customer service will advocate your brand loyalty, satisfaction and save plenty of extra costs and uphill struggle to maintain your name and fame. Since proactive customer service is not only an approach, but it has become a marketing tool to initiate a new era of the customer-centric company. You can reap the rewards without investing extra money. Just train your customer service team and support them in implementing proactive solutions to handle issues of your customers.
---
FAQs
Now that we've seen how proactive customer service can be implemented as a support strategy, let's take a look at some of the frequently asked questions below.
What are the benefits of proactive customer service?
You get to improve customer loyalty as your operators become proactive to answer the questions that customers might come up with in the future. Other than that, you also get to improve operator productivity and learn which operator needs more training to create a delightful support experience for your customers.
What do you mean by a proactive customer retention strategy?
A proactive customer retention strategy is an initiative that helps your business encourage the repurchase of your products and services. However, unlike other retention strategies, proactive service helps your operators to actively engage customers with the brand and help them get a solution before they even ask for it.
What is reactive customer service?
Reactive customer service is where your operators provide support to customers once they approach them with their questions. This process further proceeds when operators find a solution by engaging other teams too if needed.
Do you want a free Live Chat software?
We have the #1 Live Chat software for delightful customer support starting at $0