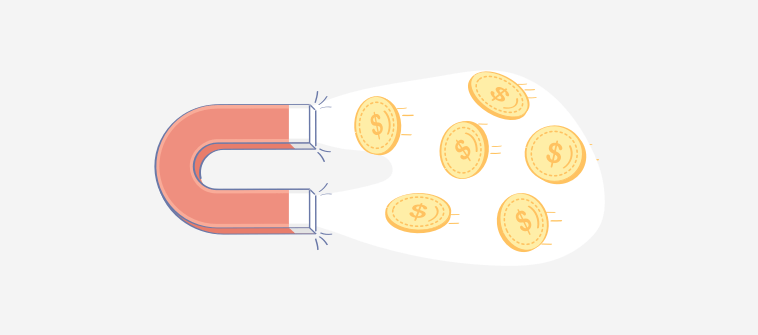 A Forrester report highlights increasing customer retention by 5% can increase profits by up to 95%. Loyal customers spend about 30% more with brands than new customers. An investment to increase retention by 5% is surely a worthy business investment.
For effective customer retention, a focused and dedicated approach needs to be kept in mind. And, a well-designed customer loyalty program can act as a profitable investment and reduce the likelihood of customers going to your competitors.
Understand this, customers expect a brand to provide a delightful experience and exclusivity.
Take the example of Victoria's Secret loyalty program PINK Nation. This program offers exclusive benefits like opportunities to shop new styles first and sends invite to members-only for events like parties, shopping trips, etc. Members get access to ultra-exclusive events with Pinkmodels, celebrities, and influencers.
Another brand that has focused on offering experiences to customers is Nordstrom. Icon status members (the top-tier shopper status, shoppers who meet a $15,000 annual spend threshold) get unlimited free alterations, free same-day delivery, a complimentary dining or spa experience and four double-points-earning days. Another unique and enticing perk of Icon status is a service billed as Nordstrom After-Hours, this allows members to shop in private after stores close.
To keep customers engaged, it is important for a loyalty program to focus on their needs & aspirations to ensure they feel satisfied in their relationship with a brand. So, focusing on making customer retention rate stay high can create a tremendous competitive advantage for a brand and lead them to growth.
Simple formula: Customer Retention = Engagement + Investment
Let's look at these two aspects of customer retention in detail – the engagement a brand offers to its customers and the subsequent investment a customer makes with the brand.
Engagement Generates Activity
This approach invokes purchase consideration in the user's mind. It sets the user thinking about buying a product in that category. It reawakens the user about the need!
For better brand visibility, companies must ensure that they have a powerful engagement strategy that builds brand consistency, resulting in prospects associating with the right values and feelings of your company. Other aspects include:
Showing customers you care
Associating your brand with stories that resonate with customers
Avoiding the typical sales pitch
Connecting with your users helps you to create a sense of belonging in a community. Share your brand's new developments or opinions in your space to get your users engaged enthusiastically. Active engagement with your brand represents the strongest affirmation of brand loyalty, when customers are willing to invest time, energy, money, or other resources in the brand beyond those spent during purchases or consumption.
Customers who are strongly attached to a brand, organize themselves into fan clubs, become proud of the brand, and advocate it to outsiders. Good examples are Harley Davidson, Ford Mustang clubs. This is the highest level of brand loyalty, which brings an unusual value to brand equity.
Engagement happens through different activities and experiences that a brand offers to its customers via different channels. One such channel that has caught a huge rage is a live chat software. The use of this software allows organizations to engage with their website visitors proactively.
You can also integrate your live chat with MS Dynamics CRM to store all visitor details as leads. Keeping the information on leads in mind, your marketing team can come up with strategies that help you retain them and the existing customers effectively.
After all, customer retention doesn't improve overnight. But with a few simple strategies up your sleeve, you can coax your existing customers back for more. Loyalty reward programs can help you to form lasting relationships with consumers who will become devoted to your brand.
Here is a list of three simple engagement strategies for customer retention that includes segmentation with tiers, free shipping, and an easy redemption process. While discussing these strategies, let's look at a few brands that build a high level of engagement with customers:
Exclusive engagement: With the integration of the iTunes store, Apple users invested time and effort in downloading, organizing songs into the album, customized to their individual tastes. With the effort they put in, customers did not want to shift to any other brand.
Personal engagement: Sephora's Beauty Insider program grants access to free makeup classes and an online community. The company offers customers the advantage of being part of a community: share their questions, stay updated on the latest looks/ upcoming events, getting beauty inspiration from other members etc. Another brand that focuses on personal engagement is IKEA. It supplies flat pack furniture, the customers need to put considerable effort in assembling the product and this is one of the reasons why a customer values the furniture more.
Social engagement: HP Planet Partners Rewards B2B loyalty program goes beyond just rewards for an organization. This program is enabling organizations to contribute to social and environmental responsibility efficiently.
While engagement makes the user want to buy the product, it does not guarantee that the user will buy from you! They may end up comparing and then purchasing the product from a competitor. To ensure that they do not switch to a competitor, you need Customer Investment, the second component of customer retention.
Investment Generates Loyalty
Customer loyalty is the act of choosing a company's products & services consistently over competitors. Loyal customers are not easily swayed by price or availability. They would rather pay more and ensure the same quality service they have experienced.
Customers stick with the brands that are easy on their wallet but also provide excellent value. A whopping 92% of loyal customers come back for good prices and high value. If users hold a certain status or privileges with your brand, they are much more likely to buy from you and not your competitors.
Customer investment means getting your users invested in your brand. Digital brands focus on positioning their brand in the daily lives of their customers. They engage customers more as users than as buyers, shifting their investments from pre-purchase promotion and sales to post-purchase renewal and advocacy.
For example, United Airlines offers United MileagePlus, a popular airline rewards program. The airline continues to enhance its MileagePlus program, offering members new ways to earn and redeem miles as well as other benefits. The company offers miles on all Star Alliance flights.
By awarding extra miles for flights, United Mileage Plus is getting its users invested in its brand. Once users earn privileges and reach a certain status, they are heavily invested in United. Hence, they would stick to flying on Star Alliance flights, rather than fly any other airline, even if it means paying a few dollars more!
A business that awards points for purchases is getting the user invested in its business. If users know that there is a $25 gift card waiting for them in exchange for their loyalty points, they are more likely to buy from that business than a competitor. Similarly, if customers get rewarded with special status, privileges, exclusive access, it makes them feel special. It increases their affinity towards the brand.
Successful Retention Means Engagement + Investment
Clearly, customers are looking at loyalty programs where they can get rewarded faster. To retain customers, brands must focus on providing perks and benefits that matter to them.
Personalized communication is important to develop deeper engagement with customers. AllSaints, one of the world's foremost contemporary fashion brand, puts both customer and brand experience at heart of its operations, right from store merchandise and product design to its website. The company now obtains granular insights into customers' product affinities and individual shopper personas based on historical purchasing data.
For example, this allows the company to completely transform its interaction with customers. Engaging the customers will get their mindshare. It will make them want to buy. But getting the customers invested in your business will make sure that they buy from you!
Companies are cracking the code for customer retention, which can be achieved with an effective mix of investment and engagement. A loyalty rewards program is the best way to get your customers invested in your business and eliminate the possibility of them buying from your competitors.
Recommended Reads:
Do you want a free Live Chat software?
We have the #1 Online Live Chat Software for instant customer support 24x7