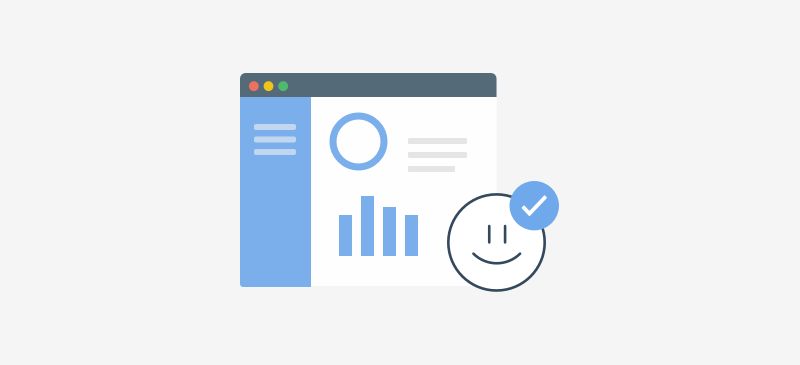 People stop doing business with a brand if they get subjected to poor customer service.
Numbers don't lie. More than 50% of customers stop giving business to brands that did not stand up to their customer service expectations. And due to poor customer service, many organizations across the globe have incurred a loss of $1.6 trillion.
These numbers indicate how essential it is for your business to have the right customer service tool like ProProfs Enterprise Chat Software to tackle queries faster. With such a chat software, you can notice a remarkable improvement in customer satisfaction rates since give you the opportunity to reach new customers efficiently.
What's more, your customers will receive personalized service with solutions coming faster their way. However, to make the use of live chat software more prominent, you need a powerful CRM integration like Microsoft Dynamics in place. The integration will help you record customer details and their history with your brand easily. Besides this, there are other ways in which getting a CRM system onboard can help your brand provide better customer service experience.
Here's a quick video for you to learn about the Benefits of Microsoft Dynamics CRM Integration With Live Chat.

So, here's what your organization can do to provide superior customer service.
#1. Understand Customer Pain Points
Listening to your customer needs is an integral part of providing exceptional service. According to a study, 76% of customers expect that businesses should understand their needs and wants. 70% of customers in the same study also reported that businesses need to understand how they use their products and services to win their loyalty.
It's clear that you need to listen to your customers to provide a great support experience. So, just ask for their feedback and use a CRM system to store them in a place for improving your services.
Send them an email that includes a survey with a few questions on how they feel about the products or services they've bought from you.
Ask them about their experience with your operators and work towards building better training sessions that help you improve their performance.
Such gestures show your customers that you care about them. You can even choose to add a little incentive for your customers to fill out the survey like Warby Parker does.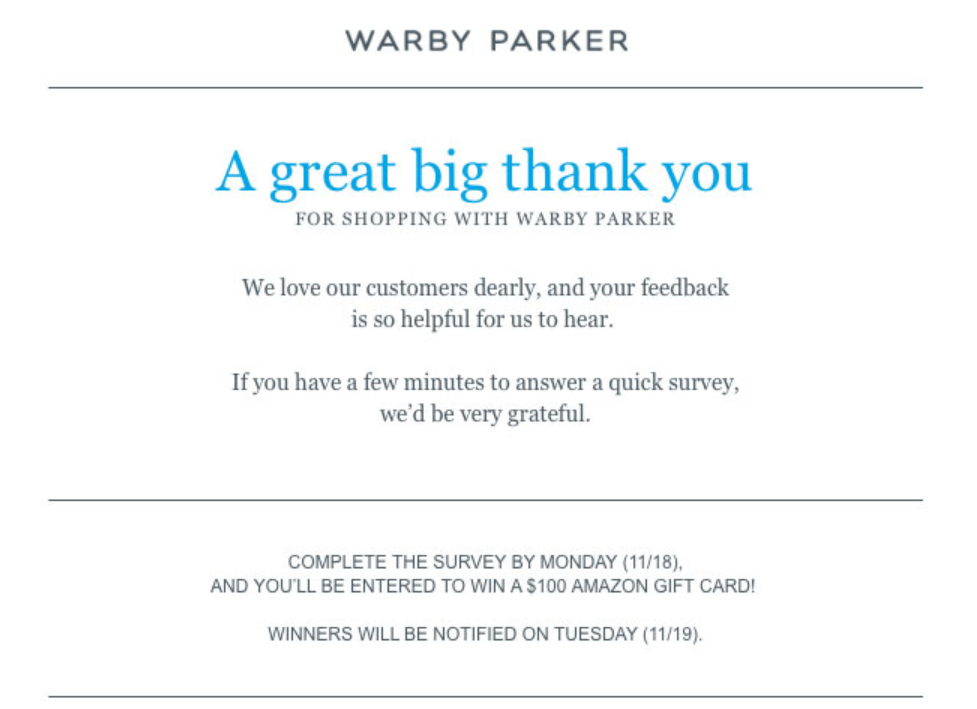 Image via Blue Stout
#2. Personalize the Communication Experience
Adding a CRM system can help you learn a lot about your customers. This information can help you assess their experience with your products or services. This can be done by looking at their purchasing history and the feedback is given after using your product.
With such information, you can create personalized emails that address them by their name, consist of modified subject lines, and custom body content.
You can send your customers information on related products or offers related to them. If your products are such that they need to be refilled every few months, you can even send them product replenishment reminders.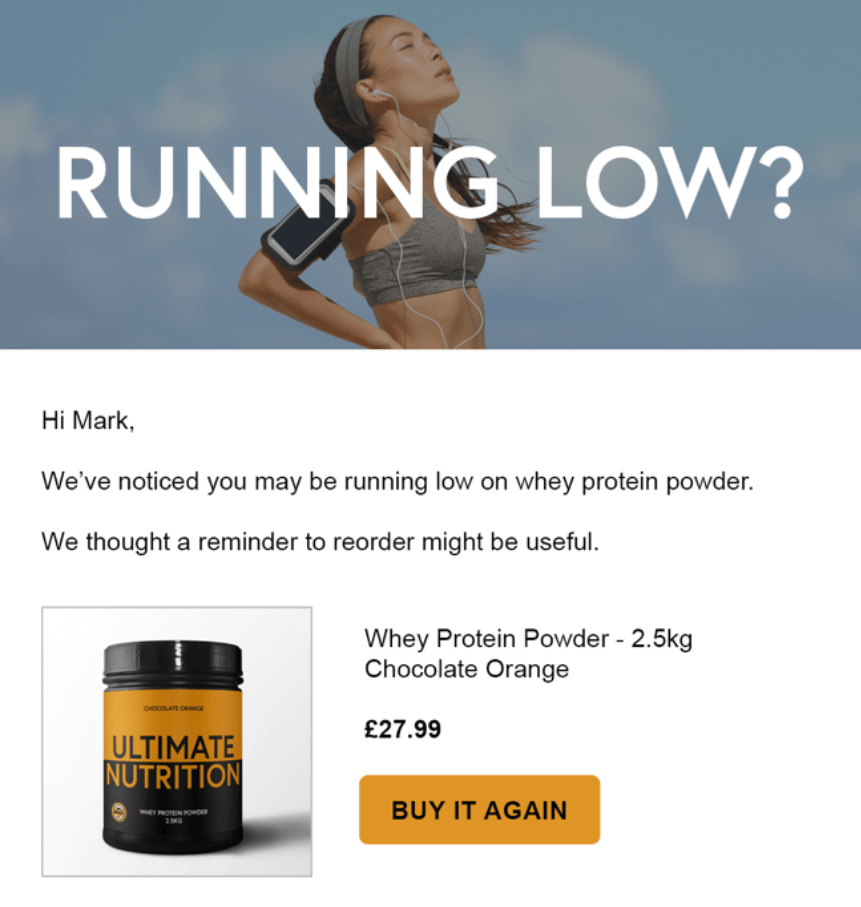 Image via Smart Insights
Such personalization can ensure that your customers will repurchase from you instead of switching to another provider.
And studies have found that once consumers switch providers, 68% of them won't go back to the original provider.
83% of consumers have reported that better customer service can influence their decision to switch.
#3. Build Long-Standing Relationships
Your customers are likely to contact you using a variety of different media. They may contact you on the phone, email, or chat depending on the support channels you provide. In all probability, a different member of your customer support staff is likely to come across their query each time.
This is where your CRM system can come in real handy. It's a centralized repository of data about your customers that your support, sales, and marketing teams have access to.
So, regardless of who interacts with them, they will still have access to their past purchase records, past issues, and the resolutions that were provided.
This way, whenever a customer contacts your team, you can address them by their name and help resolve an ongoing issue without asking them to share the details again. This can certainly provide a great customer experience and goes a long way to build stronger relationships with them.
#4. Resolve Issues Quickly
A study found that the average time taken to respond to each customer query was 12 hours and 10 minutes. Most customers wouldn't want to wait that long for a response.
In fact, quicker responses can surely help in bringing down their frustration and the longer you make them wait, the more likely you are to irritate and annoy them.
CRM systems offer you the flexibility to send automated responses to your customers to acknowledge their requests.
Even if you can't offer an immediate resolution, this can let them know that you've received their request and will get back to them as fast as possible.
Besides this, the software also records all the past issues and interactions with customers. These saved conversations in the CRM system can help your support team respond to customer queries efficiently.
#5. Provide What Customers Want
Some of your customers may have signed up for your newsletter while others may have chosen to receive offers and updates on a periodic basis. To provide a delightful experience, you need to make sure that you provide them exactly what they want. This will ensure that a person who has opted to receive a monthly email, doesn't end up receiving your emails every week.
Your CRM system can help you make sure that you send the right messages to the right people and at right intervals.
It can ensure that you do not violate GDPR or other privacy policies. All of this can help in you providing exceptional customer service.
Final Thoughts
Customers no longer flock to companies that provide the best products or services. Instead, they attach a lot of importance to the experience and service standards they get. Many of them may consider switching over to your competitors if you don't provide a great experience. However, the good news is that live chat with Microsoft Dynamics CRM system can help you:
Stay in touch with your customers
Understand their needs
Offer personalized service based on previous pain points
Build long-standing relationships with customers
So, if you still haven't started using a CRM system yet, it's time you do so. Can you think of any other ways in which CRM systems can help you provide better customer support? Let us know in the comments below.
Do you want a free Live Chat software?
We have the #1 Online Live Chat Software for instant customer support 24x7