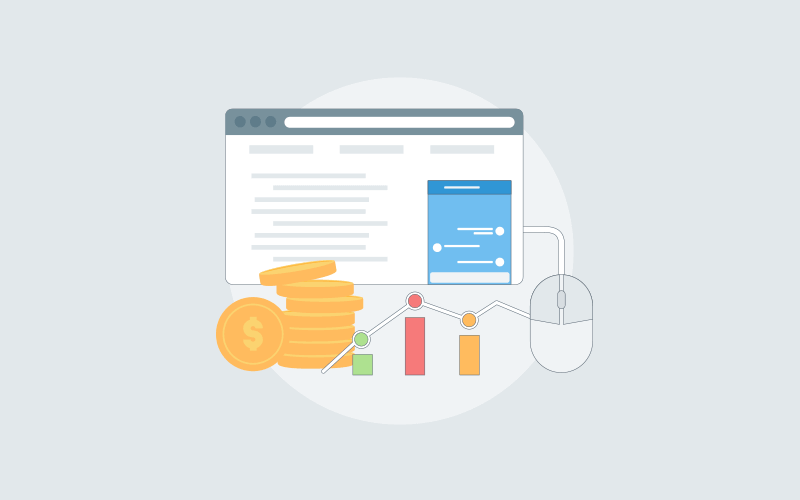 You're on a vacation with your family, and you've booked a room in a hotel – you went a long time ago. You get to the hotel, sit down at the restaurant and before you realize, a steward walks up to you with a cup of your favorite ginger lemon black tea; without sugar and a mint leaf.
How would you feel? Amazed? Shocked? My money's on anything that defines delight!
Do you think you would share such an experience with your friends? Recommend the hotel to anybody going to the same destination? You don't have to say, I think I know the answer.
You can provide such experiences to your website visitors via live chat as well. Live chat helps you build rapport with your website visitors, but more than that it helps you understand your website visitors' profiles – by viewing their location, operating systems and even previous chat transcripts. This information helps chat operators to form a better idea about visitor personas and provide faster and relevant solutions. As a result, you can offer a delightful experience to your visitors; turning them into loyal customers – who will recommend your services to more people.
As a business owner, that's more than you can ask for!
If you have live chat on your website, it may have amazed you with its ease of communication with your customers, but you will be left in an awe, after you understand your live chat's full potential!
Here's a quick video to learn about the Benefits of Microsoft Dynamics CRM Integration With Live Chat.
Live chat integration with CRM
CRM is an abbreviation for Customer Relationship Management and is commonly used by numerous businesses to monitor every aspect of customer interaction. Using such information, you can improve company strategies on the basis of real time analysis. But the question is, what good can come from integrating your live chat with a CRM?
Once you integrate live chat with your CRM, you unlock the following options:
Saving chat transcripts to your CRM.
Accessing CRM contacts instantly while chatting to a visitor.
Updating your CRM contacts directly from live chat.
Now, let's take a look at how these options can be of use for your business:
Capture Leads
If you use live chat on your website, you must be knowing that using pre & post chat forms, you can easily gather information of visitors. But these leads are saved directly into your CRM with a simple click, once you have integrated your live chat with CRM. These leads can be of great use in the future for:
Recognizing the customers and using their name and details to build rapport.
Including them in your email marketing campaigns and other marketing strategies.
Personify your support
Everyone wants to be acknowledged as it creates an impression of importance. Using CRM contacts directly from live chat can contribute to this heavily, by providing all the necessary information of a customer before the chat starts. An operator can use such details to:
Know what the customer wants, using chat transcripts.
Be aware of previous orders or past experiences, if any.
Pitch for relevant products or services, for higher revenue.
This way, your operators can not only provide a personified support but build a stronger relationship with the customer and even upsell for generating higher revenue.
Take the load off of your employees
Between you & me, nobody likes to work! No, not even your employees. So, instead of pushing them to work hard, provide them with tools that can work smart. Integrating your live chat with CRM makes work a lot simpler for your operators, as they can:
Verify purchase history of customers by retrieving chat transcripts.
Confirm any claims of customers, like "I was promised discounts", or "the other agent said this" etc.
Add customer information from archived chats later, if they are busy with multiple chats.
Sell more
With the amount of customer information gathered by your operators via chat transcripts and stored in your CRM, you can easily use your sales funnel to increase the conversion rates. Operators can use the purchase history, chat transcripts and other information captured previously to:
Create a need for purchase.
Direct the customer to his/her interests on your website.
Promote relevant products and discounts for better chances of upselling.
Even though these actions do not guarantee sales but it can surely increase the overall conversion rate in long run.
Related Read: 38 Best Conversion Rate Optimization(CRO)Tools You Shouldn't Miss in 2021
Save time & improve productivity
Using the live chat integration with CRM, you save time of your employees as they can access, edit or add all the required information at one place. Operators can keep the customers record up to date while chatting with customers. This saves time which further results in better productivity that can improve the workflow, increase business and stabilize customer support operations.
Concluding, you can use the live chat integration with CRM to improve the overall efficiency of your customer support. Centralizing your customer support management can reduce efforts of operators, improve coordination and resolve customers' queries quicker. It also provides various methods to increase conversion rates, build better rapport and gather leads for future marketing strategies.
If you want to know more about CRM integration with live chat or have any doubts regarding its operations, then please feel free to contact us.
Do you want a free Live Chat software?
We have the #1 Online Live Chat Software for instant customer support 24x7