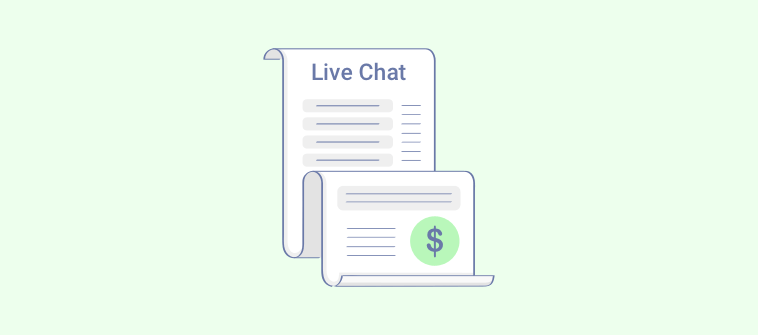 79% of businesses prefer to use live chat at their website instead of email (61%), phone (44%), and social media (48%) platforms to communicate with customers for instant support. Amazing isn't it!
Businesses are using live chat increasingly because live chat instills confidence in the customers. When customers know that their concerns are being handled by expert humans, they get that assurance that they are trusting the right people with their money.
Are you still having second thoughts about the implementation of live chat software on your business website?
Or are you still wondering what exactly live chat software does?
No matter which of these groups you belong to, if you're still wondering what a live chat tool can do for you, it's high time you learned more about it. With increasing emphasis on customer support, reshaping your employee and customer experience is becoming an incredibly important business asset.
Simply put, live chat is an inevitable online tool that brings your communication effectiveness to a higher level. Easy to install and convenient to manage, live chat software has become a must-have tool for all businesses that want to stay competitive in the modern market.
So, without further ado, let's dive into the pool of live chat features, benefits, and other aspects that you should become familiar with before choosing the right software for your business.
What is Live Chat?
In a nutshell, live chat is a tool attached to your website that helps you interact with your visitors in real-time. Consequently, it's a handy communication means that saves a lot of time for both, your support agents and your (existing & potential) clients.
Moreover, 48% of customers would be more likely to return to a website with chat support, and 41% trust the brand more when this option is available.
How Does Live Chat Software Work?
First, you have to add the tool to your website. If you've got a well-developed live chat software coming from a reliable company, then you'll have no issues installing it, as it usually comes with an installation guide or video.
Once integrated into your website, the tool is visible in two ways, depending on the users' role:
Website visitors see the widget in the form of a chat window placed on your website once it loads;
Website administrators (chat agents) see the dashboard where they can manage different chat sessions and adjust live chat settings when needed.
So, when it's all set up, your live chat plugin enables you to communicate with website visitors in real-time, letting you either wait for them to message you or engage with them proactively.
---
Learn More About How Does Live Chat Work
---
Why Does Your Business Need a Live Chat Software?
Customers look for convenience when approaching a brand for support. And in case your brand fails to meet customer expectations, then there are chances you might lose them to your competitors.
To help your company avert this scenario, it is important that you adopt a solution that meets customer expectations – Live chat software being one of them. Your business needs live chat software to provide instant resolutions to customers at their convenience. What's more, your operators can actively keep customers engaged with the brand and help your customers make an informed purchasing decision.
Besides that, a live chat tool also helps your business to capture qualified leads, boost sales and improve customer loyalty.
Now that we know why does your business need a live chat software, it is time to check out a list of benefits that this customer support tool has to offer your business.
Benefits of Live Chat Software
We've divided our list of benefits into two categories. This categorization would help you understand the benefits of live chat software clearly and emphasize why your business needs it right now.
Live chat software pleases your customers
➀ It's convenient. With live chat software for website, your customers can access it directly from your website, without the need of searching for additional contact information.
➁ It enables the customers to get the help they need faster than using other types of support. It might take days to reply to emails. Besides, customers frequently have to wait for hours to have an issue addressed via call centers. And this can be pretty frustrating. With live chat support, the average wait time is reduced to just a couple of seconds or minutes.
➂ It increases their loyalty. Adding to your efficiency combined with a reliable and friendly approach, live chat helps your customers create a stronger bond with your business. Not only will they consider you as a brand genuinely interested in their issues but they'll also be more likely to keep putting their trust in your business.
Live chat software improves your business results
➃ It saves your support agents' time. Letting you communicate directly with your customers, a live chat tool helps you realize their pain points faster and handle them with increased time efficiency.
➄ Your support management becomes cheaper. With customer chat software, you practically stop wasting your money on numerous costs that other types of support, such as call centers, require. You only invest in the best live chat software for your business and pay your agents who can even work from home, without the need for physical space in your company.
➅ Live chat software for business helps increase sales. Honestly speaking, every time you provide help successfully, you get a valuable chance to offer a relevant product. Moreover, if everything's done right, you'll be more likely to sell it, as you'll have previously gained your customers' trust by addressing their issues.
➆ It lets your support have an active role in your relationship with customers. Not only can you be there for your customers when they need you, but you can also be there even before they do. With the feature that lets you monitor website visitors' behavior, you can easily realize if they are experiencing difficulties. This way, you can reach out to them and help them out before they even consider getting in touch with you.
➇ It makes you stand out from your competition and increase market reach. Even though live chat software is becoming a necessity for well-performing businesses, the majority still isn't getting the most out of this tool. So, maybe you want to use this situation to your advantage. Activating live chat support, your brand will become more appealing among many others that still haven't considered using it to gain customers' loyalty. And happy customers' word of mouth will definitely positively impact your market reach.
---
Read On to Know What Customer Service Experts Said On Benefits of Using a Live Chat on Website
---
Improving Your Customer Service With Live Chat Support

With the best live chat software in place, it will become easier for your business to improve and offer the best customer service. If anything, it will help your business gain a competitive edge over others in the market.
And, we have our reasons for claiming so.
Live chat software will help your business provide instant solutions to a customer's problems. The more proactive you become, the happier your customers will be with your services. As a result, you will notice a hike in customer satisfaction. That's because you are not letting your customers wait for several minutes or hours to get a solution. You are keeping it right there with the use of live chat software for business.
And, better services often lead to building trust and loyalty with customers. That means your business will successfully retain customers. It's not a claim again. Studies prove that 70% of customers support a company that delivers great customer service.
After understanding how live chat helps your business improve the customer service process, it is time to learn about its crucial features below. Let's understand how different features will help your company deliver awesome customer support effectively.
Important Features of Live Chat Software to Look For
Many experts suggest that before you finalize a live chat software for your business, you should check out the features it has to offer to your support team. That's because sometimes a feature or two can make a big difference! ProProfs Live Chat software comes with a plethora of very useful features that can delight your customers.
Let's look at some of the important features of live chat software: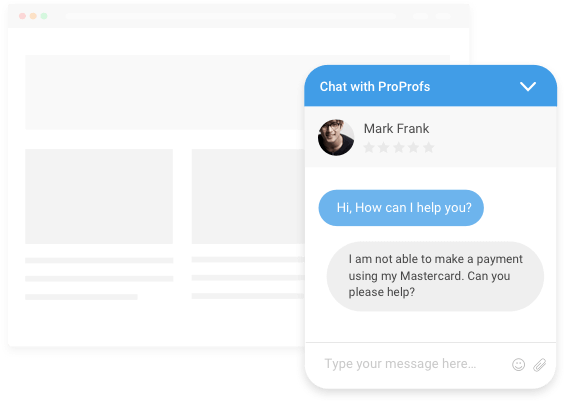 In other words, when buying customer chat software, make sure to go for the one that lets you initiate the session. Chat greetings are extremely important as they enable you to:
provide visitors help they need even before they think of reaching out to you

create a chance to upsell or cross-sell, offering relevant products through live chat at the right moment (normally, after customers have added certain products to their carts)
If your live chat software comes with a smart trigger system, you can also get notified automatically if there are recurring visitors. In this case, you can send proactive messages to them to check if they need help.
#2: Announcements
Let your customers know what's trending at your website and things they shouldn't be missing out. You can announce these updates with a small message. And the best part is that you don't have to spend more than 5 minutes to create one.
Customer chat software options like ProProfs Chat offer their customers the option to create announcements that will be displayed in a small window right above the chat widget. This feature will help you to announce:
Upcoming sales

New discounts

Latest feature updates

What's new
And a lot more. Besides this, you can add a link to the announcement that will help your customers and website visitors learn more about them in detail.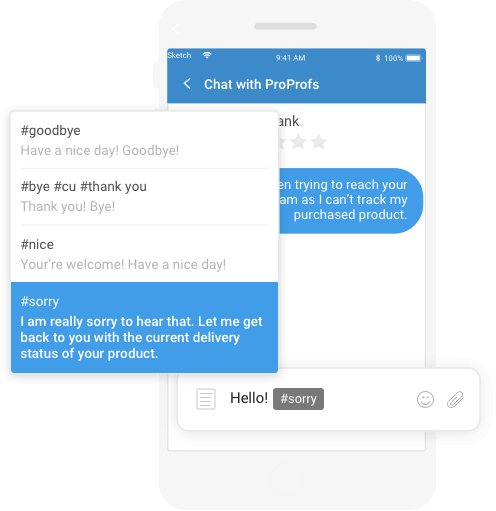 Also known as canned response feature, this aspect of live chat software lets you speed up the interaction and save your agent's time. This is succeeded by the use of relevant pre-made phrases that facilitate communication. In a large number of cases, they simply pop up to your agents as suggestions when they start typing a reply.
Relying on this feature, live support agents increase the efficiency of providing solutions as they become capable of handling a larger number of chat sessions at the same time.
Practically speaking, if your customer chat software comes with this feature, the agents with a lot of sessions to handle can easily redirect some of the requests to their coworkers in no time. This way, you'll avoid long wait times as well as increase general agents' speed of handling requests.
Probably the best thing about this feature is that you don't have to end a session and start another one to route it from one agent to another. It all usually happens within the same chat window. Another important thing to note is that your visitors won't have to initiate sessions over and over again manually.
This feature also comes handy when you have specialized support agents for different types of issues, which are commonly coming from different business sectors and departments. So, if some agents can't handle a customer request, they can easily pass it to those who have more experience and knowledge in that specific domain.
#5: Operator-to-Operator Chat
Sometimes, to successfully handle more complex requests, agents have to cooperate. And live chat software with collaboration features can increase their communication efficiency. Not only can they use it to monitor the same session at the same time and discuss how a specific request can be solved, but they can also use it to organize their internal communication.
With a well-developed collaboration feature, your live chat goes beyond just being customer chat software. It also becomes a tool that facilitates different tasks, such as chat session categorization, requests assignment and reassignment, priority sessions management, internal notes creation, and so on.
Using this feature, you can easily track visitor movement on your website. And with this type of information, you get access to valuable insights, such as:
which pages of your website attract your visitors the most and which areas on them keep them engaged,

how much time they spend interacting with your support,

what they usually do on your website before they convert,

how long it takes for them to convert,

where they seem to get stuck before they leave your website if they don't convert, etc.
Besides, some of the high-quality live chat software solutions also give you the possibility of obtaining transcript report records and saving them for further analysis when needed.
#7: File Sharing
Not every live chat tool comes with the option of exchanging different types of files in a chat session. While some businesses don't even need it, the lack of this feature can be a significant source of inconvenience for those that tend to share files with customers frequently.
So, letting you both send files to your customers and receive them, this feature increases your efficiency, eliminating the need for additional means of communication (such as emails or some third-party websites). Accordingly, if your live chat has a built-in file exchange feature, you're making the communication way easier both for your agents and your customers.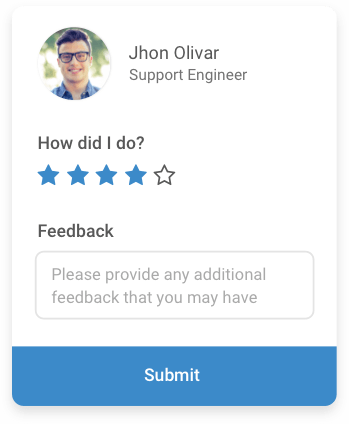 Using this feature, you can effortlessly get direct insight into your customer experience. Practically, once you activate it, customers get a chance to rate the support quality either using a scale or shortly describing their experience after a session is finished.
This way, you can figure out how your customers feel about communication with your business and think about potential improvements if needed.
#9: Pre-Chat Form
Once you add live chat software for website, the next task you need to work on is adding a pre-chat form to the chat widget. Now, you can either ask your visitors to fill out the regular pre-chat form that asks for name and email address or customize it as per your needs.
Like with ProProfs Chat, you can add more fields to the pre-chat form to make sure you get to understand the visitor's intent and which department needs to take up their question. You can add fields like:
Name
Contact number
Email
Which team they'd like to connect with
The queries they'd like to get help for
This form will help you to filter your leads and allow your operators to prepare for a visitor's question before the chat takes place.
#10: Operator Monitoring
This feature makes another great way of realizing if your agents provide high-quality feedback to your customers and if their sessions are compliant with your established guidelines and business policy.
Do your agents provide a pleasant, friendly vibe when communicating? Or are they making your customers feel uncomfortable? How fast do they realize where the problem is? How efficient they are when fixing it?
These are only some of the questions you can get answered by introducing chat monitoring when providing live chat support. And the insights you gain can be incredibly important when trying to fix any issue that may appear and jeopardize your customer satisfaction.
#11: Offline Forms
Not all customer chat software solutions come with this feature, but having it could be highly convenient if you cannot provide online support 24/7.
With the message routing system provided by this feature, you can transform real-time requests into tickets that will be forwarded to your support staff. Usually, they are forwarded to agents right away, after the customers fill them out, via email. However, they can also be just saved and put on hold for you to address them once you're online again.
So practically, this feature helps you reduce customer frustrations due to unsuccessful attempts to activate live chat sessions when you're not online. It helps you offer them a reliable contact form at the exact same spot on your website.

The data you extract from different live chat sessions can be an incredibly important parameter for a diversity of analysis. And to be able to extract them, you're going to need a customer chat software that comes with possibilities of analyzing sessions and creating customized reports out of them.
This way, you can monitor all types of support aspects, including visitor details, operator performance, chat histories, average chat session duration, conversions, etc. Accordingly, this feature is also highly convenient for you to figure out areas that can be additionally improved.
Sometimes using live chat software isn't sufficient for a business to provide good customer support experience. They need more tools to make sure that holistic support has been offered to customers. However, working on separate tools can be cumbersome and may reduce the actual operator productivity that can result in a slowdown of the support process.
What is the solution here?
Well, you need a live chat software that helps you to integrate with various platforms at the same time and restores the productivity of your operators.
With ProProfs Chat, you can integrate multiple platforms like help desk, survey maker, knowledge base, and CRM that helps you complete your support suite. Other than that, the live chat software for website helps you to integrate with other platforms like email marketing, CMS, social media platforms, Google Analytics, and more.
Lastly, look for live chat software that supports various customization options. These customization settings should allow you to:
Customize chat icon

Enable file upload and sharing

Email customer transcripts

White label the chat window

Change color and font

Customize existing chat window theme

CSS Customization

Enable multiple language support

Create a customized greeting message for every operator

Customize operator profile
The list doesn't end here. However, you now have a clear idea of what all customization options should your live chat software for the website have.
Buying Factors of Live Chat Software

Buying the best live chat software for your business requires making a set of important decisions regarding its type, features, and other important aspects. So, to ensure that you don't make a wrong decision, we're helping you understand what things you should pay special attention to and what types of solutions are considered better than others. So, let's start.
☛ Live chat hosting
While all live chat solutions require the use of the Internet, there's a major difference between cloud-based and self-hosted ones. If you don't want to establish your own technical infrastructure and think about it too much (self-hosted live chat), you may want to put your trust in cloud-based solutions that provide non-stop support, frequent data backups, and smooth experience.
☛ Live chat flexibility and usability
Some of the most important aspects of a reliable and well-performing live chat software are the capability to adapt to your business needs and ease of use. So make sure to choose a solution that can be easily managed and adjusted to your website both visually (color schemes, fonts, styles, etc.) and essentially (integration with other plugins for improved performance).
☛ Live chat pricing
The best thing you can do to check if a certain solution pays off for your business is to test the trial version and check out the offered pricing plans to finalize the one that suits you best. Having in mind that there are a lot of solutions that go anywhere from free to really expensive, you shouldn't only focus on their price but also on comparing the features that different sellers offer for that specific price. Only that way, you'll be sure that you're investing your money wisely.
---
Buyers Guide – How To Choose The Best Live Chat Software
---
Live Chat Software Pricing
After reading the blog so far, you must have made up your mind on getting live chat software for your website. However, with various options, business owners end up getting confused about zeroing down on one. That's because they are yet to decide how much are they supposed to pay for feature-rich live chat tool.
Live chat pricing can be tricky, especially if it's your first time investing in one. But worry not. We have a small list of pointers that you can consider when comparing the available live chat pricing options on the market.
➀ Forever Free Plans
This pricing model works perfectly well for business owners who've recently entered the market and like to make less or no investment initially to provide support to customers. Companies who offer freemium or forever free plans are fit for startups as they'd like to kick-start their support process. And as the business flourishes, they have the option to upgrade to paid plans.
➁ Pricing Decided on Incoming Website Traffic
The pricing of such packages is decided after taking into account the average traffic of a website. Just in case you own an eCommerce platform, then it is not the plan for you. This is especially true when the holiday season is at its peak. But business owners who run a niche company might find this really helpful. That's because they can predict if the live chat software has assisted their business capture sales or not and if visitors actively engaged with the website during an ongoing chat.
➂ Per Agent Pricing
Another pricing model that you might come across is per agent pricing. The service provider would charge you on the basis of per operator per month. That means the total number of operators who use live chat software to provide your customers with a delightful support experience would become the primary basis for the vendor to send you the final billing. However, there's one thing you need to keep in mind as you increase or decrease the operator seating. The features may increase or decrease the basis on what plan you choose to keep.
---
Learn More About Live Chat Software Pricing
---
Latest Live Chat Software Trends
After looking at the above examples of how live chat software improves customer service and support, it is the time we understand the existing trends of the tool.
So far, we've seen how live chat software for business allows brands to work towards improving their customer service and support process. There are no two doubts about the fact that live chat is majorly seen as a support tool. But it is also crucial for sales and marketing processes. And because of varied applications, it is turning out to be a big phenomenon across all sectors worldwide.
That's not the only trend you should be aware of when looking at live chat software. It is also the most preferred form of communication in comparison to legacy platforms.
And this probably is an outcome of customer's expectations of receiving a solution faster. Customers seek instant support, but at the same time they want the support experience to have a personal touch. The use of live chat tool is helping them achieve both outcomes. No wonder, it is turning out to be the most preferred platform for customer support.
---
Get Yourself Updated With Latest Live Chat Statistics: Trends and Insights
---
Watch This Video To Know How to Install Live Chat to Your Website in Under 5 Mins.
Summing Up: Live Chat Is A Tool That Reshapes Your Business
As you can see, with its highly useful features, cost efficiency, and a diversity of potential benefits, live chat software has become a major support solution for every business owner.
Having in mind that you can choose from a large number of live chat tools in the market, you should have no problem finding a solution that suits both your business needs and your budget. All you have to do before making a decision is to make sure that you've chosen the live chat software for your specific business case. And this is ensured by closely analyzing their features, especially their hosting, flexibility, ease of use, and their price to value ratio.
Once you find the solution that you're comfortable with, all you need is to train your agents and start to build your relationship with visitors, proactively and professionally. This way, it won't take long for them to become your customers and take your market reputation to a higher level.
---
What is live chat customer support?
Customer support is available on every channel. Live chat customer support refers to offering instant, real-time chat with your customers. This way, if your customers wish to connect with you and ask a question, they can simply chat with you and get a solution. It's that simple! Not only that, live chat customer support also enables agents to reach out to their customers anytime, anywhere.
What is live chat used for?
Live chat is used for a number of things, primarily:
Providing 24/7 instant customer service

Track website visitors and analyze their on-site user behavior

Reach out to customers easily

Identify upsell opportunities in real-time with features like Announcements

Monitor agent performance and customer satisfaction

Reduce customer support costs
Why do customers prefer live chat?
The one thing every customer wants is instant support. Whether they need help during the buying process or post-purchase, every customer wants an answer instantly. This is why customers prefer live chat over every other support channel.
How do you live chat with customers?
It's easy. When you add a live chat software to your website, an icon appears on your website. All customers have to do is click on that icon and start a live chat with support agents.
How can I improve my live chat service?
The best way to improve your live chat service is to listen to your customers. Send out pre and post-purchase feedback forms to gain insight into your customer's experience. This way, you will know what your customers expect and what expectations you fail to meet. Knowing this information, it'll be easy for you to improve your live chat services substantially.
Do you want a free Live Chat software?
We have the #1 Online Live Chat Software for instant customer support 24x7