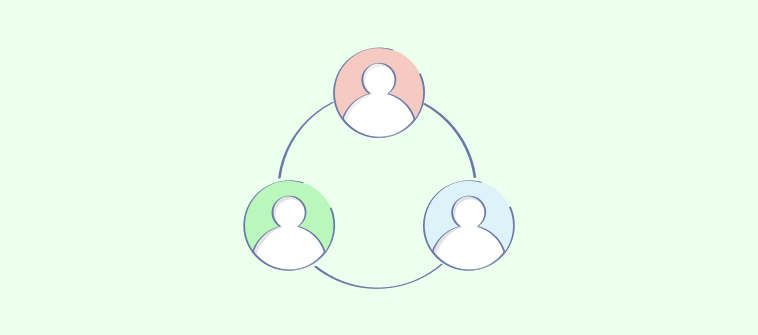 Has this ever happened to you?
That you bought a SaaS product and then completely forget that it exists?
The SaaS customer lifecycle is something that is continuously growing and ever-evolving.
There really is no autopilot that you can put into action and then arrive at the end of the journey.
Don't forget that the process generates recurring revenue, which is the lifeblood of any business to survive in the long run.
But, what exactly is this SaaS customer lifecycle?
Let's start with understanding the entire lifecycle by defining the basics.
What is SaaS Customer Lifecycle
Do you know that 80% of US end-users prefer cloud-hosted and SaaS apps for communication and organization purposes, compared to 51% in 2016?
A clear indicator that the SaaS market is on the rise. And rising trends tend to influence people into following them. But before you set out to follow any trend, it is important that you first understand what the SaaS customer lifecycle entails for you.
The SaaS customer lifecycle is inclusive of three stages – acquisition, engagement, and retention. Each stage allows you to understand the current mindset of your customers and helps you build strategies that encourage them to move to the next stage.
All SaaS businesses need to emphasize on relationships that can foster stronger customer experiences. You can start by adopting a more tactical attitude to customer lifecycle management. Along the way, these SaaS customer lifecycle stages can take you closer to attaining success.
In the next section, we aim to dissect the existing three stages of the SaaS customer lifecycle and divide them into nine sub-stages.
So, let's dive in!
9 SaaS Customer Lifecycle Stages
SaaS customer lifecycle stage consists of three main phases – acquisition, engagement, and retention that includes 9 stages of SaaS customer lifecycle. These SaaS customer lifecycle stages can take you closer to attaining success. Here are the 9 stages:
Acquisition
Outline Buyer Personas & Targets
Develop Awareness
Qualify Your Customers
Engagement
Customer Purchase
Onboarding & Activation
Product Regularity
Retention
Renewals
Referrals & Advocacy
Innovation
Let's get a more detailed look, stage-wise.
Acquisition
Customer acquisition takes a lot of effort.
That's probably because this is the time when your customers approach you without any knowledge about your brand. And to acquire them as your customers, you first need to ensure that they are made aware of their problems.
Sounds off, right?
But you know what, even if customers can't describe their problems, they can express that something is not right and needs immediate attention. And when they reach such conclusions, they seek answers. And that's where your brand needs to be present.
You need to present content that helps your customers get answers to their questions. This can either be through a knowledge base or via live chat.
Make sure you do not pitch sales. Instead, pitch the idea of instant support and resolution of answers.
Under the acquisition, you need to:
1. Outline Buyer Personas and Targets
Have you come up with your USPs or unique selling propositions that differentiates your SaaS business from your competition?
This is the first question that needs to be answered before you progress further to determine your customer acquisition strategy.
Once this has been accomplished, you may use these insights to identify market segments that may be naturally attracted to your sector.
With your targets in place, the next step is to assess and evaluate your sales process. Get your sales team into action to list the most powerful influencers and identify targets with decision making power. You now have your buyer personas.
The last step of this stage is to put the buyer personas and targets into play and define your primary marketing initiates targeting these audiences specifically. What you have already started doing, be it intentionally or not, is to customize their experiences by drawing in on the needs and expectations of a targeted audience base. Therefore, your marketing efforts and collaterals can be nuanced and specified to their needs too.
2. Develop Awareness
With marketing strategies up and running, your SaaS customer lifecycle journey actually kick starts when the target audience becomes aware of a specific issue. This is where all the effort that you have put in to get the word out about your product or service will play a vital part.
Ideally, it should communicate to them that their issue can be resolved via the SaaS solution that you can offer. Treat this as the educational stage where you are basically doing all that you can to inform someone of what you have on offer.
This may mean providing a lot of contexts that can be achieved through content marketing. Blog posts, videos work well to demonstrate issues that your solution can tackle. Other than that, you can also use live chat software to provide in-depth solutions to customers in real-time.
With one of the best live chat tools in place, you can:
Capture visitor's attention on website

Understand visitor's pain points

Announce latest offers and discounts

Provide instant solution

Build brand awareness
Basically, the clearer you are at this stage, the better results you'll attain later on.
3. Qualify Your Customers
Now that customers are aware of their issue and also the solution on offer, they will come into your actual sales funnel when they display their interest by visiting your site.
This also allows you to qualify them as leads or customers by tracking the potential of each individual prospect. This can be done simultaneously when your prospects are trying to establish if your SaaS solution is a good fit for their issue.
An essential part of this overall SaaS customer lifecycle analysis also involves monitoring customer or lead interest. By looking at the web pages that they are browsing, you can assess what exactly they want. You can easily track your website visitors in real-time using live chat software to understand visitors' needs and analyze their behavior at your website first.
You can use this as a platform to nurture the relationship by demonstrating the value of your product or service. You must treat the qualification stage as your precursor to the onboarding process. This will drive your team to deliver superior quality of service that, in turn, can hike conversions.
Engagement
While the previous stage was about knowing your customers better, this one is about converting them into purchasing customers.
Active engagement with the customers at the right time helps you acquire customers and boost sales.
Under customer engagement, you can accomplish:
4. Customer Purchase
The milestone that counts indisputably is when your customer makes the purchase. And with this, you can start the process of mapping your customer journey by carving out the purchase decisions, step by step.
The flip side of this exercise is that you can test and then validate why customers buy or not buy from you. Alternatively, you can also put this into action at the time of closing the deal, which can help assess your marketing initiatives, audit your methods of payment and documentation.
Thank them when you see a lead converting into a paying customer. Make sure you draw their attention to the dedicated support and services that are available to them. Close this stage by requesting feedback which you can subsequently use as qualification and purchase steps parameter for future customers to complete.
5. Onboarding & Activation
As soon as the decision to purchase is made, there is a definite shift in the SaaS customer lifecycle stages. Your focus is more targeted as you come to know the individual who will be needing training and support to figure out how to use your software.
The first thing that comes into play here is your training materials. These typically include explainer or demo videos, or any course structure that you may have developed. For most SaaS businesses, surprisingly, this is a make or break moment.
With these users, you want to ensure that the 'first impression' makes its mark. A little bit of active listening can help you be more responsive to their needs.
Overall, this has a more significant impact during the onboarding and training process, resulting in a more satisfied and happier user base.
6. Product Regularity
Once your customers subscribe for the product, obviously they'll start using it regularly at this stage. This is where your business needs to be involved in their daily operations. Remember to treat this key stage with the respect it demands.
You can determine the best way to position your SaaS capabilities through a comprehensive understanding of customer workflows and how your product can disrupt them.
Make sure to request your customers to share their end goals by using your service regularly. Offer tips and guides on how they can achieve what they expect out of this product.
Empower your customers with whatever they need – support, information, or even tools that will help them to implement the change in management properly. For example, you can use live chat software to help your customers implement the product and customize it as per their liking in real-time.
With instant support, your customers feel empowered that they have a solution and two, you get to build a strong relationship with them going forward.
Simple GIF videos demonstrating service functionalities or developing a searchable and easily accessible knowledge base can be a major SaaS customer service winner. It can also help in minimizing support calls and tickets to your helpdesk.
Retention
As the final stage of the SaaS customer lifecycle, retention turns out to be the crucial one.
Sounds like fluff? Well, it isn't.
If anything, most SaaS businesses are focused on building leads that convert. And no doubt they would. Who would say no to incoming new business? But what about the existing customers?
Well, your existing customer needs to be retained too. And that is why SaaS business owners need to invest in this customer lifecycle too actively. Under retention, you can:
7. Renewals
As you come closer to the end of your SaaS customer lifecycle, you need to make sure that you become a part of your customer's daily routine and make it better than what it used to be.
Recall the time taken for one customer from the moment it landed on your website, through the onboarding and activation process. And this is the time for retrospection for your customers and yourself.
As a SaaS business, you will be analyzing if there is a need to upgrade your features or tweak your pricing structure. On the other hand, your customer will be assessing if your service is worth allocating their budget for the next quarter or year.
Generally, the specifics of renewals are variable through the SaaS customer journey. A lot depends on the plan and the company in question. What will take you towards success is how well you define your communication and relationships.
You can demonstrate your commitment to them by highlighting customer needs, being responsive to their concerns, your dedication to improvements, and delivering reliability.
Remember that the customer is facing a shift in their journey. A renewal decision will only be made if there is the promise of improved efficiencies and bottom-line gains. Ultimately, it has to benefit their business.
Therefore, you not only have to be the benefit but also make them feel like one.
8. Referral & Advocacy
Rejoice if your customer has chosen to renew the subscription. Follow this up by asking them the reason for their renewal. You are likely to get a response if your customer is loyal and satisfied with using your service. With this messaging, all you need to do is to present it as a pitch to similar companies.
This entire exercise can be catapulted to another level if your customer speaks directly. Stats indicate that anywhere around 70% of customers are likely to leave a review when asked.
Of course, you have to follow up, even if your customers seem satisfied. Always thank them for choosing you as their service provider and request them for referrals. To sweeten the deal, come up with a solid saas referral program. Incentivize your customers to refer to your brand by enabling them to either save or earn rewards or freebies.
There will be that rare opportunity when you come across a customer who absolutely loves your brand and will not hesitate to announce it to the world. Use them as your brand advocates and evangelists to bring onboard new business opportunities.
This phase of your SaaS customer life cycle will determine will help your company grow by opening doors for revenue generation.
9. Innovation
Post completion of all of these key stages, the customer lifecycle journey does not come to a standstill. Remember, you want them on board long term, and that can only happen when you constantly keep innovating.
New products and capabilities are something that should be a continuous process because technological advancements will drive customers to look for products and services that are better versions of their existing self. Start by creating a roadmap with a strong vision for SaaS product development.
This also gives your teams a sense of aspiration and teamwork to work on solving emerging customer needs and expectations.
Remember that expansion selling isn't just about trust. You need to build customer confidence who already prefer your solution over your competitors by showcasing features that they have not seen yet anywhere else.
With the hope of new features on en route, they will be more inclined to stick with you as their service partner.
Adopt a Holistic Strategy for SaaS Customer Lifecycle Management
A common challenge that all large growing SaaS businesses encounter is charting out a path that can help them progress from organic growth to probable development to enterprise-scale?
When it comes to the SaaS customer lifecycle, implementing these key stages will play a huge part. What you additionally need to do as a business is to merge each stage in a manner that it feels more like a cohesive experience.
Ask tough questions, gain insights, and refine your processes. It is up to you to see the bigger picture here. How well you balance complex tasks and blend in isolated customer life cycle stages through a holistic approach can end up driving your value creation.
Why is customer lifecycle management important?
Customer lifecycle management is essential for your business as it can make or break your ability to cross-sell, upsell, and grow relationships with your existing customers. Not only this, but it also helps in increasing brand loyalty in the long run. Learn more about Customer Lifetime Value (CLV).
How do you calculate the lifetime value of a SaaS customer?
The lifetime value of a SaaS customer is easy to calculate. But, for that, you need to know the average purchase value. You need to multiply this value with the average purchase frequency. This, in turn, determines the customers' value. The last step is for you to calculate the average customer lifespan and multiply that value with the customers' value. The final result will give you the lifetime value of a SaaS customer.
What is the difference between the customer lifecycle and customer journey?
Customer lifecycle and customer journey are two sides of a coin – they sound similar but talk about two different aspects of a customer's relationship with a company. Customer journey refers to the different steps that enable customers to be aware, decide, and buy from your brand. On the other hand, the customer lifecycle is the entire relationship the customer has with your brand from day one – and how your company achieved this relationship.
Do you want a free Live Chat software?
We have the #1 Online Live Chat Software for instant customer support 24x7