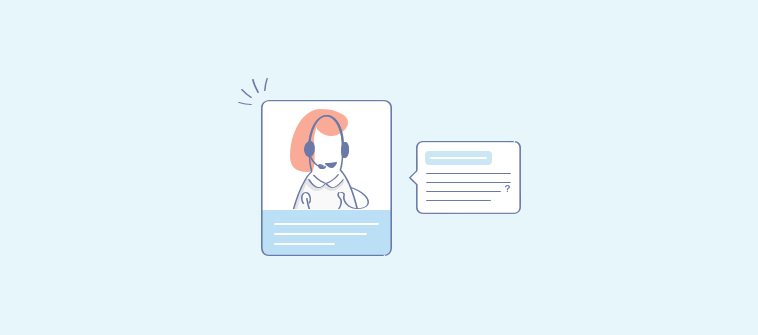 52% of customers expressed in a survey that they are willing to pay more for speedy and efficient customer experience. While, 42% of consumers would do the same for a friendly, welcoming experience with a brand.
Such numbers indicate that great quality results in huge profitability for a company. What's more, it is also an indicator of customer loyalty as they would return to the same business for future services.
Although bringing in a new rush of customers makes sense, however, loyal customers continue to engage with a business, thereby compensating for the cost incurred in gaining new customers.
In this age of unprecedented connectivity, it's difficult to limit customer support to a single channel. Customers no longer prefer taking conventional routes such as email and calls to reach out to a business. Instead, they look for avenues to establish instant connections and get their questions answered.

So, you either need to invest in an omnichannel customer support software to provide anytime, anywhere service. Or you can work on different channels at the same time.
If customers face a problem in reaching out to a business, it results in tremendous dissatisfaction; that transforms to a loss in revenues.
The smartest way for a company to avoid such a scenario is to be accessible via all major channels on which their customers are active and expressive. That accessibility can be exhaustive to manage without the assistance of customer support software. Based on their nature, different channels have varied modes of communication and so, the necessity for diverse support systems and software.
Increasing Need for Omnichannel Customer Support Software
It is said that customer insights are essential to further improve a customer's journey with the brand. The same insights are valuable to build smart omnichannel customer service strategies.
We know that digitization has completely changed the ways in which customers today interact with a brand. They may end up using platforms like a mobile app, live chat customer support tools, emails, phone calls, social media platforms, knowledgebase, and others. However, the use of individual platforms needs to be monitored through a lens of the end-to-end customer journey.
According to McKinsey, you can capture customer expectations while monitoring their journey through omnichannel customer service. And, the same customer expectations can be divided into three categories:
Interaction & Care



While interacting with a brand, the customer expects to receive complete attention to their problems and wants to the operator at the other end to answer with empathy. However, empathy is not enough. They would also like if the customer support operator is able to provide direct and clear answers to their problems.

Speed & Flexibility



If your brand can provide needs-based service to its customers, then you're on the right track. Speed is also measured in terms of how much time did one person takes to deliver an answer to the customer. At the same time, some may even see speed as a parameter to understand whether the operators were responsive or not.

Reliability & Transparency

From being proactive to offering transparency during communication, all this can be seen as an act of building loyalty among customers.
Once you capture customer expectations, it becomes a lot simpler for you to provide services and further improve the customer journey on the whole. What's more, you get to create good omnichannel customer support strategies that help you to establish the ultimate support eco-system for customers.
In the coming sections, we'll cover various platforms that not only help you build a complete support suite but also help your customers to reach your brand via different mediums.
Website Based Customer Support
When purchase-ready customers visit a company's website, here's what they usually expect:
Information about the product – features, limitations, how to get started
Information related to purchase – cost, payment method, discounts
Many a time, customers who are ready to make a purchase back out due to lack of information or timely support. When information is presented well on a website, customers are more likely to get engaged that enhances the likelihood of conversion. The more transparent a company is when presenting products and purchase-related information, the more trust it is likely to get from customers.
One of the best ways to establish trust with customers is by increasing support and accessibility. Companies that are inaccessible are often considered less trustworthy than those that are unless they have sufficient automated communication systems to ensure customer satisfaction.
Tool Based Customer Support
There are two types of software that companies can use to provide excellent website-based customer support – live chat software and website analytics software.
Live chat software
92% of customers feel satisfied when using the live chat feature to communicate with the concerned brand in comparison to other modes of communication.
Some retailers or brands use a live chat on their website to create a path of purchase, others use live chat to bring speed to the customer support process. And, Nikon is a great example of how live chat can be used as a customer service tool.
The operators dedicated to providing support in real-time give advice on how to fix a specific problem easily.
Besides the real-time support, live chat software options such as ProProfs Live Chat Software help companies simulate the retail store experience for customers, with live support while they "browse through" options.
The idea is to provide instant answers and solutions for issues that customers might face while browsing through a website, leading to an instant boost in conversion rates.
Keeping all this in mind, it will become all the more beneficial to add a live chat to your website.
Website analytics software
Website analytics software can help companies understand customer behavior on a website, allowing them to improve the experience using real-time data. The idea is to identify problem areas on a website and work for a solution to provide a gratifying experience to the customers.
Social Media Based Customer Support
Reducing customer effort is critical in improving a company's customer support experience. This is why customer support over social media has expanded by over 250% in a short span of two years. It's quite obvious why customers prefer social media than other channels to reach out – it's instant, and provides a more personalized experience than conventional mediums such as email and calls.
When a company provides customer support on social media, here's what becomes important:
Response speed. Customers drop their query or grievance message in a matter of seconds and they won't understand why companies take hours to respond. Facebook even gives out badges to companies that respond quickly.
Empathy. When customers vent, they expect companies to listen. One of the reasons why customers choose social media apart from convenience is the hope of getting their concerns addressed quickly.
It can be a challenge to keep track of all the conversations that customers have involving a brand on social media. Sometimes, customers may forget to tag a brand and simply type its name instead. Such a situation will not only leave the customer disappointed when they don't receive a response but also leave the brand vulnerable to the interpretation of that customer's followers.
When sales/customer support personnel personally reach out to customers via social media, it can have a positive influence on brand reputation. If a company has sales/support personnel who are influential on social media, they can even have a positive effect on brand exposure, awareness, and perception.
There are two types of software that companies can use to provide excellent social media customer support – content curation/social media management software and social media monitoring software.
Content Curation/Social Media Management Software
Social media management software can help companies establish their sales/customer support personnel as informed and influential industry experts on social media. The idea is to use such a tool to curate industry news and trends and have the employees share them, with @mentions that the tool recommends to increase brand exposure and influence. These articles can also help customers who follow these employees to get more value from interacting with a brand.
Social Media Monitoring Software
Social media monitoring software can help companies listen and sort through conversations on social media. The idea is to identify the most important conversations and respond to them first.
Phone/Voice-Based Customer Support
Voice-based customer support is one of the most traditional ways companies attend to customer queries. This type of customer support dates back to before when the internet was democratized. It continues to exist until today for specific reasons:
Voice-based support forces an instant response. If a customer calls a company, he/she stays on the line until a definite response or resolution is given. Some companies such as Apple offer customers the call-back option, eliminating even the smallest of hurdles on the call while waiting for a response.
Almost everyone today owns a mobile device. It takes very little for any customer to find a company's customer support contact number and make a call. Google makes it even easier with its instant call integration.
One of the challenges of offering voice-based support is managing all the tokens. At any given time, based on the size of a company, it may have anywhere between 10s to 100s or 1000s of customer support calls.
Some companies find it beneficial to outsource the effort. While this could cut-costs and ensure a larger workforce to manage more calls, it can limit the extent of support each caller can receive.
Kevin Hale, customer experience whizz, suggests assigning customer support to engineers and other people responsible for the development of the product. This is done to ensure that bugs in software are fixed immediately and don't recur as customer complaints.
There's only one type of software can help you improve voice-based customer support, which is the live call center or help desk software.
Call Center Software
Call center software help companies register and manage their customer support tokens. The idea is to ensure that all calls are attended to the best way possible. Some of these software options also allow for call recording so companies can review the performance of their agents and help them attend to customers in a better way.
FAQ, Documentation & Video Support
FAQ, documentation and video support can resolve a lot of issues without consuming a company's human resources. Ideally, this form of support should be treated as the last resort because it doesn't allow for personal interaction and relies on static information, but it can still cut your customer support workload to half when implemented properly.
Effective FAQs have the following in common:
They are well-organized. Common issues are sorted into the right categories and are structured according to a customer's expectations.
They only include actually frequently asked and not what companies believe are frequently asked. The best FAQs are a result of research and observations made from actual customer support queries.
They also include anticipated issues that companies can predict their customers are likely to have.
They are clear, detailed and visual where possible.
It is possible to turn FAQs into the video format to make it more engaging and effective.
Instructional videos can function as both support and product marketing, allowing a company to resolve common support issues while also selling product features. They may require more of a time and effort investment to create than text-based videos but can be more effective in terms of issue resolution.
It's important for companies to supplement whichever form of support they choose with adequate documentation to clarify their statements. The more detailed or comprehensive the support documents, the less likely customers are to seek additional support.
Software to Provide Excellent Support via FAQs, Documentation, and Video
There are endless types of tools that companies can use to find common queries or create video content.
FAQ Research Software
One type is any software that a company can use for research. Keyword recognition software allows users to search multiple websites for specific keywords. This software registers and reports questions including mentioned keywords. Companies can use such software to run quick searches across competitors' domains for the FAQ.
Video Creation Software
Video creation software help companies create videos easily, so it becomes less of a hassle to update videos or create new ones when there's a software update. The idea is to eliminate the need for external help, so the videos are accurate, timely and up to date.
---
Read more: 5 FAQ Examples to Inspire Better Customer Support
---
Email Based Customer Support
Email support is an important support channel, especially for eCommerce and SaaS businesses. Where volumes of support requests are high, or there's a necessity for elaborate support, emails come in handy. Email gives a company time to respond, but it's important not to take that fact for granted and wait too long before responding.
Great email-based support has the following characteristics:
It's fast. Customers are likely to wait longer for email support than social media support, so a company's email support doesn't have to be instant. Regardless, many companies choose to set auto-responders, just so their customers know that their request has been received and will be resolved.
It's conclusive. Customers don't like waiting for a response that doesn't solve their problem. Even if the response takes longer than it would otherwise, it's best to send a response that correctly addresses whatever a customer is facing.
It's open-ended. The best customer support emails push recipients to write back if their issues are not resolved.
Managing customer support via email can be challenging because of large volumes of tickets. It can also be challenging if a company doesn't have an effective system set up for internal communication and resolution.
Software to Provide Excellent Support via email
Based on the email service used, there are different software that can help with email support.
Help desk software
Manage all your inboxes in a single dashboard with the use of help desk software. Your operators get to manage the incoming support, accounts, sales, marketing, and other emails in one place.
What's more, if you integrate the tool with live chat, your operators get to manage offline messages or missed chats as tickets in the help desk software.
Hiver HQ
Companies that use Gmail can get similar benefits from using HiverHQ where emails can be labeled, sorted, assigned or scheduled to return to an inbox at a later time.
The ultimate customer support system covers important bases. It ensures that customers get the support they need, how they need it and when they need it.
---
Now that we've understood what platforms can help you to provide omnichannel customer support, let's take a look at some of the frequently asked questions regarding this support strategy.
Q. What is Omnichannel support and how does it help my business improve the support process?
Meeting customers on a channel or different channels they prefer to connect with the brand is how I describe omnichannel support. And, with too many channels on board, your business gets the opportunity to address customer issues, thus keeping them happy!
Q. Is multichannel support better than omnichannel support?
While multichannel support is to provide help at the customer's preferred channel of communication, omnichannel support is about bringing together those conversations of different channels and managing them in one place.
Q. Which customer support software should I include for instant support?
I would recommend you to get a live chat software on board in case you wish to deliver instant support to your customers. To choose one, you need to update yourself on a list of features and benefits and see what really helps your business perform better. You can refer to our list of features and benefits here.
Do you want a free Live Chat software?
We have the #1 Online Live Chat Software for instant customer support 24x7