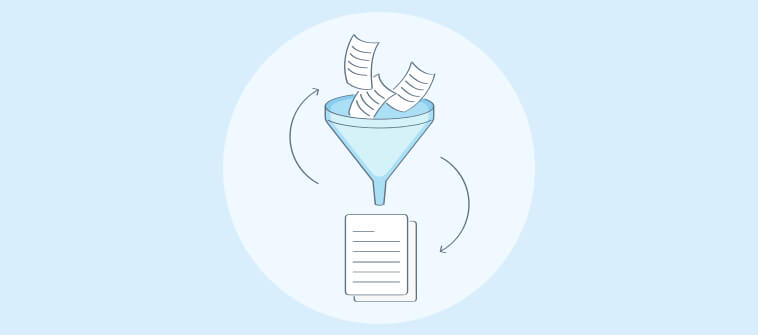 We've all heard about the sales funnel and how a lead converts into a customer. But there's another funnel that can help businesses achieve their goals – the customer support funnel.
A well-defined customer support funnel strategy is different from the original sales funnel that we all know of so far. Rather than tracking the journey of a lead becoming a customer, you see both your existing customers and business prospects approaching your business through various channels to get support. Through a well-managed support funnel, you can offer better, in-depth support to customers. It helps you develop a more streamlined customer support process that offers help as and when required by customers.
But there is more to the customer support funnel than what meets the eye. That's why we've prepared a short guide to help you understand the following aspects of the customer support funnel. Let's get started.
What is a Customer Support Funnel?
A well-designed customer support funnel is a process that helps your business to understand how many customers stayed with you after making an initial purchase. By establishing customer support funnels, businesses get to increase their bottom line which is improving customer growth, success, and retention. You get to streamline the support process and add value to your customer's journey with your brand.
Why Should You Build & Improve Customer Support Funnel?
Besides helping your business streamline its customer support process, there are multiple reasons why customer support funnel is important for your business. It enables you to maximize the benefits of customer support workflow at each stage and attain the following results.
1. Improves Customer Retention

Did you know that 67% of consumers stated that the one reason that makes them come back to a business is a good customer experience?
With a well-designed customer support funnel, you can easily manage to create a good customer experience. When you work towards offering instant, proactive support you not only help your customers get faster answers but indirectly set a standard that no matter what, your customers expectations will always be met.
Learn More: How to Build a Customer Retention Strategy
2. Creates an Influencer Network
Support teams use multiple channels simultaneously to offer a delightful experience to customers. The mix of channels usually includes live chat, phone calls, chatbot, knowledge base, help desk, social media, and so on. With the use of these channels, they aim to streamline customer interaction and ensure that customers receive quick and helpful solutions to their problems.
Customers become influencers who add reviews for your business that others in your target audience refer to before giving a try to your services. This cycle repeats until all members of your audience become aware of your services. You basically create a network of influencers who's experience impacts the action of others in your target audience.
3. Reduces Acquisition Cost
Setup your customer support funnel to lower the cost of your new customer acquisition process. As explained in the point above, if your streamlined customer support flow helps you create good experiences for your customers, they feel encouraged to share them with others online. Such word-of-mouth publicity or brand advocacy activities help you target new customers without separately investing in them.
Read More: Customer Acquisition Cost: How To Calculate & Reduce
4. Increase Upselling Opportunities
Good customer support process can help your business identify upsell opportunities among your existing customers easily. All you have to do is take up the customer's journey through the customer support funnel and understand whether they would be inclined towards purchasing products during a support process or not. This way you can try introducing other options that go well with your customer's purchase and even increase the cart value in real-time.
5. Build Brand Loyalty
When you hear that 96% of consumers express how customer service is an important factor in their choice of loyalty to a brand, you simply can't avoid the customer support funnel for your business. Good services always prompt customers to return and approach your business whenever in need. This sign of brand loyalty can be maintained by not just improving your products but also by enhancing your support process.
Check Out: How to Build Brand Loyalty
These benefits clearly help you understand why you need to work on creating and building a customer support funnel for your business. Now, let's move on to the next section where we will give detailed information on the metrics that can be used to track the progress of customer support funnel. Let's dig in.
Important Metrics for Measuring Customer Support Funnel
Simply learning about the benefits of the customer support funnel won't help your business maintain one in the long run. You need to track the customer support funnel to understand your progress and if each stage is built the right way to create a seamless support experience for your customers.
Here are the metrics you need to measure for customer support funnel.
Customer Satisfaction Rate (CSR)

CSR will help you understand if customers are satisfied with your support services at the different stages of the funnel and if they are willing to continue. You can check-in with customers if the information they receive helps them resolve their challenges or not. This way you'll know what needs to be improved at which stage and work towards creating strategies that'll improve the customer support funnel.
Read More: 7 Metrics to Measure Customer Satisfaction
Customer Effort Score (CES)

Simply understand if your customers agree/disagree with your support answers. The results of this metric can be used when your customers are searching for an answer by themselves, for instance in your knowledge repository. At the end of each of your help center articles, you can ask if your customer found the information relevant or not. With a simple yes or no, you can understand if you were able to resolve the challenges of your customer after first contact or not.
Check Out: The CES Guide: What Is a Good Customer Effort Score

Net Promoter Score (NPS)

With NPS, you can calculate if your customers are still loyal to your brand post-sales and receiving regular customer support services or not. This gives you an insight into whether your customers will stick to the brand in the long run or not.
Learn More: What Is a Good Net Promoter Score
Response Time

Another metric you need to keep a check on is whether your operators/support agents are offering timely responses to your customers when in conversation with them in real-time. A lot depends on how prompt your operators are during the customer support process. It can make or break the customer's experience during the support process.
Learn Now: How to Reduce Customer Service Response Time
Besides these, you can also try other metrics that'll be helpful at analyzing the performance of your customer support funnel and optimizing its performance. These include:
Issue backlog
Churn rate
Average response time
Resolution time
Stages of the Customer Support Funnel
There are four stages in the customer support funnel and these stages have been explained in detail below. Each of these levels of the customer support funnel occurs post-sales. They're more like measures that your business takes to keep customers stay with your brand for long.
1. Onboarding
The first stage of the customer support funnel is customer onboarding. Once a sale comes to an end and you've successfully converted a potential lead into a customer, you need to work on the onboarding process. This is where you have to focus on delivering what you promised your customers during the sales funnel.
You need to keep things crystal clear and match up to customer expectations. You can conduct one-to-one communication to help your customers understand your product or service in detail. You can use communication touchpoints like live chat, phone support, product documentation, email, and in-person contact or a Digital adoption platform like Apty to make your onboarding process smooth and effective.
2. Support
Support doesn't end once you've completed a sale. Support is an ongoing process that takes place every time a customer is in need of it and feels that they're stuck and need your professional guidance on how to overcome it.
As your customer enters the post-sales phase, they are ready to add your products and services to their business process. This is where content like guides, getting started videos and knowledge repository articles needs to be made available to customers in places where they can always go back.
At ProProfs, we've compiled a knowledge base for each of our products where our customers can access the getting started guide and videos easily.
For this second stage of the customer support funnel, we keep all our touch points open for the customers such as live chat, phone support, and ticketing system to make sure no support question goes unanswered.
3. Retention
You may wonder that when we already have a support stage in the customer support funnel, then why do we need retention when support takes care of it. Understand that the post-sales period can vary from days, weeks, months or even years. And customer support is an ongoing part of the post-sales process.
But retention is a lot different from a simple support process. This is where you end up educating your customers about all the benefits of using your product, offering help around new product releases or existing product upgrades. Your aim here is to reduce churn for your business through the retention stage. That's why your touchpoints are also different from the support stage. You can open the following touchpoints in the retention stage.
Social media monitoring/support
Product documentation
User groups
Integrations
Success reviews shown periodically
4. Advocacy
Finally, in the customer advocacy stage you get to see how satisfied, happy or delighted your customers are with your product or service. This is where your customer success teams are heavily involved as they have to monitor your customer's satisfaction and work towards creating strategies that can help them work towards better customer retention.
During the advocacy stage, you can connect customers together so that they can share their best practices with each other. To make it work, you can use platforms such as:
Social media platforms
User conferences
Community forums
Virtual meetups
How to Build a Customer Support Funnel [+Usability]
To build a strong customer support funnel, you need to equip yourself with the best methods that resonate with your brand. In this section, we'll help you cover top ways that will help you build a customer support funnel easily.
1. Offer Self-service
You can create knowledge repositories that help your customers at each level of the customer support funnel. This will enable them with onboarding and get instant support for the tools they use.
But the question is how do you place them to increase their usability?
As you can see on our ProProfs Chat home page, we've placed self-service and video content at three different places that will be visible to customers the moment they land on our website. They can access our help center in the navigation and even via the chat widget where they get direct access to the knowledge base search bar.
This way we try to reduce the customer's search for instant answers and make the help center more accessible to them post-sales.
Learn More: How to Build a Powerful Customer Service Knowledge Base
2. Provide Instant Support with Live Chat
Live chat is a pivotal customer touchpoint in the customer support process workflows. Its use in the customer support funnel is completely different from the live chat sales funnel. Your aim here is to offer instant, proactive support to customers and make sure you've retained them to the brand successfully.
The best part about live chat is that it can be used throughout the customer support funnel where you or the customer can initiate a conversation to resolve a persisting issue efficiently.
However, while you add this customer support tool to your website, make sure you:
Place it on pages that are likely to intrigue customers or have more sales potential
Place it on 404 pages to help customers return to relevant pages
Place it on help center article pages to answer more brimming questions the customer might come up with
Understand that the aim of placing live chat support on your website is to address any upcoming questions or resolving challenges in real-time and retain customers successfully for a long time.
Check Out: 20+ Best Live Chat Software for Website
3. Build Reliable Customer Loyalty Programs
Loyalty programs are a part of the post-sales process. You create them for your existing customers and reward them for their long-standing loyalty towards your brand. However, you may have doubts about how this can be a part of the customer support funnel?
Well, in a well-designed customer loyalty program you can offer multiple services such as:
Customized customer services
On-site support services
1 or 2 year of free troubleshooting services
A lot of brands such as Lenovo offer multiple customer support options that match the expectation of their customers under the PremiumCare program.
Such programs not only help businesses stay connected with customers post-sales, but also encourage them to stay with the brand in the long run.
Besides that, you do have other benefits like more discounts, early access to official events and sales, free samples, and more that make loyalty programs quite useful in the customer support funnel.
Read More: Customer Loyalty Program: The Ultimate Guide
4. Make Phone Support Available
Did you know that 39% of customers worldwide heavily depend on phone support to get instant answers to their questions?
Whereas Software Advice recently found in one of its surveys phone support is preferred over live chat, especially among the aged customers.
That means you have no other choice but to retain the phone support option open to your funnel. You need to consider your demographic before finalizing the support solutions for your business. Otherwise, you can lose out on your customer's post-sales process too.
5. Add Email Support to Your Existing Process
Another way to help your business build customer support funnel is to add email support to your existing process.
According to a report of Critical Channels of Choice, 86% of respondents suggested that they expect companies to offer the email support option to them.
Customers find it easier to get answers to specific problems via email support. Best part is, you can also use email support to capture customer feedback and at the same time share discounts as a way to extend your apologies for causing inconvenience to your customers while using your product or service.
6. Track Social Media Support Requests
A lot of customers today prefer going to social media platforms to discuss their concerns and bring to light the issues they face when associated with a brand. Keeping that in mind, a lot of brands have created their own social media support accounts that address these challenges faced by their customers as and when they take place. While this is a reactive approach to offering support to your customers, yet it is effective for your post-sales customer support funnel.
What's more, you get another platform to share helpful articles, videos, and guides that can assist your customers to overcome their challenges effectively. And since you offer them the means to approach your business via platforms they like, they feel confident while approaching you for support every time they stumble upon a problem.
Read More: Why Is It Important for Customer Support to Use Social Media
7. Introduce High-Value Interactions
You can also use online webinars to encourage high-value interactions with your customers and make it a part of your business's customer support funnel. You can initiate a webinar for your customers in case you'd like to help them learn about your latest product updates and how they can be put to action.
You can even invite your customers to the forums and communities you've created to raise their concerns or help other customers get answers to their questions. You can even reward them or create a point system where they can avail benefits according to the points they gain for offering support to others in the community.
How to Optimize Your Customer Support Funnel?
When you plan to optimize customer support funnel for your business, you need to think about accessibility and consistency between each of these stages.
You have to ensure your customer support channels are accessible to customers at the right time and at the right place. That means your help center articles need to be made visible in the right places so that customers can read them and resolve their confusions immediately. The same goes for live chat as well. You live chat should be visible at every page of your website and pop ups if a customer shows exit intent on your web page.
At the same time, make sure you are consistent in offering instant support to customers. Do not create separate support standards for different customers or else you might find a lot of your customers complaining about it later on. Also, avoid discrepancies the moment you recognize them within your product or service. This will help you become proactive and your customers would be able to build trust with your brands as well.
With simple measures as these, you can optimize your customer support funnel efficiently.
Embrace the Conversational Support Funnel
Conversational support funnel is a more refined process of customer support funnel. This is where a business gets to reach out to customers who are looking for quick responses to their challenges, offer answers that are scalable and find opportunities to shorten the sales cycle. This is where you try to mimic the style of communication that customers have in every other area of their lives.
Understand that communication during the conversational support funnel will be more personalized and proactive in nature in comparison to the normal customer support funnel. The main components of your conversational support funnel are:
Proactive Support – This is one of the main components of the conversational support funnel. You need to address the issues before the customers encounter them. You can inform customers about the solution via new product tours or connect with them via live chat.
Self-service Support – Create a self-service portal for your customers to find answers instantly. These are perfect for responding to frequently asked questions. You can use a knowledge base or a chatterbot to help customers find answers faster.
Human Support – Respond to complex issues with human interactions. There are some queries that can be answered by humans only or need more in-depth explanations. That is where you need to help your customers connect with your brand via phone calls and enable them to find a solution to their technical issues efficiently.
Through these measures, you can build a conversational support funnel for your business efficiently.
Build Your Customer Support Funnel to Create Delightful Experience
Customer support funnel is an integral part of your business that takes place post-sales. This support funnel enables your business to gain benefits like boosting customer retention, reduces customer churn, creates a solid network of influencers, reduces acquisition costs and the list goes on.
What's more, it is easy to monitor the performance of your customer support funnel with the help of metrics like customer effort score, response time, resolution time, issue backlog and more. That means, you can identify the pitfalls and improve the customer support funnel by optimizing it.
Besides that, a customer support funnel should be built the right way. That means each channel that you decide to choose should be applicable across most of the stages like onboarding, support, retention, and advocacy. We have comprehensively covered all of these aspects in this blog.
Now that we've understood the customer support funnel in detail, let's take a look at some of the frequently asked questions around the topic below.
Q1: How to identify all your customer touchpoints and workflows?
Customer touchpoints are basically the channels you choose to offer support to your customers. These touchpoints can include live chat, phone support, knowledge base, email support, webinars, forums and communities, social media and more. These are the touchpoints you add to your customer's journey to help them get support effectively. Whereas workflows are designed once you understand the customer's expectations from your support process.
Q2: What do you need to build a support funnel?
To build the four stages of the support funnel, you need to have trained and knowledgeable agents or operators who help your customers get an answer to their questions faster. You also need to have the right support channels in place to make sure they appeal to your customer demographic and are easily accessible to them in times of need.
Q3: How to improve your customer service process using a support funnel?
When we're referring to a customer support funnel, we are talking about leads who you have successfully converted into customers. The post-sales support process needs to streamline a lot. That's where the support funnel will help you out. It will help you get the right support tools to onboard new customers to enable them to maneuver through the right help content easily. What's more, you get to identify the loopholes of your support process and come up with strategies that rectify them hassle-free.
Do you want a free Live Chat software?
We have the #1 Online Live Chat Software for instant customer support 24x7