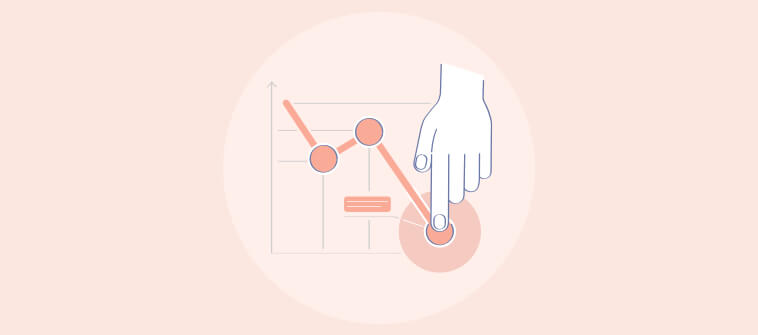 Is excellent customer experience equivalent to higher support costs?
Truth be told, it's not. If you've got the right strategies that help you streamline incoming requests, you won't find it challenging to reduce customer support costs.
However, many businesses are spending more on the support process to improve the customer service experience. But such efforts leave a dent in their profit margins.
Indeed, it's a challenge many of us are finding a solution for. Don't worry; we've got your back. If you've been in the same situation for a long time, our tested strategies will help you find successful ways to reduce customer support costs.
Before we dive right into our strategies, let's quickly run through the benefits of offering the best customer support experience.
Why Focus on Building the Right Customer Support Experience?
In one of its studies, American Express found that 70% of customers decide to support a business that delivers a great customer support experience. That means:
More retention
More sales
More brand advocacy
Moreover, when you retain customers, you reduce customer acquisition costs and boost profits by 25% to 95%.
But if you fail to deliver a great customer support experience, you may end up facing the following repercussions:
In a nutshell, poor customer support experiences can make you lose customers and increase your customer acquisition costs. That's why it is important to focus your efforts on building the right customer support experience for customers.
How to Calculate Customer Support Cost the Right Way
We've clearly understood why any business must work towards improving their customer support experience. But it is also essential to learn how its support cost can be calculated. This will allow you to:
Calculate the cost you end up spending on the customer support process to build a good experience for customers
Identify areas where the support cost can be reduced while still maintaining the quality of the process
Here's how you can calculate customer support costs in three different scenarios:
Cost of Support Per Order = Customer Support Spend/Number of Orders
Cost of Support Per Revenue = Net Sales/Number of Tickets
Cost of Support Per Ticket = Customer Support Spend/Number of Tickets
How to Reduce Costs for Your Customer Support Process in 10 Ways
We've understood what benefits a good customer support experience can bring and how to evaluate its cost. Now it's time to identify the best areas to help you build an efficient customer service process at a lesser investment. Let's dive right in!
1. Make Employee Welfare Your Priority
Did you know that 70% of employees who enrolled in company-initiated wellness programs reported higher job satisfaction than those who didn't?
And let's not forget, higher job satisfaction keeps your employees motivated to improve their performance at the workplace. This can help you avoid rehiring employees for the same position and improve retention that keeps your existing support process intact.
Here's what you can introduce in your employee well-being programs:
Come Up with Effective Team Building Activities & Events
One of your first steps towards employee well-being is to introduce team-building events. Plan activities they can do together. Here are some team-building activities that you can consider:
Role Play Sessions: During this session, one of your agents can pretend to be a customer, and the other can work as an agent trying to solve the problem. This session will help your agents think more proactively about the solutions and train them to deal with different customer temperaments.
Storytelling Time: There are times when one team member can learn from the mistakes made by others. That's where storytelling sessions once a month would turn out to be beneficial.
Let your operators share their support stories that weren't just challenging but also put them under a spot with the customer. They can identify what can work under these circumstances and suggest better solutions for the same situation if operators reencounter them.
Know Your Employees Closely, Collect Their Feedback
Another step towards building an employee-friendly environment would be to learn what they think of their workspace and whether they enjoy their experience or not. You can send them employee satisfaction surveys every six months and ask for additional feedback to recommend improvements for the workplace.
As for newly hired team members, make sure to collect their feedback once they complete their first 45 or 90 days at your office. Try to understand what works for them and where did they face challenges while working with others in the team.
Revisit Your HR Policies to Improve Employee Engagement
You can also make changes to your HR policies that ensure employee well-being. Encourage your employees to remain healthy by providing funds for meditation app subscriptions or gym memberships. You can also make your employees feel valued by rewarding them with an extra day off for their hard work.
Besides that, you can also plan team lunches for those who have outperformed themselves in the quarter. These efforts will help you build the right workplace environment for employees and encourage them to perform their best during the support process.
2. Bring the Right Talent Aboard
Before you dive right into the hiring process, it is essential to identify the right scenarios that encourage you to hire new team members for your support team. That's because you wouldn't want to hire more than what's required and further increase your overall support cost.
Here's a list of questions you need to ask yourself before hiring new support team members.
Do the incoming support requests stress my team members?
If you see that your operators are missing out on support requests or have stated that they are overwhelmed by the incoming support requests, it would be best to move forward with the hiring process
Are my customers increasing now?
You also need to gauge if your business is witnessing an increase in the existing customer base. If there are more customers now, hire new team members for these new customers.
Are we doing well as a business when providing support to customers?
To answer this question, make sure you track vital metrics like response time, customer satisfaction rate, operator ratings, and others. This will give you a clear picture of whether you need to train or hire new support staff to further improve the customer support experience.
Once you ask these questions and you are sure that you need new team members on board, here's what you can do to hire the right support staff.
Identify the skills your candidates must possess to be a part of your team.
Don't forget to specify the amount of experience you need your candidates to have before applying to your business.
Understand what their role will entail and write a job description that will bring more relevant applications.
---
Recommended Read: How to Write Customer Service Representative Job Description [18 Descriptions & Titles]
---
Once you post the job profile online, it is time to scan and understand which profile needs to proceed for both offline and remote hiring.
Schedule online interviews and ask them scenario-based questions. This will help you understand how they've managed challenging situations during their previous job role or how they may tackle them if hired.
If the candidate stands up to your experience and skills criteria, it'll be easier to bring them on board, reduce their training period, and get straight to work.
3. Be More Accepting of Your Mistakes & Solution-Oriented
This is a quick and subjective way to reduce your customer support cost, but quite an efficient manner as well. It is crucial to accept your mistakes, but where possible.
Once you accept your mistake or where the brand was at fault, it becomes easier to move ahead. You can focus immediately on providing a solution to the customer. This approach helps:
Customers save time during the support process
Customers can receive a faster solution
Operators can move on to the next customer
Your business improves customer satisfaction
4. Reach Customers Before They Do with Live Chat
A study by Aberdeen Group suggests that live chat usage can help your business to reduce 50% of support costs. But this is only possible if you use the live chat software the right way. Here's a list of best practices for implementing live chat on your website.
Set Up Proactive Greeting Messages
It would be great to reach out to your customers before they do. For this, you can set up greeting messages that welcome them on your website and encourage them to engage with your brand with a personalized message.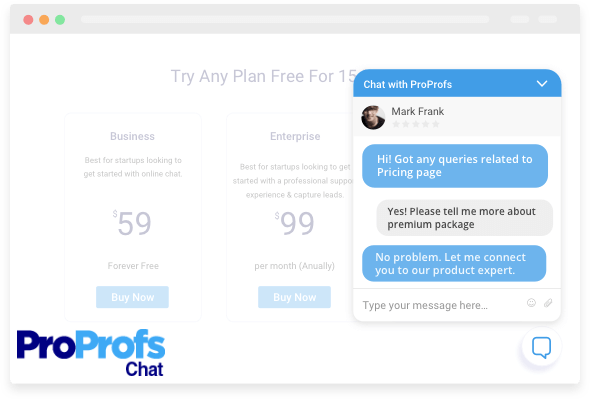 Make sure you set them on pages that are most likely to increase conversions for your business.
Announce Upcoming Deals for Better Engagement
You've got a sale coming? Let your visitors be the first ones to know about it. Tools like ProProfs Chat offer Announcement as a feature that enables your business to keep website visitors updated about upcoming sales.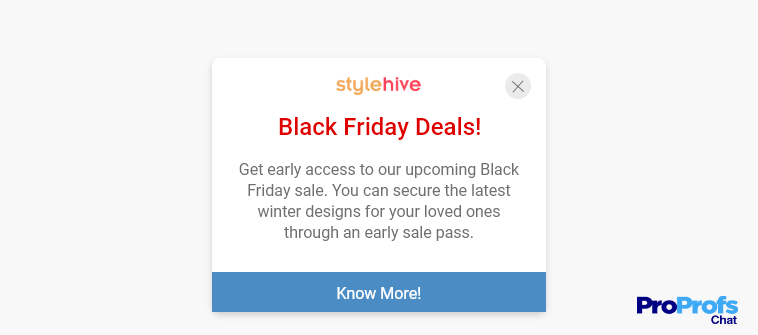 Using Announcement like features, you ensure that customers never miss out on your upcoming deals, sales, or latest upgrades. What's more, it not only increases engagement on your website but also encourages people to purchase from your platform.
Help Customers Find a Solution Before They Reach Your Operators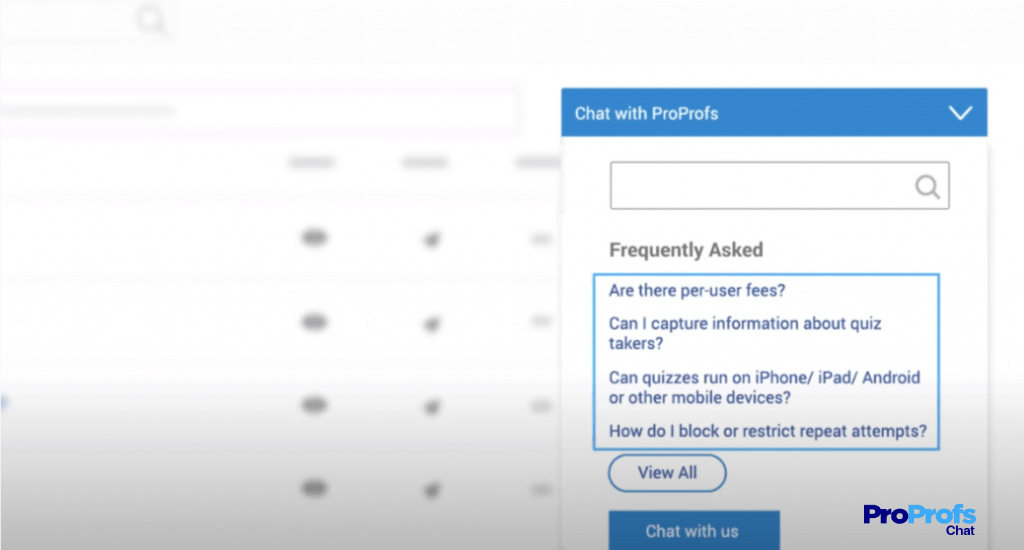 Another feature that can help you proactively offer customers support is integration with a knowledge base. Once you integrate it with live chat, you can show featured articles or common answers for frequently asked questions around a similar page in the chat widget.
This way you can provide an answer to customers before they reach your operators. You help them find a solution faster and reduce your response time.
---
Read More: 17 Live Chat Best Practices For Sales & Customer Support
---
5. Let Your Chatbot be Available for Customers 24×7
Did you know that chatbots reduce per-query costs from USD 5–12 with human agents to just USD 1 with virtual agents?
That's right! Chatbots help your business reduce support costs, and there are multiple reasons why adding them can be cost-efficient for your business. Here's a quick list of these reasons:
Chatbots can scale as your business grows. If you see a surge in conversations between chatbots and your customers, you can simply add them to other sales pages and improve their conversation experience further.
Chatbots send an instant response to customers. They are faster in responding to customers when compared to support agents. They won't leave your customers hanging for a reply or for that matter, a solution.
Chatbots are present 24×7 for website visitors. That's right; they'll be waiting for queries even at odd times of the day and make sure they sound pleasant every time.
Chatbots manage more customer queries simultaneously. Unlike human agents, chatbots end up managing 100's of chats simultaneously. This is one of the biggest reasons we see an increase in their adoption over time.
Chatbots powered by Artificial Intelligence keep improving their performance. You need to keep training your support team to ensure they learn how to manage different customers every time. However, this is not the same with an AI-powered chatbot. They end up learning customer behavior from other customers over some time and implementing it for future conversations.
---
Learn More: A Quick Guide on What is a Chatbot & How it Works
---
6. Don't Shy Away From Being Social with Customers
Want to avoid subscribing to multiple support tools? Social media is the way to go.
Multiple brands are using their social media handles to connect with customers and resolve their issues as they come in. Here are a few examples of these brands for various support scenarios.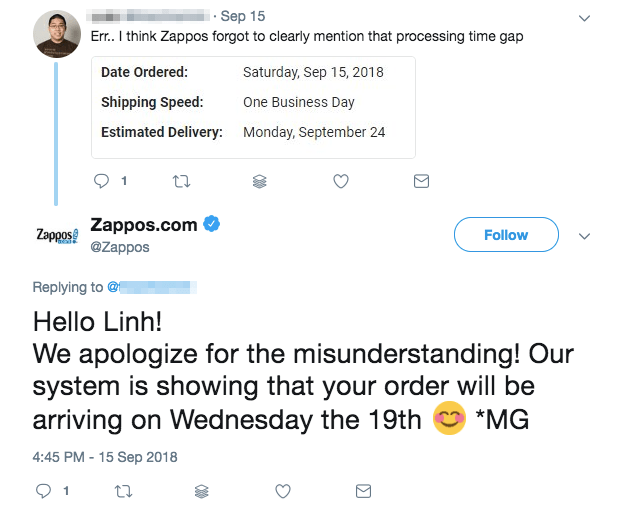 Zappos is helping its customers track their orders and availability of products via their social media platform. All their customers have to do is share their order details, and someone from their support team gets in touch with them via the same post to update the order status.
But Zappos isn't the only one here. Google also addresses its customer's concerns and comments for providing a better service to them in real-time.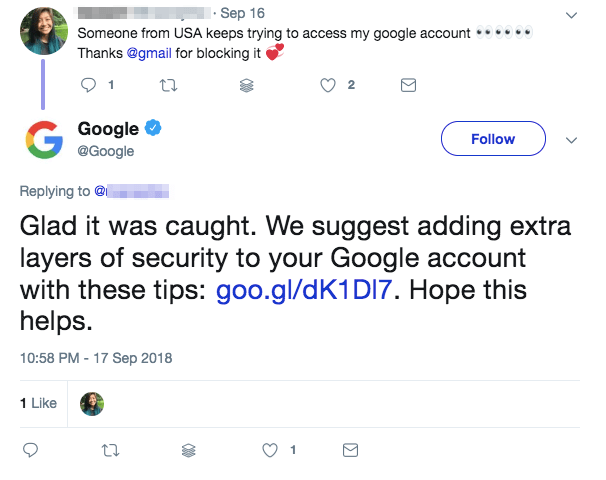 Google uses platforms like Twitter to interact with its customers and resolve their issues instantly. Like here, one of the customers thanked Google for its proactive approach towards blocking someone trying to access her account by using the wrong means.
You would reduce your support costs and offer your customers the ability to connect with your brand from the platform of their choice.
---
Recommended Read: How to Use Social Media for Delightful Customer Service
---
7. Build a Knowledge Base to Make Common Answers More Accessible
Did you know that 40% of your website visitors prefer using self-service portals over human contact?
It certainly doesn't give the impression, but not having a self-service portal undoubtedly impacts the support journey for that 40% of visitors. And you wouldn't want to lose them.
That's why it is essential to have a knowledge base in place. You can gain multiple benefits of using a knowledge base for your support process. Here's a quick list of these benefits for you.
Enables Your Support Team to Manage Complex Questions
One of the top benefits of getting a knowledge base is to help your agents focus on complex questions that take too much time to solve. You can help customers find answers to commonly asked questions with a knowledge base. That means they'll only approach your support team when they have a question that your existing knowledge repository can't answer. This approach helps your agents to be more productive
Reduces Your Customer Support Cost
Let's not forget that a well-designed knowledge repository can help your customers find the answers they came looking for faster. They won't have to approach your operators, eventually reducing the workload. This allows your business to reduce the hiring cost and focus on building a refined experience for customers.
Improves Resolution Time for Customers
This is one of the benefits that lead to others. With a self-service repository, customers find answers to common questions in seconds. This not only delights them with your service but also encourages them to return frequently to your brand for more services.
These benefits give us a glimpse of how a knowledge base can enable your business to reduce support costs and even boost customer satisfaction.
---
Recommended Read: A Comprehensive Guide to Building Customer Service Knowledge base
---
8. Convert Your Emails into Tickets & Never Miss Support Opportunities
Email is still one of the most popular platforms for customers to approach a brand for support. That's not a claim but a study by Forrester that suggests that 54% of customers use email as a customer service channel in the last year.
That means you must be receiving emails from customers that talk about their queries or challenges related to your brand.
But how many of them are being tackled by your agents? Have you asked how many of these emails are lost in the loop?
If the answer is "there's no definitive count," it is time you manage your emails using ticketing software.
Once you merge all your email ids in a ticketing system, it becomes a lot easier for your business to track all your emails in one place. With a ticketing system, you can:
Monitor ongoing and new email communications: This is where you can track which agent is managing which email.
Track who is working on which ticket: It also helps your business monitor how productive your agents are while they are online and resolving the tickets.
Integrate with other support tools: If you've got the best help desk ticketing software, you can integrate support tools like live chat and knowledge base to speed up the ticket resolution process.
With a ticketing system, your business can ensure that no support query goes unnoticed and unanswered.
---
Learn More: What is a Ticket Management System?
---
9. Automate Incoming Support Calls With IVR
We know that an agent can take only one call at a time. This is one of the reasons why support costs for call center agents increase grows.
But thanks to Interactive Voice Response, famously known as IVR, which takes care of these incoming support calls hassle-free.
Believe it or not, but more than ten million customer requests are fulfilled by IVR every year, which is around 50 percent of the total call volume an organization receives.
Using IVR in your call support system, you make sure that:
Customers are directed to the right department/agent
Customers receive a solution during their first call with the agent
Customers get to experience consistency every time they call your business for support
Call experience can be designed for different support journeys
---
Read More: How to Improve the First Contact Resolution
---
10. Train Operators for Identified Skill Gaps
Another way that can help your business to reduce support costs is by training your operators for the skills they lack. The thing is, it can be hard at first to recognize the areas where your operators lack while offering support to customers.
But using reports from support tools like live chat and help desk, you can understand where your operators lack the experience and the skills to tackle different customer situations effectively.
Once you identify where your operators lack during the support process, you can:
Build a training program that helps operators train for multiple scenarios
Schedule seminars with expert lecturers to better identify customer personas during the support process
Build a knowledge repository for new operators to help them learn about the basics of the support process
---
Recommended Read: The Complete Customer Service Training Guide
---
Make Customer Support Cost Affordable Without Giving Up on Quality
A growing customer base is an indicator that your business is scaling further. But a bigger business also means that you are going to have more customer queries to cater to. And there is no way you can overcome them all without actually resolving them.
In such a scenario, you can expect your customer support cost to grow. However, there are some effective ways in which you can reduce the customer support cost and ensure you never go overboard with your budget. Some of them include:
Using an IVR system to automate the incoming support calls
Building a knowledge repository to answer common questions
Becoming proactive with the use of live chat
Converting emails into tickets with a help desk system to never miss a support email
Hiring the right support team that lasts and improves according to the incoming support trends
These and many other ways will help your business to reduce support costs. We hope this helps you!
Do you want a free Live Chat software?
We have the #1 Online Live Chat Software for instant customer support 24x7