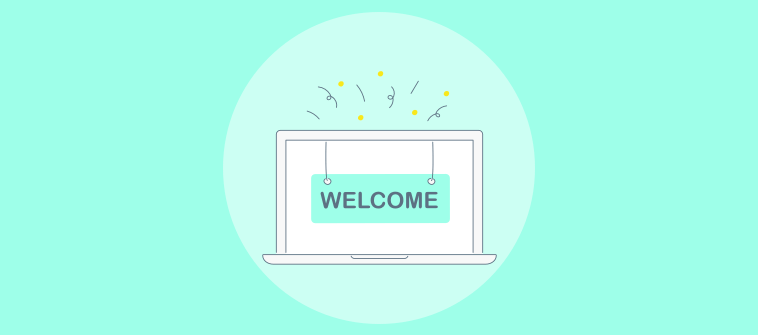 You've just converted your latest prospect into a customer, and you have great content and offers in store for them. You decide to take your time and save the best for later, so you send a "Thank you for subscribing!" message to all the new users. You decide to send the video next week. However, the first welcome email newsletter goes out soon enough, but they don't open the second one or, even worse – they unsubscribe.
It doesn't sound too good, does it? Like it or not, this is a realistic scenario. More than 86% of users' welcome emails have a 91.43% open rate, but the number drops as you go along significantly.
That's why you need to seize the opportunity and use the click-throughs that you'll likely get the first time they hear from you. This article will show you:
What is a Welcome Email?
A welcome email is the first step in a brand's communication with new users or subscribers. You can use it to deliver a personalized welcoming message, give insights about your company, or offer incentives for future activities such as sign-ups or purchases.
Usually, these serve to let new customers know that they completed a specific step, such as registering and onboarding in an appealing way. From the beginning, you should look for ways to set up future interactions that will ultimately lead to (more) conversions.
Whatever type of message you decide to use, you should treat email design as a valuable asset with great strategic importance, as it's not just another filler weekly newsletter.
Why Are Welcome Emails Important?
An average user is so busy that one of the main reasons for unsubscribing from email lists is that they get too many emails in general. With that in mind, the significant click-through rate that comes with welcome emails gets even more valuable as your way to secure a future place in their inbox. Your primary goal is to make the best use of this incoming traffic.
Here are reasons showing why they are an undeniable secret weapon in your communication:
Welcome emails allow you to address customers directly and start building relationships with them
Customers expect to get these messages which makes them more attentive to what you have to share
Good welcome emails can encourage people to further engage with your brand
Welcome emails set future expectations and motivate customers to keep watching out for your content
They can be the first step towards building customer loyalty
So, what type of content do you have to share to spark people's interest and get them to pay attention to your brand? Take a look at some of the best ideas for welcoming messages.
7 Convincing Welcome Email Templates Your Customers Can't Resist
There are many ways to craft great welcome emails and use them to their full potential. If you're unsure of where to begin, it's a good idea to try and define the goal of your overall communication and pick a type of welcome email template based on it.
Let's go over some compelling welcome email examples based on different approaches that you can take in customer communication.
1. Add a Human Touch to Your Welcome Emails
The idea is to convey a personal message that feels genuine without asking for anything in return. The chances are that your audience gets a lot of messages from brands, so you can stand out by adding a human touch to your emails.
A great way to do this is by sending out the first message written and signed by a specific person, ideally someone with merit, such as the CEO. This adds an extra layer to the communication, implying additional effort. This doesn't mean it has to go on for long; perspective is an essential factor in this case.
Here's a template that you can use for these kinds of emails to show gratitude. Feel free to adjust and make the tone more casual or formal, depending on your brand.
Template:
Hello [name]!
I'm thrilled that you're here! .
I just wanted to let you know that as a [representative/owner/CEO] of [brand name], I'm genuinely excited by seeing new people become a part of our story.
Looking forward to having you with us for a long time and showing you what we have in store for the future!
Take care,
[NameSurname]
2. Share More Information About Your Product
This follow-up email example serves as a way to direct customers to sign up for a product or a service. The main goal should be to let them know the basics and get more information soon.
You can decide how detailed you want to get, but either way, you'll want to emphasize the topic and tease for what's to come.
Template:

Dear [name],

Thank you for choosing [name of your product].

We're sure you already know the basics about our [product], but we want to expand upon that and provide you with some tips to help you master the full scope of it. Over the next few emails, we'll be sending you an actionable guide that will be useful through each step of your way.

You can expect a [type of resource] on [feature] that's a great place for users like you to start.

Best, [brand name] team
3. Add More Value to Confirmation Emails
Usually, brands send confirmation emails right away, and they are just a notification about the user's successful registration or subscription. With appropriate email marketing tools, you can even schedule a confirmation email to send out right after a customer sign-ups for your service. Even though they need to receive this information, try expanding on it with some specifics.
A good approach, in this case, is to give them some directions about the next steps they can take and encourage them to stay active.
Template:
Dear [name],
You've successfully subscribed to [name of your service]. Your account will become active in the next hour. Feel free to look at some of the [features] here or explore [features] here to start using the service.
Our support is at your disposal if you need some help with the [service] in any process step.
Best, [company name] team
4. Encourage Customers to Engage With Your Brand
Like the previous example, your goal is to get the new users to interact immediately. You can expand that on other channels that aren't strictly related to your core product.
Direct them to your website's blog if it's relevant to them, point out your social media and offer them an option to subscribe to your newsletter if not registered during sign up.
This way, you can also engage in email signature marketing, adding some extra content or links at the end of your messages.
Template:
Hi [name],
Welcome to [brand]. We're excited to have you
As you explore [product] features, you may find our blog useful, as we've recently had some exciting entries on [topic] that we think you could like.
There's also a series of video tutorials on our website perfect for [user type].
We're excited to share [new piece of content] that's coming out soon, so keep an eye out for that by [newsletter instructions].
Best, [team]
[social links and additional information]

5. Share Your Story With New Customers
This one allows you to reinforce the customers' feeling that they're important and how they impact your brand.
Try covering a bit about the company and the product while embracing the new user and giving them promises for the future.
The idea behind this email template is to make it sound like you're reciting a story that's not motivated by conversions and numbers.
Template:
Dear [name],
When we started this business in [year], we've dreamed about reaching [number of customers].
We stayed motivated by [goal] throughout the years, and our journey paid off.
Now that we're here with you, we're sure that this is just the beginning. With your support in the coming years, we're set on achieving even more and keep adding to the [niche] community.
Thank you for being a part of our story, as we couldn't do it without you.
We're excited about what's to come!
Sincerely,
[brand team]

6. Give Back to Customers
If you're looking to boost your conversions and get the users to explore further services you offer, it's good to start by providing them with some benefits in the opening email.
Some ways to achieve this are promo codes, referrals, and exclusive short-term offers, such as discounts valid only in the first month of their registration.
Template:
Hi [name],
Thank you for signing up!
As a token of our appreciation, you can use our promo code [code] to get 20% off on your yearly subscription. Just go here [link], follow the steps and enter the code at the checkout.
Subscribe to our newsletter to stay updated about our newest promo offers.
[Signature]
7. Greet People With a Video
Finally, you can do extra work to make your emails stand out even more.
If it suits your brand style, prepare video messages for new users, either with the participation of your colleagues or using a different approach such as animation, depending on your audience. Another good idea is to use testimonials.
Not only that emails with videos get more clicks, but you also set the expectations for your audience to look for more than just formal messages in their inbox.
This is especially useful as a first email for new newsletter subscribers.
Template:

Hello [name],

Welcome!

We've prepared a short video to let you know how glad we are that you're here.

Just click play below 🙂

Talk to you soon.

Best

[signature with links]

Implement Welcome Email Best Practices to Improve Engagement
You can try countless variations, with new business welcome email templates adapted for each new customer. However, you should always aim for them to be in line with your goals and aligned with your audience.
Whether you aim to be more formal or ready to get close and personal with your customers, you can form a solid base for your new clients' communication by using our welcome email templates.
Here's a checklist of key takeaways to consider when crafting your messages:
Stay concise. First emails shouldn't take too long to read, as your audience is still getting used to hearing from you.
Keep the tone of voice you're using in other channels and stay consistent across the board.
Adapt to the occasion, as you shouldn't use the same emails for newsletter subscribers and customers registered for your service.
Find ways to reuse your previous content and direct customers to other channels, so you have integrated communication that increases engagement.
Look for opportunities to reward your customers. It'll both increase their loyalty and encourage positive word-of-mouth.
We hope these takeaways help you draft and send some of the most engaging welcome emails to your customers and subscribers.
Do you want a free Live Chat software?
We have the #1 Online Live Chat Software for instant customer support 24x7