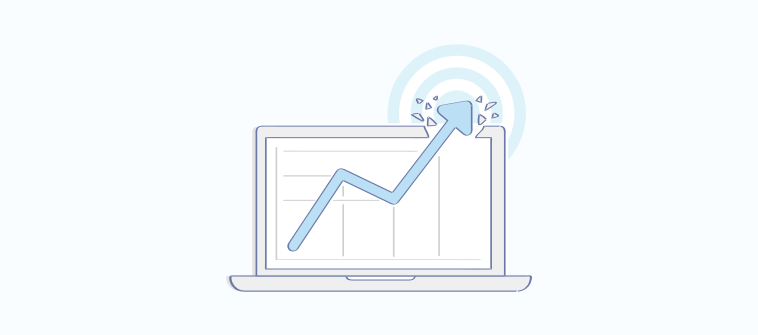 Running an eCommerce business is all about surviving the competition and sustaining a steady upward growth in revenue generation. To run a successful eCommerce operation today, you need a lot more besides a competent eCommerce platform, a good range of products, a great shipping service, and some straightforward business policies.

You must be willing to invest in some additional tools to ensure your business sustains against intense competition. Especially when your competitors have already invested in them, they become a necessity for you too!

However, there is a problem with that. The market is full of similar tools with comparable functionalities. Further, eCommerce involves plenty of different activities, and you can't point out the correct tools required to make their business more accessible. As an eCommerce entrepreneur, it's not always easy to select the right tools that are decisive and provide a promising ROI.

To help you clear this confusion, I am enlisting my top picks of the most effective eCommerce tools in the market. I have picked 10 tried & tested tools from different domains to let you have a complete stack required to manage all sorts of eCommerce activities –
Website and traffic analysis

Search engine optimization

Marketing campaigns management

Conversion rate optimization

Customer relationship management

Customer support management



Effective eCommerce Tools You Need to Boost Conversion Rate
It is important to use effective tools to boost conversion rate. In case, you aren't aware of them, then let us help you out. Here is a list of top eCommerce tools that can help you boost conversion rate and improve your ROI.
Quick Navigation
What do you need to build customer trust in your business? Great customer support indeed. There is no better option to do that than using an integrated live chat on your eCommerce platform. ProProfs Live Chat Software is not just yet another live chat tool, but more of a customer acquisition tool to generate boosted sales.
With ProProfs Chat, you can monitor and engage your website visitors to offer the best of the customer support and generate more sales seamlessly. You can actually track where your visitors are browsing in real-time and offer personalized assistance in the same way a salesperson does in a physical store.
You can provide a guided shopping experience by addressing the queries and confusions in real time. There is no better way than reducing the tickets and diminishing the response time to boost ROI in an eCommerce business.
Pricing:
Trial Plan: $0/15 days
Essentials Plan: $20/mon
Premium Plan: $60/mon
Business Plan: Request a custom quote
SendX is an intuitive, affordable & feature-rich email marketing software for marketers & business owners. It prides itself on enabling marketers with one of the simplest UIs in the industry. As users, you'll find features like unlimited email sends with every plan, powerful automation capabilities, 24 x7 live support, best of breed email deliverability, and more.
SendX also offers integration with multiple platforms such as Zapier, WordPress, Upscribe, SumoMe, Slack, PayPal, Facebook, Google Analytics, and more. The company prides itself on being trusted by 3000+ companies worldwide.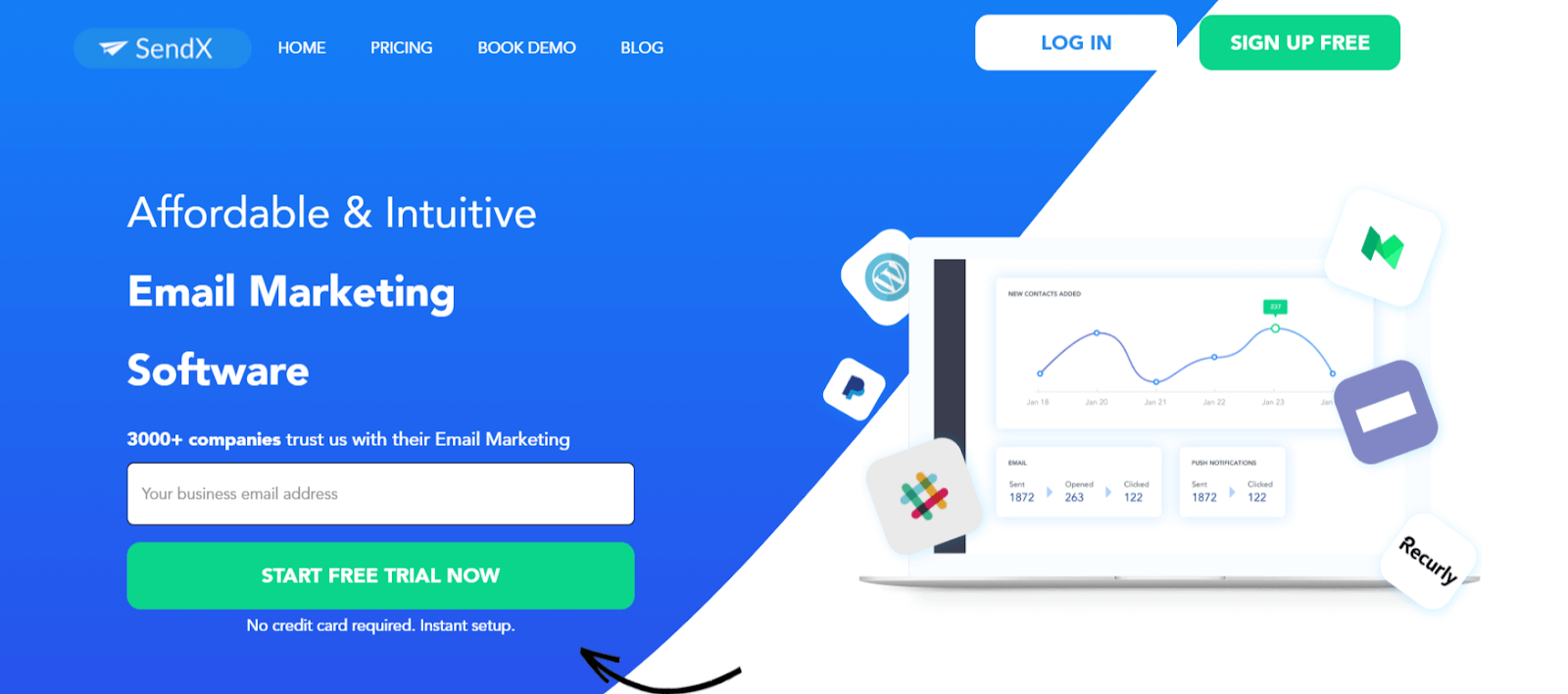 Besides these features, SendX helps you reach your email subscribers and enables your marketing team to track email open rate and more. If you thought they stopped at this, then think again. As an email marketing tool, SendX also helps your business to build an email list by giving you the option to design email popups with ready-made themes. They even offer access to free templates that will help you design emails for customers and subscribers in seconds.
Pricing: Starts at $7.49/month and also supports 14 days free trial that helps you explore the product at length.
First and foremost is the Google Analytics tool that is not an option but a crucial requirement for your eCommerce website. It's a multi-role tool that does not only gives you an overview of your website performance, but also a detailed comprehension of how your visitors are interacting with your website. You can track different metrics to understand the interactions from multiple angles –
User sessions

Number of users

Page Views

Conversion Rate

Time on a page

Bounce Rates

Traffic sources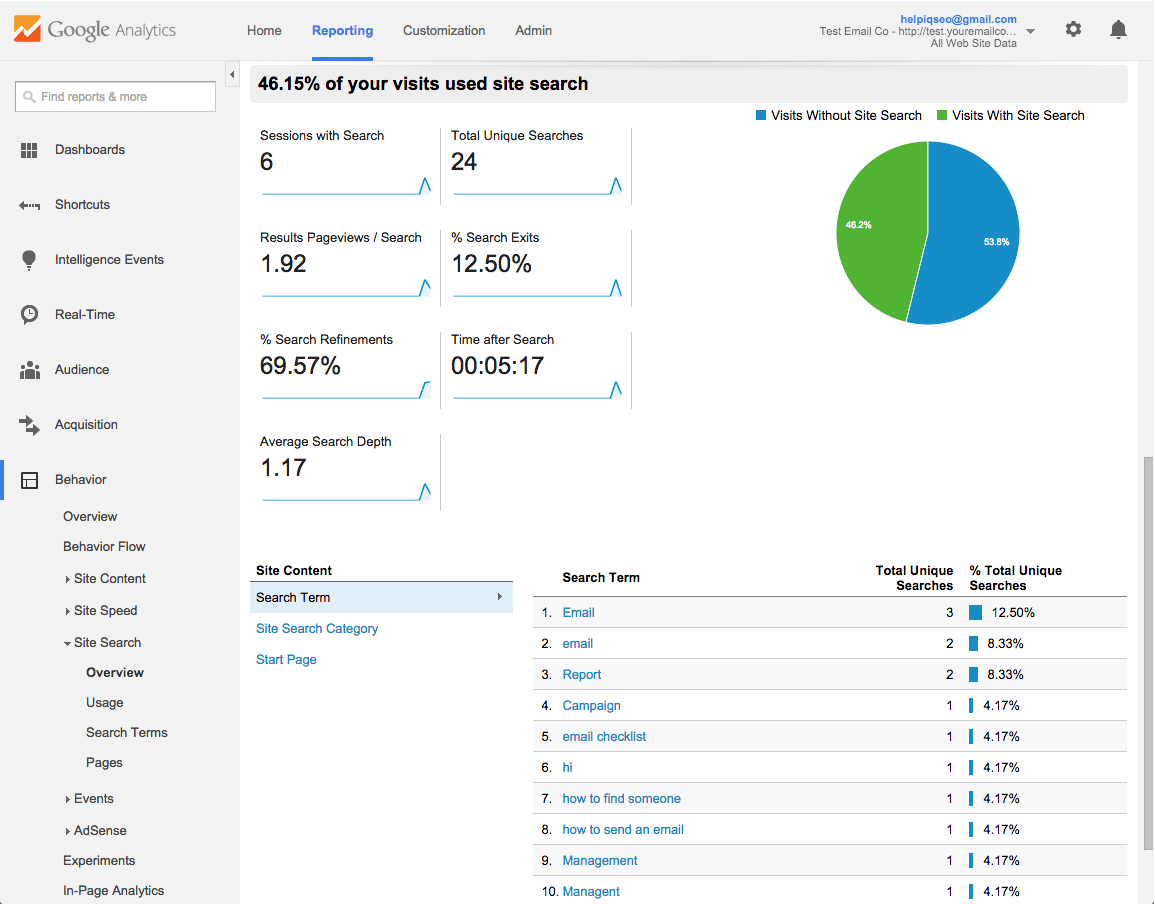 Google Analytics is one web analysis tool that not only helps in SEO but also in conversion rate optimization of your eCommerce store. You can get to know the performance of pages and page sections through bounce rate tracking and by setting the conversion goals. You can use this report to adopt suitable measures and improve your store's performance. The more you become familiar with this eCommerce tool, the more you learn to use it for multiple determinations.
Pricing: It's free
Moz is yet another analytics tool for advanced metrics tracking. It goes a step ahead of Google Analytics in terms of usability. Most rookie marketers find Google Analytics a little complicated to use as it's all based on numbers and figures.
This is where the Moz SEO tool comes handy as it offers a more interactive interface to track keywords ranking for your site. Not just that, it can also tell you where you reside in the market by analyzing your competitors on both mobile and desktop-based search engine rankings.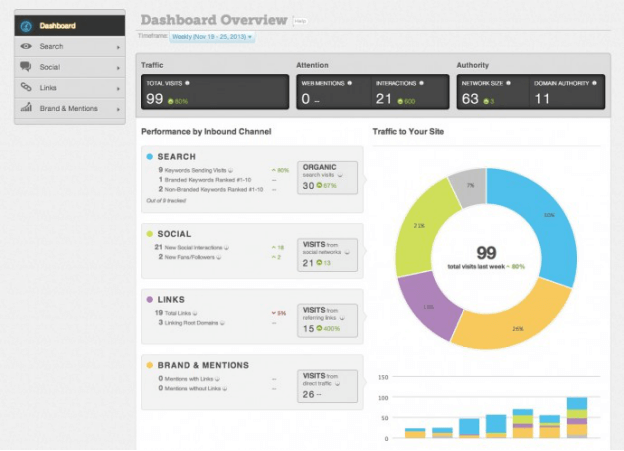 Here is the fundamental difference between Google Analytics and Moz. GA tracks almost everything, but it is upon the abilities of the readers to comprehend the reports and convert them to useful impressions. While Moz reduces the tasks for interpretation and gives a more comprehensible report with automatic interpretations. For example, it can directly find SEO errors like broken links and bad links on your site and alert you to fix them.
Pricing: Starts with $99/month/2 User Seats/150 Queries
How to increase the conversion rate eCommerce sites generally receive? A simple answer is by observing the current status and measuring user behavior. If you could know how your users are interacting with your site, you would easily know what needs to be done to improve their engagement levels.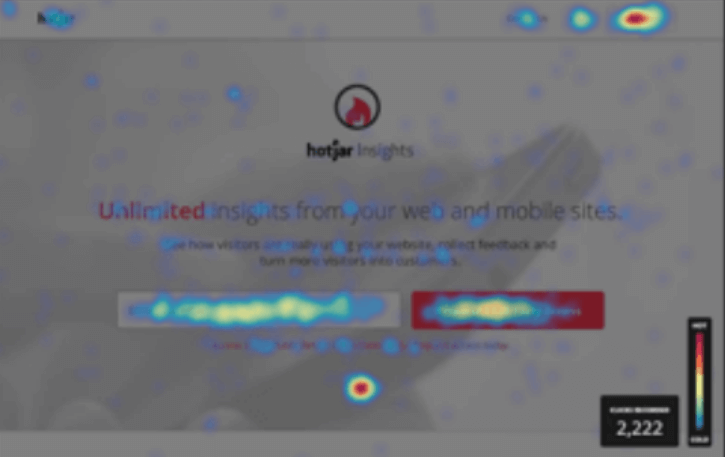 Hotjar automates the process for you by tracking the heatmap of your site. Based on how users are interacting, it presents a graphical representation as color variations to indicate the levels of engagement. For example, here is a sample heatmap report –

The areas marked in deeper shades are the ones that are highly engaging and more users pay attention to them. While the ones marked with lighter shades are the least performing segments with least user attention.
Now that you have an insight into your user behavior, you can adopt suitable measures to boost the attention in the least performing areas. Knowing the attention heatmap of your web pages can give you some deeper insights into your customers' minds and you can know the stuff needed to be done next.
Pricing: Starts with a free basic plan and goes all the way to $89/month and more
Not knowing what needs to be done and making random modifications to your eCommerce platform is the worst you can do to your business. You might think a bright colored "Add to Cart" button like Amazon would boost your conversion rates, however, it might also backfire and instead kill the current conversions.
What's working for Amazon may not work for you. A blind guess is not what you expect to do in a crucial business sphere like eCommerce. You need to take a decision supported by eCommerce stats and figures. This is what an A/B testing tool like Optimizely does for you. With it, you can boost your conversion rates and website user experience by creating, launching, and analyzing A/B tests on your eCommerce store. You can test two or more versions of a page modification and decide which one gives better conversion result.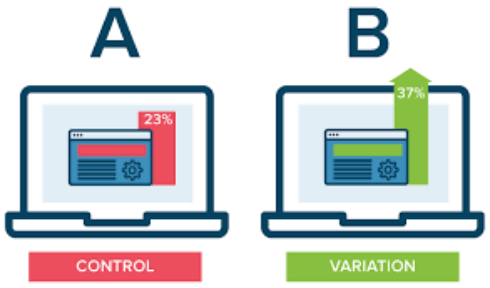 Optimizely gives an easier GUI-based dashboard to A/B tests your pages, buttons, product descriptions, images, and almost every element on your site. With it, you can always make an informed choice of modifications so that you don't break your conversion rate while doing that.
Pricing: Optimizely offers three packages: Essentials, Business, and Enterprise. The exact pricing is not visible on their website.
Google's Pagespeed Insights is an online tool developed by Slant community. The tool gives a GUI to put any URLs and generate separate page speed insights for mobile and desktop browsers. Based on the analysis, it does not only gives you a page loading score but also gives you detailed suggestions to improve the same.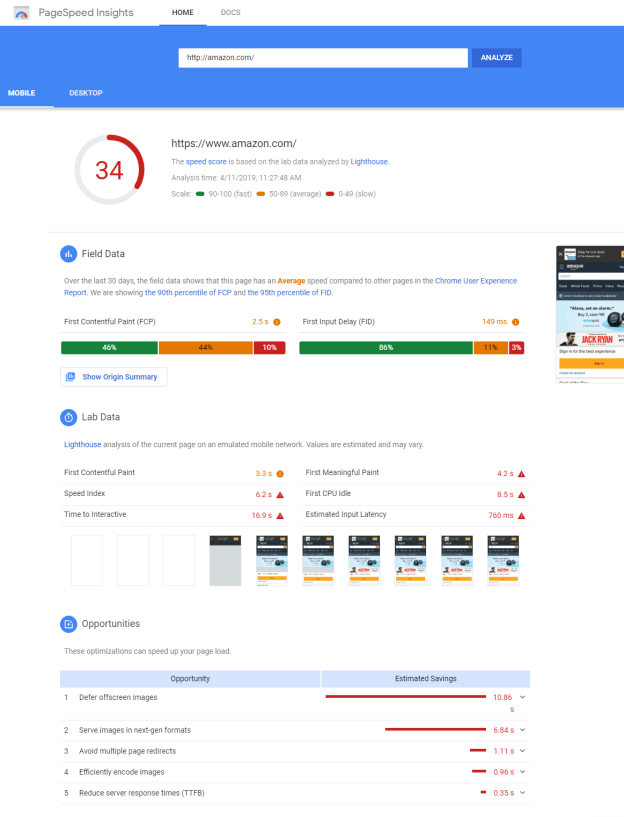 The optimization tips from Pagespeed Insights can range from minifying the resources, compressing the optimized images, to using browser caching. These suggestions are extremely useful while optimizing your web pages for Google search result pages (SERPs)
Pricing: It's free
Heap is a business intelligence tool that helps you make wise decisions by capturing and analyzing user interactions from different sources. It completely automates your web monitoring and you can actually track the events like clicks, page views, gestures, sign-ups, and more.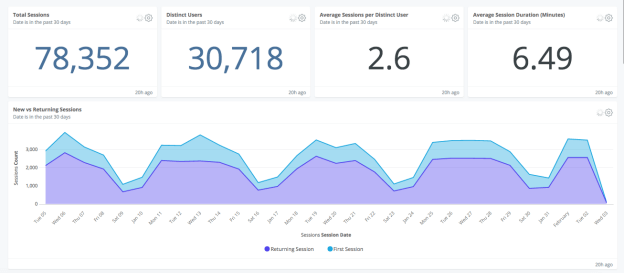 You can set custom events to capture and analyze almost every user interaction on your site and social media handles. These real-time insights are the quickest way to make error-free decisions. Heap's customer Satisfaction Algorithm is a perfect choice to gather reviews, comments, social media interactions and generate a combined report for better decision making.
Pricing: Heap Analytics offers a free plan and two paid plans: Lite ($299/month) and Enterprise (custom pricing)
Some More Tools for Advanced eCommerce Management
In addition to the above fundamental tools, you can also use the following eCommerce tools to get advanced capabilities to manage your website and business.
HubSpot CRM is a comprehensive customer relationship management tool suite that allows you to capture leads, nurture contacts, analyze prospect data, and manage your sales pipeline from a straightforward dashboard. The platform automatically updates reports and sales team performance so you can see how your team's efforts are doing at a glance.
With tools like a free landing page designer and form builder, it's easier to capture new leads, track your leads as they move through your sales pipeline, and look back on your detailed contact records that include outside data on 20 million businesses. Send highly personalized emails at scale and make informed strategic decisions using email analytics.
Pricing: Core features are free. The premium plans are Starter ($45/month), Professional ($800/month), and Enterprise ($3,200/month).
Salesforce CRM helps to fully automate your sales & marketing using AI-based data handling and analytics. With improved customer information organization, you can focus on improving your customer service, while the tool gathers and manages the required data for you.
Pricing: Starts at $25/month. Custom pricing is available for small to large businesses.
MailChimp is one of the most popular email marketing tools to boost conversions rate. With it, you can:
Launch immediate bulk email campaigns

Schedule emails for later

Track the performance stats

Use from hundreds of email templates
Pricing: MailChimp offers a free plan. Besides that its paid plans start from as low as $10/month and goes over $199/month and more for advanced features.
If you are not having a blog section in your website, you can lose out on the SEO battle for sure. There is no easier tool than WordPress to start a sports blog for content marketing. I recommend the self-hosted version of WordPress under your subdomain to build your own blog.
Pricing: It's free. However, you would have to pay for the modules to get advanced features.
Boost Conversions Rate With Effective eCommerce Tools
So this is the full stack of tools every eCommerce site must have to survive the market and make impressive ROIs. There are various alternatives to all of these tools, but I choose them for their accessibility, pricing, and range of useful features a small to medium site needs to run successfully. I recommend some deeper understanding of these tools before investing in them.
Try out their free versions to get an idea. If you think they are adding value to your business, take no time integrating them. I have been using them for a long time, and I have experienced a substantial boost in the conversions and more ROIs in my marketing campaigns.
Do you want a free Live Chat software?
We have the #1 Online Live Chat Software for instant customer support 24x7