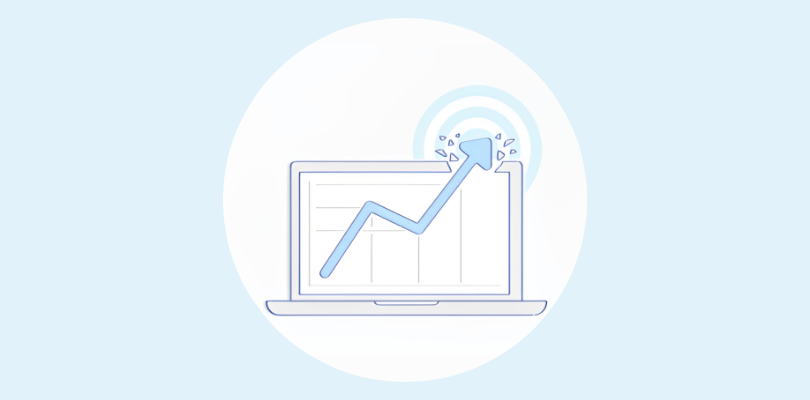 With global eCommerce sales projected to exceed $5 trillion in 2023, it's evident that the online shopping landscape is experiencing unprecedented growth.
However, in a fiercely competitive environment, success hinges on having the best eCommerce tools at your disposal.
While the market offers many options, selecting the right one can be daunting, and I understand this challenge firsthand.
Through my extensive journey in the eCommerce industry, I've gained valuable insights into which eCommerce tools deliver the best results. And so, I've curated a list of the 13 best eCommerce tools that can empower your business to thrive.
Let's explore these tools.
| eCommerce Tool | Best For | Paid Plan |
| --- | --- | --- |
| ProProfs Chat | AI Chatbots and Chat Transcripts | Forever-free for a single operator. Paid plan starts at $19.99/operator/month. |
| SendX | Email Marketing | Starts at $7.49/month. |
| Google Analytics | Goal Tracking | Custom pricing. |
| Moz | Analyzing Backlinks | Starts at $99/month. |
| Hotjar Heatmap | Website Optimization | Free plan available. Paid plan starts at $32/month. |
| Optimizely | A/B Testing | Custom pricing. |
| Shopify | Inventory Management | Starts at $24.03/month. |
| Heap | Event Tracking | Free plan available. Paid plan starts at $3600/year. |
| HubSpot | Inbound Marketing | Starts at $890/month. |
| MailChimp | Automated Workflows | Starts at $4.61/month. |
| WordPress | Publishing Blogs and Articles | Free plan available. Paid plan starts at $1.91/month. |
| BigContacts | Contacts Management and Email Marketing | Starts at $5/user/month. A 15-day free trial is available. |
| Qualaroo | Exit-Intent Surveys | Starts at $69/month. 15-day free trial available. |
Top 13 eCommerce Tools
You must be curious about the reliability of this list. As a seasoned eCommerce expert with years of experience in this industry, I have first-hand experience with most tools on this list.
Additionally, I've incorporated recommendations from my industry peers and trusted review platforms to ensure the comprehensiveness and credibility of this selection.
Best for AI Chatbots and Chat Transcripts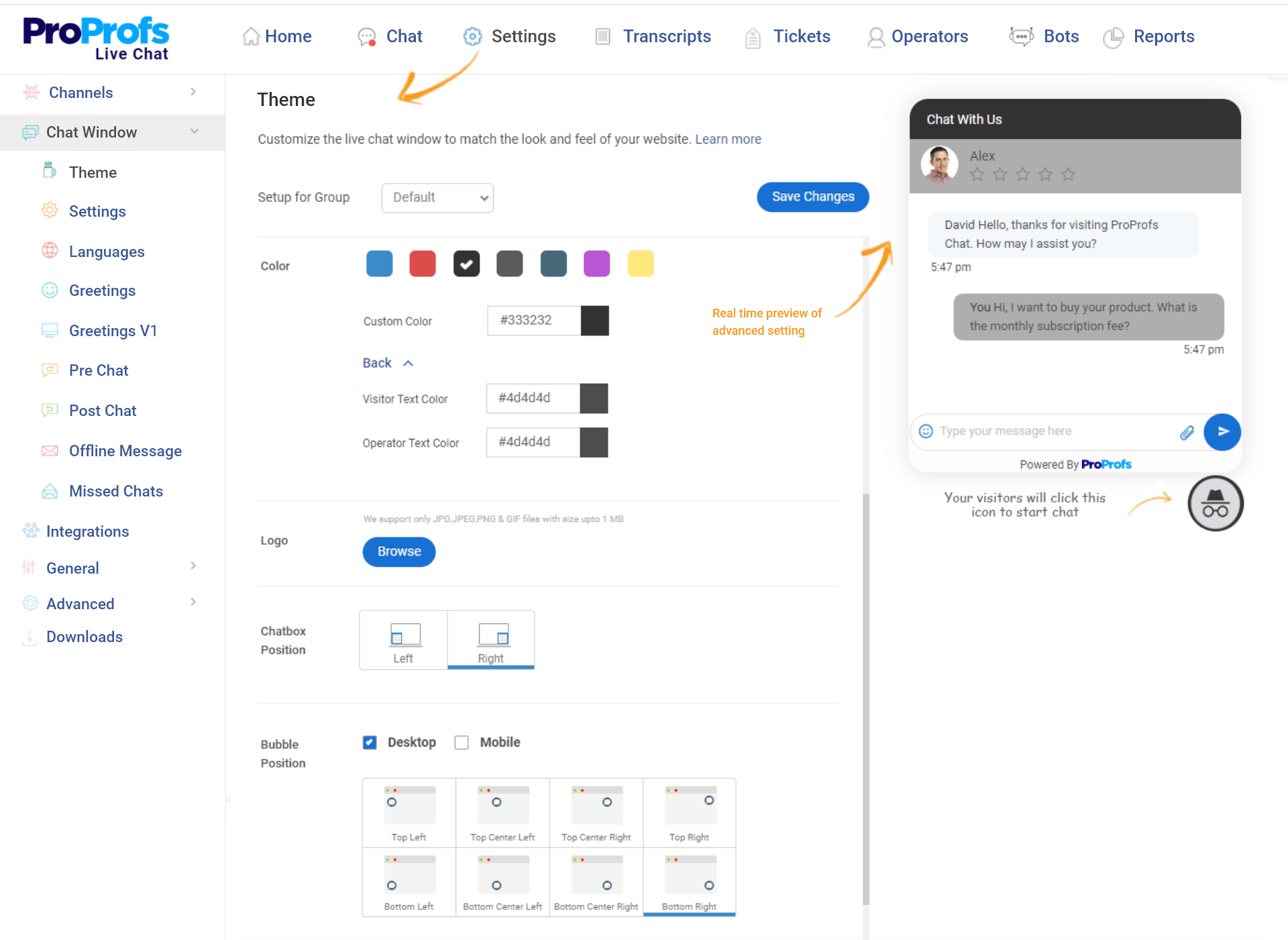 ProProfs Chat continues to be an integral part of my team's eCommerce customer support strategy. Its sleek and customizable chat widgets seamlessly integrate with our site's design, enhancing the user experience.
One of the best features we appreciate is its AI-powered chatbot. It lets us engage visitors even when my support representatives are not available.
ProProfs Chat's visitor tracking and chat transcripts features provide invaluable insights into customer interactions. The tool allows my team to design pre-defined canned responses for common inquiries, which significantly saves us time. We can also monitor chat histories, identify trends in customer inquiries, and continuously refine our support processes.
What you'll like
What you may not like
Frequent updates on the AI chatbot can get overwhelming for new users.
Free plan is limited to a single operator.
Pricing: ProProfs Chat's live Chat pricing ensures cost-effective solutions, starting at $19.99/agent/month for multiple operators. Forever free for a single operator.
Also Read: Live Chat Software for Customer Support: An In-Depth Review
Best for Email Marketing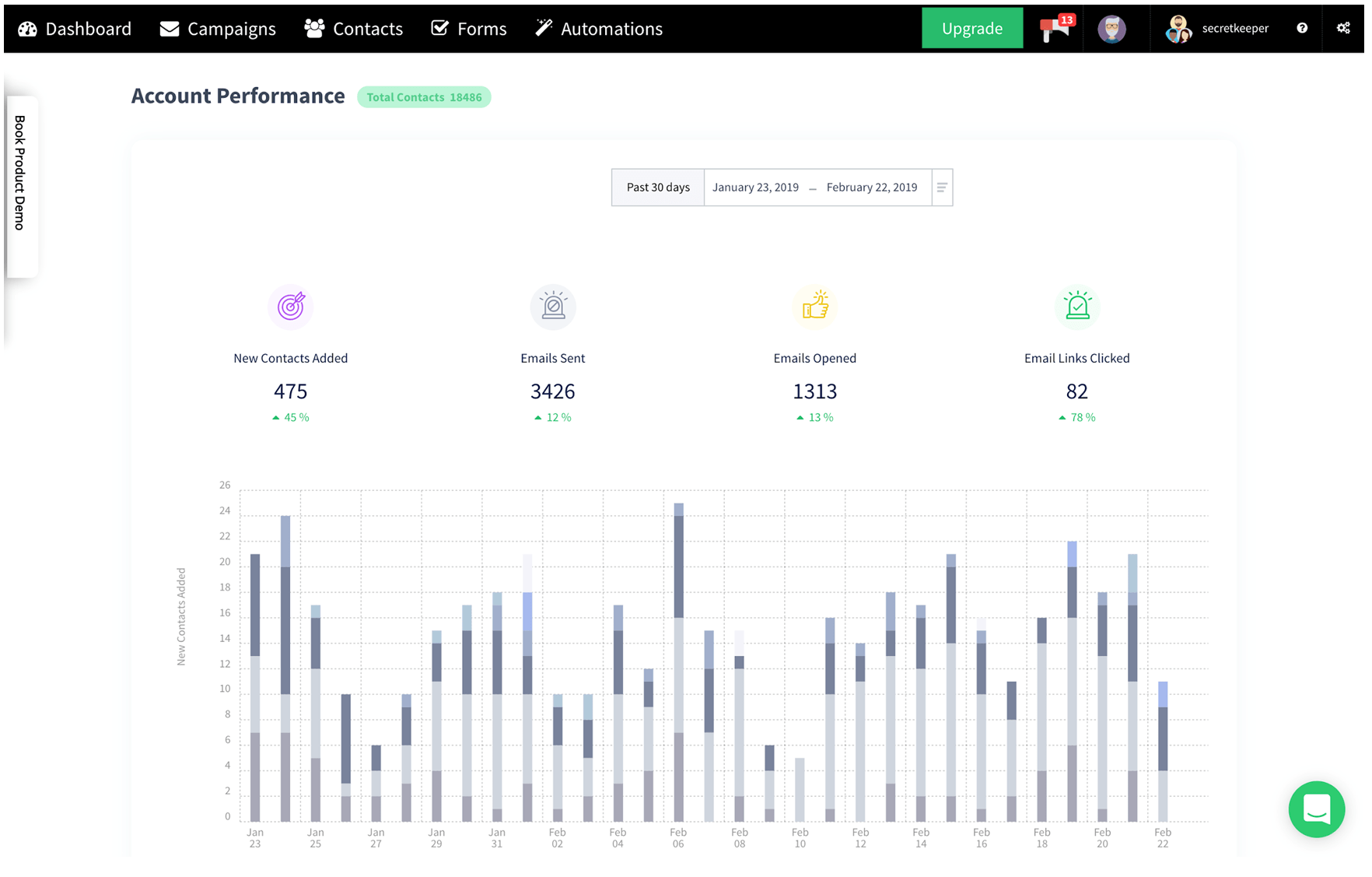 SendX is one of the best email marketing tools, which is recommended by my peers. Its intuitive drag-and-drop editor makes creating visually appealing emails an easy task.
The automation capabilities are top-notch, allowing users to send personalized emails based on customer behavior and preferences. SendX also provides insightful analytics to track the performance of email campaigns, helping you refine your strategies.
With its list segmentation and A/B testing features, teams can ensure their emails reach the right audience and are optimized for maximum impact.
SendX significantly improves email marketing efforts, helping businesses maintain strong customer connections and boost sales.
What you'll like
Drag-and-drop editor to create beautiful and responsive emails in minutes.
A library of ready-made templates and images that suit your niche and brand.
Segmentation tool that allows you to target your subscribers based on their behavior and preferences.
Personalization feature that lets you add dynamic content and merge tags to your emails.
Campaign automation feature that enables you to set up triggers and workflows for your email sequences.
What you may not like
Limited email templates.
Lacks advanced automation capabilities.
Pricing: Starts at $7.49/month.
Best for Goal Tracking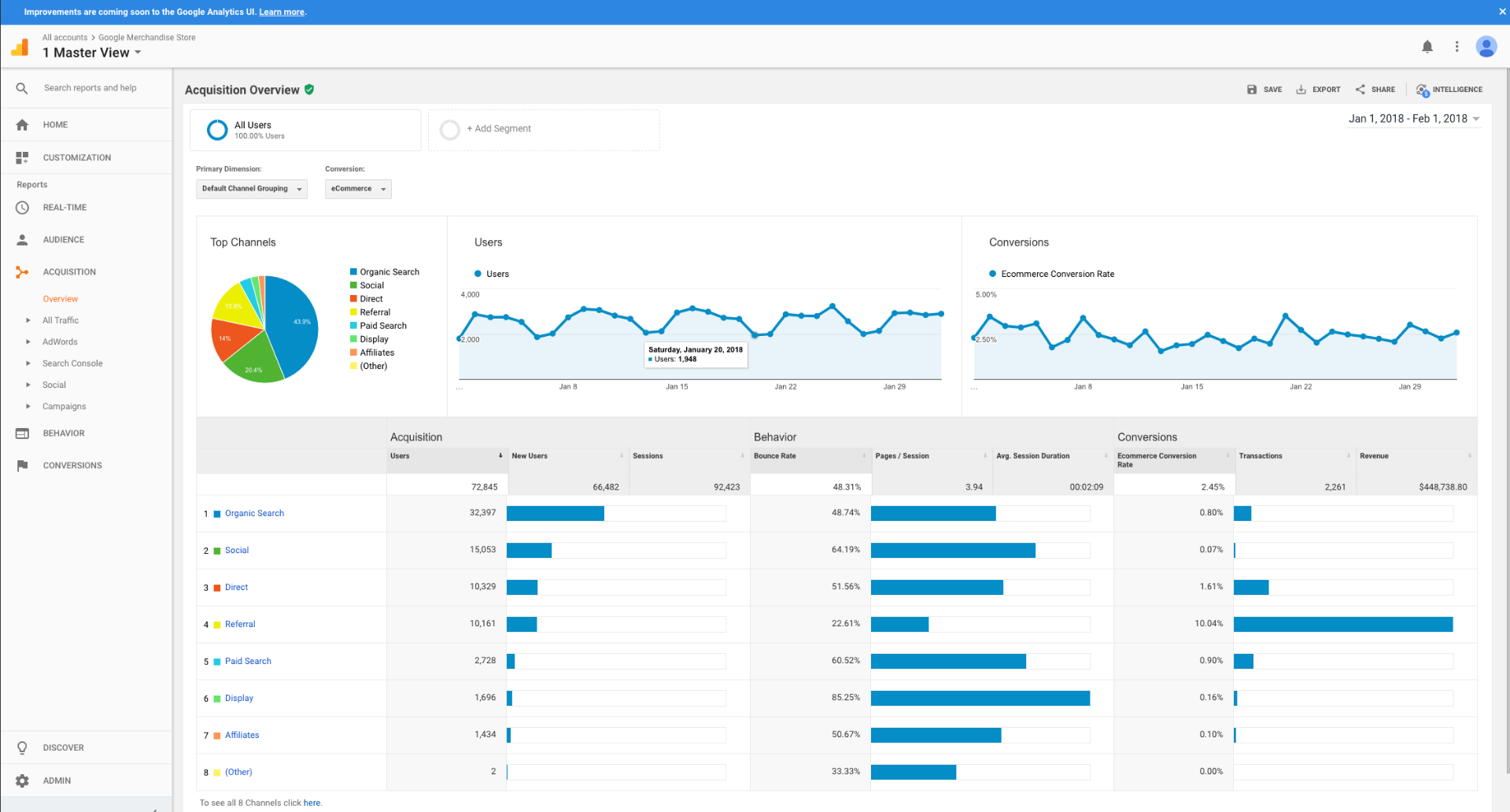 Google Analytics is a staple in any e-commerce toolkit. I relied on it in the past to gain invaluable insights into my website's performance. From tracking user behavior to monitoring conversion rates, Google Analytics provided comprehensive data to inform our decisions.
Its e-commerce tracking features helped us analyze sales and revenue data, identifying areas for improvement. Setting up custom goals and tracking events allowed us to measure specific actions critical to our business.
With Google Analytics, we could make data-driven decisions that positively impacted our online store's success.
What you'll like
A comprehensive dashboard that displays various metrics and reports on your website's performance.
Real-time feature that lets you see how many users are on your website right now and what they are doing.
A goal-setting feature that lets you define and track your desired outcomes and conversions.
Custom reports that let you create and share your own reports with the data you need.
A data studio feature that allows you to visualize and transfer your data in interactive dashboards and reports.
What you may not like
The sheer volume of data and complexity of the platform can be overwhelming for beginners.
The tool requires training to be able to use it.
Pricing: Custom pricing.
Best for Analyzing Backlinks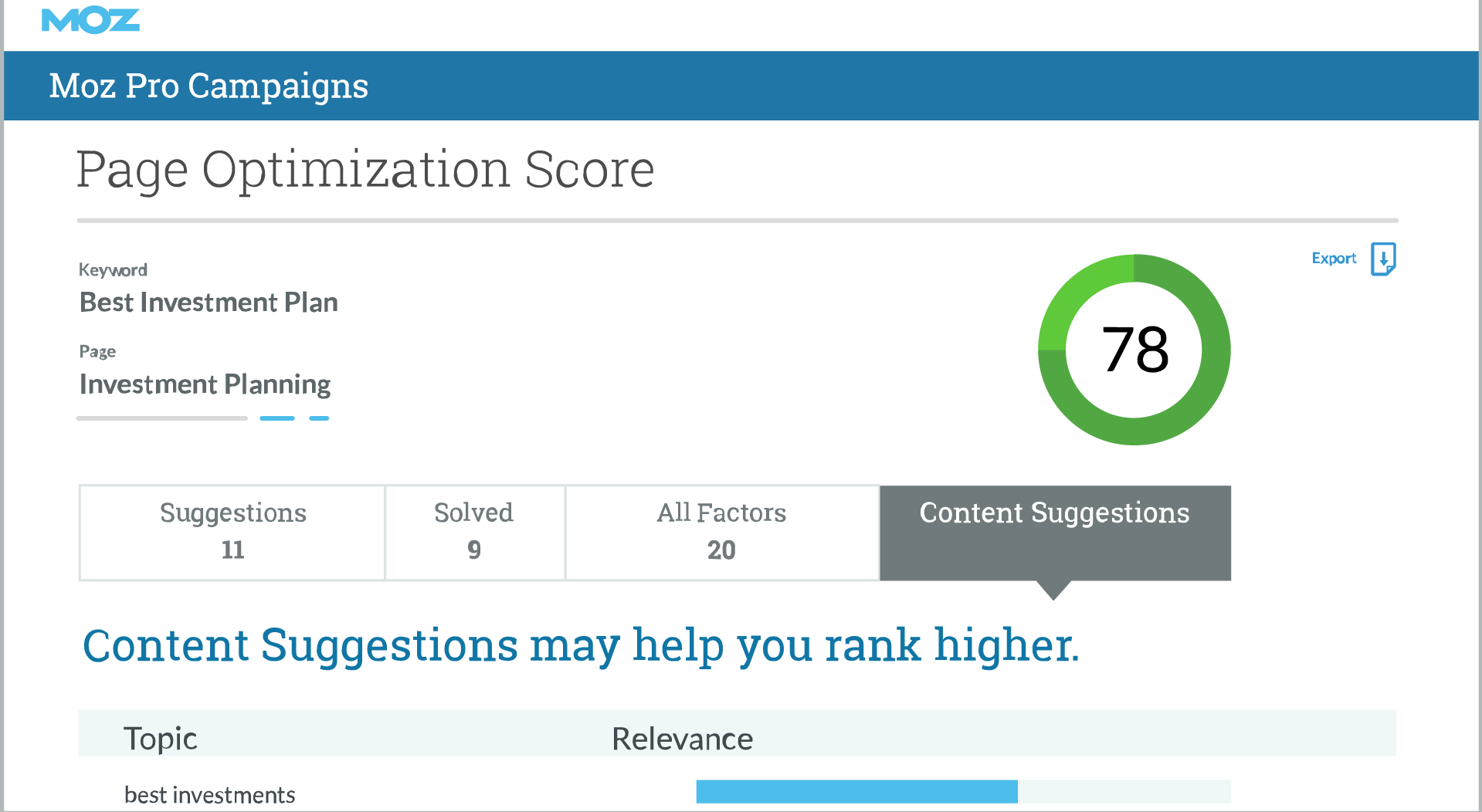 Moz is currently a vital part of my team's eCommerce SEO strategy. Its suite of SEO tools helps optimize our website for search engines. I use Moz to conduct in-depth keyword research, track our search engine rankings, and identify opportunities for improvement.
The backlink analysis feature helps us build a strong and authoritative link profile, enhancing our SEO efforts. Moz's site audit tool is invaluable for identifying and fixing technical SEO issues that could impact our site's performance.
With Moz, we have a reliable partner in our ongoing efforts to improve our website's visibility in search engine results.
What you'll like
Keyword research tool to find and analyze the best keywords for your niche and audience.
Site audit tool to identify and fix any issues that affect your site's performance and SEO.
A link explorer tool that lets you discover and analyze the backlinks of your site and your competitors.
Rank tracker tool to monitor and track your site's rankings for your target keywords.
A local SEO feature that lets you optimize your site for local searches and listings.
What you may not like
Limited keyword tracking capabilities in lower-tier plans.
Data accuracy may vary, leading to occasional discrepancies in reporting.
Pricing: Starts at $99/month.
Best for Website Optimization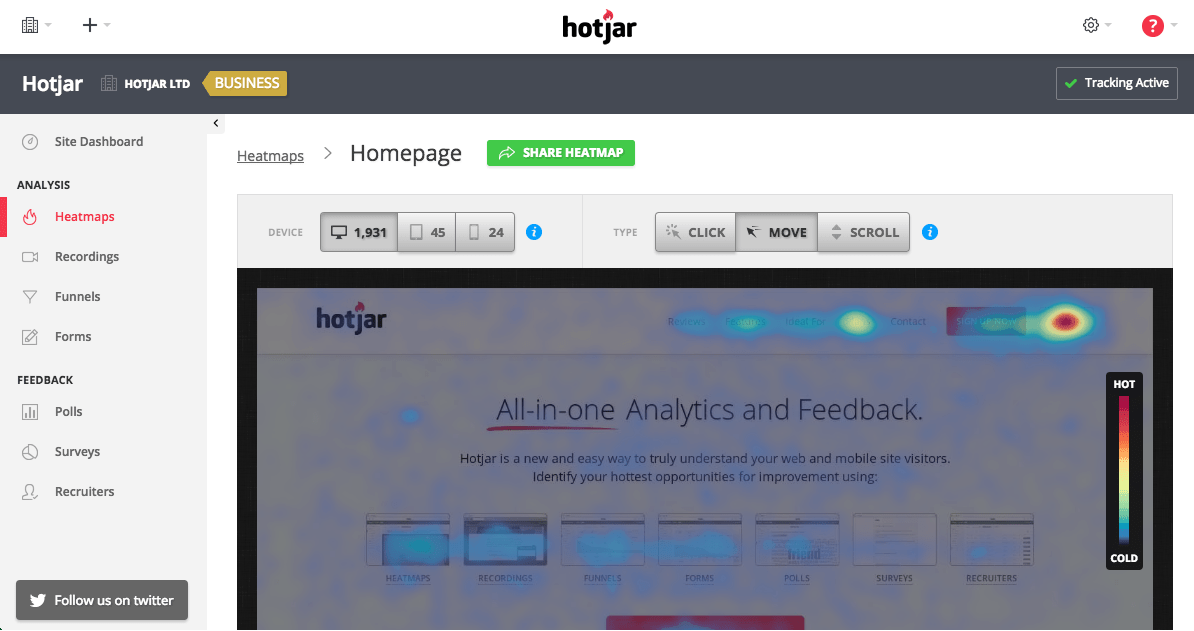 Hotjar's heatmap tool proved invaluable in understanding user behavior on our e-commerce site in the past. We could identify pain points and areas of interest by visualizing where users clicked, scrolled, or dropped off.
The tool also offers rage-click maps that let you see the touchpoints where your website visitors have the maximum bounce rate. It helped us optimize our website's layout and user experience. Hotjar's session recordings let us watch user interactions in real time, providing deeper insights into user behavior.
With these insights, we made informed design and content decisions that directly contributed to improved user engagement and conversions.
What you'll like
A user behavior analytics tool that helps you understand how your visitors interact with your website.
Heatmaps to visualize your visitors' clicks, taps, scrolls, and movements on your web pages.
Session recording to watch the replays of your visitors' actions and journeys on your website.
Surveys, polls, and feedback widgets to collect visitor feedback.
Form analysis to optimize your forms and fields by identifying your visitors' completion rates, abandonment rates, and errors.
What you may not like
The free plan allows limited recordings and heatmaps.
Heatmaps may not capture interactions with certain types of dynamic content.
Pricing: Starts at $0 (up to 35 daily sessions). Paid plan starts at $32/month.
Best for A/B Testing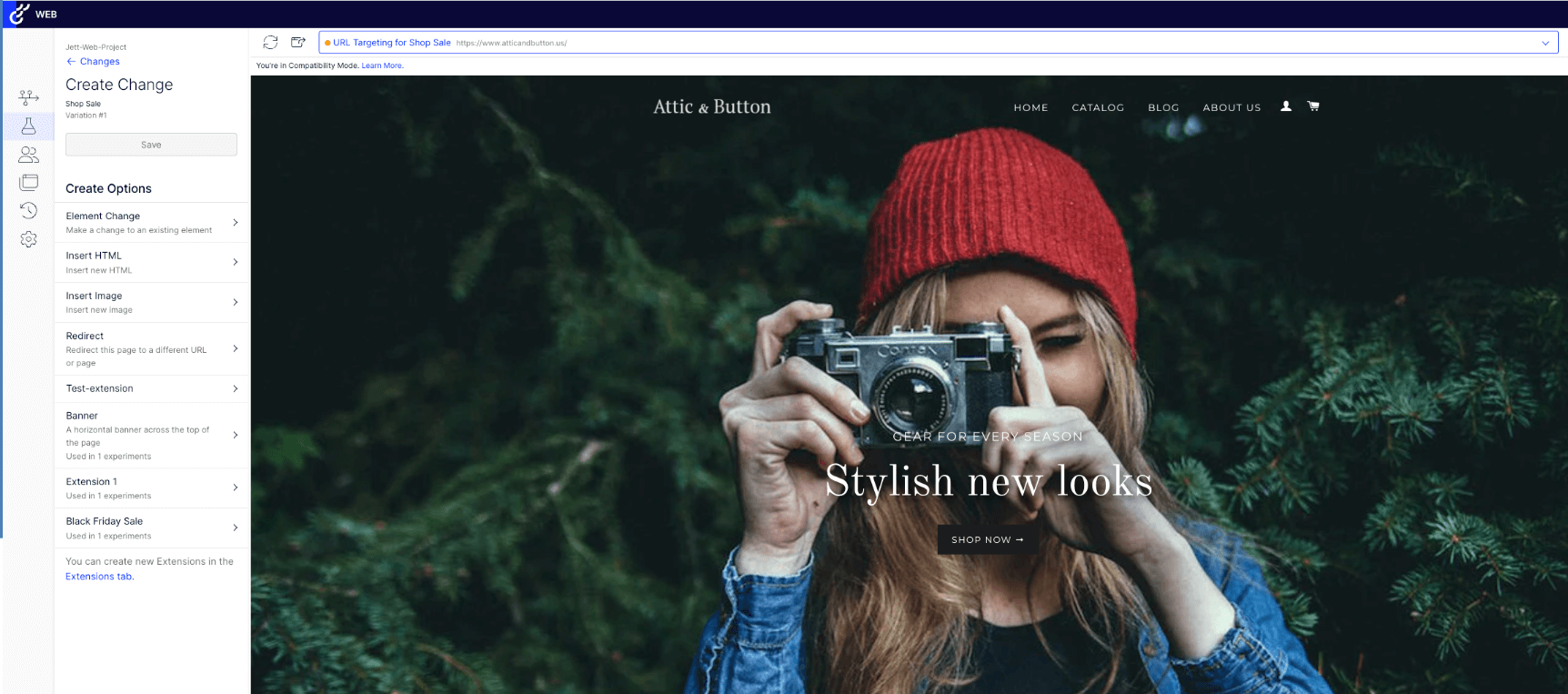 Optimizely is currently our A/B testing tool for optimizing our e-commerce site. Its user-friendly interface makes it easy to set up experiments and test different elements, such as product pages, CTAs, and checkout processes.
The real-time results dashboard provides immediate insights into which variations are performing better. Optimizely's experimentation platform empowers us to make data-driven decisions that enhance the overall shopping experience and boost conversions.
What you'll like
Personalized product recommendations to your visitors.
Multivariate testing to test multiple variations of elements on your web pages simultaneously.
Integration with other tools such as Google Analytics, Salesforce, Shopify, etc.
A/B testing feature to let you create and run experiments to compare different versions of your web pages and elements.
What you may not like
Advanced personalization and targeting features require technical knowledge.
Occasional issues with test reliability and statistical significance.
Pricing: Custom pricing.
Best for Inventory Management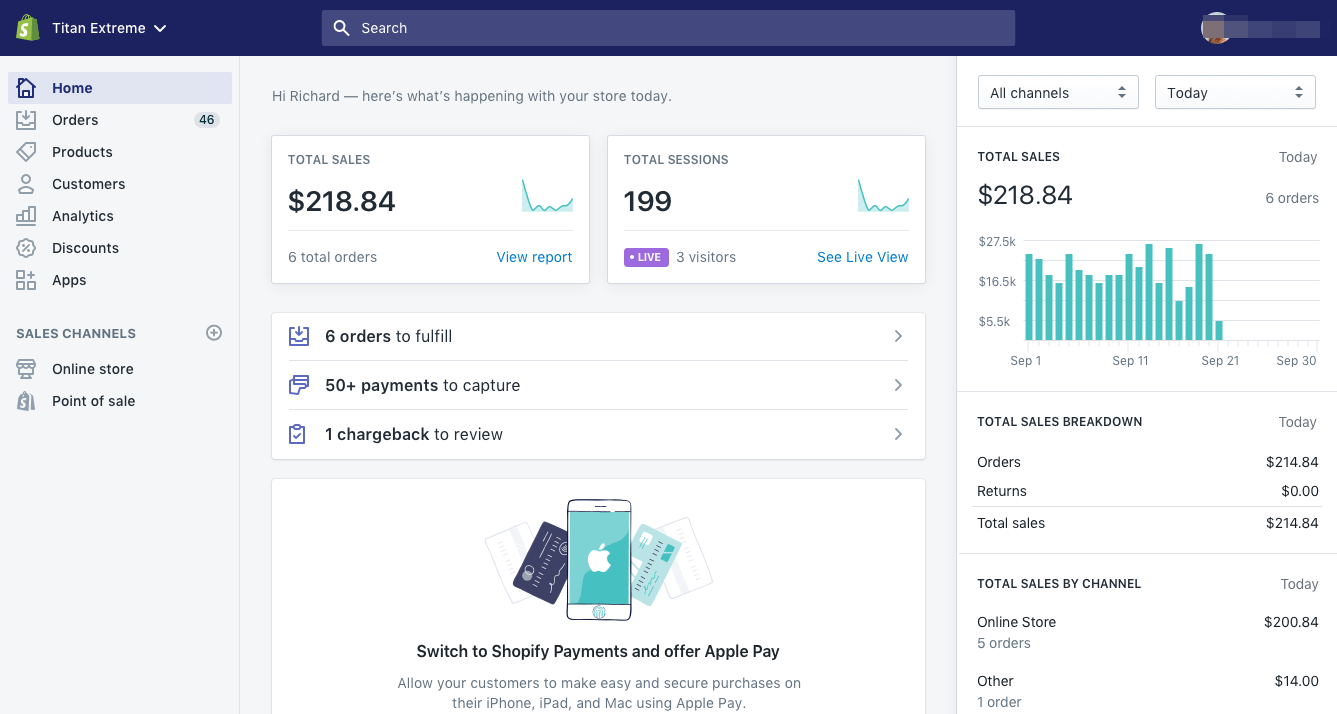 My team currently uses the Shopify eCommerce platform My team currently uses the, and it's been a game-changer for our online store. Its user-friendly interface makes it easy to set up and manage our e-commerce website, even without extensive technical expertise.
The platform offers a wide range of customizable templates and themes, allowing us to create a unique and visually appealing storefront. Its robust inventory management, order processing, and payment processing capabilities have streamlined our operations.
Shopify's app ecosystem provides countless integrations and extensions, enhancing our store's functionality. With Shopify, we have a reliable platform that supports our e-commerce business's growth and scalability.
What you'll like
A secure and reliable hosting service that handles web hosting, security, backups, and performance.
Powerful dashboard that lets you track and analyze your sales, orders, inventory, customers, and marketing.
A global payment system that supports over 100 payment gateways and multiple currencies.
Built-in marketing and SEO tool to drive traffic and conversions to your store.
24/7 support team to provide assistance via phone, email, or chat.
What you may not like
Businesses with high sales volumes have to pay transaction fees on top of standard subscription pricing.
SEO capabilities may not be as robust as specialized SEO platforms.
Pricing: Starts at $24.03/month.
Best for Event Tracking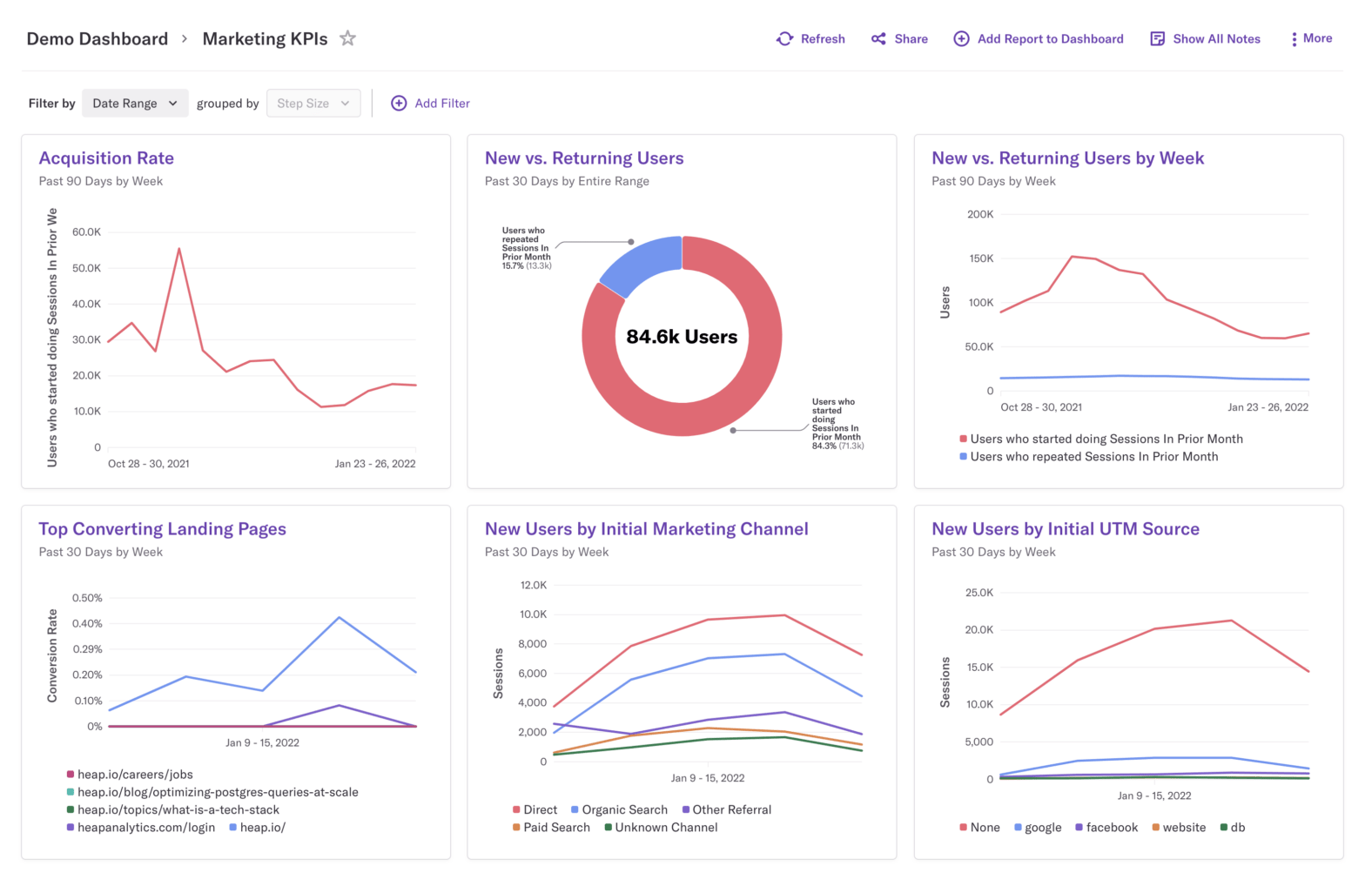 Heap Analytics was a valuable tool I used to gain a deeper understanding of user interactions on our e-commerce website. Its event-tracking capabilities allowed us to monitor specific user actions and create funnels to identify drop-off points in our sales process.
The retroactive tracking feature was particularly useful, as it meant we could gather data even before setting up specific events.
Heap Analytics provided us with a wealth of data to make informed decisions about site improvements and optimizations, ultimately contributing to increased conversions and revenue.
What you'll like
Complete understanding of customer digital journeys for improved conversion, retention, and delight.
Free trial for users to experience the benefits firsthand.
Tailor-made solutions for enterprises to unlock agility and speed.
Advanced data science capabilities uncover hidden opportunities and friction points.
Session replay for a full understanding of user actions, saving time and effort.
What you may not like
A steep learning curve for setting up custom event tracking and analysis.
Data storage limitations may affect historical data analysis.
Pricing: Starts at $0 (with limited users and reports). Paid plan starts at $3600/year.
Best for Inbound Marketing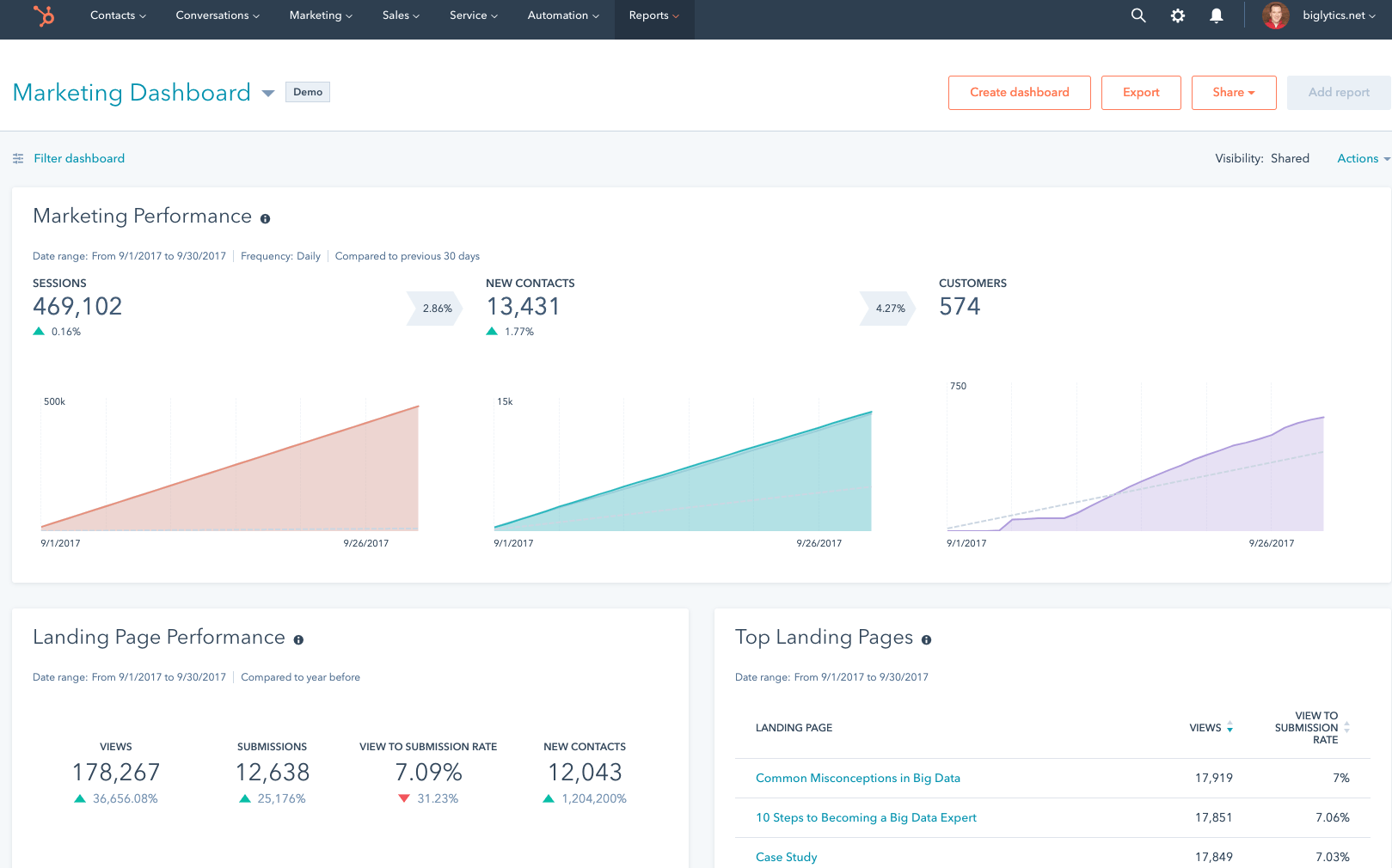 HubSpot is a top eCommerce tool I've used extensively in my professional career. It's a good option for businesses of all sizes due to its user-friendly interface and wide features. The platform offers robust CRM capabilities, making it easy to manage customer relationships alongside marketing efforts.
Its inbound marketing feature allows you to create engaging content, automate lead nurturing, and track customer interactions effortlessly. It's a comprehensive solution encompassing email marketing, social media management, SEO tools, and analytics in one platform.
Moreover, HubSpot's automation workflows simplify repetitive tasks, such as sending personalized emails based on user behavior or segmenting leads.
What you'll like
Omni-channel messaging to switch between different channels seamlessly.
Live chat to reach out to customers on your website in real time and route them to the right people on your services team.
Contact management feature to store and organize all your contacts' information, activities, interactions, and history in one place.
Meeting scheduler to add a meeting link to your emails.
Detailed reporting and analytics feature to track and measure CRM performance and ROI.
What you may not like
Pricing may not be cost-effective for smaller businesses with limited resources.
Limited customization options for the CRM interface.
Pricing: Starts at $890/month.
Best for Automated Workflows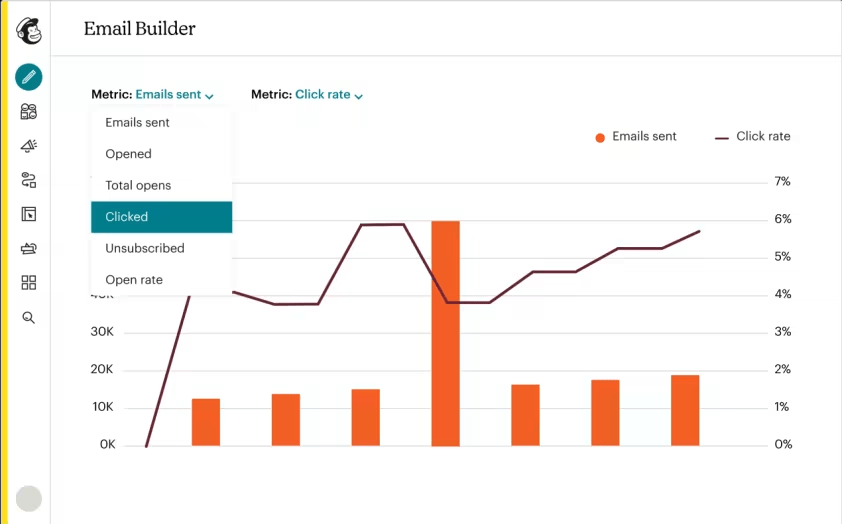 As someone who has personally used Mailchimp, I can attest to its effectiveness in turning emails into revenue.
With Mailchimp, my team was able to convert leads into customers through automated workflows that send the right message at the right time. The Customer Journey Builder empowered us to create personalized workflows with discount offers and cart abandonment reminders.
What sets Mailchimp apart is its AI and analytics capabilities, offering multiple tools to enhance content, design, and performance analysis. We could segment our audience effectively to boost customer loyalty, predict target demographics, and integrate with various tools for seamless operations.
What you'll like
Reporting metrics such as open rates, click rates, conversions, revenue, etc.
Campaign automation to set up triggers and workflows for your email sequences.
Audience segmentation based on interests, behavior, and preferences.
A library of pre-designed templates and content blocks.
What you may not like
Users may find the user interface less intuitive for complex automation workflows.
Advanced reporting and analytics are limited in lower-tier plans.
Pricing: Starts at $4.61/month.
Best for Content Management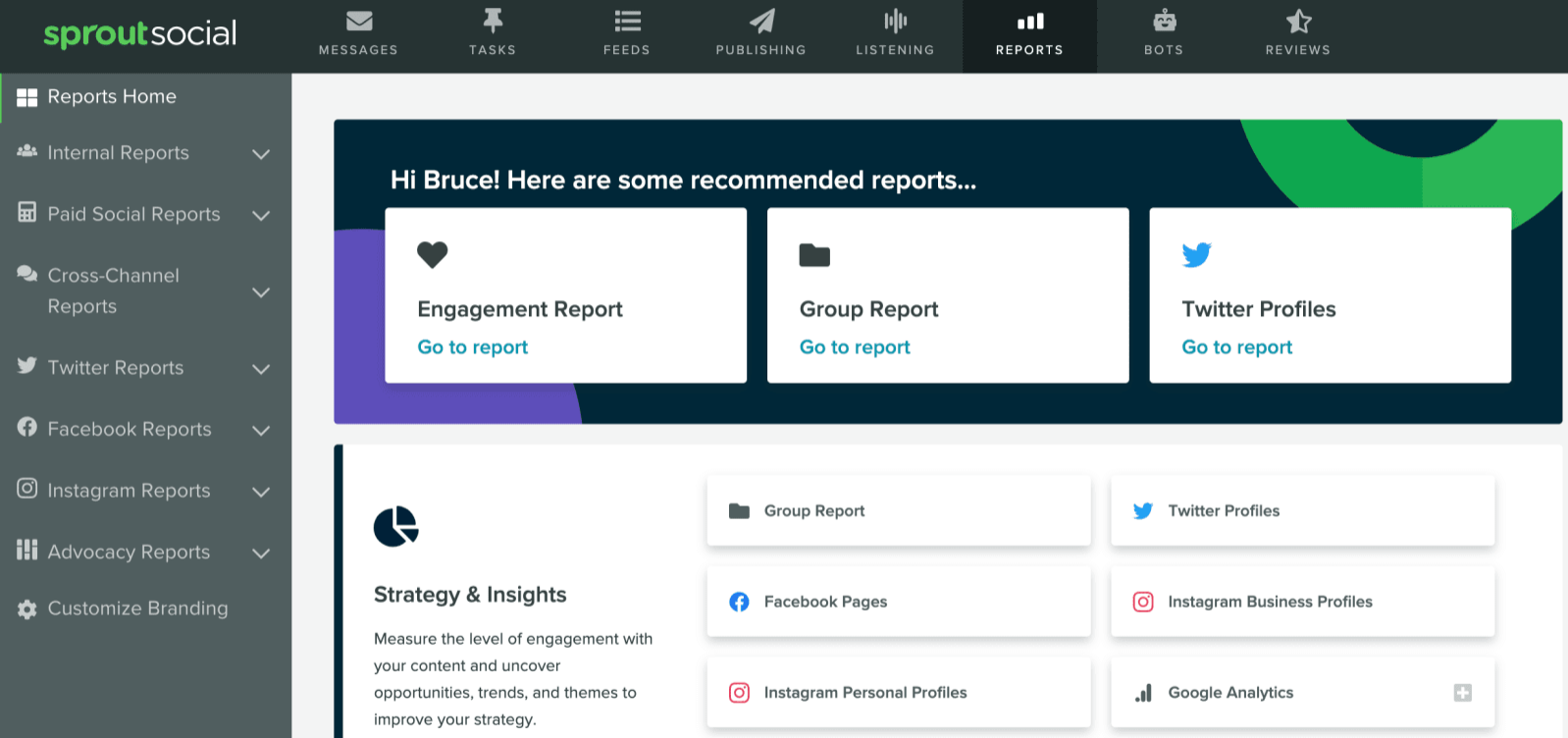 WordPress is currently the backbone of our eCommerce content management and marketing. Its flexibility and extensive library of plugins enable us to create a dynamic and engaging content hub.
We use WordPress to publish blog posts, articles, and product guides that provide value to our customers and help drive organic traffic to our e-commerce site.
The platform's SEO-friendly features and user-friendly content management capabilities make it an indispensable tool for our content marketing strategy.
What you'll like
Website optimization for search engines to rank higher on Google and other platforms.
Editor to create and edit posts and pages, add media, manage comments, etc.
Thousands of themes and plugins to customize your website's appearance and functionality.
Standards compliance feature that ensures your website works in all browsers and devices.
Website protection from hackers, malware, spam, etc.
What you may not like
Managing multiple plugins and themes can lead to performance issues.
Lack of dedicated customer support for self-hosted WordPress installations.
Pricing: Starts at $0 (without email support). Paid plan starts at $1.91/month.
Best for Contact Management and Email Marketing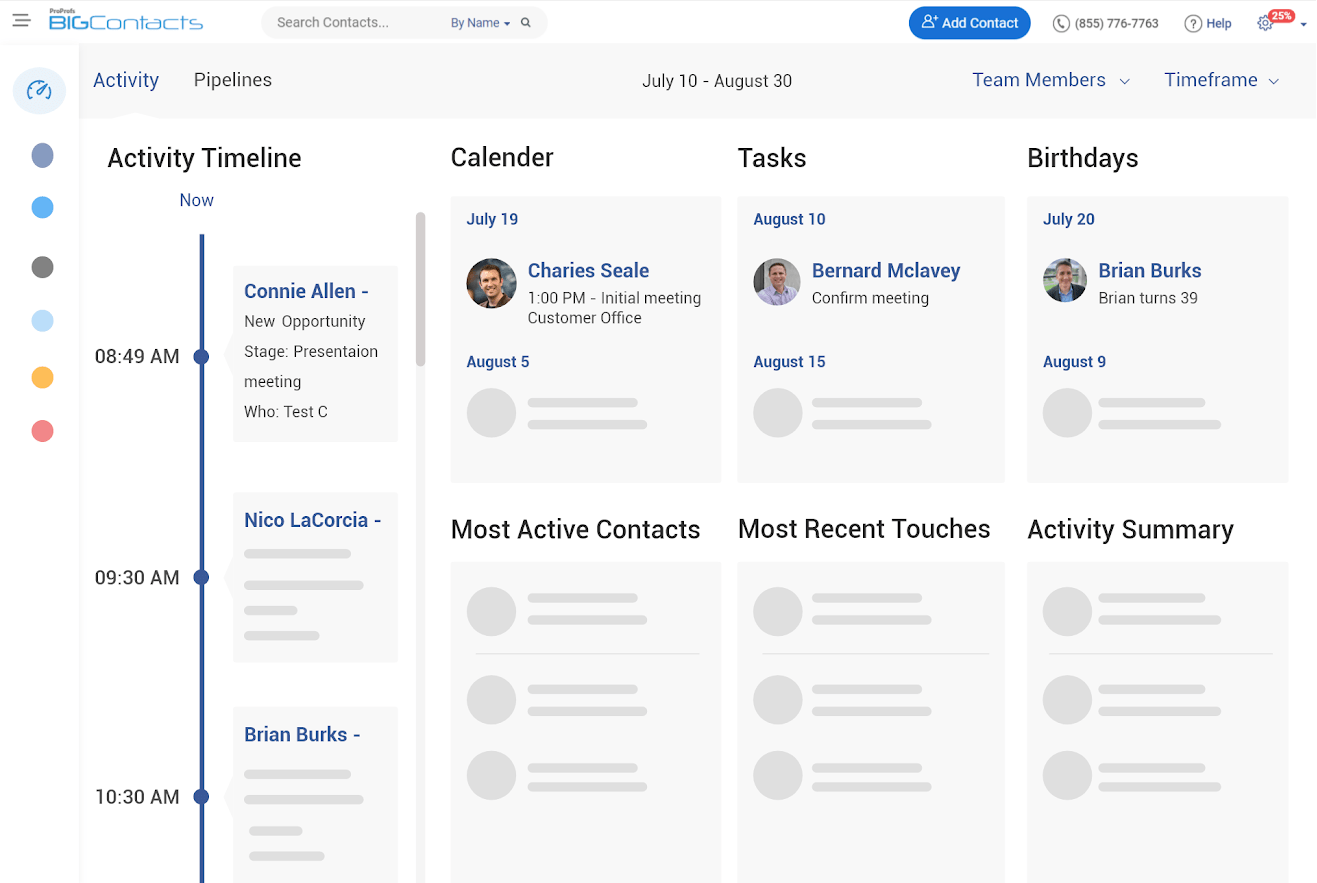 BIGContacts continues to be my preferred CRM tool for managing customer relationships with precision and ease. It's my team's central hub for storing, tracking, and nurturing our leads and customer interactions.
What truly sets this tool apart is its email marketing capabilities. BIGContacts empowers you to create and send targeted email campaigns, track their performance, and automate follow-ups based on user behavior.
Another key advantage is its contact management capabilities. Its customizable contact profiles allow you to capture essential contact information, helping you personalize your marketing campaigns effectively.
What you'll like
A web form and webhook integration to capture more leads.
Simple and easy-to-use interface that can be tailored to fit any business.
A 360° view of all activity with contacts, tasks, and calendars.
Customizable sales pipeline and automated email marketing based on sales stages.
Smart reporting and analytics system that tracks sales and team performance.
Social media tracking and drip marketing to retain more customers.
What you may not like
Limited storage in the lower-tier plans may pose limitations for large enterprises.
The free trial duration is brief to fully explore all the CRM and email marketing functionalities.
Pricing: Starts at $5/user/month. A 15-day free trial is available
Best for Exit-Intent Surveys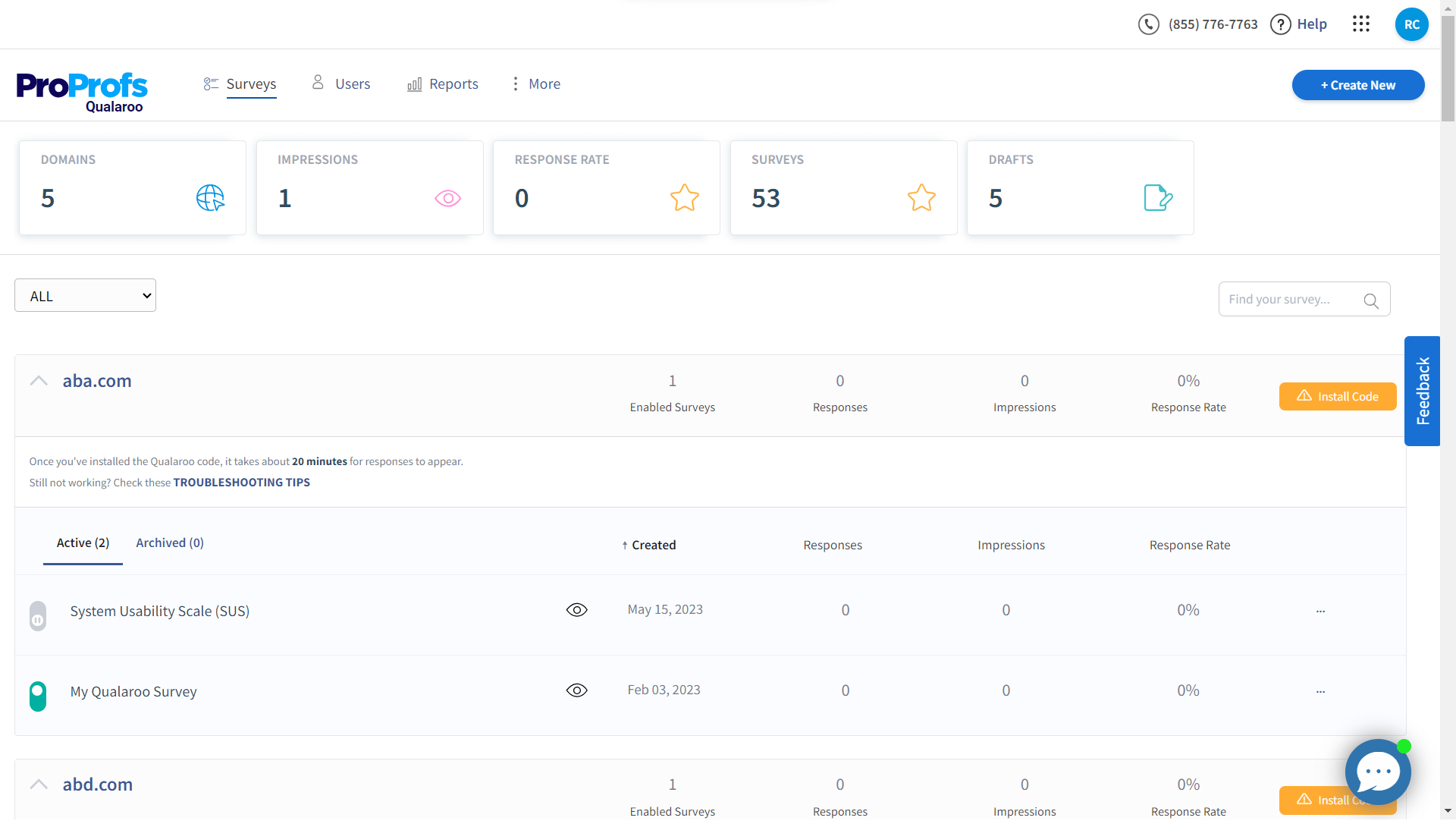 Qualaroo is an exceptional survey feedback tool that has truly empowered my e-commerce business to enhance customer experiences and boost our retention rates. One impressive feature in particular are the exit-intent surveys.
These surveys allowed my team to collect invaluable feedback from customers who are about to leave, giving us the opportunity to take immediate action to retain them.
You either create surveys from scratch, like I did, or use its high-customized survey templates. You can also remove Qualaroo's branding and design it with your own brand icon and colors.
What you'll like
Easily tailor surveys to your brand's aesthetics and preferred format using Qualaroo's 100+ customizable templates.
Advanced targeting to trigger surveys right when website visitors' are about to leave or have performed a specific action.
Skip and branching logic to create custom survey journeys for customers to help resolve their issues.
Gain immediate insights with real-time analytics, tracking survey responses, customer sentiment, and trends for swift issue resolution.
Seamlessly integrates with e-commerce platforms like Shopify and tools like Google Analytics, Salesforce, etc.
What you may not like
It doesn't have a dark mode option.
Survey templates are not industry-specific.
Pricing: Starts at $69/month. 15-day free trial available.
Find the Best eCommerce Tool Here!
Though I've provided you with a detailed list of the 13 best eCommerce tools, I know how confusing it can be to select the best for your needs. So, I am sharing the top 3 options I find fit for eCommerce businesses.
Option A: ProProfs Chat
This tool works magic when it comes to customer support. From advanced features like automated greetings, chat routing, and stored chat transcripts to feedback collection with post-chat surveys, this tool is an excellent option for businesses to boost customer engagement.
Option B: Shopify
Shopify is one of the best eCommerce marketplaces if you are looking to enhance your online store. From customizable templates to countless integrations, this platform can help you transform your business.
Option C: BIGContacts
BigContacts is one of the best marketing automation tools I have encountered in my professional journey. It lets you manage your contacts and campaigns in one place, posing as a unified platform for your marketing efforts.
This is a great option for any business looking to ramp up its marketing game.
I hope this helps you find the best eCommerce tool for your business.
Do you want a free Live Chat software?
We have the #1 Online Live Chat Software for instant customer support 24x7