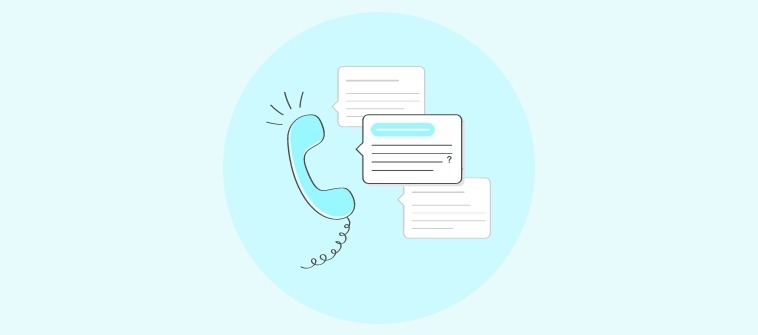 After extensive market research, you have built a great product, and customers are thrilled with the experience. After a while, you notice that some customers drop off after a few purchases. Even worse, they have started doing business with a competitor. So, how do you keep them hooked?
Customer retention software such as an advanced live chat software can help you with this. By positively impacting your support experiences through automation, such a tool can empower you to retain more customers. It helps build trust and loyalty among the people using your service. This reduces the customer churn that could possibly be turning your business into a loss-making one.
But how do you decide on the right customer retention tool?
Well, stick with us through the blog. We will discuss the 10 best customer retention software tools. So, you can pick the right tool for the job!
What is Customer Retention?
Customer retention refers to the set of activities that help keep and retain a customer. Pretty simple, right? You can encourage customers to keep making purchases through customer retention strategies, thus building the customer lifetime value or CLV.
Furthermore, the probability of selling to a new customer is 6-7% and in the case of existing customers it goes up to 60-70%. Your business can grow its profitability through repeat purchases.
Customer retention is important as it creates brand goodwill. Brand goodwill is when great experiences help turn customers into brand evangelists. Also, your customer retention rate speaks volumes about customer perception of your brand, whether it is positive or not.
Dedicated client retention software can help build longer, fruitful customer relationships. Also, it helps reduce ad spending and the workload of your agents.
5 Essential Customer Retention Benefits
Do you know the main reasons you should focus on customer retention strategies? The benefits of customer retention are increased ROI, lower acquisition costs, and a good brand image.
Let's explore five benefits of customer retention closely:
1. Reduce customer acquisition costs
Acquiring customers can be time-consuming and costly. When most businesses nurture leads that defect to a competitor, it can be incredibly disheartening. So, how to make customers come back? When there is a high degree of customer churn, customer acquisition seems like the only option.
But with customer retention, you don't have to invest heavily in customer acquisition. Moreover, studies suggest that it is 5 to 25 times cheaper to retain customers than acquire them. Having such customers will drive sales growth through repeat purchases.
2. Boost business ROI
The most significant reason customer retention boosts ROI is its cost-effectiveness. Loyal customers become more confident in your brand with each interaction. You can direct them towards up-sells and cross-sells as they stay on for longer.
As customers increase their subscriptions to the next level, the cost to retain them becomes less. They also become willing to pay more to receive superior customer service. Such customers become the key drivers of profit for your business.
3. Gaining insight into customers
Successful businesses can distinguish themselves because they know their customers. They know a lot more about a customer than just their demographics; they also know their challenges, emotions, readiness to buy, etc.
If businesses focus on retaining customers, they need to know everything about them. Customer retention requires a deep understanding of the customer. These insights can also improve the approach of any business to product development and customer service.
4. Increase the value of each sale
Once you have sold your product, the sale isn't over. You can push for up-selling or cross-selling additional products and services. These efforts solidify your customer retention efforts and boost the value of each sale.
So, if you have a customer who purchased a subscription to your product, why not follow up with a request from them to upgrade it. Such customer retention strategies help prevent churn and maximize sales generated from each customer.
5. Gain loyal customers and referrals
One of the biggest benefits of customer retention is getting more people interested in your business. When a customer continues to return to your business, they develop a sense of loyalty toward its offerings. As a result, they refer you to their friends and family.
They offer positive online reviews for your business which works as word-of-mouth marketing for your business. New customers become interested in your business, seeing how well you have treated others. So, you spend less on customer acquisition now.
10 Best Customer Retention Software in 2022
After testing out hundreds of customer retention tools, we have narrowed the list down to the 10 best ones. As you read on, you will learn all about the features, pricing, use cases, and other details about these tools.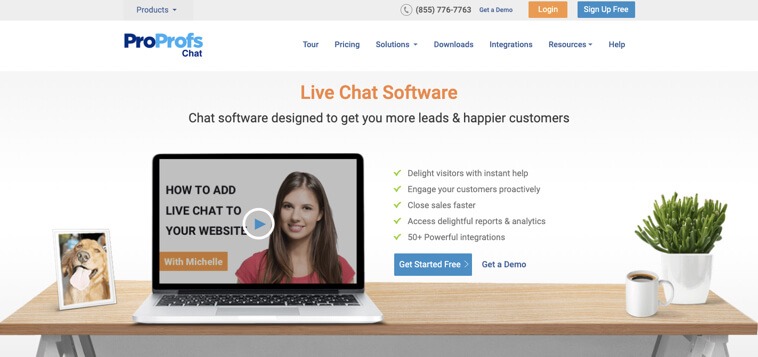 ProProfs Chat helps you to engage with customers in real-time, It is a great customer tool. Its live chat features help capture the customer's attention with quick messages. You can initiate conversations with customers with the help of personalized messages.
When managing multiple chats, your team can use canned responses for quick replies. Moreover, a chat can be transferred to other team members. You also get access to interactive chatbots that help you manage queries when operators are unavailable.
You get 100+ customization options and 50+ integrations to build your live chat. Also, add announcements to tell your customers about new products and features. With quick linking to a knowledge base, you can offer help articles to customers.
Key Features of ProProfs Chat:
Answer chats faster with canned responses
Send out announcements to market your business
Track performance of chat operators with reports
Build a chatbot for your customer retention needs
The Cost
ProProfs Chat price plan include:
Trial Plan: $0/15 days
Essentials Plan: $20/mon
Premium Plan: $60/mon
Business Plan: Request a custom quote
What we liked: ProProfs Chat allows you to generate leads and store them in your CRM like Salesforce and Microsoft Dynamics.
What could have been better: The chatbot is pre-scripted in nature and is not powered by AI and ML.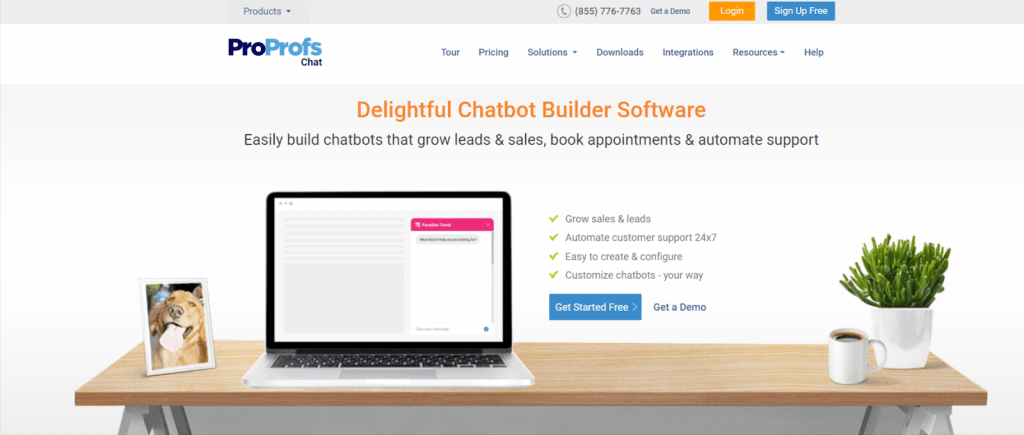 ProProfs Chatbot is a chatbot tool that allows you to create an interactive chatbot for your website to resolve customer issues 24×7. You can also offer multiple choice questions or open response questions to push your lead generations. What's more, you can connect ProProfs Chatbot with our help desk ticketing software to automate ticket creation and routing.
You can also integrate this chatbot platform with ProProfs Knowledge Base, so that it can bring up the relevant articles to your customers. This tool is perfect for boosting customer retention efforts. You can drag-and-drop to add interactions to create conversation flow which you can preview as well. All of this requires no coding skills!
Key Features of ProProfs Chatbot:
Qualify leads with multiple-choice questions and open response queries
Route chats to agents and create tickets when needed
Seamlessly integrate with ProProfs Knowledge Base to offer relevant help articles
Deliver authentic human-like interactions to improve on-site time
The Cost
ProProfs Chatbot pricing includes:
Trial Plan: $0/15 days
Essentials Plan: $20/mon
Premium Plan: $60/mon
Business Plan: Request a custom quote
What we liked: It is easy to implement powerful chatbots on your website as it requires no coding. You simply have to copy the code snippet to your website's backend.
What could have been better: The chatbots should have more templates to help customize it.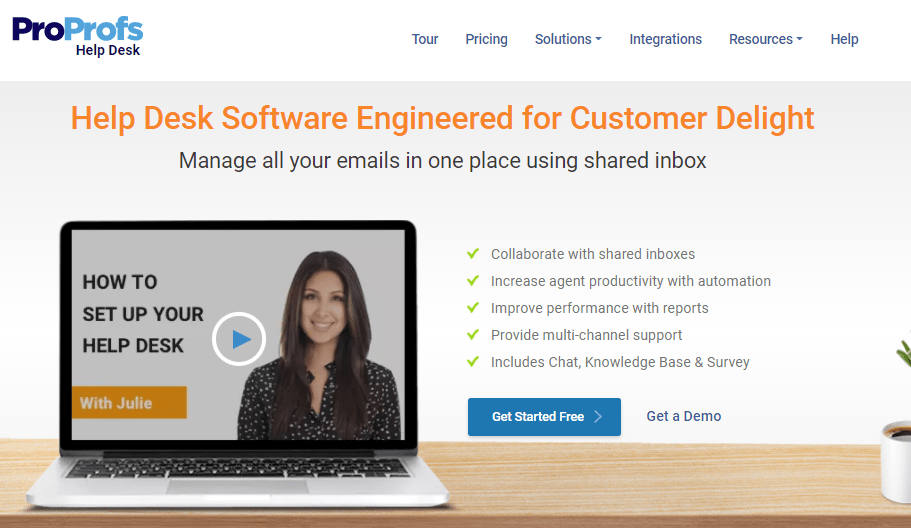 ProProfs Desk is an amazing help desk software that comes with a 15-day premium trial to help your team explore the different features it has to offer. If a customer shares an email, contacts you via live chat, or fills a form, ProProfs Desk makes it easier to create and route tickets to the concerned agent. You can also create a knowledge base if you wish to offer self-service.
It also offers shared inboxes to enhance in-team collaboration on challenging customer issues. With this help desk software, you don't have to switch between multiple channels and manually track customer issues.
Using this retention tool allows you to effectively deal with customer issues and offer a great customer experience. This tool is a must-have to boost your retention rate.
Key Features of ProProfs Desk:
Convert leads with the help of chatbots and live chat
Assess the customer experience using NPS and CSAT surveys
Create a knowledge base to reduce the volume of support tickets
Deliver canned responses so that your agents never miss out on a chat
The Cost
ProProfs Desk plans include:
Essentials- $10/user/ month
Premium- $15/user/ month
Enterprise- Available on Request
What we liked: ProProfs Desk is easy-to-use and extremely affordable.
What could have been better: The tool should offer social media integration options.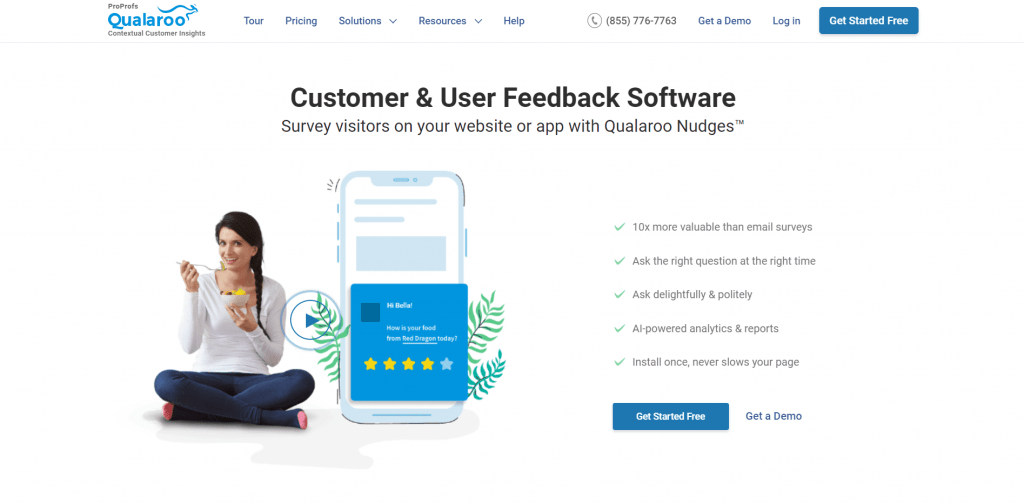 If you are looking for a customer feedback tool that is an all-rounder, look no further than Qualaroo. You can survey users in context when they are viewing your product or service. These are called Qualaroo Nudges. With numerous targeting options based on specific actions, browser cookies, and user behavior, you can target these Nudges to the right customer.
You can create different kinds of customer feedback forms such as product feedback forms, and website and app feedback forms. Also, to pinpoint the actions that stop you from converting potential buyers, you can include exit surveys.
Using your customer feedback data, you can customize your content to improve customer satisfaction. Its detailed reports are a constant guide for marketers who have to constantly update their customer retention strategies. It helps pinpoint the gaps in your customer service, product, and website experience.
Key Features of Qualaroo:
Create different kinds of surveys such as NPS, CSAT, CES, etc.
Integrate with tools like Slack, Intercom, Salesforce, and Google Analytics
Advanced targeting options to target visitors based on behavior patterns
Assess customer feedback with sentiment analysis and word-cloud engines
The Cost
Qualaroo pricing plans include:
Essentials: $80/ month
Premium: $160/ month
Enterprise: Contact our team
What we liked: It is one of the best tools out there for NPS surveys and benchmarking.
What could have been better: There should be a bulk action to manage multiple surveys at once.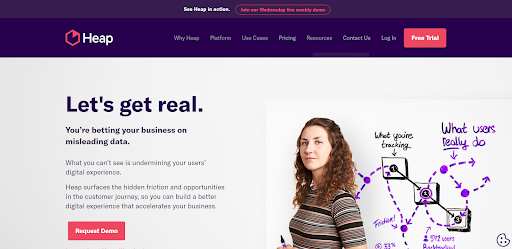 If you need a web analytics that traces the interactions driving conversions, try Heap Analytics. It does this by utilizing data science to interpret your digital datasets to display events and behavior that impact the business the most.
With Heap Analytics, you will no longer have to hire engineers and analysts. It has easy data-visualization tools that make generating insights simpler. These tools are called Journey Maps, which give insights into customer behavior, much like Google Analytics. It gives you all the tools needed for retention automation.
Key Features of Heap Analytics:
Track rates of conversion, retention, return, and other metrics
Obtain live data for users on your site with real-time reporting
Track user actions with the help of Standard Event Tracking
Break down users on various parameters with Audience Segmentation
The Cost
Heap Analytics pricing includes:
Free
Growth: Starts from $3600 annually
Premier: Contact Heap
Pro: Contact Heap
What we liked: We were able to view the complete customer journey from their entry points to what led to their conversion.
What could have been better: It takes time to learn, and if you want to contact a support rep for help, you can only connect with them through email, which takes time.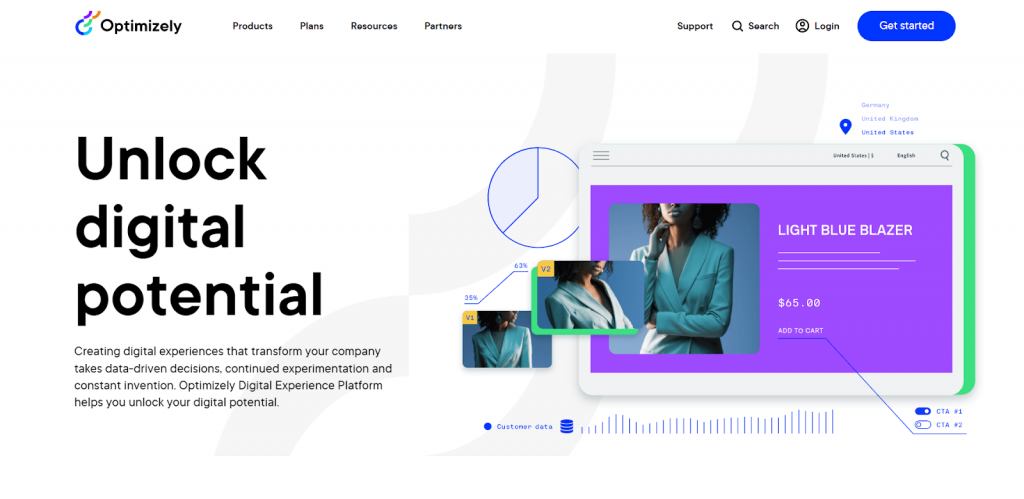 Optimizely is a great web A/B testing tool that allows you to conduct website experiments on any channel. If your business needs to look into customer insights, you should try it. Using these insights, you can drive conversions.
Using Optimizely, you can test what positively impacts your retention rates. It helps you reduce customer acquisition costs without having to spend on ads and the workload of developers.
It is quick and easy to implement; you just have to copy a code snippet onto your website's pages where you would like to track activity and test out changes.
Key Features of Optimizely:
Connect with users based on their website behavior through messaging
Utilize A/B Testing for content and campaigns
Create website experiments with a visual editor
Create audience personas with the help of simple keywords
The Cost
Optimizely pricing includes:
Enterprise: Contact Optimizely
What we liked: It allows you to run A/B tests without the help of a developer.
What could have been better: This retention tool has a confusing interface making it difficult to learn without help from someone.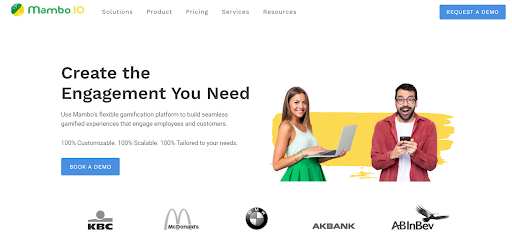 Mambo.io is a highly capable gamification software perfect for both employees and customers. Since our article is about customer retention, we will talk about its effect on it. Using Mambo.io, you can create loyalty programs and deliver gamified experiences. Gamified experiences help engage customers, driving them to make further purchases.
You can easily train your customers with the help of metrics that determine the completion of goals. Also, you get to define success criteria and key metrics to design on your own gamification solution to help retain customers.
Key Features of Mambo.io:
Define, track, and reward customer actions that impact your business
Assess the performance of your loyalty programs through detailed reports
View a breakdown of user behavior & activities by day, cumulatively, or user
Guide users on their progress through an RAG (Red Amber Green) system
The Cost
On-Demand: Contact Mambo.io
On-Premise: Contact Mambo.io
Managed Services: Contact Mambo.io
What we liked: It has great analytics tools to support decision making and track performance of loyalty programs.
What could have been better: Integrations with a CRM platform is not easy.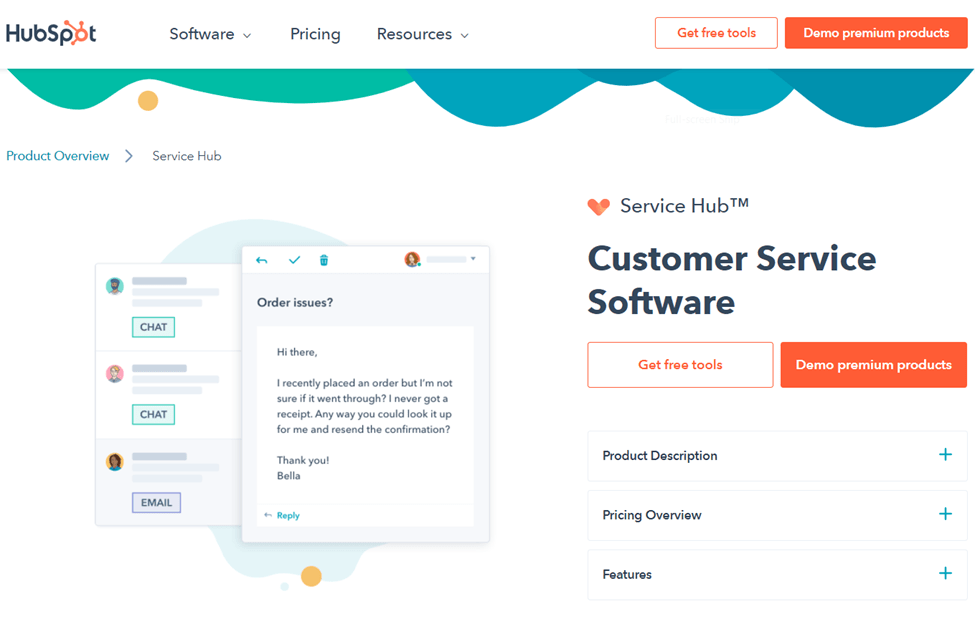 HubSpot CRM is a CRM system that does more than just managing contacts. It also helps you in managing customer retention. The tool offers a conversation inbox that you can connect to various tools like ticketing, live chat, and shared team email. It is crucial for retaining customers as it helps you efficiently resolve customer tickets.
You can manage, assign, and route tickets from any channel. What's more, you have a unified view of your customers; as we mentioned, it does more than contact management.
You can also get detailed reports with metrics on ticket volume, category, response time, and customer waiting time. You can do all of this for the price of nothing! Yes, there is a free plan.
Key Features of HubSpot CRM:
View pre-built and customized dashboards and reports
Access important business metrics with analytics tools
Route tickets on the basis of pre-set conditions with the help of workflows
Respond to common queries with standard responses
The Cost
HubSpot's pricing plan includes:
Free
Starter- $45/month
Professional- $360/month
Enterprise- $1200/month
What we liked: Creating a knowledge base was easy and an intuitive experience.
What could have been better: It can be difficult to delete and create categories. You cannot make a category without an article and delete a category with articles in it.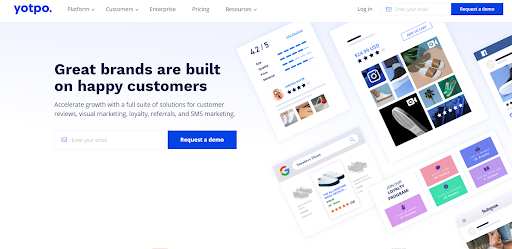 Loyalty programs are a great way to retain customers and are the focal point of any customer retention strategy. Yotpo does just that; it is a loyalty, referrals, and rewards tool. You can utilize pre-built campaigns to deliver personalized rewards to customers.
All they have to do is complete an action that positively impacts your business. Also, the reward offerings are customizable to help incentivize repeat purchases. You can include discounts, coupons, etc.
What's more, you can deploy a tier-based program dependent on the point acquired, referrals given, and other factors. You can also keep track of all of your referral programs.
Key Features of Yotpo:
Monitor your marketing performance with in-depth reports
Assess consumer sentiment with the help of Sentiment Analysis
Consolidate data points related to online reputation on a single dashboard
Create tier-based programs to reward positive consumer actions
The Cost
Yotpo pricing plans include:
Growth: $19/ month
Prime: $59/ month
Premium: Contact Yotpo
Enterprise: Contact Yotpo
What we liked: It is easy to integrate, and the dashboard is simple to use. It helps leverage customer reviews to the max.
What could have been better: It would help to have a good internet connection when using this tool as it churns a lot of data, making it sluggish at times.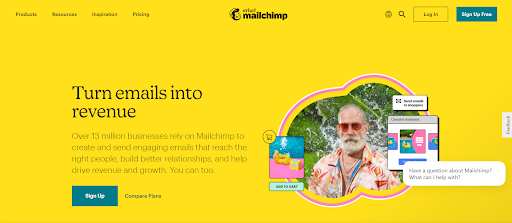 Mailchimp is the first name that comes to mind if you are looking to engage in email marketing. They offer various email tools to optimize the performance of your customer retention strategies. Using the email builder, you can create attractive email designs for clients. To get the most out of your email copy, you can utilize Mailchimp's Content Optimizer.
It offers personalized suggestions on how to write more compelling copy and design your emails better. You can automate your well-designed emails to engage and retain customers.
You can time your emails according to certain user actions like registering, purchase, or referrals. What's more, you get access to detailed reports on the performance of your email campaigns.
Features of Mailchimp:
Preview your email design and content through emulated inboxes
Build and personalize your email campaigns with the Content Optimizer
Deliver high volumes of unique, personalized emails to different subscribers
Run A/B tests on the subject lines and various areas of the email copy
The Cost
Mailchimp pricing plans include:
Essentials: $9.99/ month
Standard: $17.99/ month
Premium: $299/ month
What we liked: You can create custom email templates and deliver them repeatedly. It helps save time on designing the email each time.
What could have been better: You can only send marketing material and promotional emails. But you cannot send a transactional email with the bill included.
Final Verdict: Which Customer Retention Platform Should You Try?
According to a Microsoft report, 56% of customers leave a service because of poor customer experience, making it one of the leading causes of constant customer churn.
To solve this, a great customer retention strategy is required. It significantly boosts customer loyalty, advocacy, and acquisition. But it becomes challenging to retain growing numbers of customers after a while, making automation a necessity.
All of the ten tools will help you understand what you should choose for retaining customers. But you should know your budget and the kind of customer retention automation your business needs.
If you wish to view the entire customer journey with in-depth analytics, then try Heap Analytics. Otherwise, if you constantly need to run A/B tests to refine your marketing efforts, Optimizely is something worth having in your tech stack.
If you need a complete customer service solution to automate customer service, you should try ProProfs Desk. It is also quite affordable.
If your business needs a live chat solution, you should try ProProfs Live Chat. It is a comprehensive live chat solution perfect for teams of all sizes. It offers many automation features, such as chatbots and reporting.
Do you want a free Live Chat software?
We have the #1 Online Live Chat Software for instant customer support 24x7