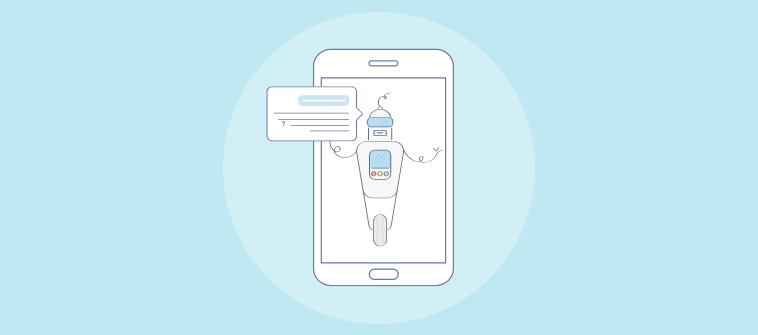 The world is becoming more connected, and with it, there is a higher demand for lower response times. No matter how well developed your website might be, you will lose crucial customers if you don't work fast.
The digital world is constantly changing, but you can cover more ground with the best chatbots tools.
If you are a small business owner, you can use a chatbot for your small business to offer instant support, seamless engagement, and much more. In fact, you can not only improve your business's communication strategy and instantly engage customers, you can also convert more customers.
Wondering how small businesses can utilize chatbots?
A chatbot for your small business can bring agility to a small support team. But, with so many options for chatbot platforms available, it can be a daunting task to pick the right one.
To help you get on track, we will discuss a chatbot's use cases and benefits for small businesses to better inform you about this vital software. Our last section will include a list of the top ten chatbot platforms to help you zero in on the perfect software for your business.
What Is a Chatbot?
A chatbot is a computer program that allows you to communicate round-the-clock with customers in real-time. But you don't need manual intervention for this to work; by simply designing a conversation flow, you can use your chatbot to offer better customer service.
Right off the bat, you are probably wondering if chatbots are effective in helping small businesses.
A chatbot for businesses with small support teams helps drive agility across those support teams and free up time for them to solve important issues. These tools are compatible with major messaging services like Facebook Messenger, Slack, WhatsApp, etc.
A chatbot for your small business can either be governed by defined rules or utilize conversational AI to offer quick replies to questions.
In short, chatbots are capable of handling complex tasks without constant supervision. Also, chatbots are capable of offering unique conversational experiences to your customers. Hence, your agents can offload some of their work and focus on improving client relationships.
What Are the Benefits of Having Chatbots for Your Small Business?
Now that you are familiar with what business chatbots are, let's look at the various chatbot benefits. The benefits listed are relevant to small businesses. We are sure you will find these helpful. Let's find out what sets chatbots apart from other website engagement tools.
1. 24×7 Availability
For a growing team, offering 24×7 support can be a big leap. But, when your company goes international, having a dedicated team for each time zone can become a financial nightmare. With chatbots, you can remain open even during your offline hours.
Wondering how?
Chatbots require little to no agent supervision. Once you build a conversational flow or create relevant intents, your chatbot is ready to offer real-time support.
Even if your chatbot cannot solve a certain query, it can create a case number and ticket report. Your agents can follow up on it during their standard operating hours.
2. Screen Website Visitors
On a daily basis, your agents are dealing with various queries. Often customers may come up with queries that your agents fail to address effectively, or these queries might have a relevant knowledge base article. With a business chatbot, you can ask lead qualification questions that help you zero in on the relevant website visitors' needs.
Once your chatbot qualifies a visitor, it can route the chat to an operator. Your support agent can seal the deal by offering a great customer experience to this lead. Hence, you can focus all your efforts on relevant customers.
3. Save on Support Costs
As a small business owner, automation of manual tasks is always the quickest route to profit. Also, it can be challenging to keep a large support team with limited finances. With a chatbot, you can have both a small team and automated support.
Chatbots are much more economical than hiring and training agents. Hiring skilled agents can be quite expensive and time-consuming. In fact, chatbots can reduce support costs by 30%! Without a heavy investment, you can engage your customers across the globe.
4. Reduce Human Interactions
Suppose customers ask your support team questions that can be answered with a quick search through your knowledge base; this adds unnecessary stress on your agents. With interactive chatbots, you can ensure customer satisfaction with minimum human interaction.
Here's how…
A certain percentage of consumers dread speaking to a live chat operator. Chatbots can ensure that human agents are utilized only when absolutely necessary. Also, the most relevant queries get directed to your human operators.
How Are Chatbots Used?
Here you will read about the many use cases of chatbots. For example, you can reduce unwanted events like cart abandonment with targeted messages. Let's read on to learn about a chatbot's various use cases.
1. Capture Customer Data
Customers immediately notice a well-designed chat widget in the corner when they visit your website. They must enter their details in the pre-chat form to initiate a conversation.
Of course, when your website visitors fill out the form, the details have to be stored somewhere. With integration to popular CRM, you can store these leads. So, when your chatbot captures lead information, your agents can retrieve them from the CRM.
Your chatbots will work on capturing leads during offline times. Your agents can follow up on them during their operational hours.
2. Streamline Sales Processes
If you have a big catalog of products, then having a chatbot for your small business can simplify sales for your agents. Suppose a customer is on your product page and needs a guide. Your chatbot can ask questions to gauge their interests.
Once your chatbot zeroes in on what they are searching for, it can offer recommendations. In case your chatbot cannot offer a relevant product immediately, it can route the chat to a human operator.
Chatbots can take up another key function which is to offer relevant discounts. Let's consider that a customer visits your website and is pretty close to making a purchase. Just when they are having second thoughts, your chatbot can send a well-timed discount coupon as a dealbreaker.
With a chatbot, you can trigger a message based on time spent by a customer on a specific page. For example:
If Bob is checking out his products but waits for 30 seconds or more, then you can set a message that appears in this window. So, after 30 seconds, the customer will receive a discount code. Why does this work? Well, coupons encourage customers to make a purchase.
3. Answer Questions
If customers ask simple questions like "when will my order ship?" There are three ways a chatbot can answer it. The first is by referring to chat logs for a relevant answer to a similar question.
The second approach is by using machine learning models. Here's an example:
If John asks, "Where is my order?" or "How long will it take for my order to arrive?" These two queries mean the same thing. A chatbot can use machine learning models to match the queries to a specific intent.
Lastly, your chatbot can search through the knowledge base and offer the relevant article to solve the customer's query.
4. Collect Customer Feedback
One of the first bots was ELIZA, a bot developed at MIT. We have come a long way from that time. Now, chatbots can answer questions and collect feedback on your chatbot's support. With a post-chat survey, your customers can offer ratings on their experience.
You can use various surveys, such as NPS, CES, CSAT, etc., to help you understand your customer experience. Using this information, you can make changes to your chatbot's conversation flow and improve your customer service.
10 Best Chatbot Platforms for Small Businesses
Now you know the benefits and uses of chatbots, let's list down the platforms that help you make the best chatbots quickly and efficiently.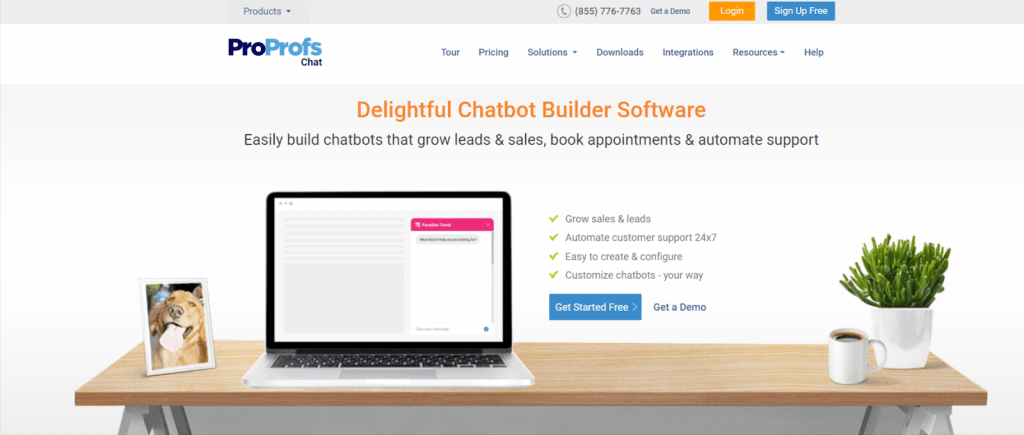 ProProfs Chatbot is our top pick in this list as it helps you create AI chatbots that can capture leads and offer instant support. With easy-to-build chatbots, you can improve website engagement and reduce agent workload. Also, 14 days free trails allows you to pick up basic features like canned responses and intelligent routing.
You can create conversational flows easily with a simple drag-and-drop editor. Your bots can be customized to match your brand's themes. With ProProfs Chatbot, you can ask multiple-choice and open-response questions!
You can use ProProfs Chatbot to
Capture leads with pre-chat forms
Get customer feedback with post-chat surveys
Route chats to operators with intelligent chat routing
Integrate with popular CRMs to store leads
Create engaging conversation flows with a visual editor
Pricing
Get your team on board and start chatting today with ProProfs Chat's affordable pricing plans: forever free for a single operator and $19.99 for teams. Explore our live chat software pricing now!
Pros: It has an in-depth reporting and analytics feature.
Cons: It needs more chatbot templates for quicker bot building.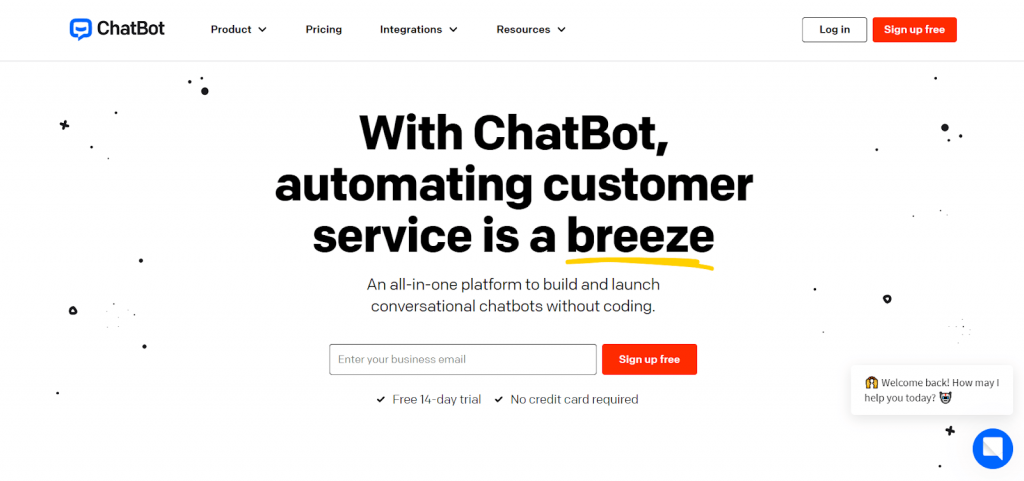 ChatBot is a complete chatbot platform for creating and deploying chatbots for offering 24×7 support across various channels. With a drag-and-drop editor, you can create bots with conversation blocks for engaging chatbot experiences. It becomes easier to track your chatbots' performance with detailed reports that chart how customers engage with them.
You get industry-specific chatbot templates suited for different companies using chatbots. The tool comes with ChatBot Academy, which offers lessons on building the right bot for your business. You can integrate your tool with a CRM to easily connect with customers. .
You can use ChatBot to
Measure your chatbot's performance with reports and analytics
Create tickets from the chat window
Offer multi-lingual support to your global customers
Filter your conversations with smart filters to find the relevant ones
Customize your chat widget to match your brand's theme and colors
Pricing
Starts from $42/month
Pros: You get numerous customization options for your chat widget.
Cons: It is an entry-level chatbot platform that comes at a steep price.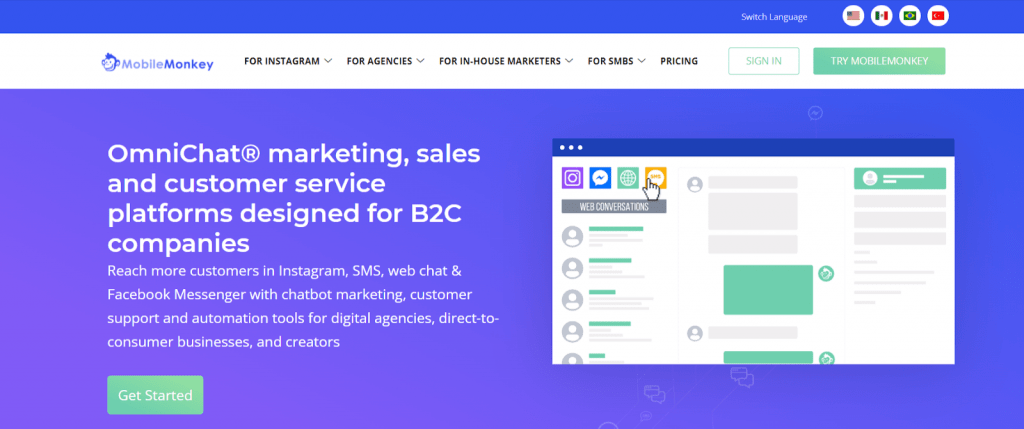 MobileMonkey is one of the best chatbot platforms allowing you to offer 24×7 instant response to customer queries. It allows you to capture leads effectively with features like drip campaigns, list building, etc. It is one of the most popular chatbot builders on the market.
It doesn't use a drag-and-drop editor; instead, the sequence of the chat appears in the form of a line. It can be easy to change the order of the elements, but when you add conditionals, it can get tricky. With Mobile Monkey, you get 20+ chatbot templates for quick bot building.
You can use MobileMonkey to
Choose from images and GIFs to engage customers while chatting
Send SMS and Facebook Messenger updates to website visitors
Integrate with Slack to collaborate with your team members
Choose the pages you want your chatbot to be displayed on
Offer omnichannel support to your customers on social media
Pricing
Contact the company to get a quote
Pros: MobileMonkey has a responsive support team.
Cons: It doesn't have a drag-and-drop editor.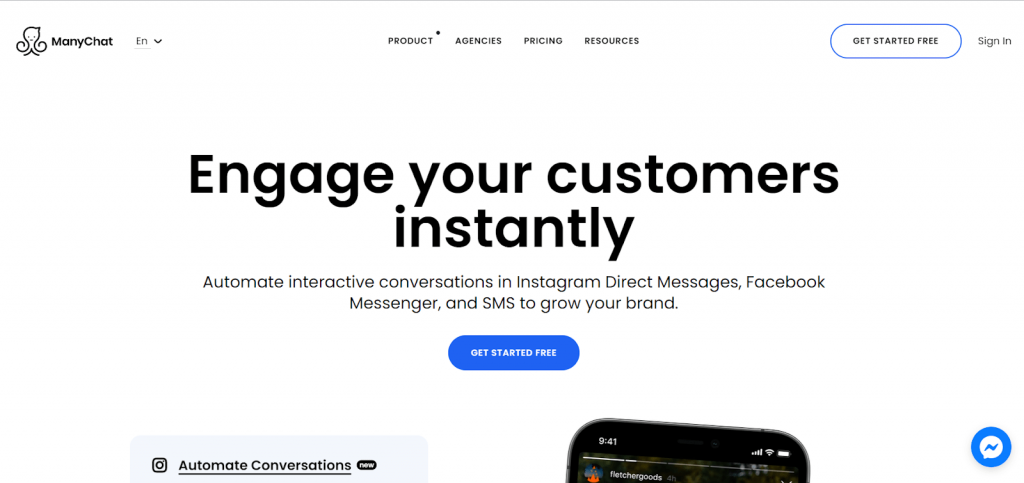 ManyChat is a powerful chatbot solution that enables you to automate your business conversations and stay close to customers on any channel. You can create conversational experiences that convert visitors into loyal customers.
With Chatbot, you can capture leads easily and generate business revenue. It has over 25 templates and works on Facebook Messenger, Instagram, etc. You can deliver promotional discounts and offers through SMS and email.
You can use ManyChat to
Deliver coupons, newsletters, and promotions in the chat.
Connect with customers on Instagram, Facebook, and WhatsApp
Create chatbots with a drag-and-drop editor
Get detailed reports on your chatbots with analytics features
Gain access to 25+ chatbot templates
Pricing
Starts at $15/month
Pros: Automating DMs for Instagram can prove highly useful.
Cons: Integration with Facebook Appointments would help immensely.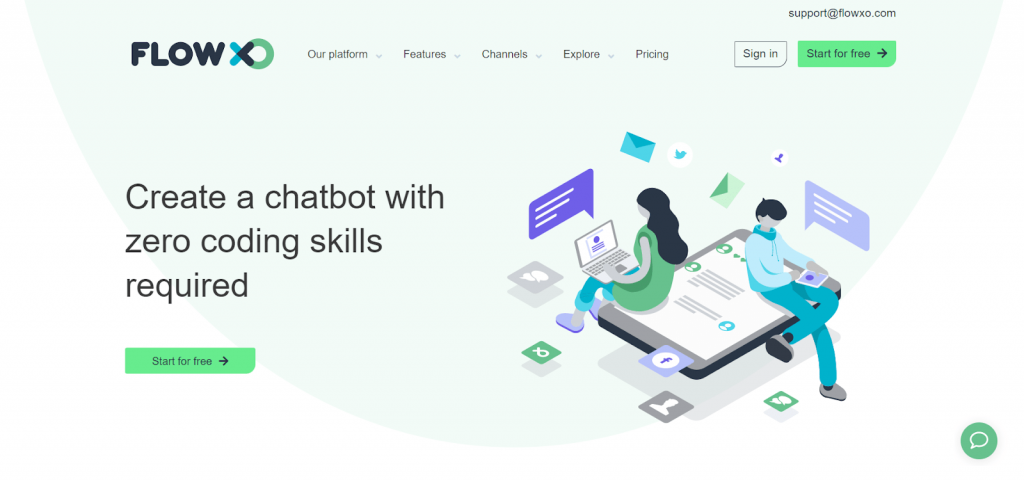 Flow XO is one of the best messenger chatbot platforms that allows you to create bots that can communicate with customers across various channels. With this tool, you can welcome visitors and leave a lasting impression on them.
You can also answer customer queries instantly and offer quick support. The chatbots you build on this platform can accept payments, making transactions with customers much simpler. Your chatbots can route the conversation to a human whenever necessary.
You can use Flow XO to
Entertain your customers with jokes, news, and other tidbits of information
Save chat data on customers and begin conversations where they left off
Offer multiple-choice answers to customers
Add conditional logic to your conversation flows
Qualify leads and turn them into customers
Pricing
Starts at $19/month
Pros: Receive 100+ integrations to tools like Slack, Knack, Google Sheets, etc.
Cons: It runs slower than its competitors.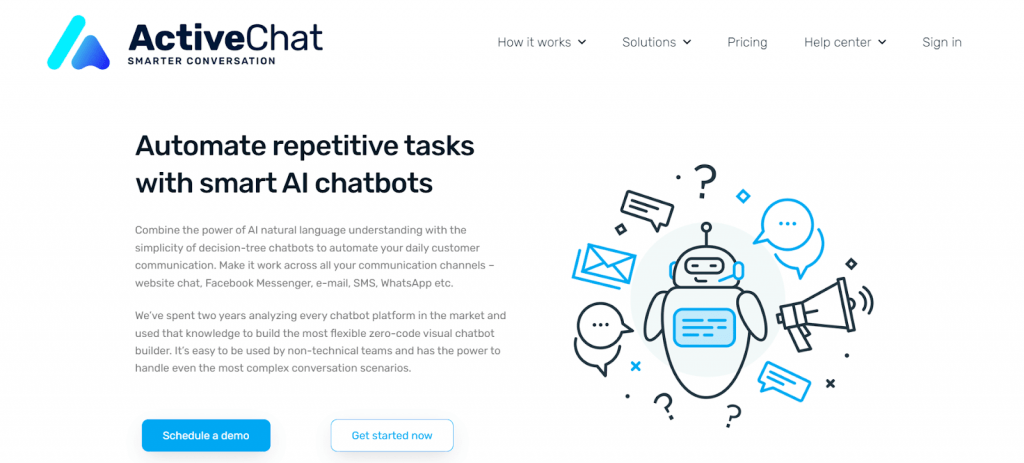 ActiveChat enables you to create virtual assistants that can connect with customers and solve their queries. You can make conversational bots quickly and easily using a smart visual chatbot-builder.
This chatbot can help you improve customer satisfaction and deliver personalized experiences.. With ActiveChat, you get chatbots that can gauge customer intent and track their sentiments during a conversation.
You can use ActiveChat to
Build hybrid bots that can quickly assess when to route a chat to a human
Engage customers on any platform like website chat, Facebook Messenger, email, etc.
Detect customer intent and offer precise answers to customer queries
Predict what your customers will say in the chat widget
Track sentiment and deliver NPS surveys as well as collect ratings
Pricing
Request the company for a quote
Pros: Offers Woocommerce and Shopify integration.
Cons: Only compatible with Google Chrome.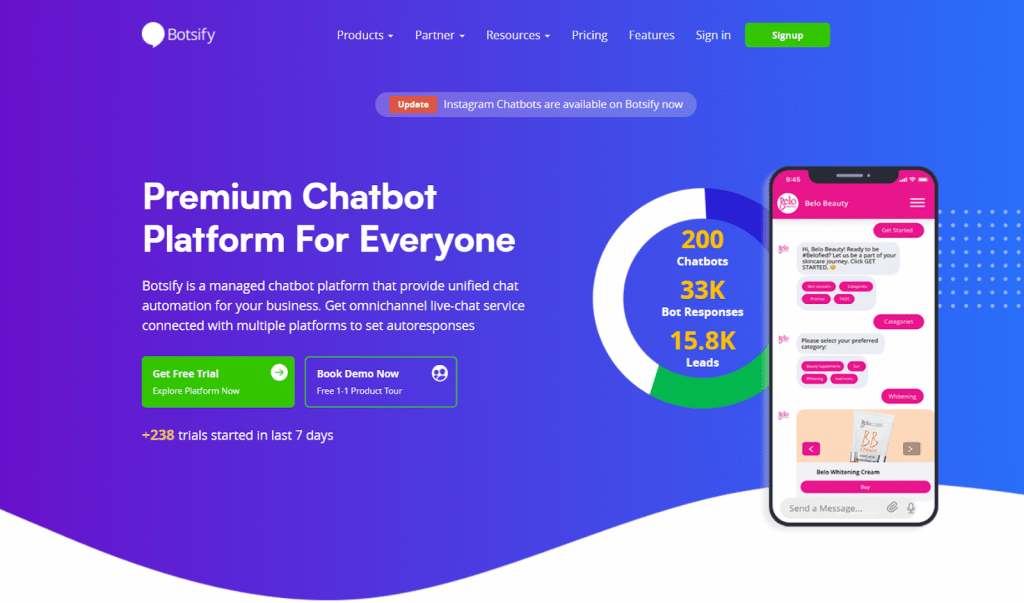 Botsify allows omnichannel support with chatbots and integrate them with different tools. With this tool, you can offer multi-lingual support in over 190 languages. You can build bots that help you save on your support costs effectively.
With Botsify, you can build a chatbot for Facebook, Telegram, WhatsApp, and many other channels. You get to target messages for different pages where customers interact with your products. The bots have built-in conversational AI and can help improve website engagement.
You can use Botsify to
Route chats to your human agents
Store leads in your CRM by sending data to the Zapier Webhook
Capture leads and their information with conversational forms
Integrate with Google Sheets, Slack, and other tools
Gain access to 24 chatbot templates
Pricing
Starts at $49/month
Pros: It integrates seamlessly with WordPress websites.
Cons: There is a slight learning curve.

Pandorabots is one of the most flexible chatbot platforms that allows you to build bots for virtually any industry use case. This flexibility requires a little experience in coding, making it one of the most mature chatbot builders on this list. You can start with the free plan for Pandorabots or opt for its premium plan if you need more flexibility. Also, the UI can be quite easy to navigate if you are an experienced user. Over 300k bots have been made successfully on this platform.
You can use Pandorabots to
Receive extensive documentation and classes to build better bots
Deploy bots for Android and iOS devices and offer support anywhere
Develop your bots in your browser with web-based development tools
Access conversational logs to improve your bot's interactions
Create a variety of avatars for your chatbot
Pricing
Starts at $19/month
Pros: It has a great GUI that helps experienced users immensely.
Cons: It has a steep learning curve.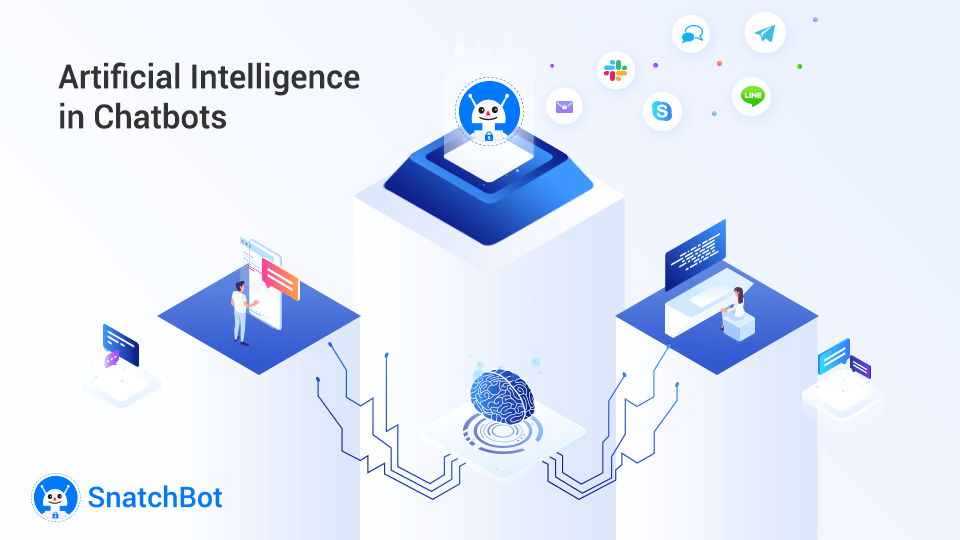 SnatchBot helps you automate support and create the best chatbot experiences for your customers. You get enterprise-grade security to protect sensitive customer data shared with your operators. No coding skills are required, and you can choose between AI and hybrid bots.
With this tool, you can ask your customers multiple-choice or simple questions. You get numerous chatbot templates for every industry to suit any use case. SnatchBot allows you to gauge user intent accurately and come up with the right answer each time.
You can use SnatchBot to:
Gauge user intent effectively
Maintain the context of the conversation
Access the Bot Store for 50+ chatbot templates
Capture voice searches with speech recognition
Create bots that can help streamline administrative work
Pricing
Starts at $30/month
Pros: It offers email notifications to let you know when a visitor is engaging with your chatbot.
Cons: Lacks a choice of payment systems other than PayPal.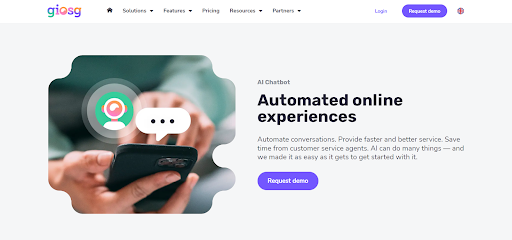 With Giosg, you can create personalized experiences that drive conversions for your business. This tool allows you to create customizable bots that can match queries with entries in your knowledge base. You can automate lead generation, support, and much more with Giosg.
Your operators can add media like video, GIFs, images, and other elements to enrichen the customer experience. These bots allow you to leverage AI to intelligently target potential customers that are most likely to convert.
You can use Giosg for
Show a discount code to a hesitant shopper
Improve chatbot performance with in-depth analytics
Predict visitor behavior with intelligent targeting
Draw content from your knowledge base to train your bot
Get chatbot templates for lead generation, FAQ, Demo, etc.
Pricing
Request the company for a quote
Pros: You can add advanced styling to your bots with CSS.
Cons: Getting an overall view of the chatbot and its performance is challenging.
How to Add ProProfs Chatbot to Your Business Website
Final Verdict: Which Is the Best Chatbot for Your Small Business?
As customers demand instant responses, chatbots have become central to customer support. These tools offer intelligent targeting, lead capture forms, and other features that help you drive conversions and engage customers.
If you are looking for a tool that handles the complete process from creation to deployment, then you can try ChatBot. For extensive chatbot templates, you should consider SnatchBot. In case, you need to offer support across numerous languages, then Botsify is your best bet.
However, if you need a responsive chatbot for your small business that uses a drag-and-drop editor, you can try ProProfs Chatbot. This solution is easy to install and set up on popular CMS sites like WordPress, Squarespace, etc. Start creating a great chatbot for your small business now!
Do you want a free Live Chat software?
We have the #1 Online Live Chat Software for instant customer support 24x7