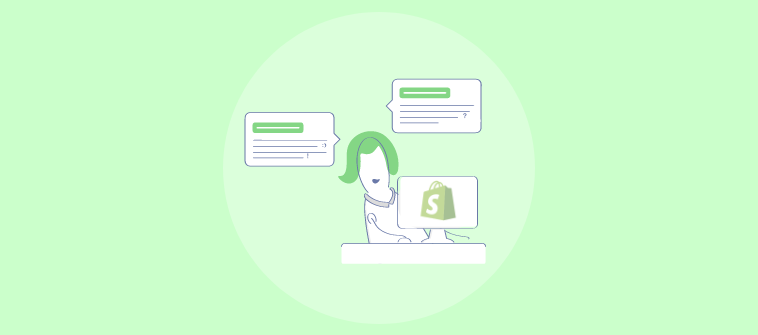 Your customers know the perks of online shopping but want personalized interactions with the experience. When they visit your site and encounter any problem, they need instant responses to their queries. And if their queries aren't resolved on time, chances are they will leave. Shopify live chat apps can help you engage your customers by communicating with them in real-time. Live chat is one of the most popular channels for connecting with customers, with over 38% of leading CX experts relying on it.
Also, you can use a live chat app for marketing your products and ensuring customers spend time on your online store. Live chat has features that help you generate leads and reduce events like cart abandonment.
With Shopify live chat, you can offer context-driven support to repeat customers. For instance, if a repeat customer visits, you can view data in your CRM and refer to relevant customer data to personalize the interaction.
In this blog, you will discover the top 17 live chat apps that can help offer personalized interactions. But before getting to our list, let's help you understand what Shopify Live Chat is.
What is Shopify Live Chat?
Shopify Live Chat is an e-Commerce feature that allows you to integrate live chat with your Shopify store easily. However, it is different from ordinary chat options and widgets.
It has features that help with customer engagement and monitoring operator performance. This helps take your support strategy to the next level. Use a Shopify Live Chat plugin to communicate with your customers instantly and connect them to the right products.
Benefits of Live Chat App for Shopify
1. Reduce Response Times
When visitors come to your Shopify store, they want someone to keep them engaged throughout their journey. What is a better way to offer such engagement than to have Shopify live chat? Research suggests that 42% of customers prefer live chat because they don't have to wait on hold.
Why is this important for your Shopify store?
Customers prefer live chat because they get instant support for their queries. Also, when a live chat agent handles a repeat customer's query, they expect instant service. That's why Shopify live chat is crucial for customer retention as it reduces response times.
The response time of traditional support channels is relatively high. As opposed to that, live chat is much more efficient. When customers want to clarify a doubt in a previous communication, they will not have to wait too long for a follow-up on their query.
2. Improve Conversions
As a Shopify store owner, more traffic means more revenue for your online business. But to generate revenue consistently, you should have a plan in place to leverage it. With Shopify live chat, you can ensure that your Shopify visitors are converting. Here's how:
Promote your business through announcements that display ongoing sales and offers.
Ask lead qualification questions to help connect customers with the ideal products.
Set chat greetings that are timed in such a way that if someone lingers on the pricing page, they get a prompt message with a discount coupon.
These are some ways you can guide visitors to the right products and entice them to make a purchase. Also, did you know that 63% of customers would return if offered live chat support? So, not only can you improve conversions, but you can also boost customer loyalty.
3. Serve Multiple Customers
When many customers engage on your Shopify store, it can get quite tricky to listen to all their concerns and respond to them efficiently. With a live chat feature called canned responses, you can be present to all their queries by sending predefined messages.
When managing multiple chats, live chat agents might confuse one customer's issue with another. To solve this, you need a live chat solution that offers a list of important details at a glance. With ProProfs Chat, you can view:
The pages viewed by the visitor.
The current page they are surveying.
The page which was their touchpoint.
Their email address and name.
Lastly, where are they from?
With these details, it becomes easier to keep track of your customers' pain points.
4. Personalize the Shopping Experience
When Shopify visitors come to make a purchase online, they are looking for two things: the right product and a personalized shopping experience. One can argue that a personalized experience is what drives conversions, not just a great product.
For this purpose, Shopify live chat has a feature called chat greetings. These greetings have smart triggers that can be timed for certain user interactions. For instance, if someone spends a minute on your pricing page, you can deliver a message that offers a tailored offer for them.
This makes customers feel appreciated and noticed. Also, with automated greetings, you can reduce cart abandonment rates. Sometimes, potential customers just need a nudge in the right direction.
5. Capture Customer Feedback
You need to accept customer feedback from every channel when developing a great support experience and a large customer base. Fortunately, live chat solutions offer a post-chat survey that allows you to capture crucial customer feedback once the chat is over.
You can measure customer satisfaction with the following reports:
CSAT stands for Customer Satisfaction Score, and it allows you to rate customer satisfaction on a scale of 1 to 5. The higher end means highly satisfied, while the lower end means dissatisfied.
NPS: stands for Net Promoter Score, and it gauges how inclined customers are to promote your brand to others. It is measured on a scale of 1 to 10.
CES refers to the Customer Effort Score, and it measures how many difficulties a customer faces while performing a certain action. With this report, you can decide where your Shopify store requires work.
You can read more about these reports here.
6. Keep Customers Engaged on Your E-Commerce Site
With a live chat app for Shopify, you get detailed reports on how customers engage with your store- the different products they spend time with and the key pages which drive conversions.
You get perspective on how you can improve your products. If a prospect has a product-related question, they can reach out to you instantly.
By fixing site navigation and personalizing the experience for customers, you make the buying journey smoother.
7. Boost Customer Retention
Integrating live chat with CRM lets you get a complete view of an existing customer's purchase history. It makes identifying upselling and cross-selling opportunities easier.
As a result, you drastically improve your customer lifetime value (CLV). Shopify live chat allows you to connect with multiple customers seamlessly. With features like canned responses, resolving routine queries becomes easier.
Research done by Bain & Company states that an increase of 5% in retention leads to a profit increment of 25%. The paper further goes on to talk about the reason behind the increase. Customers satisfied with buying experience go on to make quicker purchases over time.
Let's read about 17 tools that can drive sales growth for your Shopify store.
17 Best Shopify Live Chat Apps
If you are looking for live chat for Shopify, then we have curated a list of 17 software tools that can help you get the job done. Each of these allows you to ramp up conversion rates and retain customers. You can engage with customers with various features like greetings and announcements. Read on to look at our top picks:
ProProfs Chat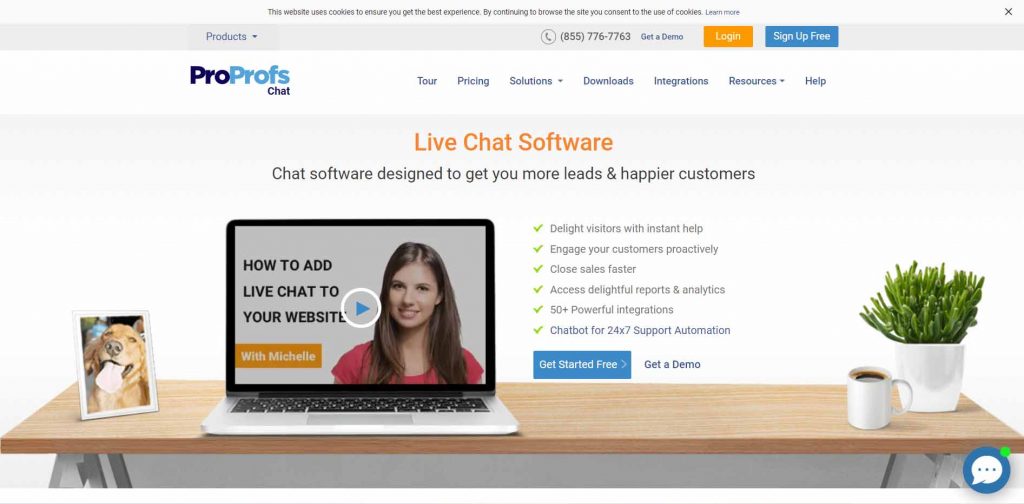 ProProfs Chat is a leading live chat tool offering great customer engagement and conversion results. It is our top choice because of its seamless integration with Shopify to help build a strong online presence.
You can easily embed the chat window on your website or launch it separately by copying and pasting the code into the website's HTML. This cloud-based tool is one of the best Shopify chat apps, and it offers a blend of features that markets products, improves engagement, generates leads for you, and much more.
The app's integration with popular tools and native apps (ProProfs Help Desk, ProProfs Survey Maker, and ProProfs Knowledge Base) helps create a complete support ecosystem for your brand.
Features of ProProfs Chat:
Distribute the work among agents with intelligent chat routing.
Greet visitors with timed messages to drive conversions.
Respond to routine queries with canned responses.
Track who is on your website and how they are spending their time.
Access chat through smartphones using iOS and Android apps.
Pricing
Starts from $10/month
What we liked: It offers robust reports and analytics features. Also, the chat greetings feature is one of the best features of this tool.
What could've been better: Social media integrations need to be added. Also, there need to be more chatbot templates for the chatbot builder.
Shopify Chat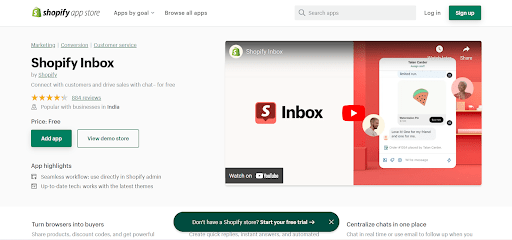 Shopify Chat is one of the best chat apps that helps customers connect with merchants while browsing. It is available for free on the e-Commerce platform. With the Shopify Chat app, you can leverage the messaging capabilities of Shopify Ping.
Also, the chat tool accepts the email and phone number before proceeding to chat with the customer. The information gets added to your Customer list or matches with an existing customer.
Features of Shopify Chat
Customize your live chat widget.
Engage and communicate with customers in real time.
Promote and recommend products through chat.
Capture contact information of leads.
View your Shopify sales with the Sales view or Analytics page.
Pricing
It is free.
What we liked: It has a clean and intuitive user interface. Also, it is free forever.
What could've been better: It is slightly complex to set up.
Gorgias Chat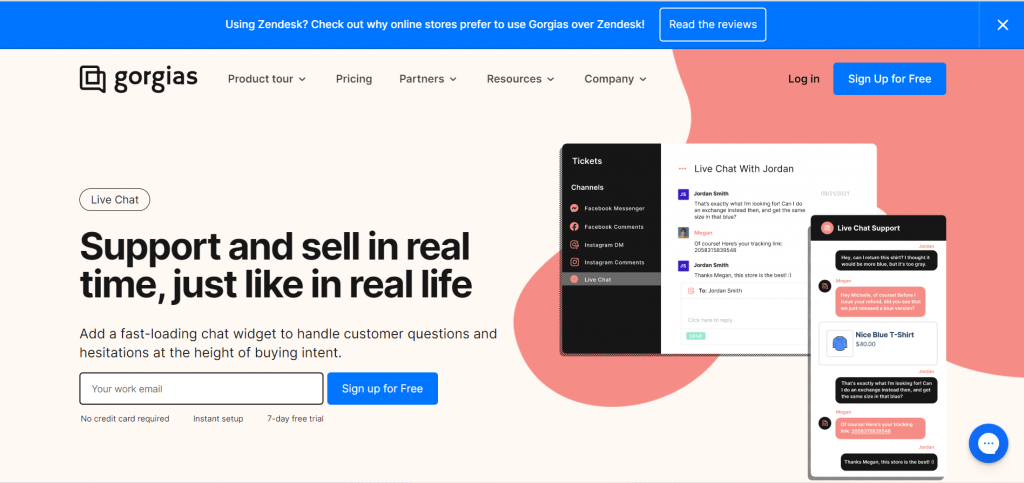 Gorgias Chat is a great Shopify chat app and is offered with the Gorgias ticketing software. It offers features for improving the customer support experience, optimizing team performance, and increasing sales. With their live chat solution, you can engage with customers in real time.
It is a highly responsive chat tool that allows you to handle customer questions and hesitations regarding making a purchase. Gorgias Chat also offers chat campaigns through which you can engage users with targeted messages on specific pages.
This way, you can start a conversation and guide customers through the checkout.
Features of Gorgias Chat
Offer omnichannel support with live chat.
View complete live chat history with a specific customer.
Chat in real-time with Shopify visitors.
Respond efficiently with predefined templates.
Trigger chat invitation pop-ups on key pages.
Pricing
Starts from $50/month
What we liked: You can view all Shopify orders from your Gorgias dashboard.
What could've been better: When setting yourself away while chatting, customers can still send you messages. It makes it look like your operators are ignoring customers, which they aren't.
Chatra Live Chat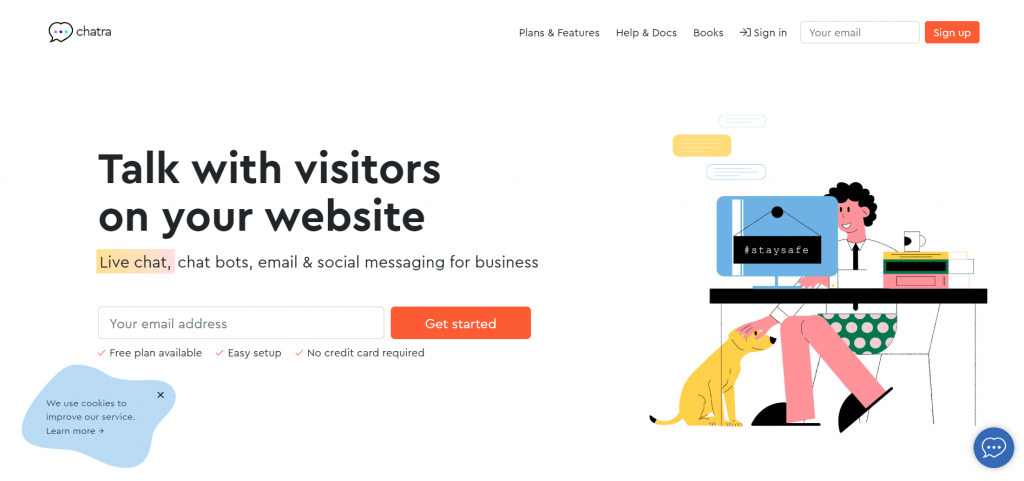 Chatra is a cloud-based live chat tool that helps small businesses and e-Commerce retailers connect with customers. This tool allows you to create chatbots that can streamline routine tasks.
With Chatra's chat tool, you can automate messages according to user behavior. Using this app, you can reduce cart abandonment and potential sales delays. Also, it allows you to view the shopper's cart items in real time.
Features of Chatra Live Chat
Connect with customers stuck during the checkout process.
Track visitors and check what they have added to their cart.
Collaborate with other agents through group chats.
Save past conversation transcripts for future reference.
Correct answers after they are sent in the chat widget.
Pricing
Starts from $17/month
What we liked: It offers a free plan for small businesses.
What could've been better: It lacks customization options for the live chat widget.
Facebook Messenger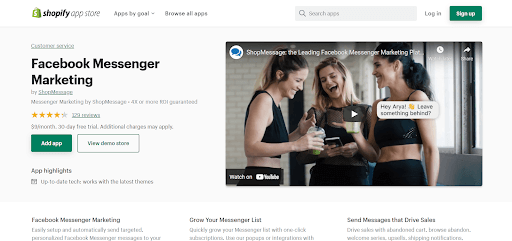 Facebook Messenger is a powerful Shopify chat support app for merchants, allowing them to connect visitors with the best products. Grow your Messenger list with quick integrations to JustUno, Klaviyo, and Privy. Also, send targeted messages to customers for specific user interactions.
It allows you to reduce cart abandonment rates effectively. Also, you can identify upsell opportunities for your business. You can embed this live chat solution anywhere on your site to offer one-click opt-ins. Also, you can acquire new customers from Facebook Ad Manager.
Features of Facebook Messenger
Integrate with JustUno, Klaviyo, and Privy seamlessly.
Customize pop-ups for your Shopify store.
Acquire customers from Facebook Ad Manager.
Promote your products with dynamic discount codes.
Direct potential customers to the right products.
Pricing
Starts from $9/month
What we liked: It is easy to install, and also their customer support is quite helpful.
What could've been better is that it should include a automatic discount code expiration feature.
Tawk.to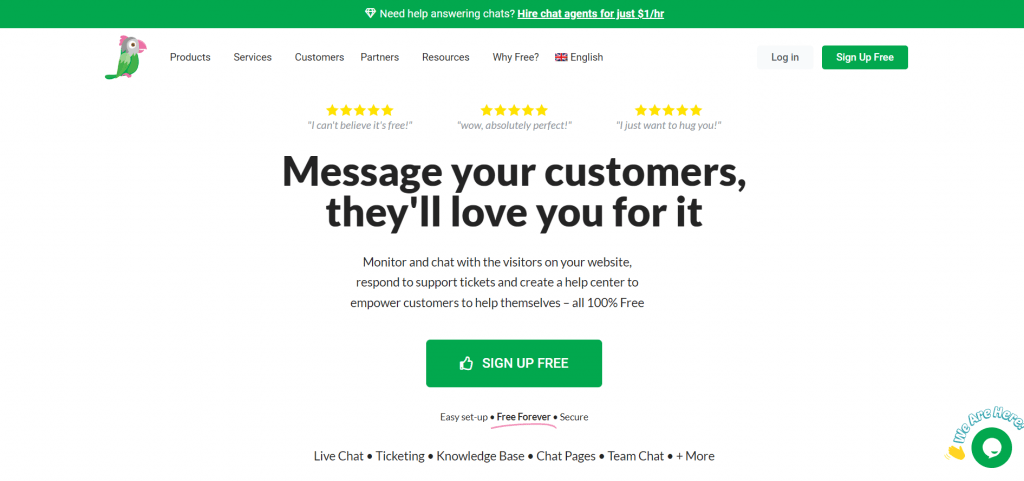 Tawk.to is a free chat software for Shopify that offers a secure communication channel between companies and their customers. All you need to do is copy and paste one line of code into your HTML. Voila! Your chat tool is ready to use.
It has an amazing chat translator making it one of the best chat apps for Shopify. Also, you can engage with customers with a rich experience using GIFs and other media elements. It will only take a few minutes to log in to the dashboard, add team members, and start conversations. Moreover, transferring files between agents and customers is easier!
Features of Tawk.to
Co-browse with customers to resolve complex queries.
Share over 1880+ emojis in the chat.
Get detailed reports and analytics.
Save unlimited history of your customer conversations.
Transfer files to the live chat widget.
Pricing
It is free.
What we liked: It supports over 45 languages and is great for offering multilingual support.
What could've been better: A small fee is needed to remove the "Powered by Tawk.to" branding.
HelpCenter Live Chat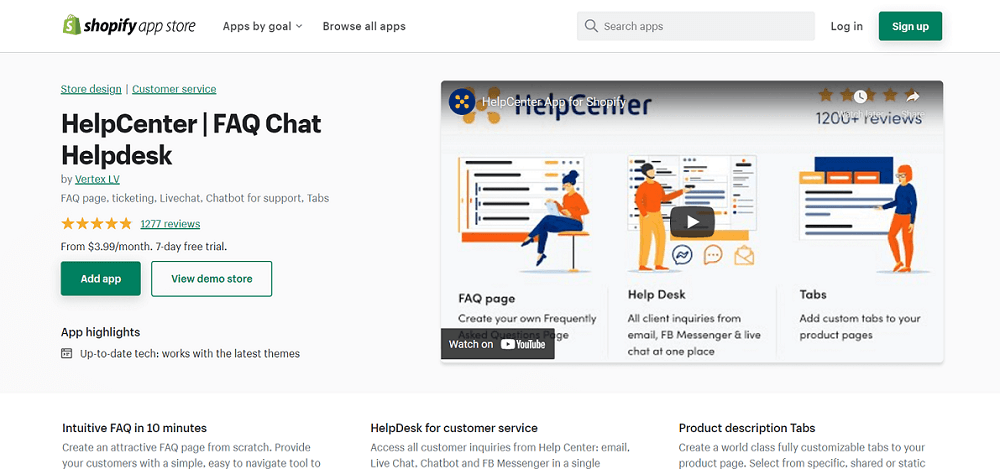 HelpCenter's live chat offering is fairly new; it is part of a larger support solution. But it offers a lot of features to help you engage customers and create conversions. What's more, setting up this Shopify chat app is easy. With HelpCenter, you can offer customers the option of connecting with agents in real time during business hours.
Also, you can ask them to fill out a form while agents are offline, and they can wait on a quick follow-up. With HelpCenter, you get the complete support package: live chat, ticketing software, and FAQ builder. With this tool, you can meet all your support needs.
Features of HelpCenter Live Chat:
Communicate with customers in real-time effectively.
Access and manage queries from various channels.
View customer purchase and conversation history at a glance.
Receive templates, autoresponders, signatures, and much more.
Create a multilingual FAQ section for your global customers.
Pricing
Starts from $3.99/month
What we liked: It offers a great FAQ section, and the customer service team is prompt.
What could've been better: It requires updating, and users face issues like archive emails reappearing, duplicate emails showing, and a faulty archive button.
Re:amaze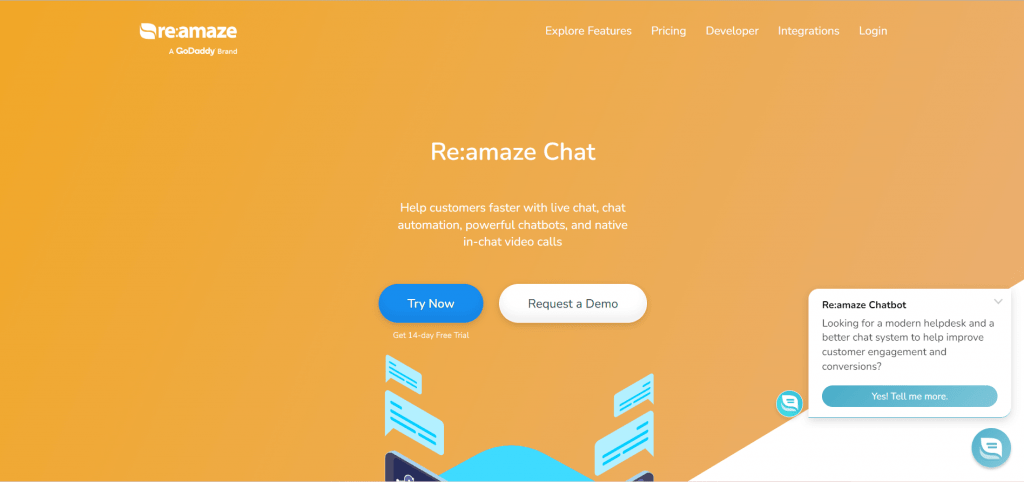 Re:amaze is a powerful live chat tool that aims to help you offer real-time support to customers. You can make many changes to your live chat widget with enhanced customization features. The tool lets you create automated messaging campaigns that are triggered by certain "Cues."
With the chatbot-building feature, you can create advanced multi-step chatbots. These chatbots are capable of guiding customers through the entire purchase process. Also, they can narrow down the product choices to fit the customer's needs.
Features of Re:amaze
Offer support for multiple Shopify stores.
Send product choices to customers in the chat.
Streamline your live chat workflow with support rules and automation.
Create bots to engage users and guide them to the right products.
Target automated message campaigns to reach customers upon set Cues.
Pricing
Starts from $29/month
What we liked: It has a great chatbot feature. These bots can be set up to follow a workflow, and triggers can be set based on the customer's intent.
What could've been better: The user interface seems outdated and isn't user-friendly.
JivoChat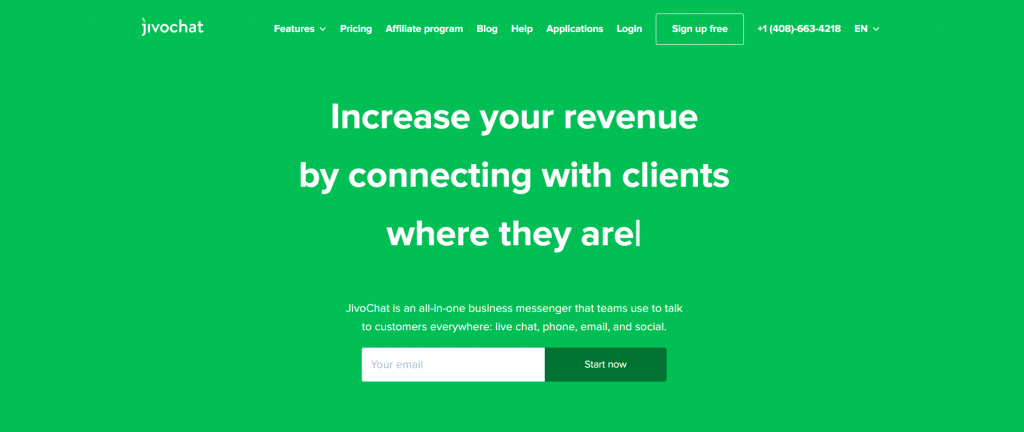 JivoChat is a complete messaging solution for businesses looking for ways to engage with their customers. It offers omnichannel communication for your business by allowing users to connect via live chat, phone, email, and other channels.
You can integrate it with your favorite CRM and follow up on your leads from live chat. Then, you can proceed to convert them to sales. With proactive invitations, you can welcome customers to your Shopify store and encourage them to chat with you.
Features of JivoChat
Track visitors in real-time and have conversations with them.
Anticipate customer queries before they hit send.
Respond faster with canned responses.
Transfer chats to available agents.
Use proactive invitations to keep customers engaged.
Pricing
Starts from $19/month
What we liked: A complete free plan is offered that can help small businesses.
What could've been better: It doesn't integrate deeply with Shopify.
Formilla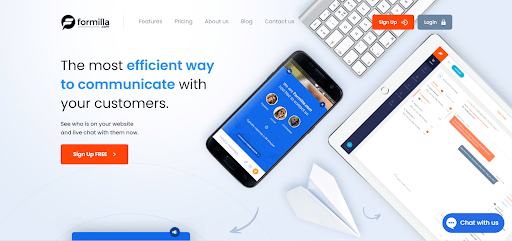 A leading provider of customer messaging software, Formilla offers a holistic combination of live chat, email, and in-app messaging. It has an intuitively designed web interface that is great for beginners.
It is a feature-rich tool enabling support agents to chat with customers proactively. The software provides free and premium services for its customer's Shopify store with its Shopify live chat extension. It supports file sharing, email messaging, and many other features.
Features of Formilla
View a user's referral site, current page URL, and if they are new or returning.
Create a Helper Bot to resolve queries round-the-clock.
Customize your live chat buttons, pre-chat forms, and many other elements.
Enable proactive chat for customers spending a defined amount of time on a page.
Receive features like file sharing, email messaging, and desktop notifications.
Pricing
Starts from $17.49/month
What we liked: It lets you quickly connect with customers and has a simple UI.
What could've been better: Many features are available with the premium plans.
Tidio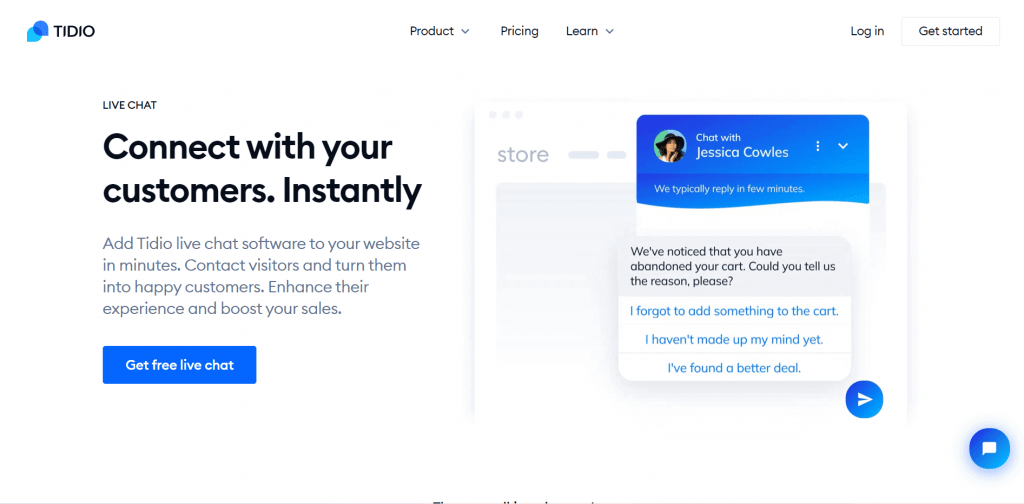 Tidio is a comprehensive live chat service that allows you to communicate with customers effectively. It offers numerous customization features to allow your business to keep consistent branding.
The availability of chats, chatbots, email, and messenger in a single solution makes it a complete live chat solution for businesses. With real-time tracking, you can reach out to customers proactively and view if they are new or returning.
Features of Tidio
Offer 24×7 support with chatbots.
Reduce cart abandonment with the Abandonment Cart Bot.
Design your live chat widget freely.
Stay in touch with your customers anywhere, any time, with the mobile app.
Monitor your chatbot performance with reports and analytics.
Pricing
Starts from $49/month
What we liked: It offers many bot templates to help quickly build successful chatbots.
What could've been better: The pricing can be slightly steep for Shopify merchants.
Pure Chat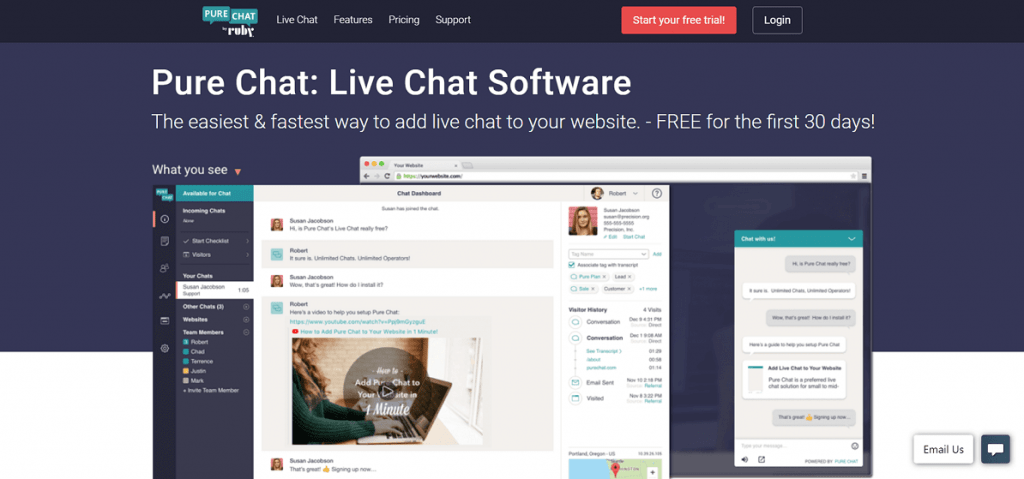 A preferable choice for SMBs, Pure Chat is a tool that offers live chat at no extra cost. It is packed with great features and is very easy to use. Their paid plans offer you additional functionalities like visitor analytics and contact history to help improve conversations.
It has a simple editor that allows you to brand your live chat widget in any way you wish. Pure Chat offers integrations with tools like Google Analytics, Hubspot, and InfusionSoft. Also, you can use Zapier to create automation workflows with 1000+ applications.
Features of Pure Chat
Converse better with visitor analytics and contact history.
Brand your live chat widget with personalization features.
Create canned responses with the Quick Add feature.
Assign roles and permissions for your team members.
Offer anywhere and anytime support with mobile apps.
Pricing
Starts from $39/month
What we liked: It has two simple pricing plans which makes choosing the right plan for your business an easy task.
What could've been better: There are technical errors when installing the app.
LiveAgent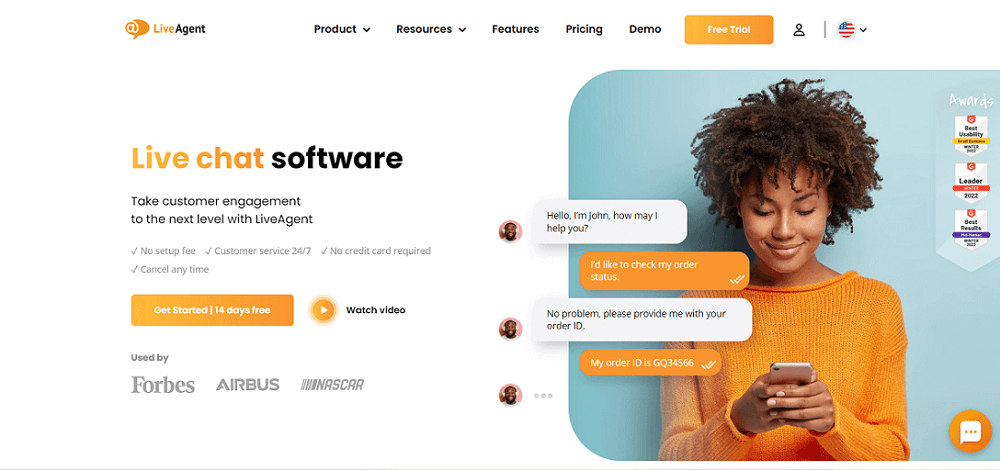 LiveAgent is a great Shopify live chat support tool that allows you to level up your customer support strategy. The Live Customer Chat helps customers trust your brand and gives them the needed confidence to buy and shop online.
It is one of the fastest live chat tools on the market, thus, helping you maintain great site performance. The tool enables your customer support teams with features for faster query resolution, making it easier to keep customers engaged.
Features of LiveAgent
Track website visitors and find the URL they are currently viewing.
Reduce the bounce rate with proactive chat invitations.
Speed up response times with real-time viewing of typed messages.
Collaborate with team members using the internal chat feature.
Customize your chat widget's look and feel.
Pricing
Starts from $29/month for the live chat option
What we liked: It is an affordable solution for smaller businesses.
What could've been better: The inclusion of an away mode is required.
Zendesk Chat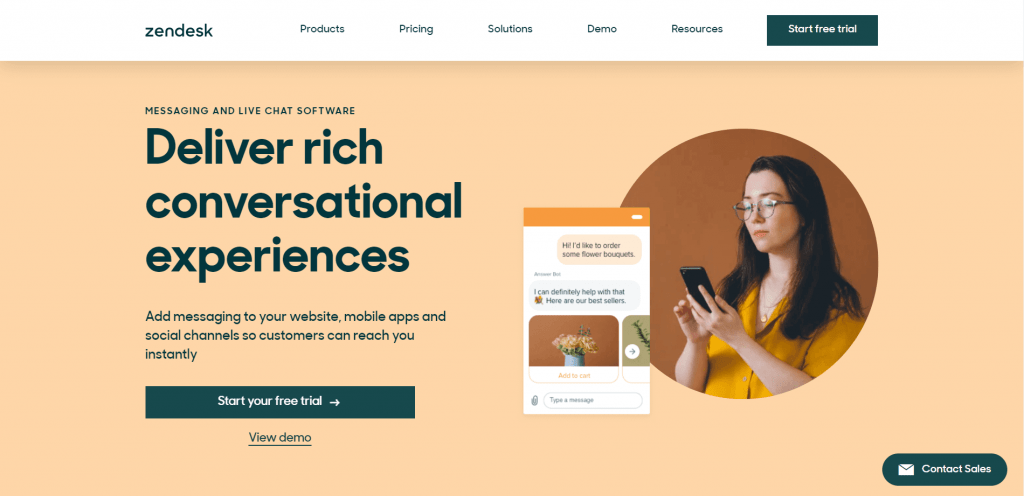 Zendesk Chat is a support tool that helps manage customer communications and allows you to interact with potential customers. As one of the best Shopify online chat apps, this support tool features live support, web analytics, and a ticketing system.
You can send targeted messages to customers that follow specific user interactions. Also, collecting lead information becomes easier with pre-chat and offline forms. With support chat ratings, you can gauge the quality of the support experience.
Features of Zendesk Chat
Chat with customers when they most need help through proactive chat options.
Track operator performance with detailed reports and analytics.
Offer support through Facebook Messenger, Twitter, or Line.
Share files like GIFs, screenshots, and product documents.
Receive customer feedback through support chat ratings.
Pricing
Starts from $49/month
What we liked: It allows you to set up roles and permissions for your operators.
What could've been better: It requires a steep learning curve for beginners.
DelightChat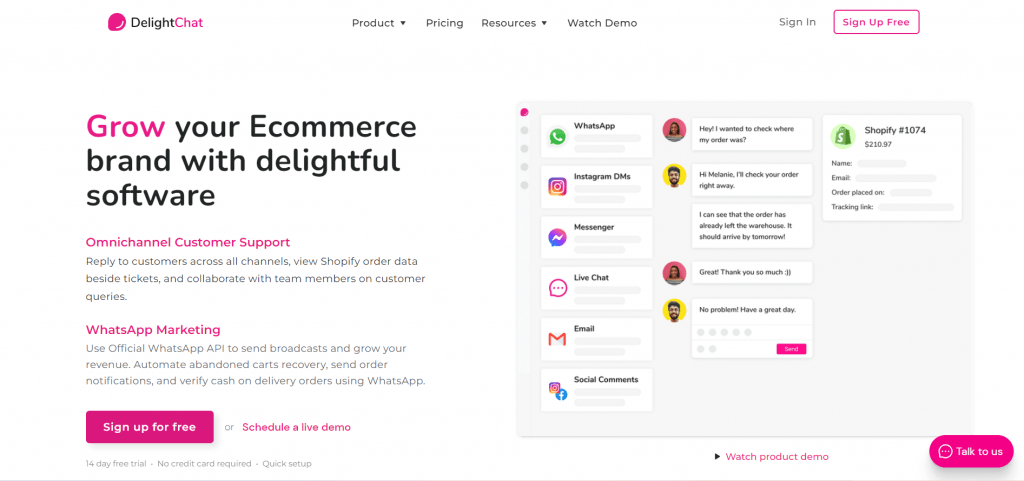 DelightChat is an excellent option for you if you are a Shopify merchant. It is a modern customer support solution that allows you to be present to customer queries and resolve them in real-time. It has a deep integration with Shopify, and you can collaborate with your team too.
This tool allows you to interact with customers through any channel like Instagram, Facebook, and Twitter. While chatting with customers on Shopify, you can view their past purchases at a glance. You can make changes to a client's Shopify order in an instant.
Features of DelightChat
Bring all your chat conversations from different channels on a single platform.
Integrate with Shopify and make changes to client orders with one click.
Talk to your team with the help of collaboration tools like Shared Inbox.
Connect with an FAQ or help center to offer self-service options.
Allow customers to track their orders without the need for agents.
Pricing
Starts from $29/month
What we liked: It allows teams to collaborate on customer problems through the same screen.
What could've been better: It only integrates with your Shopify Store. The brand is planning to add more integrations.
Facebook Chat Box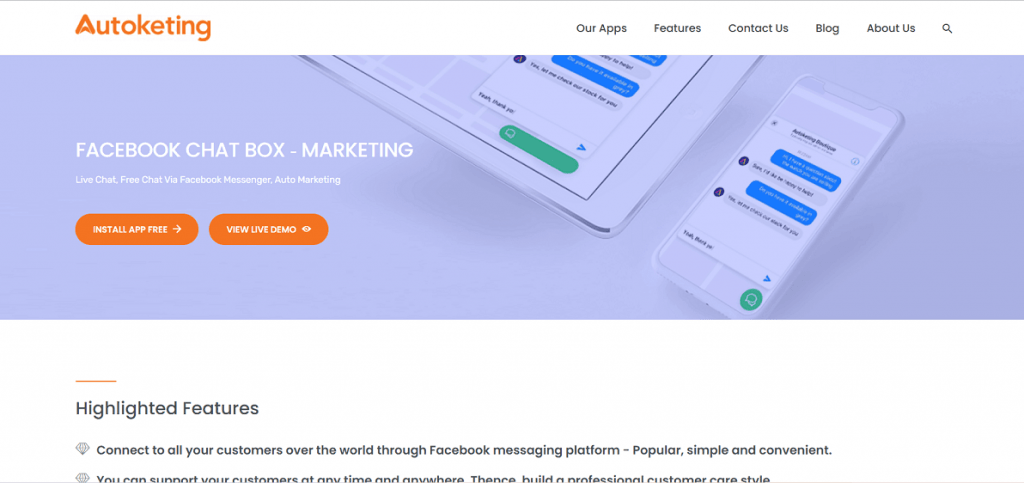 With Facebook Chat Box by Autoketing, you can connect with customers through Facebook Messenger. It has features like Subscribe Pop-Up and Message Now to help you proactively engage with Shopify visitors.
With the Subscribe Pop-Up feature, you can display a discount code to them on the page. The Message Now feature allows you to promote discounts on your Shopify store. With this tool, you can create a marketing strategy through greetings and send quick replies to customers.
Features of Facebook Chat
Encourage customers to chat with your chat pop-ups.
Display a friendly reminder to customers who have abandoned their cart.
Offer detailed notifications about a client's order status along with a confirmation.
Use greetings and automatic responses to get more information from your customers.
Create a series of automated marketing campaigns.
Pricing
It is free.
What we liked: It is simple and easy to use. Also, it is free and perfect for startups.
What could've been better: There aren't settings to control when the chat box pops up.
eDesk Live Chat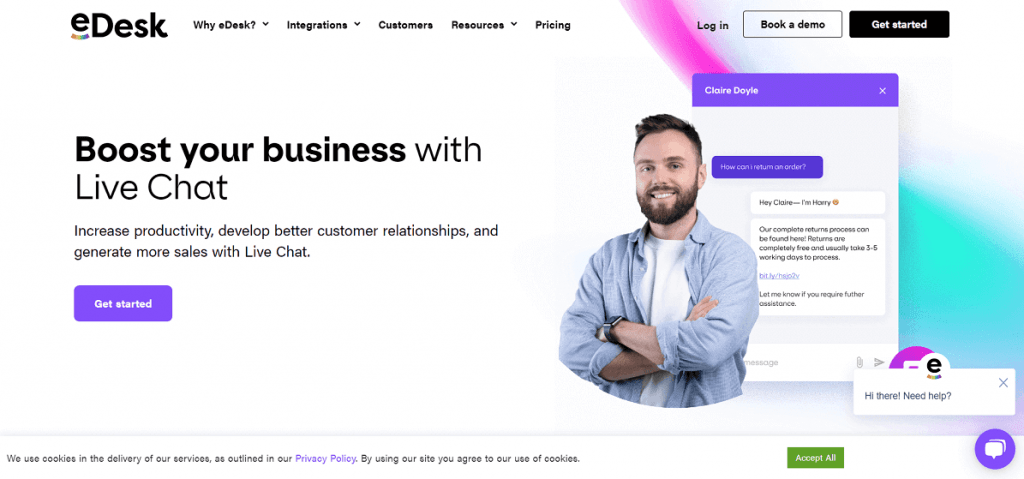 eDesk Live Chat is a live chat tool offered with eDesk, which is a help desk solution. It allows you to create positive support experiences through real-time engagement with shoppers. With file-sharing options, you can guide customers through important product information.
You can customize your live chat widget to match your brand's aesthetic. eDesk Live Chat offers chat notifications to help you keep track of interactions with every customer. You can also capture leads quickly with website chat forms.
Features of eDesk Live Chat
Offer faster responses with chat templates and snippets.
Trigger pop-ups for Shopify visitors to stimulate engagement.
Respond to queries faster with a built-in autoresponder.
Receive important chat notifications.
Personalize your live chat widget's look and feel.
Pricing
Starts from $59/month
What we liked: They have a good customer service team to resolve any software issues that may come up.
What could've been better: The pricing is high for Shopify merchants.
What goes into the best live chat app for your Shopify store?
Now that you have looked at our list of Shopify live chat apps, it might be easier to make a purchase decision. Let's take a look at their essential features:
Reporting and Analytics
With more traffic on your Shopify store daily, it is essential to engage them. You can convert or resolve their queries by engaging them, making customer engagement the primary goal of a live chat tool.
But without good reporting and analytics, you cannot improve customer satisfaction which is critical in keeping them from churning. With various KPIs to measure operator performance, you can improve the availability of live agents and fill gaps in their approach.
For instance, if your operators are missing many chats, you can view metrics on chats missed. You can rectify this by offering offline messaging to improve customer satisfaction ratings.
Greetings and Announcements
When customers visit your Shopify store, operators have to engage them throughout the journey to help them make a purchase. But sometimes, a discount code is all it takes to convince them. With greetings, you can send them a discount coupon at key interactions.
For instance, if they are about to abandon their cart, you can encourage them to purchase with a time-limited discount. In the case of announcements, visitors often want to know about the latest sale in your store.
You can announce updates, sales, and new products with this feature. With these greetings and announcements, you can market your products and keep customers engaged.
Chatbots
Customers may come up with queries at odd times of the day. Who could be available to take those queries when your agents are offline? With chatbots, you can offer round-the-clock support. Chatbots are software programs that allow you to connect with customers by stimulating conversations.
They can help automate many support processes:
Offering relevant help articles.
Routing chats to an agent.
Capturing customer feedback at the end of the session.
They can also perform marketing functions like:
Capturing lead information.
Allowing you to qualify leads.
Directing customers to the right product.
Offering proactive chat pop-ups for key interactions.
Often, they also help manage support requests by filtering out the most relevant ones and routing them to the concerned agent.
Integrations
With live chat, you want to create a holistic support strategy to offer customers the best support possible. This is where integrations can help. Let us discuss some important integrations:
Integrating with a helpdesk: With this integration, your chats can get converted into tickets that agents can resolve.
Also, a great live chat tool will ensure the ticket gets routed to an agent who has previously worked with the concerned client.
Once assigned, agents can collaborate to work on resolving the issue quickly and efficiently.
Integrating with a knowledge base: You can serve relevant help articles to customers with routine queries. It helps reduce the response time of your operators as self-service allows them to move to another query quickly.
Also, it helps regulate the number of support tickets they receive.
Integrating with CRM: When you chat with a returning customer, you need to know their past chat history, personal details, and previous products owned.
This helps offer a more personalized support experience. With this integration, your live chat widget will show all these important details while chatting with the customer.
User Interface
A simple and intuitive interface allows you to learn the software quickly. Also, it helps you get the desired functionality from the software in a shorter time. A good UI focuses on clear buttons, an uncomplicated layout, and a well-defined panel and dashboard.
It can lead to fewer problems in the beginning, as a good UI helps navigate the software better.
Compatibility
When looking for a Shopify live chat, it is important to be compatible with iOS and Android. The software provider should offer a mobile app with desktop software that is highly compatible with these operating systems. If there are issues in compatibility, you will not receive the full functionality of the software, and you will face technical glitches.
Final Verdict: Which is the Right Shopify Live Chat Tool for Your Store?
Integrating live chat for Shopify is crucial because prospects always have queries. You should be available to take these questions. You can guide them toward the right purchase with a robust Shopify live chat apps.
We have included an assortment of free and paid tools in our list. Look for which one suits your business needs and fits your budget. Some crucial features are proactive chat, chat notifications, and chatbots. These are essential to building a great live chat experience.
A good live chat experience focuses on engaging the customer and driving conversions. You can leverage high-quality traffic to bring leads with the right Shopify live chat app. A live chat solution like Proprofs chat, Shopify Chat, JivoChat, and eDesk Live Chat can help in lead generation.
Live chat can assess a visitor's interest, capture leads, and more. Lastly, you can find potential customers by narrowing down your pool of visitors using lead qualification questions. Also, you can do this with the chatbot feature.
If you want all the features and benefits we have mentioned at the right price, you should try ProProfs Chat. It offers automation features like proactive chat invitations, announcements, and a chatbot builder. Also, you can create a complete support ecosystem with over 50 integrations.
Do you want a free Live Chat software?
We have the #1 Online Live Chat Software for instant customer support 24x7