Let's say you put your heart and soul into designing the best online store. Filled it up with the best products, improved navigation, and simplified the checkout process.
But still, visitors don't convert into customers. The sad eCommerce nightmare!
If you are sailing in the same boat, the best live chat software for eCommerce can prove to be a game-changer for your business. Based on visitor behavior, you can proactively initiate live chat sessions, capture their details, answer product or billing-related concerns, and boost your online sales.
Sounds too good, right? Well, it actually is. But the real struggle is in choosing the ideal tool for your team – the one that can help you automate lead generation, offer 24×7 assistance, and does not cost a million bucks.
To ease your pressure, we have handpicked the best tools in the business. We will look at the top 12 eCommerce live chat software along with their various pros and cons.
Let's go!
What Is E-Commerce Live Chat Software?
E-commerce live chat software helps your team add a small live chat widget to your online store. Your chat operators can interact with multiple website visitors simultaneously, answer their routine questions, and help them make sound purchase decisions.
Most modern live chat tools allow your team to deploy powerful chatbots for your eCommerce store. These bots can hold human-like interactions with website visitors, recommend complementary products, and offers 24×7 assistance, even when your team is offline.
Benefits of Installing Live Chat Software for Your E-Commerce Business
One tool and many benefits. Yes, that's the story of any live chat tool.
From real-time assistance to automated lead generation, there are multiple advantages of live chat for eCommerce. Let's explore them right away.
1. Assist Online Shoppers Instantly
When people are browsing your store, they are making purchase decisions in seconds. If your team isn't available to handle their basic queries related to product availability, billing, discounts, returns, etc., you can lose them forever.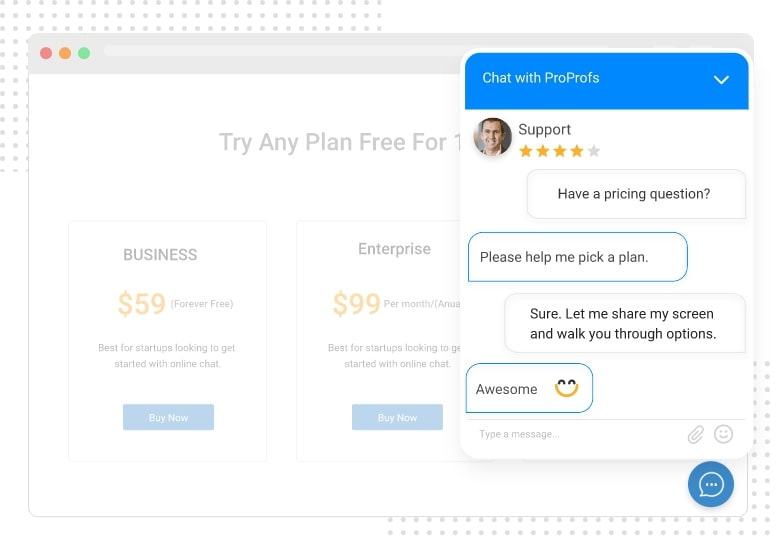 With a dedicated live chat window, you can give appropriate attention to each and every visitor. When you answer all their queries in time, you can encourage them to complete their shopping carts and increase your sales.
2. Handle Multiple Visitors at the Same Time
With traditional communication channels such as the phone, an agent can only handle one customer at a time. However, that's not the case with live chat.
Live chat allows operators to interact with multiple customers at the same time. A well-trained chat operator can easily handle two to three chat conversations simultaneously. This is a great way to increase productivity and enhance the customer experience.
Read More: How to Recruit Live Chat Customer Support Team that Delights Users
3. Automate With Powerful Chatbots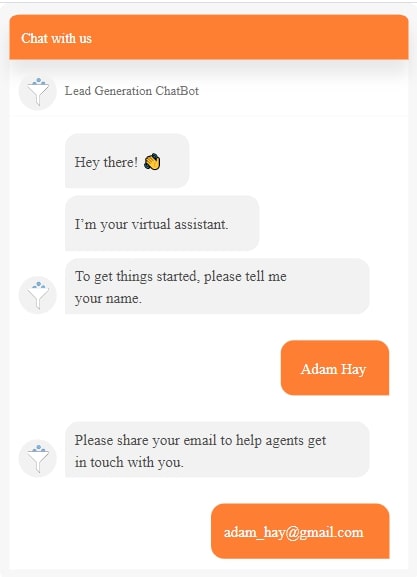 An eCommerce live chat tool allows you to create multiple chatbots using pre-designed templates easily. You can deploy chatbots for different purposes – lead generation, sales, customer service, and more.
A huge proportion of customer queries are repetitive in nature, "Where is my order?" "What are your return policies?" and so on. Bots can easily handle them, allowing operators to focus on more pressing tasks.
Chatbots can help your team in the following ways:
Send proactive messages to engage website visitors
Interact with customers 24×7, even when your operators are offline
Share relevant knowledge base articles to encourage self-help
Create a help desk ticket on behalf of the customer
Route the conversation to a human agent if the need arises
4. Capture Leads 24×7
Do people visit your website but never make a purchase? Do you wish to increase your website conversion rate? If you answered yes, a web chat solution could be your best bet.
You can easily capture visitor details with a pre-chat form. The form can be designed to include relevant fields, such as name, email address, contact number, company name, etc.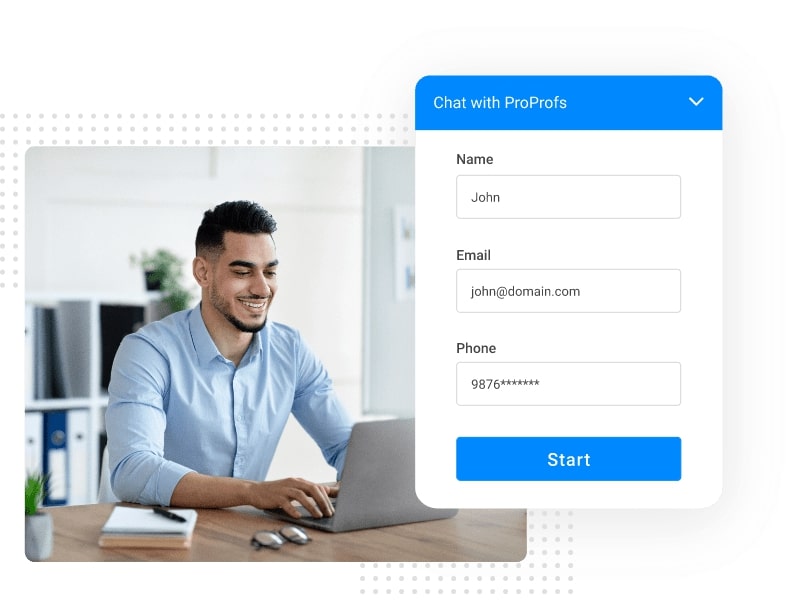 The lead information can be stored in your favorite CRM tool so that sales executives can access them at the earliest and convert them into paying customers.
Read More: How to Use Live Chat Software for Lead Generation
5. Monitor Team Performance
To improve customer interactions and engagement, you need to know how well your team is performing.
The top eCommerce apps offer data-rich reports and analytics to give you a 360-degree view of your live chat process. You can filter these reports to see the performance of individual operators for any specific time period.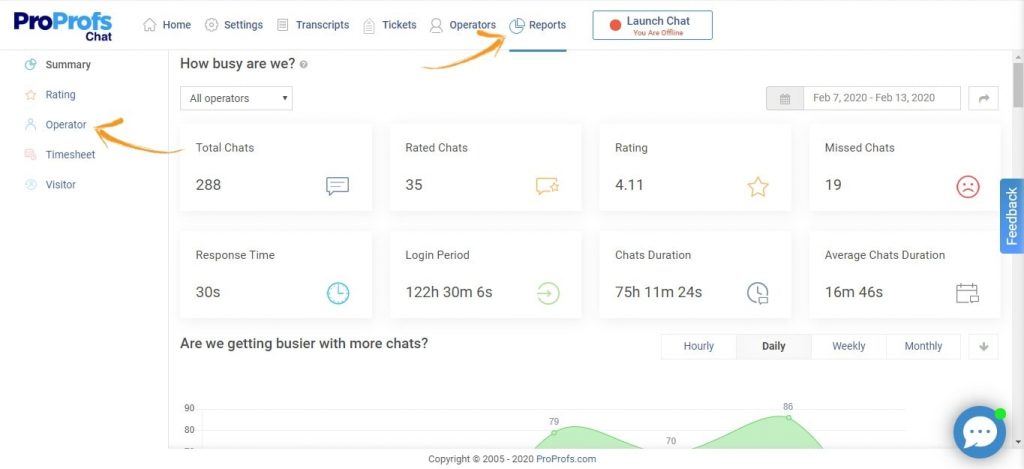 Here are some popular metrics you can track:
Average response time
Customer satisfaction rating
Missed chats
Average chat duration
Total number of chats
Keeping a close eye on these metrics will help you understand how well your sales or service teams are handling customer chats and identify any significant improvement areas.
How Do You Add a Live Chat to Your E-Commerce Website
You don't have to be a coding genius to add live chat to your online store. Just a couple of minutes, and you are all set!
You can simply copy the code snippet and paste it before the </body> tag on your web page. Watch this short video to understand the required steps:
12 Top E-Commerce Live Chat Tools for 2023
The wait is finally over! Here are 12 exceptional live chat platforms that will help you delight customers and take your online business to the next level.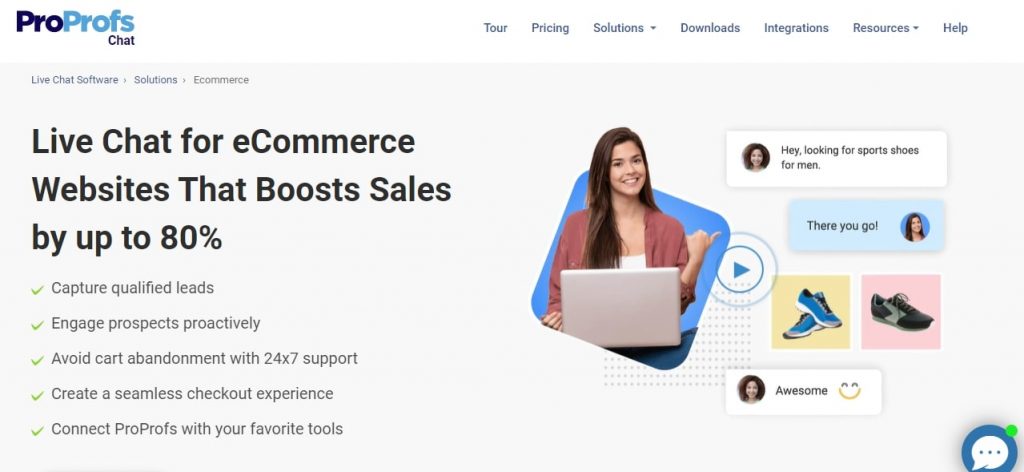 ProProfs Chat is the ideal platform for those looking to automate their customer service, lead generation, and sales processes. You can build powerful chatbots with the help of expert-designed templates or create one from scratch. Bots can hold meaningful conversations, share help center articles, and help reduce ticket volume.
ProProfs realizes the importance of lead generation for any budding eCommerce business. You can design your pre-chat forms to obtain important visitor information – from their email address to problem type. Moreover, you can invite visitors to chat based on the time they have spent on your website.
Top Features of ProProfs Chat:
See what customers are typing even before they hit send
Use expert-designed chatbot templates for customer service, lead generation, etc.
Grow your eCommerce sales with personalized announcements
Track key metrics such as first response time, missed chats, and more
Obtain instant feedback with post-chat ratings and surveys
What we liked:
Customers and operators can use a voice assistant to convert their speech into text.
You can place your chat widget on unlimited domains.
What could be better:
More chatbot templates can be added.
The mobile app needs improvement.
Pricing:
Starts at $19.99/user/month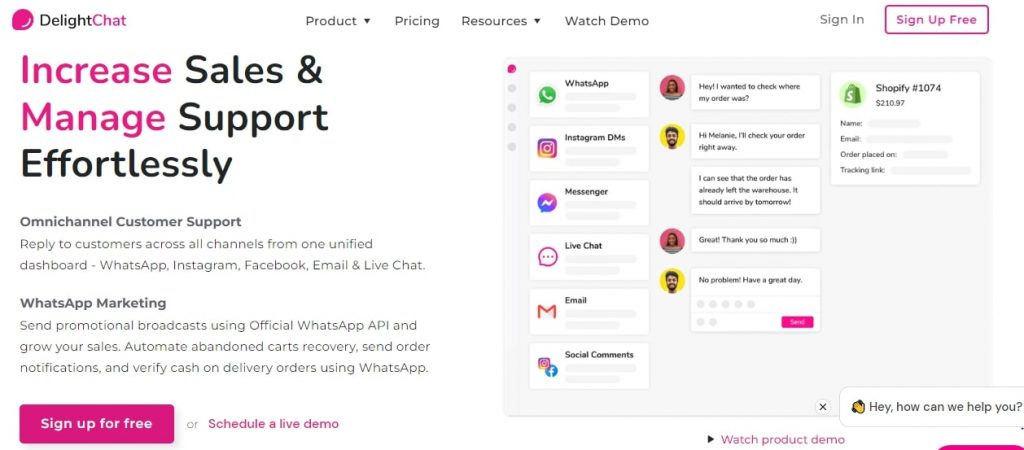 DelightChat helps you connect with your online shoppers on a variety of channels. In addition to email and live chat, you can monitor customer conversations on WhatsApp, Facebook, and Instagram.
With the help of this eCommerce live chat platform, you can market your products and services to your target audience on WhatsApp. You can use the Official WhatsApp API to send broadcasts to your customer list. Leverage personalized message templates and generate up to 26x returns on your marketing spending.
Top Features of DelightChat:
Share automated notifications for order confirmations, product reviews, etc.
Reply to comments on your Instagram posts or ads
Manage online orders with the Shopify integration
Add a self-service widget to allow customers to track their online orders
Create pre-made response templates for common queries
What we liked:
You can easily organize your tickets with tags, such as "refund request."
Great tool for WhatsApp marketing automation.
What could be better:
You will have to pay an additional fee for WhatsApp marketing features.
DelightChat's mobile apps need improvement.
Pricing:
Starts at $49/month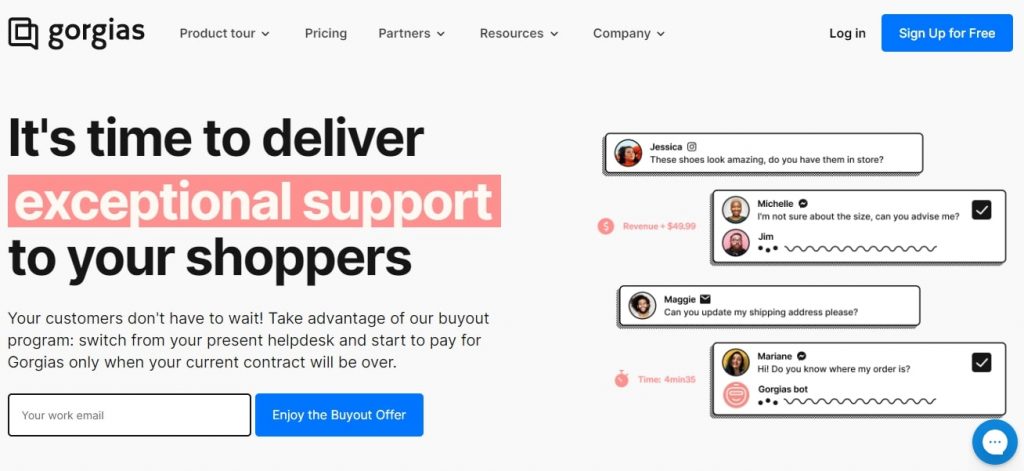 Gorgias is a versatile customer service and engagement solution designed for eCommerce companies. You can add a fast-loading chat widget to your online store and resolve their problems before they turn into tickets.
The tool helps your customer service operators view complete information right from their help desk dashboard. For example, they can edit online orders, initiate refunds to customers, and modify subscriptions within a few minutes.
Top Features of Gorgias:
Access your product catalog and shopper history in one place
Set up a chat campaign to automatically message website visitors
Route chat requests to the right operators in your team
Offer self-service options to customers from inside the chat window
Create a ticket when your operators aren't available to take chats
What we liked:
The chat widget quickly loads on your website.
Integrate with platforms such as Shopify, Magento, and BigCommerce
What could be better:
The Starter plan is limited to just 50 tickets per month.
For the self-service functionality, you will have to pay extra.
Pricing:
Starts at $10/month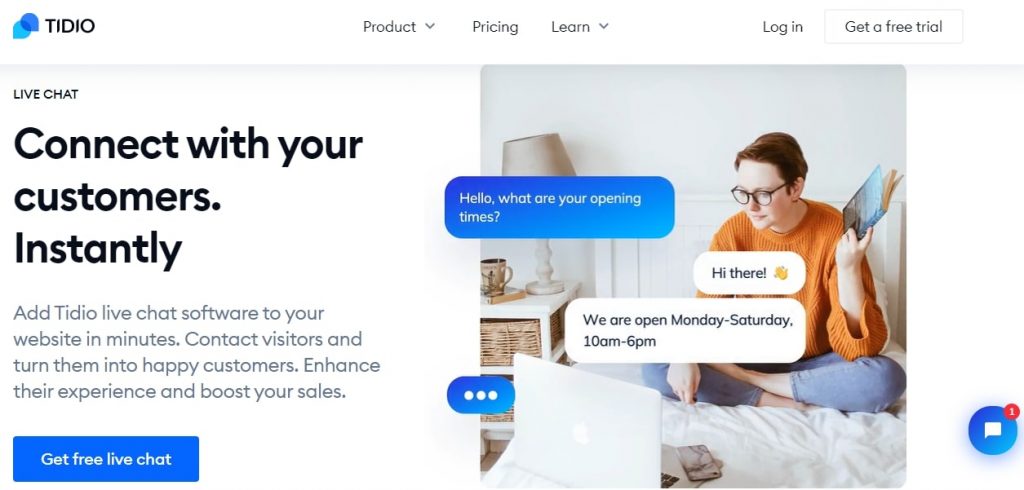 Tidio helps you add live chat to eCommerce store to enhance customer engagement and support. With the shared inbox feature, operators can manage communications on different channels, such as your business website, Facebook Messenger, Instagram, and more.
Additionally, the tool can assist you in connecting with website visitors, offering proactive customer service, and reducing your shopping cart abandonment rates.
Top Features of Tidio:
Integrate with the leading eCommerce platforms – Shopify and BigCommerce
Track the behavior of website visitors and the pages they visit
Get visitor notifications to offer proactive customer service
Grow your online sales by sharing top deals and ongoing offers
Interact with customers on the move with Android and iOS mobile apps
What we liked:
Easily build your chatbot with the help of 35+ templates.
You can see what customers are typing to improve your response speed.
What could be better:
The starting plan does not offer the chatbot feature.
Social media integrations need improvement.
Pricing:
Starts at $19/operator/month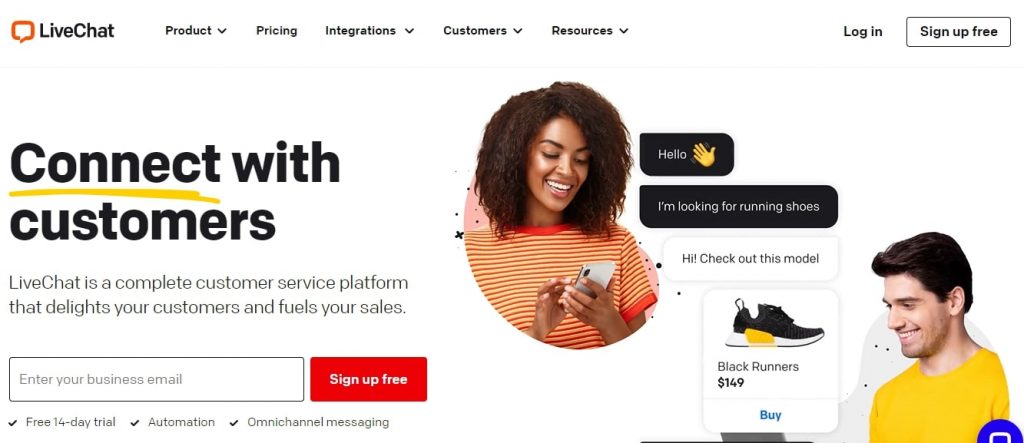 As the name suggests, Live Chat is a popular tool that helps you offer live chat for retail and eCommerce. The tool allows you to carefully route chats to team members based on the domain or URL a visitor lands on.
You can share post-chat surveys with visitors to allow them to rate operator knowledge or the quality of the overall experience. In addition, chat transcripts can be shared via email to save every important conversation.
Top Features of LiveChat:
Connect LiveChat with apps such as Salesforce and DropBox
Allow customers to re-read a chat conversation anytime they need to
Organize customer conversations using chat tags
Convert chats into tickets when your team is offline
Easily transfer chats from one team member to another
What we liked:
In-chat customer satisfaction and chat interaction ratings.
Easily customize the live chat widget based on your unique preferences.
What could be better:
There should be a way to notify customers when a reply is pending from their end.
Sometimes, the system lags when multiple customers are waiting in the queue.
Pricing:
Starts at $20/user/month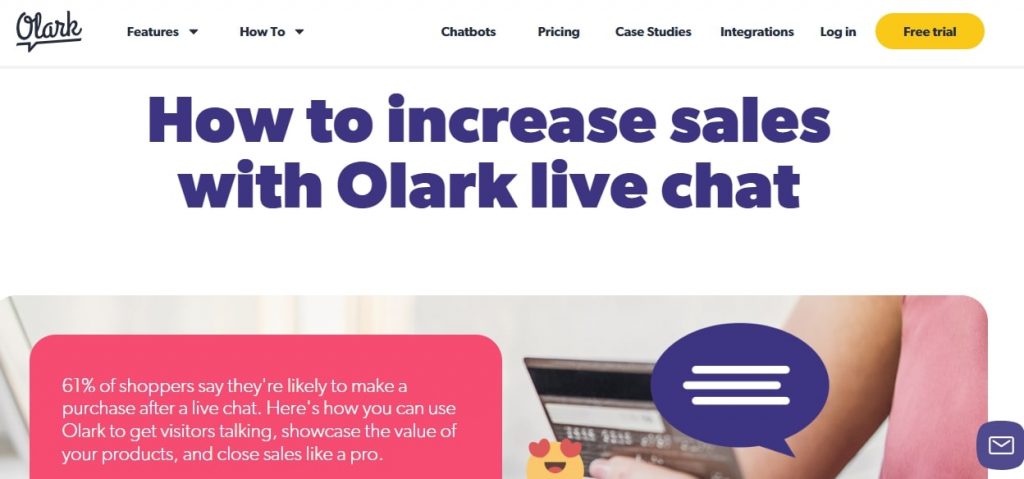 Olark allows you to invite website visitors to chat right when they're thinking about making a purchase. You can share proactive messages with all visitors who meet a particular criteria.
Live chat operators can access transcripts of past chats to personalize present conversations. With out-of-the-box customization capabilities, you can easily match the live chat window with your website's visual aesthetics.
Top Features of Olark:
Easily sort, filter, and access your chat transcripts
Show or hide your chat box based on visitor availability
Monitor metrics such as chat volume, customer satisfaction, and agent activities
Connect Olark with Google Analytics and WordPress
Give your operators a shared database of canned responses
What we liked:
You can speed up your workflow with powerful automation.
The tool offers multiple integration options.
What could be better:
Customer service needs improvement.
The screen-sharing feature lags often and can hamper the CX.
Pricing:
Starts at $29/month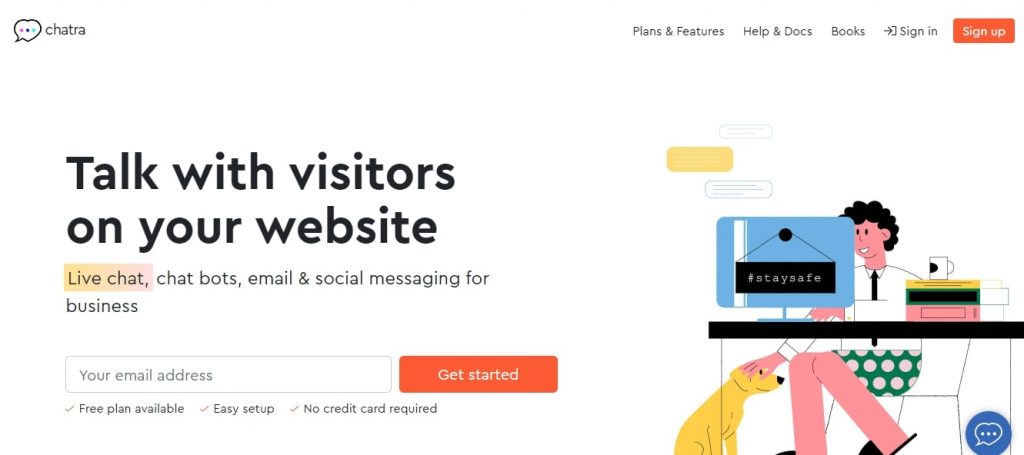 With Chatra, you can offer eCommerce live chat support on your website. You can connect your Facebook, Instagram, and email accounts to manage customer messages from one shared dashboard.
Chatra stores all your chat history for any time, anywhere access. Both customers and operators can view the conversation history to gain relevant context. Moreover, managers can track important metrics such as agent responsiveness and overall customer satisfaction.
Top Features of Chatra:
Leverage chatbots to handle frequently asked questions
Explore cross-sell and upsell opportunities to boost sales
Respond to Instagram and Facebook DMs directly from your inbox
Monitor visitors browsing your website with their current locations
Use dedicated mobile apps to communicate with customers on the go
What we liked:
You can see when a recipient has opened your email.
Integrate with WooCommerce, Shopify, and BigCommerce.
What could be better:
The Essentials plan does not offer the chat rating feature.
Sometimes, the chat window can lag, leading to slow response times.
Pricing:
Starts at $17/user/month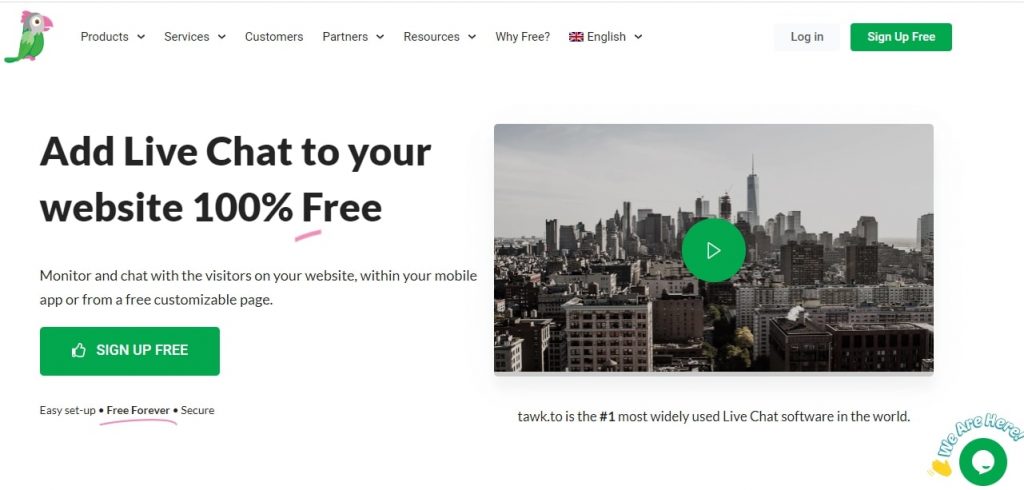 Tawk.to helps you set up your chat widget in a matter of minutes. With a built-in knowledge base, you can share links to help articles with customers and encourage self-service.
The tool helps you keep a firm tab on your website visitors. For example, you can see which pages they are visiting in real-time, track how often they visit your online store, and monitor the customer journey.
Top Features of Tawk.to:
Use canned messages to share consistent replies with visitors
Initiate chats proactively with website visitors and app users
Grab visitor attention with well-designed chat projects
View what customers are typing with the message sneak-peek feature
Make sessions more fun and interactive with 1800+ emojis
What we liked:
You can chat with customers in over 45+ languages.
Receive chat notifications on your mobile app.
What could be better:
The tool does not offer the chatbot feature.
The chat notifications are inconsistent, leading to missed chats.
Pricing:
Get in touch with the company for a quote.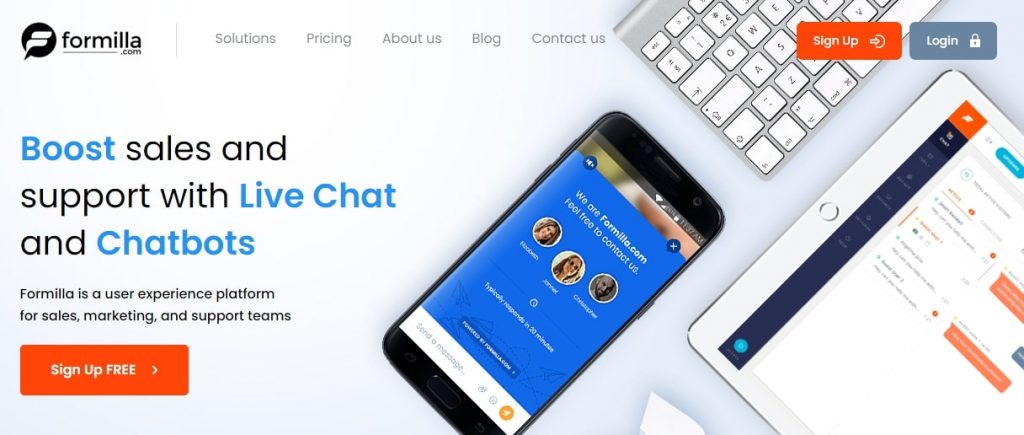 Formilla is a customer communication platform that brings robust live chat and chatbot features to the table. Your customer support and sales representatives can answer common questions, qualify leads, and view crucial customer information in one place.
If you are on the verge of launching a new product, service, or feature, this tool has got your back. You can share announcements with website visitors and offer them onboarding tips to help them see the value in your products.
Top Features of Formilla:
Add operator pictures to foster a real human connection
Enable browser notifications to never miss a chat again
View website traffic and visitor location in real-time
Create custom chatbots to offer round-the-clock assistance
Receive push notifications right in your smartphone
What we liked:
Chatbots use AI to improve future customer interactions.
You can target visitors by country.
What could be better:
Visitor monitoring is not available in the Premium plan.
Customization options are quite limited.
Pricing:
Starts at $19.99/month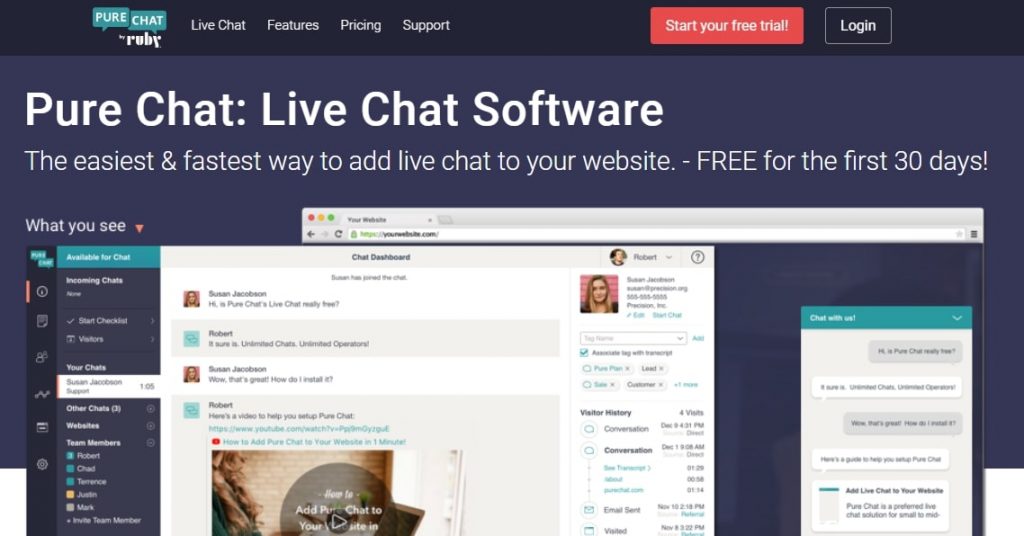 Pure Chat is one of the leading tools that offer powerful live chat software for eCommerce businesses. Your team can connect with website visitors at the right time to convert them into paying customers.
Pure Chat comes with multiple customization options to tweak the live chat experience based on your unique needs. You can gain complete control over how your chat window appears and functions on both mobile devices and browsers.
Top Features of Pure Chat:
Use canned responses to share faster and consistent replies
Gain context by accessing all chat transcripts in one place
Assign roles such as Admin, Operators, etc. to team members
Capture important visitor information with pre-chat forms
Manage operator availability to calculate relevant performance metrics
What we liked:
Leverage native apps for Android and iOS.
Pure Chat is easy to set up and intuitive to use.
What could be better:
There is no provision to share chat transcripts in PDF format.
Expensive plans make this tool unsuitable for small businesses.
Pricing:
Starts at $39/month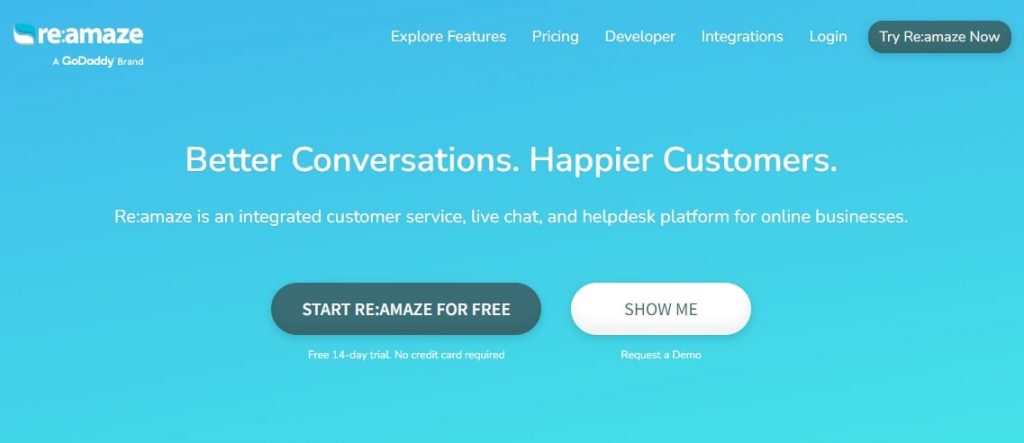 Re:amaze is an integrated live chat and help desk platform designed for online businesses. Your team can access live chat, email, video call, SMS, and social media messages in one place and focus on creating amazing customer experiences.
The tool also comes with powerful team collaboration features. Internal support teams can collaborate with one another using assignments, private notes, and shared views.
Top Features of Re:amaze:
Share targetted messages with visitors for better engagement
Customize office hours to let customers know about your team's availability
View customer profile data as they chat with you
Encourage self-service support with insightful topics and articles
Integrate with popular tools such as MailChimp, Amazon, and Shopify
What we liked:
Operators can monitor what other team members are viewing or replying to.
Leverage multiple integration options.
What could be better:
Self-service capabilities are only available in the top-tier plan.
The tool comes with a steep learning curve.
Pricing:
Starts at $29/user/month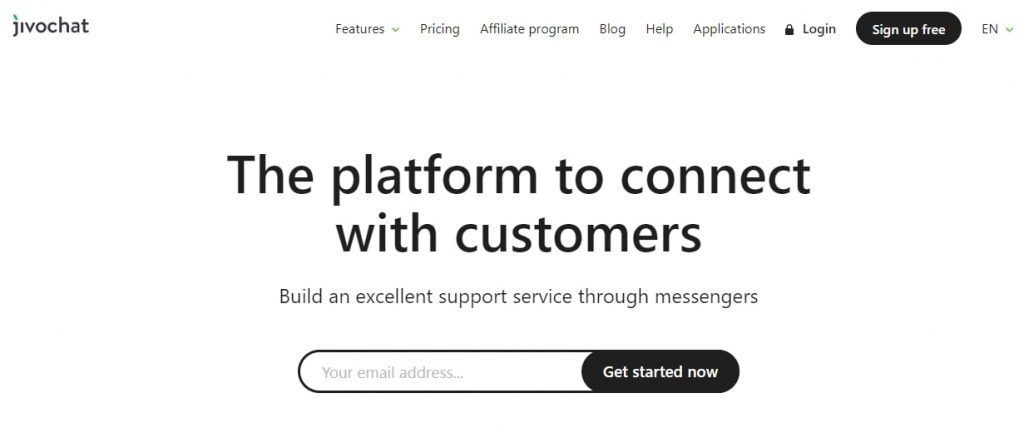 Jivo Chat brings all your communication channels, such as live chat, social media, phone calls, and messengers, on a single dashboard. You can develop powerful chatbots to reduce your team's workload and increase online sales.
This online live chat platform helps you keep a firm tab on operator activities and performance. For example, you can track response times, working hours, and other employee activities. In addition, you can even view your message traffic for different channels.
Top Features of Jivo Chat:
Boost sales by connecting Jivo Chat with WhatsApp
Handle frequently asked questions with powerful chatbots
Share call-back forms with clients to never miss a lead again
Speed up your workflow with hotkeys
Integrate Jivo Chat with Slack, WordPress, and multiple other tools
What we liked:
You can video call your clients to display your products or enable screen-sharing.
Translate customer messages in 20+ languages.
What could be better:
The UI seems quite outdated.
Many users have complained about delayed support.
Pricing:
Starts at $19/user/month
Boost Customer Delight & Sales With E-Commerce Live Chat
We all have heard eCommerce success stories. How a small startup became a billion-dollar business in no time. Thanks to today's technology, rapid business growth isn't a distant dream anymore.
With the best live chat app for eCommerce, you can ensure not a single website visitor is lost. Grab their attention with proactive greetings and announcements, offer 24×7 assistance with chatbots, and recommend your top-selling products to increase the average cart value.
All the tools have been carefully picked by our experts after in-depth analysis and comparison. If you want a powerful live chat solution to automate lead generation and customer service, you can go for ProProfs Chat. If you are looking for one that offers the best integration options with eCommerce platforms, choose Gorgias. If you are on the hunt for a highly customizable solution, place your bet on Pure Chat.
Do you want a free Live Chat software?
We have the #1 Online Live Chat Software for instant customer support 24x7