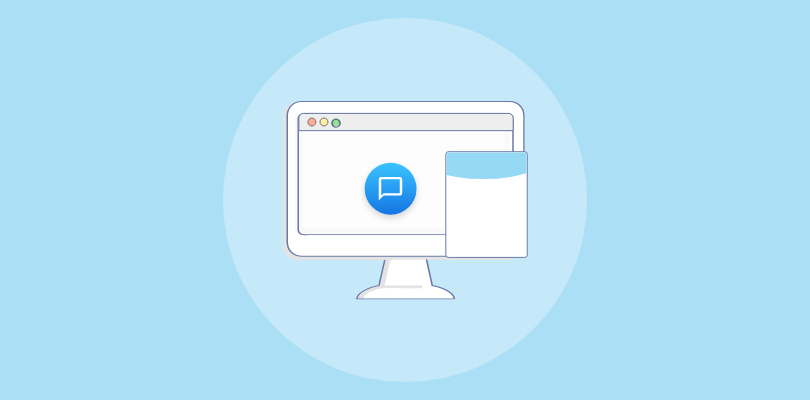 With a staggering 90% of customers considering customer support as an important factor in choosing a brand, businesses are still struggling to stay responsive and efficient.
This is where chat widgets come to the rescue, offering a seamless way to address customer queries at lightning-fast speed.
But there's a catch: How to find the best chat widget amongst so many available in the market?
As a customer support professional with years of experience using these tools, I know it can be hard to get the best tool for your business. Thus, I've compiled a list of the best chat widgets, most of which I have tried myself.
So, without further ado, let's get started with a sneak peek into the best chat widgets of 2023.
| Chat Widget | Best For | Plan |
| --- | --- | --- |
| ProProfs Chat | Customization and automated support | Forever-free for a single operator. Paid plan starts at $19.99/operator/month. |
| Brevo | Whatsapp campaigns | Plan starts at 15/user/month. Free version available. |
| Tidio | Chatbot support | Plan starts at $29/month. Free version available. |
| HubSpot | Multichannel support | Starts at $18/month. |
| LiveChat | Chat routing | Starts at $20/agent/month. |
| Chatra | Proactive chat initiation | Plan starts at 17/agent/month. Free version available. |
| Help Scout | Collaborative customer support | Starts at $20/user/month. |
| Olark | Real-time visitor monitoring | Starts at $29/seat/month. |
| Tawk.to | Multilingual support | Free forever. |
| LiveAgent | Comprehensive chat overview | Starts at $9/agent/month. |
| Zendesk | Reports and Analytics | Starts at $55/agent/month. |
| Zoho Desk | Handling multiple chats | Starts at $10/user/month. |
Top 12 Chat Widgets in 2023
You might wonder, what makes my research credible?
Well, I have first-hand experience with most of the tools that I recommend on the list. But, I have not restricted my list only to the tools I have used. I have also included tools recommended by my industry peers while also considering customer reviews about them.
As for myself, I am presently using ProProfs Chat, and that's the reason it occupies the top position on my list.
Best for Customization and Automated Support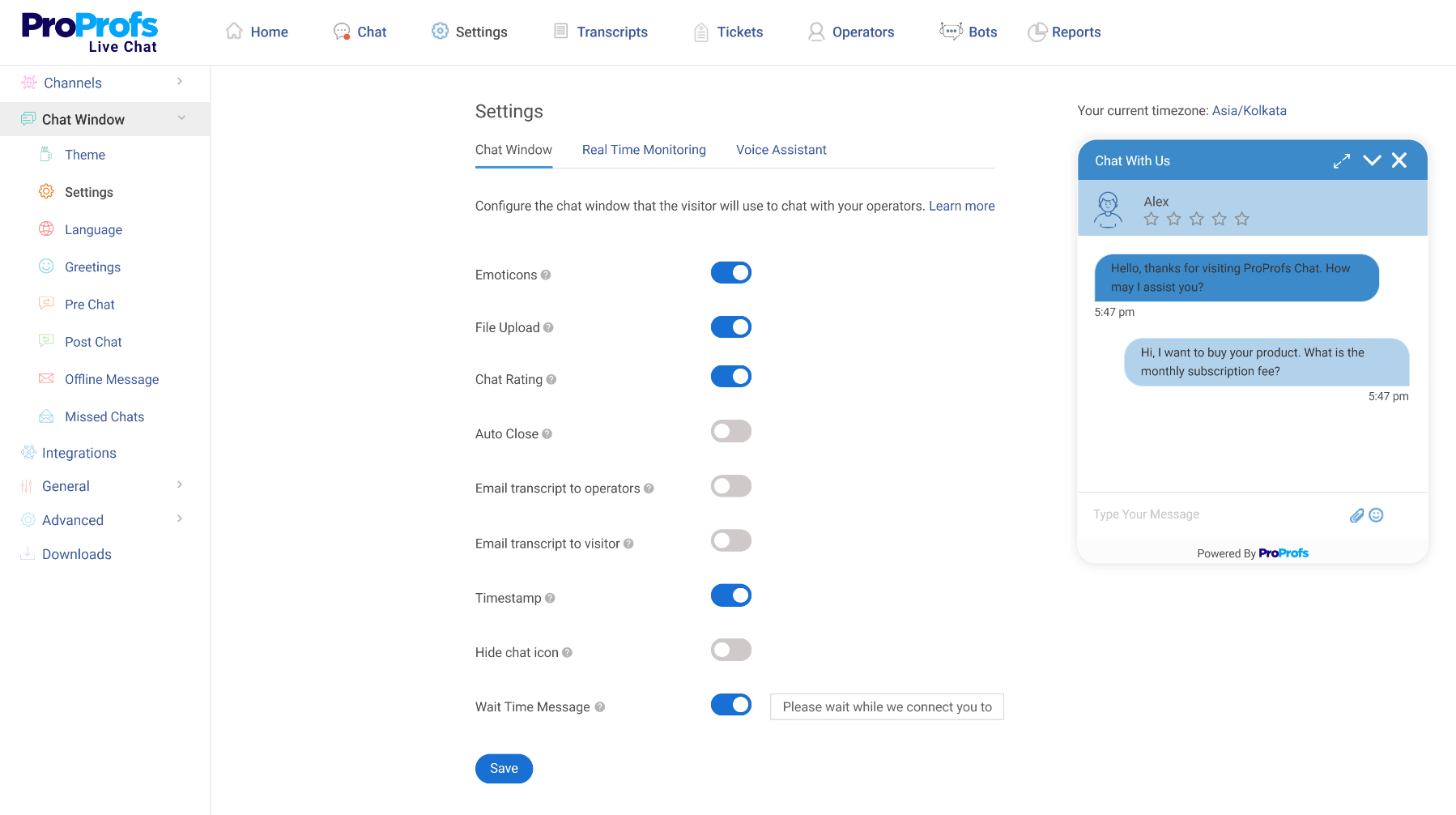 ProProfs Chat is a versatile customer support and engagement tool that I find incredibly useful. It offers real-time chat capabilities, allowing me to engage with website visitors efficiently. I am able to customize the chat widgets to match my brand's look and feel.
What sets ProProfs Chat apart is its robust set of features, including automated chatbots for handling routine queries, detailed visitor tracking, and proactive chat initiation. The integration with ProProfs Knowledge Base enables seamless knowledge sharing with customers.
Moreover, it offers post-chat surveys and feedback forms to collect valuable insights. With ProProfs Chat, I've seen improved customer satisfaction and increased conversions.
What you'll like
Customizable chat widgets to match your website's design seamlessly.
Automated greetings to proactively initiate conversations with users.
Integration with ProProfs Knowledge Base for self-help articles.
Canned responses for quick and error-free responses.
Advanced reporting and analytics to measure operator performance.
Intelligent chat routing for transferring chats to the right agents/department.
What you will not like
Frequent updates on the AI chatbot can get overwhelming for new users.
Free plan is limited to a single operator.
Pricing: Forever free for a single operator. Live chat pricing for multiple operators starts at $19.99/agent/month.
Best for Whatsapp Campaigns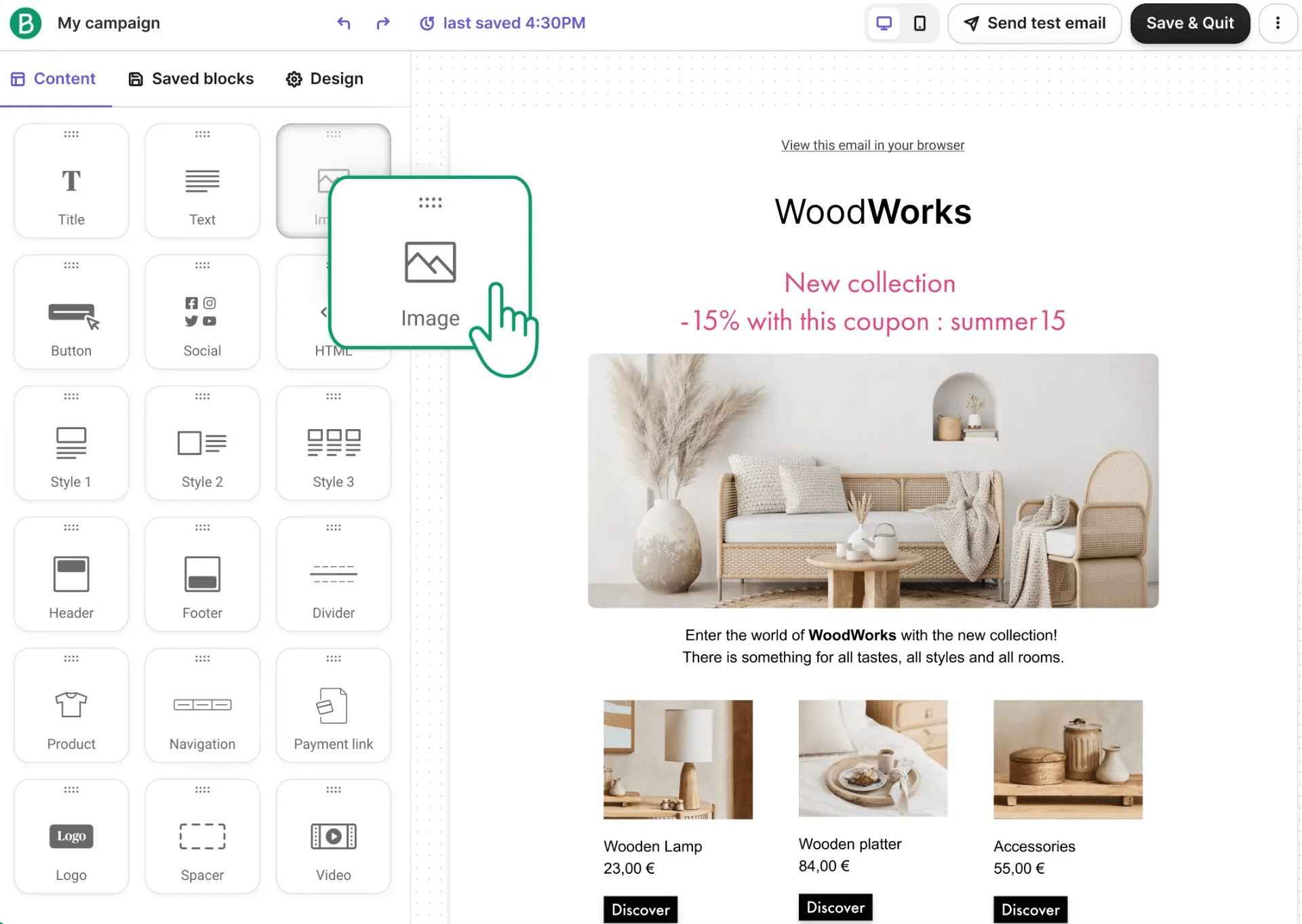 When we initially began testing this tool, my expectations were modest, as it was merely a trial run. But, the remarkable transformation it brought to our customer support operations caught me off guard.
One of the best features of this tool is its WhatsApp campaigns, which proved to be exceptionally effective. This feature allowed my team to send messages in bulk, greatly enhancing our communication efficiency.
Brevo's chatbots have been a game-changer in my team's ability to respond promptly to frequently asked questions, resulting in significant time savings for our team. This tool also offers the convenience of managing all incoming messages, whether from email, WhatsApp, live chat, or direct messages, in a single unified platform.
As if that weren't impressive enough, the tool also empowered us to establish automated triggers based on visitor behavior, further streamlining our customer engagement efforts.
What you'll like
Omnichannel communication, including chat, email, and SMS from a single platform.
Personalized chat interactions based on user behavior and data.
Automated workflows to streamline customer engagement and follow-ups.
Contact segmentation for targeting specific customer groups with relevant messages.
Real-time performance tracking to measure chat success and optimize strategies.
What you will not like
Limited integration options with third-party apps and tools.
Advanced automation features require technical expertise to set up effectively.
Pricing: Starts at $0 (limited to a single user and basic features). Paid plan starts at $15/user/month.
Best for Chatbot Support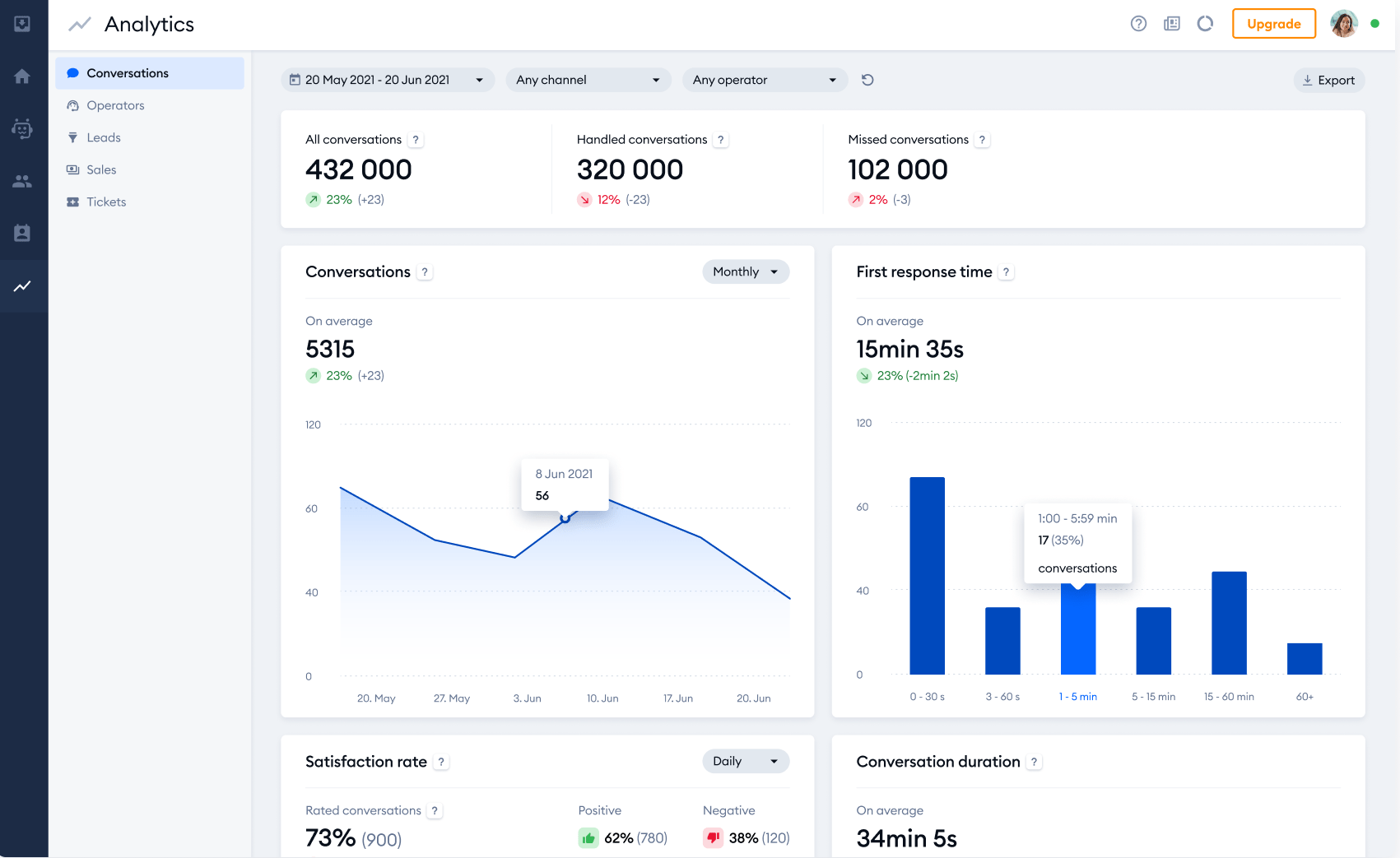 Tidio offers a user-friendly chat widget for businesses of all sizes. I've found it particularly handy for providing excellent customer support. Tidio's chatbots save me a lot of time and help automate responses to frequently asked questions while allowing human intervention when needed.
It integrates seamlessly with popular platforms like WordPress and Shopify. The mobile app ensures I can stay connected with customers on the go.
Tidio's reporting and analytics tools have given me insights into visitor behavior, helping me make data-driven decisions for my business.
What you'll like
AI-powered chatbots for 24/7 instant responses and lead generation.
Multilingual chat support to reach a global audience effectively.
Visitor tracking and history for personalized conversations.
Customizable chat templates and designs to match your brand.
Email and messenger integrations for consistent communication.
What you will not like
Free plan has limitations on the number of stored chat transcripts.
Some users find the reporting and analytics features less comprehensive than other tools.
Pricing: Starts at $0 (with limited features). Paid plan starts at $29/month.
Best for Multichannel Support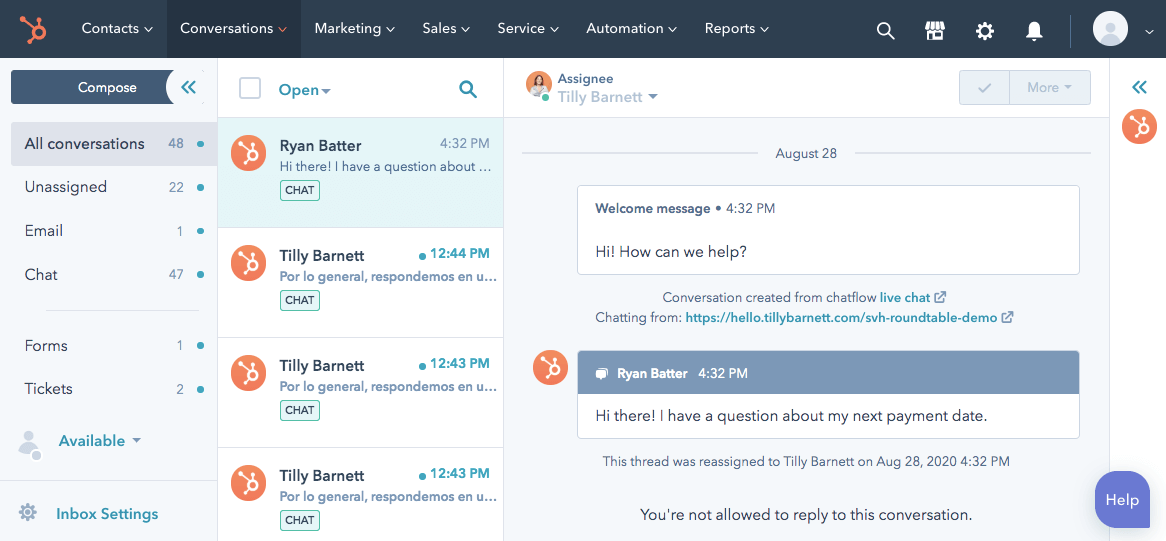 HubSpot's truly impressive chat widget is part of its comprehensive CRM and marketing automation suite. It helped me manage conversations seamlessly across multiple channels, from website chat to email and social media.
This intuitive chatbot builder enabled me to create customized chatbots without coding. The chat widget integrates seamlessly with other HubSpot tools, providing a holistic view of customer interactions.
The analytics and reporting features were also instrumental in understanding customer behavior and improving engagement strategies. HubSpot's chat has undoubtedly improved my customer service and marketing efforts.
What you'll like
Unified platform for managing customer interactions across chat, email, and social media.
Automated chat routing to connect users with the right team members.
Integration with HubSpot CRM for contextual and personalized conversations.
A searchable library of help articles, videos, and documentation.
Detailed visitor information for meaningful engagement.
What you will not like
Pricing can be high, especially for small businesses.
Integration with non-HubSpot tools requires additional technical setup.
Pricing: Starts at $18/month.
Best for Chat Routing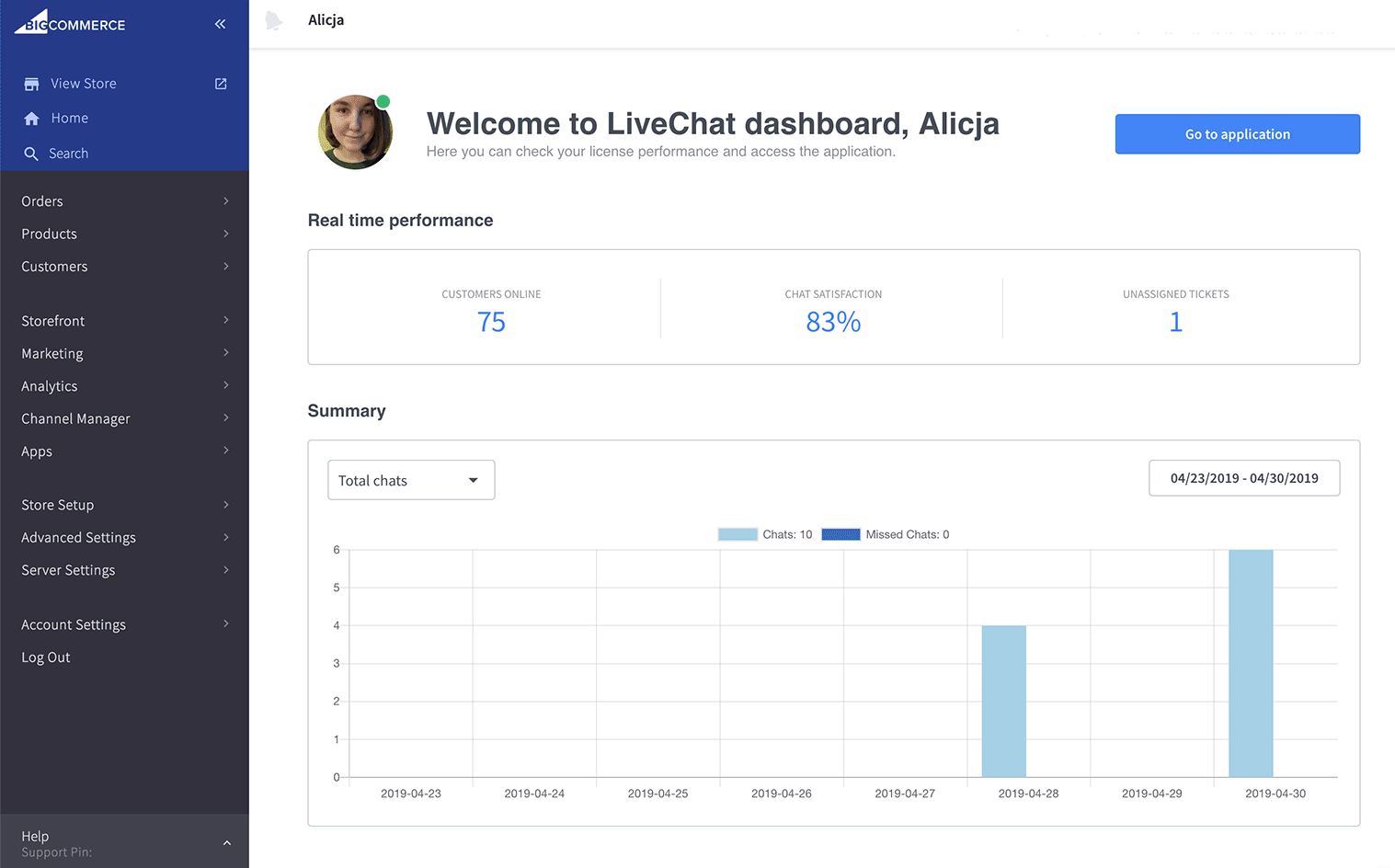 LiveChat is a customer support-focused chat widget that I've found to be highly effective in real-time customer engagement. Its sleek and customizable chat window can be tailored to match the website's branding.
Its extensive integration options let you connect with popular CRM and helpdesk software. The two most important features for me were chat routing and tagging, which helped streamline our support workflow.
LiveChat also offers analytics that provides insights into agent performance and customer satisfaction. Plus, it offers features like chat transcripts and offline messaging to ensure a seamless customer experience around the clock. LiveChat significantly improved our customer service efficiency and satisfaction rates.
What you'll like
AI-powered chat tags for categorizing and prioritizing conversations.
Chat surveys and feedback forms for continuous improvement.
File sharing capabilities for easy exchange of documents and resources.
Agent performance analytics for quality assurance and training.
Advanced security features to ensure data protection during chats.
What you will not like
The mobile app experience may not be as user-friendly as the web version.
The learning curve for advanced features like automation can be steep.
Pricing: Starts at $20/agent/month (billed annually).
Best for Proactive Chat Initiation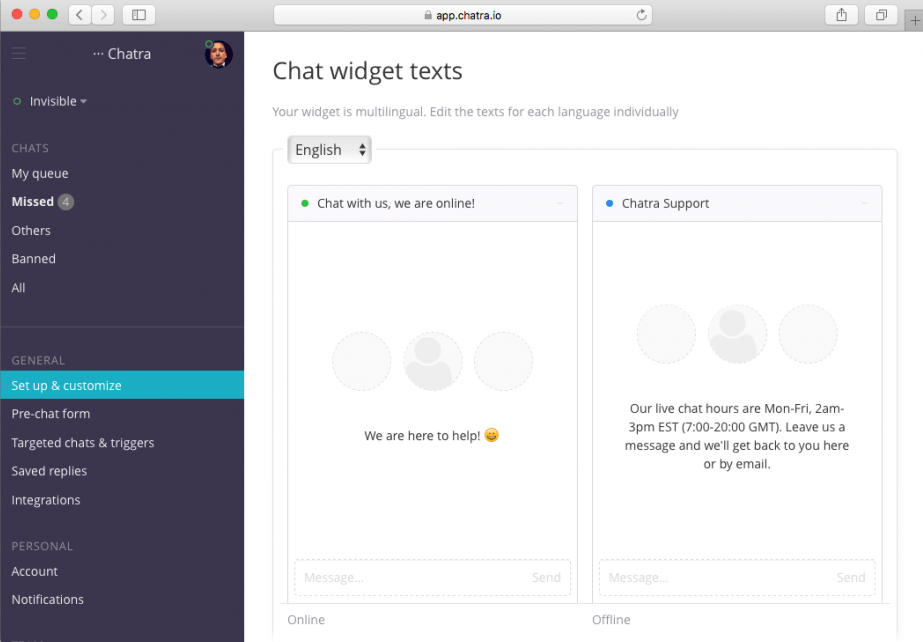 Chatra, now a part of Brevo, proved to be a great addition to my customer support toolkit. Its real-time chat capabilities are enhanced by features like typing insights, which allowed me to anticipate customer needs.
Chatra's multi-chat capability means my team can efficiently handle multiple customer inquiries simultaneously. It offers customizable chat widgets, which I've used to create engaging and visually appealing chat windows.
The proactive chat initiation feature boosted our conversion rates by reaching potential customers at the right time. Its comprehensive visitor tracking and analytics provided us with valuable insights into customer behavior, which we used to refine our strategies for better engagement.
What you'll like
Group chats for collaborative customer support within your team.
Real-time typing view to anticipate and respond promptly.
Chatbots to collect visitors' data and automate repetitive tasks like answering FAQs.
Proactive greetings and triggered messages for personalized engagement.
Offline mode for capturing messages even when agents are unavailable.
What you will not like
Limited advanced automation and chatbot capabilities compared to some competitors.
Occasional difficulties with the chat widget's mobile responsiveness.
Pricing: Starts at $0 (with limited features). Paid plan starts at $17/agent/month.
Best for Collaborative Customer Support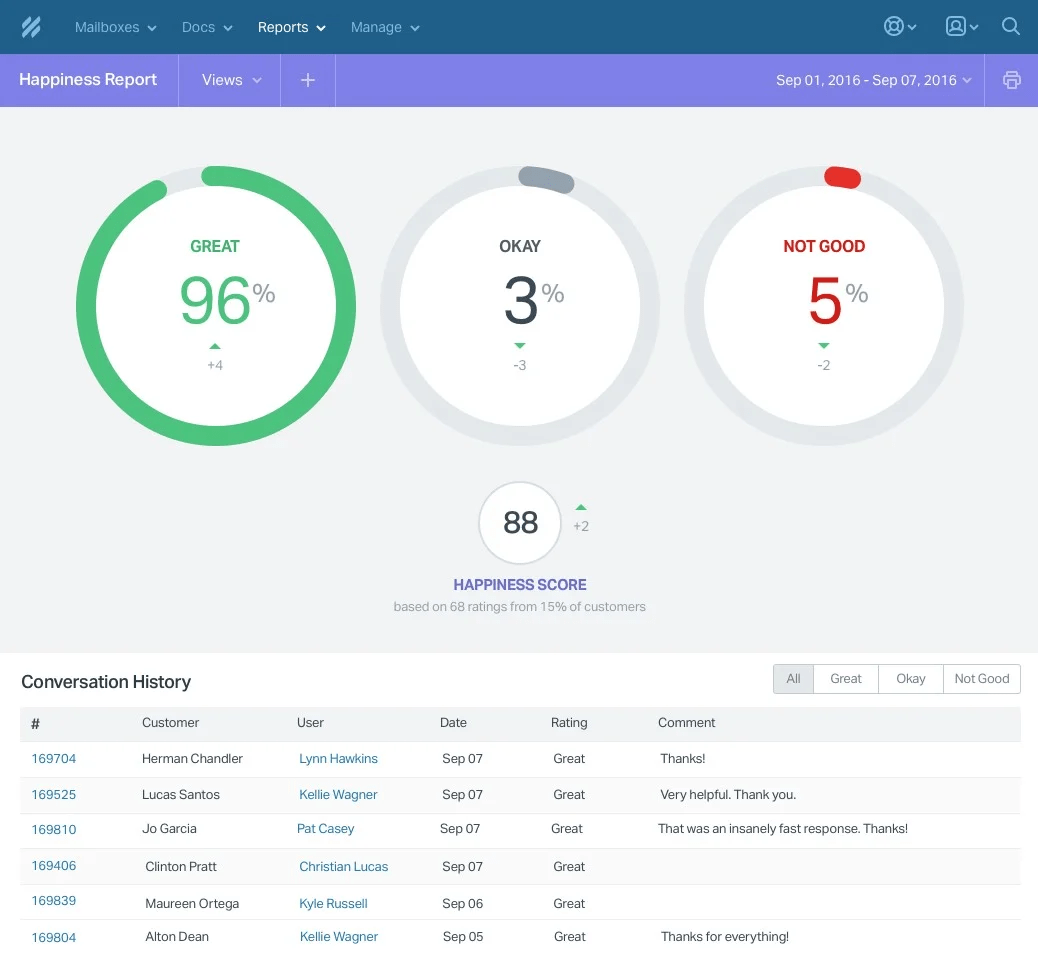 Help Scout's chat widget complements its robust helpdesk platform beautifully. I've found it invaluable for managing customer inquiries with ease. What sets Help Scout apart is its focus on collaborative customer support, allowing my team to work together efficiently.
The chat widget integrates seamlessly with Help Scout's shared inbox, ensuring a unified view of customer interactions. It also supports automated responses and canned responses for quicker issue resolution.
This tool has been a lifesaver by letting me analyze my team's performance with its detailed reports and analytics. It's a good-to-go for businesses looking to enhance their customer support experience.
What you'll like
Collision detection to prevent multiple agents from responding to the same query.
Integration of customer data from various sources for context-rich interactions.
Knowledge base integration to provide self-service options to customers.
Performance reports to monitor agent productivity and customer satisfaction.
Automation workflows for quick and consistent responses.
What you will not like
Learning curve for setting up and customizing the software for new users.
The interface can be less intuitive for users accustomed to more chat-centric solutions.
Pricing: Starts at $20/user/month.
Best for Real-Time Visitor Monitoring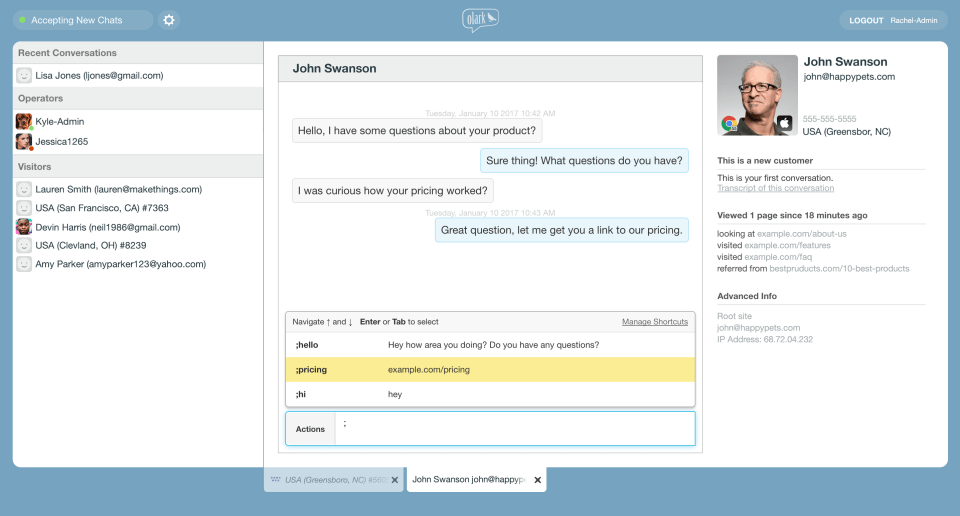 Olark is a user-friendly chat widget that I've found excellent for small to medium-sized businesses. Its highly customizable chatbox lets you offer a visually impressive customer support experience.
Olark's automated chat features helped engage with visitors, even when my team was offline. The real-time visitor monitoring helped my team proactively connect with customers looking for solutions but hesitated to reach out.
Olark's simplicity and affordability make it an excellent choice for businesses looking to enhance customer support and engagement.
What you'll like
Real-time monitoring of website visitors and their browsing behavior.
Customizable chat widgets and chat shortcuts for quick responses.
Mobile apps for managing chats on iOS and Android devices.
Visitor information and history for personalized conversations.
Multilingual support for a global customer base.
What you will not like
Inability to send images during live chat sessions.
Customization options for the chat widget require HTML/CSS knowledge.
Pricing: Starts at $29/seat/month.
Best for Multilingual Support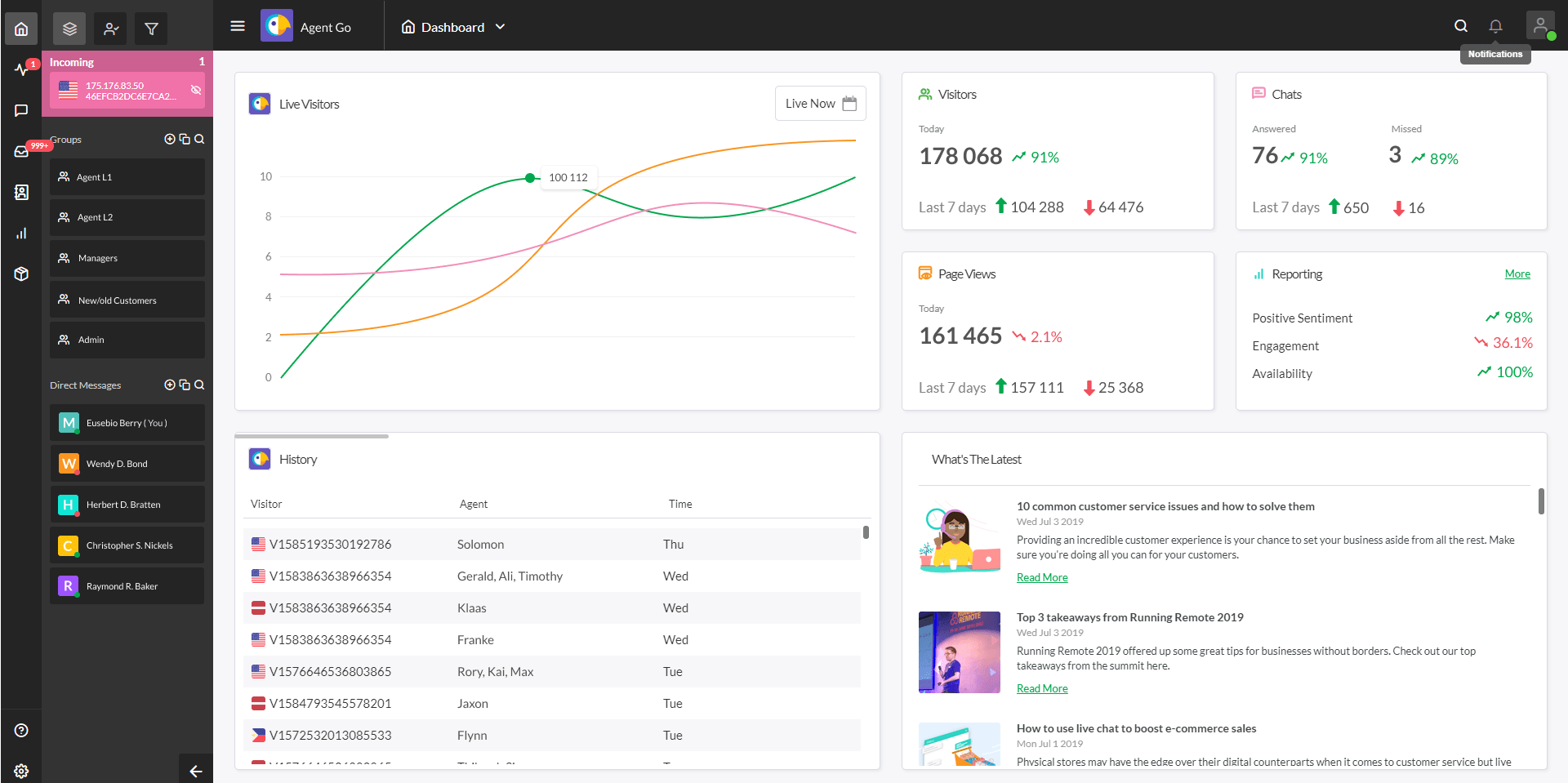 Tawk.to offers a free and feature-rich chat widget that my industry peers find to be a budget-friendly option for startups and small businesses. Its mobile app and web dashboards ensure you're always connected with your customers.
What's impressive is the ability to translate messages in over 45 languages and help you cater to a global audience. The tool also enables you to handle unlimited chats without incurring additional costs.
Tawk.to has recently rolled out its AI bot feature that helps you respond to customer inquiries instantly, in a personalized manner based on previously stored data. This tool can be a great addition to your business if you are looking for an affordable chat solution.
What you'll like
Real-time monitoring of website visitors and their browsing behavior.
Customizable chat widgets and chat shortcuts for quick responses.
Email reports and Google Analytics integration to boost your business vision.
Custom pre-chat forms, triggered messages, and offline messaging to make customers feel heard.
CoPilot feature to attract, capture, and qualify leads in your CRM for priority attention.
What you will not like
The free plan includes Tawk.to branding, which may not suit all businesses.
Reporting and analytics capabilities are not as robust as other chat solutions.
Pricing: Starts at $0.
Best for Comprehensive Chat Overview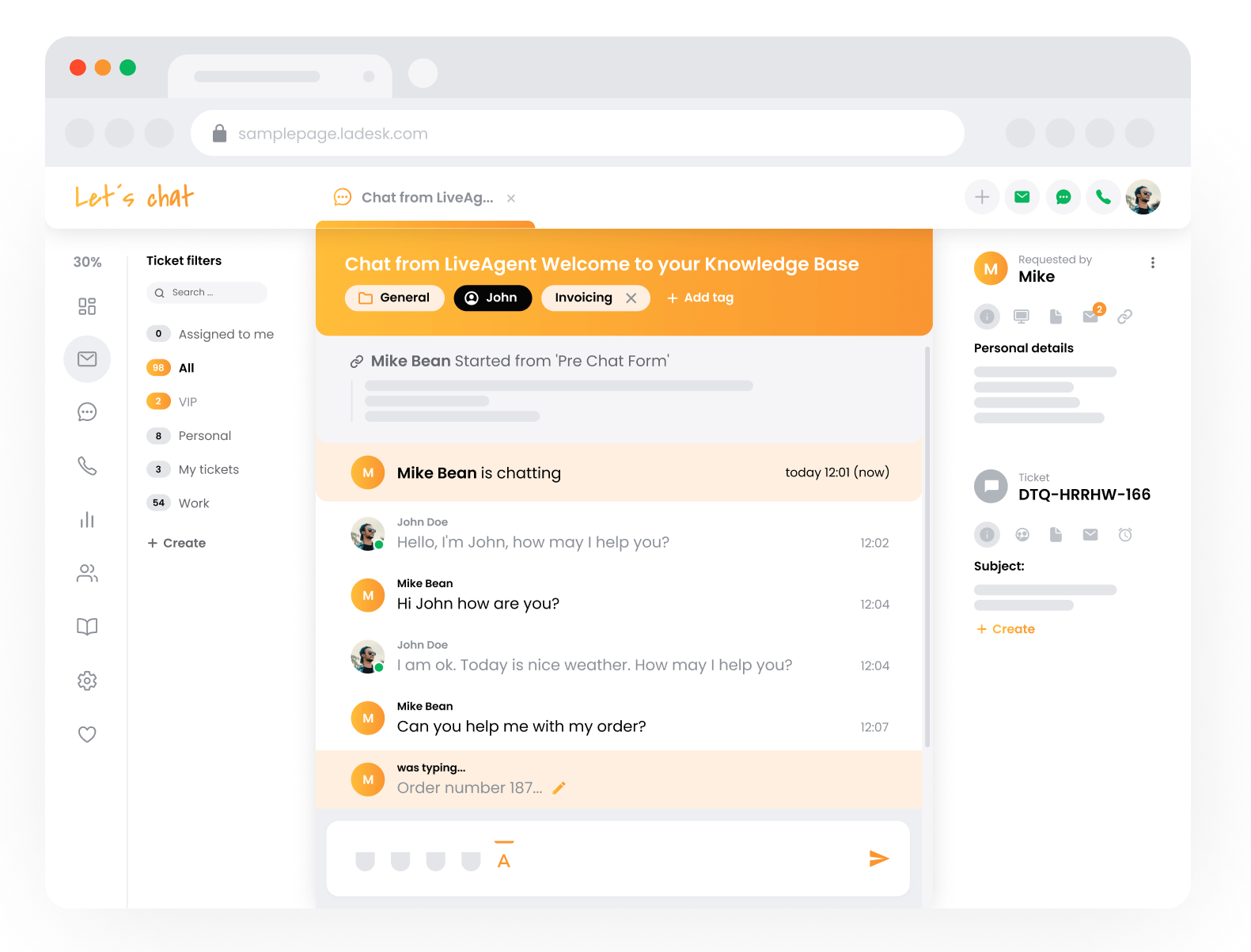 LiveAgent is a comprehensive customer support platform with a powerful chat widget that helped me significantly improve my customer service operations. Its chat features include chat routing, canned responses, and proactive chat invitations.
The platform's all-in-one approach, combining email, chat, and ticketing within a single dashboard, helped streamline the support workflow. The chat widget integrated seamlessly with other platforms like Pipedrive, providing a unified view of customer information.
The chat overview feature was invaluable, allowing my team to track all our website visitors and ongoing chats in one place. LiveAgent has undoubtedly helped us deliver exceptional customer support efficiently.
What you'll like
Customizable chat widgets and pre-chat surveys.
Multichannel support, including chat, email, and social media, in one platform.
Automated ticket distribution and prioritization for efficient problem-solving.
Knowledge base integration for self-service support.
Real-time chat translation for global communication.
What you will not like
Limited mobile app functionality.
Advanced automation features, like workflow automation and macros can be challenging for new users.
Pricing: Starts at $9/agent/month.
Best for Reports and Analytics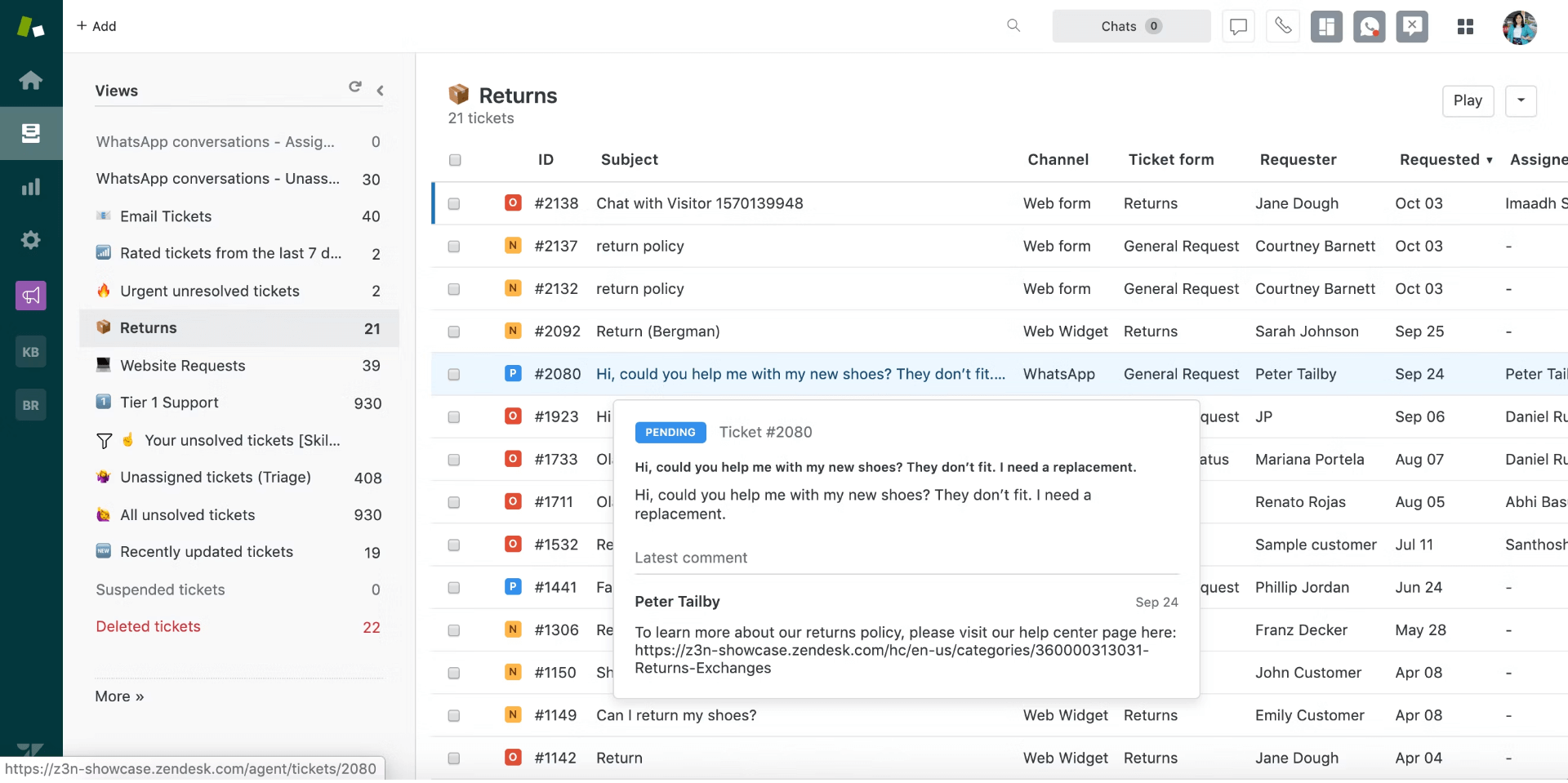 Zendesk's chat widget is part of its omnichannel customer support solution, and it proved to be a powerful tool for managing our customer inquiries.
The best part was the analytics feature that provided insights into chat performance, agent productivity, and customer satisfaction. The tool seamlessly integrates with the Zendesk Suite, including its ticketing, knowledge base, and CRM software.
The chatbot capabilities helped in automating responses to common questions, enhancing efficiency. The platform's seamless transition between chat and other support channels helped us ensure a cohesive customer experience.
What you'll like
AI-powered chatbots for automated responses and routing.
Integration with Zendesk Support for a seamless customer experience.
Knowledge base integration for self-service support options.
Ticketing system for tracking and managing customer inquiries.
Performance analytics and reporting for continuous improvement.
What you will not like
Limited customization options for the chat widget's appearance.
Pricing is at the higher end for small businesses and startups.
Pricing: Starts at $55/agent/month.
Best for Handling Multiple Chats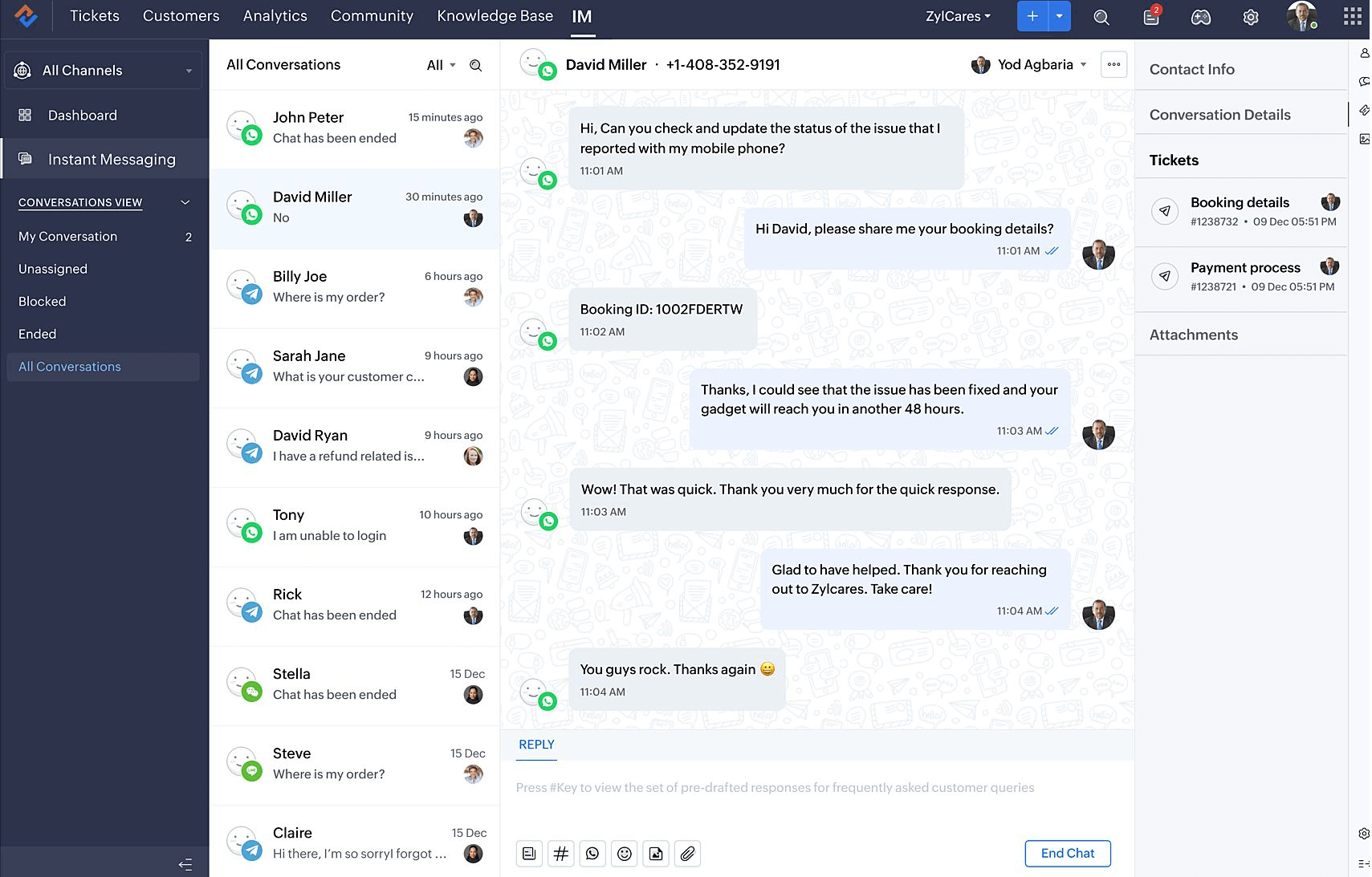 Zoho is one of the best chat widgets I have used when it comes to increasing efficiency. This tool allowed my team to handle multiple chats simultaneously, which significantly boosted our productivity.
It helped us reach out to customers more effectively by providing multiple touchpoints for our customers with its wide integration options. Plus, canned responses, customer context, and typing previews empower agents to provide swift and efficient support.
Another thing I liked about this tool was its privacy control for customer consent and credit card masking, ensuring secure interactions.
This is an excellent tool for businesses trying to get their hands on a comprehensive chat support solution.
What you'll like
Context-aware customer support with AI-powered features.
In-depth analytics for performance evaluation.
Mobile app for on-the-go customer support.
Self-service options with knowledge base and community forums.
Integration with other Zoho applications for a unified workflow.
What you will not like
The chatbot and automation features are not very advanced or flexible.
Limited and sometimes buggy integration with other tools.
Pricing: Starts at $10/user/month (billed annually).
Boost Customer Engagement With the Right Chat Widget for Your Website
Though I have provided you with a detailed list of the 12 best chat widgets, I will make it easier by providing my top 3 preferences.
Option 1: ProProfs Chat
This amazing tool has everything that a business requires to engage its customers in the most efficient manner. From advanced features like automated greetings, chat routing, and stored chat transcripts to feedback collection with post-chat surveys, this tool is an excellent option for businesses to boost customer engagement.
Option 2: Tidio
Tidio is another chat widget option known for its user-friendly interface. It offers automation features, allowing you to provide quick responses to common queries, even when your support team is unavailable.
The chatbot provided by Tidio can significantly reduce your response time. If you are looking to automate your customer support, Tidio can be your tool.
Option 3: Zendesk
Zendesk Chat is a powerful chat widget to consider, which offers robust integration with its other products in the Zendesk suite. This tool can help you improve your customer support with its detailed reports that let you analyze your chat performance. So, if you have chat metrics on your mind, this tool can be your savior.
While all the chat widgets discussed here are among the best options in the market, I would recommend ProProfs Chat.
This tool has significantly transformed how my team interacts with customers, and it remains my preferred choice to this day. I hope this list helps you decide the best chat widget option for your business.
Learn More About Best Live Chat Widgets
1. What is a chat widget?
A chat widget is a small interface element placed on a website that enables real-time communication between visitors and the website's operators or support staff. It typically appears as a chatbox or icon, allowing users to initiate conversations, ask questions, or seek assistance while browsing the site.
2. How does a live chat work?
Live chat software connects website visitors with live agents or chatbots in real time. Users can click the chat widget, type messages, and receive instant responses. Agents can assist with inquiries, provide information, and resolve issues, enhancing customer engagement and support directly on the website.
3. Why do you need to add a chat widget on your website?
Adding a chat widget enhances customer service, increases user engagement, and improves conversion rates. It offers immediate assistance, answers questions, resolves issues, and fosters a more personalized and interactive visitor experience, ultimately boosting customer satisfaction and loyalty.
4. What are the features to look for while choosing a chat widget for your website?
When selecting a chat widget, consider features like customization options, integration with CRM systems, mobile responsiveness, chatbot capabilities, reporting and analytics, multilingual support, and security measures. These features ensure that the widget aligns with your website's needs and objectives.
5. How do you add a chat widget to your website?
To add a chat widget, choose a chat platform, sign up for an account, customize the widget's appearance, and generate an embed code. Then, paste the code into your website's HTML or use a plugin/module if available for your platform. Finally, test the widget to ensure it functions correctly, allowing visitors to start live chats.
Do you want a free Live Chat software?
We have the #1 Online Live Chat Software for instant customer support 24x7