Are you struggling to retain your customers and keep them engaged? Do you wonder why the results of interactions across social media, emails, and online ads have been mostly unsatisfactory?
Customers are the lifeblood of any successful business. But keeping them engaged can be a real challenge. With multi-channel communication becoming a widespread practice, communication efficacy has dulled over the years.
Not engaging with customers actively results in missed growth opportunities and increases the risk of losing them to competitors. Therefore, understanding customer engagement and which tools to use is vital.
Plenty of affordable customer engagement tools are currently available in the marketplace. To choose the right tool for your company, you must thoroughly compare them and understand what suits your business objectives best.
It is a long process, but don't worry because we have done the hard work. This blog has everything you need to know about customer engagement and the best tools to implement it.
Let's dive right in!
What Is Customer Engagement?
Customer engagement refers to all the interactions and activities a business deploys to increase brand awareness, build customer loyalty, and promote a positive customer experience. This can be achieved using various touchpoints, including marketing campaigns, web content, social media, surveys, etc.
Fully engaged customers yield a 23% higher share of wallet, profitability, revenue, and relationship growth.
A robust engagement strategy is to deliver valuable and helpful content to customers. It should encourage them to interact with your company even after the initial buying phase. Businesses that succeed in doing so have a higher chance of building brand loyalty than competitors.
What Are Customer Engagement Tools?
A customer engagement tool helps businesses attract, engage, support, and retain customers throughout their lifecycle. Using such an application, you can personalize interactions and improve the overall user experience.
These tools can improve how you onboard new users, provide customer support, or offer self-service solutions. In fact, companies that use engagement tools are more likely to deliver a personalized and relevant customer experience.
Some key reasons driving businesses to invest in customer engagement tools are –
Increased Customer Retention: These tools assist customers in getting familiar with your products. You can instantly resolve their questions through live chat or render self-support solutions like knowledge bases to promote retention.
Data-driven Decisions: These tools track and analyze customer behavior and present data through customer satisfaction scores, ticket volume, retention rates, churn rates, NPS (Net Promoter Score), CLV (Customer Lifetime Value), etc.
Better Customer Experience: Effective engagement tools can help quickly identify pain points and deliver personalized services, leading to enhanced experiences.
Shorter Sales Cycle: Engagement tools help deliver information to customers proactively. This helps them move along the stages of the sales funnel quickly.
360° Customer View: By organizing data from various sources, engagement tools provide a 360° view of contact profiles, enabling companies to better understand and meet their customers' requirements.
Enhanced Efficiency: Engagement tools automate interactions and unify data from multiple communication channels, improving organizational efficiency.
How to Choose the Right Customer Engagement Tool
Now that you know what an engagement tool is, here are some specific factors you should consider when selecting a tool for your organization.
1. Identify Your Business Objectives
Identifying business objectives and goals requires a deep understanding of your company's customer base, budget limitations, integration requirements, and so on. The right tool should strictly align with your business's needs to avoid sub-optimal outcomes.
For better clarity, ask yourself these questions –
Are you looking for a free or paid tool? What are the budget restraints if you are looking for a paid tool?
Are you comfortable with a tool needing extensive coding knowledge, or do you prefer a code-free, simple-to-use tool?
Should the tool support integration with platforms like CRM, CMS, knowledge base, business analytics, etc.?
What extent of customization are you looking for?
Is there any additional functionality that you require?
2. Determine Who Your Target Audience Is
Determining your target audience lets your company shape its engagement strategies to meet customer expectations. You require a tool that lets you identify the target audience and engage with them based on their specific preferences.
Failing to determine the target audience might lead to a bad customer experience, resulting in a loss of reputation and financial damage.
Case in point: Coca-Cola's 'New Coke' Launch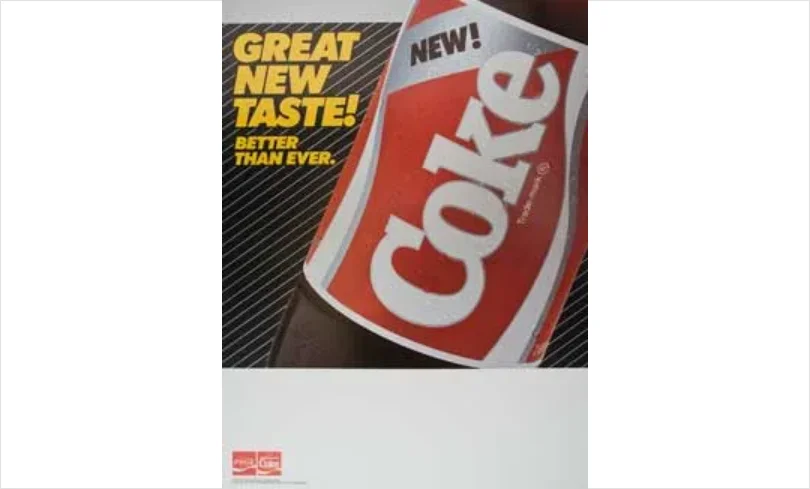 (Source)
Trying to appeal to young Cola drinkers, the brand introduced a new formula and named it 'New Coke' in 1985. It was just a sweeter version of the regular Coca-Cola. Despite being heavily marketed, it suffered a massive backlash from longtime Cola drinkers.
'New Coke' tarnished the company's reputation and customer trust to such an extent that Coca-Cola had to sideline it as a failed attempt. This proves how determining and researching the target audience is vital for any business.
3. Look for Personalization Options
Companies that implement personalization have the potential to increase their revenue by 40%.
Personalization is one of the critical drivers of business growth and success. To deliver a personalized experience, you need an engagement tool that tracks your customer's buying history, account type, ticket history, and order preferences.
The tool should also enable you to deliver personalized services to each customer based on their profile. For instance, you can offer special discounts and incentives to customers that frequently shop with you. This demonstrates that you value their loyalty and cultivate a stronger relationship with them.
Read More:  Personalized Customer Experience: What, How, and Why 
4. Choose a Tool Offering Multi-Channel Engagement
According to a study, 18.1% of businesses use email marketing to communicate with their clients, while 10.9% prefer using social media channels.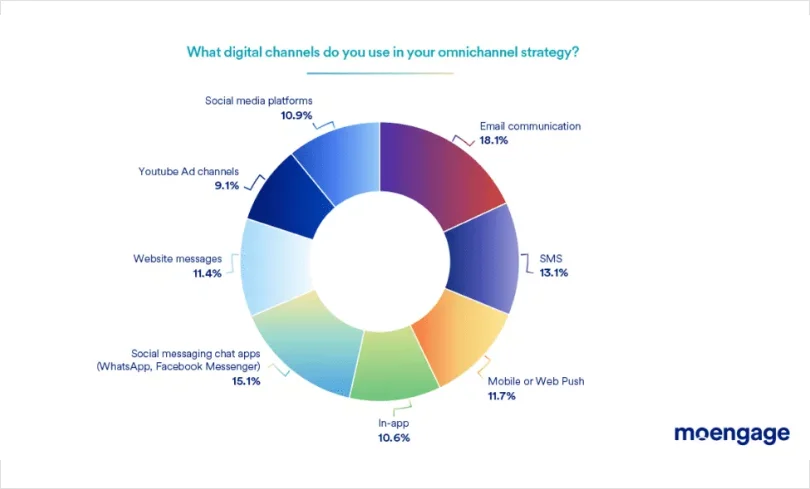 (Source)
This goes on to show that customers have different preferences when it comes to communication.
A multi-channel engagement tool can help you send personalized content to your customers via their preferred channel. This can include email, live chat, social media, phone calls, knowledge base, chatbots, etc.
Additionally, multi-channel engagement enables you to reach a wider audience. Using such a tool also helps you stay organized by keeping track of all customer interactions in one place. This leads to faster response times, fewer missed opportunities, and better customer service.
5. Look for Automation Features
Automation is one of the critical attributes of a customer engagement tool. You can automate quick responses to offer immediate assistance to customers or schedule messages to be sent at the most appropriate time in their customer journey.
It also lets you promote self-service and decrease ticket count while exceeding customer expectations.
Following are some ways in which automation can facilitate better customer engagement for your business –
Leave a great first impression and guide site visitors on how your product works with chatbots.
Send automated drip email campaigns to follow up with prospects and customers.
Notify users about bug fixes or updates in your product.
Send relevant surveys and feedback forms to users based on their actions.
Read More:  Automated Customer Service: What Is It & Why It Is Important 
Top 26 Customer Engagement Tools to Try in 2023
We have carried out in-depth research to find the 26 best tools for driving better engagement. Compare their features against your unique needs to find the most effective solution.
A. Communication Tools
Whether you want to provide instant help 24×7 or close sales faster, these tools will help you communicate with customers promptly.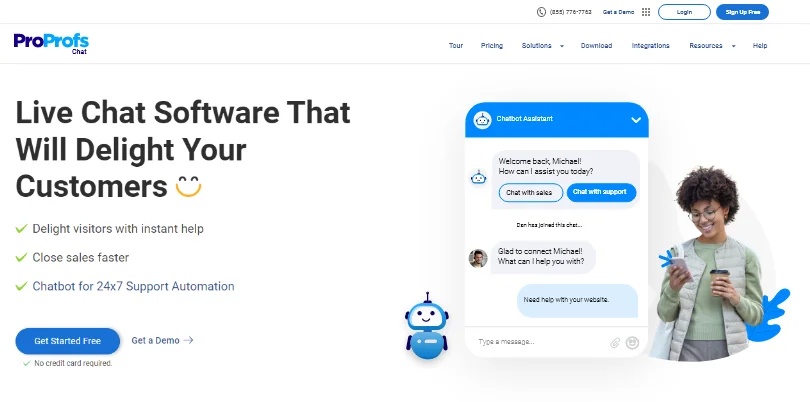 ProProfs Chat lets you proactively engage with your website visitors using a live chat widget offering automated greetings, announcements, and invitations. The tool also helps create automated chatbots and facilitates customer self-help.
It aids behavior tracking for website visitors, including pages browsed and time spent. You can customize various attributes of the chat window, such as the chat button, greetings, etc. ProProfs Chat also lets you route incoming chats to the right department for quicker responses. Additionally, you can easily store conversations as chat transcripts.
Key Features:
Facilitate 24×7 engagement using automated chatbots.
Use canned responses (predefined messages) to reduce response times.
Get in-depth reports for customer engagement, including essential metrics such as chats received, missed chats, operator ratings, etc.
Use Chat SDK to integrate live chat with your Android or iOS applications.
Integrate ProProfs Knowledge Base with the chatbot to promote customer self-support.
Pricing: Chat like a pro with a live chat free trial. ProProfs Chat offers a FOREVER-FREE plan for a single operator and a team plan for $19.99.
Integration available: Shopify, MailChimp, WordPress, Facebook, etc.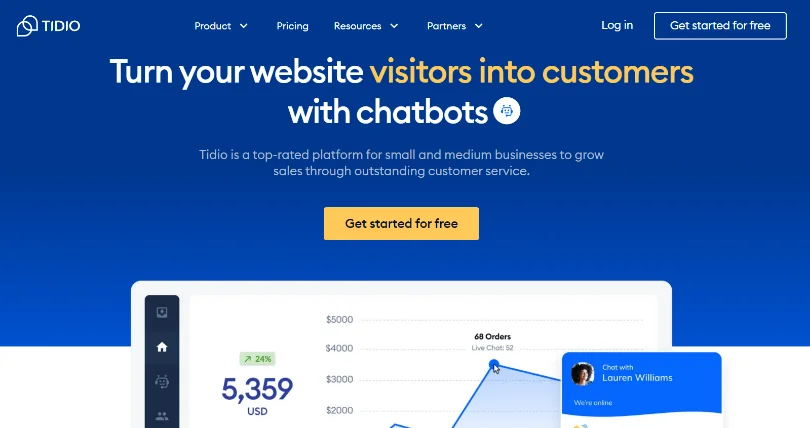 Tidio is a customer engagement software that brings several communication tools, like live chat, chatbots, and analytics, together. The software can automate customer support workflow to answer repetitive questions about product availability, order shipping, status, etc.
Along with a user-friendly interface, the software has an intelligent ticketing system that speeds up response times. With Tidio, you can easily customize the live chat widget according to your preferences, reach out to site visitors at the right time, and enhance the overall customer experience.
Key Features:
Use pre-designed templates to create your chatbot.
Answer common questions faster with canned responses.
Slash down reply times by previewing what customers are typing before they send it.
Collect user data using pre-chat surveys.
Measure overall customer satisfaction with post-communication surveys.
Pricing: Paid plans start from $15.83/operator/month.
Integration available: HubSpot, Google Analytics, Zapier, etc.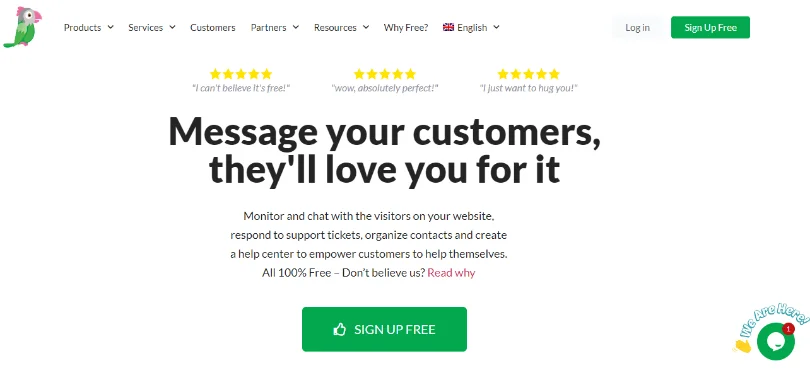 Tawk.to is a free and easy-to-use application to connect with your customers. It lets you monitor visitor activity, create chat pages, resolve support tickets, manage contacts, and enable self-service by integrating a knowledge base.
You can launch the chat widget by adding a JavaScript snippet to your website. Tawk.to has mobile apps for Android and iOS, so you always stay connected with your customers. You can also send quick responses to customers by setting up canned responses.
Key Features:
Link your social media channels with chat pages to engage customers.
Initiate conversations with customers and team members directly from the dashboard.
Review chat history to track your team's performance.
Chat with customers in your language using localization support.
Monitor your site visitors' activities in real time.
Pricing: Free forever.
Integration available: Zapier, Trakdesk, Cayzu, etc.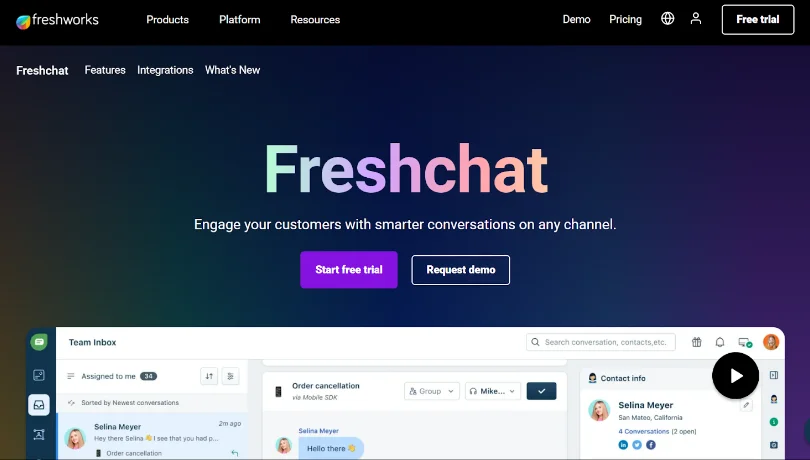 Freshchat is a customer engagement platform that relies on AI-powered automation and enables live chat across multiple channels. It has a simple user interface that unifies different messaging apps under one inbox, making tracking easier.
The tool has intelligent chatbots that can be deployed across your business website, native apps, and other communication channels. With insights from your customer behavior and team performance, you can identify and fix gaps instantly.
Key Features:
Automate customer engagement using proactive messaging.
Segment your site visitors and trigger contextual messages at the right time to boost engagement.
Provide instant customer support with context-driven chatbots.
Respond to common customer queries quickly with canned responses.
Interact with customers in their language with multilingual support and live translation.
Pricing: Paid plan starts from $15/agent/month.
Integration available: Instagram, Facebook, Line, etc.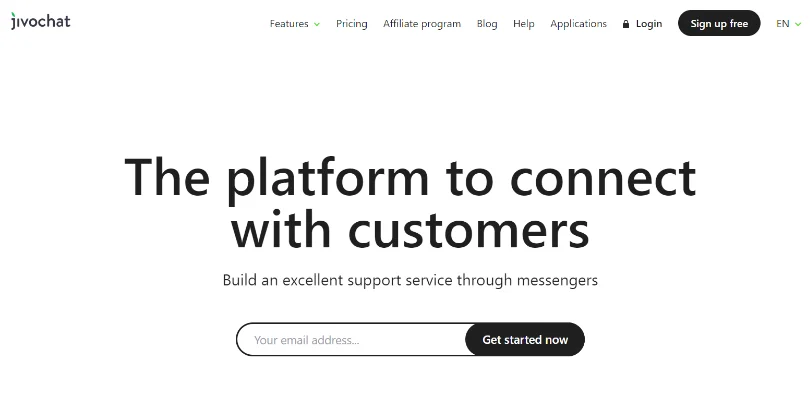 JivoChat is a robust customer communication platform with built-in live chat, web analytics, and chatbot support to boost engagement rates. The tool enables you to prevent visitors from leaving your website with proactive chat invitations.
Their core offering is the chat widget. It has valuable features like color-coded chats, canned responses, hotkeys, and message snippets to let your operators handle busy hours easily. It also offers offline messaging solutions and multiple integration options.
Key Features:
Review operators' performance by monitoring their response times, working hours, etc.
Add chatbots to websites and social media to answer frequently asked questions.
Initiate conversations with proactive invitations.
Access data readily on any browser, device, or operating system.
Modify the language of the live chat widget according to your needs.
Pricing: Free plan available. Paid plans start from $19/agent/month.
Integration available: WordPress, Shopify, BigCommerce, etc.
B. Popup Tools
With these tools, you can build popups and overlays to increase visitor engagement and make them stay longer on your website.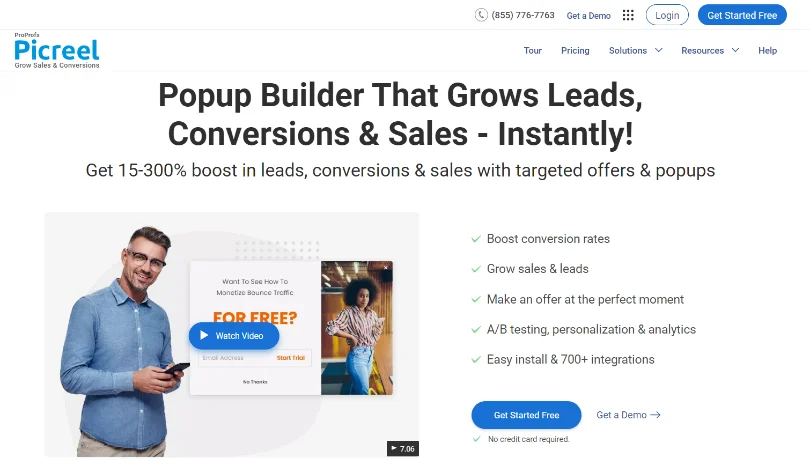 Picreel is a customer engagement platform that lets you create popups and website overlays to present personalized offers to site visitors at the perfect moment. The tool offers pre-designed templates to create exit popups, sign-up offers, special offers, discount offers, capture forms, nanobars, surveys, etc.
Using Picreel, you can create a popup from scratch to grasp visitors' attention. The popups can be displayed based on attributes like site visits, clicks, downloads, and purchase history.
Key Features:
Engage visitors with promotions and discounts to reduce cart abandonment.
Get real-time data about customer visits, impressions, and conversions.
Use A/B split testing to discover the best popups.
Send conversion data to your CRM platform directly.
Use customizable templates to get started with creating popups.
Pricing: Paid plan starts from $39.97/month.
Integration available: Zapier, MailChimp, Drupal, etc.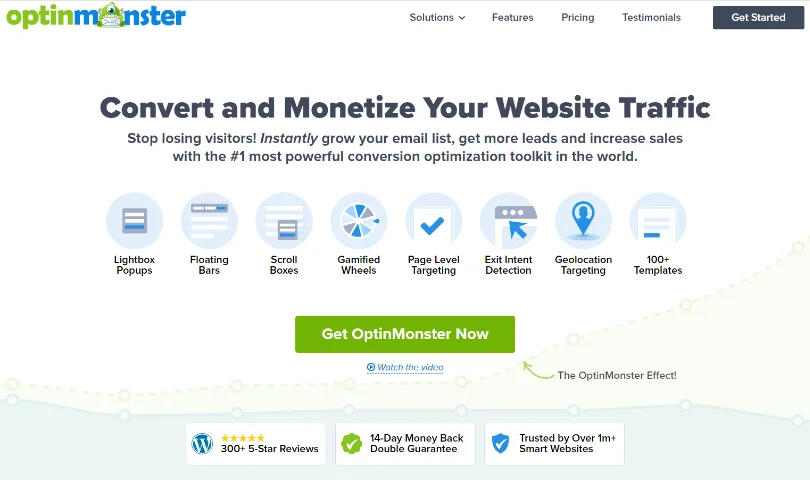 OptinMonster is a leading cloud-based customer engagement platform, perfect for marketing automation with tailored popups. You can use different options like lightbox popups, slide-ins, bars, and gamified wheels to engage customers, grow your email list, and decrease cart abandonment rates.
Using OptinMonster's library of templates, you can create targeted popups displayed to visitors based on their location, site interaction, exit intent, etc.
Key Features:
Test your popup designs and leverage different analytics to build better-performing overlays.
Customize pre-designed templates using the drag-and-drop editor.
Re-engage abandoning visitors with exit-intent technology.
Run time-sensitive campaigns to target visitors at a pre-specified date and time.
Use conversion analytics to improve lead generation.
Pricing: Paid plan starts from $9/month.
Integration available: HubSpot, Oracle NetSuite, Drip, etc.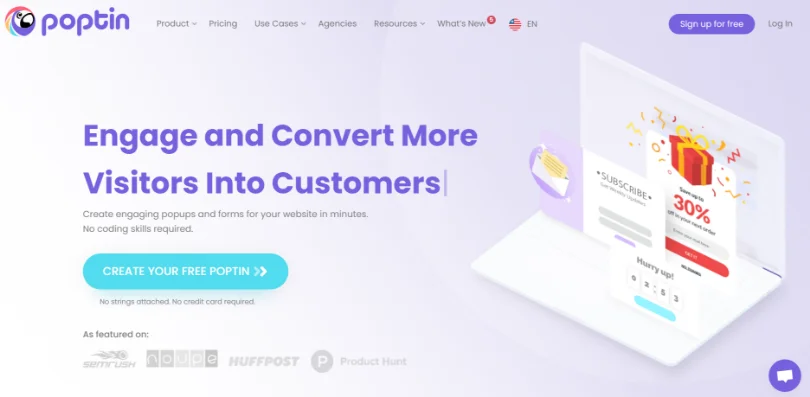 Poptin is a remarkable customer engagement tool that lets you create engaging popups in minutes using a drag-and-drop editor. The tool offers templates that can be customized by adding or removing fields, images, or other elements.
Popups are available in various designs, such as count-down popups, full-screen overlays, social widgets, slide-ins, etc. Poptin allows you to trigger these popups by exit intent, time delay, on-click, etc., to hit customers at the most appropriate times.
Key Features:
Use the drag-and-drop editor to customize your popups quickly.
Ensure maximum visibility with personalized full-screen overlays.
Send an automatic greeting to new leads with autoresponders.
Utilize A/B testing to understand which popups work best for your site visitors.
Leverage exit-intent technology to reduce cart abandonment rates.
Pricing: Free plan available. Paid plans start from $20/month.
Integration available: Shopify, Magento, Wix, etc.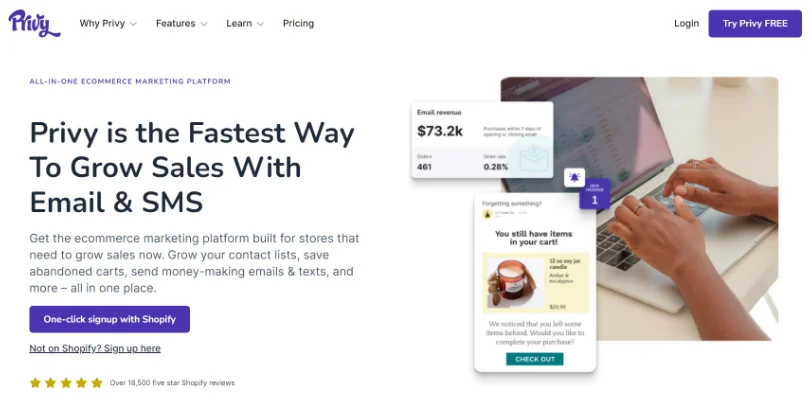 Privy is an excellent tool for online businesses to engage customers using email, SMS, and popup marketing campaigns. You can use the vast popup templates library to easily create popups serving different purposes.
From cross-sell messages to interactive spin-to-win campaigns, you can create popups that engage customers at different points in the customer journey. The tool directly integrates with Shopify, enabling you to grow your contact list faster and reduce cart abandonment rates.
Key Features:
Customize high-quality popups and flyers to convert visitors into loyal customers.
Enable gamification by integrating spin-to-win campaigns into popups.
Incentivize new visitors by offering discounts in exchange for contact information.
Understand the performance of existing customer engagement strategies with simplified reports.
Automate cart abandonment emails to drive more sales.
Pricing: Free plan available. Paid plans start from $30/month.
Integration available: MailChimp, Shopify, Wix, etc.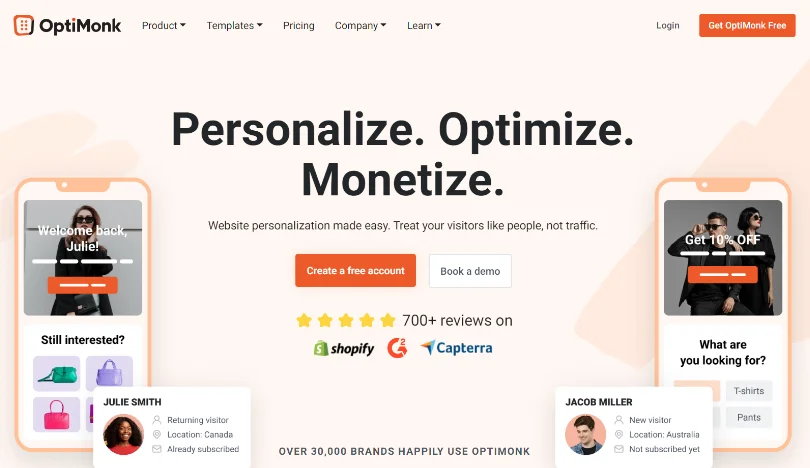 OptiMonk is a powerful exit-intent popup tool that enables you to design popups, sidebars, full-screen overlays, notification bars, etc. Using this tool, you can generate free leads, optimize conversions, convert site traffic into sales, and engage visitors.
It also helps recover abandoned carts, display personalized recommendations, and guide site visitors. With OptiMonk, you can set a welcome message for first-time visitors or recommend products to returning customers.
Key Features:
Choose popups from a massive library of pre-designed templates.
Show special offers to target buyers who have abandoned their carts.
Boost engagement with gamification techniques like spin-to-win, pick-a-gift, or scratchcard popups.
Use eye-catching transitions and effects on the popups to grasp visitor attention.
Show dynamic product recommendations to returning customers to increase customer lifetime value.
Pricing: Free plan available. Paid plan from $32.5/month.
Integration available: WordPress, Klaviyo, HubSpot, etc.
C. Customer Feedback and Survey Tools
Customer feedback and survey solutions help businesses track how impactful their products and services are for the customer base.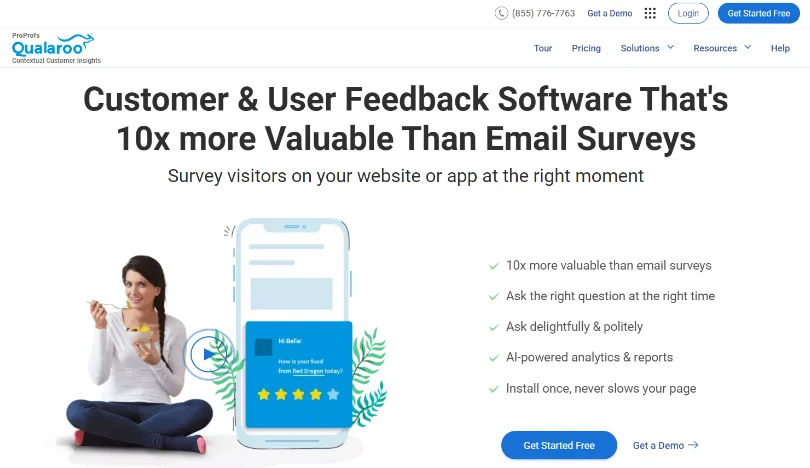 Designed by ProProfs, Qualaroo is a customer experience management tool that lets you collect feedback for your sites, applications, products, and user interface. With the tool, you can create personalized nudges, access survey reports, and gain valuable customer insights.
The software lets you embed a nudge onto any specific URL to ask relevant questions at appropriate times. You can target customers based on their actions, behavioral patterns, location, cookies, etc.
Key Features:
Analyze customer responses quickly using Qualaroo's advanced AI Sentiment Analysis engine.
Design surveys of various types (NPS, CSAT, CES, etc.) using pre-designed templates.
Get plenty of customization options to white-label your survey forms.
Collect contextual feedback from customers using unobtrusive survey popup nudges.
Connect your favorite apps with Qualaroo using multi-channel integration support.
Pricing: Free plan available. Paid plans start from $79/month for Email and Contextual Surveys.
Integration available: Google Analytics, Slack, Zapier, etc.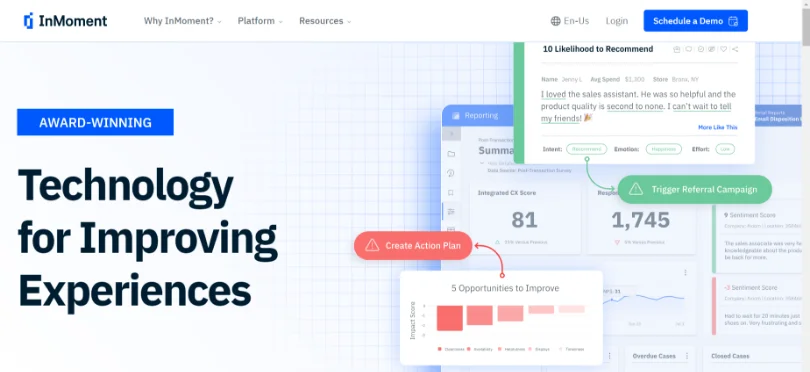 InMoment is another customer engagement software that enables customers to voice their opinions with surveys, online chat, reviews, etc. The software lets you segment your users to understand the level of personalization required to support each group.
Besides that, InMoment lets you collect customer feedback from multiple sources like CRM, point-of-sale, social media, etc. It helps in making important decisions by gathering, analyzing, and visualizing data collected from all these sources.
Key Features:
Create feedback forms and gather customer responses from multiple sources.
Access easy-to-understand reports on your dashboard.
Eliminate data silos to prioritize actions faster using an integrated AI approach.
Have complete control over customer feedback at every touch point with a listening suite.
Extract vital insights from customer responses with text analytics.
Pricing: Get in touch for a quote.
Integration available: Zendesk, Zapier, Microsoft Dynamics, etc.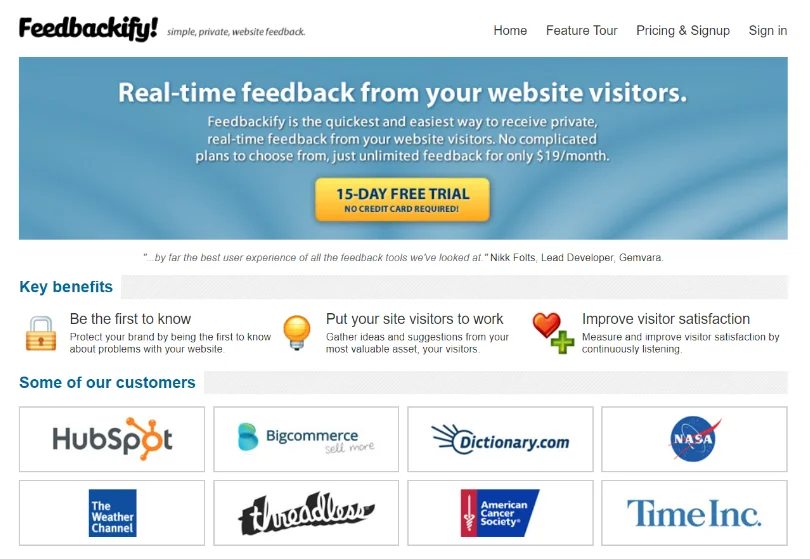 Feedbackify is a customer engagement tool that lets you receive private, real-time feedback from site visitors. Prefixed feedback categories can help you get started, but you can also add new ones using the simple drag-and-drop tool.
It is a tool for small businesses and startups looking for ideas and suggestions to improve site engagement. Feedbackify even allows site visitors to provide feedback without registering or providing any personal information. This largely decreases feedback-dropout rates.
Key Features:
Create a feedback form instantly using the simple form editor.
Integrate the tool on your website with a simple HTML code.
Use the feedback dashboard to view all feedback received from visitors.
Filter received feedback into different categories and sub-categories.
View the entire feedback context, including information like your visitor's location, browser, OS, IP address, etc.
Pricing: Paid plan starts from $19/month.
Integration available: NA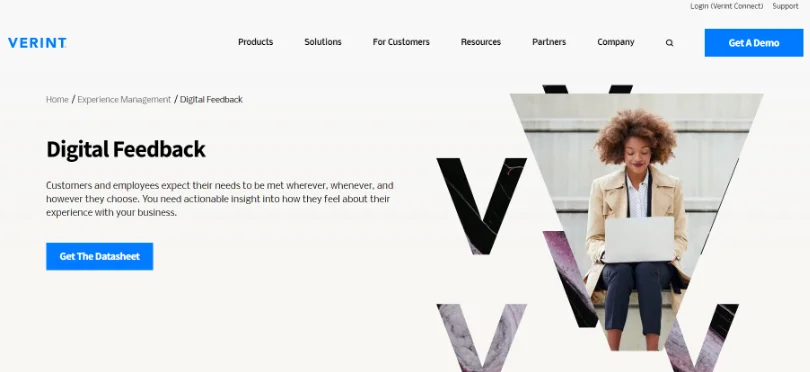 Verint (previously, OpinionLab) is a customer experience (CX) management platform. It unifies all your web sessions, like chat conversations, contact centers, web feedback, surveys, etc. Get actionable insights that empower your CX teams to make strategic decisions – boosting customer engagement and loyalty.
Verint lets you interact with your customers using their preferred channels. The platform enables channel automation, customer interaction insight tracking, knowledge management, survey management, predictive modeling, and more.
Key Features:
Automate your workforce across all engagement channels.
Handle common customer queries quickly with conversational AI.
Improve workforce efficiency and effectiveness with improved knowledge management solutions.
Empower your customers with asynchronous communication options across email, live chat, social media, etc.
Improve customer experience with proactive insights across your website and products.
Pricing: Get in touch for a quote.
Integration available: NA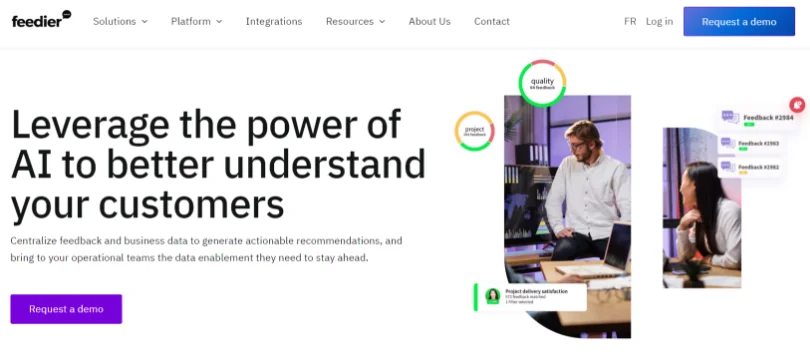 Feedier is a popular customer engagement platform and an enterprise-level feedback tool. It enables you to analyze and convert customer responses into actionable insights. The tool simplifies complex feedback, helping you quickly identify customer pain points.
Besides, it also lets you develop interactive surveys that boost engagement rates. You can automate your surveys to be displayed at the right time. Moreover, you can connect Feedier with platforms like Salesforce or HubSpot.
Key Features:
Translate feedback data to your business KPIs directly.
Have a holistic view of customers' voices with actionable and real-time reports.
Create custom surveys with plenty of question types.
Track and optimize your KPIs with text analytics.
Collect in-app feedback to identify customer pain points.
Pricing: Get in touch for a quote.
Integration available: Salesforce
D. Email Marketing Tools
Email marketing, when combined with personalization, can become an excellent platform to connect with potential leads or customers.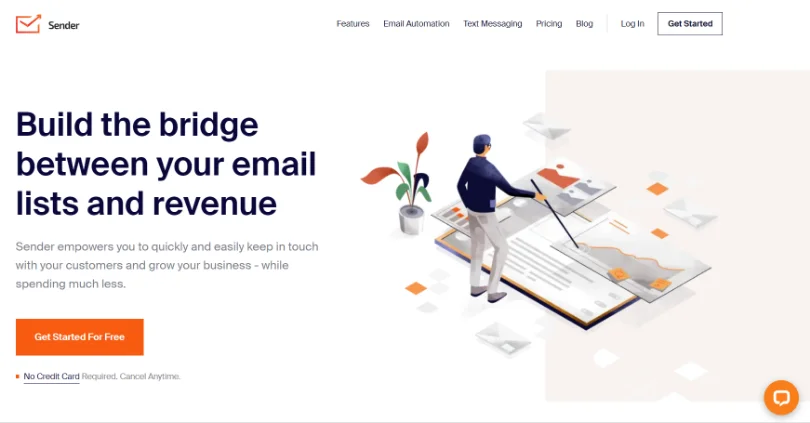 Sender is the first email marketing tool on our list. It helps you engage your customers by creating stunning email newsletters and branded emails using a simple drag-and-drop tool.
The template gallery helps you get started with pre-designed emails. You can enable email automation to create workflow programs triggered by specific events. This reduces repetitive work for your team while keeping customers engaged at all times.
Key Features:
Monitor emails constantly to guarantee excellent email deliverability.
Measure your email campaigns and improve them with advanced analytics.
Get seamless integration support with popular CMS platforms.
Reach out to customers at the perfect moment with automation.
Get exceptional results by combining SMS with email marketing campaigns.
Pricing: Free plan available. Paid plan from $8.33/month for 30K emails.
Integration available: Shopify, WordPress, Zapier, etc.
Brevo (previously, Sendinblue) is an email marketing platform that lets you create stunning and automated email campaigns for your customers. It is a complete marketing toolkit that supports your marketing strategies across channels like email, SMS, social media, and live chat.
Using its email builder, you can create high-quality, personalized emails that match your brand image and appeal to your audience. Besides, you can segment recipients based on their purchase history, gender, location, and other parameters.
Key Features:
Collect visitor email addresses with sign-up forms.
Make your emails more engaging with dynamic personalization options.
Find the best message through A/B testing and schedule its delivery at the most appropriate time.
Get access to plenty of customizable email templates.
Segment your customers into groups to send targeted emails.
Pricing: Free plan available. Paid plan starts from $25/month.
Integration available: WordPress, Shopify, Google Analytics, etc.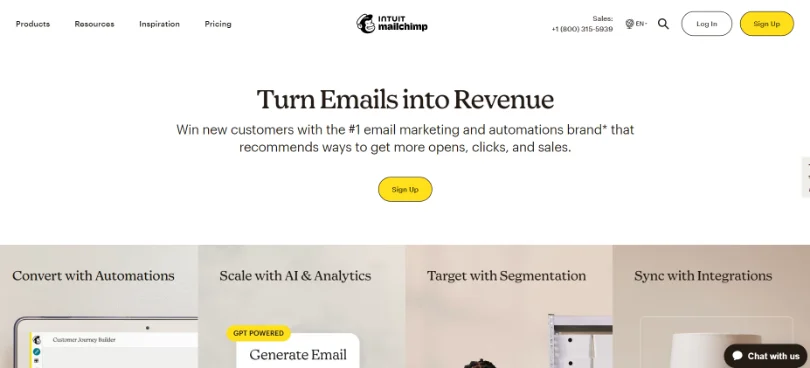 MailChimp is a well-established email marketing platform offering features like email automation, data segmentation, A/B testing, lead capture forms, and user reports. It lets you segment your audience and target them based on their purchase behavior, app activity, etc.
You can use MailChimp's AI power to enhance your email marketing campaigns, automate your emails, and create impactful advertising campaigns. Besides, it also lets you re-engage with lost customers by sending personalized email reminders about abandoned carts.
Key Features:
Automate personalized transactional emails to update customers after their purchases.
Leverage A/B testing to understand which version of an email will make the most impact.
Use predictive analytics to optimize your engagement strategy.
Analyze thousands of data points from top-performing campaigns.
Segment your customers based on demographics, satisfaction level, etc.
Pricing: Paid plans start from $9.33/month for 5K emails.
Integration available: Facebook, LiveChat, Shopify, etc.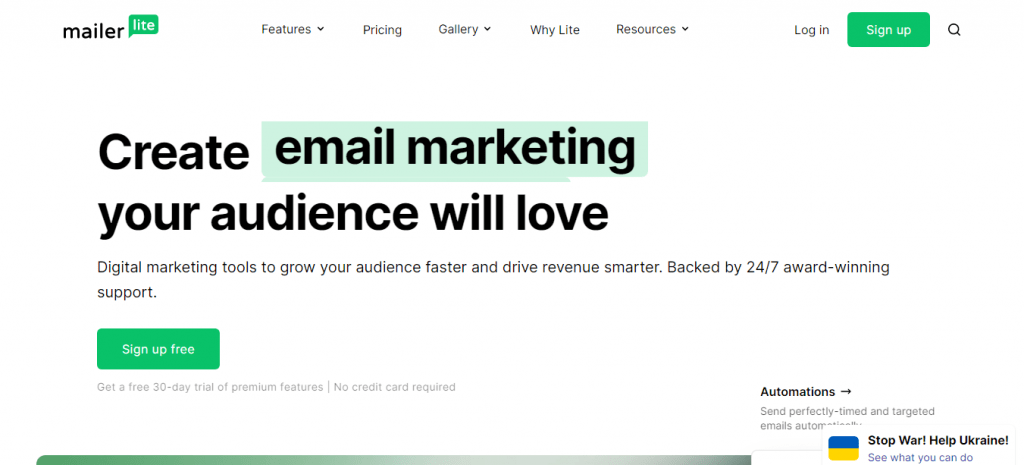 MailerLite is an excellent customer engagement platform for small to medium businesses. It has unique tools to create email marketing campaigns using different editors, newsletter templates, and a free image library.
Apart from creating campaigns, MailerLite also lets you manage your email lists via its app. You can use the intuitive automation builder to use triggers, auto-deliver emails, segment customers, and re-engage them.
Key Features:
Personalize email campaigns based on your customer's location, time zone, age, behavior, etc.
Monitor campaign performance with analytics, sales tracking, visual click maps, etc.
Segment subscribers into groups to send more targeted emails.
Leverage A/B split testing to find top-performing emails.
Automate email workflows to deliver the right email at the right time.
Pricing: Paid plan starts from $9/month for 1K subscribers.
Integration available: BigCommerce, Drupal, GitHub, etc.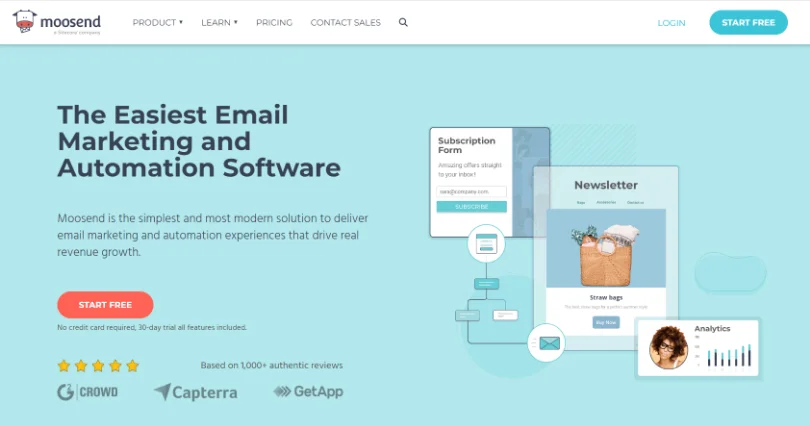 Moosend is an easy-to-use email marketing and automation software suitable for small businesses. Use it to create personalized emails for your subscribers using a drag-and-drop editor. The software lets you automate emails for user onboarding, reducing cart abandonment and sending custom reminders.
The software also supports A/B testing, making it easy to discover the best-performing emails. Besides, you can use pre-designed customizable email templates to create professional emails that boost customer engagement.
Key Features:
Use A/B split testing to measure the engagement of different emails.
Create professional emails in no time with customizable templates.
Segment your users to send more targeted emails.
Reduce manual effort with pre-made automation workflows.
Maximize engagement by tracking user attributes like page shares, clicks, etc.
Pricing: Paid plan starts from $7/month for 500 subscribers.
Integration available: Zapier, WordPress, MailChimp, etc.
E. User Analytics Tools
These tools translate raw user behavior into real insights. Use them to generate detailed reports and enhance your engagement effectiveness.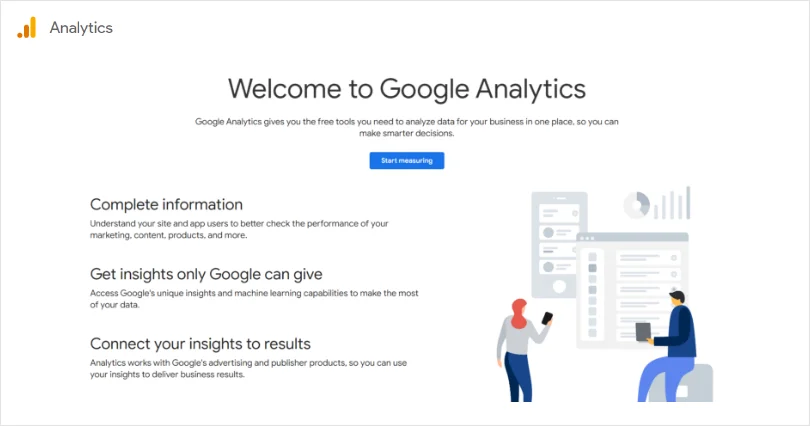 Google Analytics (GA) is a popular customer engagement tool chosen by big businesses. GA provides in-depth reports on who visited your site, how they found it, and more.
Using GA, you can discover everything about your visitors to understand how your marketing, content, or products are performing. The tool has the power of machine learning (ML) that provides critical insights like average session duration, pages viewed per session, and bounce rates to identify visitor trends and patterns.
Key Features:
Detect unique patterns in your data with the help of Google's advanced machine-learning algorithms.
Monitor visitor activity on your site or application in real-time.
Track your business progress seamlessly with Google's advertising and publisher products.
Identify well-performing engagement campaigns and discover areas that require improvement.
Use traffic source analysis with in-depth reports to target the right audience.
Pricing: Free plan available. Paid plan starts at $150,000/year.
Integration available: Shopify, Facebook, WordPress, HootSuite, etc.
Segment is a leading customer engagement platform that can accelerate business growth through reliable data analytics. The software lets you create custom campaigns to target your audience at the most appropriate times.
The platform can help your marketing team leverage first-party data to reduce customer acquisition costs and boost ROI on ads. You can also use it to track and unify customer touchpoints across multiple platforms.
Key Features:
Activate marketing tools instantly as soon as any visitor drops off from the sales funnel.
Deliver personalized, omnichannel campaigns to your target audience.
Collect analytical data from every customer interaction across your websites, applications, ads, etc.
Share user data effortlessly with your team members.
Use SDKs for different platforms, including server-side JavaScript with Node.js, Android, and iOS.
Pricing: Free plan available. Paid plan starts from $120/month for 10K visitors.
Integration available: Google Analytics, Bing Ads, Drip, LiveChat, etc.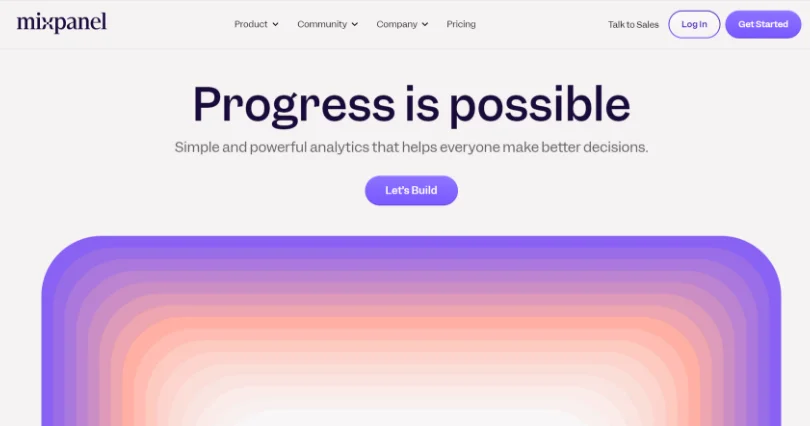 Mixpanel is an engagement platform that lets you ask curated questions to understand the customers' take on your brand. The platform enables you to track customer behavior and analyze the overall effectiveness of your engagement efforts.
You can also leverage product analytics to discover how visitors engage with specific features. The tool enables you to quantify business success by showing how your customers convert at each stage of the customer journey.
Key Features:
Use in-depth analytics to get a detailed overview of which products or features are the most popular.
Simplify complex behavioral metrics into easy-to-understand insights.
Discover hidden trends and patterns with the help of segmentation.
Stream data directly from any digital product with the use of SDK.
Discover hidden friction points in the customer journey with easy-to-understand metrics.
Pricing: Free plan available. Paid plans start from $20/month for 100M monthly events.
Integration available: Google Cloud, HubSpot, HelpScout, etc.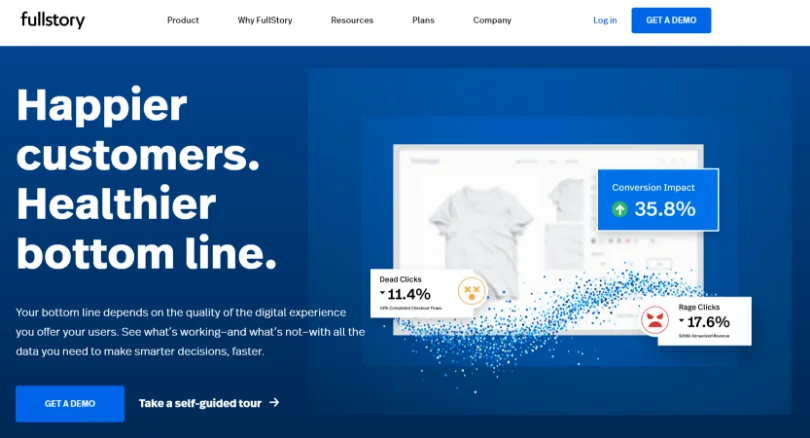 FullStory is a popular customer engagement platform that records every visitor interaction on your website. It has a proprietary auto-capture technology that shows detailed reports on common customer pain points associated with your website, mobile application, or software.
Using the platform, you can instantly collaborate, comment, or share critical events with your team members. It also has a simple dashboard where all teams can quickly view insights on customer behavior trends, error frequency, and more.
Key Features:
Identify issues with user sessions and work on them to boost engagement.
Understand user behavior behind every data point with actionable dashboards.
Identify hidden bugs, friction, and areas for improvement in your website and applications.
Protect your customers' privacy with industry-leading security practices.
Integrate with other platforms with multi-channel integration support and open API.
Pricing: Get in touch for a quote.
Integration available: Google Cloud, Optimizely, Jira, Shopify, etc.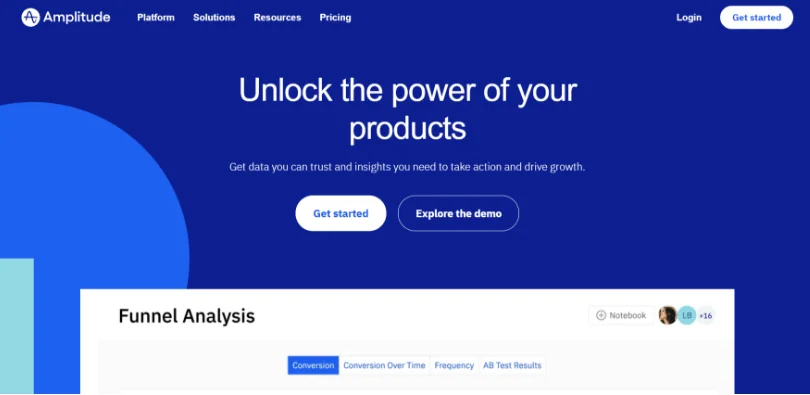 Amplitude is a leading customer engagement and digital analytics platform. It uses machine-learning-powered tools to help you visualize and optimize the entire customer journey.
Using these tools, discover unique product trends to identify key drivers that promote purchase, engagement, or customer retention. With effective funnel analysis, you can compare different user flows to uncover vital attributes that lead to conversions or drop-offs.
Key Features:
Analyze your best customer communication channels using different metrics and attributes.
Segment your customers into user groups to understand what drives each user to return.
Trace changes in engagement rates using root cause analysis.
Compare sales funnels and identify similar traits based on customers who convert and who don't.
Use retention analysis to understand how often customers return to your business.
Pricing: Get in touch for a quote.
Integration available: Google Ads, Facebook, Adobe Analytics, etc.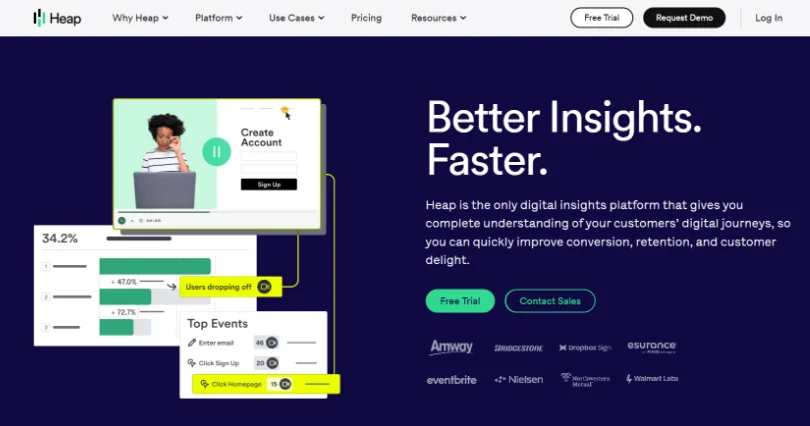 The last one on the list, Heap, is a digital insights and customer engagement platform. It analyzes datasets to discover hidden friction or opportunities in your customers' digital journey.
The platform helps visualize the activity of website visitors and existing customers. It lets you identify areas that require improvement to boost engagement across your site or product. You can share the collected insights with your team members directly through the dashboard, ensuring everyone is always on the same page.
Key Features:
Pinpoint behaviors that drive retention and design your engagement strategy accordingly.
Segment your users based on their behavioral patterns.
Use behavioral analytics for mobile to gain a complete understanding of the customer journey.
Optimize conversion funnels by leveraging digital insights to understand when to take the right steps.
Identify customer pain points and other data insights using charts.
Pricing: Get in touch for a quote.
Integration available: Shopify, HubSpot, SalesForce, etc.
Make Engagement a Priority With the Right Tool
In today's crowded market, customer engagement is about understanding your customers and interacting with them to form a deeper connection.
Customer engagement software help businesses connect with clients at the right time, provide fast responses to queries, resolve pain points, and create an emotional bond that goes beyond mere transactions.
Incorporating any of these 26 powerful engagement tools into your business strategy can provide valuable insights, increase customer satisfaction, and ultimately drive growth for your company. Pick a solution out of the list based on your unique business needs.
For instance, if you need an engagement tool that strengthens your support processes, ProProfs Chat is an excellent option to go with. Its powerful features, like automated interactions and personalized greetings, will help you build highly proactive engagement experiences.
Do you want a free Live Chat software?
We have the #1 Online Live Chat Software for instant customer support 24x7