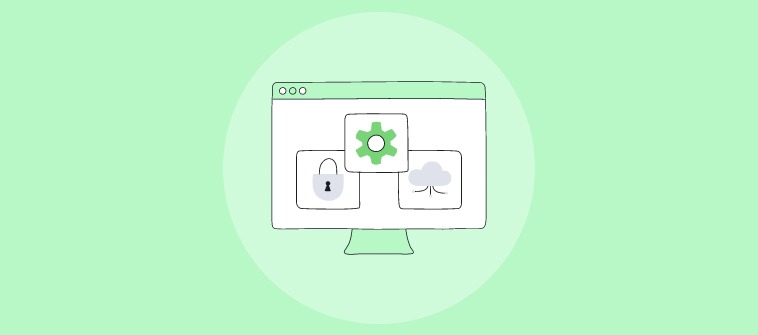 Have you ever worked on a challenging project and weren't sure which SaaS tool would measure up to the task? If yes, it might be high time to add one to your tech stack. But there are an array of feature-rich tools for businesses that make it a challenge to choose one.
You probably are wondering what's next, right?
Don't worry; you've made the right choice by viewing this page. A SaaS tool has many benefits, such as cost-effectiveness and easy customization. But the market is so diverse, and that is why we have listed some of the best SaaS tools packed with features that fit different budgets.
So, how do you know if you will find the perfect SaaS tool?
From customer support tools like live chat and help desk to project management and collaboration software, deploying the right tools can make a difference in your business growth.
To find out more about 35 of the best SaaS products perfect for businesses, read on.
What is a SaaS tool?
Software as a service (SaaS) tools are hosted on the cloud, so they can be set up and deployed in minutes. SaaS products provide features to streamline one or multiple functions such as customer support, project management, and marketing. The best part is you don't need to install or maintain these software applications, unlike on-premise applications that require data centers.
Why does your business need SaaS tools?
In the SaaS cloud platform, the provider offers the client a network-based single copy of the software that has been built for a SaaS-based distribution. Since the source code is the same for all end-users, features are rolled out to all the clients in that SaaS. This means they can get scaled with your business so that it can adapt to your growing needs.
Here are some more benefits of SaaS tools for businesses:
You don't have to pay a single large payment; instead, you can pay for it using flexible payment plans.
Quick access to the software on the cloud from any device makes it a bonus for an agile workforce working on the move.
Save time on lengthy, complex installations of hardware and software.
You can customize the tool in any way perfect for your brand.
30+ Best SaaS Tools for Any Businesses
This section will list down the 35 best SaaS tools from the top SaaS companies that will help your business streamline its processes. Also, you are sure to find a tool that suits your budget and business needs.
ProProfs Chat is a highly customizable live chat solution that allows you to greet website visitors through custom chat invitation pop-ups and operator greetings. You can capture valid prospect details to help in modifying your existing marketing campaigns. There's more to it.
With 50+ integrations with various eCommerce and CMS platforms, you can deliver real-time support round the clock. Also, you can create your customer support bundle with other SaaS products like ProProfs Help Desk, ProProfs Knowledge Base, etc.
You get access to detailed reports to track operator performance and customer ratings. Each report offers numerous metrics such as total chats, missed chats, response time, etc. You can also integrate Google Analytics with our live chat solution to monitor web traffic and much more.
Features of ProProfs Chat
Create custom chat invitation pop-ups to attract visitors to chat.
Deliver personalized messages triggered by user actions.
Track operator performance through customer ratings and chat duration.
Integration with apps like Salesforce, Google Analytics, and much more.
The Cost
ProProfs Chat price plan includes:
Trial Plan: $0/15 days
Essentials Plan: $20/user/mon
Premium Plan: $60/user/mon
Business Plan: Request a custom quote
What we liked: We liked the tool's detailed reports, which included many useful metrics like response time, chats opened, chat duration, etc.
What could've been better: We hope that the number of chatbot templates can get increased.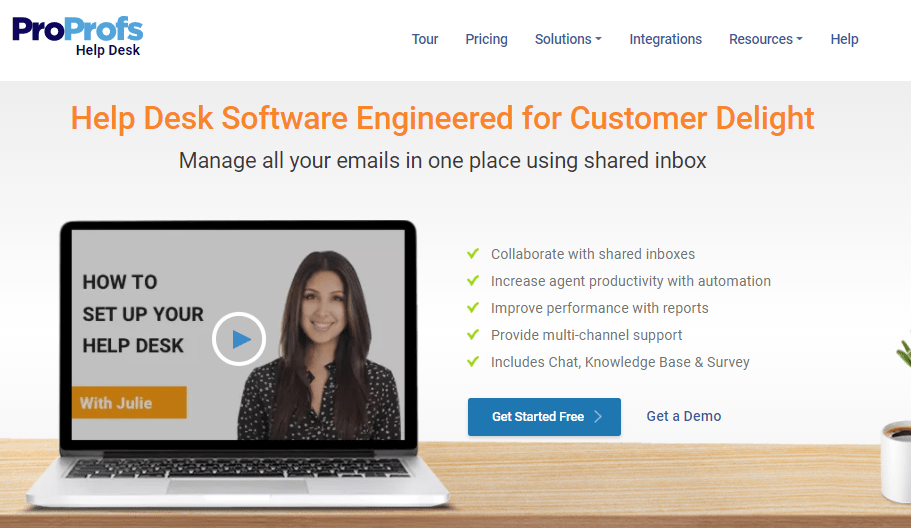 ProProfs Help Desk is the best SaaS tool for small business and large enterprise owners, allowing them to keep track of all customer communications. It also allows you to interact with customers through live chat, email, web forms, help center, and much more to resolve tickets.
With native live chat integration, you can interact with customers in real-time, generate leads, and automate customer service with chatbots. More so, you can build a knowledge base that delivers self-service articles to help your team members to offer a top-notch support experience.
ProProfs Help Desk allows you to monitor the customer experience throughout the customer journey. You can collect customer feedback with CSAT, NPS, and CES surveys that come with pre-designed templates.
Features of ProProfs Help Desk
Create a self-service knowledge base to reduce support volume.
Interact with customers in real-time with a live chat widget.
Develop chatbots to automate your support processes.
Create a breakdown of complex tickets into multiple child tickets.
The Cost
ProProfs Desk plans include:
Essentials- $10/user/ month
Premium- $15/user/ month
Enterprise- Available on Request
What we liked: We liked that this tool had a simple UI.
What could've been better: We hope that ProProfs includes more social media integrations.

Kommunicate is a human + bot hybrid platform for real-time, proactive, and personalized support for growing businesses. Kommunicate, a complete chatbot solution that not only automates conversations but also specializes in automating processes for growing businesses.
The way customer conversations and support are happening is broken, redundant, and time and cost-inefficient. And Kommunicate aims to correct it. With Kommunicate, you can manage customer conversations, create and integrate chatbot, website chat, support agents, team conversations, customer delight aspects all at the same place.
Features of Kommunicate
Simple, intuitive and easy to use interface wrapped over powerful conversational AI
Make custom support bots for your business with No-Code chatbot builder, Kompose
Create bots that can qualify leads, schedule meetings, and/or support your customers 24/7
Provide instant gratification to your customers and increase customer satisfaction
Tons of customization options to fine-tune the chat according to your brand image, and requirements
The Cost
Kommunicate pricing includes:
Free Trial
Start: $40/month
Grow: $100/month
Scale: $400/month
Business: Talk to Us
What we liked: Kommunicate, a complete chatbot solution that not only automates conversations but also specializes in automating processes for growing businesses.
What could've been better: We hope that Kommunicate includes more chatbot templates.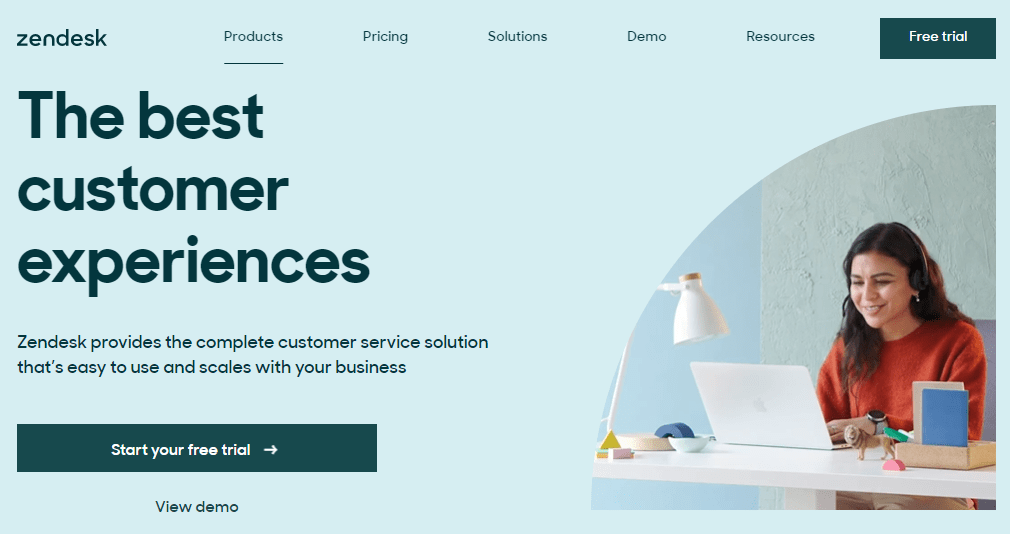 If you are looking for one of the most popular SaaS tools, then you should try Zendesk. It allows you to communicate effectively with customers to solve their problems in minutes. It has many automation tools and advanced reporting capabilities.
It is a robust and flexible customer service tool perfect for both a small business and a large enterprises. As a support solution, it allows you to offer support across different channels like email, ticket forms, and social media. You can also use Zendesk to build a vast community forum.
Features of Zendesk
Reward the top contributors of your forum with custom-made badges.
Create a help center that resolves customer issues.
Utilize AI-powered bots to resolve routine queries and tickets.
Build a vast community forum where members can help each other.
The Cost
Zendesk offers 3 pricing plans:
Suite Team- $49/ agent/ month
Suite Growth- $79/ agent/ month
Suite Professional- $99/ agent/ month
What we liked: Agents can contribute articles to keep the content up-to-date.
What could've been better: Zendesk is expensive compared to other tools.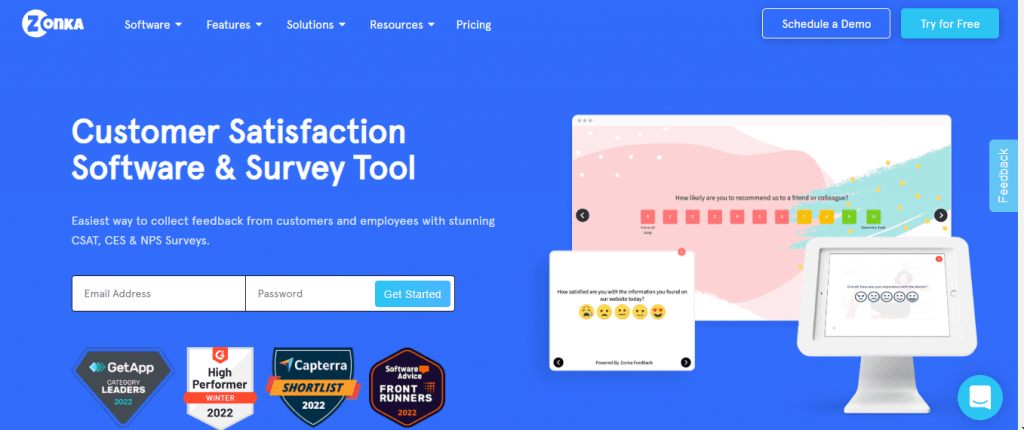 Zonka Feedback is an intelligent and intuitive SaaS tool that enables collecting SaaS product feedback through product and app-embeddable surveys. The tool is ideal for both internal and external product feedback since you can use in-app surveys as well as email, SMS, and website.You can collect feedback on specific app features using pop-up surveys that appear when users use a certain feature. You can choose when you want certain product surveys to appear.You can also measure user feedback across the primary CX metrics like NPS and CSAT, where users can rate their satisfaction and loyalty to your brand or product. All this feedback can be collated to understand user behavior. For example, app uninstall or product unsubscription feedback collected on the uninstall or unsubscribe page can help understand why users stop using the product. Similarly, you can align with user expectations and roll out new features, update the existing ones, reduce prizes, and cater to trending customer trends to increase and retain users.Key Features
Popover, feedback button, live chat, and embedded surveys
Integration with CRMs and important business tools like Slack, SalesForce, Teams, Mailchimp, Freshdesk, Zendesk, Zapier, HubSpot, Webex, Google Sheets, and many others
Automated workflows and response-based actions
User segmentation
Real-time notifications
Insightful reports, including sentiment analysis and trend tracking
Readymade survey templates and question types
The Cost
Trial Plan: $0/7 days
Starter Plan: $49/ mon
Professional Plan: $99mon
Growth Plan: $199/ mon
Custom Plan: Request a custom quote.
What we liked: We liked that the tool has ready-to-use surveys, and you can collect feedback within your SaaS product. Moreover, several integrations are available so you can run a unified campaign.
What could've been better: More integrations with SaaS and B2B tools could be added.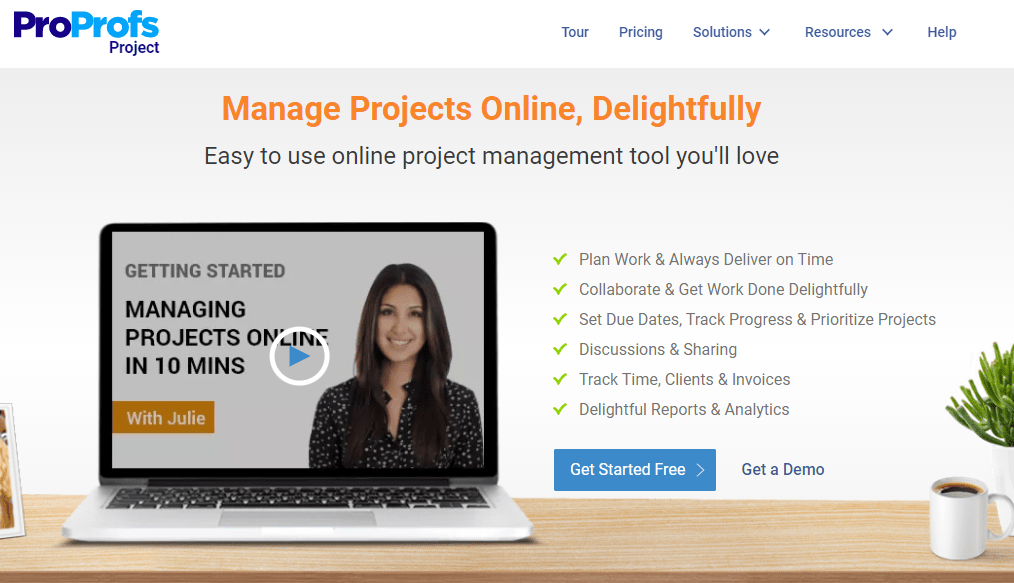 ProProfs Project is a simple yet effective project management software that allows you to track and manage tasks through the complete project lifecycle. It ensures that you stay within the timeline and budget.
It is a user-friendly tool that uses project views like Gantt charts and Kanban boards to give a real-time visual overview of project progress. With workflows, segment your tasks into pending, to-do, and completed tasks so that your team never misses a deadline.
The tool's reporting capabilities allow you to monitor project progress and team performance. You can also easily share these presentations and reports with your clients and stakeholders. What's more, file sharing allows you to distribute project files to your team members with Dropbox, Google Drive, etc.
Features of ProProfs Project
Visualize the project's progress with Gantt charts and Kanban boards.
Utilize workflows to segment tasks based on task status.
Advanced reporting to help you track project progress and team performance.
Distribute files across Dropbox, Google Drive, etc.
The Cost
ProProfs Projects pricing plans include:
Essentials: $2/user/month
Premium: $4/user/month
What we liked: It allows us to schedule projects and prioritize tasks.
What could've been better: The mobile app needs some revamping.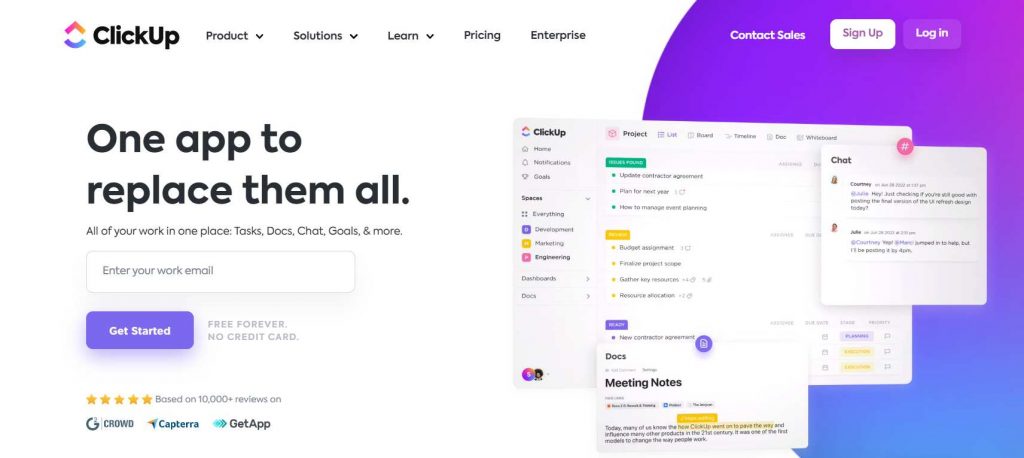 If you are looking for project management tools for businesses of all sizes, then ClickUp is highly recommended. It is a project management tool that allows you to manage all your tasks from a single view dashboard.
With ClickUp, you can break your project tasks into subtasks. You can view your task statuses with Kanban and other custom boards. You can create custom fields that help you customize your workflows, and you can track, sort, and filter them.
Features of ClickUp
Define task statuses with custom templates.
Customize any workflow with the help of custom fields.
Track projects, goals, and assignees with the help of dashboards.
Streamline your deadlines by adding time estimates.
The Cost
ClickUp's pricing includes:
Free
Unlimited: $5/user/month
Business: $12/user/month
Business Plus: $19/user/month
Enterprise: Contact ClickUp
What we liked: Mind Maps and whiteboards helped us organize project tasks.
What could've been better: It takes some time to pick up and has a steep learning curve.
Proofhub is a SaaS-based project management tool that helps you view project data from a single dashboard. Your team can align tasks, collaborate on ideas, and track project milestones. With Gantt charts, you can view the pieces of the project illustrated through timelines.
Proofhub is available on both the App Store and Google Play Store, allowing teams to manage and collaborate on projects flexibly. The tool's collaborative features make brainstorming and communicating ideas simpler.
Features of ProofHub
Create discussions and loop in people through @mentions.
Arrange and sort your tasks and commitments with a table view.
Divide the tasks in your workflows between team members using Kanban boards.
View timelines of your project with Gantt charts.
The Cost
ProofHub's pricing includes:
Standard: $45 for 1-5 users, $90 for 6-10 users
Premium: $135 for 11-50 users, $248 for 51-100 users
Bigger: Contact ProofHub
What we liked: The support is responsive and helpful.
What could've been better: There should be an option to control notifications, such as snoozing options.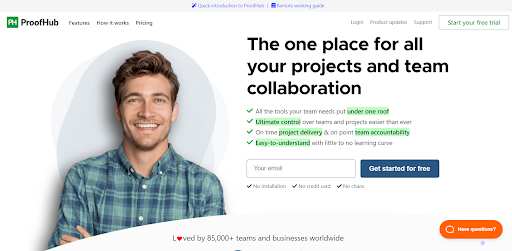 Projectsly is a project management software that allows teams to focus on project planning and execute it successfully. It is an all-in-one project management software that allows you to gather all the relevant data in one location. Keep in touch with your team in real-time to keep projects on track. Monitor project progress, build custom reports for data-driven decision-making, and plan sprints and product roadmaps. To help your business grow faster, streamline your project planning, and plan every segment of a project from start to completion. With our project management reporting solution, you can increase team productivity.
Key features of Projectsly :
In List, Kanban, Calendar, and Gantt views, get a complete picture of all tasks
Have all your information in one place – documents, notes, activity timelines, email integration, and task hours
Set goals for each tasks, measure completion and costs
Create advanced rules using the visual builder to have full control
The Cost
Free Version – Free up to 10 Users
2. Free Trial – No cap 14 days
3. Monthly – $14.99 Access to infinity suite of 37+ apps by 500apps including Projectsly
What we liked:
It's easy to use, and you can make a number of reports using it. A variety of reports are available, including the ability to track time, costs, contacts, and even your goals!
What could've been better:
Projectsly does not have an online file storage facility, which might be troublesome if you're working with individuals who have poor internet access or if your own internet connection goes down.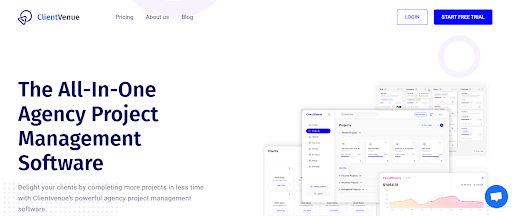 ClientVenue is a new marketing term that refers to the value of a company's services or products derived from the revenue they generate from their client base. It is a measure of how well a company's services or products are helping its clients achieve their goals. ClientVenue can be calculated in a variety of ways, but one common way is to divide revenue by the number of clients serviced. Client revenue is important for companies of all sizes because it can help them identify which services or products are generating the most value for their clients and which ones need to be improved or discontinued. It can also help companies determine which areas they should focus their marketing efforts on and which ones they should avoid.
Featured of Clientvenue
Charging for services or products
Providing discounts or special deals to customers who purchase regularly
Generating income through advertising and/or affiliate marketing
Offering consulting or other professional services
The Cost
1. Free Trial – No cap 14 days
2. Monthly – $15 for small business
What could've been better
Clientvenue comes in two main varieties: recurring revenue and one-time revenue. Recurring revenue is generated when users sign up for a subscription service that pays them automatically every month or yearly. One-time revenue comes from customers who purchase a product, service, or course on your site or app.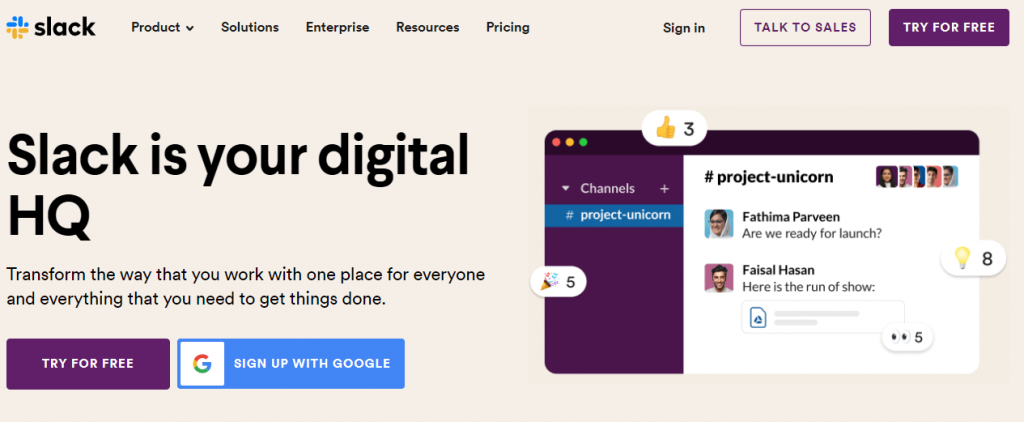 Slack is a versatile messaging app that does so much more than just connect your team members. It is one of the most popular collaboration software on the market. With dedicated spaces, you can bring the right people along with the right information together.
Through Slack, you can hold video conferencing sessions with your team members to communicate and volley ideas across the table. What's more, Slack supports asynchronous work to enable team members to work on different projects flexibly.
Features of Slack
Organize spaces with all people, files, and messages in channels.
Collaborate with team members with video conferencing features.
Use Slack Huddles to start a live conversation.
Secure your work with enterprise-grade security.
The Cost
Slack's pricing includes:
Free
Pro: $6.67/user/month
Business+: $12.50/user/month
Enterprise Grid: Contact Slack
What we liked: We can easily pin messages and mark important topics.
What could've been better: The Android app can be quite slow.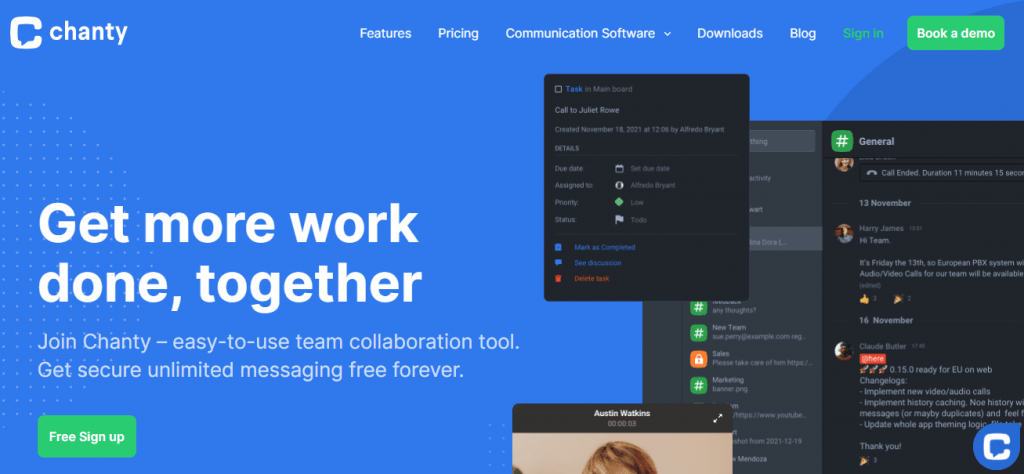 Chanty is a team management tool that enhances collaboration between team members. As a communication tool, it offers unlimited secure messaging. With Teambook, you can organize more than your messages but also tasks, conversations, and all shared content.
Chanty supports content from Youtube, Coub as well as GIFs too. It allows you to stay on a single platform to access social media content shared with the team. With the @mention feature, you can bring any team member into the conversation. It is dev-friendly and allows you to share code snippets with the team.
Features of Chanty
Make video calls with a click of a button.
Share your screen during a video conference.
Schedule video meetings for up to 1000 participants.
Explore high-quality 4K video and audio in your video conferences.
The Cost
Chanty's pricing plans include:
Free
Business: $3/user/month
What we liked: You can create video calls and share screens to discuss projects and ideas.
What could've been better: The calendar can be quite unorganized, and there are limitations to customizing the look of the calendar.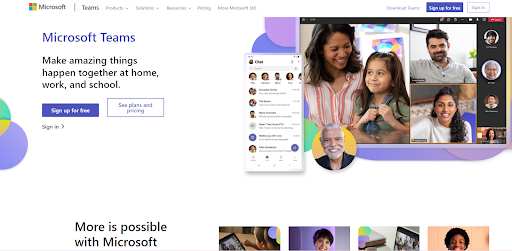 If you want the ease of collaboration within your team from one of the top SaaS platforms providers, try Microsoft Teams. It supports video conferencing, allowing you to discuss ideas with team members quickly. By integrating Teams with Microsoft 365, you gain access to a document manager.
With authoring tools, you can mention colleagues, co-author articles, edit content, and do much more. Also, you can view all your files on a dashboard; apply filters to make pin-pointing important documents easy. With Microsoft Teams, you can send shareable links to your teammates.
Features of Microsoft Teams
Connect with teams with chat, calling, and other communication features.
Share documents and files to create and exchange ideas.
Keep all of your messages, files, and call history in one place.
Upload all your important documents to the cloud for quick accessibility.
The Cost
Microsoft Teams pricing plans include:
Microsoft 365 Business Basic: $6/user/month
Microsoft 365 Apps for Business: $8.25/user/month
Microsoft 365 Business Standard: $12.50/user/month
Microsoft 365 Business Premium: $22/user/month
What we liked: The collaboration space allows us to share files. Also, we can video chat with multiple people simultaneously.
What could've been better: When someone reacts to a message, the notifications seem to be glitching.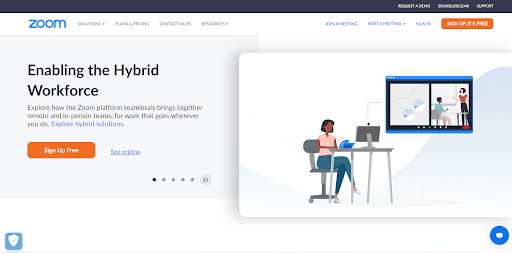 Zoom is a video telephony software that allows you to connect with teammates with the help of its robust business features. One of its best features is a whiteboard which has annotation tools to draw, write text, and make shapes.
Once done, you can save the whiteboard. If there are multiple people on the Zoom call, each gets access to the whiteboard. The whiteboard is one of the most loved features of Zoom.
You can also create breakout rooms to enable further collaboration and discussion among teammates. Zoom has become vastly popular as one of the essential SaaS tools for startups. It does make sense because it is fast, efficient, and user-friendly.
Features of Zoom
Set a virtual background for yourself during meetings.
Allow multiple participants to share screens simultaneously.
Create a whiteboard for team members to work on during the Zoom call.
Integrate with third-party apps like Zoho CRM.
The Cost
Zoom's pricing includes:
Basic
Pro: $14.99/month/host
Business: $19.99/month/host (10 hosts)
Enterprise: $19.99/month/host (100 hosts)
What we liked: It is a great tool for virtual meetings and holding webinars.
What could've been better: The plans of Zoom are quite costly, and the system requirements for this tool are advanced.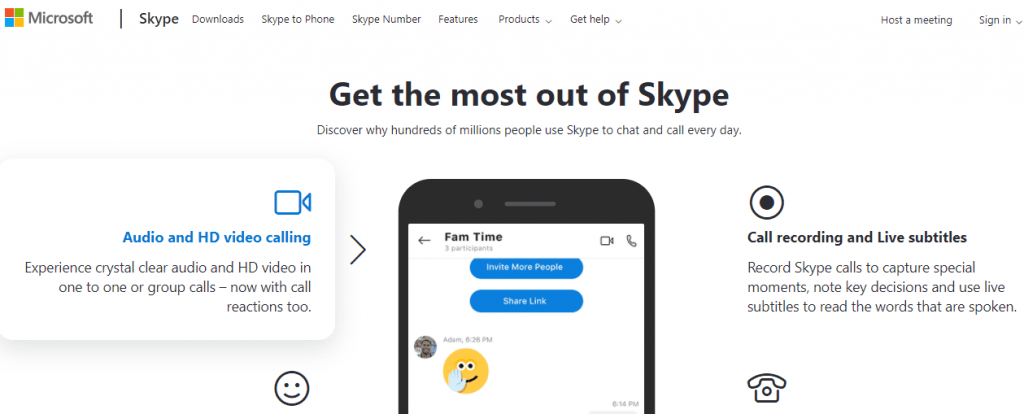 Skype is an amazing communication app that has been in the market for nearly two decades. It allows teams to work together through messaging and video calling features. You share large files right in the chat with file-sharing features to push through deadlines.
The call stage can be customized with beautiful themes and layouts. To make things more engaging, you can use animated backgrounds. You can also record calls for future reference and enable live subtitles.
Features of Skype
Schedule HD audio and video calls.
Engage others through smart messaging features like emojis and @mentions.
Call phone numbers directly from your Skype account.
Secure your conversations with industry-standard end-to-end encryption.
The Cost
Skype's pricing plans include:
United States: $3.59/month
India: $9.59/month
North America: $8.39/month
What we liked: It allows us to record and track calls. Also, we can get live subtitles.
What could've been better: Skype can at times lag, and the audio can often show irregularities.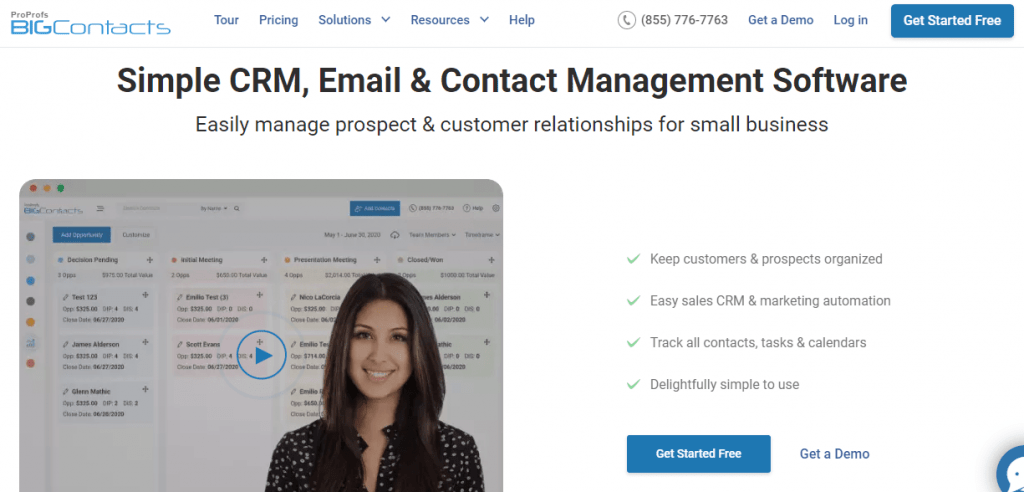 BigContacts is a robust CRM software that helps you deepen customer relationships. It offers a well-organized repository of customer data that you can leverage for offering personalized experiences.
With improved contact management, you can view pending or upcoming activities as well as contact history. You can build your sales pipeline and direct personalized emails to your prospect based on their place in the sales cycle.
Features of BigContacts
View your sales pipeline to track and manage sales opportunities.
Automate tasks, create workflows, and generate activity reminders.
Manage and personalize drip email marketing campaigns.
Take your work anywhere with the mobile version of BigContacts.
The Cost
Big: $5/user/month
Bigger: $15/user/month
Biggest: $25/user/month
Enterprise: Contact ProProfs.
What we liked: We like that the contact templates are populated with relevant information, and include social media profiles.
What could've been better: It lacks AI-powered lead scoring.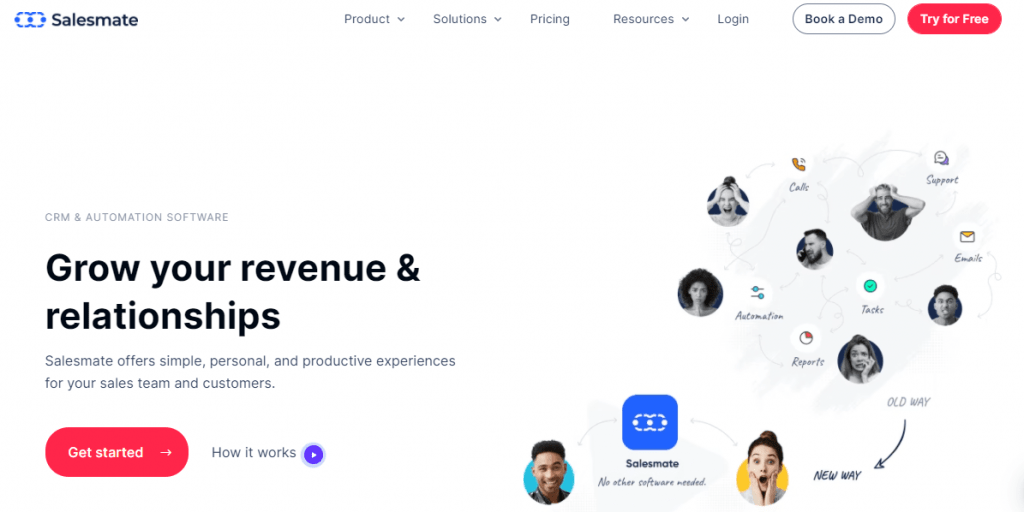 If you do not have a system to track sales activities and customer interactions, you should use SalesMate CRM. It helps you organize and manage customer data coming from various channels like email, phone, etc.
SalesMate CRM is from one of the leading SMB SaaS Companies, enabling sales teams to engage in remote selling. With the option of creating a custom sales pipeline, you can visualize and move deals through it.
With automated workflows, you can even apply criteria like industry, product line, deal size, etc., to automate lead assignment. Furthermore, you get the option to send bulk emails, texts, email templates, etc., to handle all your sales communications.
Features of SalesMate
Visualize sales pipelines and track sales activities.
Streamline sales processes through automated lead assignment.
Generate insights into the sales pipeline and view your team's performance.
Integrate Salesmate with over 700 apps to extend its functionality.
The Cost
SalesMate pricing plans include:
Starter: $15/user/month
Growth: $30/user/month
Boost: $50/user/month
Enterprise: Contact SalesMate.
What we liked: The support is extremely prompt and responds within minutes.
What could've been better: The email tracking could be more accurate such as it shows the server location and not the person who sent the request.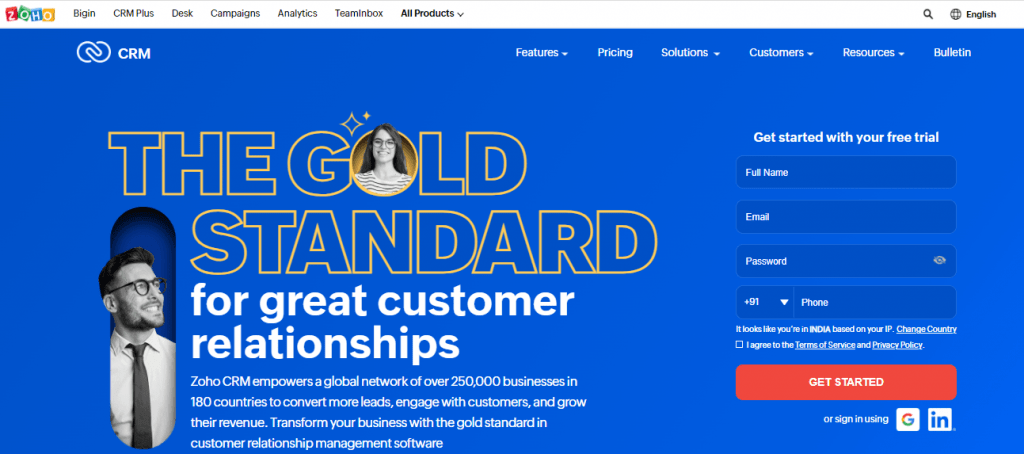 Zoho is known for offering well-trusted solutions loved by many businesses. Zoho CRM is one of them. With advanced features like sales and marketing automation, predictive analytics, and much more.
With omnichannel communication, your sales team can connect with customers through any channel like email, phone, live chat, and social media. Also, you can view their complete information during the interaction, which helps in contextual, meaningful conversations.
With workflow automation, you can simplify your marketing and sales activities. You can automatically trigger actions like lead follow-ups, welcome emails, etc., by creating workflow rules.
Features of Zoho CRM
View the performance of social media campaigns by integrating Zoho Social.
Measure the effectiveness of your customer communication efforts.
Create workflows that trigger instant actions and automate the lead nurturing process.
Track KPIs such as current trends and forecasting.
The Cost
Zoho CRM pricing tiers include:
Free
Standard: $14/user/month
Professional: $23/user/month
Enterprise: $40/user/month
What we liked: The automated lead assignment so that agents can follow up, is quite a useful feature.
What could've been better: The security measures of Zoho CRM can be quite tough. So in case someone gets locked out of their account, it will be a challenge to log back in.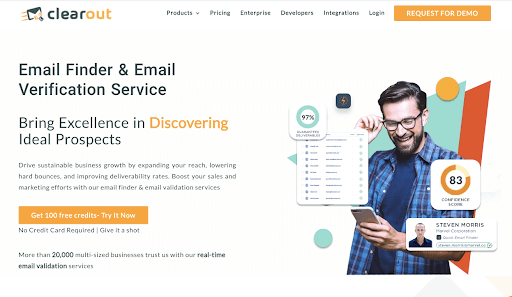 Clearout is an email finding and email verification service that helps you build pre-verified, high quality email lists as well as maintaining email list hygiene. Clearout is one of the powerful tools to find pre-verified B2B prospects on any domain. You can expand your reach and engage with the prospects by discovering their email addresses. It provides assured results backed with a confidence score to build a strong customer database. You can understand and predict the results of your campaigns with the 'Confidence Level' for your target audience list. Clearout also offers a highly accurate email verification service to maintain your email list hygiene.
Features of Clearout :
Point of capture email verification through JS widget & WordPress plugin
Instant & bulk email verification & finding
API support for email finder & email verifier
Integrates with multiple ESP's and CRM like HubSpot etc
The cost:
Free – Free trial with 100 credits
Pay as you go – Starts with 3000 credits for $21.
Monthly/Annual Subscription – Starts with 5000 credits from $31.5
What we liked: Accurate results & excellent support.
What could've been better: Interphase is too direct.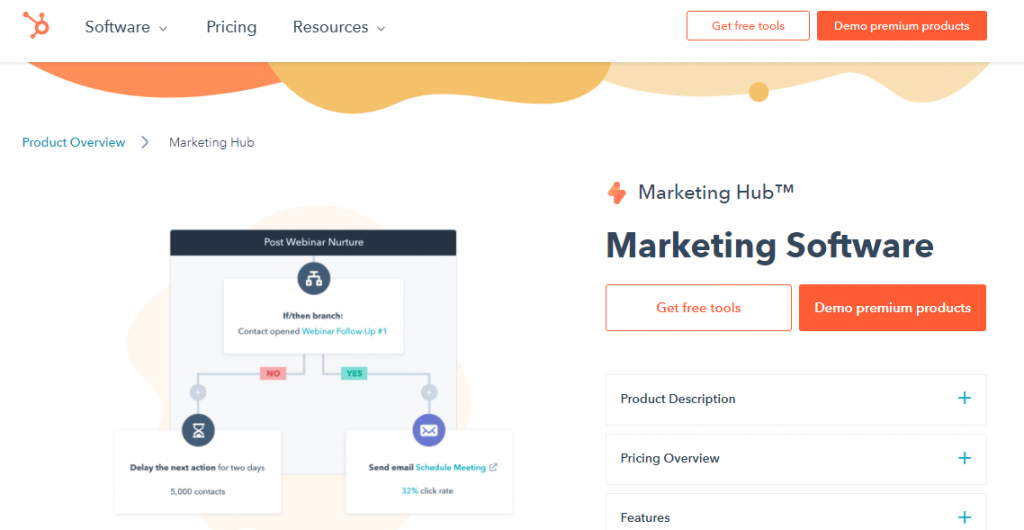 Hubspot is one of the trusted developers of inbound marketing, sales, and service tools. Hubspot Marketing Hub is a comprehensive solution that has all the marketing tools a modern marketer will need to grow a business.
With great content and formatting tools in Hubspot's Blog Editor, make sure you get noticed on social media and organic search results. Hubspot's SEO tools offer actionable recommendations that help optimize your site for the crawlers.
It has integrated content tools that offer topic suggestions on the basis of popularity, competition, relevance, etc. This tool allows you to create topic clusters around your central topic. Building your content strategy becomes so much easier.
Features of Hubspot Marketing Hub
Optimize your content for search engines with SEO recommendations.
Use Hubspot's Blog Editor to offer the most appealing content.
Utilize topic suggestions and keyword research tools with the Content Strategy tool.
Create buyer personas to better understand your target audience.
The Cost
Hubspot Marketing Hub has the following pricing plans:
Free
Starter: $45/user/month
Professional: $800/user/month
Enterprise: $3200/user/month
What we liked: The creation of workflows and automations is possible without too much training.
What could've been better: The creation of landing pages is limited; this is where other landing page tools can be better.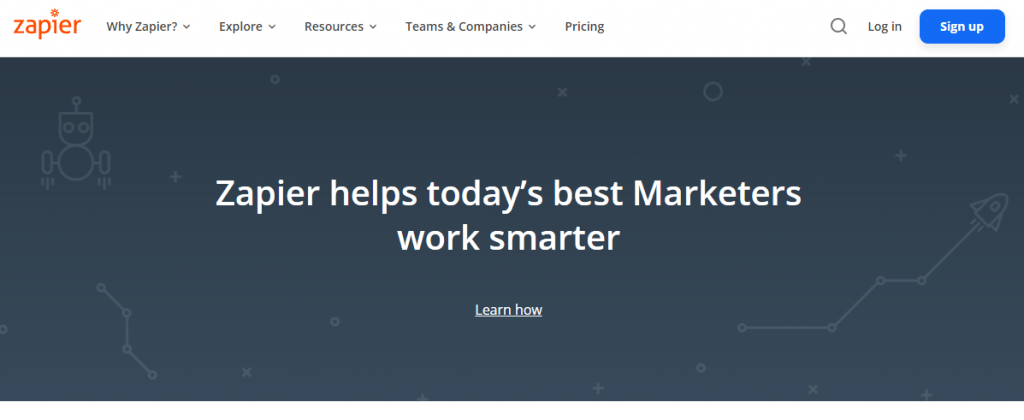 Zapier is a useful automation tool that allows you to create automated workflows called Zaps. Zaps can be used to track form submissions, trigger emails, and much more. It allows you to trigger actions between different apps, making complex automation much simpler.
With templates, you get pre-made workflows for over 4000 apps. There are a huge range of templates such as Typeform + Google Sheets, Facebook Lead Ads + Gmail, etc. Also, you can build your custom workflow with Zapier Editor.
Features of Zapier
Automate your work across 4000+ apps.
Create workflows and integrations easily with the help of templates.
Design your own automations and integrations with custom workflows.
Add up to 100 steps in multi-step workflows.
The Cost
Zapier's pricing includes:
Free
Starter: $19.99/month
Professional: $49/month
Team: $299/month
Company: $599/month
What we liked: No knowledge of coding and programming is required to build automations across a wide range of applications.
What could've been better: When using Zapier, there is a steep learning curve.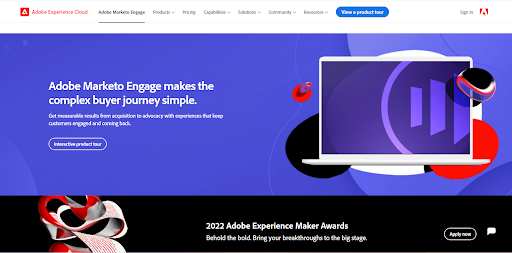 Marketo is a marketing automation tool that allows teams to track marketing engagement and produce lead conversion opportunities. With behavior tracking, you can identify the right customers to target your products. You can engage your target audience through automated marketing campaigns.
With advanced reporting and analytics, you can also measure the impact of your content, program, and channel. Also, you can measure the performance of your touchpoints with multi-touch attribution models.
Features of Marketo
View reports on how your marketing impacts revenue.
Benefit from actionable reports and dashboards that are easy to view.
Create email marketing campaigns with Marketo Engage.
Improve the customer experience through journey mapping.
The Cost
Marketo's pricing includes:
Jumpstart: Contact Marketo
Select: Contact Marketo
Prime: Contact Marketo
Ultimate: Contact Marketo
What we liked: There is the flexibility of building emails using templates in Email 2.0.
What could've been better: The Marketo engagement streams need improvements.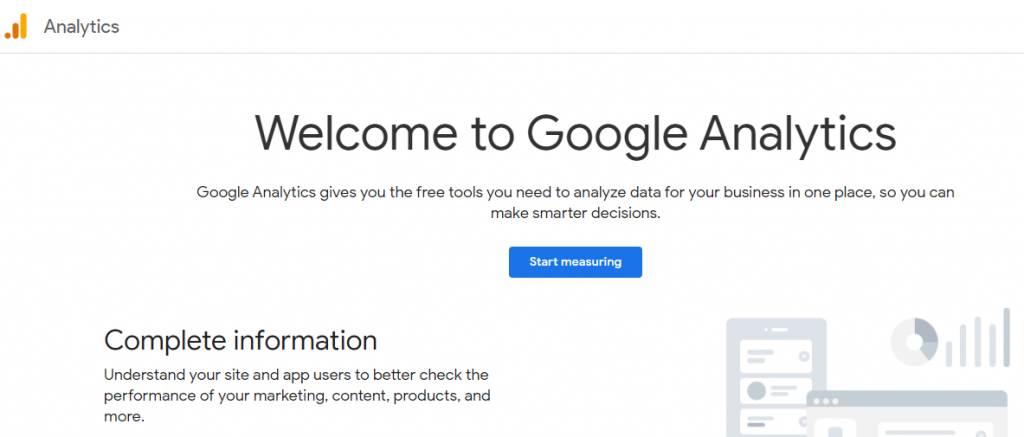 Google Analytics is a web analytics platform that allows you to monitor and track website traffic. It is the most popular SaaS analytics platform in the market, enabling you to shape a successful online strategy for your business.
You can track information about visitors and discover a lot about user behavior. Also, Google Analytics offers both report templates and customized reports. Using customized reports, you can define your dimension and metrics.
Features of Google Analytics
Add UTM parameters to your campaigns to track their performance.
Gain insights into website visitors through audience reports.
Track website conversions and user activity with the Goals feature.
View how visitors progress through your website till their drop-off.
The Cost
Google Analytics' pricing tiers include:
Free
360: $12,500/month
What we liked: It is a great tool for tracking ad performance as it can be integrated with Google Ads.
What could've been better: There is often an overwhelming amount of information which makes using Google Analytics a complicated endeavor.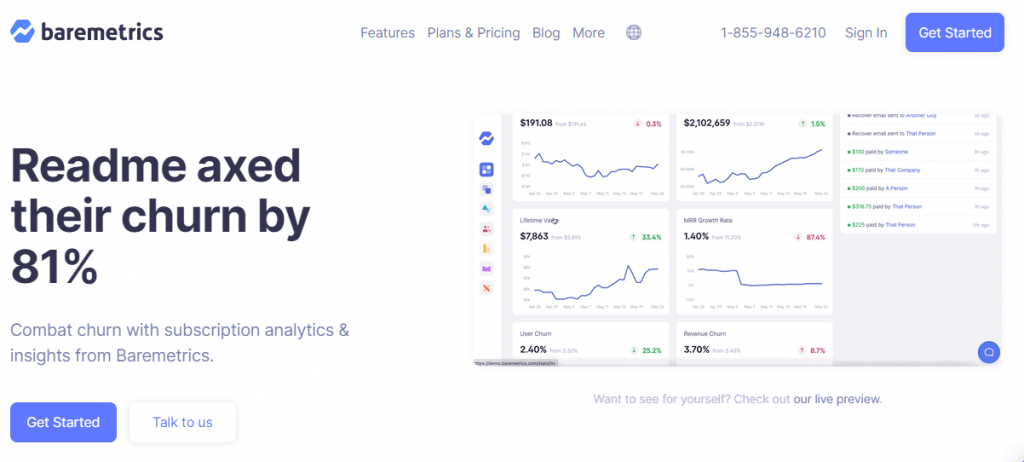 Baremetrics is a tool you must try if you want to uncover insights into user behavior. With subscription analytics and insights, you can effectively reduce customer churn. You can view what propels your business forward with the help of a comprehensive dashboard.
Using these insights, you can make profitable decisions that guide your business on a growth path. Well-designed charts and graphs, such as combo charts, allow you to track the progress made in your business goals.
Features of Baremetrics
View business metrics in real-time to make profitable decisions.
Track your progress toward a goal with interactive dashboards.
Segment your customers based on different attributes.
Get a complete look at the payment history of your customers.
The Cost
Baremetrics' pricing includes:
Base Features: $129/month
With Recover: $198/month
With Cancellation Insights: $258/month
With Everything: $327/month
What we liked: It has pretty graphs and its cohort analysis features are helpful.
What could've been better: It would be better if the analytics to determine churn were customizable.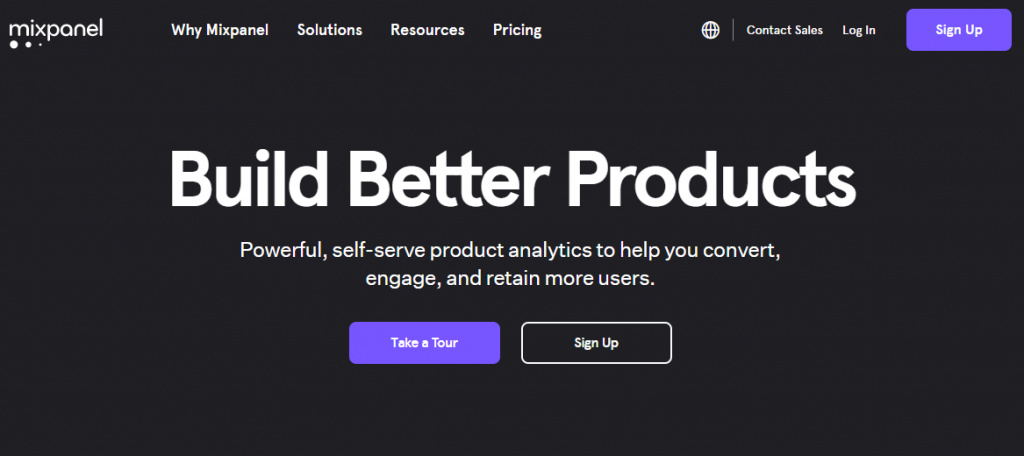 If you are a product manager and looking for a tool that is easy to use, then Mixpanel is worth looking into. It is a business analytics tool that helps you visualize how customers are interacting with your digital product.
With interactive reports, you can query and visualize the relevant data with just a few clicks. You can also pin-point which customer actions are building conversions for your business. Moreover, funnel reports allow you to track the customer journey and find where they drop off.
Features of Mixpanel
Shape the customer experience through flow reports which show user flows.
Retain customers better with retention reports.
Determine which product features customers engage with the most.
Drive conversions by pin-pointing user actions that make the most impact.
The Cost
Mixpanel's pricing includes:
Free
Growth: $25/month
Enterprise: Contact Mixpanel
What we liked: We liked that it offered many different user metrics which we could track.
What could've been better: There is a slight learning curve to using it.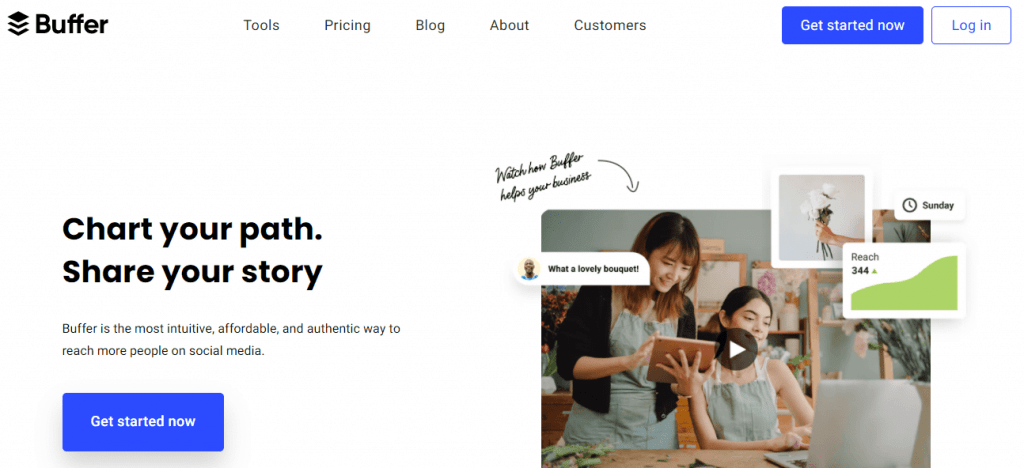 Buffer is one of the best social media SaaS tools for startups out there. It helps you manage, track, and handle each tag or mention. You can also set up Buffers that schedule your social media posts which helps handle your content distribution.
It helps bring high-priority customer comments, queries, and issues to your attention so that you can tackle them first. With dedicated reporting and analytics, you can track the performance of your social media campaigns.
Features of Buffer
Measure social media performance with a few clicks.
View, track, and repurpose your highest-performing content.
Check and compare your most important metrics.
Time your tweets and other posts perfectly with the scheduling of posts.
The Cost
Buffer's pricing tiers include:
Free
Essentials: $5/month
Team: $10/month
Agency: $100/month
What we liked: Buffer makes it easy to figure out posting for campaigns.
What could've been better: The interface can be challenging to use.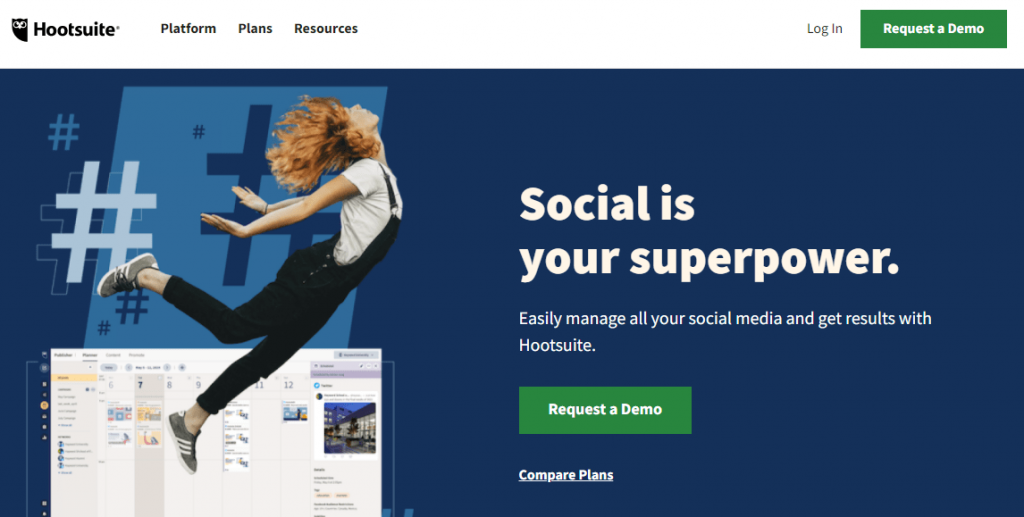 Hootsuite is a great SaaS tool that allows you to track social media activity, engage with your customers, and build your audience. It is essential for executing a social media strategy as it helps you monitor social media channels.
With Hootsuite Streams, you can monitor audience sentiment about your brand through social listening. You can view detailed reports on social media performance to find out which content resonates with your audience.
Features of Hootsuite
Schedule social media posts by dragging and dropping them in the calendar.
Use the in-depth reporting tool to track social media performance.
Shorten links efficiently when creating posts that lead to other websites.
Track inbound messages along with sentiment analysis.
The Cost
Hootsuite's pricing plans include:
Professional: $49/month
Team: $129/month
Business: $599/month
Enterprise: Contact Hootsuite
What we liked: It offers historic data on which are the best times to post content.
What could've been better: There are some errors when posting video content on Instagram.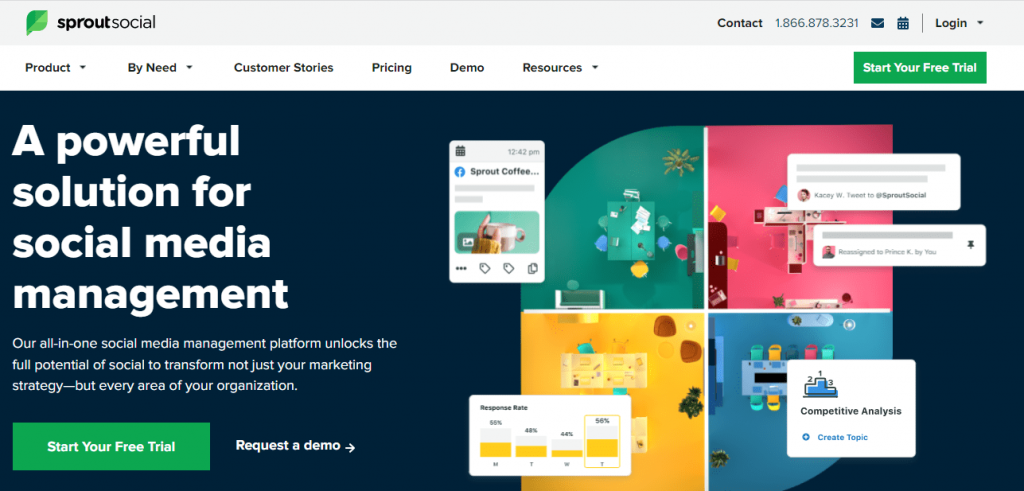 If your business focuses on social media branding or lead generation, then you need a great social media strategy. Sprout Social focuses on building tools that help brands connect with customers through social media.
You can track what your audience is saying about your brand using keywords and trends reports. Social media campaigns become a success when you can focus on talking points and trending topics.
Social listening tools in Sprout Social help you build a strategy to influence the customer's perception of your brand. You can also engage your audience with automated messages and social media posts that get distributed across various channels at peak hours.
Features of Sprout Social
Uncover actionable trends and insights to create a business strategy.
Publish and organize content with cross-network social publishing.
Streamline monitoring social media activity on your posts with a unified inbox.
Utilize rich social data and dashboards to make strategic decisions.
The Cost
Sprout Social's pricing plans include:
Standard: $99/user/month
Professional: $169/user/month
Advanced: $279/user/month
What we liked: Sprout Social's stats are useful for tracking performance metrics and creating future strategies.
What could've been better: Sprout Social can come out to be expensive.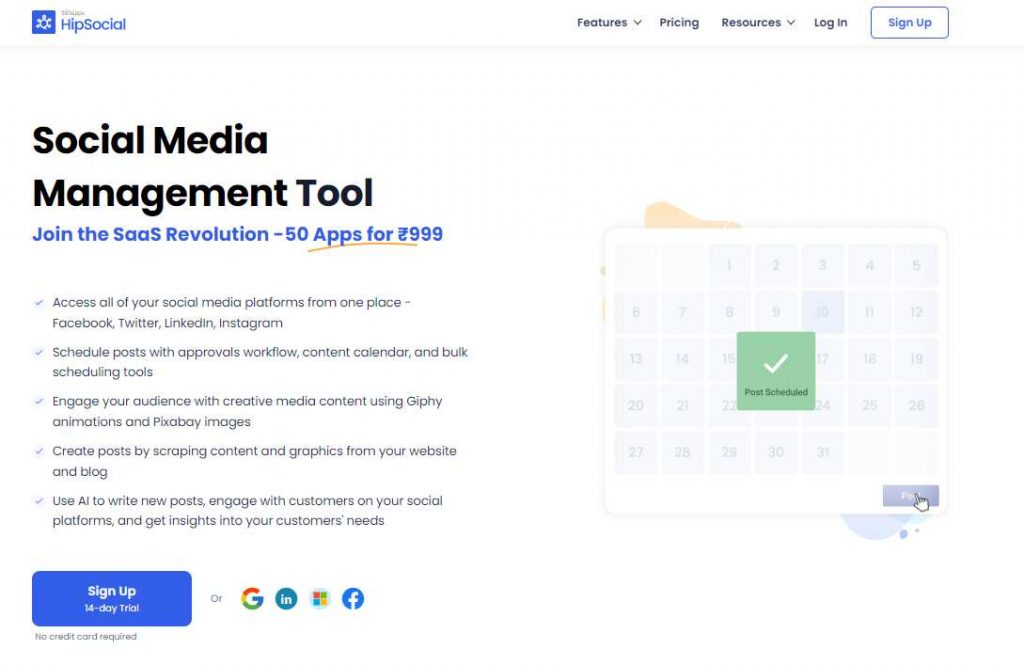 HipSocial is a social media management tool by 500apps. It has a host of features that are suitable for small and medium-sized businesses trying to compete and grow in a competitive industry. HipSocial was developed to solve problems, offering solutions ranging from social media scheduling and engagement to social listening and analysis, as well as seamless integration into your workflow. In fact, HipSocial was created by 500apps to address concerns in the company's marketing department. Everything in the app is designed to make your social media marketing efforts more productive.
Key features of Hipsocial:
Engage on various social media platforms from one place
Schedule posts with approvals workflow
Build engaging content with Giphy Animations, and Pixabay Images
Scrape content and graphics for better content marketing capabilities
Integrate with CRM and Project management soft
The Cost :
1. Free Version – Free upto 10 Users
2. Free Trial – No cap 14 days
3. Monthly – $14.99 Access to infinity suite of 37+ apps by 500apps including Hipsocial
What we liked:
Create unlimited projects for multiple agencies
Dashboard to gauge social performance
What could've been better:
Cannot post videos in social channels
Employee Monitoring and Productivity Tracking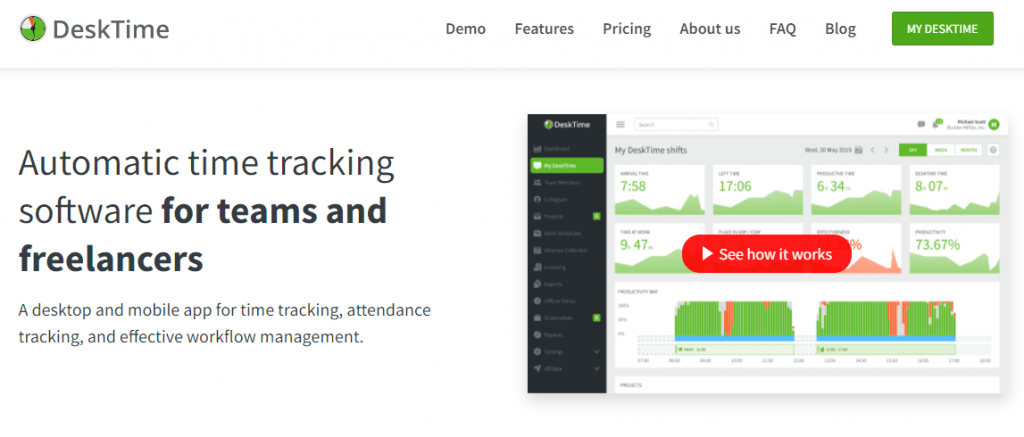 If you need a tool that human resources can use for checking productivity while your workforce does its tasks from home, then DeskTime is essential. It allows you to mark apps, programs, and websites as productive or unproductive.
You can view in-depth reports on how a team member has spent their time working through the day. Moreover, you can get screenshots taken at specific intervals during the workday. Also, it automatically stops tracking the time once the team member has left the workstation.
Features of DeskTime
Track the time spent working on projects, files, and applications.
Boost the productivity of your team with the Pomodoro timer.
Take screenshots of the workstations at regular intervals.
Enable the team to work on personal information with Private Time.
The Cost
DeskTime's pricing plans include:
Lite: Free
Pro: $4.49/user/month
Premium: $6.42/user/month
Enterprise: $12.83/user/month
What we liked: It allows us to monitor the productivity of work being done towards the completion of a project or task.
What could've been better: It can be cumbersome to figure out the level of permissions when using it for multiple teams and across different departments.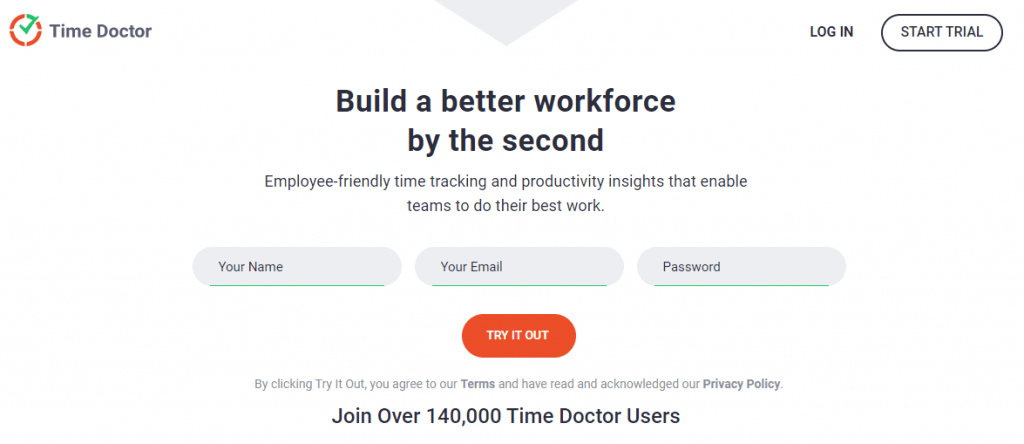 If you are looking for ways to improve team productivity during times when remote working is becoming popular, then Time Doctor is the tool for you. It allows you to view a synopsis of the team's time spent on each task, meeting, or client.
It also allows you to view the productivity percentage of each team member. This way, you can ensure that your team members can maintain their work-life balance. Time Doctor offers distraction alerts as well to keep your team focused on their task at hand.
Features of Time Doctor
View the productivity chart of your team members at a glance.
Create projects for teams to work on and log their times.
Find the list of productive and unproductive apps opened.
Take regular screenshots of the team's systems.
The Cost
Time Doctor's pricing plans include:
Basic: $7/user/month
Standard: $10/user/month
Premium: $20/user/month
What we liked: We like that we can receive screenshots to check that our team members aren't losing focus.
What could've been better: Time Doctor can run quite slow at times.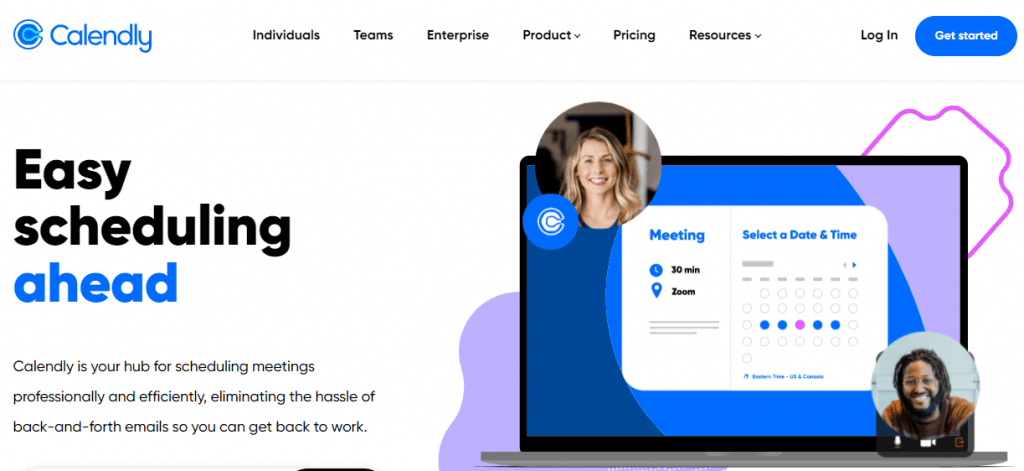 If you often miss time commitments or want to keep your team on track with meetings, then Calendly is perfect for you. It is an appointment scheduling tool perfect for a small business owner looking for useful features like calendar blocking, reminders, and follow-ups.
You can send Calendar invites to keep everyone on the same page with the event timings and details. Also, you can send info between Calendly and Evernote with the help of Zapier. It allows you to calendar all your notes, reminders, and events from Evernote onto Calendly.
Features of Calendly
Create simple rules determining your availability.
Send guests and clients invitation links to the appointment.
Schedule meetings across the calendars of different team members.
Collect your notes from Evernote onto Calendly.
The Cost
Calendly's pricing plans include:
Basic: Free
Essentials: $8/seat/month
Professional: $12/seat/month
Teams: $16/seat/month
Enterprise: Contact Calendly
What we liked: It has various integration features with apps like Google Calendar, Google Meet, Zapier, and Evernote.
What could've been better: It would be great if they offered us more customization options such as the subject of the meeting and the color of the calendar.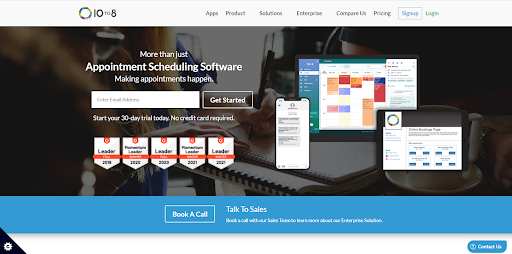 10to8 is an appointment scheduling app that comes with a web-based calendar. It enables your business to streamline daily operations through features like meeting reminders, online bookings, and syncing options with multiple online calendars.
You can keep track of events through meeting reminders and make sure everyone attends on time! These reminders go through email, SMS notifications, and other channels. With online bookings, you can simplify bookings for website visitors.
Features of 10to8
Track organization performance with powerful reporting tools.
Create an online booking page with branding consistent with your vision.
Check if customers open the appointment reminders and find the potential no-shows.
Integrate with Zoom Video Conferencing and Salesforce.
The Cost
10to8 pricing plans include:
Small Business: Free
Basic: $9.6/month
Grow: $20/month
Bigger Business: $40/month
Enterprise: Contact 10to8
What we liked: The free plan has many functionalities.
What could've been better: We wish we could upload the reviews of our clients and not just the customer ratings.
Best Document Management Tools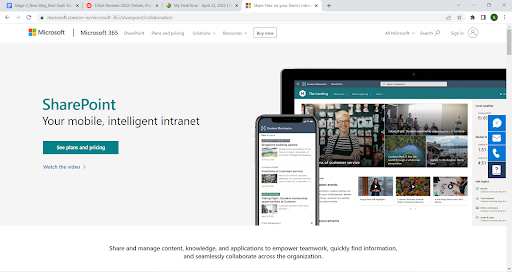 Microsoft SharePoint is a document management tool that every professional is familiar with. It is a cloud-based web platform that offers many features beyond just document management and file-sharing capabilities.
You can upload/download documents and keep a log of all the edits made. Also, with version control, you can choose which versions of the document you wish to retain. Your team members can share and manage content effectively with numerous collaborative tools.
Features of SharePoint
Collaborate with team members effectively across multiple devices.
Sharepoint's content management allows you to search for information quickly.
Create forms, workflows, and custom apps with Sharepoint lists, Power Automate, etc.
Organize resources and information on home sites and portals.
The Cost
Microsoft SharePoint's pricing plans include:
Microsoft 365 Business Basic: $6/user/month
Microsoft 365 Apps for Business: $8.25/user/month
Microsoft 365 Business Standard: $12.50/user/month
Microsoft 365 Business Premium: $22/user/month
What we liked: It allows us to access documents from anywhere and secures them. So, we no longer need VPNs and Remote Desktop Connections.
What could've been better: When a folder in the document library becomes too large, each file has to be moved individually. There might be a workaround, but we hope this improves.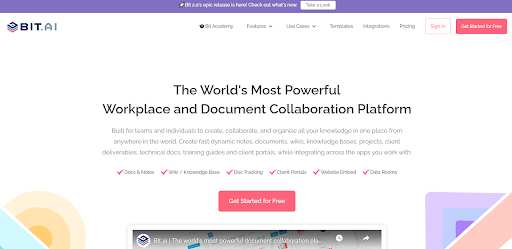 If you are looking for a knowledge management SaaS for small business, then the clean and simple interface of Bit.ai will not disappoint. It offers a wide range of functionalities, from collaboration to sharing knowledge.
Everything starts with a workspace, which is created for private use, or you can invite collaborators. You can add file attachments inside documents and live embeddable content from over 100 applications. With Smart Search, you can search for content across workspaces, documents, and folders.
Features of Bit.ai
Create unlimited workflows for numerous purposes.
Gather insights into the workspace, such as who deleted or edited documents.
Search digital assets using keywords, titles, etc., with content management tools.
Utilize the Bit template gallery to kickstart your work.
The Cost
Bit.ai has the following pricing plans:
Free
Pro: $12/user/month
Business: $20/user/month
What we liked: The interface is simple to use, and the customization options of workspaces are multi-variant.
What could've been better: We hope that document creation could be simplified.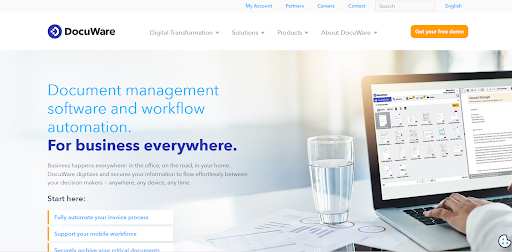 DocuWare offers intelligent document management and workflow automation to simplify business processes. You can digitize your invoices and get them approved with automated invoice processing.
Vendors with a predefined dollar limit will have their invoices processed automatically. Thanks to DocuWare's mobile workforce solutions, your important documents like archived emails, quotes, invoices, proposals, etc., are available on the road.
Features of DocuWare
Process invoices much faster with automated approvals and vendor payments.
Protect your documents with secure access rights and data encryption.
Access your documents from any device to take your work along with you.
Organize and secure a repository of documents to ensure they do not get lost.
The Cost
DocuWare pricing plans include:
Base: $300/month
Enterprise: $1500/month
Pro: Contact DocuWare
Large Enterpriser: Contact DocuWare
What we liked: DocuWare offers seamless onboarding, making it easy for our team members to learn it.
What could've been better: There is a lack of integration points, but it is being improved.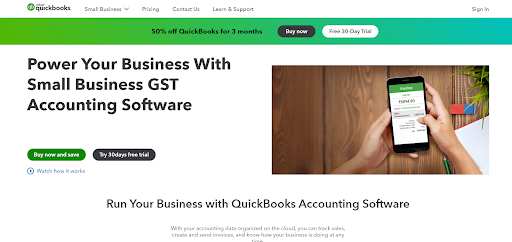 Quickbooks is a reliable accounting tool that allows you to track sales and send invoices. It takes out most of the hard work in organizing accounting data. With a quick view dashboard, you can check your expenses, invoices due, and profits earned with one sweeping glance.
There are many useful features like invoice tracking and payment reminders, that make this a great tool. But the inclusion of a mobile app makes it a great SaaS for small businesses. A compact and agile workforce characterizes small businesses.
Features of Quickbooks
View your expenses and revenue with the help of dashboards.
Create custom, professional invoices, and sales receipts.
Log in employee time and calculate the billable hours.
Enter bills from vendors and pay as per your convenience.
The Cost
Quickbooks' pricing plans include:
Simple Start: $20/month
Essentials: $40/month
Plus: $70/month
Advanced: $150/month
What we liked: It is accessible on every device, so staying in touch with our accounts and clients is possible anywhere.
What could've been better: The purchase orders and invoices need to look more appealing.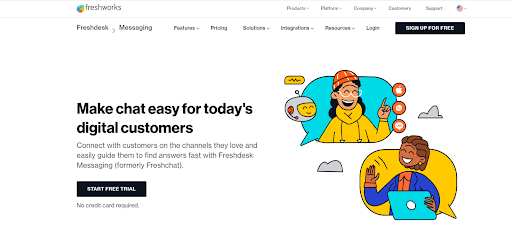 Freshbooks is a great way to streamline the finance and accounting for your business. This is a delightful tool to use as it enables you to create professional-looking invoices in a matter of minutes. More so, the invoices can be customized, and you can set reminders for your clients.
You can take snapshots of your business receipts or maybe even of the last coffee you had. Then, you can scan them and create bills for them in your Freshbooks dashboard. This tool comes from a reliable SaaS company that believes in simplifying business accounting.
Features of Freshbooks
Manage compliance issues and improve transparency with accurate reporting.
Consolidate client estimates, payments, and other transactions in one place.
Accurately bill your clients with the help of Time Tracking.
Access a web-based centralized system for all your important financial documents.
The Cost
Freshbooks' pricing plans include:
Lite: $6/month
Plus: $10/month
Premium: $20/month
Select: Contact Freshbooks
What we liked: Freshbooks has impeccable customer service that is friendly and resourceful.
What could've been better: The pricing model needs changes as it is based not on the number of users but instead on the number of clients in the system.
Which out of These SaaS Solutions Will Suit You Best?
As businesses become more comfortable operating on the cloud, SaaS solutions have started to become the more favorable choices. Moreover, when SaaS providers follow best practices, SaaS can be a more secure choice than on-premise applications.
To choose the right SaaS tool, you need to assess your budget and the features that fit your business. If you are interested in a live chat solution, you can consider ProProfs Chat.
If you are a small business that needs to focus on social media campaigns, then Hootsuite or Sprout Social is a great option. If you have a large company focusing on improving customer support with an affordable help desk solution, go for ProProfs Help Desk.
For other marketing analytics, you can go for Marketo. On the other hand, Hubspot Marketing Hub is an excellent choice for boosting SEO and propelling your content marketing efforts. There is a SaaS solution for every requirement and business.
If you need to engage customers in real-time, then try ProProfs Chat. It is a holistic live chat software for businesses who want an easy-to-install solution that your agents can deploy instantly. You can qualify leads, connect with customers, and do much more.
Do you want a free Live Chat software?
We have the #1 Online Live Chat Software for instant customer support 24x7