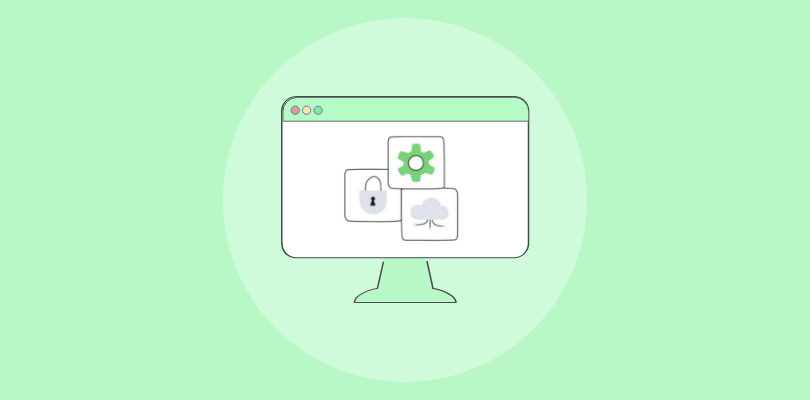 Let's face the truth – the market is flooded with different SaaS options today. I think it's a daunting task to figure out what's the best product for your specific requirements and determine how it's the best fit.
In this blog, I will guide you to make an informed decision by suggesting different SaaS products and comparing them based on first-hand experience or recommendations.
So, let's get started right away!
35+ Best SaaS Tools You Should Try in 2023
For easy understanding, I have categorized these tools into several sections, like customer support, project management, team collaboration, CRM, marketing automation, analytics, etc.
Do note that, while choosing the tools under these categories, I considered some of the crucial factors like –
Ease of installation
Data conversion solutions
Availability of updates
Maintenance costs
Customer support
Online testimonials
Pricing
This way, I ensured that the tools were the best for their respective product categories.
While most of these reviews are based on my personal experience with them, I've also added some that were recommended by my peers or sourced from user testimonials.
💠 Customer Support Tools
The primary goal of these tools is to empower your support team to serve customers promptly. These tools can help you communicate faster, manage tickets, resolve issues, gain feedback, and boost customer satisfaction.
Best for Live Chat & AI-Powered Chatbots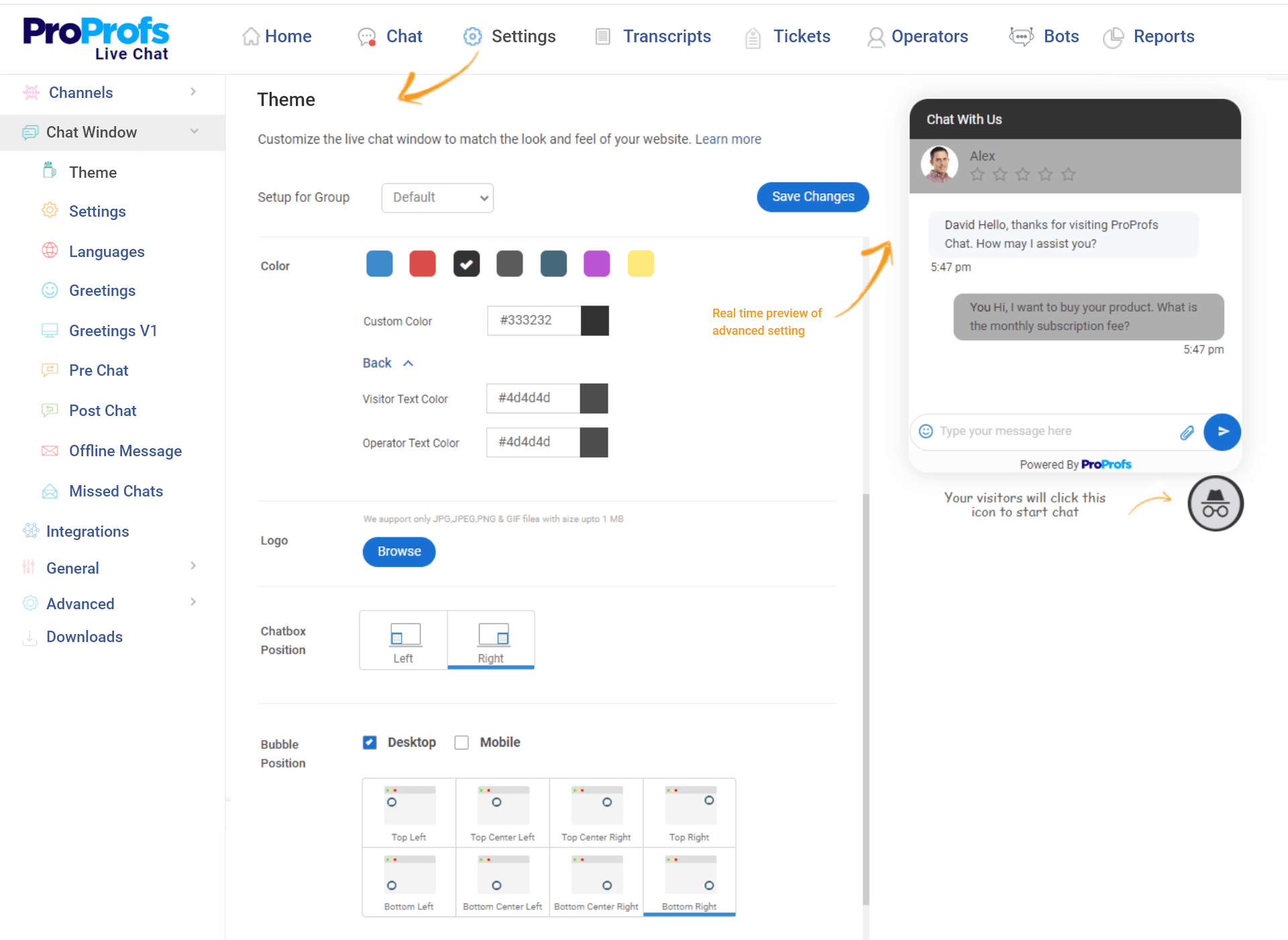 I've been using ProProfs Chat for a while now, and I must say that it's one of the best live chat software out there.
One of the best features is its AI chatbot for 24×7 support automation. It allows me to automate my customer support process and provide customers with quick and accurate responses to their queries.
The customization options are endless, and I love how easy it is to greet website visitors through custom chat invitation pop-ups. With ProProfs Chat, you can easily capture valid prospect details to help modify existing marketing campaigns.
The reporting capabilities are quite detailed, letting me track operator performance through customer ratings. Each report offers numerous data such as total chats, missed chats, average response time, etc. The integration with Google Analytics ensures an efficient flow of data while monitoring web traffic.
What you'll like
You can generate more leads and automate customer support with AI chatbots
The ability to respond fast to common user queries with canned responses
Automatic chat routing transfers conversations to other operators or departments based on availability
Knowledge base integration reduces support tickets by enabling 24×7 self-help
Post-chat surveys help measure customer satisfaction
What you won't like
Frequent updates for the chatbot software require constant adaptation
The wide range of features may seem overwhelming to new users
Pricing: Forever free for a single operator. Live chat pricing for a team plan starts at $19.99/agent/month.
Best for Shared Inbox & Multi-channel Support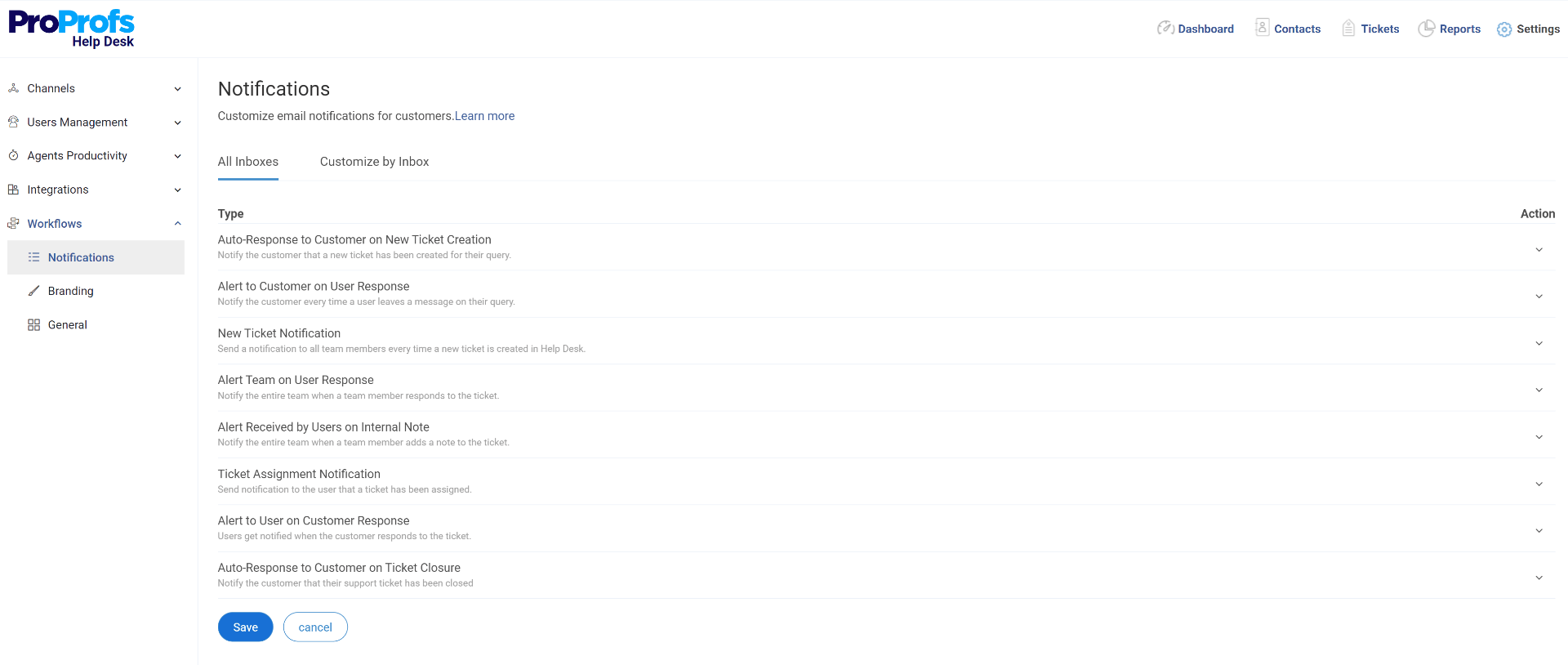 When talking about customer support, you cannot skip help desk software. I've been using ProProfs' help desk for quite some time now.
It lets me capture customer requests from multiple channels and assign them to the right agents. I can also prioritize tickets based on urgency, status, or type and set up automated workflows to save time.
ProProfs' help desk allows me to assign different roles and define their permissions. This way, I can control who can access what information.
Collaborating with team members with internal notes and shared inboxes is also a breeze. I found the software also has the option to create a self-service portal using a knowledge base. Besides, you can collect customer feedback using their survey maker tool to detect areas of improvement.
What you'll like
A shared inbox streamlines the ticket management process
Incoming emails can be converted into support tickets automatically
Canned responses for common queries save a considerable amount of time
Live chat integration support enables real-time communication with customers
Resolving customer issues, requests, etc. made easier
What you won't like
The 15-day free trial period may not be enough to evaluate the wide range of features
The preset canned responses are okay, but you may need to add more
Pricing: Starts from $20/user/month. A 15-day free trial is available.
Best for AI Chatbots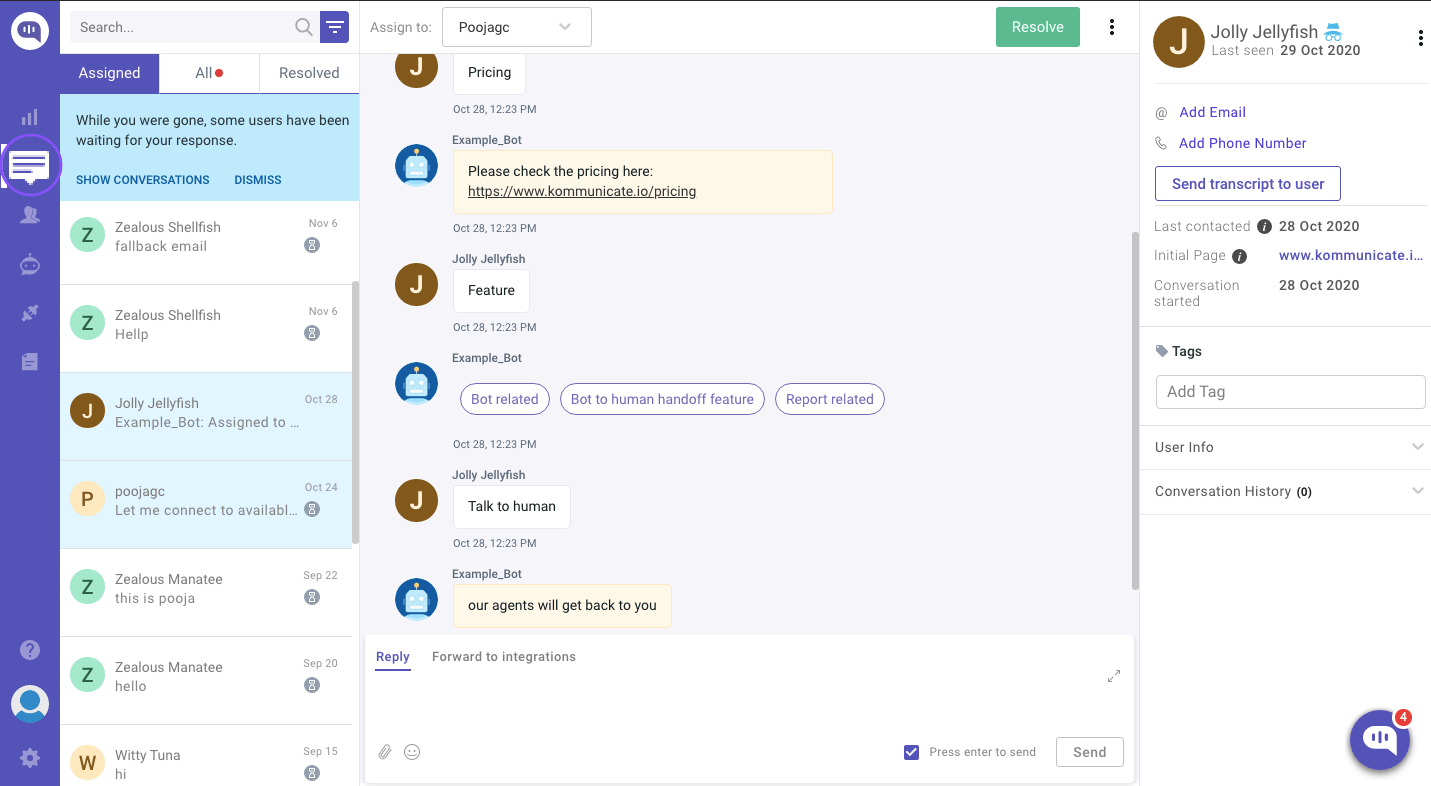 If you are looking for a platform that can automate your customer service with AI chatbots and human support, check out Kommunicate.
I read several community forums that you can create chatbots using the tool without any coding required. You can also manage customer conversations, support agents, and team collaboration from one place.
Kommunicate is the ultimate solution for fixing the broken and inefficient way of customer support. Using it, you can enjoy intelligent conversation routing, instant chat transfer, push notifications, CSAT ratings, FAQs, etc.
What you'll like
An intuitive interface that leverages conversational AI to boost customer support
You can build custom support bots for your business with an easy chatbot builder
Lead qualification, meeting scheduling, and customer support automation can be done with chatbots
The ability to deliver instant responses to customers and boost satisfaction
Plenty of customization options to white-label the chat widget
What you won't like
It may be unable to provide contextual responses based on the customer profile
The tool lags in handling high customer traffic during peak times
Pricing: Starts from $100/month.
Best for Ticketing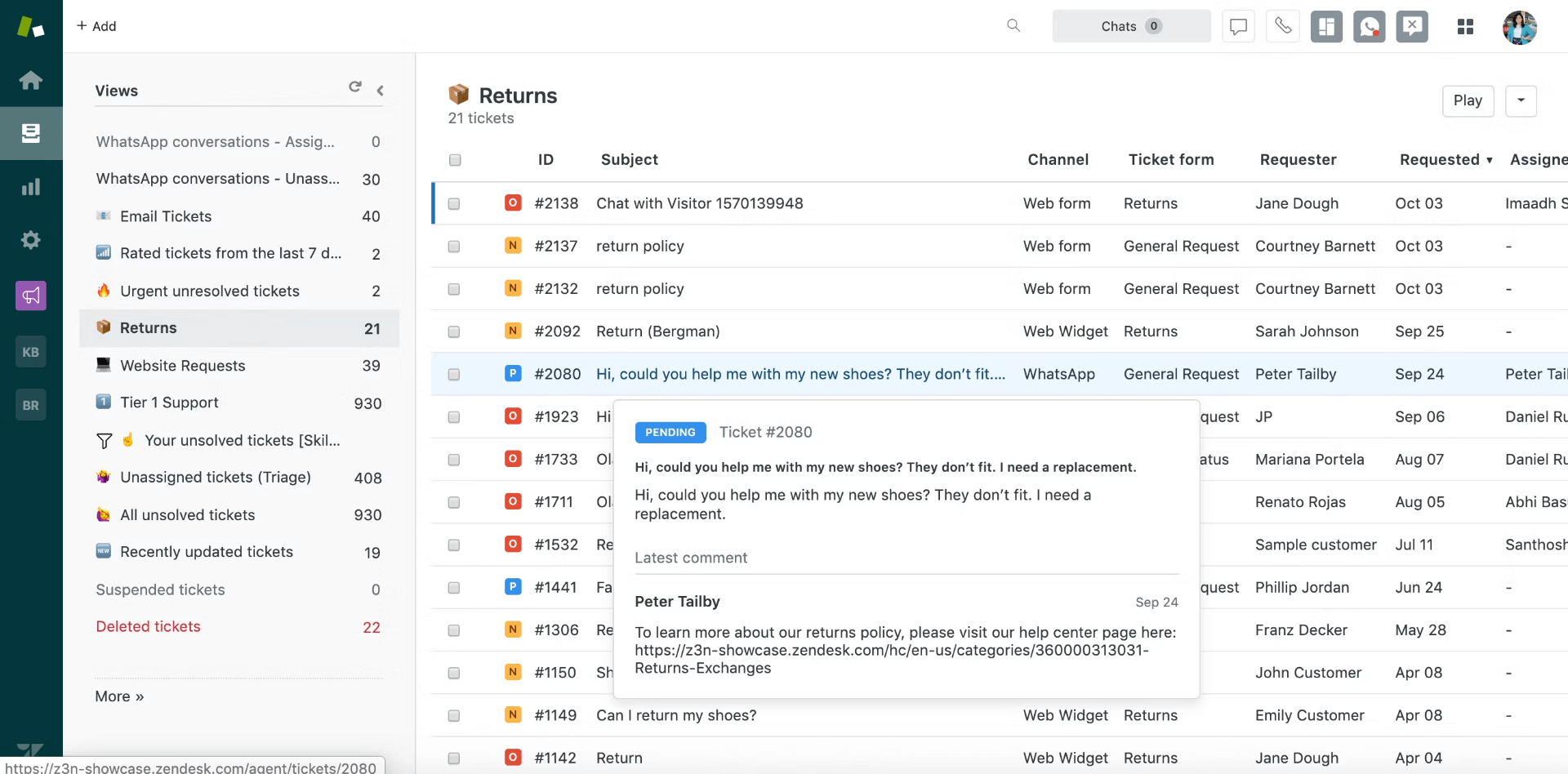 Zendesk's customer support products are some of my most recommended SaaS tools.
It has plenty of automation features that saved me time and effort, such as intelligent routing and optical character recognition (OCR).
Zendesk has a robust ticketing system. It lets me prioritize and solve customer support tickets across different channels, such as email, social media, etc.
I was also fascinated with its advanced reporting capabilities, which gave me detailed insights into my team's support performance.
Whether you run a small business or a large enterprise, Zendesk can be customized to fit workflows and offer the right support to each customer.
What you'll like
Automated workflows will let you manage customer tickets easily
Proactive messages through live chat help engage customers
You can build a community forum where customers can interact and find answers
Apps and frameworks allow you to customize Zendesk tools without coding
Zendesk Sell (CRM) integration with Zendesk Support for better relationships
What you won't like
You may need to acquire multiple Zendesk apps to get the functionality you want, increasing the overall cost
You won't be able to offer multi-language support to customers with its basic pricing plan
Pricing: Starts from $19/agent/month.
Best for Multi-Channel Feedback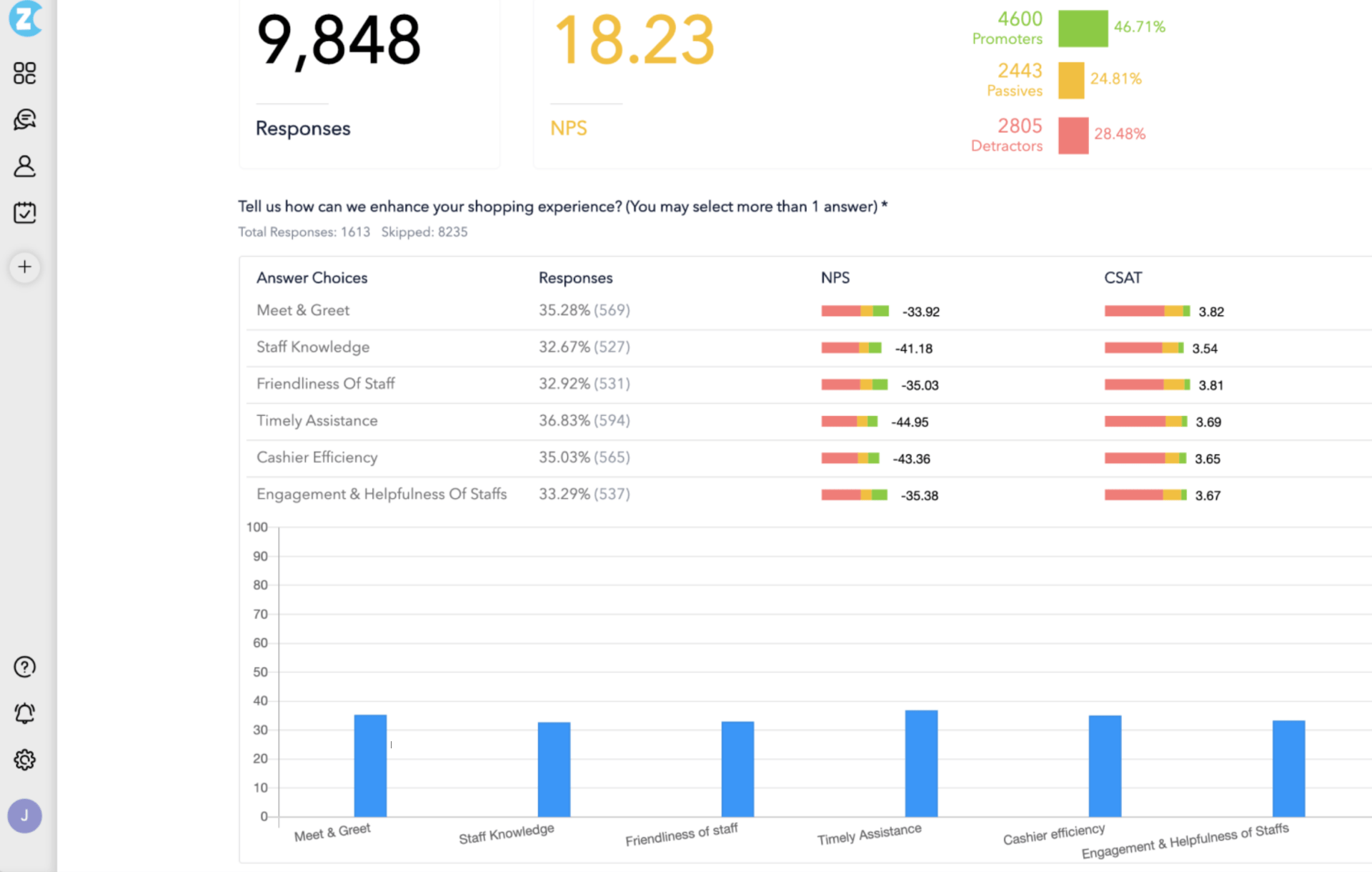 I have been trying Zonka Feedback based on recommendations from some of my peers.
First impressions – it's a smart and easy-to-use tool that lets me create surveys and embed them in our products and apps. I can also send surveys via email, SMS, and website to reach more users.
I love getting feedback on specific app features by showing pop-up surveys to customers. Also, I can control when and how often these surveys appear. The tool lets me measure how loyal my customers are through Net Promoter Score (NPS), Customer Satisfaction Score (CSAT), etc.
What you'll like
Multiple question types and templates make your surveys relevant
The surveys can be customized with skip logic, branching, etc., to match your goals
Feedback from customers can be collected on multiple channels – in-app, email, SMS, website, kiosk, or offline
You can automate feedback management with workflows, auto-responders, and auto-tagging
It lets you follow up with your customers based on their feedback scores
What you won't like
It has no animated effects for questions in surveys, making them less engaging
Navigating through the interface is not very user-friendly
Pricing: Starts from $49/month.
💠 Project Management Tools
Project management tools streamline project planning, execution, and monitoring. They facilitate task and time management, collaboration, reporting, etc., to improve team communication and productivity.
Best for Enterprise Project Management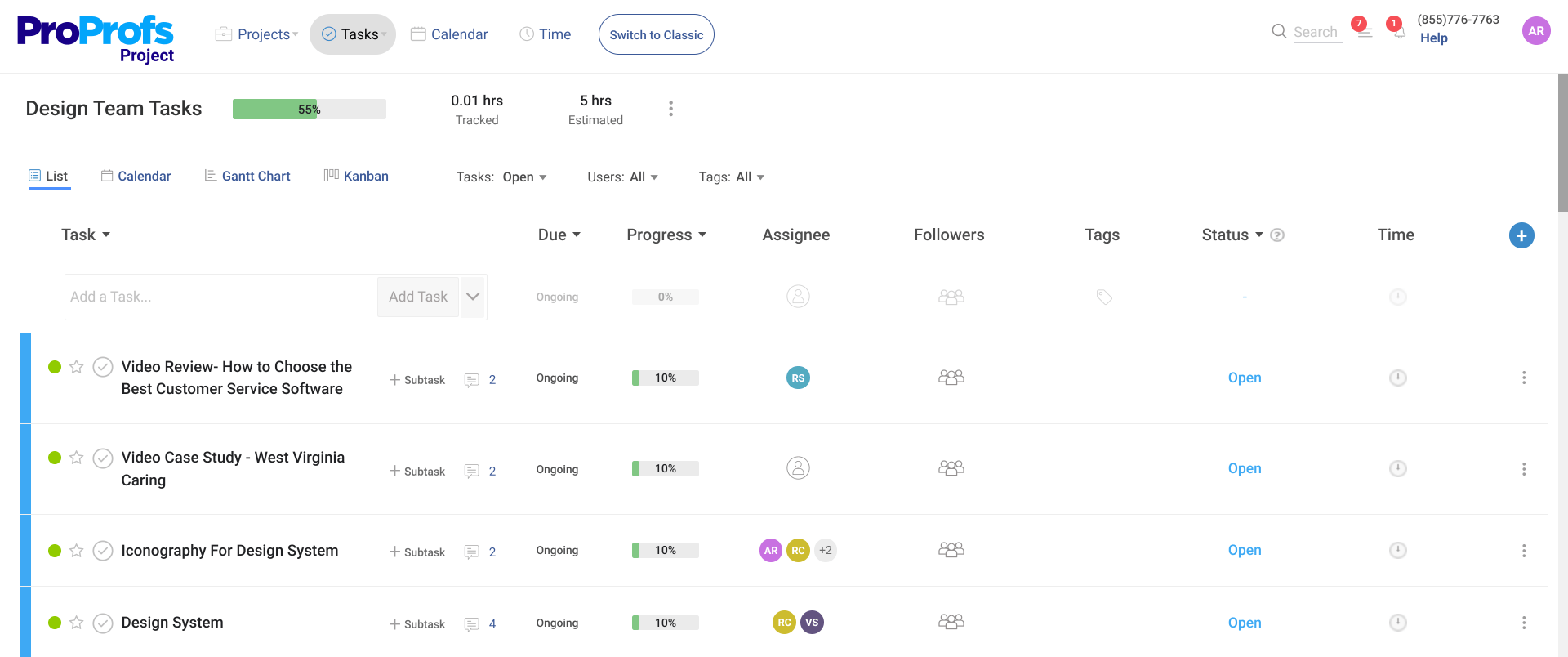 ProProfs' project management software has earned its top spot among other tools on my list for having a simple and user-friendly UI.
It lets me easily manage my tasks from start to finish. I can choose from different project views, like Gantt charts and Kanban boards, to see how my project is progressing.
Not just that, I can also create workflows to organize my tasks into pending, to-do, and completed categories. This way, I never forget what I need to do next.
ProProfs Project also helps me monitor how well my team is performing. I can generate reports and presentations showing project status and team productivity. I can also share these reports with my clients and stakeholders to keep them updated.
What you'll like
The option to streamline your work processes and eliminate bottlenecks
You can schedule and track updates on projects and their deadlines
The ability to utilize Dropbox and Google Drive integrations for seamless access to updated data
The software lets you ensure punctuality by automating project reminders
Projects can be accessed from anywhere, even remotely, to help you stay connected
What you won't like
Speed and responsiveness can be inconsistent at times
The mobile application needs some revamping
Pricing: Starts from $39.97/month. A 15-day free trial is available.
Best for Team Collaboration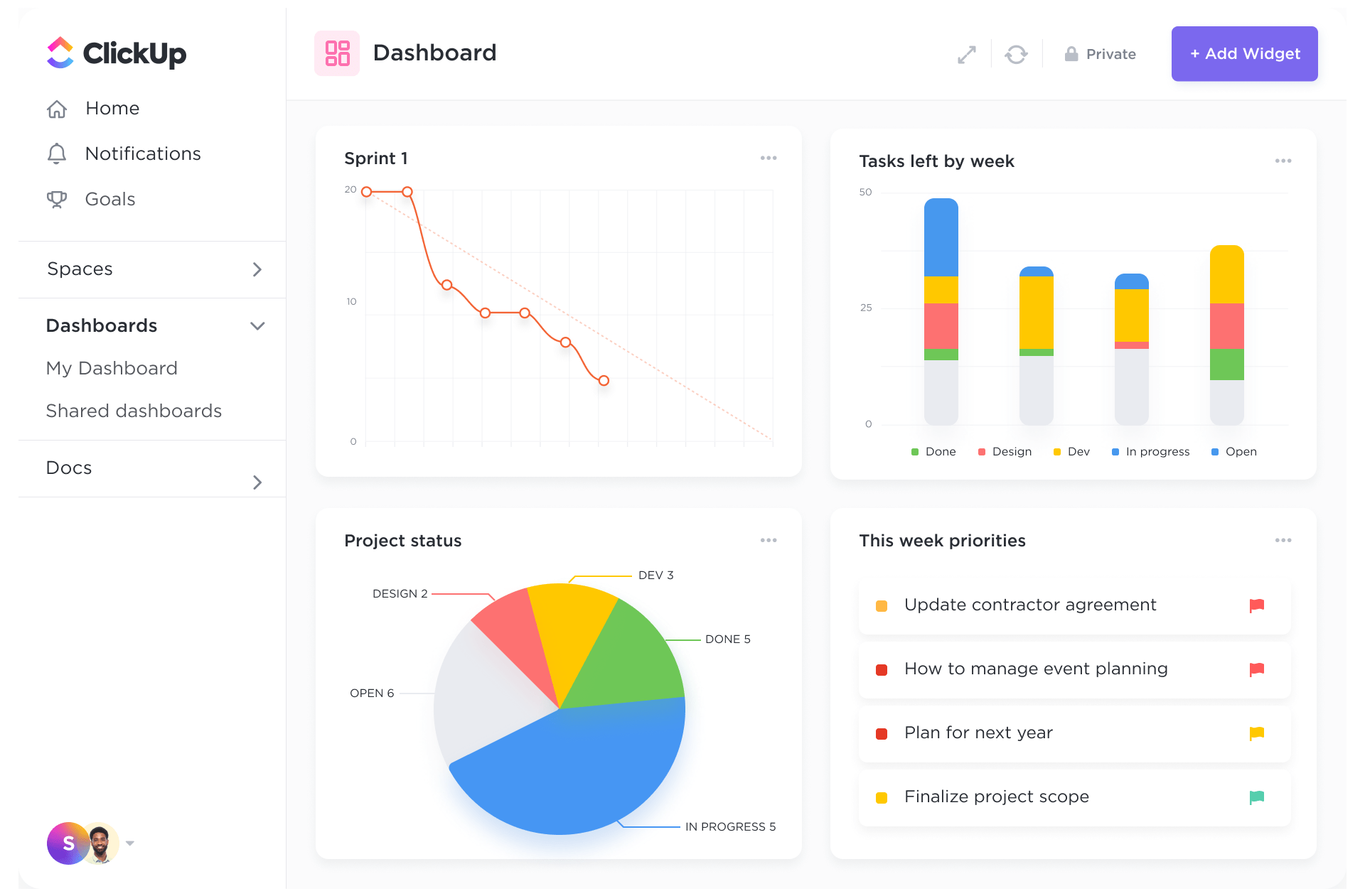 I used Clickup as a go-to project management tool before shifting to ProProfs Project. You can collaborate with your team seamlessly by assigning, commenting, and updating tasks in real time.
One of the features I loved is how I could break down my tasks into smaller subtasks, to manage them more easily. Besides, I could also set due dates, add attachments, and link dependencies.
Another feature you might find helpful is viewing tasks in different ways, depending on what you want to focus on. For example, I could use the Kanban board to see task progress or the list view to check details.
What you'll like
Drag-and-drop functionality for tasks and subtasks management
You can automate repetitive tasks with custom triggers to save time
For optimal planning, tasks can be viewed in different modes, such as lists, boards, calendars, or timelines
Templates for team use cases, views, tasks, checklists, docs, and more
Project deadlines can be simplified by adding time estimates
What you won't like
You might feel overwhelmed by the variety of features, especially during the initial setup
The free plan comes with a limited storage space of 100 MB
Pricing: Starts from $7/member/month. A forever-free plan is available with limited features.
Best for Task Management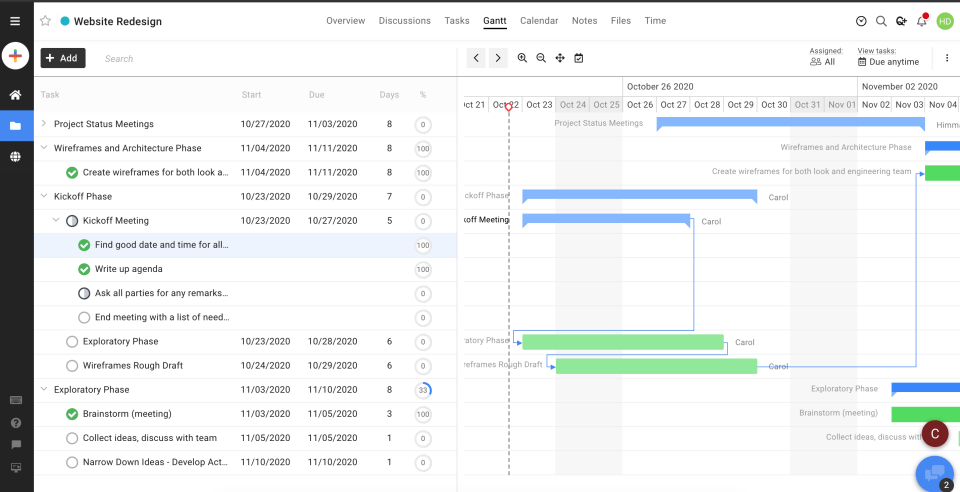 I discovered Proofhub last month when looking for the best task management tool that works on the cloud.
You can create tasks, subtasks, and checklists for each project. These tasks can be assigned to multiple people after setting deadlines and labels for each.
Apart from that, the tool lets you visualize all your important project data from one screen. I love how Proofhub shows the timelines of each task and project using Gantt charts. The platform also offers remote access, so you can work from anywhere.
And the best part is that you can brainstorm and communicate with your team using chat, comments, mentions, and real-time file sharing.
What you'll like
Custom roles can be established to manage access permissions within projects
Deadline tracking is achievable through a customizable table view
You can manage tasks within workflows using drag-and-drop Kanban boards
Workflows can be configured to automate repetitive tasks and actions
Files can be shared securely, with online proofing and version control capabilities
What you won't like
The basic plan comes with limited data storage
Does not integrate with popular tools like Slack, Trello, Asana, etc.
Pricing: Starts from $45/month. A 14-day free trial is available.
Best for Workflow Automation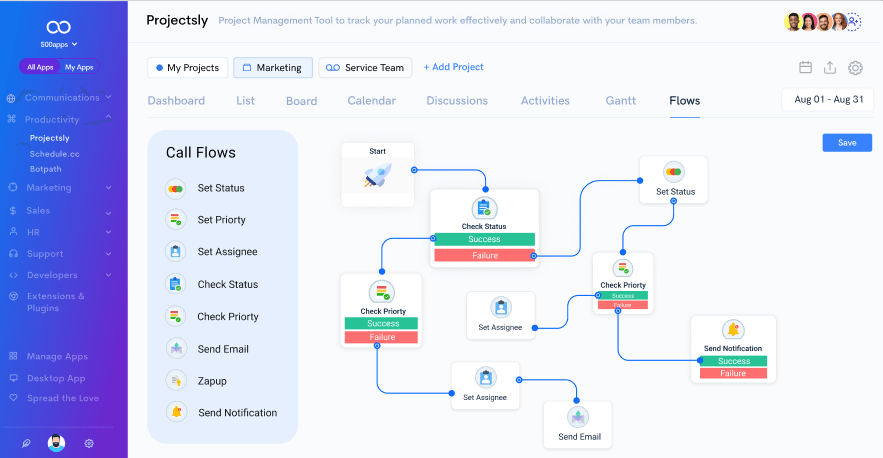 Some of my peers suggested Projectsly for its workflow automation capabilities.
I used it to automate repetitive tasks, like sending reminders, updating statuses, and creating tasks. But it is much more than that.
It is a project management software that facilitates seamless access to relevant data. You can also communicate with your team in real time using chat and video calls and keep track of project progress with notifications.
Making data-driven decisions with custom reports is a breeze with Projectsly. You can plan sprints and product roadmaps easily with its powerful features and methodologies.
What you'll like
The tool lets you view tasks in different ways, like lists, boards, or timelines
It has Gantt charts that tell you about the timeline and progress of various tasks
You can access real-time insights to make better decisions
Chat and video calls make it easier for team members to collaborate on tasks
It lets you plan sprints and make roadmaps for your projects
What you won't like
Not having a native mobile app limits the accessibility of users
Some users find the UI to be difficult to navigate
Pricing: Starts from $9.99/month. A 14-day free trial is available.
Best for Agency Project Management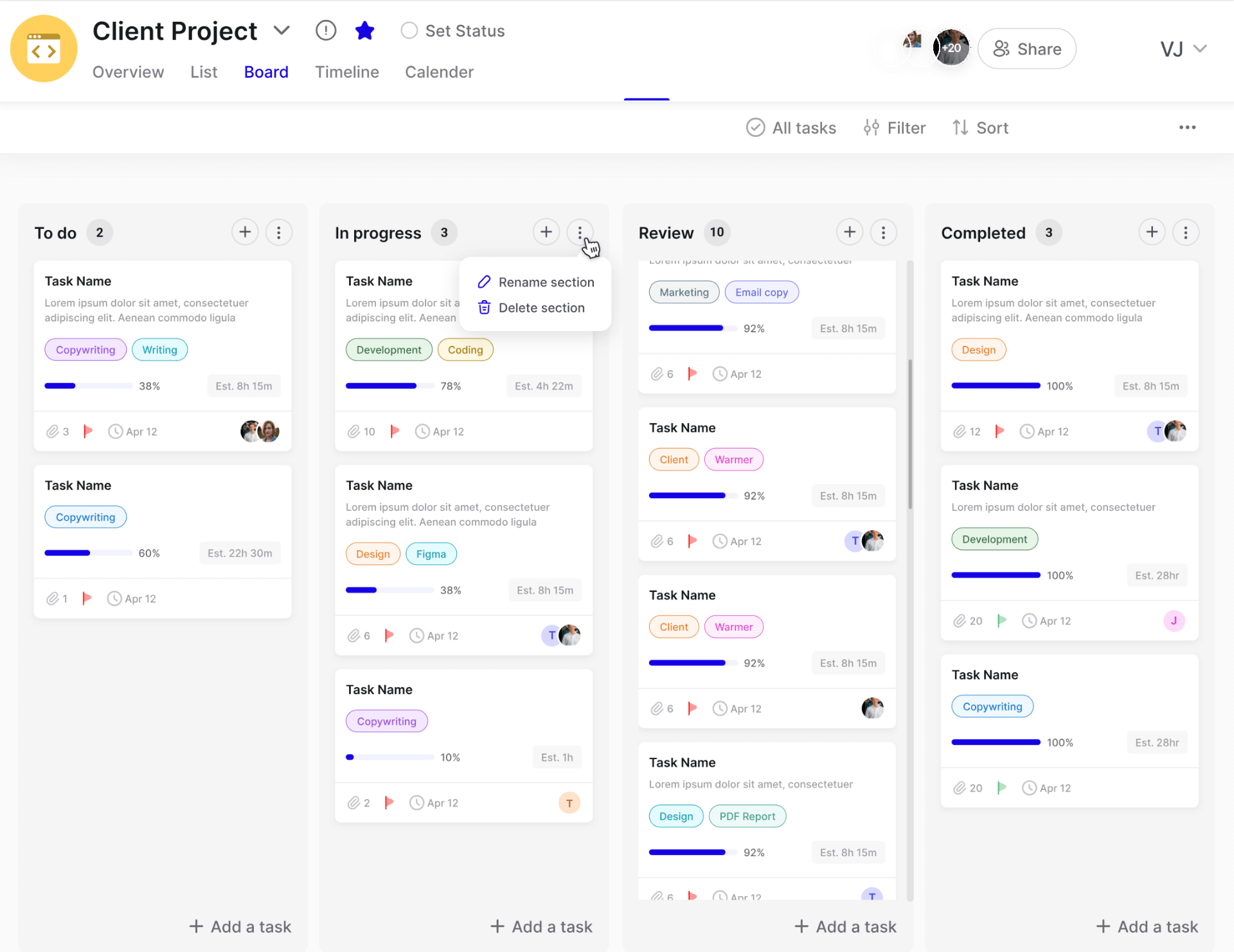 One of the tools that I look forward to using for managing my future projects is ClientVenue. It is an agency project management software providing a central location to track progress and make necessary changes.
Using the software, you can create workflows for different types of projects, assign deadlines, monitor the status of each project, and generate reports.
I've also heard that the software can improve client relationships by keeping them updated and involved. Based on initial thoughts, I believe ClientVenue is for agencies looking for a reliable and easy-to-use project management tool.
What you'll like
Customizable portals can be built for each individual client
You can collaborate with your team or clients through file sharing, chat, etc
Dashboards for tracking the progress of individual projects
Templates and workflows are available for different project types
Advanced access options to regulate project visibility and editing permissions
What you won't like
It lacks a native mobile app, restricting for on-the-go access
Customization choices for reports are minimal, leading to a generic and unprofessional appearance
Pricing: Starts from $21/user/month. A 14-day free plan is available.
💠 Collaboration Tools
These are software solutions that empower employees to collaborate with both internal and external teams. These tools often include real-time document editing, file sharing, video conferencing, and messaging, enhancing productivity in remote and in-person work environments.
Best for Task Management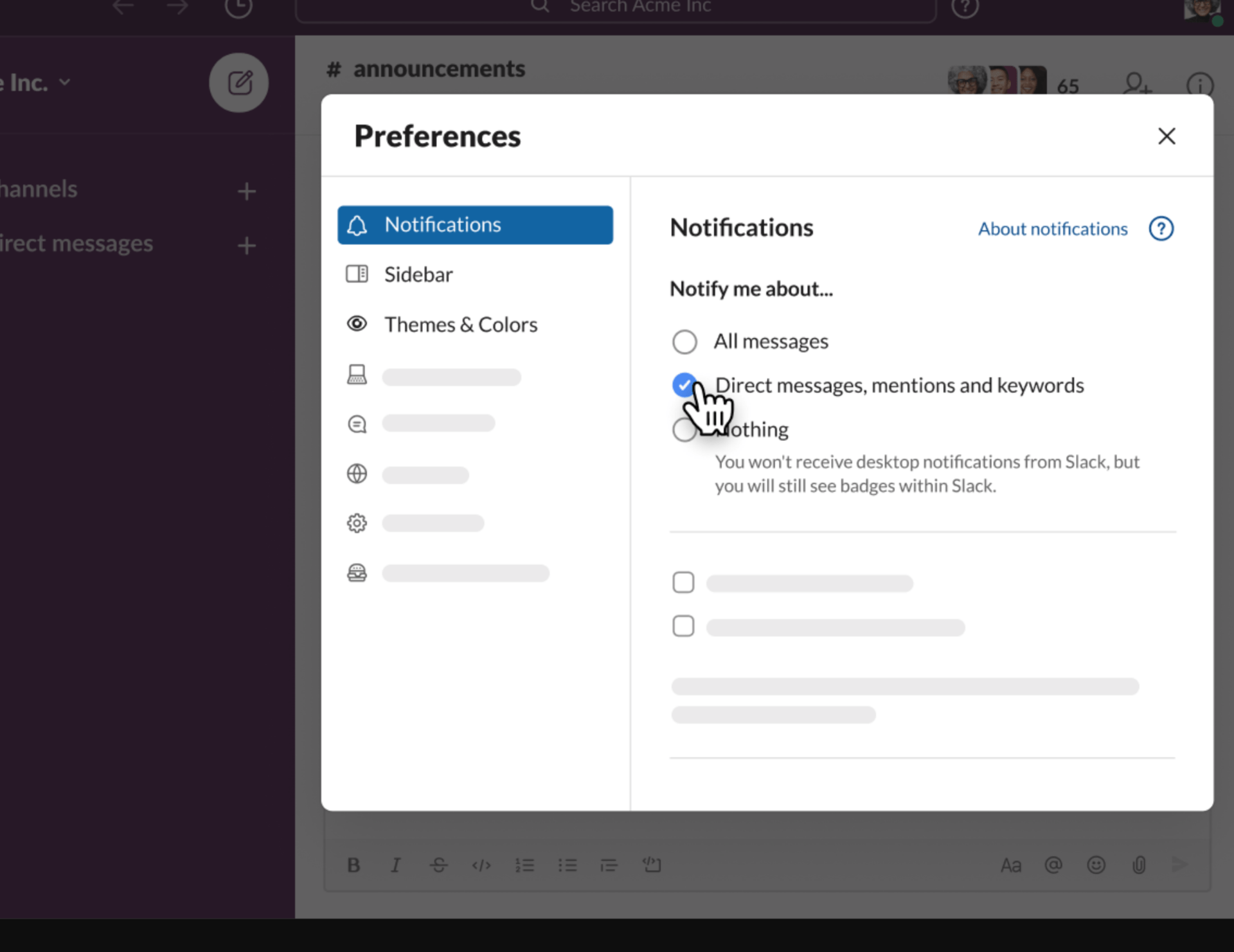 I use Slack as my go-to messaging app for work because it does much more than just connect me with my colleagues. It lets me create dedicated spaces for different topics and projects where I can invite the right people and share the right information.
I can also have video calls with my team members through Slack, which makes it easy to communicate and brainstorm ideas simultaneously.
And the best part is – the tool supports asynchronous work. This means that I can work on my tasks and manage them efficiently. Its task management feature help me stay on top of my work by integrating with various apps and assigning tasks from within Slack.
What you'll like
Remote collaboration tools facilitate voice and video calls, screen sharing, file sharing, etc.
You can use channels to stay organized, offering discussions, tools, etc.
Complete control over how and when you receive alerts
Shared channels enable connections with other organizations
Slack Huddles offer the chance to initiate impromptu discussions with individuals in the workspace
What you won't like
Slack can interrupt your workflow, as it sends notifications for every activity in a channel
The free plan has limited integration support with other apps
Pricing: Starts from $7.25/month. A free plan is available.
Best for Video Conferencing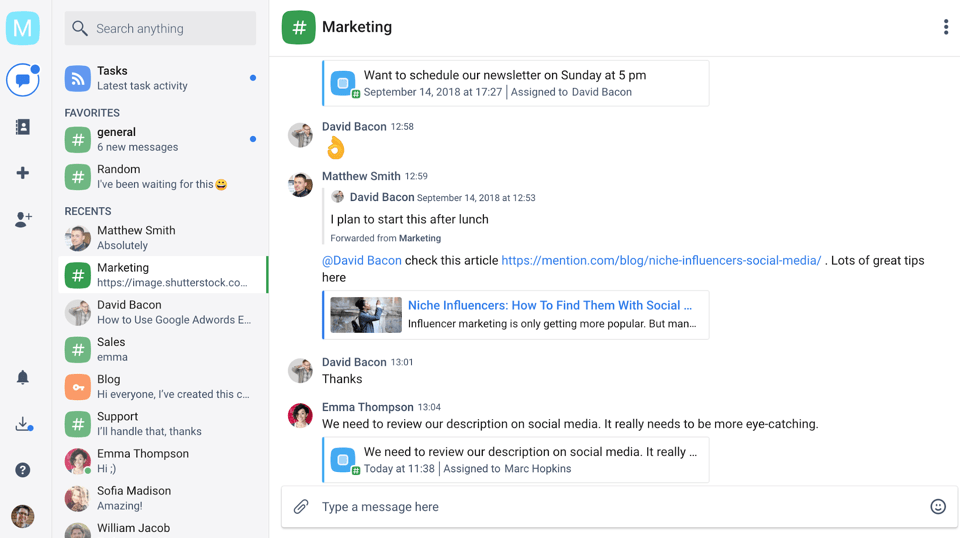 Chanty is another team collaboration tool that was recommended to me several times. It lets you send secure messages to anyone on your team.
But it is more than just a chat app. Its video-calling feature is pretty simple. With just a click, you're all set to have productive meeting sessions.
With Chanty, you can also organize tasks, conversations, and any other shared content. The tool also supports content from Youtube, Coub, and GIFs. You can enjoy watching videos and animations with your team without leaving the platform, making communication more engaging.
What you'll like
Using Teambook, you can organize conversations and tasks effectively
The ability to explore diverse content from third-party platforms like Youtube
You can catch colleagues' attention by employing the @mention feature
Sharing code snippets with precise syntax highlighting fosters developer collaboration
Pinned messages in chat help team members know about crucial details
What you won't like
Not being able to mute channels can be annoying if you want to reduce notifications
Another big downside is not having a group audio-calling feature in the free plan
Pricing: Starts from $3/user/month. A free-forever plan is available.
Best for Meetings & Webinars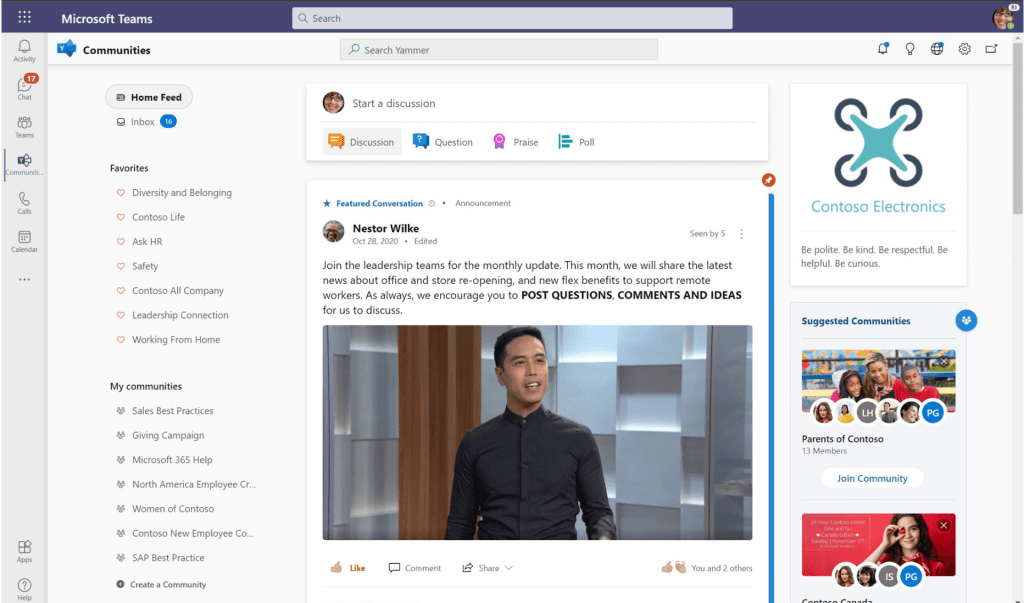 As a leading collaboration tool, Microsoft Teams can help you communicate with your colleagues efficiently. You can talk to team members face-to-face and share ideas with them. This makes it perfect for hosting webinars and meetings or broadcasting live events.
What I personally like about Teams is that it integrates with Microsoft 365. It gives you access to a powerful document manager where creating, editing, and sharing documents are an easy job.
Besides, you can also mention colleagues, co-author articles, and track changes on the documents. All files are stored on a dashboard, which makes it seamless to apply filters and search for the ones you need.
What you'll like
Direct access to Outlook, Skype, and OneDrive lets you send emails, make calls, and store files
The ability to co-edit documents, share screens, or chat with team members in real time
Conversation channels let you organize chats by topics, projects, or departments
Tabs give you quick access to your favorite files within a conversation
You can automate various tasks and queries within Teams with a bot
What you won't like
The basic plan does not have a trial period
Finding and organizing uploaded files is a complicated process
Pricing: Starts from $4/user/month.
Best for Hosting Meetings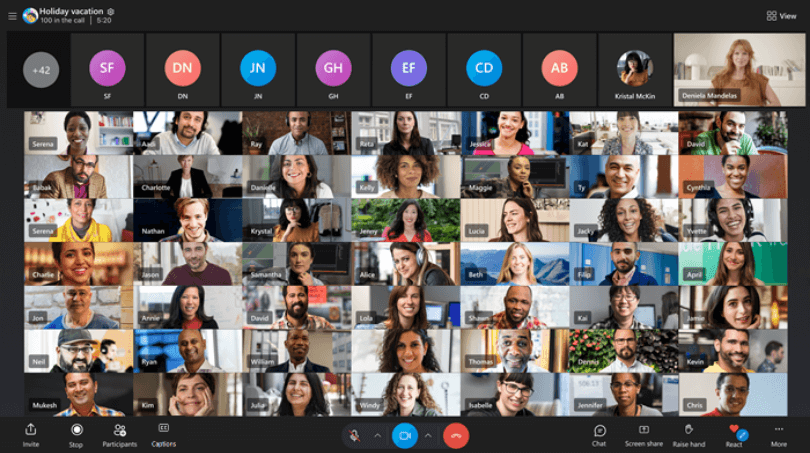 Skype is my favorite communication app because it makes hosting meetings a breeze. I can communicate with anyone through text or video and send large files through chat.
Using Skype, I get the option to personalize the call stage and set the right tone for every meeting. It has plenty of backgrounds that make the calls more lively. And if I want to revisit something later, I can record the calls and watch them anytime.
Designed by Microsoft, the tool has stayed in the market for nearly two decades, and it keeps improving. It's one of the best ways to stay in touch and work with anyone from a remote environment.
What you'll like
High-quality audio and video calls from anywhere
Smart messaging features like expressive emojis and handy @mentions
The ability to dial phone numbers directly from your Skype account without switching apps
Live subtitles for ongoing calls
Industry-standard end-to-end encryption that ensures your privacy
What you won't like
Requires a stable internet service to have crystal-clear audio and video calls
Lacks advanced features that other communication apps have, such as polls, whiteboards, etc.
Pricing: Skype is a free-to-use platform. Paid plans for international calls are available from $3.05/month.
Best for Virtual Workspaces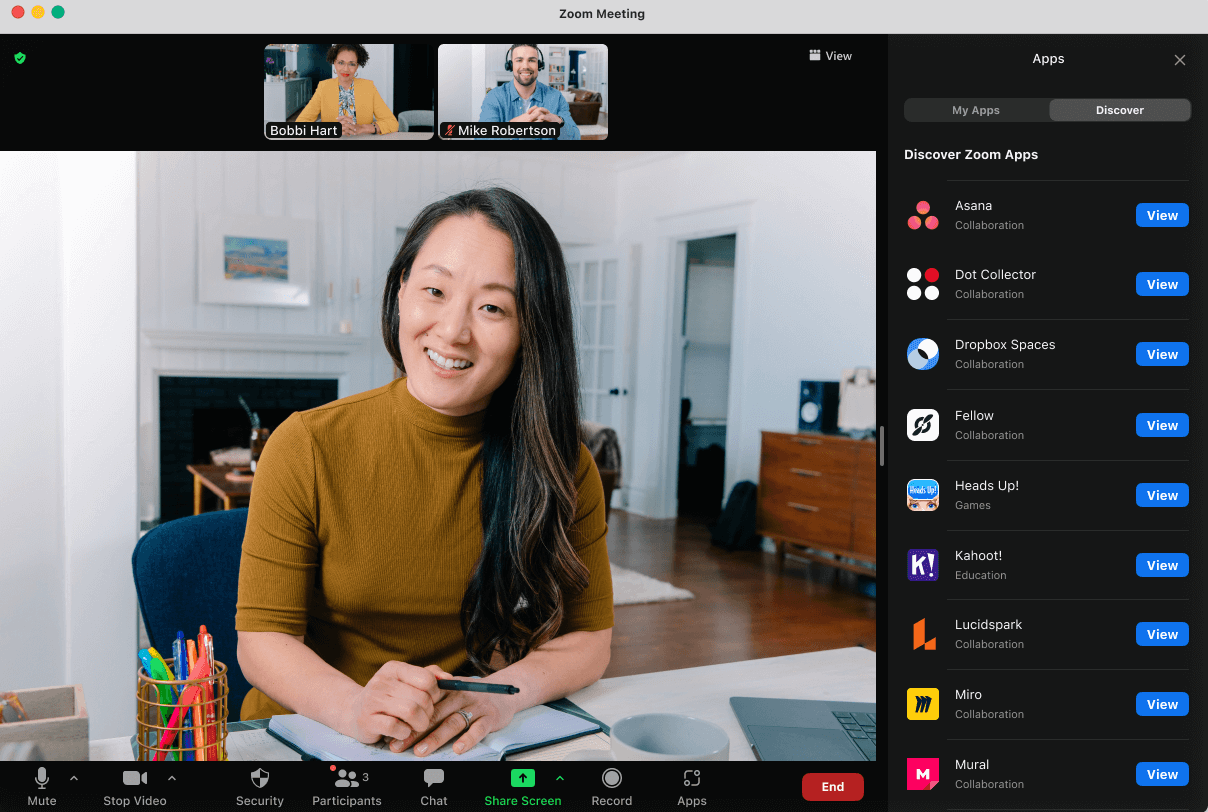 During the COVID-19 pandemic, Zoom became a savior to the world with its virtual workspaces.
One of the features that I love about it the most is the whiteboard. It lets me draw, write text, and make shapes on a blank screen that everyone can see and edit.
I can use it to brainstorm ideas, explain concepts, or sketch diagrams. When I'm done, I can save the whiteboard for later reference.
Another feature that I find very useful is the breakout rooms. It allows me to split the main Zoom meeting into smaller groups for more focused discussions and feedback. I can assign the participants to different rooms or let them choose their own.
What you'll like
The ability to replace your real background with a virtual one in meetings
Enabling simultaneous screen sharing for multiple participants can be done easily
Zoom comes with third-party integration support with different tools like Zoho CRM, HubSpot CRM, Freshdesk, Zendesk, etc.
Meetings are recorded and transcribed automatically
You can join a meeting quickly without even creating an account
What you won't like
The free plan offers only a limited time for meetings, which can be an issue for some companies
Audio quality can degrade even with a slight network fluctuation
Pricing: Starts from $14.99/user/month. A free-forever plan is available.
💠 CRM & Email Marketing Tools
Customer Relationship Management (CRM) tools centralize customer data, enhance interactions, and optimize your sales and support efforts. With email marketing tools, you can automate email campaigns and improve customer engagement through targeted messaging.
Best for Contact Management & Email Marketing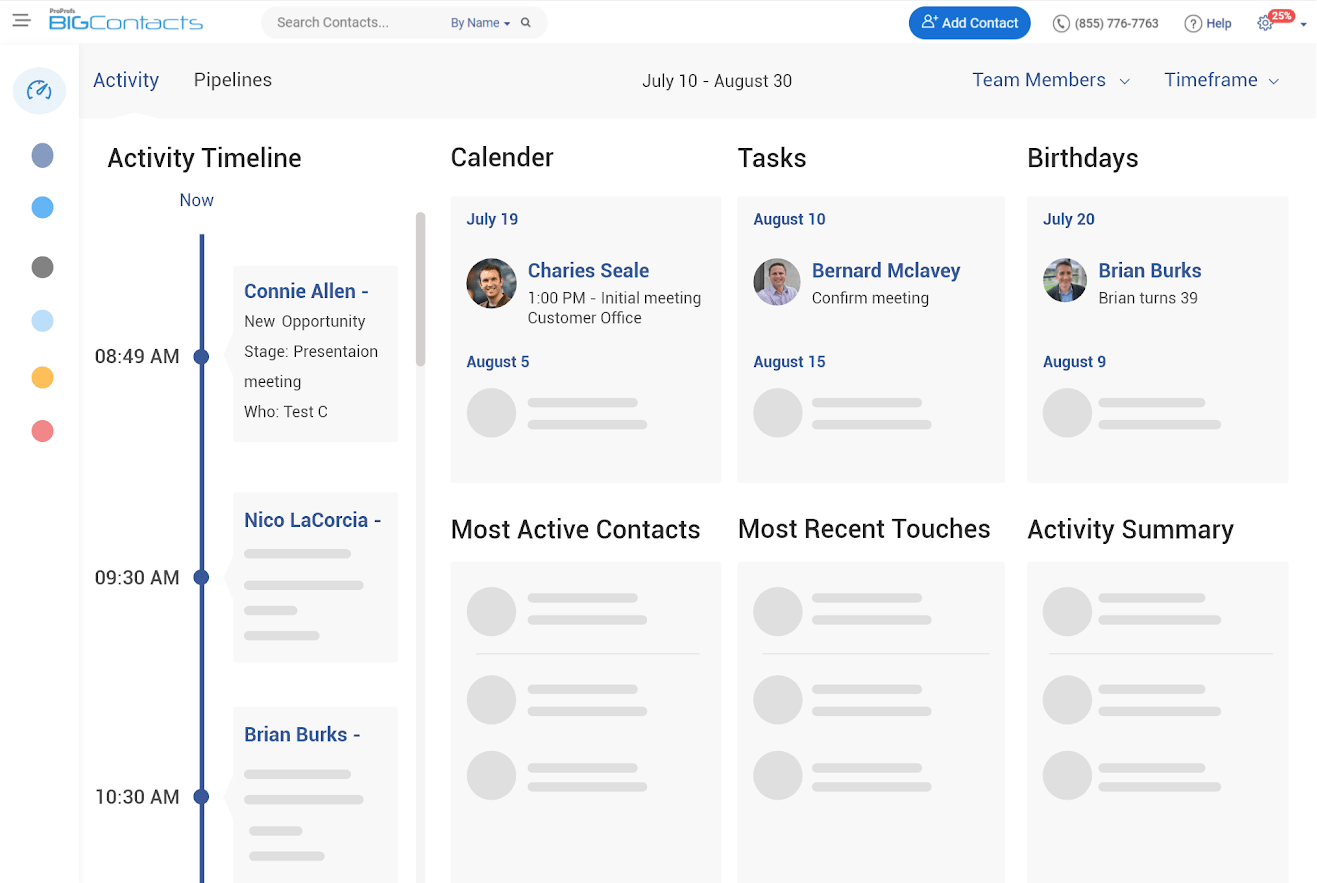 I have been using BIGContacts as my go-to CRM software for over a year. It organizes all our customer information in a single dashboard so that I can offer personalized experiences.
With BIGContacts, I can manage my sales pipeline and send targeted emails to prospects based on where they are in the sales cycle. The software also helps create automated drip email campaigns to capture more leads and convert them into loyal customers.
BIGContacts also generates detailed reports for performance tracking. I can see how many leads I have, the number of deals I've closed, and the revenue I've generated. I can also compare my results with my goals and identify areas for improvement.
What you'll like
Efficiently manage contacts, tasks, calendars, emails, and documents in one unified hub
The ability to fine-tune email marketing campaigns with pre-built templates that are easy to customize
Automated followups, workflows, and timely alerts increase customer retention
Segmented lists help tailor marketing strategies to specific groups of customers
There's a mobile-adaptive version of BIGContacts for remote productivity
What you won't like
The lower plans have limited storage options, which might be a constraint for large enterprises
The free trial period is comparatively short to explore all CRM and email marketing features
Pricing: Starts from $5/user/month. A 15-day free trial is available.
Best for Lead Management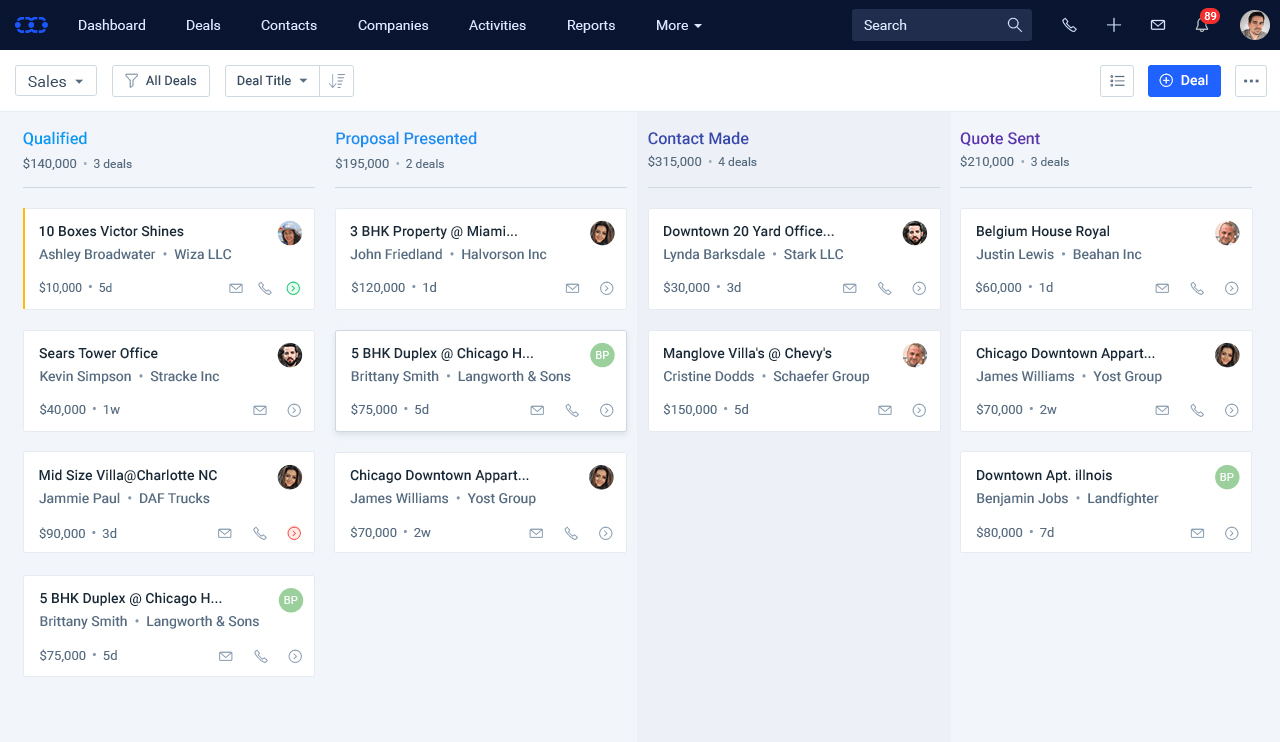 SalesMate offers a CRM solution meticulously targeted to handle leads and customer interactions. Based on multiple recommendations, I opted for its free trial.
Initial impressions were pretty good. The tool kept complete track of all my customer data from different channels. I could segment my leads based on various criteria like industry, product line, deal size, etc. This way, I could assign them to the right sales reps and follow up with them effectively.
Creating a custom sales pipeline was also quite effortless. I could easily automate workflows and send bulk emails, texts, etc.
What you'll like
The ability to effortlessly monitor your sales calls and text communications
You can enhance engagement by incorporating live chat into your website
Sales and marketing processes can be streamlined by implementing automated triggers
Get to stay on top of all sales interactions with intelligent reminders
Thoroughly analyze your sales-related data and create comprehensive reports
What you won't like
Sometimes the software takes too long to load
You may find the reporting feature to be complex
Pricing: Starts from $12/user/month. A 15-day free trial is available.
Best for Workflow Automation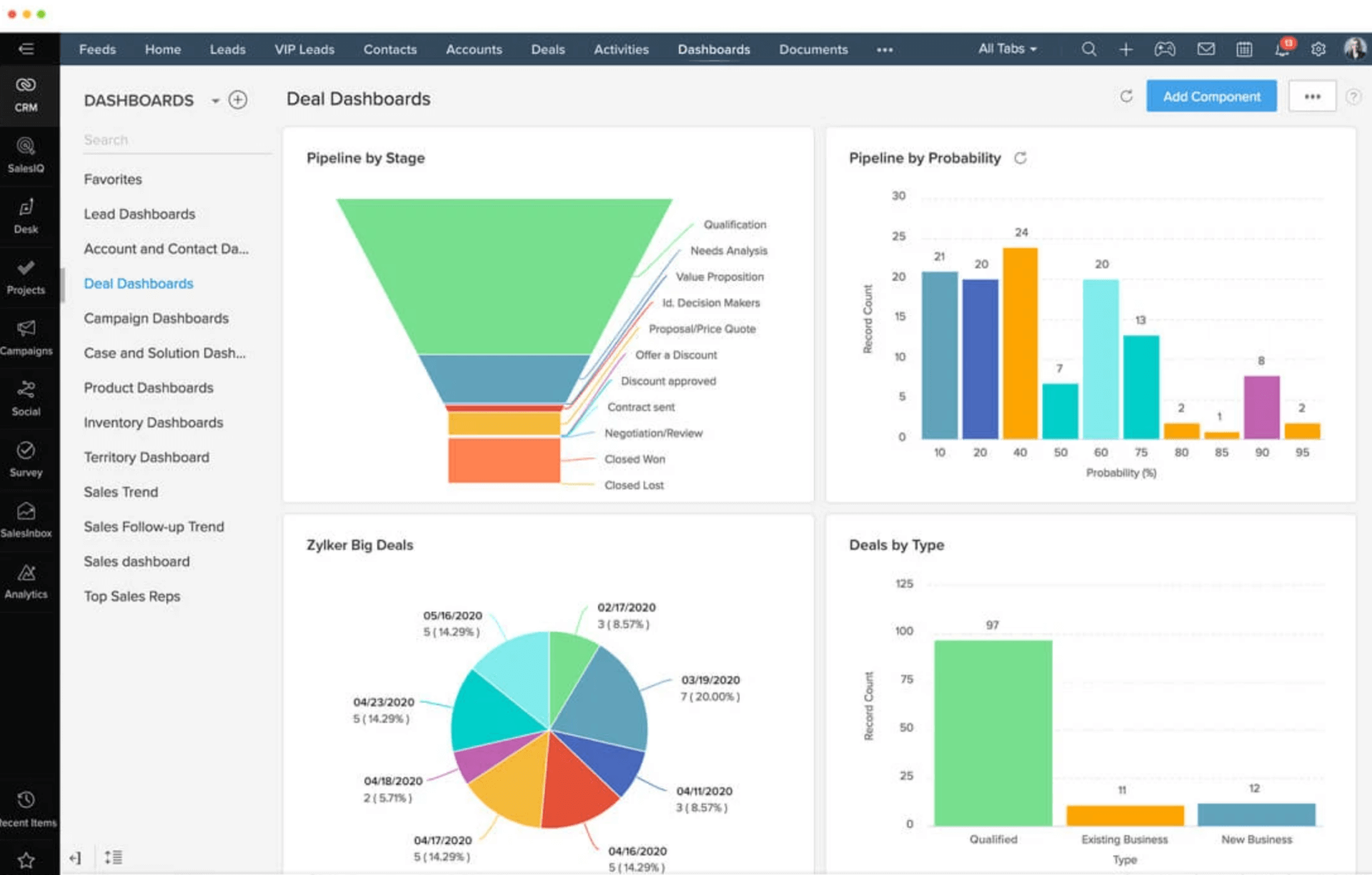 I can vouch for Zoho CRM any day because of its advanced automation features that have helped me grow my sales and marketing.
One of the features I cherish is its workflow automation. It helped simplify my daily tasks by automatically triggering actions based on specific rules.
For example, you can send welcome emails to new leads, follow up with them, or assign them to the right salesperson.
Another commendable feature that it offers is omnichannel communication. You can connect with customers through any channel they prefer. And the best part is that you can see their purchase history, preferences, and feedback. It helps contextualize conversations with them to foster trust and loyalty.
What you'll like
Through integration with Zoho Social, you can gain insights into the impact of your social media campaigns
Zoho CRM allows you to manage your sales pipeline from lead generation to deal closure
You can automate repetitive tasks such as lead assignments, follow-up emails, etc.
It lets you track critical metrics, including current trends and future projections
A mobile app with offline access enables you to work remotely
What you won't like
You do not get segmentation capabilities or data encryption in the basic plan
Many users complain of the company's poor record in customer support
Pricing: Starts from $14/user/month.
Best for Email Validation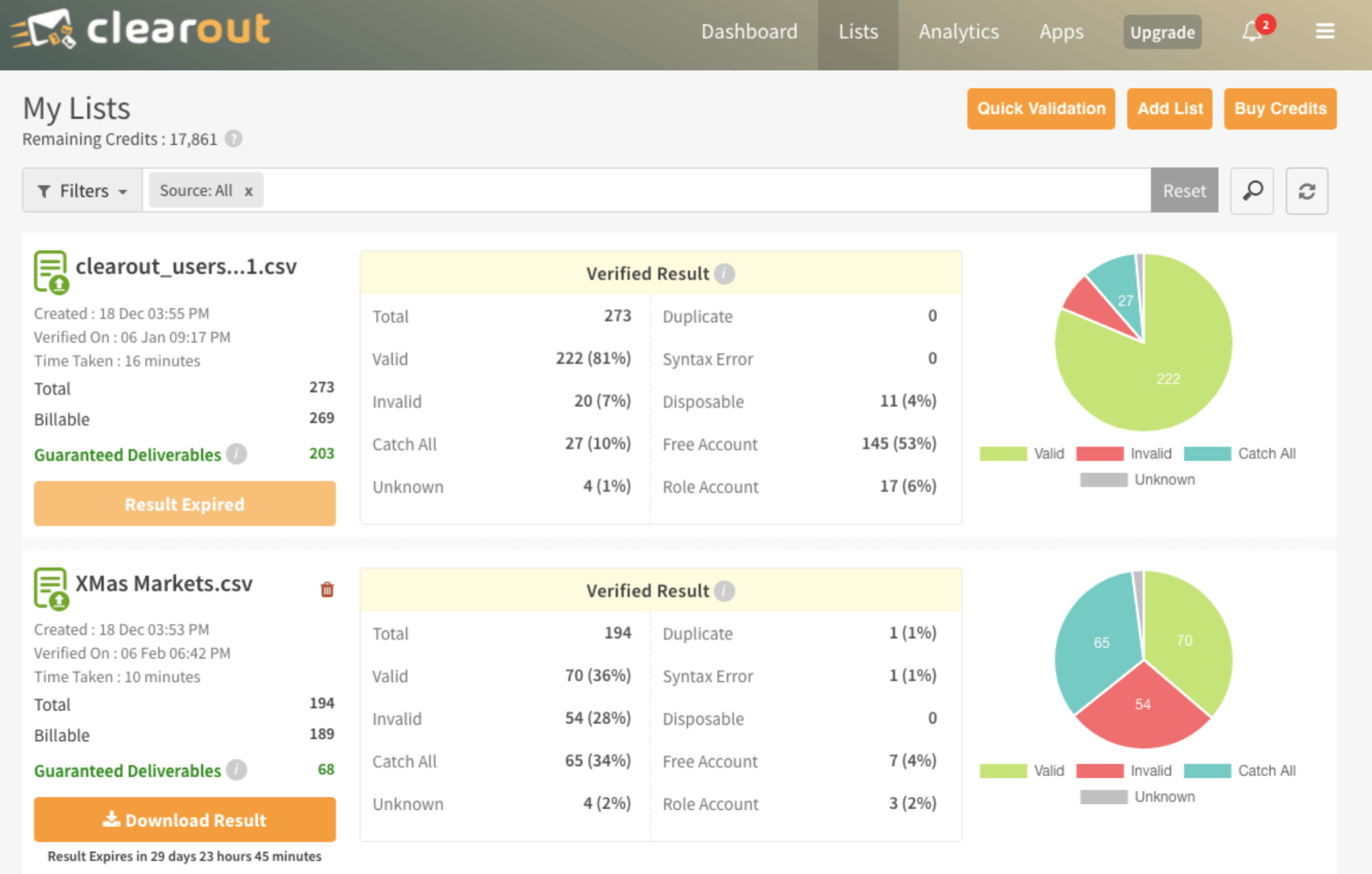 If you are looking for a SaaS tool to verify the email addresses of your prospects, I'd suggest you try Clearout.
The tool has powerful email validation capabilities that make sure my emails are accurate and deliverable. I can check the validity of any email address with a confidence score that tells me how likely I am to reach my target audience.
I found that Clearout integrates with popular email marketing platforms and CRM tools. It also lets you upload your email list as a CSV file or use the API for real-time email verification.
What you'll like
Clearout's confidence score boosts email deliverability
The ability to verify your email list in bulk to remove invalid, risky, or duplicate mail
Its advanced email verification algorithms protect your reputation by avoiding spam traps
You can target the right prospects with the company name extraction feature
Clearout validates emails in real time using its API or browser extension
What you won't like
The tool may not be able to verify email addresses protected by anti-spam systems
Credit tokens-based pricing plans can be confusing for some users
Pricing: Starts from $28/month.
💠 Marketing Automation
With the right marketing automation tools, you can simplify processes, ensuring consistency in your marketing efforts. These tools excels in lead generation by automating lead nurturing, personalizing content, and facilitating multi-channel marketing.
Best for Campaign Management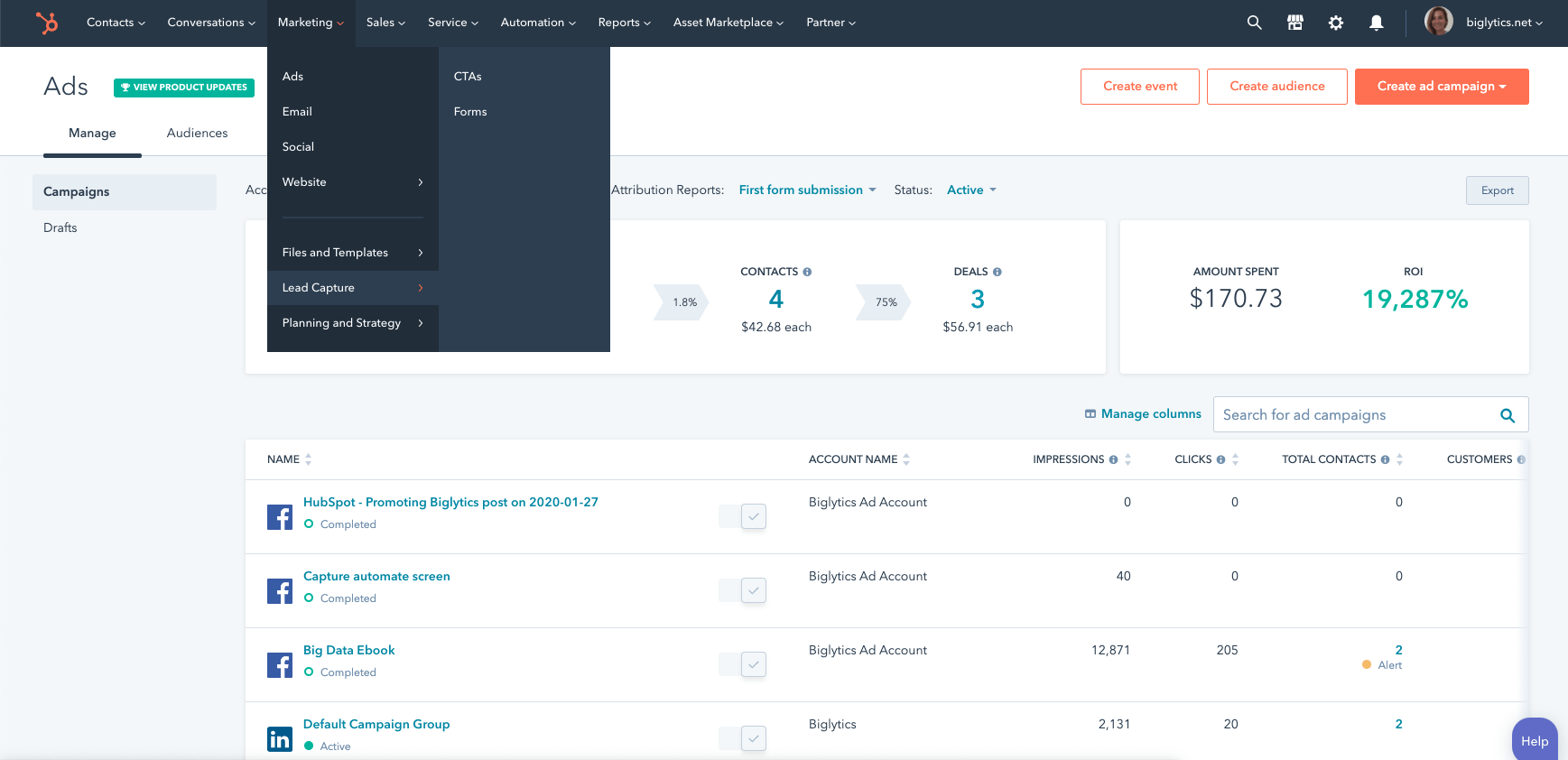 I have been using HubSpot Marketing Hub for a few months now, and I can say that it is one of the best marketing platforms I have ever tried. It has helped me to attract more visitors, generate more leads, and increase my sales with inbound marketing.
HubSpot Marketing is not just a tool but a smart system that helps me to optimize my marketing campaigns. This tool helps me manage all my marketing channels from one central place.
It also allows me to segment my contacts based on their behavior, interests, and preferences. This way, I can send them personalized messages that strengthen their loyalty.
What you'll like
You can connect with leads effectively through email, landing pages, and forms
Lets you centralize contact records, log sales activities, and view past interactions in one place
Automate various campaign elements, such as email workflows and social media posting with campaign management.
In-depth insights into the contact's past activity and conversation history
Visual editor to create workflows in real time
What you won't like
Limited customization options
Complex setup and onboarding process
Pricing: Starts from $890/month.
Best for Custom Workflows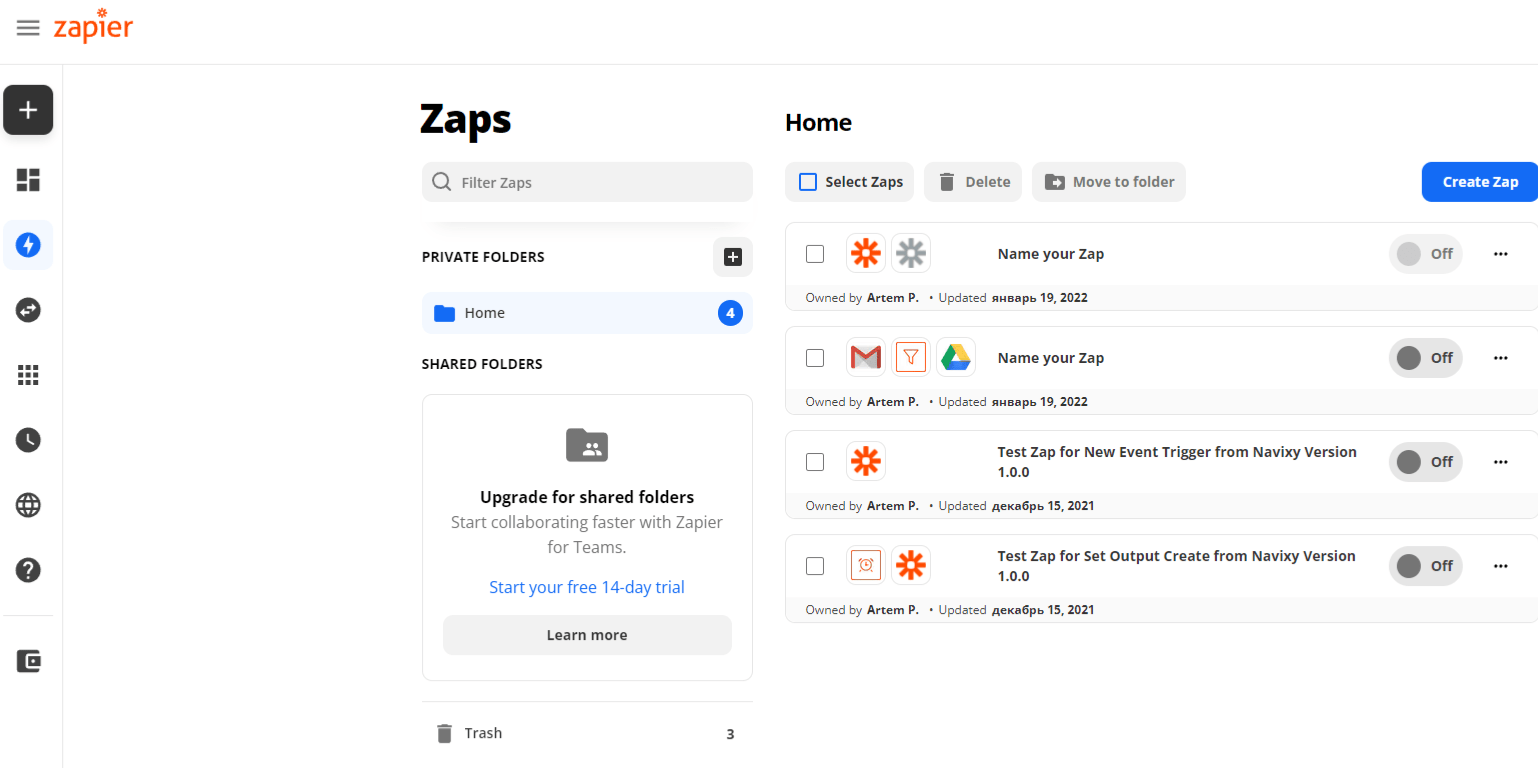 Zapier is the ultimate automation tool that connects your favorite apps and services. With this tool, I created workflows that automate repetitive tasks and save time and effort.
For example, you can use it to send an email when a new lead is added to your CRM, update a spreadsheet when a form is submitted, or post a message to Slack when a new order is placed.
The platform lets you choose from thousands of pre-made Zaps or create custom ones without coding. Zapier also offers advanced features like filters, paths, schedules, and multi-step Zaps. Zapier is the easiest way to integrate your apps and automate your workflows.
What you'll like
Multi-step Zaps automate several tasks at once with one trigger
Paths create conditional branches in my workflows based on if/then logic
Formatter transforms data into your preferred format, such as dates, text, etc.
Shared workspaces that enable you to collaborate with the team on Zaps
Webhooks let you receive data from any service or send requests to any URL without writing code or running servers
What you won't like
Occasional bugs and errors that cause your Zaps to fail or run slowly
Zapier operates on a polling model, which checks for triggers at predefined intervals (usually 5-15 minutes). This delay can be problematic for time-sensitive tasks
Pricing: Free plan available (limited to 100 tasks/month). Paid plan starts at $20.47/month.
Best for Personalized Campaigns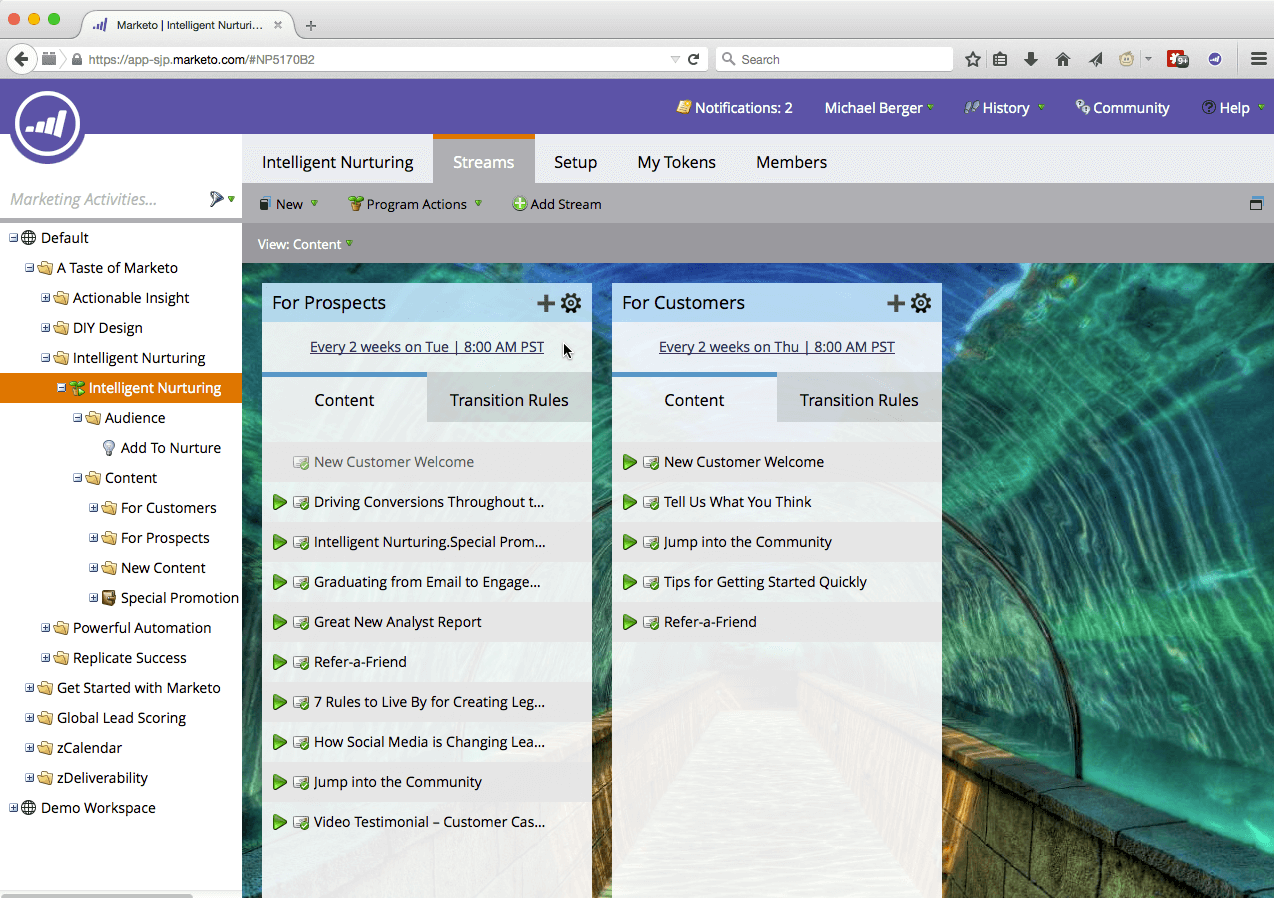 I have used Marketo for a decent amount of time and can certainly say it is one of the best marketing automation platforms that help you drive revenue and growth.
This amazing tool enables you to create and execute personalized campaigns across multiple channels, including email, web, mobile, social, and ads.
You can also use it to manage leads, nurture prospects, score and qualify opportunities, and align your marketing and sales teams. Marketo also provides analytics and reporting tools that help you measure and optimize your marketing performance.
What's more, you can integrate it with popular CRM systems like Salesforce and Microsoft Dynamics, as well as other platforms like Adobe Experience Cloud and Google Analytics.
What you'll like
A comprehensive marketing automation platform that covers email, web, mobile, social, digital ads, and more
Advanced segmentation and personalization feature to target and engage your audience
Lead management and nurturing tools to generate leads and move them through the sales funnel
Analytics tools to measure and optimize your marketing ROI
Integration with Salesforce CRM and other popular apps
What you won't like
A complex and steep learning curve that requires a lot of training and support to master
Some users have reported difficulties with Marketo's customer support
Pricing: Custom pricing.
💠 SaaS Analytics Tools
SaaS analytics tools remain a vital component of modern business strategies. They empower organizations to harness data-driven insights for informed decision-making. Finding the right analytics tools is key to excel in this competitive landscape. Here are a few recommended options to kickstart your journey.
Best for Goal Tracking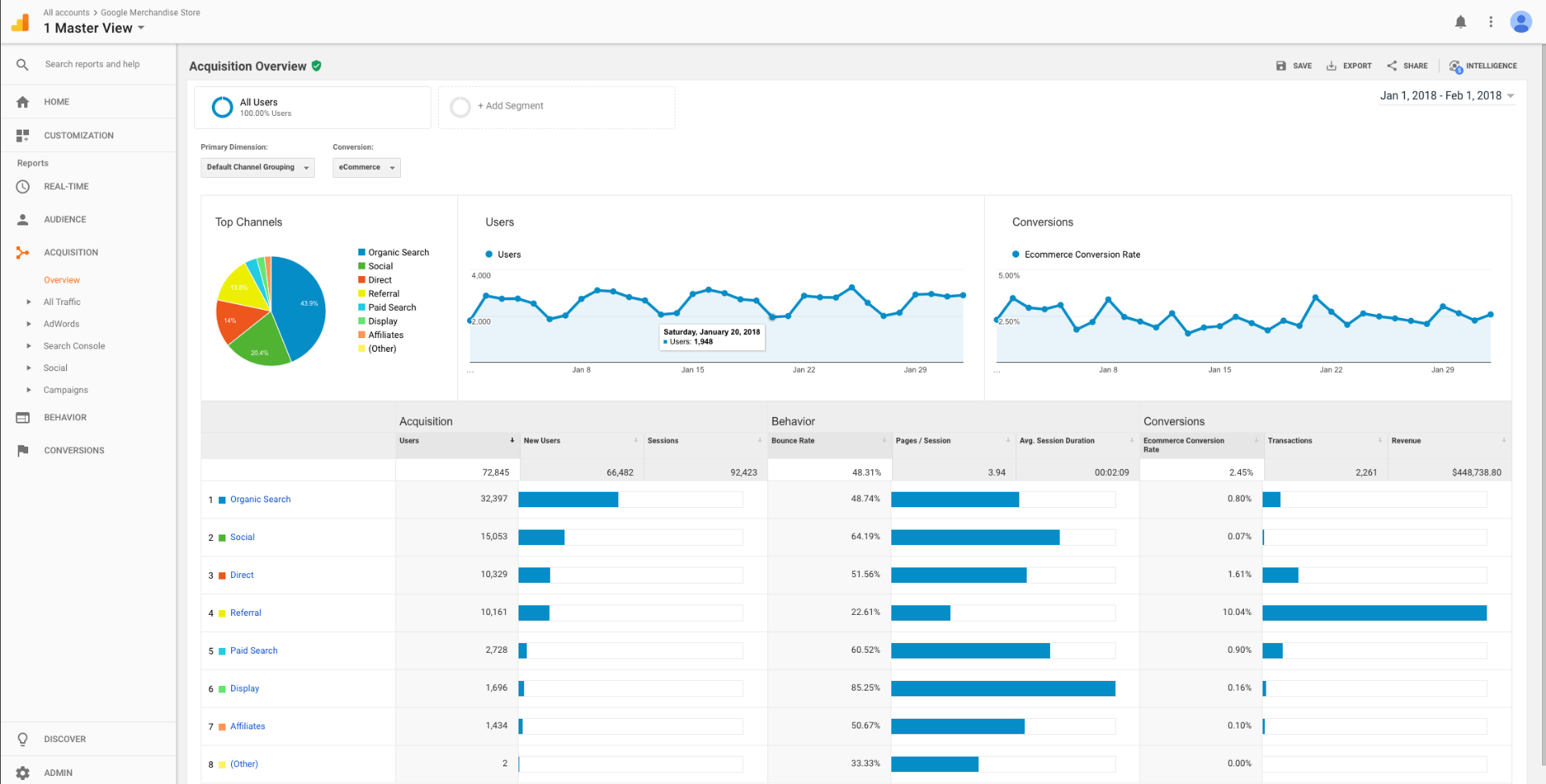 Google Analytics is a powerhouse when it comes to web analytics. Having worked extensively with this tool, I can attest to its robust capabilities. It offers a comprehensive view of website performance, tracking crucial metrics like visitor demographics, traffic sources, and user behavior.
One of its best features is goal tracking, which allows you to measure user actions on your site, such as form submissions or product purchases. The customizable dashboards and reports make it easy to visualize data and tailor insights to your needs.
Its integration with other Google tools like Google Ads and Data Studio enhances its functionality. You can dive deep into user journeys, identify bottlenecks, and optimize your website for better user experiences and conversion rates.
What you'll like
Detailed insights into website traffic, user behavior, and conversion metrics
Personalized dashboards with specific metrics for easy monitoring
Real-time data updates, enabling instant analysis of ongoing campaigns
Audience segmentation for targeted analysis
In-depth e-commerce tracking to understand product performance and sales patterns
What you won't like
Data overload leads to analysis paralysis
Relies on cookies, which can lead to inaccuracies in tracking user behavior
Pricing: Free plan available. Paid plan starts at $12,500/month.
Best for Subscription Analytics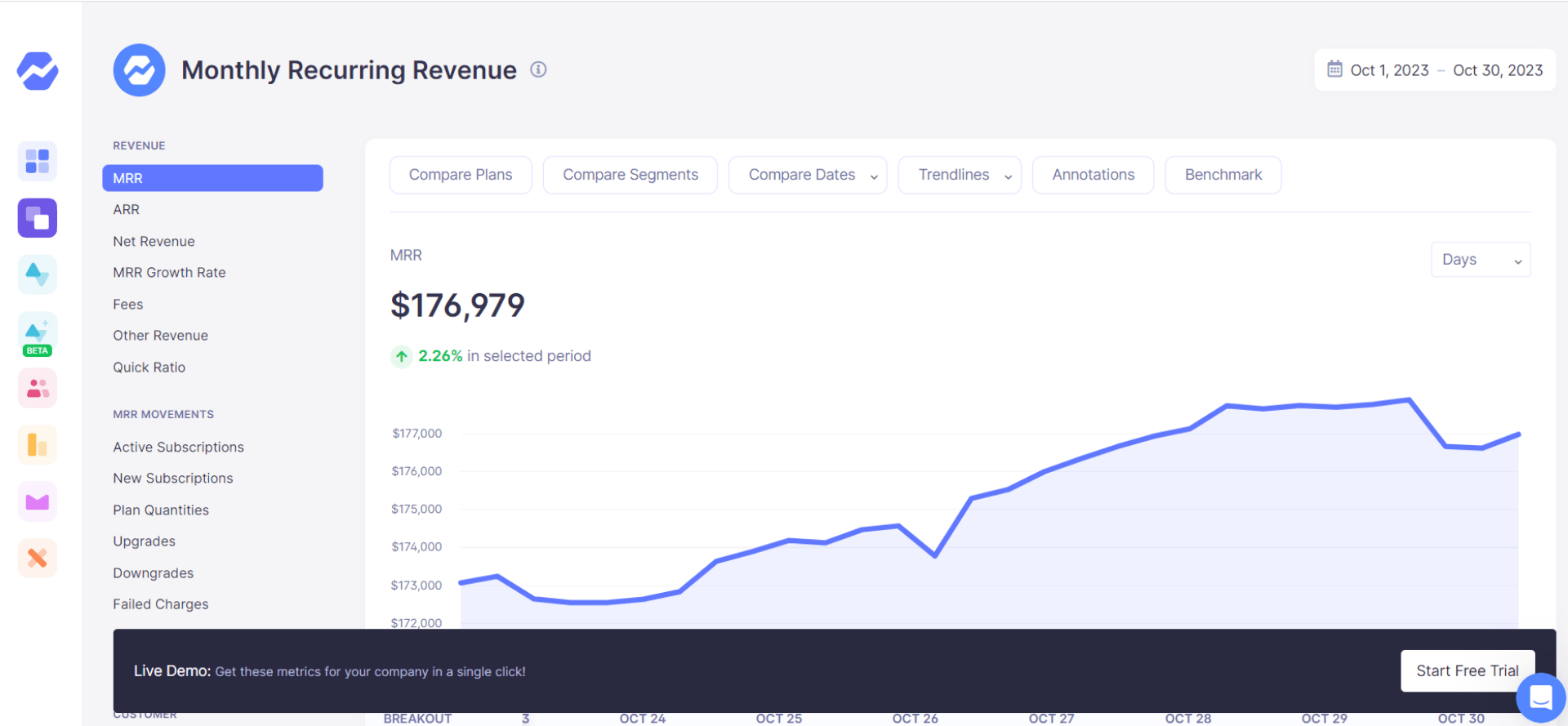 When generating insights for your subscription business, I see no better option than Baremetrics.
This powerful tool provides real-time dashboards that show you key metrics like MRR (Monthly Recurring Revenue), ARR (Annual Recurring Revenue), LTV (Lifetime Value), CAC (Customer Acquisition Cost), ARPU (Average Revenue Per User), and more.
You can also use Baremetrics to segment your customers based on various attributes like plan type, billing cycle, location, etc., and see how each segment performs over time. This tool comes in handy with features like forecasting, recovery, insights, and benchmarks.
What you'll like
Revenue forecasting based on historical data and trends
Detailed cohort analysis for understanding customer behavior over time
Automated customer insights and segmentation for targeted strategies
Customizable and shareable reports for team collaboration
Easy integration with popular payment gateways and subscription platforms
What you won't like
Not suitable for non-subscription or transactional businesses
Limited customization options for visualizations and report layouts
Pricing: Starts from $208/month.
💠 Social Media Management Tools
Managing your social media presence doesn't have to be overwhelming. Numerous tools are available to streamline the process and enhance your brand's online presence. These tools can help you schedule posts, analyze performance, and engage with your audience effectively. Consider exploring these options to simplify your social media marketing efforts.
Best for Scheduling & Publishing Social Media Content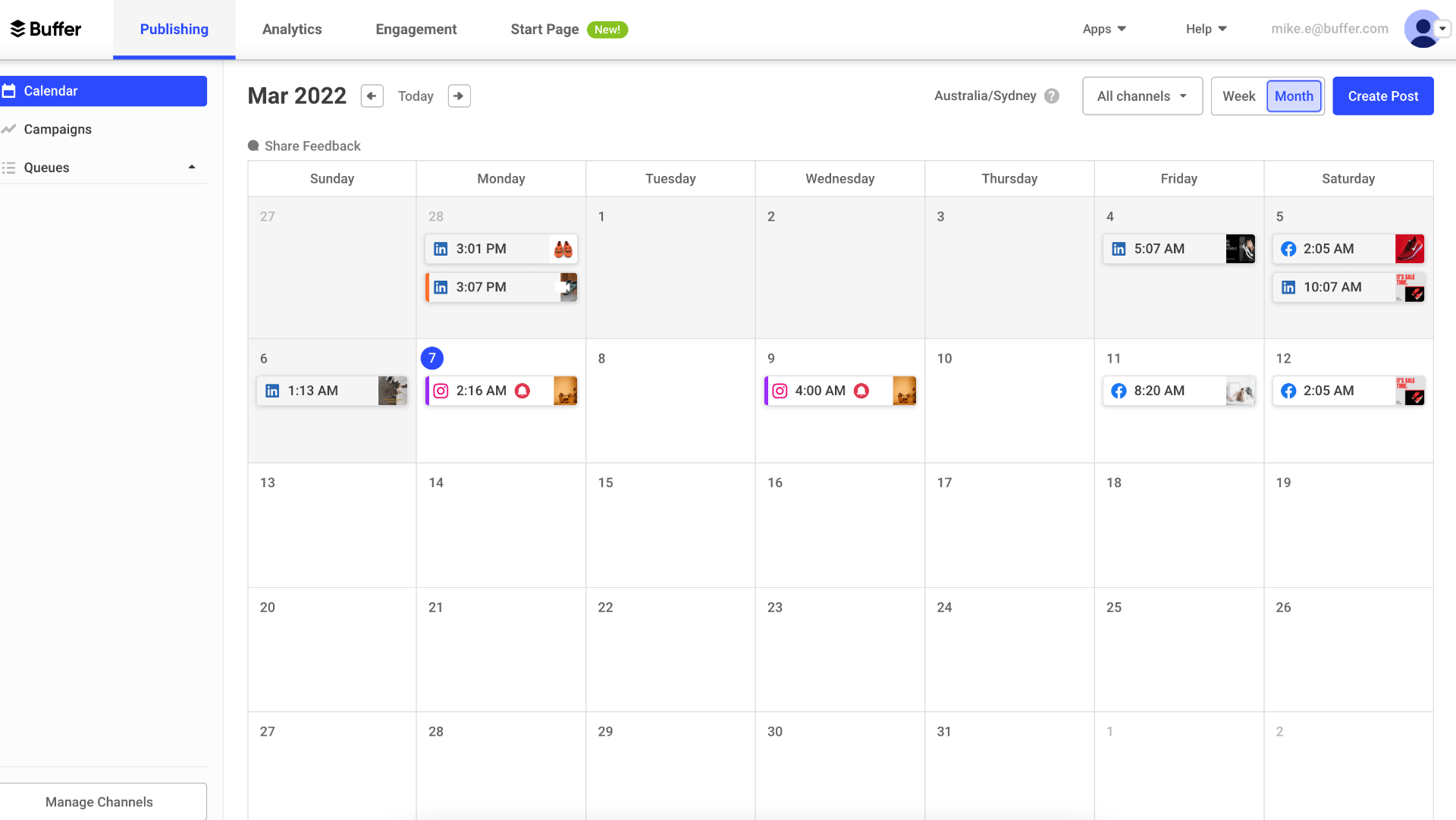 Buffer is a social media management tool that helped me plan, schedule, and publish content across multiple platforms. This tool allowed me to create and edit my posts, add images, videos, GIFs, and hashtags, and preview how they look on each platform.
It also allowed me to set a custom posting schedule or let Buffer suggest the best times to post based on my audience's activity. I could also use Buffer to collaborate with my team, assign roles and permissions, and manage multiple accounts and profiles.
As per my personal experience, Buffer is one of the best social media management tools that helps you save time, increase your reach, and grow your brand online.
What you'll like
Easy to use and has a simple UI/UX
It can schedule posts to various social networks from a single dashboard
A free image creation tool called Pablo
Integrates with bit.ly and other link shorteners to track analytics from social sharing
Browser extension for easy content curation and scheduling
What you won't like
No built-in monitoring for user engagement on social media
Limited analytics; requires a separate subscription for more data
Pricing: Free plan available (limited to 3 channels). Paid plan starts at $6/month.
Best for Bulk Scheduling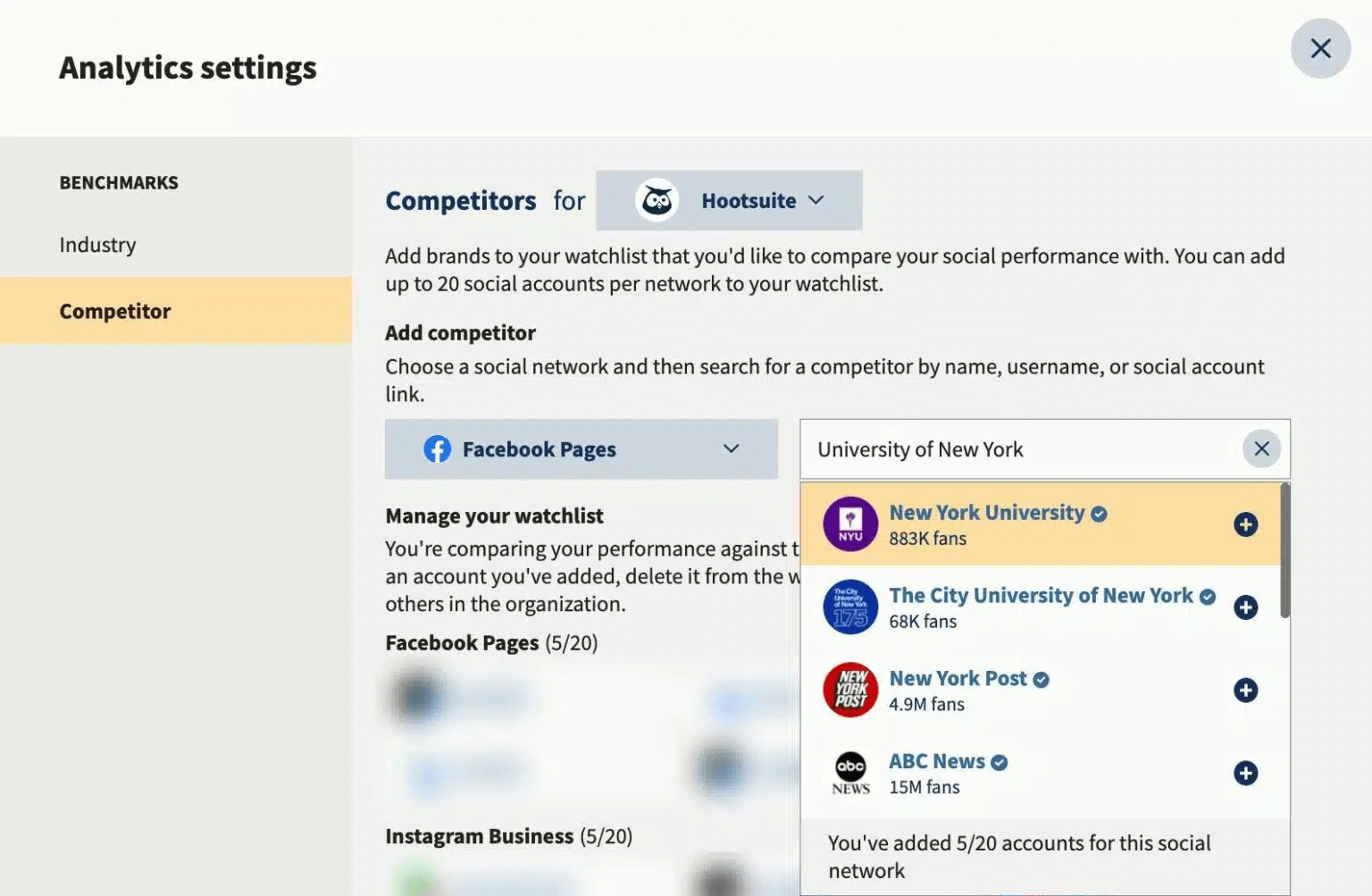 Based on my experience, Hootsuite is a super useful tool for scheduling social media posts in bulk. I've been able to easily watch, organize, and boost my social media plan using this tool.
It's amazing how I can manage over 35 social networks, like Facebook, Twitter, and Instagram, from a single platform.
Planning and crafting posts is simple, and I can also share content from other places. Chatting with my audience and replying to comments from a single spot is handy. Even better, I can figure out how well my social media is doing with features like social listening and ROI measurement.
What you'll like
You can set up streams to monitor mentions, keywords, and hashtags to listen in on what people are chatting
It makes it easy for SMBs to schedule posts for multiple accounts or clients
A wide array of services, from post planning and scheduling to social media analytics
Automated inbox for stress-free customer engagement
Trend tracking and on-time posting assistance
What you won't like
Add-ons get expensive quickly
Most powerful features are reserved for enterprise plans
Pricing: Starts from $23.04/month.
Best for Monitoring Social Media Performance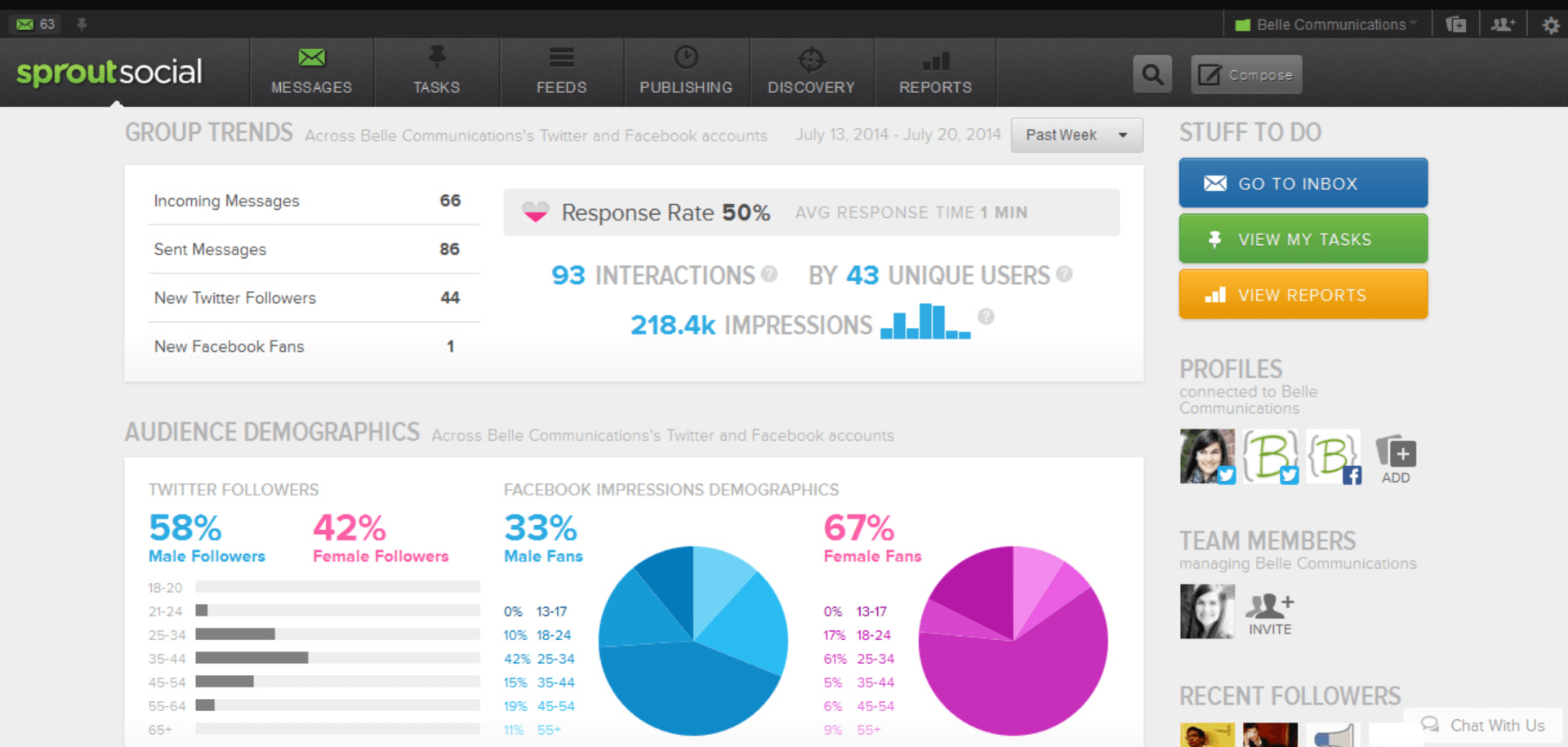 Sprout Social has helped me step up my social media game. It's like a toolbox for growing my online presence and business. It helps create and schedule posts on Facebook, Twitter, and more. Keeping track of all my messages is simple, with the smart inbox that puts everything together.
Plus, I get to see how well I'm doing with the analytics feature. Sprout Social helps spot trends and potential customers. The social CRM and advocacy tools are a big plus for managing contacts and getting the word out about my brand.
And those chatbots? They automatically handle routine tasks like answering FAQs.
What you'll like
Unified social inbox to respond, engage, and collaborate with their audience
Detailed analytics and reporting features to measure social media performance
Approval workflows to create and schedule content for multiple social media platforms
CRM integrations and helpdesk options, such as Salesforce, Zendesk, and HubSpot, help users manage their customer relationships
Social listening tools to analyze conversations and trends around their brand, industry, and competitors
What you won't like
Sprout Social charges per user per month, which can make the tool expensive for teams with multiple members
Supports fewer social networks than some of its competitors
Pricing: Starts from $249/month.
Best for Content Scheduling and Posting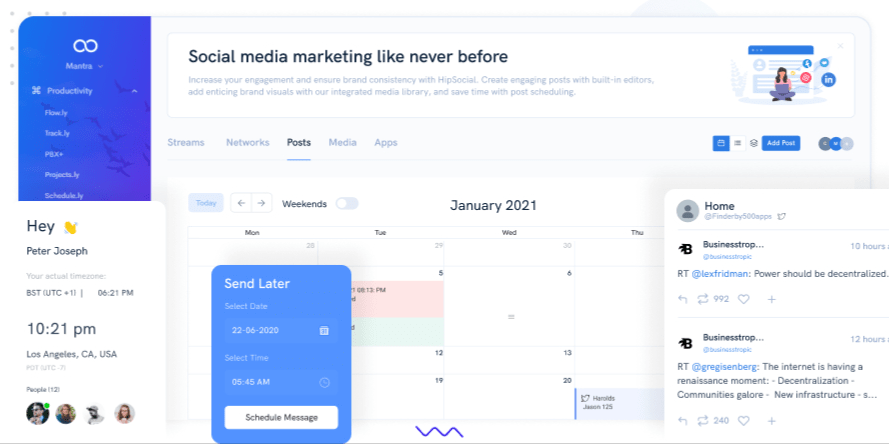 Having used HipSocial extensively, I can vouch for its effectiveness as a top-notch social media management platform. Navigating the complexities of various social networks like Facebook, Twitter, and Instagram has never been easier, thanks to its intuitive interface. The tool excels in seamless content scheduling, publishing, and monitoring.
The standout feature is its insightful analytics, which provides valuable data on content performance. This has greatly assisted me in refining my social media strategies. The collaborative tools have also streamlined team workflows, making content approval and real-time communication efficient.
For businesses looking to achieve success in digital marketing, I highly recommend incorporating HipSocial into your toolkit based on my positive experience.
What you'll like
All-in-one social media management to manage multiple social media accounts in one place
Bulk scheduling to schedule and publish content across different social media platforms
Image library with various image editing and resizing tools to create engaging and high-quality images
Web scraper integration to fetch content and images from various sources
What you won't like
Does not support video content creation or publishing
The platform does not have a mobile app, which reduces the user's convenience and accessibility
Pricing: Starts from $7/month.
💠 Employee Monitoring and Productivity Tracking
Employee monitoring tools provide essential insights into employee productivity, helping businesses maintain efficiency and compliance. With the right tools, you can effortlessly track work hours, monitor online activities, and ensure your team stays on track. These tools not only improve productivity but also contribute to a well-organized and efficient work environment.
Best for Time Tracking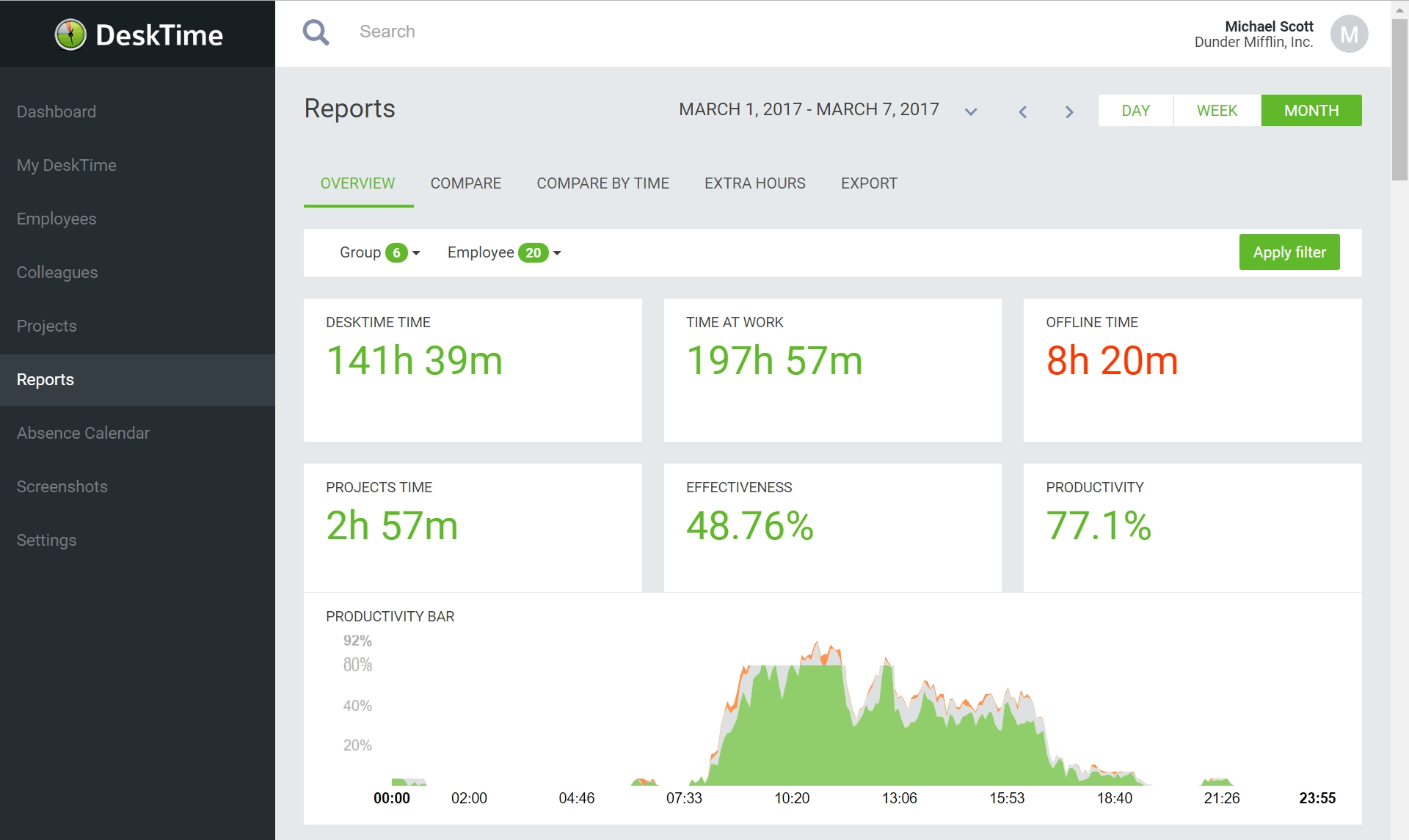 I've been using DeskTime for a while now, and it's truly been a game-changer in how I manage my team, whether they're working remotely or in the office. Thanks to its smart time tracking, this tool effortlessly keeps tabs on everyone's tasks and projects. Whether my team prefers automatic tracking or manual timers, DeskTime's got it covered.
I find it especially handy how it measures each employee's productivity by monitoring the apps and websites they use. This insight enables me to set tailored productivity goals, ensuring everyone's aligned with their roles. The occasional screenshots it captures and offline time tracking are great for keeping things on track.
The app analysis, detailed reports, and the ability to generate invoices based on hours worked make DeskTime a complete package.
What you'll like
Tailored reports showcase individual and team performance
You can get notified about prolonged periods of inactivity to maintain engagement
Employee check-ins and check-outs for accurate attendance records
Usage tracking to identify time spent on non-work-related activities
Live insights into employee activity and work patterns for better decision-making
What you won't like
Occasional signouts can make you lose track of your activity
Users have reported that the software often misses out on taking screenshots
Pricing: Starts from $4.41/month.
Best for Workforce Management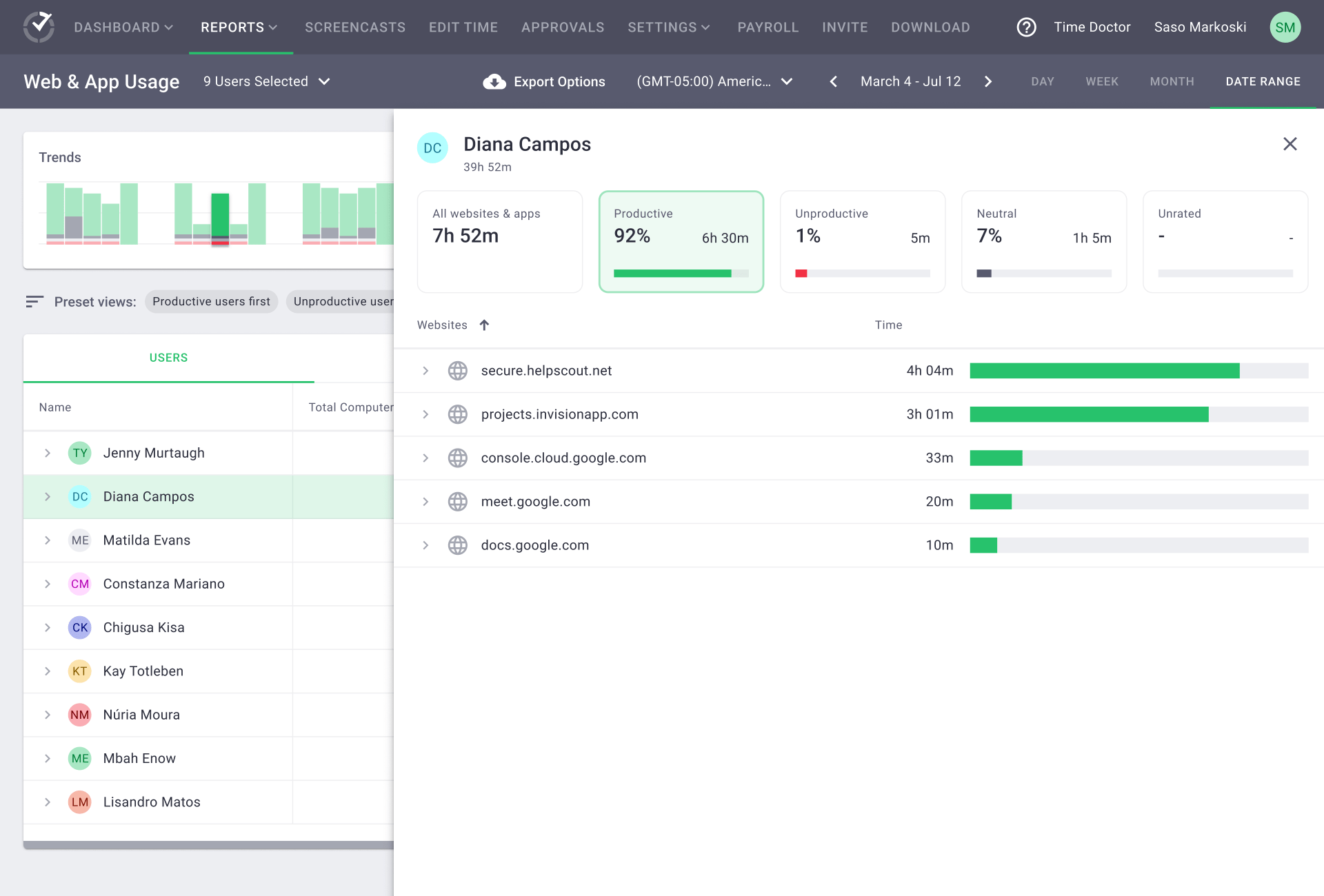 Time Doctor was a game-changer for me in keeping my remote team on track. This productivity tool was like having a personal assistant dedicated to optimizing work efficiency.
It seamlessly recorded how much time each team member spent on tasks through automated tracking or manual timers, allowing me to identify bottlenecks and improve workflow. One standout feature was its activity monitoring, gauging engagement via keyboard and mouse activity.
With work schedules tailored to different time zones, it ensured everyone was synchronized. Screenshots taken at intervals provided insights into their tasks without being invasive. It also offered insights into website and app usage, sending timely alerts to maintain focus.
What you'll like
Accurately records hours worked for each task and project
Comprehensive reports on productivity and time allocation
Periodic screenshots and webcam shots for activity verification
Efficient management of employee leaves and time-off requests
Notifications for periods of inactivity are detected during work hours
What you won't like
Time Doctor primarily tracks online activities, so it may not be effective for employees who frequently work offline or use offline tools
Implementing Time Doctor in a workplace can be challenging due to its complexity
Pricing: Starts from $5.9/user/month.
💠 Appointment Scheduling
These scheduling tools simplify booking appointments, meetings, and services, ensuring a seamless interaction between businesses and customers. With features like real-time availability, automated reminders, and customization options, these tools not only save time but also reduce no-shows and improve overall efficiency.
Best for Automating Appointment Scheduling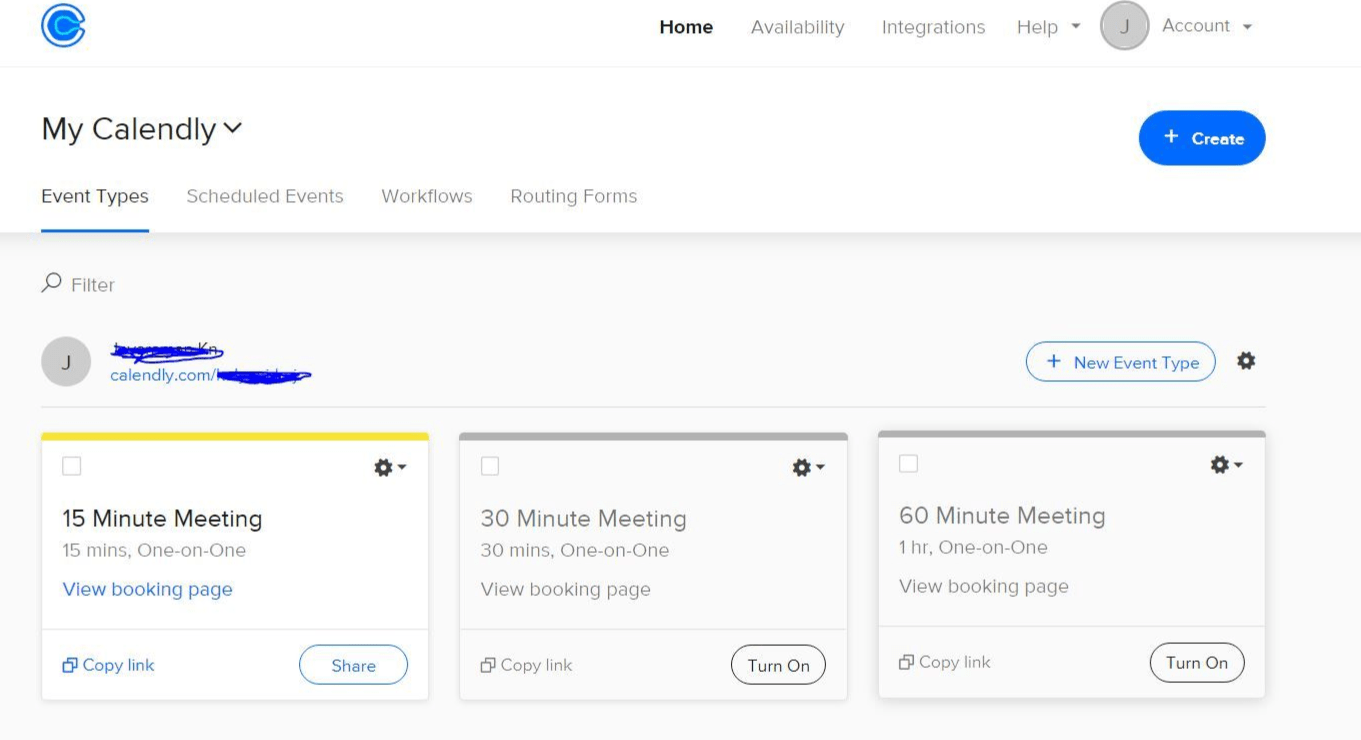 As someone who has relied on Calendly for automating appointment scheduling, I can attest to its user-friendly interface and versatility. Calendly simplifies the process of booking meetings by allowing users to create customized scheduling links that sync seamlessly with their calendars.
Its user-friendly design lets you set your availability, integrate with popular calendar apps, and create different meeting types with unique settings. Whether it's for one-on-one meetings, group sessions, or interviews, Calendly offers flexibility and automation.
Additionally, its notification system ensures neither you nor your clients miss appointments. Overall, Calendly has been a time-saving and hassle-free solution for my scheduling needs.
What you'll like
You can set your availability preferences uniquely by specifying your working hours, break times, etc.
Real-time calendar sync eliminates double bookings
Automated reminders reduce no-shows
Customizable booking forms help collect vital information from attendees
Detailed analytics can help optimize your scheduling process
What you won't like
Limited customization options to change the design and layout of your scheduling page
Though it offers a free plan, most of the advanced scheduling options are included within the paid plan
Pricing: Free plan available (limited to 1 calender connection). Paid plans start at $8/user/month.
Best for Scheduling Meetings & Webinars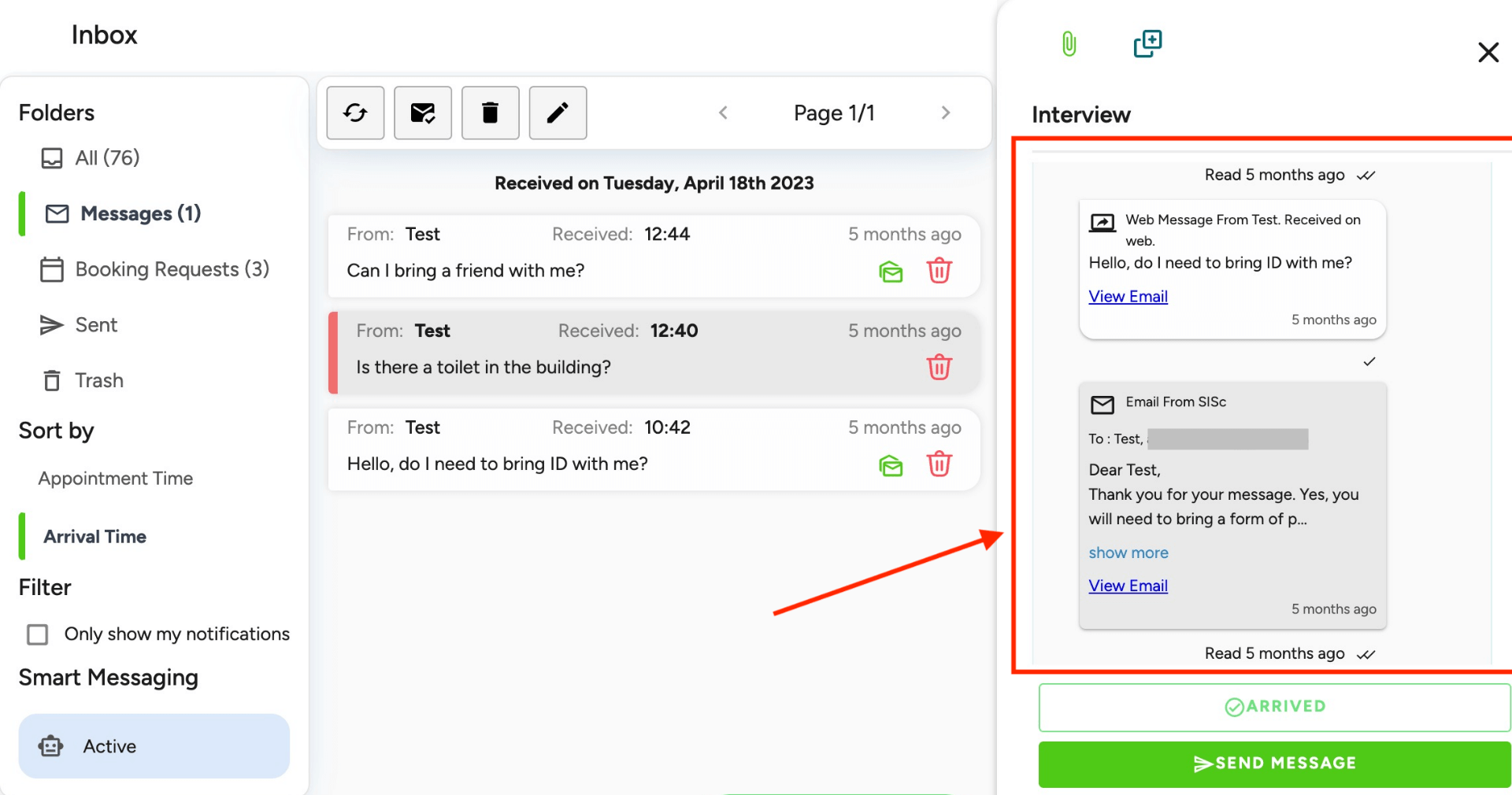 Having utilized 10to8 for appointment management, I appreciate its robust feature set. This tool provided me with a comprehensive platform to streamline bookings, manage staff schedules, and maintain client communication.
Its intuitive interface simplified appointment scheduling for my clients and staff and supported various appointment types, from in-person to virtual meetings. 10to8's automated reminders helped reduce no-shows, while its reporting and analytics offered me valuable insights for improving operations.
With its calendar sync and integration options, 10to8 proved to be a reliable and efficient scheduling tool to optimize time and resources.
What you'll like
Customizable public booking page with images, logos, descriptions, color palettes, and link addresses
Powerful reporting tools to track organizational performance
You can sync calendars like Google, iCal, Outlook, and more.
Check if your customers view the appointment reminders
Integrate with tools like Zoom Video Conferencing and Salesforce
What you won't like
Users may find the customization options for appointment reminders and booking widgets somewhat limited, affecting brand consistency.
Users have reported scheduling errors when booking appointments for different time zones.
Pricing: Starts from $4/user/month (billed annually).
💠 Best Document Management Tools
Document management tools are indispensable for efficient organization and sharing of digital content. Whether you need to store, access, or collaborate on documents, investing in the right document management tools can significantly improve your business operations.
Best for Document Collaboration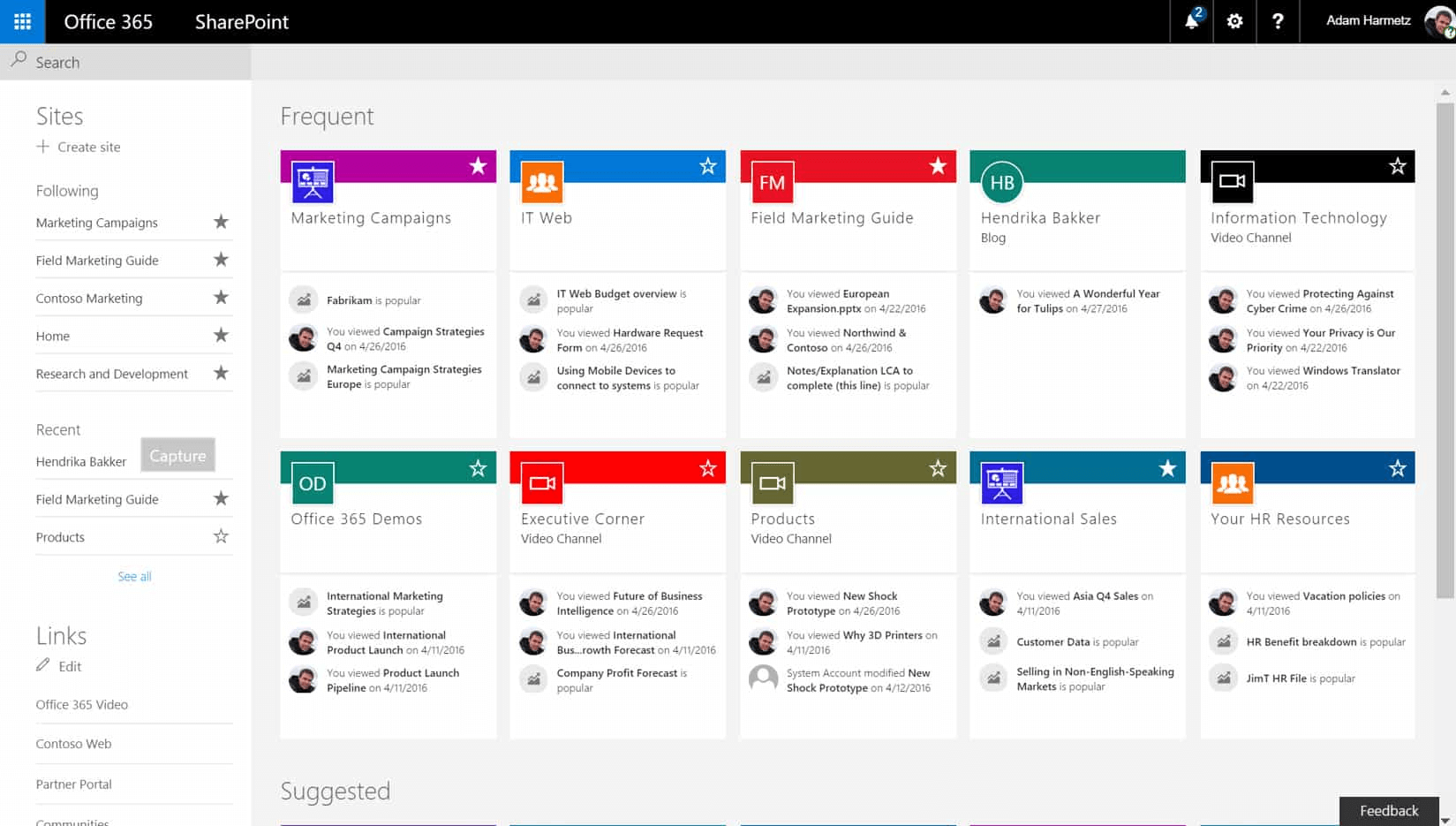 I've had a great experience using Microsoft SharePoint as my go-to document management tool. It's incredibly user-friendly and efficient. With SharePoint, I store, arrange, and collaborate on documents online.
Setting up dedicated sites is easy, and I can easily upload documents from my computer or cloud services like OneDrive and Dropbox. Integrating Microsoft Office apps like Word, Excel, and PowerPoint makes creating new documents seamless.
Real-time collaboration is a game-changer with features such as comments, chat, and version history. Moreover, SharePoint's robust search, workflow automation, security measures, and integration with tools like Teams and Outlook make it a comprehensive solution. SharePoint stands out as the ultimate tool for secure and efficient online document management.
What you'll like
Content management capabilities allow you to search for information quickly
You can collaborate with team members effectively across multiple devices
Forms and workflow creation with Sharepoint lists, Power Automate, etc.
Information and resource organization on home sites and portals.
What you won't like
Managing document versions can be cumbersome, leading to confusion and data loss
Extensive customization requires skilled developers, making it less accessible for small businesses
Pricing: Starts from $5/user/month.
Best for Document Templates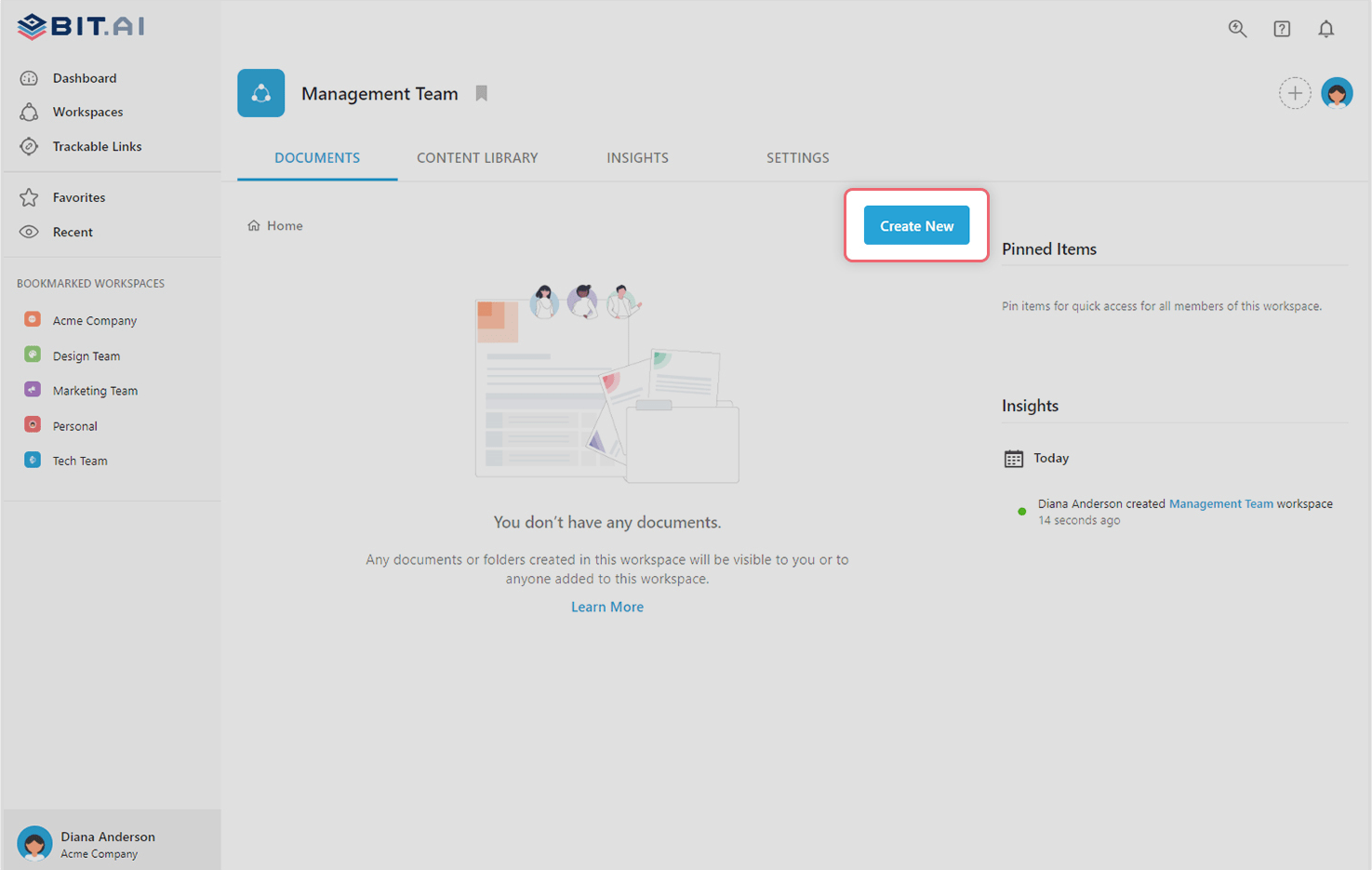 Bit.ai is a revelation in document management. This modern tool offers extensive document templates, which helped me transform static files into dynamic, multimedia-rich documents.
With Bit.ai, I've created engaging documents, reports, and wikis with ease. Its intuitive editor enabled me to effortlessly add videos, images, and live web links. Collaboration is seamless, as it allows real-time co-editing and commenting.
Plus, the document tracking feature helped me understand how my content is being consumed. Bit.ai's smart document management makes organizing, sharing, and tracking documents a breeze.
What you'll like
You can craft fast and engaging notes, documents, wikis, and knowledge bases
Rich media integrations for seamless collaboration
Detailed insights into document engagement through real-time document tracking
It lets you collaborate and share files from cloud storage platforms like Google Drive, Box, Sharepoint, and OneDrive
You can retrieve and edit documents from any device with Bit.ai's cloud-based platform
What you won't like
Free plan has limitations on storage and collaboration features
While Bit.ai supports integrations, its options are limited compared to other document collaboration tools
Pricing: Free plan available (limited to 50 documents). Paid plan starts at $8/member/month.
Best for Document Management & Workflow Automation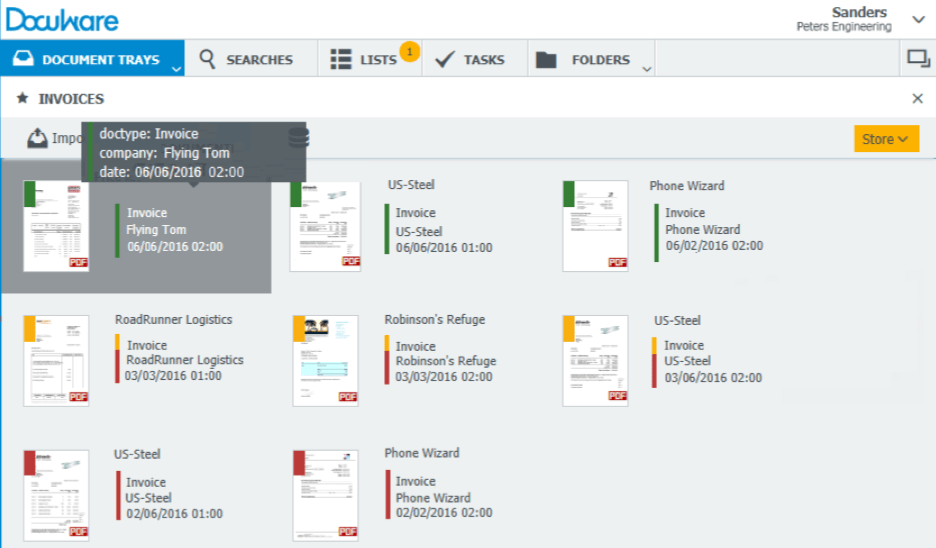 My experience with DocuWare has shown me how a dedicated document management system can transform business processes.
It offers a scalable and secure platform for storing, organizing, and retrieving documents. The tool also excels in workflow automation, allowing for the efficient routing of documents through approval processes.
The OCR technology ensures that even scanned documents are searchable. DocuWare's integration capabilities enable it to work seamlessly with existing software, enhancing productivity.
What you'll like
Scanning, importing, and digitizing paper documents into a digital format
Extracting relevant data from documents for quicker processing and indexing
You can organize and store all documents in a secure, centralized repository accessible from anywhere
Automated workflows to streamline document routing and approval processes
Powerful search filters, metadata, and content-based searches to quickly locate documents.
What you won't like
Lacks robust native collaboration tools, making real-time document editing and teamwork less efficient
Mobile app capabilities are limited, hindering on-the-go document access and management
Pricing: Custom pricing.
💠 Best Accounting Tools
Accounting tools streamline financial processes, making tasks like bookkeeping, expense tracking, and financial reporting more efficient. With the right tool in hand, you can ease up your task of managing finances.
Best for Managing Bills & Tracking Expenses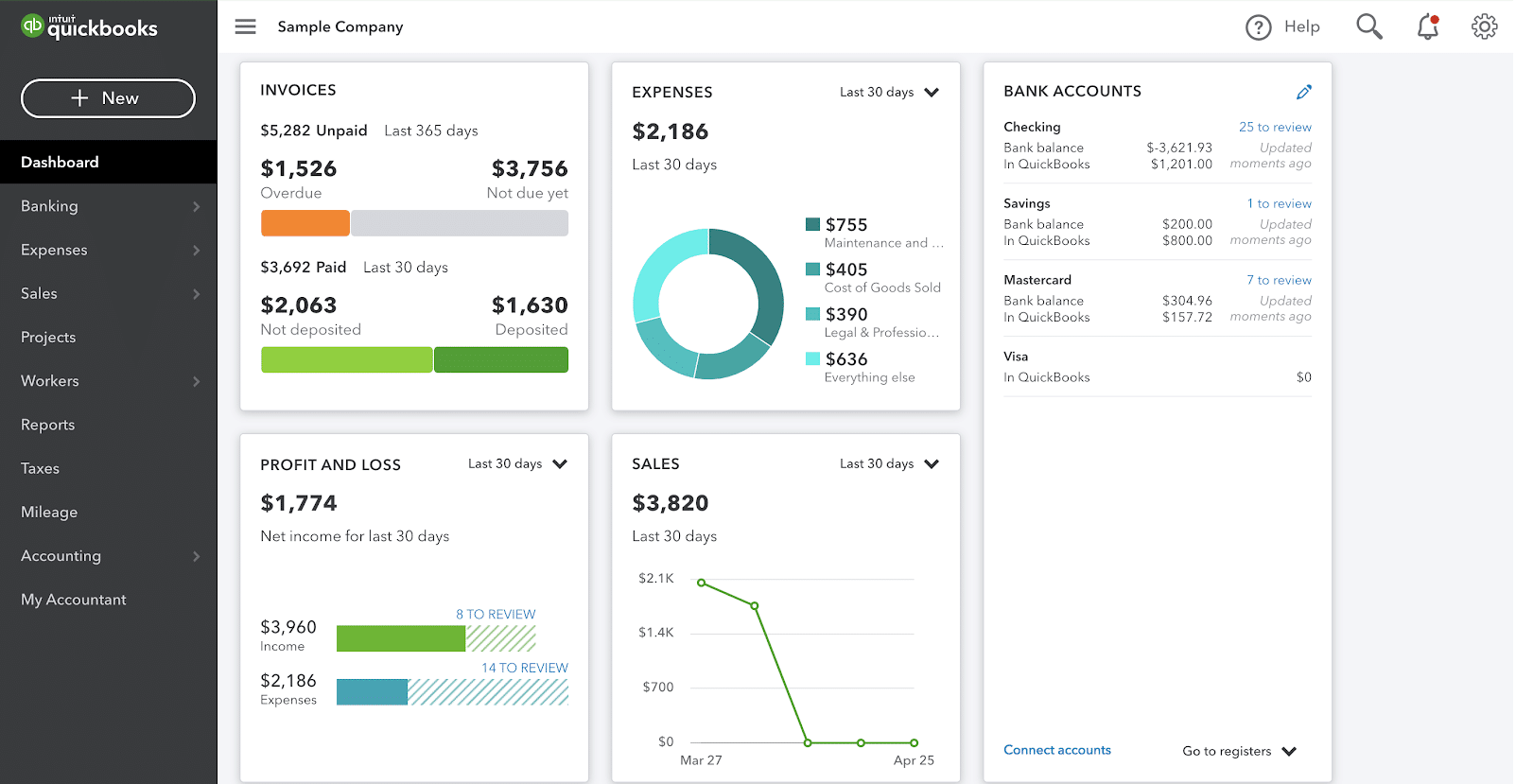 Quickbooks is a pivotal accounting solution that I tried my hands on. The software is user-friendly, making finance and tax management significantly more efficient.
Tasks such as invoice creation, income and expense tracking, and bank account synchronization are effortlessly handled, thanks to the tool's automation capabilities. Furthermore, Quickbooks excels in tax preparation and filing, alongside provisions for employee payment and online transaction handling.
The tool's comprehensive reports provide valuable insights into cash flow, profitability, and tax liabilities, aiding prudent decision-making. Quickbooks seamlessly integrates with prominent platforms like Shopify and PayPal, offering a streamlined workflow.
What you'll like
You can create and send invoices to your customers and track their payments
It lets you connect your bank accounts and credit cards to import and categorize transactions
Customizable reports to get insights into your business performance and financial health
Cash flow management by entering and paying bills, scheduling recurring payments, and tracking expenses
Easy collaboration with your accountants to share your books, documents, and reports
What you won't like
Users cannot easily restore their account data to a specific date and time unless they subscribe to the highest-priced tier
Some users have reported that QuickBooks can be unstable or prone to crashing, especially when handling large amounts of data or transactions
Pricing: Starts from $15/month.
Best for Automating Daily Accounting Activities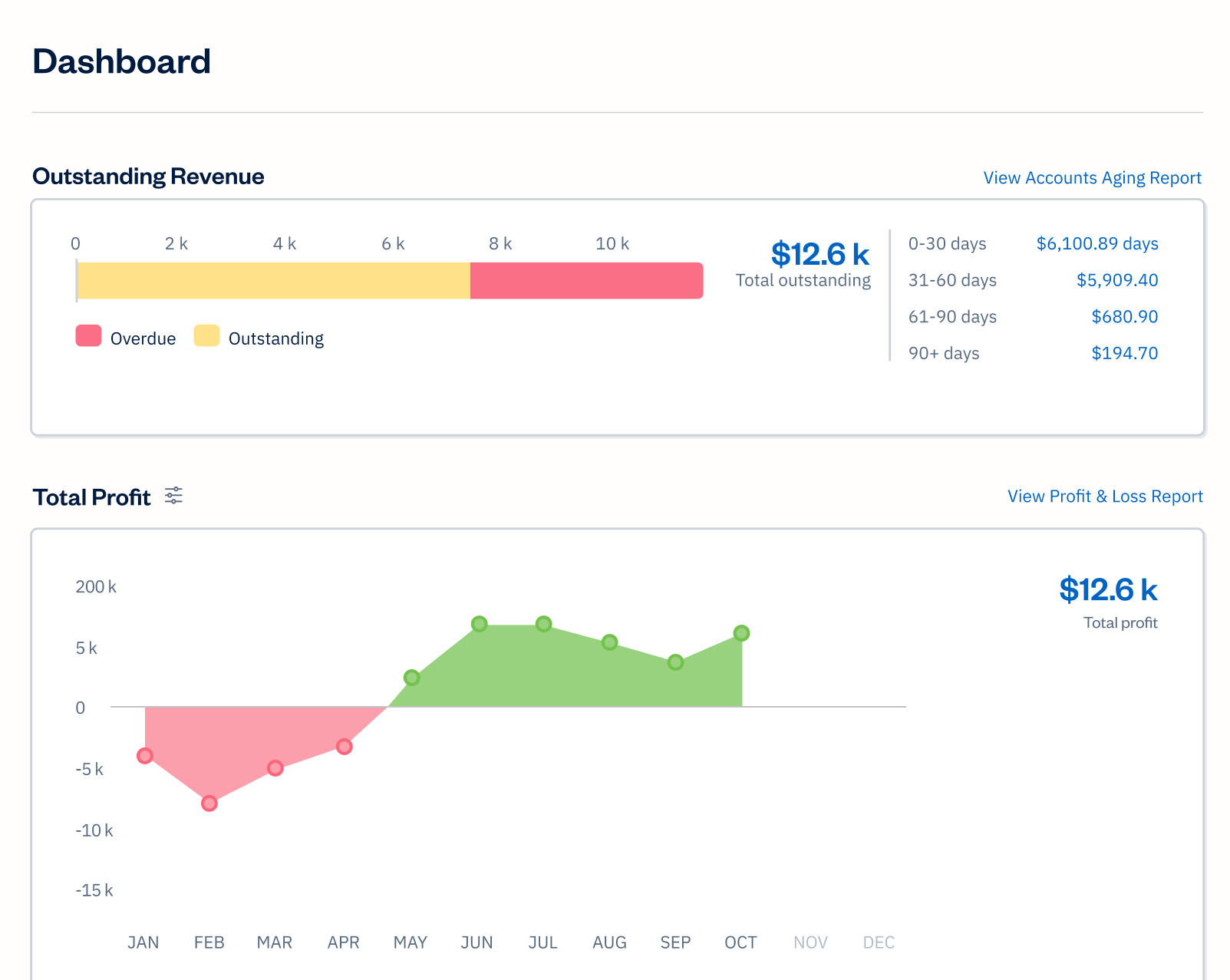 Freshbooks has been an absolute game-changer for my small business journey.
With its user-friendly interface and versatile features, managing my finances has become super-easy. Crafting and sending professional invoices is also simplified while keeping tabs on my time, expenses, projects, and clients is a stress-free experience.
I also found the option to accept online payments to be super convenient. Collaborating with my team and monitoring inventory has never been easier. The top feature is its robust reporting capability, which has made tax season far less daunting.
Freshbooks' inclusion of double-entry accounting and bank reconciliation features has truly simplified my bookkeeping.
What you'll like
Customizable logo, colors, and fonts for invoices
Time and expense tracking for projects
Accounting reports and tax summaries to keep track of your income and expenses
You can manage receipts and attach them to your expenses for easy documentation and tax filing
Easy collaboration with team members and clients on projects, proposals, estimates, and invoices
What you won't like
Limited features for inventory management and purchase orders
It does not have a built-in payroll functionality, which means you have to use a separate service or software to pay your employees and handle taxes
Pricing: Starts from $8.5/month.
Which of These SaaS Solutions Will Suit You Best?
As businesses become more comfortable operating on the cloud, SaaS solutions have become more favorable choices. Moreover, when SaaS providers follow best practices, SaaS can be more secure than on-premise applications.
Though I have provided you with a detailed list of over 35 best SaaS tools, choosing one for your business can still be hectic. That's why I am giving my top 3 choices for the best SaaS tools:
Option A: ProProfs Chat
If you want to engage your customers most efficiently, this live chat tool can help you achieve it easily. With features like canned responses, chat transcripts, automated greetings, and chat routing, this tool ensures your customers get the best of it.
Option B: Hootsuite
If you are a small business that needs to focus on social media campaigns, then Hootsuite is a great option. This tool can help you boost your social media presence while allowing you to track ongoing social media trends.
Option C: BigContacts
This is one of the best CRM tools I've used when it comes to contact management and email marketing. BigContacts lets you segment your audience for targeted marketing. You can easily manage your sales pipelines while keeping a clear view of your generated leads.
Ultimately, selecting the best SaaS tool for your business depends on your unique needs and requirements. I've provided an extensive list of top-notch options in the market to assist you in finding the perfect software solution for your business. I hope this helps you conclude your research.
Learn More About SaaS Tools
Q: Why Does Your Business Need SaaS Tools?
A: SaaS, or Software as a Service, provides businesses with software hosted in the cloud by a provider. This software is the same for all users, and any updates or features are automatically available to all customers. This scalability allows your business to easily adjust to its growing needs.
Here are some more benefits of SaaS tools for businesses:-
Flexibility of making subscription-based payments rather than bulk
Quick access to the software on the cloud from any device
Save time on lengthy, complex installations of hardware and software
Customize the tool in any way that suits your brand
Q: What are SaaS tools, and how do they differ from traditional software?
A: SaaS stands for "Software as a Service." SaaS tools are cloud-based software applications hosted and maintained by a third-party provider. Unlike traditional software, which needs to be installed and run on individual computers or servers, SaaS tools are accessed through a web browser.
Users subscribe to SaaS services pay-as-you-go, often with a monthly or annual fee. This eliminates the need for complex installations, updates, and maintenance, making SaaS tools more accessible and cost-effective.
Q: Are these SaaS tools suitable for all types of businesses, or are they industry-specific?
A: SaaS tools can cater to a wide range of business needs, from customer relationship management (CRM) and project management to accounting and human resources.
While many SaaS tools are designed to be versatile and applicable across industries, some might be tailored for specific sectors. For example, SaaS tools are designed specifically for healthcare, retail, finance, and more.
Q: How do SaaS tools ensure data security and privacy for their users?
A: SaaS providers take multiple measures to ensure data security and privacy. These measures often include encryption of data both in transit and at rest, regular security audits, access controls, authentication protocols, and compliance with industry standards such as GDPR and HIPAA.
Reputable SaaS providers invest in robust security infrastructure, firewalls, and intrusion detection systems to safeguard user data from unauthorized access and breaches.
Q: Can businesses customize or integrate these SaaS tools with their existing software stack?
A: Many SaaS tools like ProProfs Chat offer extensive customization and integration options. While the level of customization might vary, businesses can often configure certain settings to align the tool with their specific needs. Integration capabilities ensure that SaaS tools work seamlessly with existing software applications.
Q: Do these SaaS tools offer mobile apps for seamless access on the go?
A: Many SaaS tools offer dedicated mobile applications for various platforms, such as iOS and Android. These mobile apps provide users with on-the-go access to the SaaS tool's features and functionality. This is especially valuable for businesses with remote or mobile workforces, as it allows employees to stay productive even when they are away from their desks.
Do you want a free Live Chat software?
We have the #1 Online Live Chat Software for instant customer support 24x7