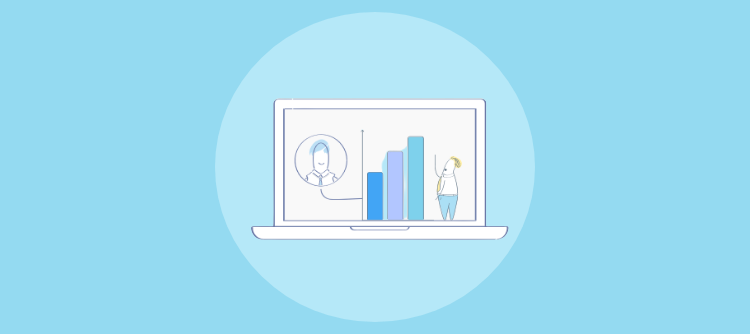 Chatbots are conversational tools that enhance website engagement. You should have them in your support suite. These tools have many uses, such as helping customers make a purchase, searching for information, etc. But designing a good chatbot is possible when you follow chatbot best practices.
What is chatbot designing, and why is it important?
Chatbots, when designed right, can open up your business to many more customers. After all, most customers prefer reaching out to businesses through channels like chatbots, live chat, and social media. If you are reading this, you must be considering designing one but need a blueprint to do so.
Here we will discuss 10 top chatbot best practices you should follow to build a successful chatbot. Read on so that you can get started with implementing the chatbot best practices.
Why should you follow chatbot best practices?
Businesses want to simplify the user experience; following best practices is the quickest way to achieve that. These tips act as a guide for you to build a chatbot that fits your business needs. Chatbots can only be an asset to a business when they successfully engage customers.
Chatbot best practices range from designing the scope of the chatbot to the aesthetics of it. These practices help you to shape your chatbot as per your customer's needs. For instance, if your customers are tired of long wait times, then you can incorporate quick replies
Quick replies allow operators to respond to customers who have been waiting in line. Furthermore, they are used for routine queries to shorten the resolution time. It can improve customer satisfaction scores. After all, customers want instant answers to their questions.
Suppose you are building chatbots, be it a rule-based or AI from scratch, and you wish to showcase the brand's tone of voice. These practices are a roadmap to go about doing this. You can follow this roadmap to quickly design an engaging conversation with your customers.
10 Chatbot Best Practices
Let us dive right into our guide where we talk about each chatbot best practice in depth. We will also include suggestions on how you can go about following each golden rule. Here are the 10 best practices for designing a chatbot:
1. Define the Scope and Objectives
A chatbot can be made for varying purposes depending on the end-user. Suppose you are a bakery owner and wish to make a chatbot to take customer orders, it would have a cordial tone when taking those orders. A bakery owner would also want a function to accept cancellations.
Whereas, in the medical industry, chatbots can schedule appointments with doctors and offer a preliminary diagnosis. This goes to show that a chatbot is a versatile tool. Keeping that in mind, chart out some questions to identify its goals. Here are the best chatbot ideas to look at:
What are the pain points of my customers?
Which tasks will they need assistance with?
Who is my target audience?
These are some questions you ask yourself before defining what your chatbot should do. These questions will help you simplify goal-setting. Also, when deciding on the capabilities of your bot, each query will give your chatbot design a new direction. Answering these questions will help you establish parameters for how your chatbot should be designed.
Now how to identify a target audience?
2. Identify the Target Audience
Each brand has its eyes on a diverse set of customers. Taking their diverse personalities into consideration, you can frame your conversations too. After all, wouldn't it look odd if you spoke to an elder in the same way you speak to a teenager?
Similarly, we need to consider our target audience when creating the chatbot's tone. Here are some factors to consider when designing the conversation interfaces:
Brand voice: Your tone should be consistent across channels. It allows customers to link your brand with its communications. Your brand is like a person; it dresses and speaks in a certain way. Similarly, your tone should reflect your brand's personality.
Demographics: You need to consider age group, gender, and other parameters when delivering messages. Suppose your business receives an elderly customer and your chat communication has a youthful profile; your messages can get misconstrued.
Social profile: You should be aware of hobbies your customers engage in and what jobs they work. It helps you be more sensitive to their interests when delivering chat communications. If you aren't doing this, you might lose many potential leads!
A good idea is to use humor sparsely to keep the conversation moving. However, if you are a luxury boutique with customers who expect a degree of formality, then be conservative. Humor is a thumb rule of good customer engagement, but it shouldn't be met with an awkward pause!
3. Focus on UI
Chatbot UI includes best practices for designing graphics and language elements. These help in simplifying human-computer interactions. A chatbot's communication skills depend on how well you design its UI.
A chatbot can automate the whole customer journey, but each part has a distinct script. If your customers are looking to book appointments, you will need a different chatbot script. Similarly, if your customers want to subscribe to your newsletter, your approach will be different chatbot script.
Also, try to re-engage your customers with phrases like "take me back to the start button." It is little ideas like these that form the basis of chatbot UX best practices. After all, chatbots should be easy to use, and they work as a perfect complement to your website navigation.
The best chatbot practice is to use more contextual copy to help customers understand your message better. For instance, if a user wants to sign up for your newsletter, a Yes/No button can be confusing. Instead, have a button that says "Sign me up" for yes and "No, thanks" to say no.
Your buttons should be context-based allowing users to know what each does quickly. Also, you should focus on fewer options as it leads to more users taking action on them. For instance, sales bots with more options have 266% fewer leads than those with fewer options.
4. Offer Human-Like Interactions
There are two types of chatbots: rule-based bots and AI chatbots. For rule-based chatbots, we script the conversation by viewing past interactions with customers, whereas AI chatbots use NLP or Natural Language Processing to sound human. But what then?
Should you hide the fact that you are using a bot?
One of the best practices for chatbots is being honest about using a bot for customer service. When you design capabilities in a chatbot to interact like a human, it is called skeuomorphism. However, chatbots can often deceive a customer into thinking they are speaking with a human.
While live chat and chatbots are both great for providing real-time assistance, the latter lacks the empathy of a human agent. It is one of the key differences between chatbots and live chat. Therefore, you need to be upfront that the user is talking to a bot. It helps level expectations.
Next, we will talk about being transparent about the limitations of your chatbot. The worst chatbot practice is to over promise and underdeliver. Let's read on to rectify this.
5. Be Transparent About Limitations
Expecting that a machine can compete with human understanding is a tall order. Especially in customer support where the lack of empathy can be even more glaring. Therefore, you should accept that your bot cannot bring every interaction to a close.
If you cannot solve the query with the help of your chatbot, worst practices are to deny access to any other support channels. Instead, you should be prepared for the eventuality that the customer will want to speak to a human agent. Acknowledge this request and direct the chat.
You can script an answer for this by saying that,
"I don't know the answer for this. But I will connect you with one of our agents right now."
This is also followed in live chat best practices, where the chat can get forwarded to a senior when the complaint is not sufficiently addressed.
Want to grow sales or improve support 24×7 with chatbots?
6. Best Practices for Customization
The first tip to customizing your chatbot is to think about how you want the conversation to flow. Each chatbot maker has different ways of helping you do this. ProProfs Chat allows you to ask multiple-choice or open-response questions. You can also assign a function for each answer.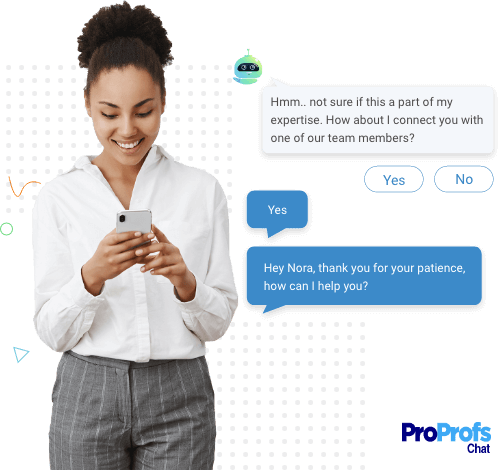 Let us discuss the do's and don'ts of chatbot customization. Here are some tips:
Create a grammatically correct script.
Use emojis and smileys to lace the conversation with humor and spontaneity.
Use rich media elements in your chatbot.
List the chatbot's functionality upfront by designing messages to convey that.
Customize the chatbot to fit your brand's look and aesthetic.
Create design elements that make it easy for your customers to leave.
These are a few ways you can customize your chatbot's conversational interfaces to better engage your audience. With these customization best practices, you can design a bot that syncs in with your brand.
7. Use the Right Type of Chatbot
As we mentioned, there are two kinds of chatbots: rule-based and AI bots. Each bot has its benefits and drawbacks. Rule-based chatbots are also known as decision tree bots and can offer answers to only what you train them for. They can map out scripts called conversational flows.
Here are some benefits of such chatbots:
They are generally easier to train.
These chatbots integrate with legacy systems readily.
They can include media elements to boost interactivity.
They are not limited to text interactions.
Artificial intelligence chatbots, on the other hand, utilize machine learning to figure out the intent of the query. These chatbots can give answers to complex questions using NLP.
Here are the benefits of an AI chatbot:
It learns from information gathered.
Improves as it interacts with users.
It can make decisions automatically.
It can pick up many languages.
While AI bots are much more advanced, they aren't always the perfect fit for the job. Therefore, consider these chatbot benefits when choosing a rule-based bot. Here are some points to focus on:
The goal you are leading your team towards.
If you are interested in your bot as an FAQ resource.
Your chatbot will screen users to direct them to human agents.
You don't have a large pool of visitors to train your bot.
Rule-based bots can be quite flexible in handling customer cases. If they can't manage their queries effectively, you can work on those flaws in your customer service.
8. Using Analytics Smartly
With the help of analytics, you can brainstorm ways to engage customers. With customer engagement strategies, you can browse customers through the entire journey from start to finish. A step-by-step approach of chatbot making involves refining our understanding of the customer journey and behavior.
How does a chatbot help you map the customer journey?
To understand the customer, you only have numbers and that is where analytics helps. Using analytics, you can gain insights into where customers spend their time and the quality of engagement. Hence, these versatile tools are the most effective brand touchpoint right now!
For instance, you can keep track of form submissions on your chatbot. Based on this knowledge, you can create a lead generation strategy that tests the wording and timing of the form. You can look at relevant customer data to know what works, then you can pivot this strategy.
9. Make Use of Quick Replies
One of the best practices for chatbot development is to use quick replies. This tactic allows you to manage multiple chats at the same time. When you receive a routine request, you can communicate with the customer immediately with a pre-written message.
You should use them at the beginning of the chat as they are less flexible. Quick replies are predefined responses that your chatbots can offer customers to select. You should focus on using fewer words in them as it keeps your customer from losing interest.
It is a feature offered on messaging channels such as Whatsapp. On Whatsapp, you can use quick replies to simplify business communication. Now, we will talk about other channels your chatbot should be integrated with to ensure customer satisfaction.
10. Integrate With Other Messaging Channels
Messaging is more popular on messaging and social media platforms than it is on a website. Therefore, you get the opportunity to connect with your customers from any channel possible. You can engage leads by sending them updates via Whatsapp and Facebook Messenger.
According to Statista, it is anticipated that phone-based messaging users will reach 3 billion by 2022. Right now, there is no match for Whatsapp, which commands a presence of 2 billion users. Along with that, Facebook Messenger and WeChat are the top messaging platforms.
Conclusion
Chatbots are quickly becoming the best way to drive conversions, generate leads, and improve the customer experience.
Picking the right chatbot is key to offering better customer service. Once you choose the right chatbot, you need to identify your target audience to shape its tone of voice. Afterwards add some customization features to make it look aesthetically pleasing.
Chatbot UI is another discipline that focuses on improving the experience for customers. We have discussed some chatbot best practices that can help you design the conversational and design interface. All of this helps you build a great customer experience.
Lastly, if you wish to stick to live chat, then you can try out our live chat solution, ProProfs Chat. It is perfect for brands that want in-depth analytics and a user-friendly interface. You can avail a free trial of 15 days and test it out yourself!
FAQs
Chatbots require a lot of study and research before making the purchase. Here are common chatbot questions to help you get started:
How do you know if chatbots are the right tool for your business?
If your business relies on real-time engagement as a form of customer service, then having a chatbot is essential. It is crucial when you need 24×7 support and have agents busy with multiple chats. Also, if you are looking for a way to screen customers before directing them to agents, then you might need a chatbot.
A chatbot can become essential for your business if you have customer service or marketing requirements. In customer service, these tools can interact with users and help them with any issues they may have. When it comes to marketing, chatbots can help you generate leads through form submissions and qualify leads with scripted questions gauging the user's interest.
How long does it take to get a chatbot working?
With ProProfs Chat, you can get a chatbot started in less than an hour. All you have to do is follow these steps:
Login to your ProProfs Chat account.
Click on Operators in the menu bar on the top.
Go to Bots on the left-hand side.
Select your chatbot template.
Select the questions you want to ask and the decision nodes.
Create conversational flows with a variety of multiple-choice questions, open response queries, and actions to choose from.
That's it! You are ready to deploy your chatbot.
How can I understand if my chatbot implementation is successful or not?
To understand if the chatbot implementation was successful or not, you need to assign KPIs for the chatbot performance. Here are three metrics that make up a performance report:
Total chats received
Total valid chats
Total invalid chats
You can even track the number of visitors that engaged with your chatbot when the chat dropped. These metrics will help you find ways to improve your customer experience. Here's how:
Collect feedback once the chat is over. With surveys at the end of chats, you can capture how customers feel with the help of open-ended questions.
Determine how many chats were valid in a given time period, and check how long the chat lasted. It will help you understand if your conversation flows require improvement or not.
Do you want a free Live Chat software?
We have the #1 Online Live Chat Software for instant customer support 24x7