From wise entrepreneurs to young freelancers, Wix is used by millions of users to create the best-looking websites. But creating an aesthetically appealing website is one thing, and engaging visitors is another. Do you wish you could answer visitor questions even while your team sleeps? A Wix chatbot can help you assist customers 24×7, capture high-quality leads, recommend higher-priced or complimentary products, and boost revenue for your business. And the best part is that deploying these chatbots on your website requires no technical background or coding skills.
So, if you wish to find the best chatbot for your Wix website, you have come to the right place.
In this blog, we will understand the various benefits of adding a chatbot and explore 5 powerful chatbot tools that you can consider this year. Later, we will learn how to add a chatbot to a Wix website in just a few simple steps.
Let's go!
What Is a Wix Chatbot?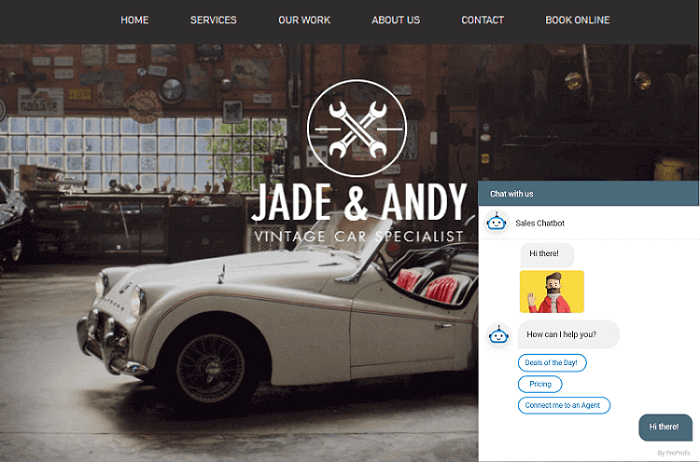 A Wix chatbot is a software program designed to mimic human-like conversations with website visitors. When deployed on your website, this chatbot can help you offer 24×7 assistance on your Wix website.
You can design bots to interact with customers 24×7, answer their basic questions, set appointments, generate leads, and promote your business all day long. If the bot is unable to answer a customer question, it can be programmed to route the conversation to an available human operator.
Why Do You Need a Chatbot for a Wix Website?
Whether you create a business website through Wix or any other platform, chatbots can positively impact your team's efficiency and the company's bottom line. Let's discuss some of the top benefits of the Wix chatbot:
Wix Does Not Offer the Chatbot Feature
Wix is a world-class online website-building platform that is used by millions of freelancers, students, and entrepreneurs across the globe. Currently, Wix does not offer a chatbot feature to respond to visitor messages automatically.
This means that you will have to integrate Wix with a chatbot builder to deploy a powerful bot on your website. However, you can use Wix Automations to set up general automated messages such as "Welcome! to our online store" or "Our customer service team will be back soon."
2. Generate Leads for Your Business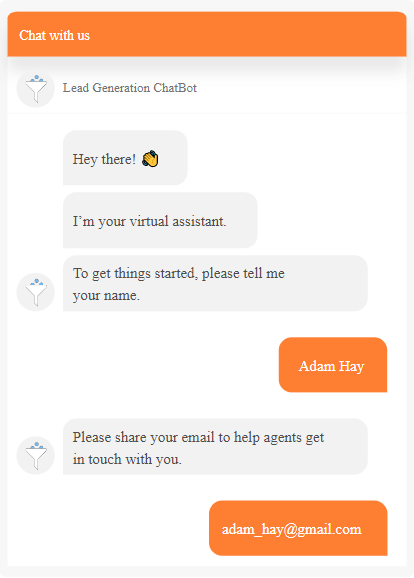 Marketing experts love lead generation simply because the more leads you have, the higher the chances that some of them will convert into paying customers.
According to a study, around 17% of businesses want to attain their marketing and lead-generation objectives using chatbots.
So how exactly can a chatbot for Wix help here? A lead generation chatbot can help you capture visitor details so that you don't lose them forever. With useful data at your fingertips (such as email id, phone number, etc.), you can approach your leads via different marketing channels. A chatbot is a cost-effective way to fast-track the lead acquisition process for your Wix website.
3. Automate Appointment Bookings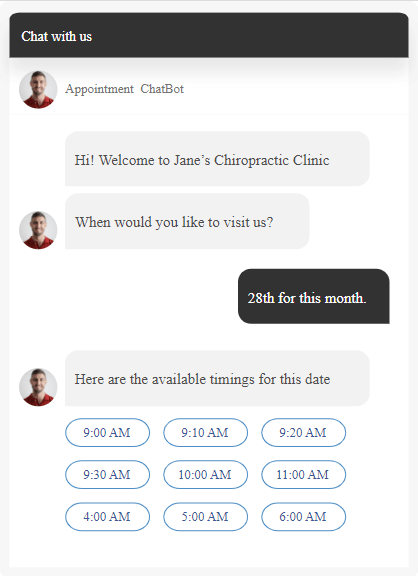 There was a time when customers had to wait for a front desk receptionist to pick up the call for appointment booking. Not anymore.
Whether you operate a small healthcare clinic or a beauty salon, you can easily deploy appointment-booking chatbots on your Wix website.
This bot can display all the available slots to customers so they can book their appointments at their own convenience. In addition, the chatbot can also confirm the appointment details to customers once the chat is about to end. You can even choose to send the confirmed appointment details to customers on their respective email accounts.
4. Provide 24×7 Support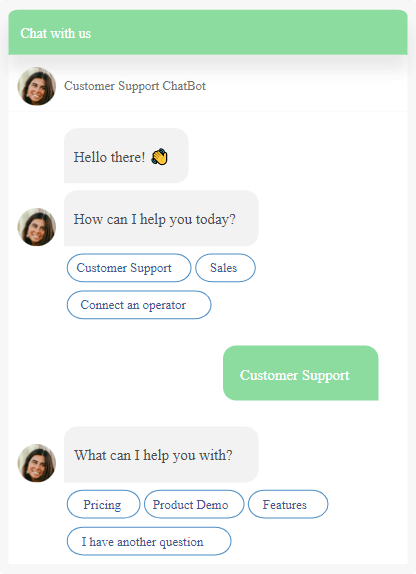 Chatbots can be designed to answer frequently asked customer questions. For example, you can assist customers with their routine queries such as "What are your return policies?" "Do you have any ongoing offers?" etc.
Chatbots are a great way to automate customer service on your Wix website. Even if your support reps operate from 9 to 5, bots can offer 24×7 assistance.
While Wix chatbots can handle routine customer queries, your agents can interact with customers via email or phone to handle more complex issues. In addition to this, you can even connect your chatbot with your knowledge base. This will allow the bot to display relevant help articles to visitors and encourage self-service.
5. Boost Online Sales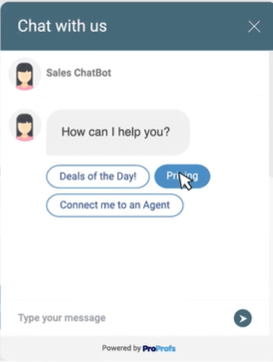 Do you run your e-commerce store using the Wix platform? Chatbots can help you double or even triple your online sales.
According to a study, 35% of business owners shared that virtual agents made it easier for their businesses to close sales deals.
You can display your ongoing or upcoming offers, deals, and discounts with a sales chatbot. Bots can even share your best-selling products or recommend complementary products to help increase your average order size. Moreover, in the absence of a sales agent, the bot can capture sales inquiries by sharing relevant forms.
Read More: How to Use Live Chat in Your Sales Funnel
5 Best Wix Chatbots to Consider in 2022
Now, it's time to explore the different tools that are used by businesses to automate customer interactions on their Wix website. Here are 5 Wix chatbot software to consider this year: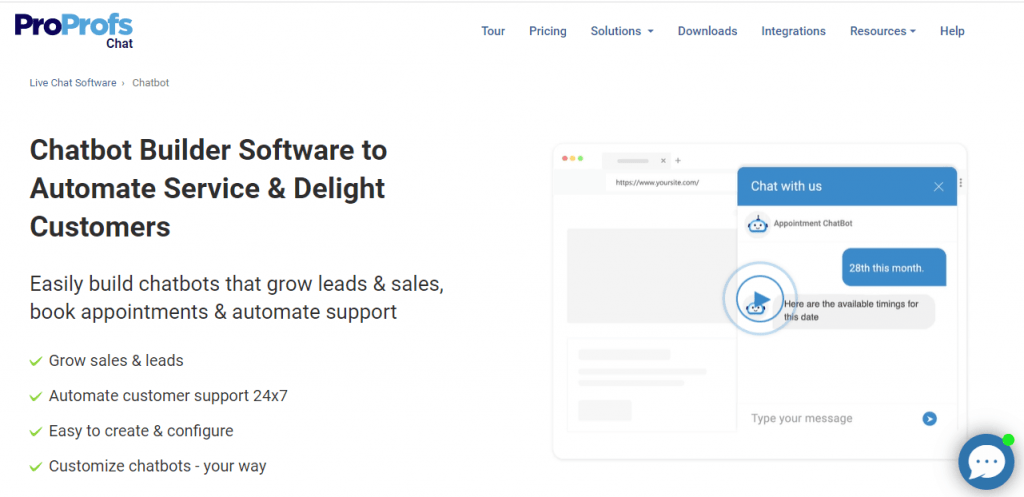 ProProfs Chat helps you create conversational chatbots using pre-built templates designed by experts. You can deploy bots on your Wix website for different purposes – customer service, appointment bookings, lead generation, feedback collection, sales, help desk ticketing, and more.
With this Wix automated chatbot, you can ask multiple-choice or open-response questions to collect relevant information. In addition, you can connect with the ProProfs Help Desk to convert chatbot conversations into tickets and route them to support agents.
Top Features of ProProfs Chat:
Transfer chats to human operators during strategic moments
Drag and drop interactions to build the conversation flow
Allow bots to share relevant help articles with visitors
Edit conversations without any coding skills
Design chatbot interactions with branching logic
Pricing:
Starts at $20/operator/month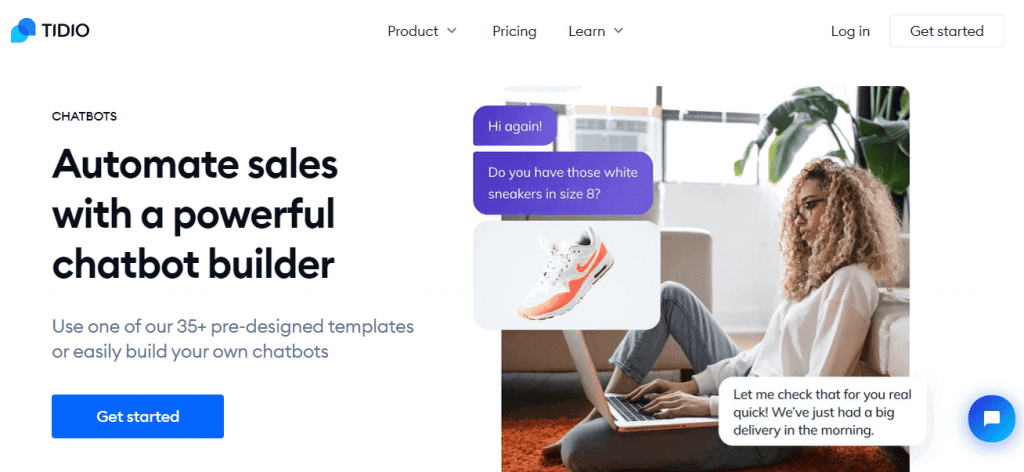 Tidio chatbots are designed to help you sell more through your Wix website. For example, you can share personalized messages offering discounts to new visitors or existing customers.
Tidio offers around 35+ pre-built chatbot templates to help you get started in no time. Bots can also be used to recommend best-selling products or hot deals to customers. In addition, you can automatically capture leads based on visitor behavior on your website.
Top Features of Tidio:
Allow customers to place orders directly from the chat widget
Understand where your website visitors are coming from
Offer a discount at the right time to reduce cart abandonment rate
Send automated replies when all operators are busy
Share satisfaction surveys at the end of the conversation
Pricing:
Starts at $15.83/operator/month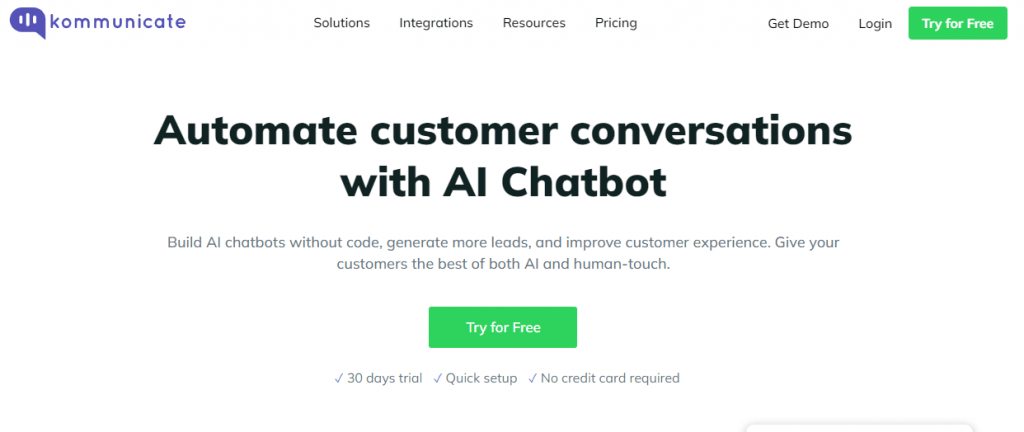 Kommunicate helps you build AI-powered chatbots without any coding skills. With the help of this tool, you can develop bots that can qualify leads, support customers 24×7, and schedule meetings.
In addition to your Wix website, you can create chatbots for leading social media platforms such as WhatsApp, Facebook, Line, and more. Bots can leverage user information to personalize interactions, recommend products, and close more sales.
Top Features of Kommunicate:
Design conversational workflows according to your needs
Seamlessly transfer conversations from bot to human operators
Access powerful performance analytics and insights
Customize the chat window to match your brand aesthetics
Empower customers by sharing FAQ pages and knowledge base articles
Pricing:
Starts at $40/month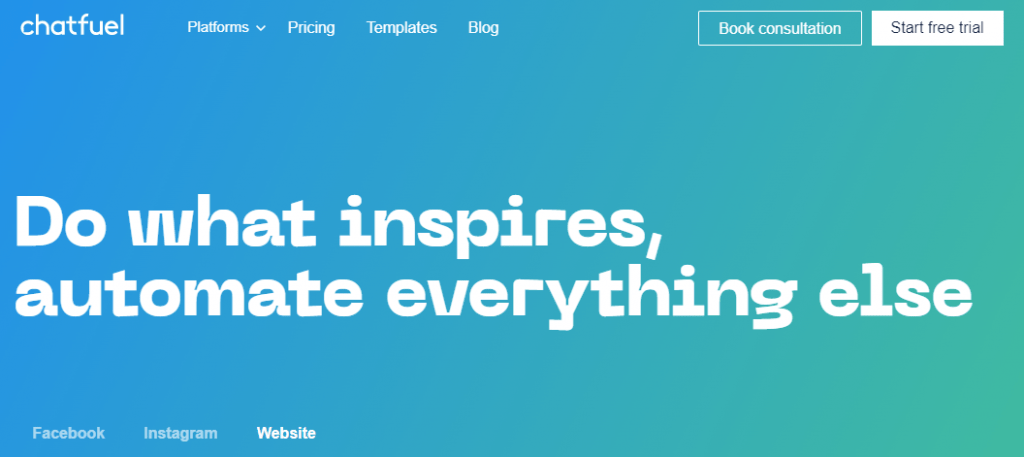 Chatfuel allows you to enable a chatbot on your Wix website to share instant answers with your audience. You can announce new products and updates to boost your business revenue.
When it comes to appointment bookings, Chatfuel chatbots can help you automate the entire process. You can allow customers to book appointments in just a few clicks and share automated updates and reminders.
Top Features of Chatfuel:
Ask for customer feedback right after an interaction
Refer to customers by their names to personalize the experience
Notify customers when a product is back in stock
Qualify leads, and store them in your CRM tool
Motivate customers to buy more and enhance loyalty
Pricing:
Starts at $14.99/month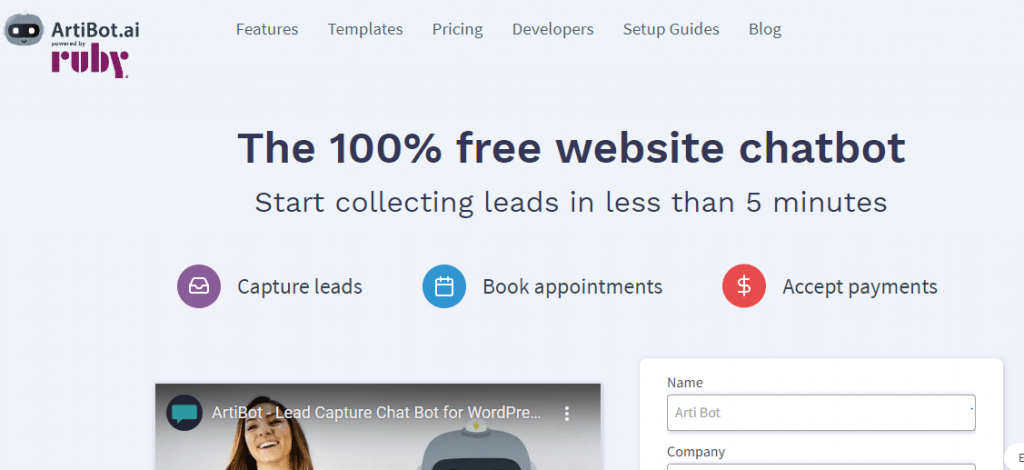 ArtiBot can help your business achieve three major goals – you can capture high-quality leads, allow customers to schedule appointments, and collect payments from them.
ArtiBot helps your business ask the right questions at the right time. The bot can branch to different questions based on the visitor's answers to get appropriate details. In addition, questions come with field validation to recognize dates, numbers, and more.
Top Features of ArtiBot:
Ask questions with multiple choice options
Integrate with Google Calendar for appointment scheduling
Receive notifications on the move with mobile apps
Set an amount and collect payments from customers
Once you receive payment successfully, branch to different content
Pricing:
Starts at $19/month
How to Add Live Chat to Your Wix Website
Integrating Live Chat with Wix allows you to support visitors 24×7 and grow sales. Here we have taken the example of ProProfs Chat to show the steps you need to follow:
Step 1: In your ProProfs Live Chat Account:
Navigate to Settings.
Click the Installation tab.
Copy the Live Chat Installation Code.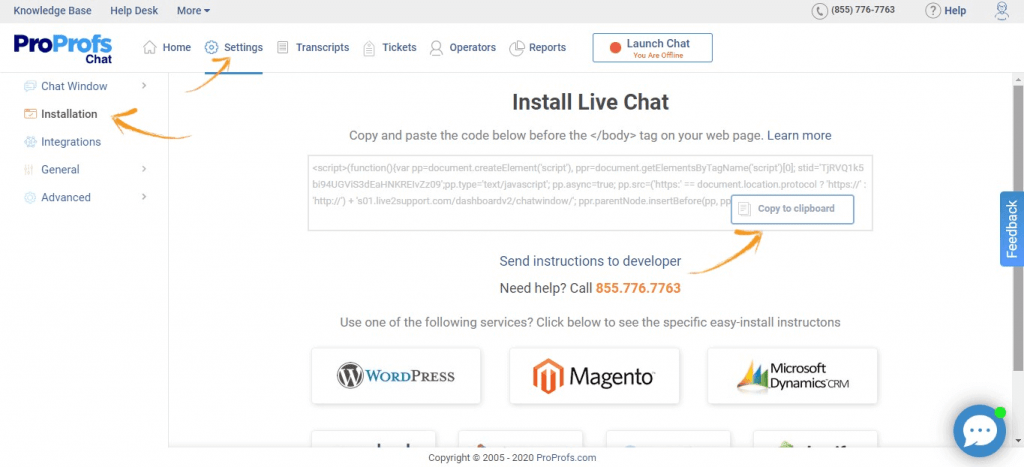 Step 2:
Now, log in to your Wix account.
Open the Wix Website Editor and click on the Add tab (it's the plus '+' sign on the menu to the left in the WIX editor).
Go to 'Embed,' then select 'Embed a Widget.'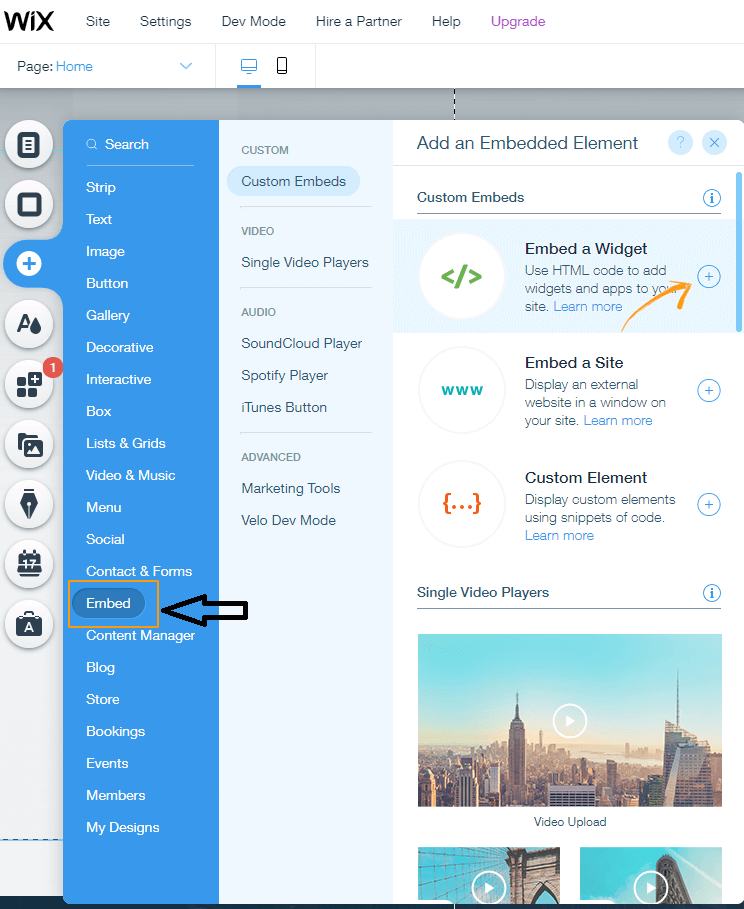 Step 3:
Click on HTML Iframe
Click on Enter Code. A new window will open up.
Paste the ProProfs Live Chat Code here.
Once done, click on Apply.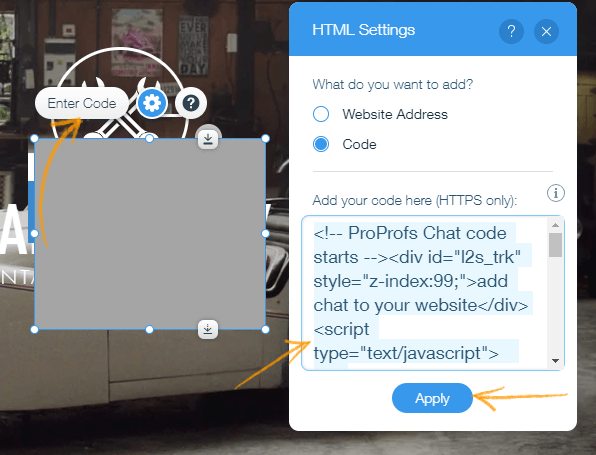 Step 4:
In this step, you need to 'resize' the HTML box. Click the HTML box to select and highlight it.
From the settings toolbar, update the size (Width: 350 and Height: 410). The box is now big enough for the chat window to expand when clicked.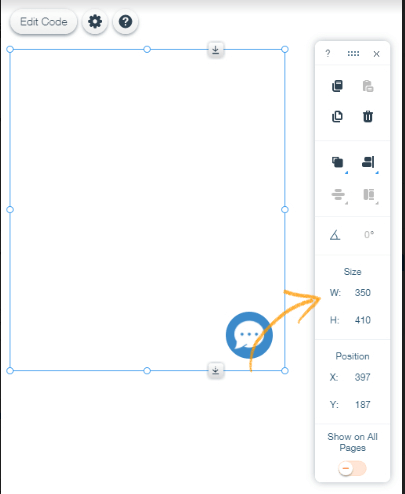 Step 5:
Right-click and select 'pin to screen.'
Here, you can choose the position of the chat window. For a better experience, It is advised to set the position to the bottom right corner of your website.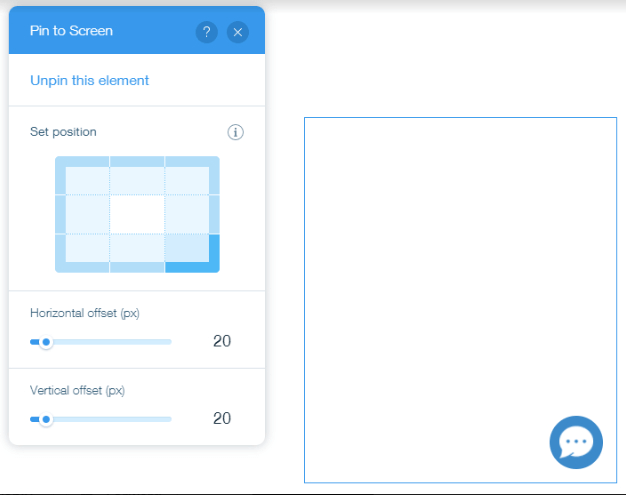 Step 6:
Save the new changes and click Preview from the top right of the Wix dashboard.
Check the look and position of the chat window.
To sync the Wix website with ProProfs Chat, go back to the editor and click Publish.
That's it! Congratulations! You can now offer live chat and chatbot assistance to visitors on your Wix website.
Read more: How to Add Live Chat to Your Website?
Deploy a Wix Chatbot Today & Boost Visitor Engagement!
Whether your website is visited by ten people or a million, interacting with visitors is vital for customer acquisition and engagement. If you are looking to automate customer interactions on your Wix website, a chatbot can be of immense help.
With a Wix chatbot, you can support customers with their routine questions, capture high-quality leads, automate appointment scheduling, and delight customers with 24×7 availability.
ProProfs Chat can be your ideal tool if you wish to offer live chat and chatbot services on your Wix website. With a simple drag-and-drop feature, you can build your chatbot conversations and delight customers with instant and personalized responses.
Do you want a free Live Chat software?
We have the #1 Online Live Chat Software for instant customer support 24x7