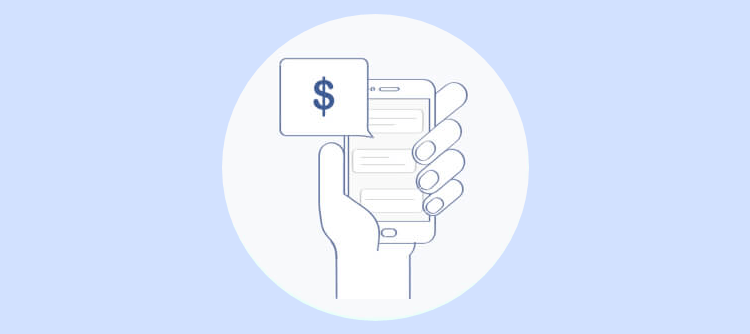 Managing a customer service process is an expensive affair. Imagine the costs associated with hiring and paying the right people, investing in infrastructure, and adopting AI-powered technology tools such as chatbots.
However, not everything that sounds amazing is expensive.
You will be surprised to know that chatbot pricing depends on multiple factors and need not require your business to pay an arm and a leg. In fact, you can build your own bot in a matter of minutes and automate your customer service or lead generation process.
If you are wondering "how much does a chatbot cost" or "what are the different chatbot prices," we have all the answers in store for you.
In this blog, we will explore all the major factors that can influence your chatbot pricing, compare the pros and cons of customer chat development vs. chatbot builder software, and help you make the best investment.
What Is Chatbot?
A chatbot is a sophisticated computer program designed to simulate human-like chat conversations. Chatbots can be simple programs that offer scripted responses to basic queries. On the other hand, they can be AI-powered assistants that learn to personalize interactions and evolve as more and more information is available.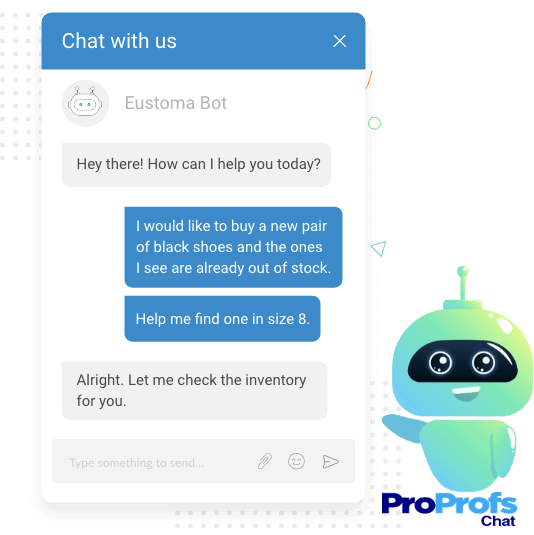 More and more businesses are adopting chatbots to automate their customer service and marketing processes. For example, bots can be used to assist customers with their basic queries related to product availability, returns, delivery, etc. Similarly, they can also be used to engage prospects and convert them into reliable leads.
If you think chatbots are probably a new phenomenon, you are wrong. Chatbots have been in existence for almost three decades now. In fact, the first chatbot was developed by Joseph Weizenbaum at MIT in 1994.
We all have interacted with a website bot at some point or another. For example, you probably engaged with a bot when inquiring about the status of your food delivery or the availability of your favorite pair of jeans.
What Factors Can Affect Chatbot Pricing?
We have discussed all the great things a chatbot can do for your business, but it still brings us back to the same question, "how much does a chatbot cost?" To answer this question, we have accumulated a list of six factors that will determine the real cost of your chatbot.
1. Type of Deployment (Custom Development vs. Chatbot Builder)
In custom chatbot development, you hire a third-party development company that can build a chatbot based on your unique needs and expectations. On the other hand, if you use a chatbot builder, you can build your own bot in a matter of minutes and enjoy greater customization.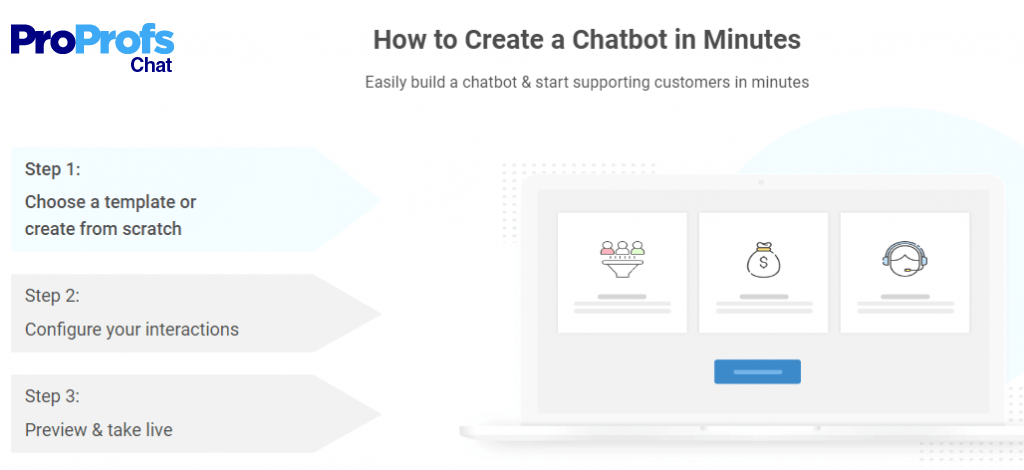 In custom development, a specific development team will be assigned to build your chatbot, making the process more expensive. However, you can save thousands of dollars with an affordable bot builder.
2. Type of Plan (Basic vs. Premium)
Most SaaS chatbot builders offer multiple subscription plans to their users. Users can either opt for the basic (most affordable) or higher-end/premium (most expensive) plans.
So why would premium cost more than the basic plan? Well, it all comes down to the features you will get. For example, a basic plan can offer a single chatbot, basic reporting, and a limited number of chats/month. On the other hand, with a premium plan, you can enjoy unlimited bots, data security, premium support, a dedicated account manager, and much more.
3. Number of Domains
A domain name refers to a string of text that acts as your website's unique identity. For example, the domain name for Google is 'google.com.' Sub-domains would be 'maps.google.com' or 'images.google.com.'
Now, your chatbot price can increase if you want to deploy it on more domains and subdomains. For example, if you wish to deploy separate bots for your homepage, blog page, or FAQ pages, you will naturally have to pay more.
4. Number of Internal Processes
As you might know, chatbots have multiple use cases and can be deployed by different departments to automate customer communications. For example, the sales team can deploy bots to allow prospects to book product demos. Similarly, bots can be used by customer service teams to handle routine support queries. The cost will naturally be higher if your business wants to develop chatbots for multiple internal processes.
5. Type of Bot (Scripted vs. AI-Powered)
Scripted chatbots use branching logic to answer common customer questions. They work similar to IVR, and their use is limited to answering frequently asked questions. AI-powered bots make use of AI and ML (machine learning) to remember conversations and use past data to personalize present interactions.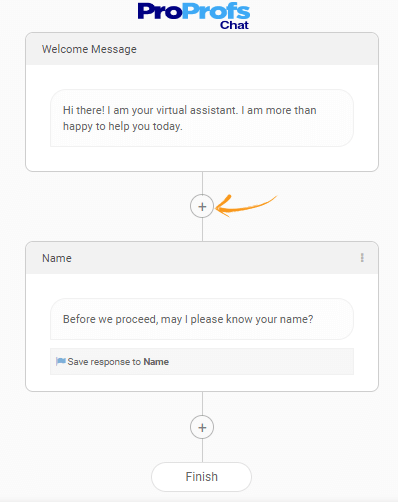 As you can see, scripted bots are simple to build and deploy and, therefore, are more affordable. On the contrary, AI-powered bots make use of complex algorithms and come at a heavy price.
6. Integrations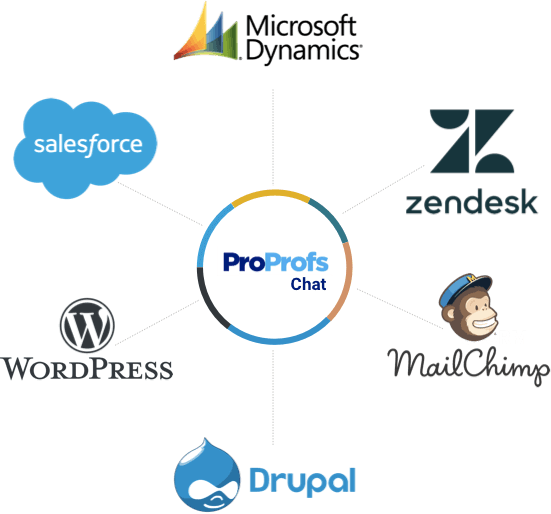 Chatbot pricing can also depend on the available integration options to third-party tools, e-commerce stores, apps, etc. Powerful integrations can ensure your team can streamline workflows, collaborate with other departments, and manage data with ease.
In most cases, integration options can include CRM, CMS, email marketing, help desk, and other tools. For example, you can integrate ProProfs Chatbot with 50+ tools and platforms, including Salesforce, SugarCRM, Shopify, Mailchimp, Zendesk, etc. Some chatbot vendors can charge you an additional fee to leverage more integrations.
Custom Chatbot Development or Chatbot Builders?
62% of customers say they would prefer to use a customer service chatbot instead of waiting for human agents to answer their requests.
Custom chatbot pricing can vary from one company to another and their respective experiences in the industry. However, roughly, it can cost your business anywhere from $10,000 to $50,000. The price would involve everything from designing to execution to making any last-moment changes that you request before initiating the payment.
So how much does it cost to build a chatbot on your own? Well, it's a much cheaper alternative to build your own than to purchase a ready-to-go bot. With any chatbot builder, you can start with your basic chatbot for as low as $50-60/month (single bot). The pricing can go above $100/month when you need to deploy multiple bots for multiple domains. Many chatbot software even offers an enterprise plan to offer more customization and security features.
The best part about building your own bot is that your business does not need to make a one-time, heavy investment. You can enjoy flexible monthly subscription plans and move to higher-end plans as your need grows.
Factors to Consider for Chatbot Development
Chatbot development can be an expensive and time-consuming process. You will have to indulge in the process of finding a suitable development company, negotiate the pricing, make regular follow-ups, and wait till your tool is ready for deployment.
Here are some questions you need to address for custom chatbot development:
How many years of experience do they have?
The experience of the development company is of utmost importance. Engaging with a week-old startup might not be the best idea if you want to develop an advanced bot. Look for a company that has relevant experience in developing bots for your industry and internal processes (sales, customer service, etc.). You can always ask them to show their work portfolio and take inspiration.
How much time will the company take to build the chatbot?
You don't want your bot to sit with the development company for months or even years. To keep things transparent, agree on a time period that both parties are comfortable with. In your agreement papers, you can even mention what actions shall be imposed if the development company misses its deadline.
Whom will you contact when something goes wrong?
Imagine a situation where your chatbot is live on your website, and due to some reason, it shares irrelevant information with website visitors. This can hamper the customer experience and make them lose trust in your brand. To be on the safe side, make sure the development company offers reliable support via email, phone, or chat. This will help your internal team get things fixed as soon as possible.
Factors to Consider for Chatbot Builder
As discussed before, the cost to build a chatbot with a chatbot builder is cost-effective and can be done quickly. You can build your own bot using ready-to-use chatbot templates in less than an hour. If you wish to create one from scratch, it might take you anywhere from a couple of hours to one day.
Here are some questions you need to address when using a chatbot builder:
Are there any hidden or additional charges?
We all hate surprises when the final bill comes out. If the vendor imposes any hidden or additional charges, make sure you are aware of them beforehand. This will help you keep chatbot costs in control and avoid going over budget.
What features will you get in the free trial?
Most chatbot software come with a free trial period ranging anywhere from 7-30 days. During this period, you can enjoy powerful features, explore the interface, and get a hands-on experience using the tool. However, you need to confirm the features you will get during the trial period as it will eventually determine your final decision.
Can you change your plan anytime? How do you cancel your subscription?
Any trustworthy chatbot builder tool will allow you to seamlessly change your plan based on your growing or diminishing needs. In addition to this, you need to ensure the company allows you to cancel your subscription anytime without any hassles. The cancellation process has to be simple and transparent. For example, you can drop an email at "[email protected]" and cancel your subscription.
Reduce Chatbot Costs With the Best Chatbot Builder
Chatbots are miracle tools that can help your business assist customers 24×7, share proactive messages, generate leads, and grow your sales.
However, if you don't know how to invest in a chatbot, it could cost you loads of money. While custom chatbot development is relatively expensive, it can help you deploy AI-powered chatbots designed specifically for your unique needs.
On the other hand, with a chatbot builder, you can save thousands of dollars and take your bot live in a matter of minutes. If you are looking for an affordable, easy-to-use, yet powerful chatbot builder, then ProProfs Chat can be your best bet. You can use pre-designed templates for lead generation, sales, appointment booking, ticketing, and much more.
Do you want a free Live Chat software?
We have the #1 Online Live Chat Software for instant customer support 24x7