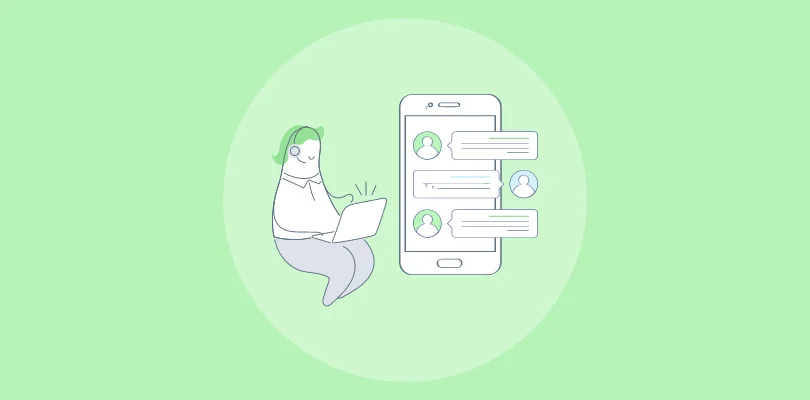 Have your customers ever complained about long wait times while getting their queries resolved? Do they report receiving unsympathetic responses to their inquiries?
Happens to the best of us! This is where live chat for customer support comes in – it's a fast and efficient way to get the help your customers need.
But live chat support isn't just about getting answers quickly. It's also about building a personal connection with your customers and providing them with a seamless, positive experience. When customers feel heard and valued, they're more likely to become loyal fans of your brand and recommend you to others.
This blog will explore the world of live chat support and how it can benefit your business. Whether you're a small startup or a large business, we'll provide you with the know-how and best practices for using it to its full potential.
Let's get started!
What Does Live Chat Support Mean?

Live chat support is a customer service channel that allows website visitors to chat with customer support representatives in real time through a messaging interface. It is a popular way for customers to get quick help without having to wait on hold on the phone or send an email and wait for a response.
This tool typically involves a chat window on a website or app where users can type their questions or concerns and receive responses from a live customer support agent. Live chat support systems also include features such as file sharing, co-browsing, and screen sharing to help the agent better assist the customer.
Live chat is becoming increasingly popular as it offers a more immediate and convenient way for customers to get help, enabling you to provide faster and more personalized customer support.
Read More:  How Does Live Chat Work?
Benefits of Live Chat Support
The following are the key benefits of incorporating live chat into your customer support strategy.
1. Reduce Wait Time
Live chat is an effective tool for reducing customer wait time as it provides your website visitors with instant assistance. Customers can easily connect with a support agent who can quickly answer their questions and resolve their issues.
This immediate response saves customers from waiting on hold or for an email response, improving the overall customer experience.
Additionally, live chat support for websites enables support agents to handle multiple customer inquiries simultaneously, which helps reduce wait times. Agents can respond to common queries more quickly and efficiently using pre-written canned responses.
Moreover, live chat allows customers to get real-time updates on their inquiries, reducing the need for follow-up calls or emails.
2. Monitor Operator Performance

Live chat can be an invaluable tool for monitoring the performance of operators. It makes it possible to track the speed and quality of responses, as well as the total number of chats handled by each operator. By monitoring these metrics, you can identify areas where operators may need additional training or support.
For example, if an operator consistently takes longer to respond than others, it may indicate that they need additional training in handling customer queries or resolving issues.
In addition to monitoring individual operator performance, live chat can also help identify trends or patterns in customer queries. By analyzing the types of questions or issues that are most frequently raised, you can make adjustments to their products, services, or support processes to better meet customer needs.
3. Turn Into a Lead-Generation Machine
Live chat lets you gather valuable information about your website visitors, such as their contact details, browsing history, and preferences. This data can be used to tailor your marketing campaigns and create targeted messaging that resonates with your audience.
By asking targeted questions and guiding prospects through the sales funnel, live chat can help you identify high-quality leads and prioritize them.
Additionally, it allows you to proactively reach out to visitors showing signs of interest in your products or services, such as those who have spent a certain amount of time on your site or added items to their cart.
By offering assistance or special promotions, you can further incentivize these visitors to make a purchase. Thus, live chat support service can help you capture and convert more website visitors into loyal customers.
Read More:  12 Benefits of Using Live Chat for Your Website
10 Best Live Chat Apps for Customer Support
Live chat for customer support enhances prospect engagement and moves them toward becoming high-paying customers.
There are many live chat software options available to help you improve your customer experience, but choosing the right one can be a daunting task. Thus, we have compiled a list of the 10 best live chat solutions that can help you upscale your business.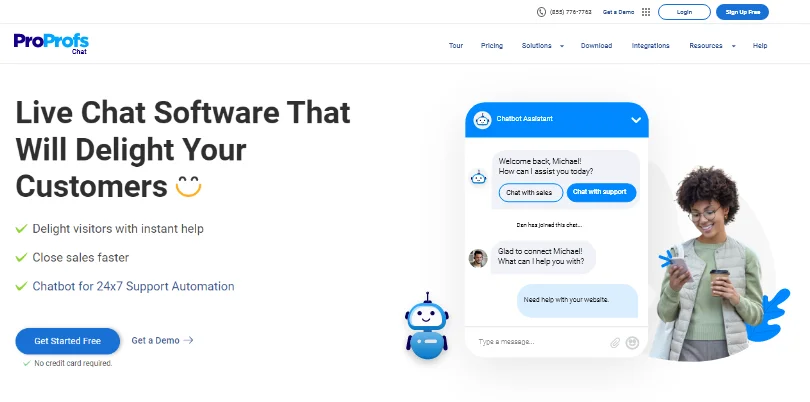 ProProfs Chat is a powerful live chat software that enables you to provide seamless customer support and increase conversions. With features like an automated chatbot, a customizable chat widget, and real-time visitor monitoring, ProProfs Chat helps you engage with your customers at every stage of the buying journey.
The software also allows agents to handle multiple chats simultaneously and provides comprehensive reports and analytics to help you improve your customer support performance. Whether you're looking to boost sales, reduce response times, or improve customer satisfaction, ProProfs Chat is the perfect solution for your business.
Key features:
Use canned responses to send automated messages for repetitive questions.
Capture visitor information with pre-chat forms.
Analyze your operator performance with detailed reports and analytics.
Trigger chat with customers with automatic invites using invitation pop-ups.
Pricing: Looking for budget-friendly live chat pricing? Begin with a forever-free plan for a single operator or select a team plan at just USD 19.99. Start your live chat experience now!
With its easy-to-use interface and customizable features, HelpScout streamlines customer communication and helps provide personalized support. Whether it's resolving a query or providing solutions, HelpScout Chat empowers you to deliver quick, efficient, and personalized responses to customers.
With its advanced reporting and analytics capabilities, you can gain valuable insights into customer behavior and tailor their support solutions accordingly. Overall, HelpScout can be a valuable addition to your business if you're looking to enhance the overall support experience.
Key features:
Engage your prospects efficiently with proactive chat invitations.
Resolve customer inquiries by routing them to relevant support agents.
Gather insights into customer behavior with visitor tracking.
Offer robust data management of customer inquiries with CRM integration.
Pricing: Starts at $20/user/month.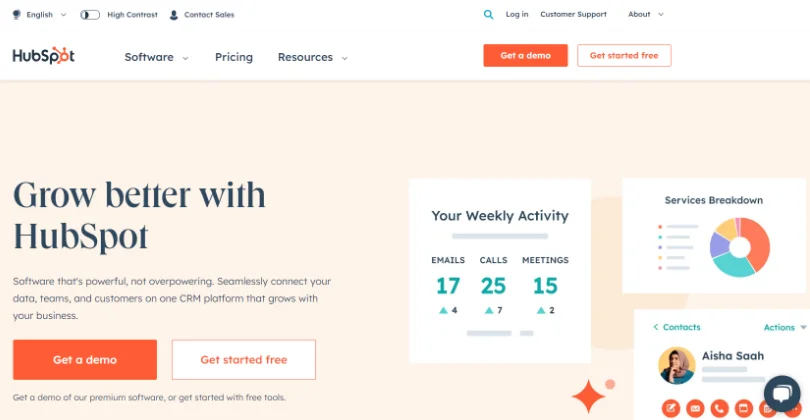 HubSpot's user-friendly interface and customizable settings make it easy for you to engage with your website visitors and offer personalized support. Whether you're looking to generate leads, provide customer service, or simply engage with your audience, HubSpot Chat has everything you need to make it happen.
With features like chatbots, canned responses, and visitor tracking, HubSpot Chat helps you build meaningful relationships with your customers and improve their overall online experience.
Key features:
Reduce support tickets with the searchable self-help library.
Deliver fast responses to customer questions with chat automation.
Optimize chatbots to extend 24*7 support to your customers.
Understand the clear context of each customer interaction with universal inbox.
Pricing: Starts at $45/month.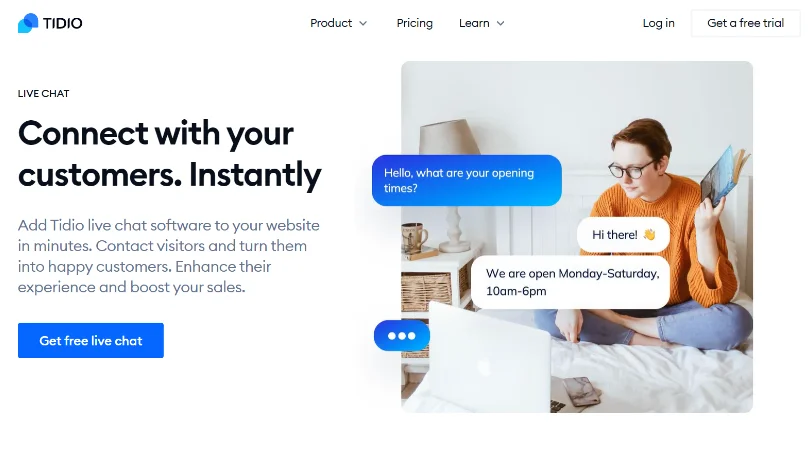 Tidio Chat is a powerful yet user-friendly live chat software that allows you to interact with your website visitors efficiently. With its intuitive interface, Tidio enables your agents to easily manage and respond to customer inquiries, provide personalized support, and even automate specific tasks with the help of chatbots.
The tool also integrates with popular third-party platforms like Shopify, WordPress, and Wix, making it a versatile solution for businesses of all sizes. Its mobile app and multi-language support ensure that you can stay connected with your customers from anywhere in the world.
Key features:
Customize your live chat to match your brand's tone.
Automate chats with AI-powered chatbots to save time and effort.
Integrate your live chat with CRM, e-commerce, and other third-party tools for a seamless user experience.
Get insights into your customer's browsing history to offer personalized recommendations.
Pricing: Starts at $32.5/month.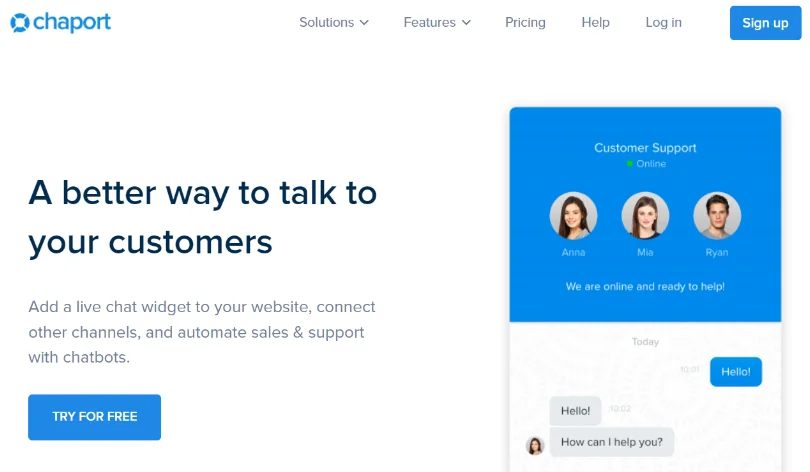 Chaport offers a wide range of features, including a customizable chat widget, automated messages, chat history, and file sharing. With Chaport, you can easily manage multiple chats simultaneously and provide excellent customer support.
It also supports integrations with tools like Slack, Zapier, and CRM software. Chaport's intuitive interface and affordable pricing make it an ideal solution for businesses looking to improve customer communication and increase sales.
Key features:
Leverage automatic chat invitations to engage your customers proactively.
Reduce operator response time by sneaking into your customers' typing to respond faster.
Smartly route chats to the concerned support agent for better resolution of inquiry.
Collect visitor information and qualify leads just before the chat initiates.
Pricing: Starts at $0/month ( limited features with no pre-chat forms ).
Podium is a powerful customer interaction platform that streamlines your communication channels and helps you connect with customers more meaningfully. With its user-friendly interface and advanced features, the tool makes it easy to manage your online reviews, text messages, and customer feedback from a single platform.
It also offers powerful analytics options to help you gain valuable insights into your customer interactions and improve your overall performance. Whether you're a small business owner or a large enterprise, Podium can help you take your customer communication to the next level.
Key features:
Transfer your leads to the right department with intelligent lead routing.
Leverage reporting dashboards to access data related to response time and managed conversations.
Optimize response automation to provide support even when live agents are unavailable.
Access customer conversations with a shared inbox for coordinated customer support.
Pricing: Starts at $249/month.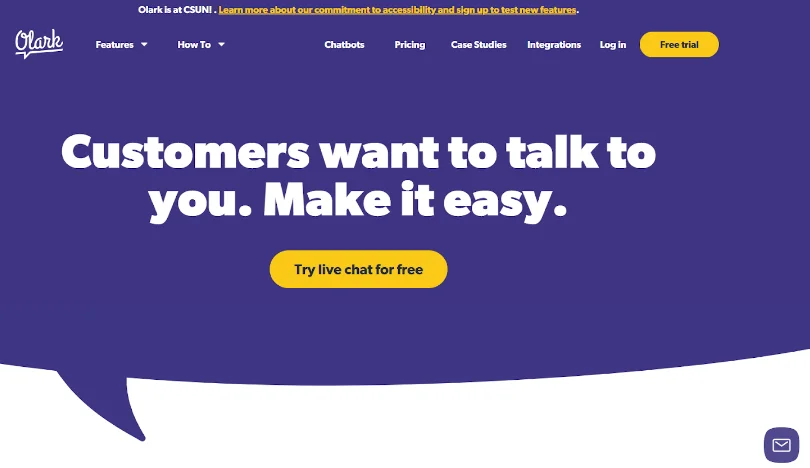 With Olark, you can provide personalized and efficient customer service through customizable chat windows and automated messages. The software integrates with popular platforms such as Salesforce and HubSpot, allowing you to manage customer interactions across multiple channels.
Olark also offers analytics tools to track customer behavior and measure the effectiveness of customer support efforts. Its advanced features, such as automation and integrations with other tools, make it a powerful tool for customer communication and support.
Key features:
Automatically interpret customer questions and send responses with the Co-pilot feature.
Route chats to the customers' sales territory using geolocation.
Monitor chat volume, customer satisfaction, and agent activity with live chat analytics.
Offer personalized customer support by accessing past conversations with chat transcripts.
Pricing: Starts at $29/month.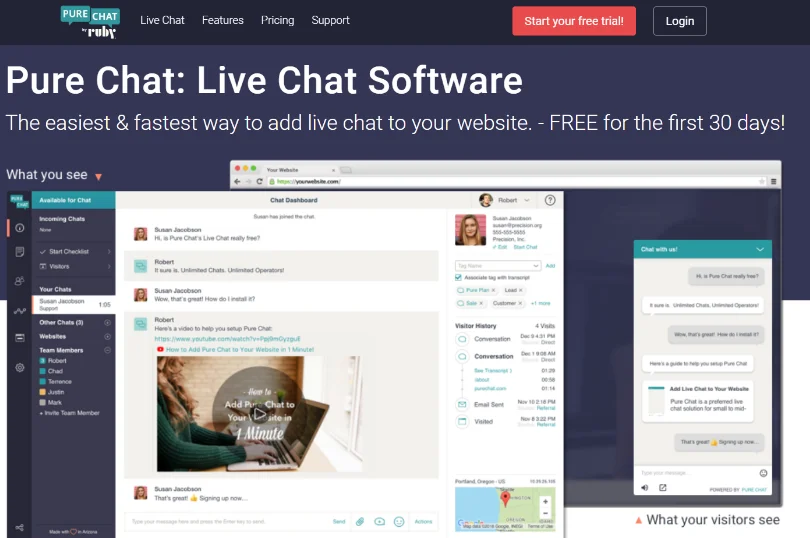 Pure Chat enables you to customize your chat widgets, track visitor activity, and integrate with popular CRM and email marketing tools. Its proactive chat feature lets you initiate conversations with website visitors and convert them into leads.
The tool offers unlimited chat transcripts that your operators can access to know about your customers' past preferences. This helps provide personalized product recommendations to the customers.
With its robust features and ease of use, Pure Chat is a great tool for businesses looking to increase customer engagement and improve customer satisfaction.
Key features:
Customize your chat widget for both mobile and desktop with a convenient editor.
Integrate with your CRM tool seamlessly for an enhanced user experience.
Optimize zero code chatbot builder to automate routine inquiries.
Share media with your prospects to engage customers using the file-sharing option.
Pricing: Starts at $49/month.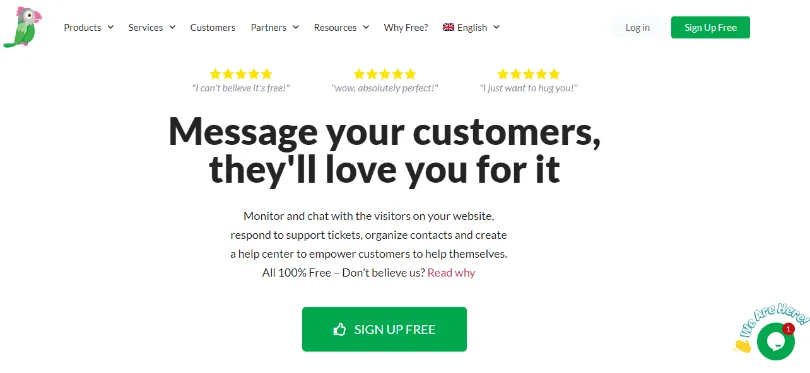 Tawk.to is a versatile and user-friendly communication platform that provides businesses with an all-in-one messaging solution. With features such as live chat, email integration, customizable widgets, and analytics, Tawk.to helps businesses of all sizes connect with their customers in real time.
The platform also offers a robust ticketing system, chatbots, and social media integration, making it a comprehensive tool for customer support and engagement.
Key features:
Tag and assign chats to suitable agents for swifter query resolution.
Offer round-the-clock customer support to your customers.
Monitor your customers' activity with detailed analytics.
Share self-help articles with your customers through knowledge base integration.
Pricing: Get in touch with the company for a quote.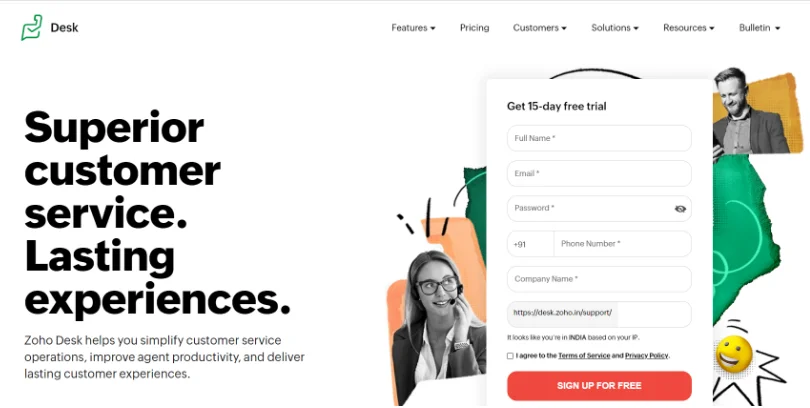 With Intercom, you can chat with website visitors, onboard new users, nurture leads, answer support questions, and get customer feedback. The platform also provides powerful automation tools to help you personalize interactions and scale customer communication.
Intercom is known for its intuitive interface, real-time messaging capabilities, and ability to help businesses build strong customer relationships through personalized and timely communication.
Key features:
Use an AI-powered chatbot to respond to common customer inquiries.
Optimize the Resolution bot to answer customer questions by referring to past conversations.
Offer multilingual support in 38+ languages to cater to a global audience.
Leverage the Customer Data Platform to offer personalized support to your customers.
Pricing: Get in touch with the company for a quote.
Read More:  Best Live Chat Software for Websites
5 Best Practices for a Successful Live Chat Support Experience

Live chat has become essential for businesses to engage with their customers in real time. It allows customers to receive quick and convenient assistance while reducing wait times and improving customer satisfaction.
To ensure a successful live chat support experience, here are 5 best practices to follow:
1. Provide Prompt & Polite Responses
One of the most important aspects of live chat help is to be prompt and polite when responding to customer inquiries. 79% of customers prefer live chat because of its immediate responses.
Make sure to greet the customer, introduce yourself, and address them by their name. Also, use polite and professional language when communicating with the customer.
2. Be Knowledgeable & Empathetic
To provide effective live chat support, you must know about your products and services. Make sure to train your support agents thoroughly on the products and services so that they can answer customer questions accurately.
Additionally, it is important to show empathy and understanding toward the customer's situation. If a customer is upset or frustrated, show compassion and apologize for any inconvenience.
3. Use Pre-Written Responses & FAQs
Pre-written responses and FAQs can be incredibly helpful in providing quick and consistent responses to common inquiries. Create a database of pre-written responses and FAQs that your support agents can use to respond to customers quickly and efficiently.
This will save time and ensure that customers receive accurate information. Canned responses offered by live chat can do this job for you.
4. Personalize the Experience
Personalization is key to a successful live chat support experience. Use the customer's name and reference their previous interactions with your business. This will help build rapport and make the customer feel valued.
Additionally, if a customer has a complex issue requiring further assistance, offer to follow up via email or phone to provide more personalized assistance.
5. Follow-Up
After the live chat session is over, it is important to follow up with the customer to ensure that their issue has been resolved. Send a follow-up email or message to the customer to ask if they need any further assistance.
This not only shows that you value their business but also helps to build customer loyalty. Post-chat surveys are a great way to achieve this.
Watch this quick video on how to measure customer satisfaction for your live chat support experiences.
How to Spot a Good Live Chat Provider?
A good live chat provider should offer a range of features that can enhance customer support and help you improve your online presence. Some of the key features that you should look for in a live chat provider are given below:
1. Customization
A good live chat provider should offer customization options, allowing you to personalize the chat window and chatbot to match your brand's look and feel. The customization options should enable you to add your company logo and choose colors, fonts, and layout options to seamlessly blend the chat window with your website's design. This creates a cohesive brand experience for your customers.
2. Multilingual Support
If your business caters to customers who speak different languages, finding a live chat provider that supports multiple languages is essential. This feature enables your chatbot to communicate with customers in their preferred language, improving their experience and reducing language barriers.
3. Omnichannel Support
The live chat software should integrate with other channels like email, social media, or messaging apps. This means that customers can reach out to you through different channels, and you can respond to them from a central platform.
4. Automated Chatbot
Live chat should consist of a chatbot intelligent enough to solve the common queries of customers without the need for human intervention. Automated chatbots can help reduce the workload on your customer support team and provide faster responses to common customer queries.
A good live chat provider should offer a chatbot that is easy to set up and customize and can be trained to handle a wide range of customer inquiries.
5. Proactive Chat
The chat software should enable you to initiate conversations with customers based on their behavior on your website. Proactive chat invitations let you reach out to customers who may be struggling to find what they're looking for or have questions about your products or services.
Initiating chats can provide a better customer experience and increase the likelihood of a successful interaction.
6. Real-time Analytics
The software should provide real-time analytics, such as visitor behavior tracking, chat volume, and customer satisfaction ratings, to help you optimize your support. Real-time analytics can help you track your chatbot's performance and identify areas where you can improve your customer support.
By analyzing chat volume and customer satisfaction ratings, you can identify trends and change your chatbot's responses or support strategy to improve customer satisfaction.
7. Integrations
Live chat software should integrate easily with your website, CRM, and other systems. This will help you provide a seamless customer experience and reduce the time your team spends on manual data entry.
By integrating with your CRM, you can capture customer information and chat history, which can help you personalize future interactions and provide more informed support.
8. 24/7 Availability
A good live chat provider should offer round-the-clock support to ensure your customers can reach you anytime. This means that you should be able to provide support to customers in different time zones and respond to inquiries outside of regular business hours.
24/7 availability can help improve customer satisfaction and loyalty by providing a reliable support channel that customers can rely on whenever they need help.
How to Make the Most out of Live Chat Support
Live chat offers many features to help you achieve the engagement you were long waiting for. While ensuring that your live chat software is equipped with the most advanced features is essential, it is equally important to use them efficiently.
The following are some key features that you can use to make the most out of your live chat tool:
1. Automated Messages
Automated messages can be used to greet customers and provide them with basic information about the business, such as business hours or contact information. These messages can also be used to direct customers to specific areas of the website, such as product pages or FAQs.
2. Canned Responses
Canned responses are pre-written messages that can be used to respond to common customer inquiries quickly. This feature is particularly useful for businesses that receive a high volume of common inquiries, such as shipping or return policies.
3. File Sharing
The file-sharing feature allows customers and representatives to exchange documents or images during the chat session. This feature is particularly useful for businesses that require customers to provide documentation, such as insurance claims or product warranties.
4. Co-browsing
Co-browsing allows a support agent to view a customer's screen and navigate the website with them. This feature is helpful for businesses with complex websites or processes requiring assistance.
5. Chat Transcripts
Chat transcripts allow businesses to keep a record of customer interactions, which can be useful for training purposes or dispute resolution. By referring to past customer conversations, support agents can offer personalized messages and recommendations to their customers.
6. Chat Ratings
Chat ratings allow customers to rate their experience with a representative after the chat session has ended. This feature provides valuable feedback for businesses and can help them improve their customer service.
7. Chatbots
Chatbots are automated programs that can answer common customer inquiries or provide basic information about the business. This feature is particularly useful for companies that receive a high volume of queries outside of business hours.
Boost Customer Engagement With Live Chat
Live chat for customer support has gained traction among businesses looking to enhance their customer support. With round-the-clock availability, omnichannel support, multilingual capabilities, and automated responses, this tool can help you spin the wheels of customer engagement more efficiently.
If you're still looking to implement live chat for customer support, ProProfs Chat can be your to-go tool as it offers everything an ideal live chat solution should have. From canned responses to chat transcripts, this tool is a comprehensive package to boost customer engagement. So, why wait? Get started today!
Do you want a free Live Chat software?
We have the #1 Online Live Chat Software for instant customer support 24x7