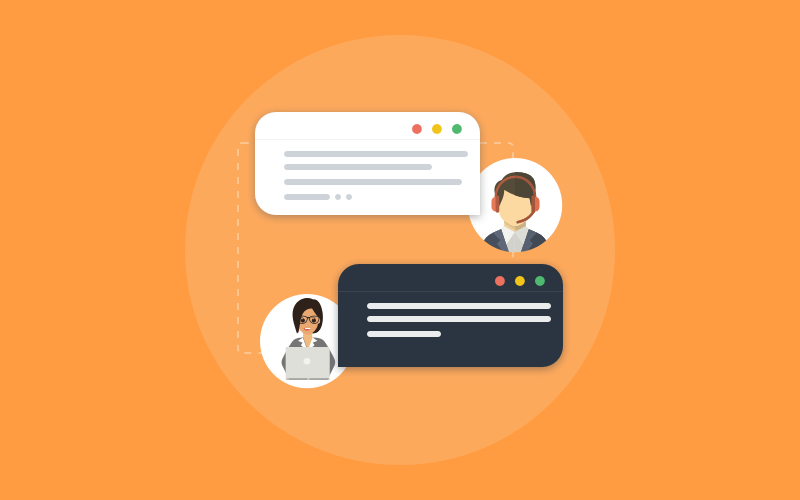 It's no secret that businesses put a lot of effort into finding new customers. However, putting effort towards returning customers can turn out to be more beneficial.
In fact, studies show that repeat customers tend to spend more money than new customers. On top of that, they're likely to refer your business to their friends. But attracting new customers to your business becomes an expensive method in comparison to retaining existing customers.
Fortunately, there are some ways to increase the likelihood of a customer coming back. One of them is to provide good customer service. And that's only possible if you become determined by being a customer support hero.
Which is easily done if you listen to your customers and take action. By simply listening and trying to figure out solutions, you allow communication to happen and it further primes customer loyalty which then causes referrals to occur.
Don't Forget These 3 Customer Communication Basics
Listen actively

– You're not talking to a brick wall, and neither are they. Don't forget to be aware of what your customers are saying. And don't forget to give them the indication that you are listening.

Be sensitive

– Customers may know a little bit about your company and products. But, you are the expert. So be careful explaining things to them, and avoid talking down. You may also want to avoid using company acronyms or define them as they come up.

Stay positive

– This definitely means a few things. You want to keep the best interest of your customers in mind. But, avoid negative statements and questions. Asking a negative question can become confusing. So instead of asking "You don't have 'x' installed, do you?" Ask them "Do you have 'x' installed?" This also means speaking positively. So when you're talking to a customer don't go on about things you can't do. Instead, try to talk about what you can do for the customer.
Related Read: Customer communication etiquettes
Communication Leads to Referrals
Communication and customer service go hand in hand. In fact, good communication often starts with good customer service. More often than not, communicating effectively with customers can lead to word of mouth marketing, thus resulting in referrals.
So, by focusing on your communication skills, you are priming referrals to flood in. We all know the importance of referrals. They bring in more revenue, they become better and more loyal customers and sending a referral acts as an advertisement for your business.
There are tons of other ways a customer service rep can be a good communicator. Here are the top qualities of a good customer service rep, which can help you produce more referrals.
How To Build Up Communication To Harvest Referrals

You probably realize that making customers happy can mean reaping the benefits on your end. Not only will those customers remain loyal, but they also provide you with new business.
Even if you aren't running a referral program, a happy customer is more than likely to partake in word of mouth marketing. You will likely have some sort of referral or lead coming in just because you provided a customer with a great experience.
Be careful though. If your customer service skills aren't the best, and you're not communicating effectively, you may have a negative effect. Customers will also share when they are unhappy with a business. So make sure you:
1. Stay on top of things
You don't want to let customer concerns and questions go unanswered, at least for too long. It's important that you remain aware of what questions are coming in, and what responses are going out.
Even if you don't have an answer, it's important to respond. Show customers that you are listening and working on getting them the answers they need. It also helps to show a little bit of flexibility and sympathy when answering certain questions. This way customers will, in return, be more flexible too.
Being responsive and reactive to customer inquiries is one of the easiest ways to open up customer communication.
2. Focus on Having a Professional Relationship
No one wants to refer an unprofessional business. No worries, this doesn't mean you can't have fun.
This means you need to follow through with what you promise. Don't tell long or too personal stories.
Most importantly, help them with their problem or provide them with a solution they want. When you're able to provide sincere interactions with customers, do so. A little bit of professionalism can carry you a long way.
3. Take the Time to Get to Know Each Other
Make yourself relatable, and easy to talk to. Good communication means getting to know each other. Let your customers get to know you a little bit, as you're getting to know them.
Ask customers about themselves as you strike up a conversation. This can help you build a relationship while you learn what their preferences are and what they are looking for in your brand.
With this information, you can better customize their experience with you, and you can weave in bits and pieces about yourself to help build a connection.
Remember, communication isn't a one-way street.
It all boils down to people referring people, not businesses.
So become someone your customers can trust.
A little word of advice, don't share too much information. Oversharing can make people uncomfortable and make you seem unprofessional and that doesn't lead to referrals.
4. Make it Easy for Communication to Happen
It's incredibly easy to stay connected with customers. Hello, we live in an internet driven world! But it's also important to have multiple channels of communication. They can help you reach out to your target audience easily. Also keeping your information up to date in those channels is important.
You don't have to have your phone glued to your ear in order to make communication easy. There are tons of other ways that can help you communicate with your customers.
Let's browse some options below.
Social media messaging

Contact form submissions

In-App Chat

Emailing

Texting
The trick is, keeping up with all these channels. You want to respond within a reasonable time, and make sure all the crumbs you're leaving out there are accurate.
It can be frustrating for a customer to call a phone number or send an email if they are no longer working.
The point is, if you provide easy ways for customers to contact you, they will feel like you care. This sense of caring can increase your chances of getting referrals down the line.
5. Provide a Personalized Experience
Obviously, the more personalized the experience is for a customer, the more 'loved' they'll feel. Be careful not to overdo it, though. Too much personalization can come off as being creepy or give your customers the opportunity that you're trying too hard.
Pick a few ways to personalize each customer encounter. You can do this regardless of what type of business you have.
Example: You may notice some stores remember customer names, favorite orders, or little anecdotes of past experiences. You may also see stores thanking a customer by name upon making a purchase.
Example: eCommerce stores, or stores that utilize email marketing often address the customer by their name in emails. They also refer back to past purchases and services. These may not seem like much, but it's quite effective, without being too over-personalized.
6. Create a Good Experience for Them
If you are running a referral program, you may try different things to get your customers excited. For example, you may launch a contest or gamified referral program. This way you can further fuel customers to participate and refer.
A contest is a better method to build a conversation, and it also makes for an interesting email message.
Example: Giving away a grand prize to customers who refer your services or products to their friends during a given period of time can work in your favor. You can play up a season, local event, or holiday.
Probably refer something else your customers are interested in like the Super Bowl or March Madness. Use events to peak customer interest and to conduct conversations easily with your customers.
7. Listen to Their Concerns, and Take Action
The best customer communication tactic is to listen. Really… By listening to a customer's concerns, you are laying the foundation down for a great relationship. Chances are if you are listening to them, you are probably also trying to find ways to reduce their pain points.
When customers know you are hearing them out, they tend to be more loyal. Thus, creating another reason for them to refer you.
8. Reciprocate the Love, You Have to Give to Get
A referral is a huge compliment to your business. It also indicates that someone went out of their way to talk you up. So when a customer sends someone your way, show your appreciation to them.
If you're running a formalized referral program, you may already have incentives put in place to reward this behavior. If you don't, be sure you are thanking them somehow.
Giving a small token of appreciation sets you apart. Plus, when you thank customers for referring your services, you are nourishing that relationship and keeping yourself connected to your target market.
An easy way to communicate your appreciation is by using social media and email. You can quickly give a public shout out via social media, your newsletter, or even just by sending an email. Public recognition can make a customer feel good for helping you, and it can generate more referrals.
9. After Positive Customer Experiences, Just Ask
If your customer communication tactics are on point, you already have referrals coming in on their own. You can, however, accelerate this by just asking for a referral. After you're done chatting with a customer, why not close the conversation by just asking.
You may see this done through in-app chats or over email correspondence. Someone from the business responds back and helps you out. Then a little while later you get a satisfaction survey. Well, you may have seen businesses using this step to also ask for a referral.
Asking can work in-person too. It helps if you provide a business card to the customer. It makes it easy for them to share with friends.
Asking is one of the easiest ways to generate a referral. So start planning out how to ask for referrals from your customers and make it part of your regular conversation.
Wrap Up
Everyone tells a story of their own to their family or friends. If you're effectively communicating and actively listening, you may find that it's quite easy to become one of the characters in their story.
The good news is it's not difficult to get people refer you. Just take the time to get to know them and provide the best customer service you have to offer. Chances are you'll quickly have an increase in referrals. But make sure you work on your communication skills to reach your customers more effectively.
Do you want a free Live Chat software?
We have the #1 Online Live Chat Software for instant customer support 24x7