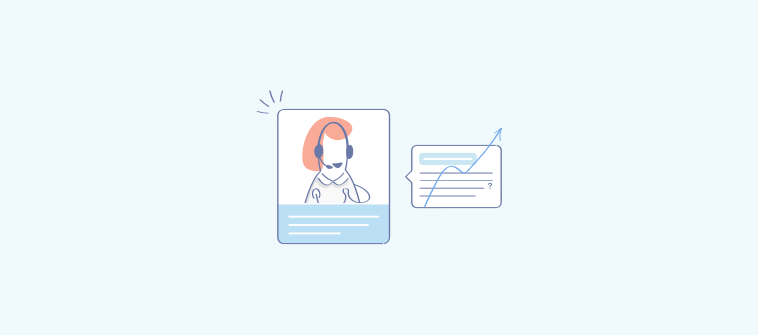 What truly makes a business successful?
Is it the product provided at competitive rates? Or the employees that brainstorm and put in their hours of work to perfect the product? You may agree with both. But that's not it.
A strong and satisfied customer base is one of the most important factors for a business to reach new heights of success.
If you lack strong customer base, it may become difficult for your organization to proceed further in this competitive market.
They not only help you improve your products and services but also increase your profits further. Except, it's not about making a sale every time. You need to hear what they have in mind. This will help you improve your product as per their needs.
Like Katherine Barchetti said, "Make a customer, not a sale". It's important that you target towards expanding your customer base rather than attaining more profits. But that's only possible if the tools you've integrated help you reach them out effectively and that too in real-time.
That's where you'll need a live chat on your website.
According to an infographic by Invespcro.com, 73% customers feel satisfied the most when their questions are being answered through a live chat tool. While 42% customers prefer giving their contact details through live chat.
What's more? Well, a chat software is capable of generating more leads in comparison to a phone, email, or any social media handles.
With such convincing numbers, there's no way you can ignore the integration of a live chat software. But there are various do's and don'ts that your customer support team needs to look out for when using a live chat app for website.
Watch: Live Chat Best Practices 🙂
What to Pick & Drop When Using a Live Chat Software
What links you to your customers at all times? Of course, your customer support agents.
They make sure that all requests and questions get the apt solution on time. That's how they maintain the customer base. But are they able to maintain the same numbers at all times? Probably not. There must be some 'don'ts' that they may have committed while working through a chat.
So how do they know what can take their business south and what actions help them take the organization to the next level?
You can't always rely on experience. It'll come with time. What you need is advice on what to do and what not to do in various scenarios. Let's understand some do's and don'ts in detail below.
Patience is the Virtue
Support agents come across all sorts of customers. Angry, impatient, hyper, and the list goes on. This can be due the various issues or problems they encounter while using a product or service of the company. In this case, a support agent can likely lose patience.
So, what's your 'do'?
Always stay calm and focused. No doubt that some issues will be complex and customers in times like these can get tough. But this is where empathy works the best. The more you understand your customers, the more they'll come back for your services.
And what should you avoid? Losing your calm. Do not lose your calm and patience in tough scenarios. It may seem easier said than done. But make sure that you never get harsh with your customers while working your way through their problems. It'll become an open invitation for negative reviews and reduced profits.
Reaching Your Sales Goal
Every organization ensures that it sets certain sales goal. After all, sales are important to reach your desired profits. But as discussed before, they shouldn't be your primary goal.
What's your 'do' here?
It's important you are helpful for your customers so they keep coming back for your services. Don't answer questions just for the sake of wrapping up a chat.
Whatever solutions you provide, should be relevant and worth their time too. After all, it's not your time but theirs that'll matter to your organization.
And what's your 'don't'?
Never make sales your first priority. That may backfire. Organizations have faced loss in their customer base when making sales their top priority. So, avoid making the same mistakes as your competitors do.
Response Time
With emails, you may not be able to respond back to your customers in time. But that's what they're looking for in a service provider – prompt response time. And even when some organizations already have live chat website integration in place, they still fail to respond back in time.
So what to 'do'?
It's important to be quick and crisp. To do that, you can even integrate a live chat app to your mobile to monitor any incoming chats on the go.
Your customers will be delighted with your prompt responses and will ensure to back for more services your organization has to offer.
Try ProProfs Chat for FREE: /
But what to avoid?
Avoid leaving your customers hanging for answers. There is nothing that can further reduce your customer base than a non-responsive customer support agent.
But in case you have to answer a technical question, then ensure you've informed them. There's no point in wasting their time and yours. Let them know that their question needs to be dealt by a product expert or the tech team. Also, let them know that you'll reach out soon.
Keep Your Customers Delighted
It's important that you match your brand voice – that's humble and friendly. When active during a chat, think what'll keep your customers delighted with your services.
Here's your 'do'.
Always ensure to choose your tone and words carefully. Your customers come to you for support during an emergency or when feeling hassled on how to proceed with a purchase. They expect humble attitude on your part.
Therefore, make sure that your 'friendly tone' mode is always on. After all, it's your tone that will make or break the customer success game.
What not to do?
Avoid the use of unnecessary jargon or acronyms that you've been using with the internal team. Your customers aren't aware and shouldn't be aware of your internal lingo.
Personalization Works the Magic
Imagine, how does it feel when you call on a toll-free number? Long wait does test your patience. But what's even worse, that after all the wait you get to hear an automated message. Feels disappointing, doesn't it?
So what's the 'do' here?
Make your chats more personalized. Answers should be customized. They delight your customers and help you boost your conversion rate hassle-free.
Always remember, a customer will become open to make a purchase if they are made to believe that a real support agent is making a conversation with them.
But, avoid making a robotic conversation with customers. They easily sense when canned responses are being shot their way and when a real representative if taking the initiative to resolve their query. If they find out that they've been receiving canned responses, then you may lose them to your competitors too.
---
Read More: Top 27 Live Chat Software Solutions
---
Let's Summarize
It's easy to earn sales when you have your customer base intact. Therefore, it never target achieving sales.
Make sure your aim is to reach out to your target audience, retain your existing customer base, and keep them delighted whenever they approach you for your services.
But to do that, it's important that you adhere to live chat etiquettes & follow certain do's and don'ts. After all, you can't afford to lose them to your competitors.
Do you want a free Live Chat software?
We have the #1 Online Live Chat Software for instant customer support 24x7