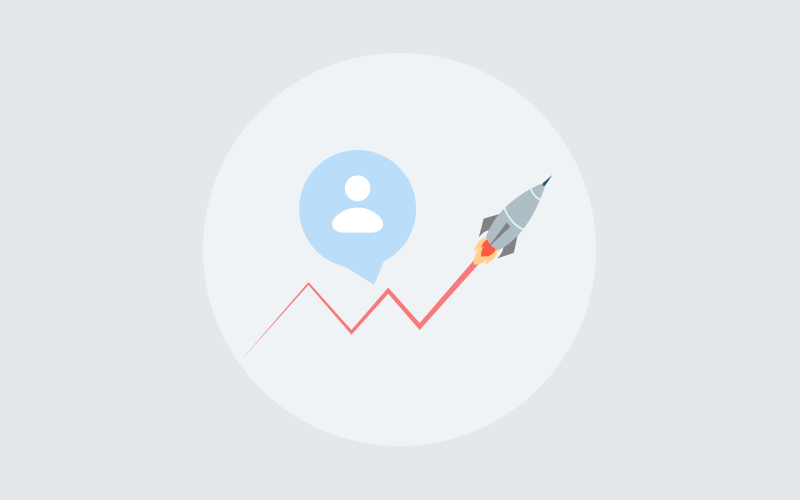 "Hey there! I'm Nathan, your guide for the day. How can I help you?"
When visitors come across such welcoming live chat messages on your website, you encourage them to engage with your brand. Such live chat etiquettes can help you build the right relationship with prospects and help you boost sales and build loyalty.
To help you achieve the same goals, we've listed 20 live chat etiquettes to get you started. Here's a quick overview of those chat etiquettes.
What is Live Chat Etiquette?
Live chat etiquettes are a set of rules for chat operators which they should adhere to while having a conversation with website visitors. Businesses have understood that visitors have great expectations when it boils down to support experience. With the help of the right chat tips, your operators can meet or exceed such customer expectations during an ongoing conversation.
By following the proper chatting etiquettes, you can:
Help customers relate to your brand better
Improve your brand image
Encourage customers to chat with operators on their next visit
Considering the number of benefits a business can gain by implementing the right live chat tips, it is time we dive into our list of customer service etiquette rules.
Live Chat Etiquette for Customer Service: Technical Tips
In this category of basic chat rules, we'll shed light on technical aspects that'll help your agents conduct a professional chatting experience for customers.
1. Bring Life to Chat with Emojis
Want to build a personal rapport with your visitors? Use emojis.
This comes as a surprise for some, but emojis help add a personal touch to the live chat conversations.
Emojis can create a more positive experience if they are used strategically.
Conversations can get a little robotic if the visitor only gets to see text in the chatbox. In short, text conversations give the impression to the visitor that a bot is managing their question on the other side. Understand this; facial expressions are very much a part of the conversation. They let you know where the conversation is heading towards.
And though live chat does allow you the face-to-face conversation option with video chat, the first point of contact would be messaging. So rather than writing lengthy text messages to your website visitors in the chatbox, make sure you add a smile or two to add a personal touch.
2. Avoid Using Ellipses
When a visitor approaches your operator with a question, the last thing they'd expect from them is uncertainty. And using ellipses during a live chat conversation would make it more evident that they aren't sure about the solution.
What are Ellipses Anyway?
Ellipses are three dots at the end of a sentence (…). Many of us use them during a conversation with our friends. It is used to hint towards more possibilities for a particular subject in a conversation.
So when operators use ellipses during an ongoing chat, they'll end up giving the customer the impression that:
There are more possibilities to the situation being discussed
They aren't sure about what to suggest the visitor further
No one would like to be further confused when getting help. Instead, visitors would prefer to-the-point and direct answers to their questions that help them arrive at a conclusion and make an informed decision.
3. Correct Your Grammar, Spelling, and Punctuation Errors
You ultimate goal can be building an everyday experience for your visitor, and why not – they love it!
But that doesn't mean you make errors intentionally while having a conversation with them.
We'd suggest you avoid making grammar, spelling, and punction errors when conversing with visitors on live chat.
| | |
| --- | --- |
| ❌ Hey there! How cn I help u? | ✅ Hi there! I'm Shane, your support assistant. How can I help you today? |
Ensure that the operators handling chat use correct grammar, spelling, and punctuations while speaking to a website visitor, irrespective of the language. An agent using wrong grammar or spelling gives the impression that they don't value customers enough. They even look unprofessional.
You can offer them access to tools like Grammarly, which they can activate in their browser. It will recommend changes to the content while they type in their response to customers. This way, you can ensure they are sending correct messages without errors to customers during a chat.
4. Avoid Using SHOUTY Caps Lock Letters
Imagine this: Your operator is in conversation with a website visitor, trying his best to resolve the question faster. However, as the conversation proceeds, the operator feels the need to emphasize a concept or an answer that helps answer the visitor's question.
To add emphasis, the operator uses all caps letters. The next thing you know, the customer has either switched to a rude tone or left the chat before receiving a solution.
Using all caps letters during a conversation is a strict no-under the chatting rules. Letters or sentences written in all caps can give the visitor or customer the impression that your operators are shouting at them.
| | |
| --- | --- |
| ❌ TRY CLICKING ON THIS LINK below | ✅ How about trying this link below. It will help you get the proper steps. 🙂 |
5. Use Canned Messages to Reduce Response Time
We are sure that your operators come across specific phrases in a conversation to which they have to type the same response.
Why let them type the same responses whenever they can make use of canned messages?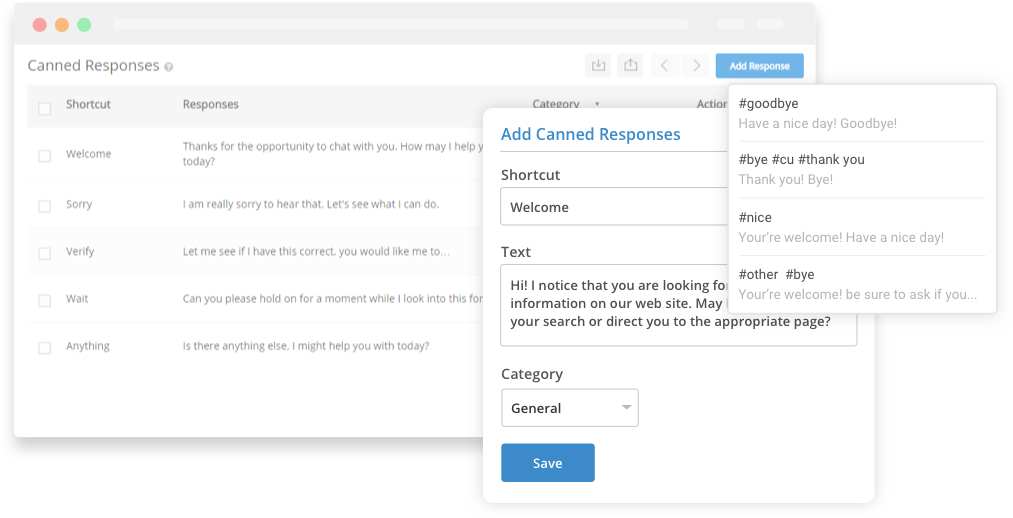 They can save time and avoid making errors. At the same time, they'll also help you reduce the average response time during an ongoing conversation.
However, we'd also recommend that operators should identify the right situations to use canned responses. This will help them avoid sounding robotic to customers during an ongoing conversation.
Explore: Live Chat Canned Responses Cheat Sheet for Business, Sales & Support
6. Do Not Forget to Capture Feedback Once a Chat Ends
Capturing customer feedback once a chat ends is also one of the communication etiquette rules you should never miss.
You need to make sure that you ask for customer's feedback once a chat ends. This will let them know that their feedback matters to your business. While asking for feedback, let them know how it will be used and what benefits they may gain once they return to your support team.
Learn More: The Importance of Collecting Customer Feedback
7. Enable Automatic Routing to Improve Resolution Time
Enabling automatic routing conditions is yet another generic chat rule. However, a lot of us miss out on this.
With chat routing, you can make sure that:
The visitor reaches the correct department
The visitor receives a response or solution faster
Operators can avoid frequent burnouts
So, it's not just your customers but also your operators benefitting from automatic chat routing.
Live Chat Etiquettes: Behavioral Tips
We've listed some of the best behavioral rules of conversation etiquette that your operators need to adhere to when speaking with customers during a live chat session.
8. Be Patient with Impatient Customers
Never lose patience with your customers, no matter how impatient they sound during the conversation.
Impatient customers may fail to express their concerns adequately and even miss out on a few details. It may seem like an exhaustive conversation for operators, but they must ensure that they capture each detail to help customers get the right solution. They should remain calm and maintain a consistent solution approach to reach the best solution possible.
9. Show Empathy Towards Customers
Let your customers know that you empathize with them. Understand their pain points and agree with them when you see your product or service is at fault.
Try to step in their shoes to understand why they behave in this manner or feel agitated while talking to you. That would help them ease better into the conversation and listen to your solution more attentively.
| | |
| --- | --- |
| ❌ Okay. Let me get back to you in a short while. | ✅ We're sorry for the inconvenience caused. I'm sure this must be affecting your schedule, but let's schedule a call tomorrow to resolve this issue from its core. What do you think? |
Understand: Why Empathy Is Critical for Successful Customer Service
10. Avoid Using Negative Terms
❌ No, we can't do this. At least not right at the moment.
✅ Let me confirm with my team if this particular update is possible for our product or not.
This example gives you an idea about how your operators need to avoid using negative terms with customers. Simply denying your customer's request for an update by using words like "No," "Not possible," "Not sure," or "We can't do this for you" will make your customers think that your business will deny them every request. That's not the impression your customers should ever have.
Instead, use words or phrases that express possibilities like
Let me confirm
How about we
That's a good suggestion. Let me take this up with the team
That sounds great. Let me get back to you after discussing it with my team
11. There's no Room for Bad Attitude
❌ Okay. Fine. I'll check what can be done.
✅ I see that's caused a lot of problems for you. Give me a few minutes to look up the best possible solution in this case.
Yes, you're going to come across some rude customers. They'll be agitated and might even make it difficult for the operators to stay calm. But retaliating with a bad attitude won't help you solve their issues, let alone retain them.
Even in such situations, customers expect utmost respect from operators because they feel the operator must resolve their issues. Rather than being rude to them, you need to remind the customer that you are trying your best to resolve the issue. Keep them posted on how close you are to reaching the solution or which team is managing their case for faster resolution.
12. Honesty is the Best Policy
Indeed, you can't say straight no to the customer for just being honest. But there are humble ways of letting them know that a particular service is not a part of your offering.
❌ No, we don't offer this service here.
✅ I'm sorry to say that this service isn't a part of our offering. But here's a vendor you can check out.
Being honest while being humble will help your agents build a good impression on customers and encourage them to return frequently or become brand advocates.
13. Never Deviate from the Topic
One of our chatting tips would also advise you to never deviate from the topic of primary concern. Such a support process approach can irate your customers and even prompt them to leave the conversation without getting a solution.
Operators mostly deviate from the customer's concerns when they are trying to find a solution. Rather than providing the best solution, they would suggest different resources or services that may be closely related but won't resolve the issue soon.
To avoid this, operators can explain that a solution will take a certain amount of time to resolve. And when it takes time to resolve an issue, ask the customer if they'll be comfortable converting the chat into a ticket or get a call from the agent once the issue is resolved. This will help operators be more direct during the conversation and support themselves and the customer to save time.
14. Steer Clear from Technical Jargon
Customers like simple phrases that they can understand. The easier it is to understand what the operator is saying, the simpler it becomes for them to respond further.
That's why one of our live chat tips also recommends operators steer clear from technical jargon. Some of the technical words your operators can avoid using in the conversation can be:
Mood Board
User Persona
Cloud Computing
Uptime & Downtime
Benchmarking
First Call Resolution
And this list is endless. But when you do use such terms during a conversation with the customer, make sure you explain them. It will be easier for the customer to follow you through the conversation and understand if they received the right solution or not.
Read More: The Complete Glossary of Common Customer Service & Support Lingo
Live Chat Etiquettes: Knowledge Tips
Our conversation etiquette guide would be incomplete without tips on knowledge management. Here're our top tips from this category.
15. Stay Updated on All Your Business Offers
If your company plans to offer certain products at discounts or go for a viral sale, then your job is to learn every aspect of that information. This, too, is a conversational etiquette that operators shouldn't miss out on.
If operators educate themselves on every offer your company plans to provide to customers, they can avoid misleading customers during a support conversation. Providing the correct information would motivate customers always to approach your support team in times of need.
16. All Resources Should be on Your Fingertips
Understand this; the customers expect your operators to know it all. So, in case they've come up with a question, they would expect the operator to know where to redirect the issue so that instant resolution looks like an achievable goal.
That's why you need to ensure that the operators are trained to provide a good customer service experience that never feels like a distant dream. Operators telling your customers where to head next would allow them to make informed decisions, thus helping you improve sales further.
17. Refer to Previous Chat Transcripts to Understand Customer History
Our customer service etiquette tips also encourage you to refer to previous chat transcripts if you encounter a returning customer. There are two valid reasons for saying so:
One, you get to see if the customer has faced a similar challenge previously or not. If they've faced a similar challenge, then you would know how to resolve the issue faster for them.
Two, you would get to see how the customer would typically interact with you during the entire conversation. This would prepare you to better communicate with the customer and answer their questions proactively.
18. Switch Smoothly from Chatbots to Operator
It is great to have a live chat with chatbot functionality. After all, it helps your operators manage incoming chat requests and resolves those with frequently asked questions.
However, chatbots can't take over all the customer communication efforts. They can manage the simpler ones but fail at answering complex queries. That's when a lot of chatbots recommend customers to speak with one of the agents available online.
During this entire process, your live chat operators should be equipped with details such as:
Who the customer is
What they came looking for
Why they approached your chatbot for support
This will assist them in following up with the current conversation flow and help customers avoid repeating themselves. A smooth transition from chatbots to operators also accounts as a part of a delightful support experience.
The Extra Dose!
Wait a minute; we've got more live chat etiquette tips for you in-store. These are generic communication etiquette rules that will help your business improve your live chat experience with customers.
19. Always End Your Chats On A High
Don't end a chat right after resolving the issue. Some end-of-the-chat protocols need to be followed to conclude the chat, leaving the visitor feeling good about the whole conversation. Few of the things that you can do:
Thank the visitor for the time they took to discuss their issue with you.
Confirm with visitors if the issue was resolved to their satisfaction and if they need anything else.
Wish them a good day ahead before you bid adieu.
Related Read: The Perfect Training Plan for Live Chat Executives
20. Create Crisp Pre-Chat Forms
Help your operators capture customer details with crisp pre-chat forms.
They can help your operators learn more about the customers and why did they approach your support team in the first place. What's more, you can capture leads easily. In a nutshell, using a pre-chat form would be beneficial for both your support and the sales team.
21. Connect with Operators Internally During an Ongoing Chat
A quick question to all the live chat operators – How many times did you get up from your seat to collaborate with another team member during an ongoing chat?
Even if it does happen rarely, it shouldn't happen at all.
True, the customer doesn't know you got up from your seat to connect with another operator to tackle their issue. But then you increase the response time and even the resolution time. This can have an impact on customers' overall support experience.
We'd say simply shoot a message to your team member for quick collaboration. If they've previously dealt with the same issue or even the customer, they would know how to manage the request better. Some live chat solutions help you collaborate with features like operator-to-operator chat internally. This enables operators save time and resolve issues faster.
22. Show Offline Message Form When Operators are Away
Finally, our last chatting rule is to display offline message forms whenever operators are away. This will help you capture support requests in the absence of your operators and help them return to these customers once online. It's the perfect way to never miss out on support opportunities for your business.
Boost Customer Satisfaction with Chatting Etiquettes
When you follow the right live chat etiquettes, you ensure that none of your customers leave disappointed. Moreover, you create a dependable image of yourself with them and encourage customers to return more frequently to your brand.
Considering such benefits, a lot of your operators try to improve their live chat support skills. However, many don't know where to start. To help such operators and others looking for further assistance in the same category, we've listed above 20 chatting etiquettes that can help them improve their skills.
We hope that you find our list of chatting rules useful in the long run.
Now that we've covered customer service chat etiquettes let's look at some of the frequently asked questions that will help your operators build a delightful customer experience.
Q. How can I improve my chat customer service?
It is essential to learn how to chat with customers online to improve your live chat customer service. Here's how you can do it right in no time.
Q. What is chat etiquette?
Chat etiquette is about keeping a conversational tone with the customers to build a seamless experience online.
Q. Why is it essential for my operators to learn chat etiquettes?
Operators should be trained for chat etiquettes because your customers search for a seamless experience where they get a resolution for their problem faster. With chat etiquettes training, your operators get to easily provide the same as per the customers' expectations.
Q. How do you handle an irate customer in chat?
Read this blog to learn how you can manage irate customers using live chat software hassle-free.
Do you want a free Live Chat software?
We have the #1 Online Live Chat Software for instant customer support 24x7