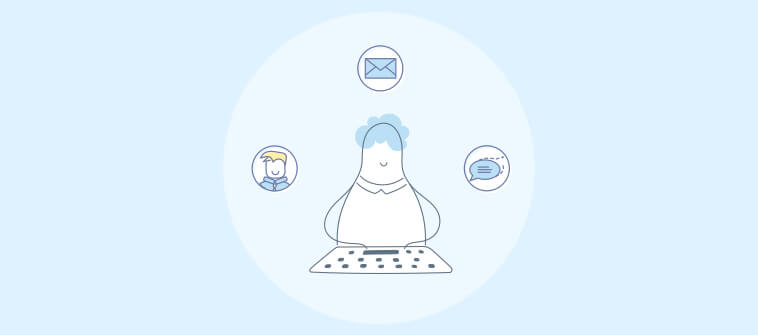 You can create positive experiences for customers by being a good listener.
However, you need to be actively present on the best customer service channels to ensure that every customer issue gets the attention it deserves.
While different customers prefer different channels to connect with companies, it's not practically possible to be available on every platform.
While some customers love the ease of self-help portals, live chat & chatbots others prefer the traditional phone support to get their questions answered.
So, how do you choose the right channel to solve customer concerns and build lasting relationships?
Fret not, as this blog holds the answer to all your questions. Dive in to explore the top 10 channels you can tap to provide delightful support to your customers and win them for life.
What Are Customer Service Channels?
Customer service channels are the mediums through which customers connect with a company at different stages of their journey with the aim of getting their issues resolved and questions answered. Each channel gives agents the power to address customer concerns and build lasting relationships.
Although traditional channels such as phone support and email are always the top preference, modern channels like self-service and live chat software are also gaining wide popularity due to the convenience they offer.
Omnichannel is an ideal approach to delivering consistent experiences across all channels. This approach helps you connect all channels seamlessly and carry out context-driven conversations with customers.
Which Support Channels Are More Effective for Customer Service?
The most effective customer channels depend entirely on your business and customers. Successful businesses are excellent at offering service across numerous channels. But they don't open every channel unless absolutely necessary.
For instance, if you have an eCommerce business, live chat would be a great way to encourage purchases and deepen customer relationships. You could assist online shoppers and help them make the right choice. Let us discuss which service channels you can adopt and how they can help you!
10 Best Customer Service Channels that Every Business Should Consider
We have compiled a comprehensive list of the 10 best customer contact channels that you can include to offer delightful support. Let's check them out.
1. Live Chat
Chat support is a convenient channel that helps you provide quick answers to customer queries. In fact, 42% of US online adults stressed that they expect live chat on the websites they visit.
But what makes it such a popular support channel?
The answer can be shortened to two words: fast & efficient. Live chat allows agents to manage multiple chats simultaneously. Also, with quick replies, customer service can be delivered faster even when there are numerous clients to deal with.
It is one of the many reasons that makes live chat the cornerstone of multi-channel customer service. Also, during the conversation, you can send emojis and GIFs to make the customer experience more engaging.
Live chat also works as a great retention tool as you can create upselling opportunities by sharing relevant offers and deals with customers. Also, sometimes customers might feel confused at the pricing page. You can time your live chat widget to pop up and assist customers right when they are clueless about your products and their prices.
In addition to this, you can also capture customer feedback by sharing post-chat surveys with customers.
---
Want to grow sales or improve support 24×7 with live chat?
---
2. Chatbots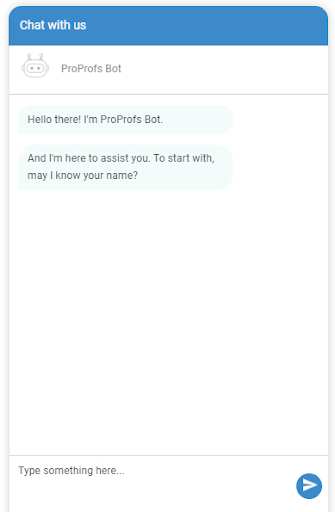 Chatbots are cost-effective as they do not require the manual intervention of agents to solve customer problems. Furthermore, they can help you resolve routine issues in seconds!
A chatbot is a computer program that communicates with prospects by simulating human-like interactions.
Earlier, chatbots worked as a medium between agents and customers. The only purpose these tools solved was to direct customers to the right agent. By screening customers, you could also ensure support tickets remained manageable.
Now, times have changed, and chatbots can now be used to deliver instant customer service. Chatbots can handle basic issues from start to finish. In fact, research suggests that 68.9% of chatbots can resolve a query completely.
3. Self-Service Knowledge Base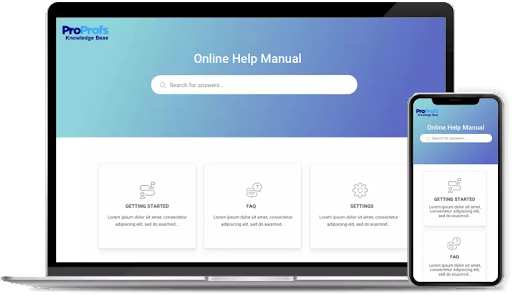 Many customers refer to self-service portals to get information quickly without having to wait for a rep to respond.
According to Harvard Business Review, 81% of customers prefer resolving their issues on their own rather than reaching out to a company representative.
An added benefit of having a self-service portal is that it helps you manage your support volume. As a result, you require fewer agents to serve the same number of customers. Here are some benefits of creating a self-help knowledge base:
It allows customers to find answers to their questions quickly.
It allows you to reduce the volume of tickets reaching your help desk.
It gives your support agents more time to resolve serious customer issues.
You can provide round-the-clock support to customers.
4. Ticket Forms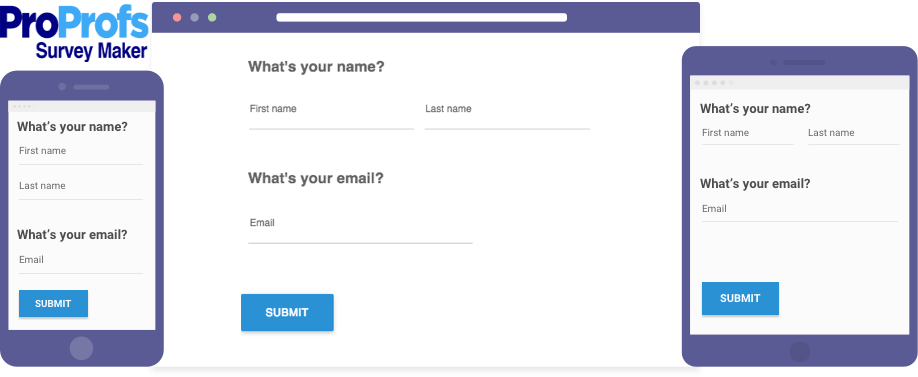 A ticket form gives customers the opportunity to raise an issue right when they encounter it. These forms can get embedded on websites or on self-service portals.
Once your visitors fill these forms, the issues are generated as tickets in your help desk. Then, your agents can work on those tickets and deliver instant responses to customers.
Agents can use canned responses for routine questions. In case of complex tickets, they can simply notify the customer about the amount of time it would take to resolve the issue.
Here are the reasons ticketing can work as a great channel to connect with customers:
Initiate conversations with prospects
Service agents can collaborate on tickets and solve them quickly
Routine issues can be solved instantly with canned responses
5. Phone Support
About 65% of customers consider phone support the best way to contact a business.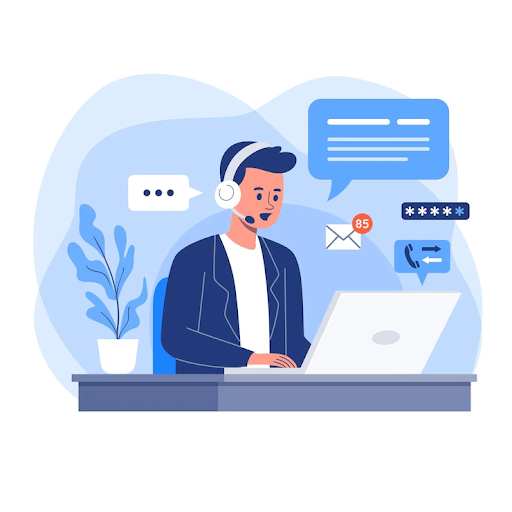 Customers prefer to hear a human voice on the other end of the line. They feel safe when they connect with a human agent to solve their problems. The human touch makes phone support one of the best ways to connect with customers.
Here are some reasons why phone support is a great channel:
It helps you solve complex issues in a step-by-step manner.
The call-back feature can help avert situations where customers have to wait on hold.
6. Email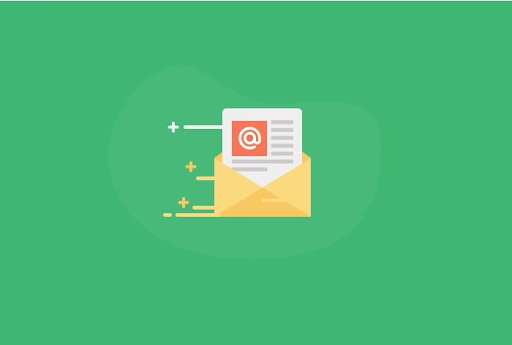 Customer service via email is never getting old!
According to Statista, there are over 4.03 billion email users worldwide, and by 2025 this figure is projected to reach 4.6 billion.
Why is email such a trusted customer service channel?
The answer is simple.
Agents can manage multiple support queries effectively through emails. While most channels require constant back-and-forth, email can help get the point across in a single complaint. You can resolve them effectively with a quick, personalized reply.
Let us look at some reasons why email communication is a preferred channel for reaching out to businesses:
Email is cost-effective and does not require too much investment.
It offers a human touch and a medium for customers to describe their issues.
Emails written thoughtfully can be a great opportunity to delight customers.
Customers can attach documents relevant to their complaints.
Email threads simplify viewing the entire progression of the complaint till the resolution.
Read More:  Live Chat Support vs. Email Support: The Difference 
7. Social Media
Social media is a great route for millennials to reach out to businesses. Statistics suggest that one in two millennials has complained about a brand on social media.
It has become one of the primary customer contact channels today, thanks to the heightened convenience and flexibility it provides.
Since social media is a great channel for generating viewership for complaints, customers find it an easy option to get immediate attention from brands. While it's a good thing for customers, it can also put your brand image at stake.
There are some brands that take customer service on social media seriously.
For example, Starbucks never leaves a chance to delight its customers on social media. Here is such an instance: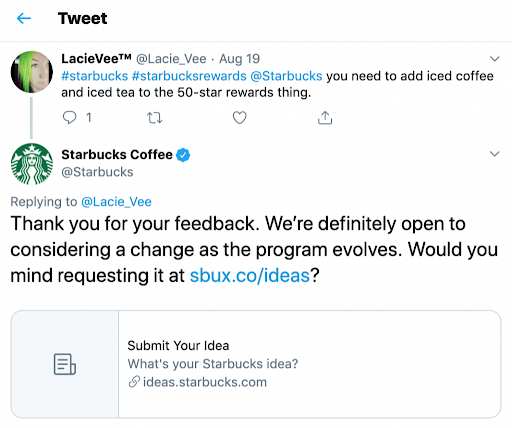 Here are some benefits of using social media for customer service:
Successfully resolving customer issues on social media puts your company in a favorable light and helps in building trust.
On this customer service channel, support is prompt, and it is a great way to stay in constant touch with your customers.
It allows you to offer 24×7 support to customers irrespective of their location.
8. Online Discussion Forums
An online discussion forum is where customers discuss how to solve issues and share their experiences with each other. It helps spark conversations around your products and informs prospects on how to use them.
An online forum comes under examples of channels that work as self-service options. As a result, it helps you reduce support tickets that your agents have to deal with. It also makes important information easily accessible to customers who might encounter a routine issue.
Also, having online forums help reduce support costs. Statistics show that support costs reduce by 32.9% by employing community forums. Furthermore, it allows customers to explore a product better when they speak with members who have more experience using it.
9. Mobile messaging
Mobile messaging is a quick and easy way to communicate with customers. That's because it allows you to handle support queries in an instant with short replies.
Using this service channel, customer service agents can also keep customers informed of deals and offers. Since mobile messaging is such a common channel, most users find themselves bombarded with messages.
Research shows that 65% of brands do not have a proper strategy when it comes to using this channel. Furthermore, messaging isn't limited to SMS. Whatsapp, Signal, and Telegram can also be included.
Mobile messaging is best suited for simpler issues such as product demos, appointments, and confirmations, and informing customers of upcoming meetings. On the other hand, live chat can enable more sophisticated troubleshooting with real-time interactions.
10. Video Support
Video conferencing has become the trend since COVID-19 hit the world. Web and video conferencing have grown 500% since then. It shows that video support is not just an optional service channel for support. In fact, it is imperative for building a trustworthy brand.
In a video support session, you can ask customers to share their screens. Once they do so, you can navigate them through the steps or ask them to hand over screen controls. These features make video conferencing tools like Zoom and Google Meet great for customer service.
For some businesses, video calls increased exponentially due to the onset of remote work. It is because video support allows agents to offer agile customer service remotely. Walking a customer through the steps on Zoom is quicker than taking them on call to explain the solution.
Choosing the Most Effective Customer Service Channel
You do not need to be on every customer service channel. Pick the channel that takes your customer requirements into consideration. For example, if you have a complex tool, video assistance might be a good idea. Here are some ideas for choosing the best channel:
Analyze the size of your support team and their skills: When you have a small team, channels like email and live chat are ideal. With these channels, you can resolve the issues of multiple clients.
If you have a large team, phone support can work well if you train your agents on how to handle customer calls.
Understand the Complexity of Your Product & Customer Issues: As we mentioned, if you have a complex product, then video support would be a good place to start. It will allow you to service customers quickly and improve the satisfaction rate.
On the other hand, if your business receives routine questions, then a self-service portal can help you manage your support volume easily.
Keep a tab on industry trends and events: Businesses that offer video support after COVID-19 are on the right track. After all, most people are now using Zoom or Google Meet to connect with companies. Furthermore, if you are an eCommerce website, then you have to stay up-to-date with the latest customer service technology.

Chatbot is one of the top trends of the e-commerce industry. It offers a great way to reduce friction in customer service. Keeping track of such trends can help you identify the right channels to serve customers better.
Choose the Best Customer Service Channel for your Business
Customers are people with specific tastes and preferences. Some channels reflect those choices the best. Different channels have different requirements in terms of human resources. For instance, phone support requires more agents than live chat.
Emails offer a personal touch and can help you develop a good bond with customers over time. It is a great channel for agents to provide detailed solutions to customer complaints.
Similarly, there are many other channels like social media, video support, and self-service portals that bring their own unique benefits to the table.
Live Chat is another channel that has emerged as a great way to assist shoppers through real-time engagement.
If you are looking for a live chat solution, you can give ProProfs Chat a shot. It is an easy to use tool that take your customer support to the next level.
Do you want a free Live Chat software?
We have the #1 Online Live Chat Software for instant customer support 24x7