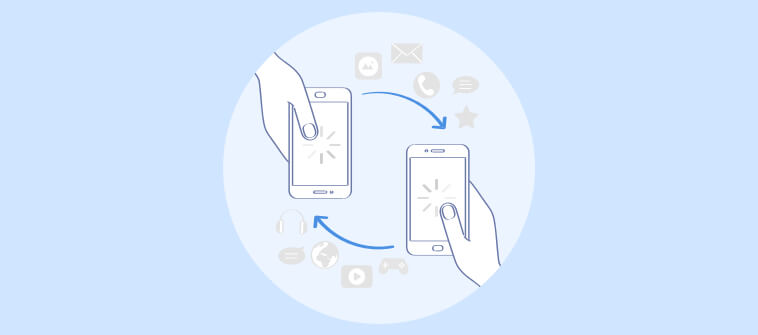 What's your first thought when you hear customer acquisition?
If you think it is time taking, expensive, and strategically challenging, you are not alone. However, business owners have resorted to the use of multiple customer acquisition tools to avert these roadblocks.
And in case you were on the lookout for one, or maybe more, we've got some in store for you. But that's not all. Our team went ahead and created a detailed guide to help you improve your customer acquisition process. This guide covers:
What is Customer Acquisition?
Customer acquisition is the process of acquiring new customers and expanding your business. You need to place the right budget and build sustainable strategies that assist your business in acquiring new customers in a specific time frame.
During the entire process, you need to develop convincing reasons that capture your prospect's attention. Once you have their attention, you need to identify the right time to pitch your product and services and acquire them as your new customers.
While this may seem like an unmeasurable process to you, you can calculate how many customers your business successfully acquires.
How to Measure Customer Acquisition Success
We see businesses discussing the customer acquisition cost. That's because acquiring new customers is an expensive process. However, customer acquisition cost alone cannot help your business determine how many customers your business could get on board.
That's why you need to measure the following metrics:
Customer Lifetime Value = Average sale x Number of repeat sales x Average lifespan of a client relationship
Churn Rate = Number of customers lost that month / Number of customers at the start of the month
Don't forget to measure the customer acquisition cost for your business to identify how much you spend in acquiring new customers.
Customer Acquisition Cost = Sales costs + Marketing costs / Number of new customers
Keeping track of these three metrics will allow you to measure your customer acquisition efforts efficiently.
How to Lower Customer Acquisition Cost
We can't deny that acquiring new customers is crucial for a business. However, it can leave a hole in your budget if not monitored. Even studies suggest that:
Attracting a new customer is 6-7 times more expensive than retaining a current one.
That's why it is essential to develop some efficient ways to reduce the customer acquisition cost for your business. Here are a few tips that can help you achieve this result:
Be more attentive towards your prospects and try delivering what they ask for during the first experience itself. This way, you won't have to spend your time, efforts, and money to connect with them again in the future to convince them about your services.
Don't forget to add social proof on your website. Your prospects would like to know whether your existing customers are satisfied with your services and products or not. Well, we'd say don't let them stray. Help prospects find what your customers are saying on your website.
Think about curating engaging content that encourages them to visit your business more frequently. This will help prospects know more about your business, what you stand for, and how your products/services work.
Get to know about your customers' likes and interests to divert your efforts in the right direction. Try engaging with them on social media or discussion forums. You'll get to know what they are looking for, and your business can identify how you can cater to them according to their needs.
Reach out to influencers and share free product samples or provide them access to your complete services. They can help you reach your target audience faster and reduce acquisition costs further.
---
Recommended Read: Customer Acquisition Cost: How To Calculate & Reduce
---
While these manual efforts are fruitful at acquiring new customers, they can be time-consuming and demand more investment at your end. That's why many businesses have resorted to using customer acquisition software to speed up the process using lesser efforts. Besides reducing your efforts towards acquiring new customers, there are other benefits that one can gain from customer acquisition software. Let's explore some of them below.
What are the Benefits of Using Customer Acquisition Software?
Some of the expected benefits you'll experience with the best customer acquisition tools include:
You get access to relevant customer referrals. That means you target the right audience from the beginning of the acquisition process.
You get the option to engage with prospects and identify the right opportunities where you can explain why your product is the right match for their needs.
These customer acquisition tools also help you build awareness about your product and services and encourage prospects to try your brand.
Your business can also send in lucrative deals that convince prospects to convert into customers.
Customer acquisition tools also enable you to educate prospects and bring them closer to the end of the sales funnel.
These benefits are convincing enough to invest in a customer acquisition tool. Before you dive into getting a customer acquisition tool for your business, it is important to see what channels are available for the same purpose.
Five Prominent Customer Acquisition Channels to Get New Customers Onboard
This section will introduce the five prominent customer acquisition channels that can help businesses acquire new customers.
1. Feedback Channels
From trying to understand if the solution matches the prospect's expectations to evaluating their experience with your brand, it does it all. This type of customer acquisition channel can be added at any stage of the process.
A feedback solution won't seem like customer acquisition software at first. However, it helps you gauge your prospects' expectations. Its ability to help you get to know prospects closely makes it an essential channel in the acquisition process.
2. Live Chat
Real-time communication is as crucial as collecting feedback. That's why live chat is another customer acquisition channel we'd like you to take into consideration. It enables your business to connect with prospects in real-time and showcase your products as they browse your website.
You can also acquire them as your new customers during the conversation by suggesting products that match their needs. In a nutshell, you get multiple opportunities to intervene in a browsing experience and recommend services that are sure to match their experience.
Related Post - Add Live Chat to your website for Free
3. Email Marketing
Email marketing is another acquisition channel that your business can consider. With an email marketing platform, you can identify how many prospects react to your marketing and sales-related emails. In a nutshell, you can qualify prospects that the sales team can reach out to manually based on their actions towards your emails.
Other than being an acquisition channel, email marketing tools also help your business retain existing customers. That means you get to reduce both acquisition and retention costs with this channel.
4. Social Media Marketing
Our next acquisition channel needs no introduction because everyone is already familiar with social media platforms. You can use Twitter, Facebook, Instagram, LinkedIn, and others to connect, engage, and bring in more customers for your business. You can run ads, announce your upcoming product launch and sales, and reach out to interested prospects using your social media profiles.
5. Digital Marketing
While digital marketing may seem like a lengthy process, it still offers long-term benefits that are hard to ignore. You get the opportunity to dive deeper into buyer personas and curate content that attracts them at the right time. Besides that, you get to identify the channels they use to interact with your business frequently. Based on the channels, you can develop marketing strategies that are sure to convert them into customers.
These five customer acquisition channels may sound familiar but are pretty effective in helping you acquire new customers. In case the efficiency of these channels has convinced you to get started with one and invest in an acquisition tool for the same, we're here to help.
Top 11 Best Customer Acquisition Tools to Increase Your Sales
In this section, we plan to list the top customer acquisition tools that your business can consider adding to your existing sales and marketing suites. We've made sure to explain the pros and cons of each tool and how you can benefit from their use to help you arrive at a decision faster. Let's get started!
Are you looking for a chat tool that helps you grab attention during a visitor's browsing experience and start a conversation instantly? ProProfs Chat is your calling! This live chat software enables your sales and support staff to connect and engage website visitors in real-time.
You will also like their chatbot functionality that takes off the pressure of incoming frequently asked questions and helps your operators focus on complex issues. Besides the automation and proactive chat features, you will also find announcements and routing beneficial functionalities. Both can help your prospects get one step closer to becoming your customers.
Top Five Key Features:
Automates with chatbot
Updates visitors with announcements
Engages visitors with proactive chats
Pros:
ProProfs Chat is perfect for tracking website visitors, analyzing their activities on the website, and initiating proactive chat in real-time. You can make your sales and support operators more proactive and identify better acquisition opportunities.
Cons:
They can add a customer acquisition pre-chat form and chatbot template that helps its users capture qualified leads that can be converted into customers in real-time.
Pricing:
Trial Plan: $0/15 days
Essentials Plan: $20/mon
Premium Plan: $60/mon
Business Plan: Request a custom quote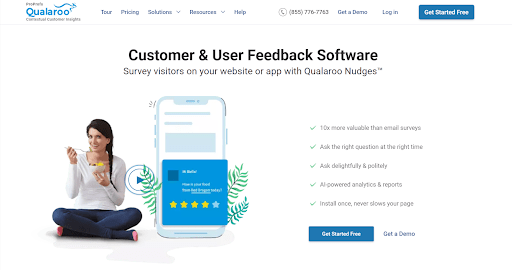 Qualaroo is another customer acquisition tool that your business can give a shot at. As feedback software, Qualaroo helps you assess customer sentiments. It uses Watson Sentiment Analysis that tracks mood metrics based on the keywords used by customers in their feedback. You can also find a separate reports section that offers an in-depth analysis of customer feedback.
Besides that, it helps you create Nudges that help you ask the right questions at the right time and identify what your visitors came looking for on your website. You can also test your Nudge to make sure they pop up at the right time. Other than that, Qualaroo users can also create NPS and exit-intent surveys as well.
Top Five Key Features:
Offers AI sentiment analysis
Helps you set Nudge
Makes A/B testing possible
Provides question branching functionality
Creates NPS & exit-intent surveys
Pros:
We like how this feedback software enables a business to analyze its customer's sentiments behind the feedback they leave. This tool provides more grounds for a company to alter or improve their services as per the customer feedback.
Cons:
They have a great feature called Nudge that encourages customers to leave feedback for the business. However, the desktop Nudges can't be used or cloned for mobile Nudges.
Pricing:
Essentials Plan: $0.0008/tracked pageview/mon
Premium Plan: $0.0016/tracked pageview/mon
Enterprise Plan: Request a quote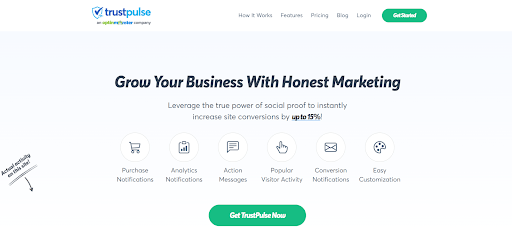 TrustPulse is an OptinMonster Company that works towards building better marketing campaigns for its users. To help you create successful campaigns, it sends analytics notifications, action messages, access to visitor activity data, and more.
You can also track how many customers purchased from your website. Simply set notifications for such customers in under five minutes, and you'll start getting updates on all the customers who've purchased from your website. It even helps you target specific customers by displaying social proof at the right time during their buyer's journey.
Top Five Key Features:
Tracks conversion analytics
Offers real-time visitor tracking
Identifies purchases, signups & more
Helps you display social proof
Builds notifications in under 5 minutes
Pros:
Their setup is relatively fast because they display every feature needed at the right time during the process. This can prove beneficial and help users get started with the product right away.
Cons:
It should integrate with more platforms like eCommerce and content management systems to make its services more convenient for other prospects.
Pricing:
Basic Plan: $9/mon
Plus Plan: $17/mon
Pro Plan: $34/mon
Growth Plan: $50/mon

HubSpot's Marketing Hub allows you to build web pages, create forms, and run ads that capture leads. Once the leads are in your contact list, HubSpot makes it easy for you to build upon the relationship with email marketing.
Create personalized ads for your target audience on the social network they're most active on, or professional landing pages with conversion features like forms, chatbots, and meeting prompts to entice website visitors. After that, use the drag-and-drop email creation tool to follow up with your fresh leads immediately.
Top Five Key Features:
Automates kickback and marketing emails
Offers customizable forms
Helps you train through the HubSpot Academy
Provides a centralized marketing analytics hub
Synchronizes ads across platforms in one location
Pros:
HubSpot offers so many marketing tools that work together. Combining HubSpot's lead generation software with its Marketing Hub, Sales CRM, and Content Management System gives you the ultimate toolset for converting leads.
Cons:
With such robust software, there can be a bit of a learning curve to get up to speed. The cost of extra features might also be a bit prohibitive if you aren't going to use every tool in the software fully.
Pricing:
Free: Core features
Starter: $45/month
Professional: $800/month
Enterprise: $3,200/month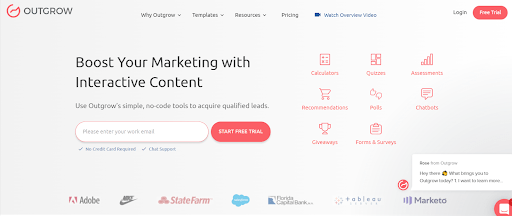 Outgrow markets itself as a platform for building interactive content for businesses. It offers multiple functionalities that allow its users to create interactive quizzes and polls. With quizzes and polls, you can also capture leads and get to know your target audience better.
On top of that, Outgrow also helps you create assessments, suggest product recommendations at your eCommerce store, and interact faster with a chatbot. All these interactive services enable users to develop better acquisition strategies and achieve their end goal – higher sales.
Top Five Key Features:
Helps you target the right audience
Tracks all conversions on the website
Captures leads with quizzes & polls
Qualifies the right leads with chatbots
Creates forms & surveys
Pros:
Outgrow is known for offering the best customer service to its users. What's more, they offer multiple services together in a bundle that not only helps them capture qualified leads but also converts them into customers.
Cons:
A lot of their users have actively complained about their pricing. Features are limited in most of the plans except for essentials and business plans. They can prove to be expensive in the long run.
Pricing:
Freelancer Limited Plan: $14/mon
Freelancer Plan: $25/mon
Essentials Plan: $95/mon
Business Plan: $600/mon

ProProfs Project is a simple project management software that helps you maintain all your marketing and development projects in one place. If you run a digital marketing agency, you'll find it immensely useful as it will help you plan work for each client and enable your teams to deliver them on time.
That's not all. You can collaborate across teams and even with your clients using the same tool. You have to add your clients as new users and provide them access to the project view that enables them to keep track of their projects regularly. It's important to understand that ProProfs Project may not seem like an acquisition tool, yet it helps you maintain your client data that can be used to create strategies to acquire new clients in the future.
Top Five Key Features:
Offers kanban view
Tracks time for each task & project
Creates invoice in seconds
Builds reports for clients
Makes collaboration possible
Pros:
We like their Kanban view. It's pretty detailed and enables their users to get a complete picture of how a project is progressing and understand whether it will finish within the given deadline or not.
Cons:
ProProfs Project lacks a list of good integrations that can further enhance your task management experience.
Pricing:
Essentials Plan: $2/user/mon
Premium Plan: $4/user/mon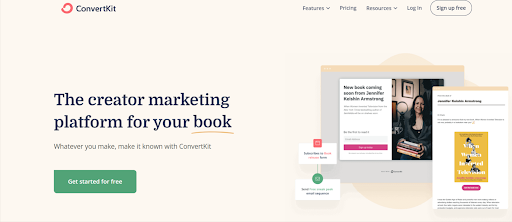 ConvertKit is a marketing platform that enables your business to build landing pages that will bring in good conversions. It offers multiple landing page templates that will allow your marketing team to create various pages in minutes. Besides landing pages, you can also find templates for email marketing purposes as well.
You can create and maintain multiple email marketing campaigns simultaneously. If you'd like to bring your email marketing template to life, then you'll find their email designer to be quite helpful. It even helps you design email sign-up forms that can help your business target the right audience and acquire customers who will stick with you for long.
Top Five Key Features:
Designs beautiful email marketing templates
Runs multiple campaigns
Creates landing pages in minutes
Send personalized content to customers
Automates email path for subscribers
Pros:
This tool helps you increase your newsletter and product sign-ups. A lot of their customers have expressed how this tool has helped them increase newsletter sign-ups and boost sales eventually.
Cons:
Multiple customers have complained about their support services. That means if you do get stuck with their product, you might find it difficult to connect with a support agent.
Pricing:
Free Plan: $0/mon
Creator Plan: $9/mon
Creator Plan: $25/mon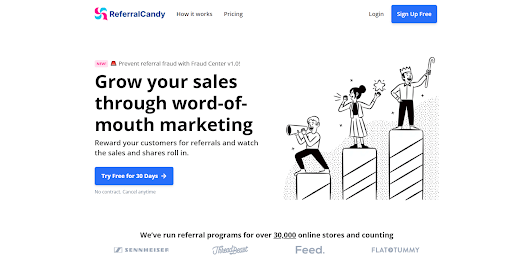 ReferralCandy helps you run effective referral programs and build referral strategies hassle-free. This referral product helps you amplify your word of mouth efforts by helping you set the right campaign. You can design a referral program from scratch and track its performance through detailed reports and analytics.
You can add customer reward options that help you encourage your customers to bring in new referrals for your business. What's more, it integrates with some of the most popular eCommerce and marketing platforms in seconds.
Top Five Key Features:
Offers one-click integrations
Provides detailed referral program analysis
Amplifies your referral program
Offers live chat support
Customized reward options
Pros:
It's pretty easy to install ReferralCandy and get started with your campaign creation process. Features are also pretty well-defined and offer their users a seamless experience.
Cons:
They should have a separate dashboard that helps you track the performance of all the advocates and the number of people they referred.
Pricing:
Premium Plan: $49 billed monthly
Enterprise Plan: $3,999 billed annually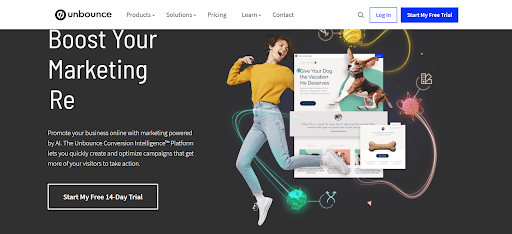 Unbounce is yet another marketing platform that uses AI and machine learning to help its users build intuitive marketing campaigns. With Unbounce, you can create optimized page sections that match your ideal landing page efforts. This will enable you to capture more conversion opportunities and increase your customer base efficiently.
Other than that, you can also get access to functionalities like Copy Insights that help you create landing page copies that match your messaging and attract the right audience to the website. To maximize your conversions further, they also offer access to landing page templates that are data-backed.
Top Five Key Features:
Offers mobile-responsive designs
Tracks conversion as per set goals
Provides Google fonts
Offers smart traffic insights
Helps you generate content in 6 languages
Pros:
We like how the conversion tracking functionality works. You get to identify the different aspects of your website that successfully convert a visitor into a customer for your business.
Cons:
One of the most significant drawbacks of this tool is that it is not a "no-code" tool like the others in this list. You need to be equipped with some coding knowledge to make changes or customizations as per your likes and dislikes.
Pricing:
Launch Plan: $90/mon
Optimize Plan: $135/mon
Accelerate Plan: $225/mon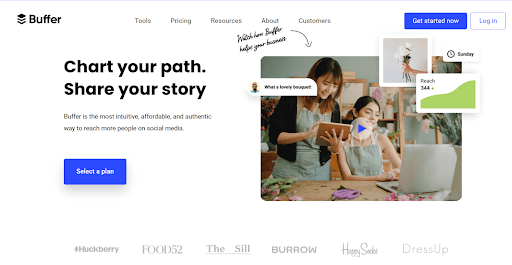 Buffer has so far been one of the best social media post planners we've had in the market. It helps you chart your entire social media post plan for the week or even month, therefore taking away manual efforts at your end and bringing better engagement for your business.
Besides simply planning social media posts, Buffer also helps you analyze how each post performs on different social media platforms. From engagement to incoming comments for interested buyers, it enables you to track it all. What's more, they recently introduced the landing page developer functionality for its users, therefore taking another step towards building a holistic marketing platform for businesses.
Top Five Key Features:
Helps you schedule social media posts
Helps you publish content without much effort
Analyzes the performance of each post
Enables you to track each engagement opportunity
Builds customized landing pages
Pros:
Buffer is undoubtedly the best social media management tool that helps you reduce your efforts while posting on each of your social profiles. It offers excellent analytics on engagement and helps its users identify where they can improve their post strategies further.
Cons:
You might find it irritating, but many of their existing customers have complained about how they've faced difficulties when scheduling posts for Instagram. They've been logged out several times. It does sound like a bug, but it surely needs to be fixed.
Pricing:
Free Plan: $0/mon
Essentials Plan: $5/mon
Team Plan: $10/mon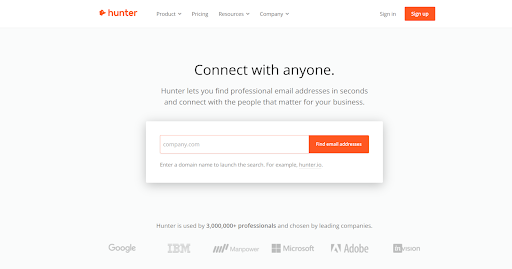 Want to reach the right prospects? Hunter will help you out. This email hunting software helps you find the email addresses of your target audience in seconds. It even offers access to sources from where it picks their email addresses. You can even use their detailed search filters that enable you to find the best sources you can reach out to for marketing and sales purposes.
You can also search for someone's email address by simply typing in their name in their search bar. What's more, you can export the lead data directly to your CRM in seconds. You can send emails to prospects with complete confidence as it offers verification for each address it provides.
Top Five Key Features:
Identify the right leads
Exports your leads to CRM
Gives confidence score to email addresses
Verifies the resources from where they find the emails
Helps you find leads with a specific email address format
Pros:
Hunter is perfect for all business sizes. It helps you capture legit email addresses that you can contact with confidence.
Cons:
A user doesn't need to find data for all the companies in this tool. You may find data for certain domains but not for all.
Pricing:
Free Plan: $0/mon
Starter Plan: $49/mon
Growth Plan: $99/mon
Pro Plan: $199/mon
Enterprise Plan: $399/mon
Bring New Customers Onboard with the Best Customer Acquisition Tools
Customer acquisition tools can surely help your business reduce manual efforts in getting new customers on board. What's more, they can even help you reduce your acquisition costs when compared to manual efforts.
However, choosing the best customer acquisition tool can be challenging if this is the first time you are investing in one for your business. But don't worry, our team has got your back. The acquisition tools mentioned in this blog will help you attract prospects that can convert into customers.
Please note, all of them belong to different categories. Therefore, rather than selecting a single tool, you can always go for multiple options that best match your business needs.
We hope this helps!
Do you want a free Live Chat software?
We have the #1 Online Live Chat Software for instant customer support 24x7