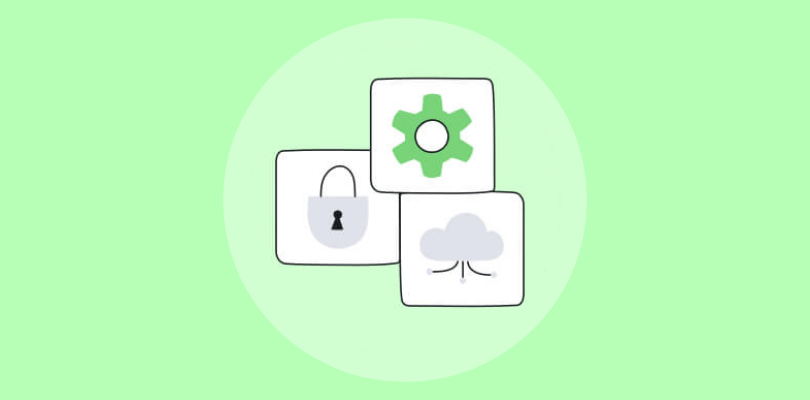 The software industry is flooded with SaaS marketing tools, making it a daunting task to find the perfect one for your business.
But don't worry; I'm here to simplify things for you.
As a seasoned SaaS professional with years of hands-on experience, I understand the challenges of navigating this vast landscape.
In this blog, I'll be sharing the 12 best SaaS marketing tools that I've personally tried. I've also considered what other users have to say and gathered recommendations from my industry peers.
So, let's dive in!
| SaaS Marketing Tool | Best For | Paid Plan |
| --- | --- | --- |
| ProProfs Chat | Chatbots and Proactive Engagement | Forever-free for a single operator. Paid plan starts at $19.99/operator/month. |
| ActiveCampaign | Automated Email Marketing | Starts at $49/3 users/month. |
| BIGContacts | Contacts Management and Email Marketing | Starts from $5/user/month. A 15-day free trial is available. |
| HubSpot | Inbound Marketing | Starts at $890/month. |
| Qualaroo | AI Sentiment Analysis | Starts from $69/month. A 15-day free trial is available |
| Semrush | Keyword Research | Starts at $108.33/month. |
| Hootsuite | Scheduling and Publishing Content | Starts from $23.04/month. |
| Sprout Social | Social Media Analytics | Starts from $249/month. |
| Google Analytics | Measuring Website Performance | Custom pricing. |
| Canva | Graphic Designing | Free plan available. Paid plan starts at $48.11/month. |
| Zoom | Video Conferencing | Free plan available. Paid plan starts at $15.64/month. |
| PhotoADKing | Customizable Graphic Templates | A free plan is available. Paid plan starts at $4/month. |
Top 12 SaaS Marketing Tools in 2023
These are some of the best SaaS marketing tools available in the market. In addition to my own experience and peer recommendations, I also considered ratings and reviews on these tools from reputed sources.
Best for Chatbots and Proactive Engagement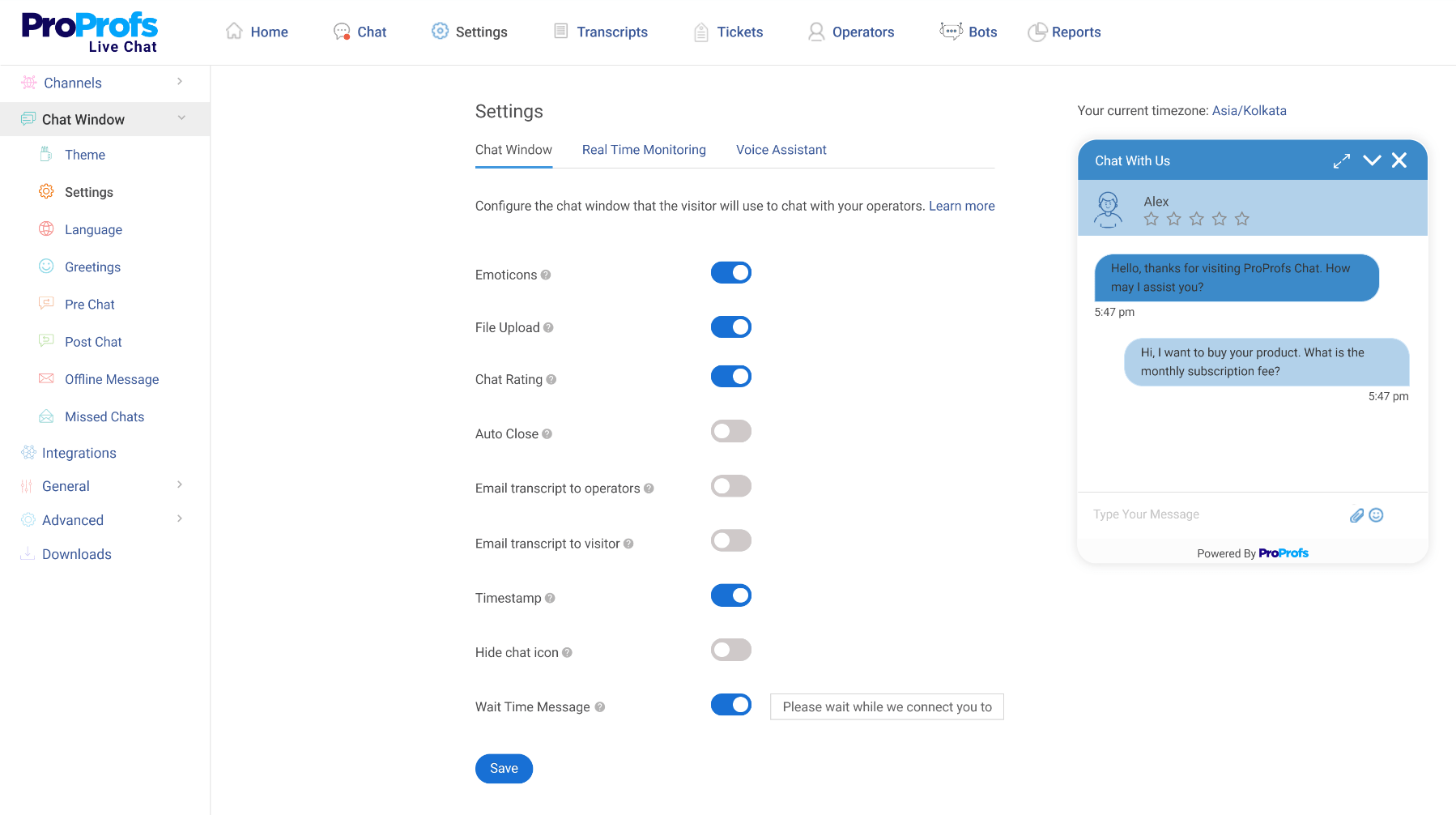 I have been using ProProfs Chat for a while now, and I love how easy it is to connect with my website visitors and offer them instant help. This tool is a great addition to my marketing stack as I can create chatbots to engage website visitors and capture leads around the clock.
I can sync all my customer data and communications in one place as ProProfs Chat integrates with popular eCommerce and CRM platforms like Shopify and HubSpot. I can also track visitor behavior, customize chat rules, and personalize chat messages and announcements.
This tool is best known for its proactive engagement capabilities, such as chat invitation pop-ups and personalized greetings, enhancing the user experience. Its ability to manage multiple communication channels and domains from a single dashboard ensures no customer request goes unanswered.
What you'll like
Customizable chat widget options to maintain branding consistency.
Visitor tracking and behavior analysis for insightful data.
Multi-language support ensures effective communication with a global audience.
Share images, videos, and documents directly within chats.
Seamless integration with ProProfs Knowledge Base for self-help articles.
Robust analytics provide in-depth insights into chat performance.
What you won't like
The free plan is limited to a single operator.
Its wide range of features may overwhelm new users.
Pricing: ProProfs Chat offers a forever free plan for a single operator, but live chat pricing for 2+ operators starts at $19.99/agent/month.
Also Read: Live Chat for Customer Support: A Complete Beginner's Guide
Best for Automated Email Marketing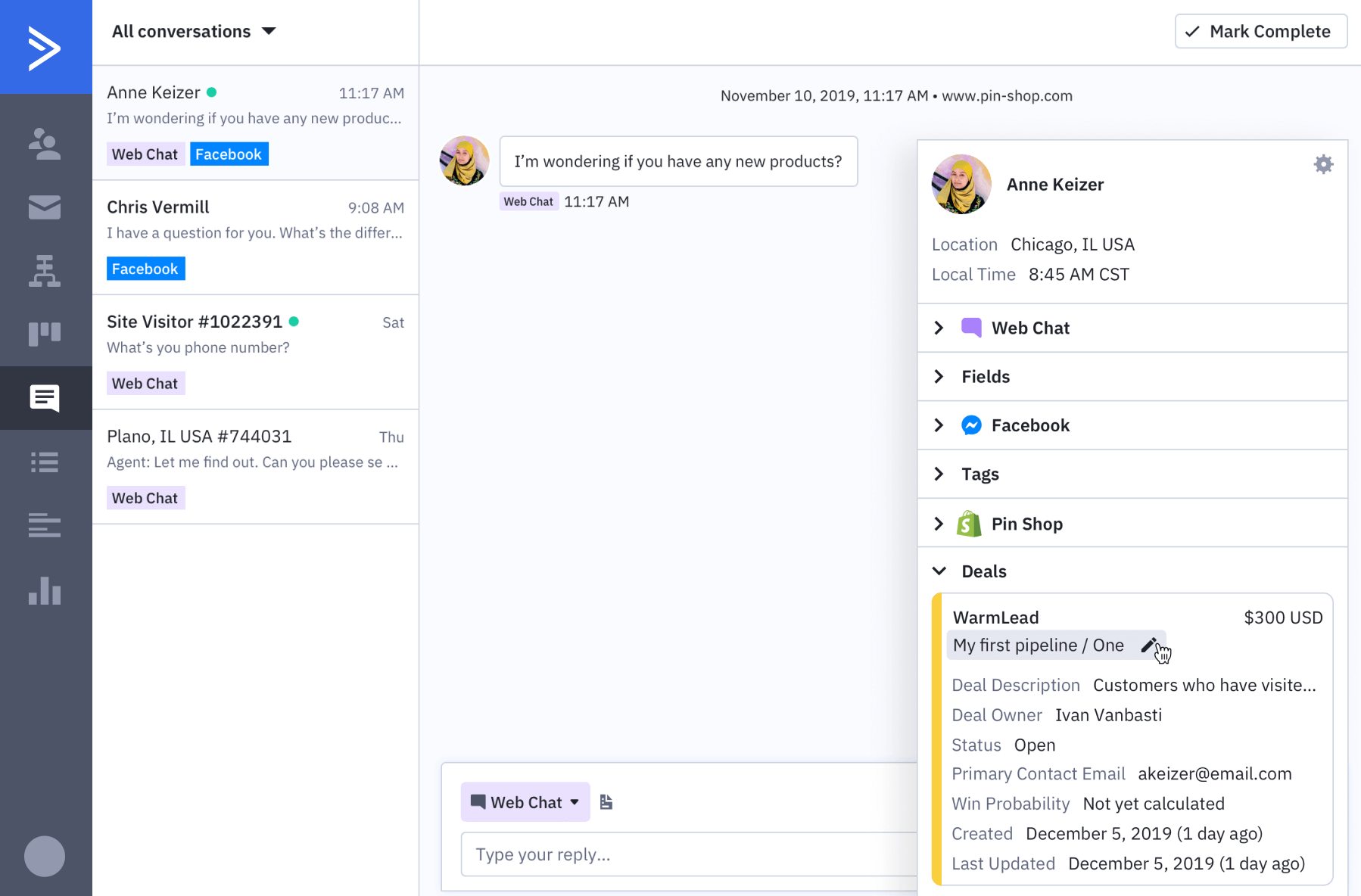 ActiveCampaign can be the game-changer you've been looking for to overhaul your marketing strategy. This SaaS marketing platform empowers me to automate email marketing, segment contacts, and effortlessly personalize communication.
It offers marketing automation features like CRM, lead scoring, and dynamic content creation. The intuitive drag-and-drop builder makes designing engaging email campaigns and automation workflows easy.
With its robust analytics, I've gained valuable insights into campaign performance, enabling me to optimize strategies for maximum ROI. ActiveCampaign is a comprehensive solution to help businesses build stronger customer relationships and drive growth.
What you'll like
Targeted email campaigns with dynamic content for personalized outreach.
Efficient lead and customer management through integrated CRM.
User behavior tracking refines messaging for better engagement.
A/B testing to optimize campaign elements for improved results.
Design tailored customer journeys based on preferences and interactions.
Multi-channel outreach, including SMS marketing, for broad audience reach.
What you won't like
Advanced automation features may require technical expertise.
Template library for email campaigns is limited compared to competitors.
Pricing: Starts at $49/3 users/month.
Best for Contacts Management and Email Marketing

With years of hands-on experience, I can confidently say that BIGContacts is a game-changer for businesses looking to streamline their customer relationship management and marketing efforts.
Its user-friendly interface simplifies data management, making it easy to organize, track, and nurture leads. Its customizable contact profiles allow you to capture essential contact information and personalize marketing campaigns effectively.
What truly sets this tool apart is its email marketing capabilities. You can create and send targeted email campaigns, track their performance, and automate follow-ups based on user behavior.
This tool excels in lead scoring, helping you identify and prioritize your hottest leads for conversion. Plus, its reporting and analytics provide actionable insights so you can make data-driven decisions for your marketing strategy.
What you'll like
Simple and easy-to-use interface that can be tailored to fit any business.
A 360° view of all activity with contacts, tasks, and calendars.
Customizable sales pipeline and automated email marketing based on sales stages.
Smart reporting and analytics system that tracks sales and team performance.
Social media tracking and drip marketing features to retain more customers.
A web form connection to capture more leads.
What you won't like
The limited storage in the lower-tier plans.
The free trial duration is relatively brief to explore all the CRM and email marketing functionalities.
Pricing: Starts from $5/user/month. A 15-day free trial is available.
Best for Inbound Marketing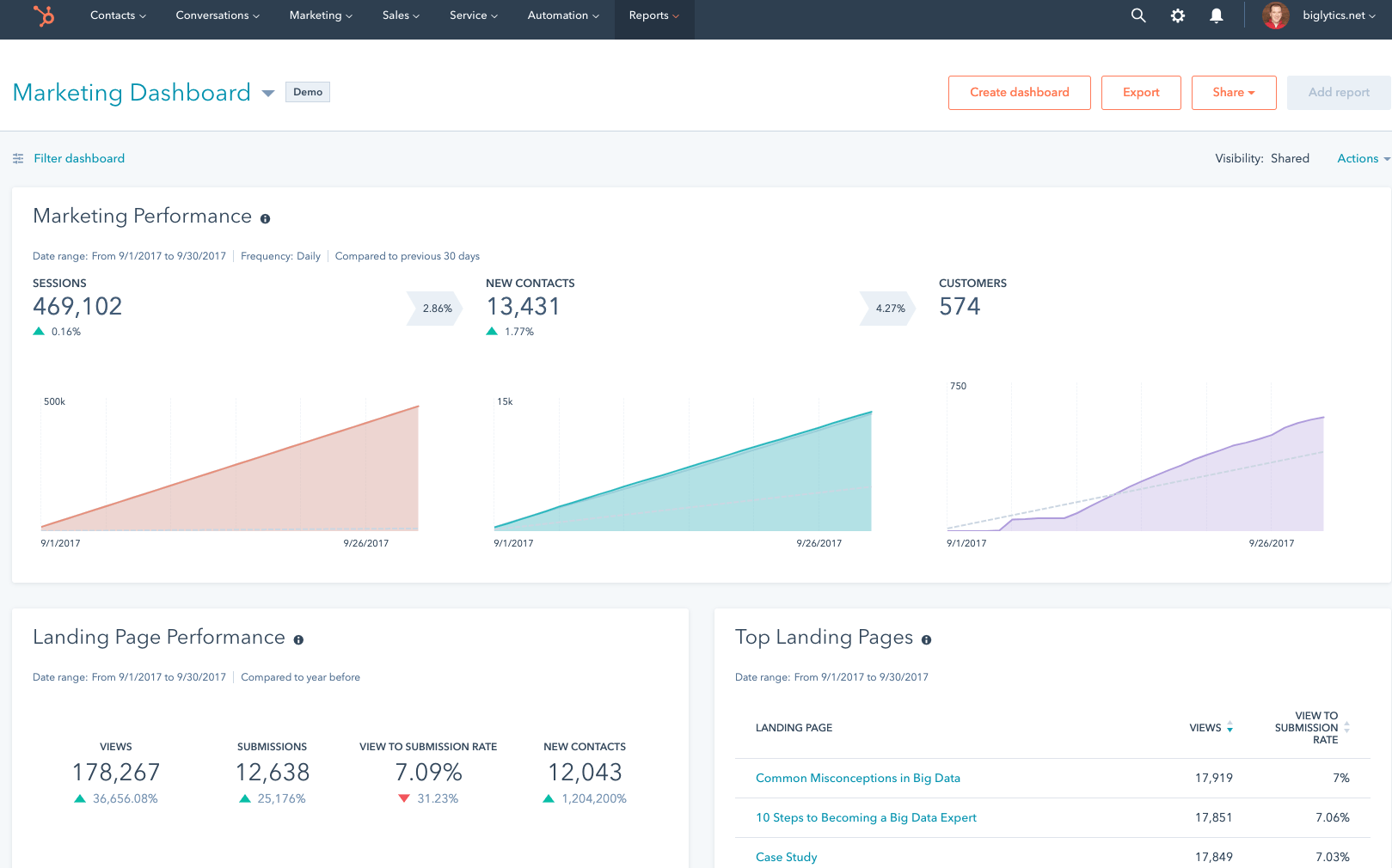 HubSpot is a popular inbound marketing and sales platform I've relied on extensively. It offers a suite of tools for content management, lead generation, email marketing, CRM, and analytics.
HubSpot's all-in-one approach simplifies marketing efforts by providing a unified platform for creating, tracking, and optimizing campaigns. Its marketing automation features, such as workflow automation and lead nurturing, helped me streamline marketing processes and generate higher-quality leads.
The robust analytics and reporting tools were instrumental in measuring the effectiveness of my marketing efforts. HubSpot is surely a powerful solution for marketers to attract and engage customers throughout their journey.
What you'll like
An integrated platform encompassing inbound marketing and sales solutions.
CRM and sales automation tools for streamlined lead management.
Marketing automation centralizes campaign creation and management.
Content management enables easy creation and optimization of content.
Targeted email campaigns with performance tracking for data-driven decisions.
Access to detailed analytics and reports to measure marketing impact.
What you won't like
High pricing for businesses with extensive marketing needs.
Limited customization options in the entry-level plans.
Pricing: Starts from $890/month.
Best for Exit-Intent Surveys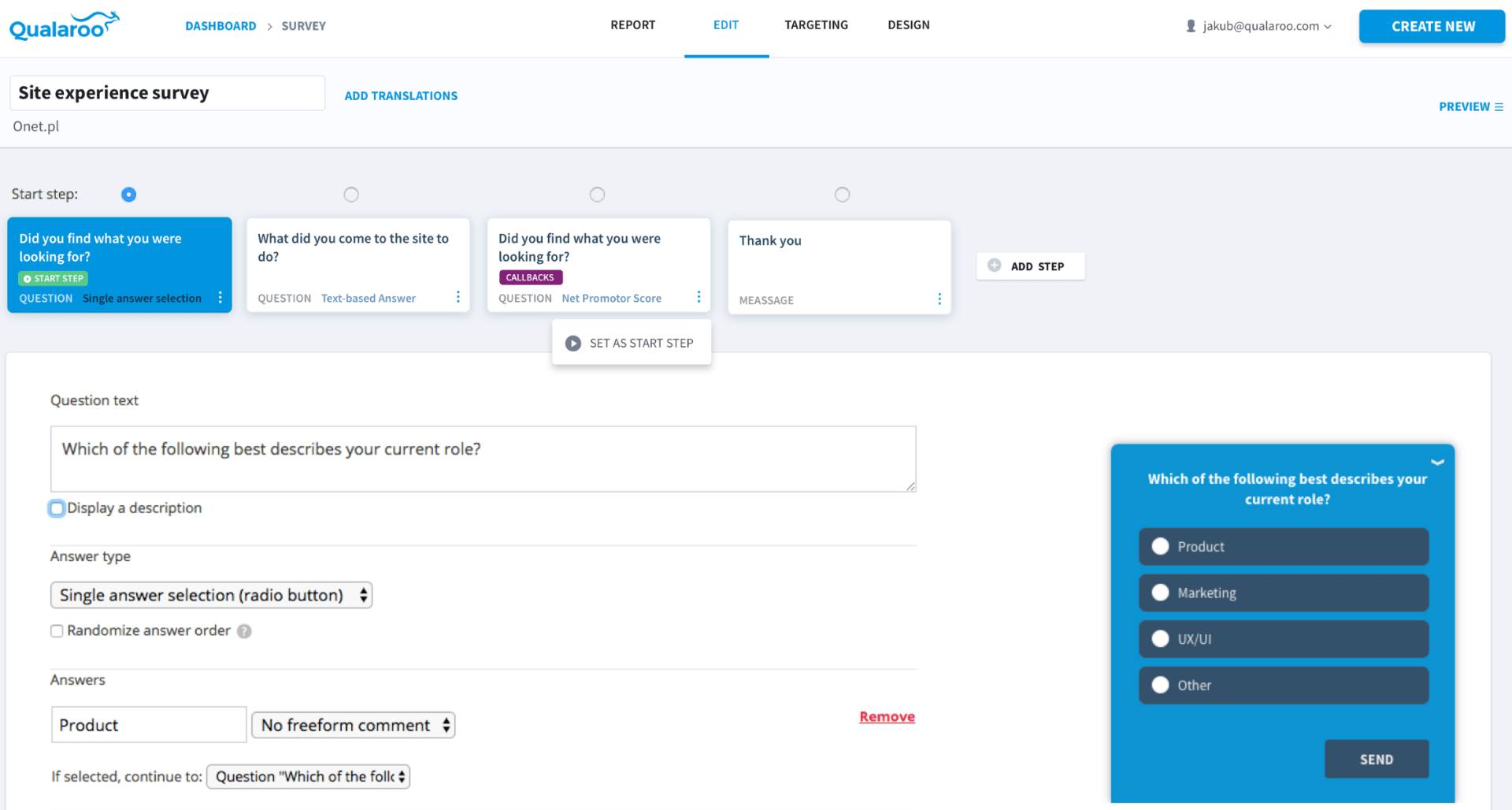 Qualaroo is one of the best user feedback software, and I say this from experience. This remarkable tool gathers invaluable insights from your website and app visitors in real time, ensuring you capture their feedback at precisely the right moment.
What's truly impressive is that the tool offers exit-intent surveys that trigger a popup when the visitor shows signs of abandoning the website page. This way, it comes in super handy in engaging your leaving prospects.
You can also add lead generation forms to your website to populate your sales funnel. Whether you aim to optimize user experiences, boost conversion rates, or gather product feedback, this software equips you with the tools to do it effectively.
What you'll like
Skip and branching logic to gather accurate feedback from targeted customer segments.
Net Promoter Score (NPS), Customer Effort Score (CES), Exit-intent, and many more pre-designed survey templates.
Advanced targeting to target leads based on demographics, browser, device, on-page activity, time spent on a page, etc.
Shows your NPS right on the dashboard with other metrics.
Surveys in 70+ languages to target global leads.
What you won't like
Some users find the user interface less intuitive.
Advanced targeting features are only available in higher-tier plans.
Pricing: Starts from $69/month. A 15-day free trial is available.
Best for Keyword Research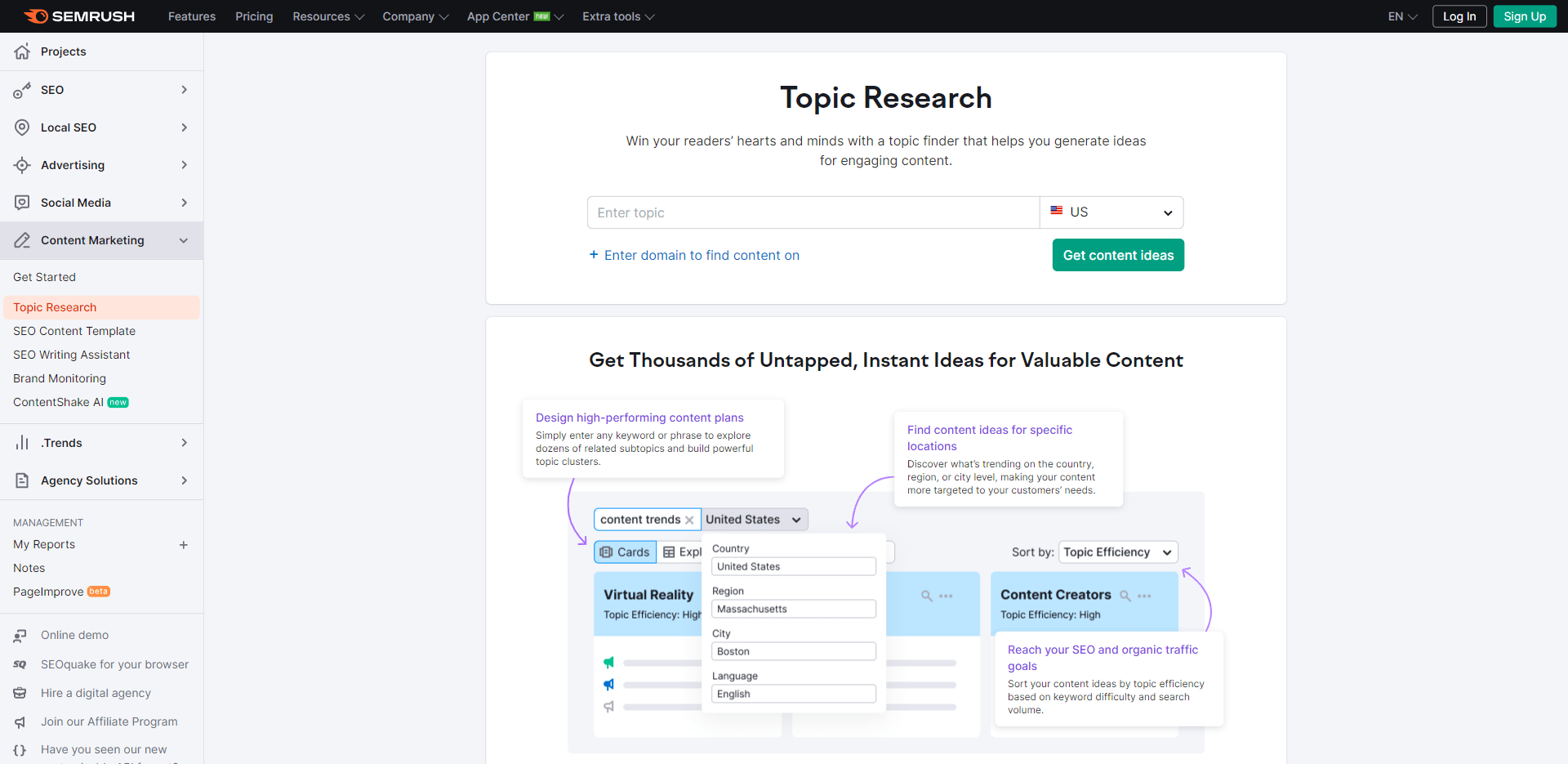 SEMrush has been my go-to tool for competitive analysis and SEO optimization. This versatile SaaS marketing tool offers a comprehensive suite of features, including keyword research, site auditing, backlink analysis, and rank tracking.
Its competitive intelligence capabilities provide valuable data on competitors' strategies and rankings, helping me identify opportunities and gaps in my own SEO efforts. With this tool, it's easy to identify high-value keywords and optimize content for search engines.
I've improved my website's visibility, which drives more organic traffic than I anticipated.
What you'll like
Keyword research to enhance search engine rankings and online visibility.
Assess backlinks and perform audits to enhance your SEO strategy.
Managing and monitoring advertising campaigns within a unified platform.
Content Optimization for improved performance and better user engagement using SEO Writing Assistant.
Social media analytics for informed decisions about your online presence and audience engagement.
What you won't like
Limited social media management capabilities compared to specialized tools.
Occasional discrepancies in data accuracy and reporting.
Pricing: Starts at $108.33/month.
Best for Scheduling and Publishing Content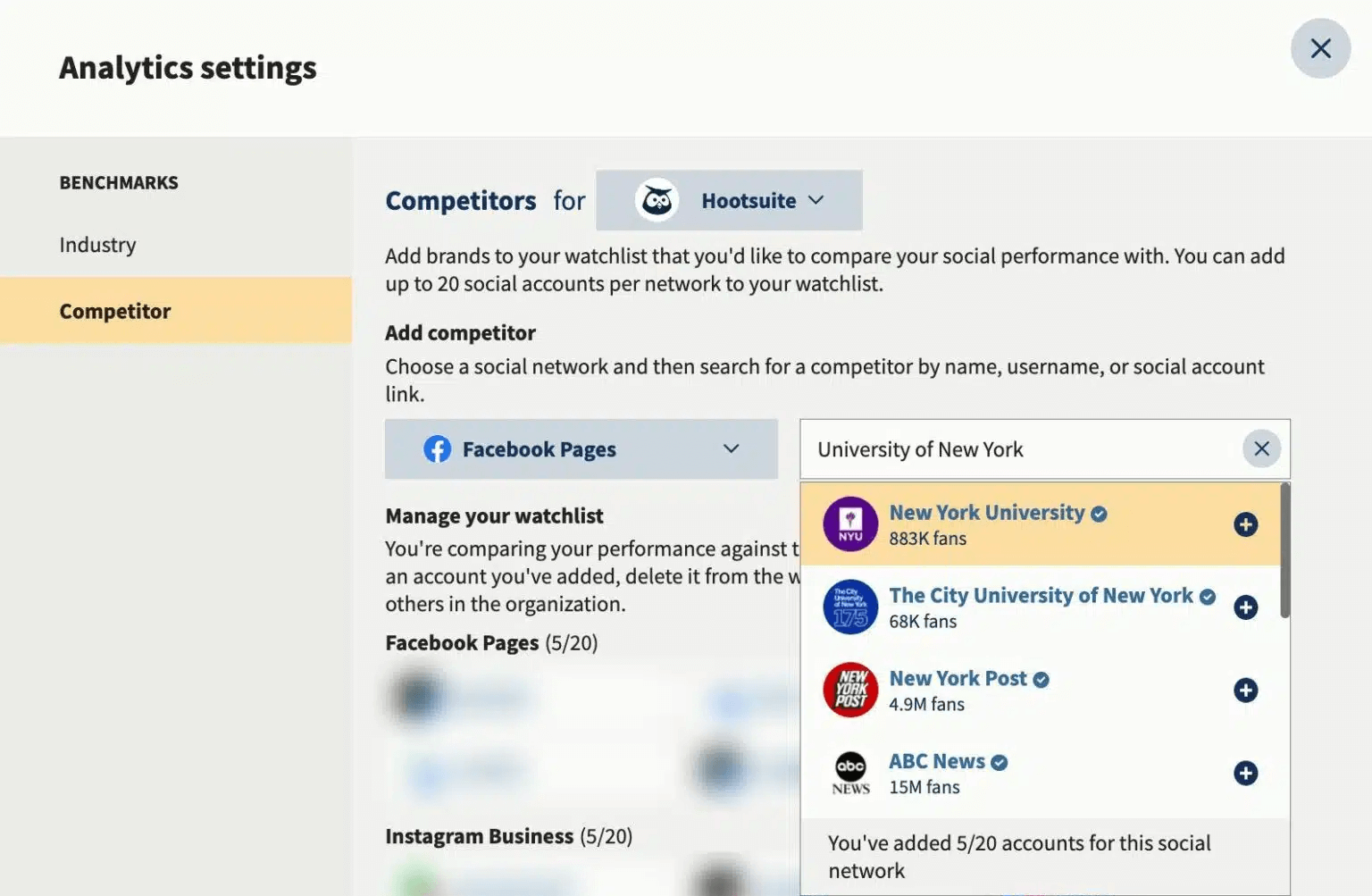 Hootsuite is one of the best SaaS marketing resources I prefer for streamlining my social media management and optimizing marketing efforts. It allows me to schedule and publish content across multiple social platforms, saving time and ensuring consistent messaging.
Hootsuite's social media analytics provide in-depth insights into the performance of my social campaigns, helping me track engagement, follower growth, and ROI. Its monitoring features also enable me to stay on top of conversations and mentions, which facilitates timely responses and brand management.
Hootsuite has been an essential tool in my stack for enhancing my social media presence and driving brand awareness.
What you'll like
A social media management dashboard to centralize operations.
Unified scheduling to ensure consistent posting across social platforms.
Real-time monitoring to track mentions and engagement.
Collaboration tools like Social Media Scheduler to enhance teamwork and content coordination.
Analytics and reporting functionality to measure social media performance.
OwlyWriter AI to generate content ideas and post relevant content.
What you won't like
Limited analytics and reporting capabilities compared to other dedicated tools.
Occasional issues with the scheduling and posting of content.
Pricing: Starts from $23.04/month.
Best for Social Media Analytics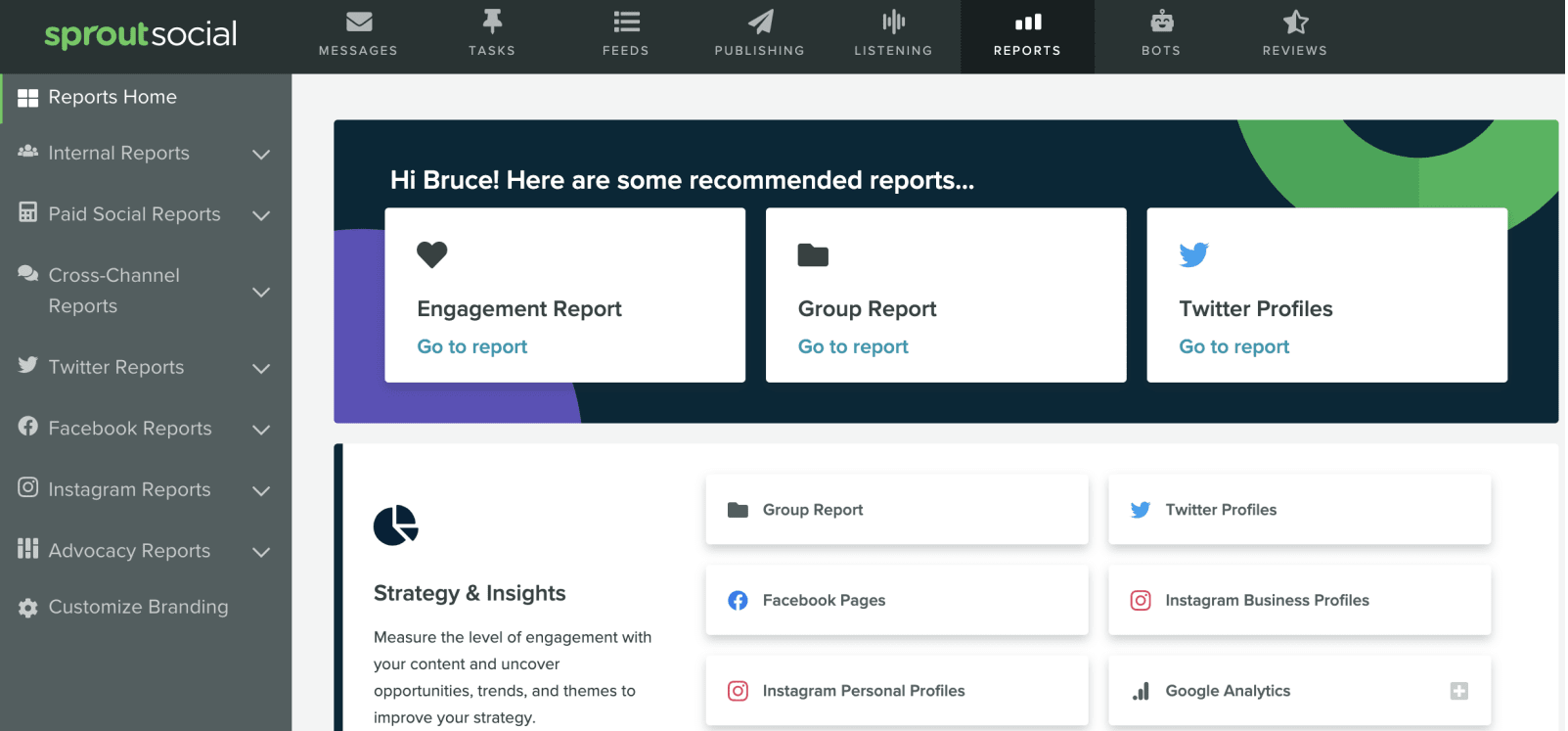 Sprout Social is another comprehensive social media management and analytics platform I used extensively at one point. It offers features for scheduling and publishing content, monitoring brand mentions, and analyzing social media performance.
This tool is popular for its robust reporting and analytics suite, providing deep insights into audience engagement and social ROI. I used it to measure the effectiveness of my social media strategies and make data-driven decisions.
Additionally, the collaboration features in Sprout Social improved my team's coordination and workflow efficiency. All these rich features make it a reliable choice for managing social media marketing campaigns.
What you'll like
Unified dashboard for managing all social media accounts and campaigns.
Scheduled posting to maintain a consistent online presence.
Real-time monitoring to track mentions and engage with your audience.
Collaboration tools for teamwork and efficient campaign execution.
Reputation management and monitoring tools to maintain a positive online image.
Integration capabilities to connect with CRM and helpdesk solutions.
What you won't like
A steep learning curve for advanced features.
Limited mobile app functionality.
Pricing: Starts from $249/month.
Best for Measuring Website Performance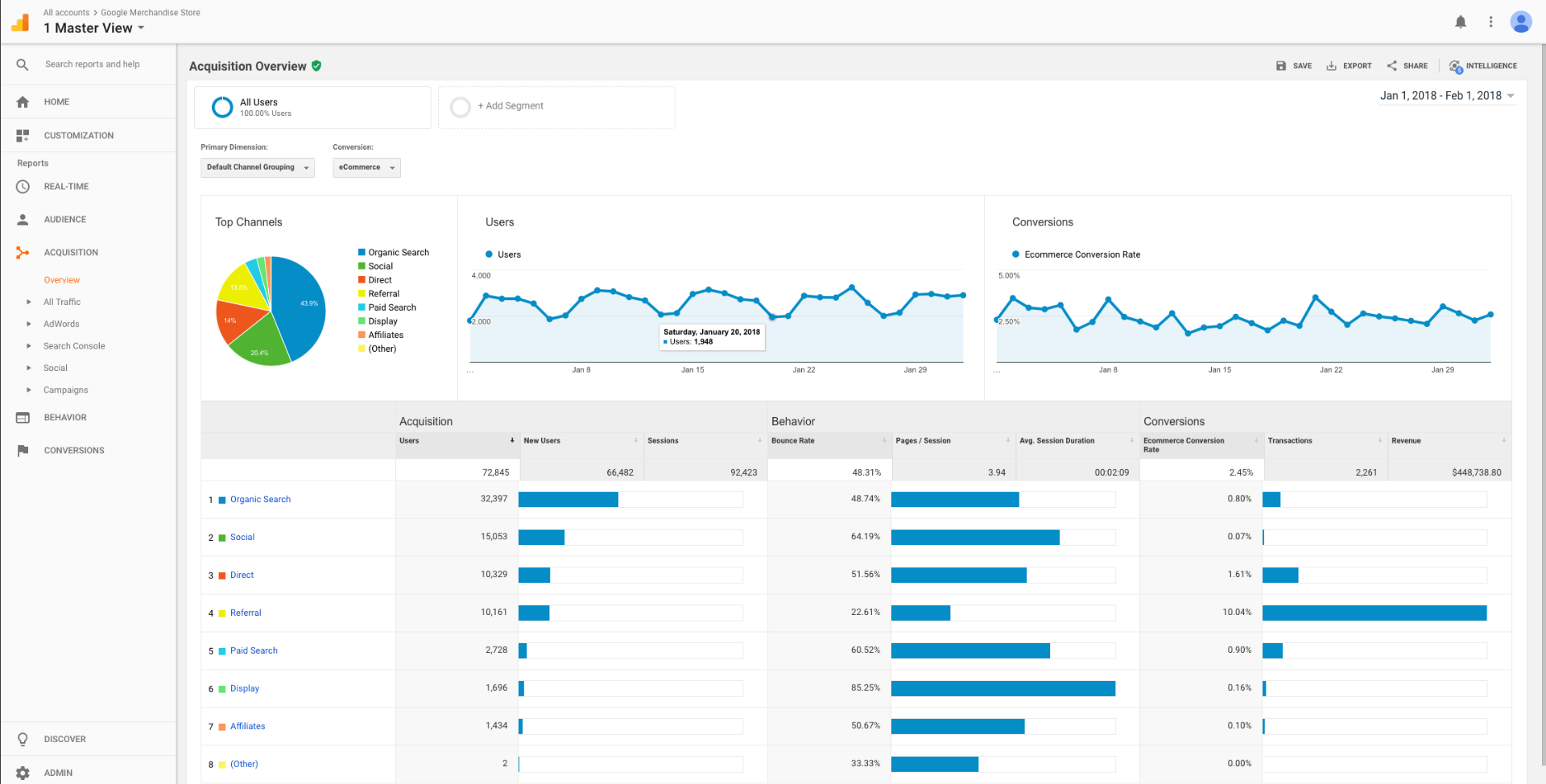 Google Analytics is the backbone of my digital marketing strategy. This powerful SaaS tool for marketing provides comprehensive data on website traffic, user behavior, and conversion tracking. With this tool, I can analyze the performance of my online campaigns, track key metrics, and make informed decisions to optimize my marketing efforts.
Its advanced features, such as goal tracking and e-commerce analytics, have been instrumental in assessing the impact of my marketing initiatives on business objectives.
Google Analytics is a must-have for any marketer looking to understand their audience, measure the success of their campaigns, and continuously improve their online presence.
What you'll like
Web analytics for valuable insights into your website's performance.
Success measurement with conversion tracking and goal setting.
Custom dashboards and reports to present data effectively.
Real-time data monitoring for immediate insights into user behavior.
Seamless integration with Google Ads for comprehensive advertising insights.
Audience segmentation and demographics data for targeted marketing strategies.
What you won't like
Inaccuracy in user count due to various factors such as device sharing, unregistered device switches, and privacy protectors.
Advanced features require a deep understanding of analytics.
Pricing: Custom pricing.
Best for Graphic Designing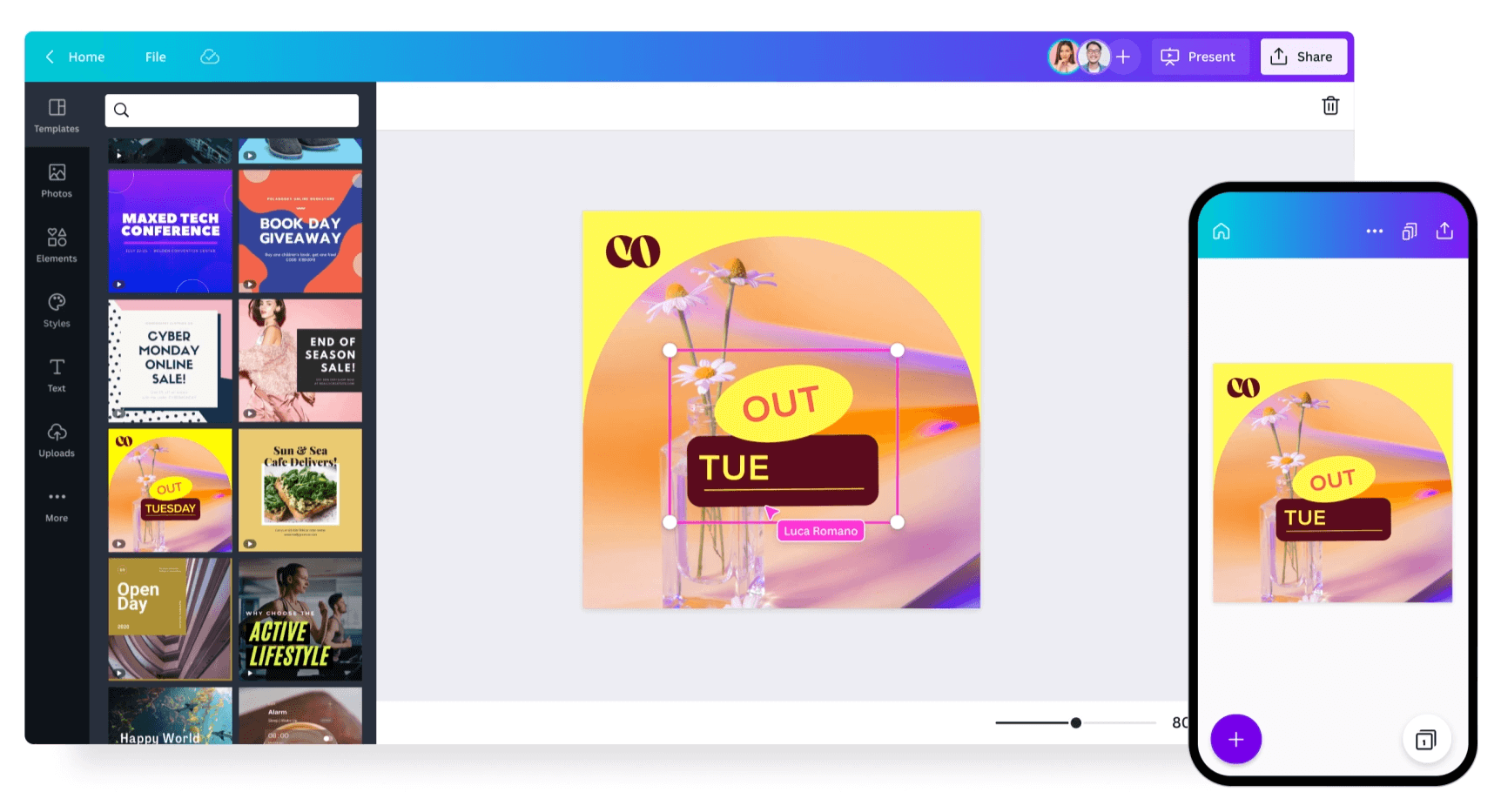 Canva is a creative design tool that has immensely simplified my graphic design tasks. With its user-friendly interface and a vast library of templates and assets, I can effortlessly create visually appealing graphics for social media, presentations, and marketing collateral.
Canva's drag-and-drop editor allows me to customize designs without requiring extensive design skills. Plus, it offers collaboration features, making it easy to work with team members on design projects.
This software has become indispensable for creating eye-catching visuals that resonate with my target audience.
What you'll like
Intuitive drag-and-drop interface for effortless design creation.
Collaboration features allowing teams to work together on design projects.
Custom branding, including logo design to facilitate a consistent visual identity.
In-platform photo and video editing capabilities to enhance visuals.
What you won't like
Limited collaboration features compared to professional design tools.
Copyright issues can arise when using Canva's stock images and assets.
Pricing: Free plan available. Paid plan starts at $48.11/month.
Best for Video Conferencing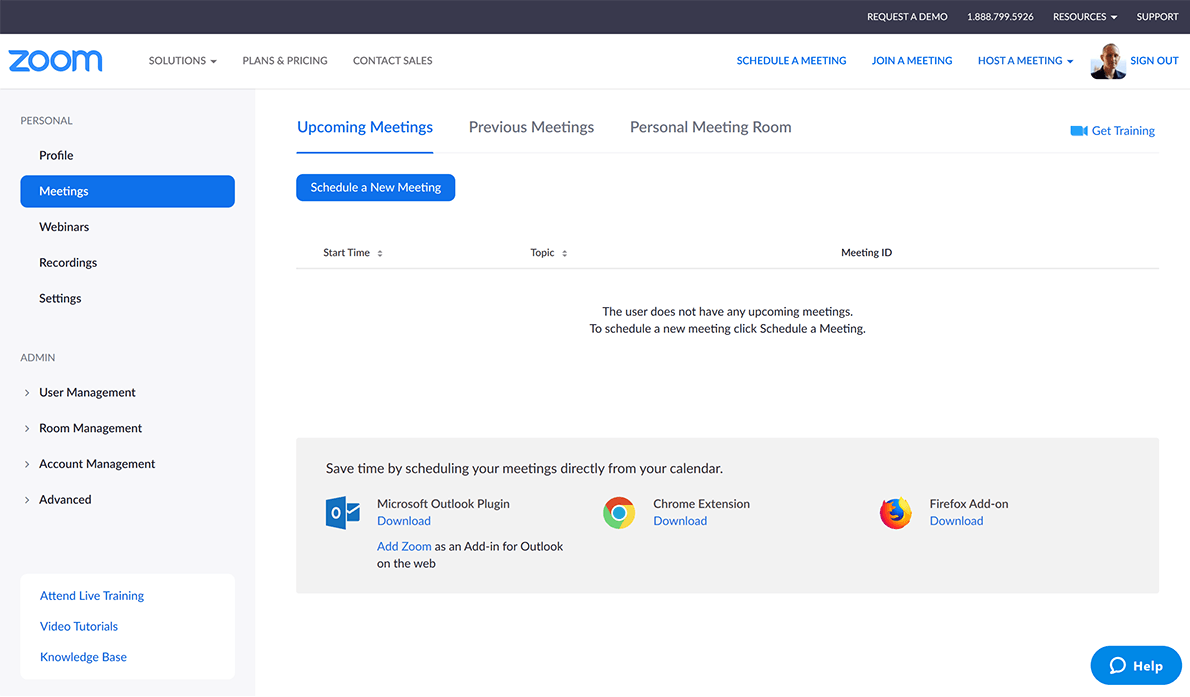 Zoom has revolutionized how I conduct webinars, virtual meetings, and online presentations. Its user-friendly interface and reliable video conferencing capabilities have made it my top choice for hosting and attending virtual events.
Zoom's interactive features, such as chat, screen sharing, and breakout rooms, enhance engagement and collaboration during meetings and webinars. The recording and playback options have been invaluable for sharing content with a broader audience.
Whether connecting with clients, conducting training sessions, or hosting large-scale webinars, this platform has proven to be a versatile and essential tool for my marketing and communication needs.
What you'll like
Experience high-quality HD video and crystal-clear audio during meetings.
Collaborate effectively with screen sharing and annotation features.
Breakout rooms enable smaller group discussions within a larger meeting.
Recorded meetings for comprehensive documentation.
Video call personalization with virtual backgrounds and filters.
Integration with various third-party applications such as Google Calendar, Slack, and Microsoft.
What you won't like
Limited free plan functionality, especially for large meetings.
Occasional technical glitches during video conferences.
Pricing: Free plan available. Paid plan starts at $15.64/month.
Best for Customizable Graphic Templates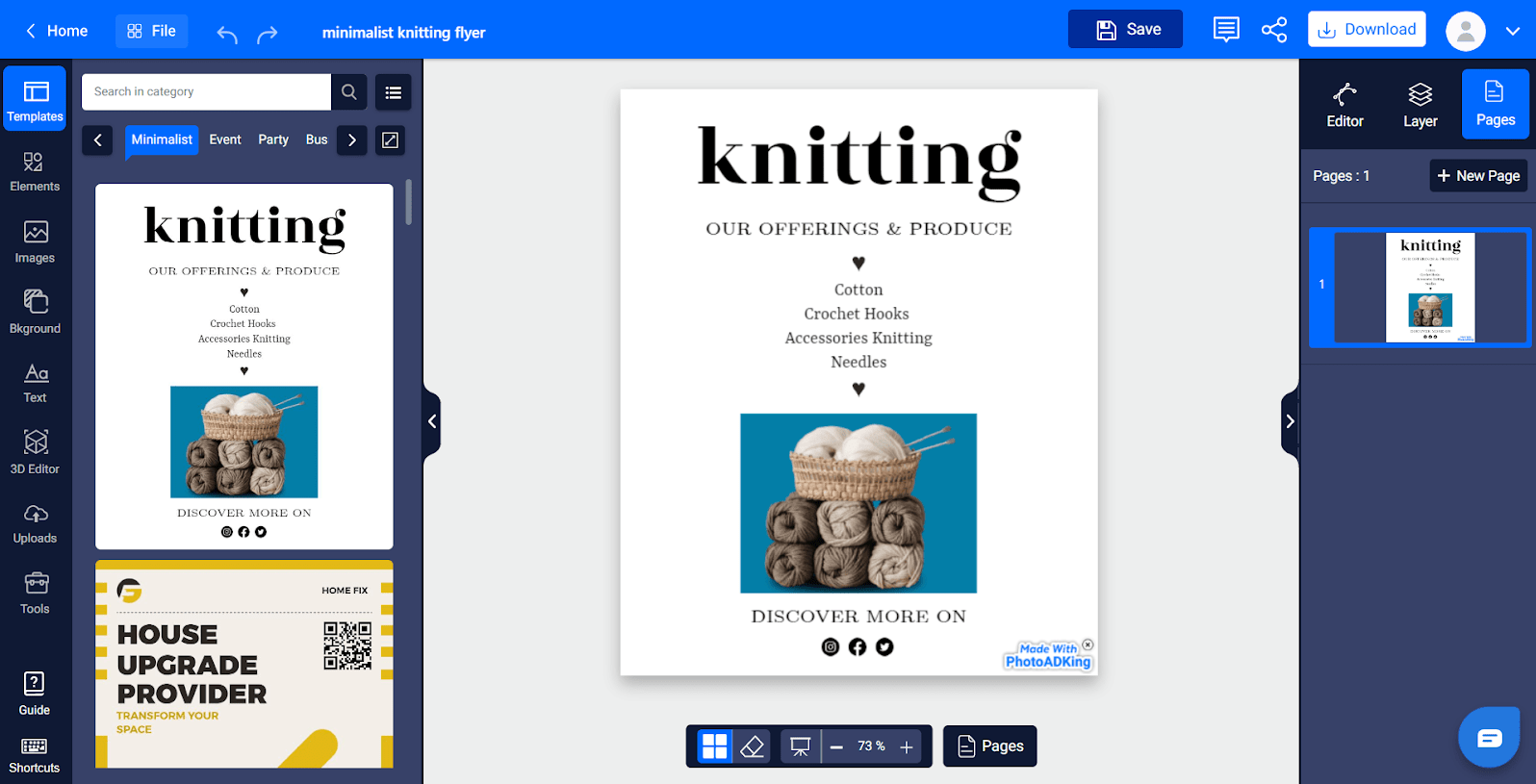 PhotoADking is one of the best designing tools recommended by my industry peers. Though I haven't tried this tool personally, the customer reviews align with what my peers have suggested.
PhotoADKing is a popular choice for creating stunning visual content for marketing campaigns. It offers a wide range of templates and design elements for social media posts, flyers, brochures, and more.
What truly distinguishes PhotoADKing is its user-friendly interface and design versatility. The intuitive drag-and-drop feature helps produce high-quality designs that you can export in various formats.
What you'll like
Customizable templates for various purposes.
Extensive library of graphics and fonts for creative options.
Social media post scheduling for efficient content management.
Collaboration features for team design projects.
Mobile optimization for users to create and edit designs on the go.
What you won't like
Limited design templates and elements than other tools.
Collaboration features are limited, especially for remote teams.
Pricing: A free plan is available. Paid plan starts at $4/month.
Start Marketing Your SaaS Business with the Right Tools
The right SaaS marketing tools can help you create successful business strategies. With so many options available, it's crucial to pinpoint the ones that align best with your marketing goals and strategy. To make the decision-making easy, here are my top 3 recommendations.
A. ProProfs Chat
If your primary goal is to engage your customers seamlessly and provide exceptional support, ProProfs Chat is a top contender. From canned responses that streamline communication to chat transcripts that help you keep track of conversations, ProProfs Chat empowers you to deliver a superior customer experience.
You can also leverage automated greetings and chat routing to ensure timely assistance to your customers, boosting their satisfaction and trust in your brand. For businesses looking to forge strong customer relationships, ProProfs Chat is a valuable asset in your SaaS marketing toolkit.
B. Google Analytics
This tool is an essential companion if your marketing strategy hinges on data analysis, tracking, and optimization. From measuring website traffic and user behavior to tracking conversion rates and understanding audience demographics, Google Analytics offers a wealth of insights.
It empowers marketers to refine their strategies, optimize ad campaigns, and maximize ROI. If data-driven marketing excellence is your aspiration, Google Analytics is the compass that guides your way.
C. BIGContacts
For businesses focusing on efficient contact management and targeted email marketing, BIGContacts takes the spotlight. This SaaS tool excels in helping you segment your audience effectively, allowing for personalized and impactful communication.
It's a powerful asset for nurturing customer relationships and driving conversions through well-crafted email campaigns. If your marketing strategy emphasizes the importance of building and maintaining strong customer connections, BIGContacts is the tool that can transform your approach.
So, consider your requirements and choose the SaaS marketing software catering to your varied business needs.
Learn More About SaaS Marketing Tools
Q: What is a SaaS Marketing Tool?
A SaaS marketing tool is a cloud-based software solution designed to help businesses plan, execute, and optimize their marketing efforts. These tools are typically accessed through a web browser and hosted on remote servers, eliminating the need for users to install and maintain software on their local devices.
From a live chat and social monitoring system to email marketing tools, a wide variety of tools can be seen as SaaS marketing solutions. They are invaluable for streamlining marketing processes, enhancing campaign effectiveness, and gaining insights into customer behavior and engagement.
Q: What are the five things to consider while choosing your SaaS marketing tools?
Here are the five things that you must keep in mind while choosing the best SaaS marketing tool for your business:
No matter what your marketing budget is, make sure your tools fit within it and allow you to use other channels.
Discuss data transfer and management if you switch to another service provider. You may end up leaving a SaaS marketing service provider for multiple reasons. Make sure that's on your checklist when you contact a SaaS marketing tool provider.
Ask the vendor whether they offer free trials for their products. It will be an added advantage if the vendor provides you a 14 or 15-day free trial of its product. This will allow you to test the product at your own pace and decide whether it matches your marketing goals or not.
Try to find out what their onboarding and post-sales support will be like once you sign up for their products. Also, add questions about their service level agreement (SLA) to learn how you will receive support for their products.
Read customer reviews online. Disappointed customers end up leaving reviews about the service provider, therefore helping you understand where they lack and how their products may hamper your experience with the brand.
Q: What are the five quick reasons your business needs SaaS marketing tools?
There are multiple reasons why your SaaS business should invest in marketing tools. Here's a quick rundown of these reasons for you.
Improve Your Market Outreach
Your SaaS business can increase its existing marketing outreach and improve engagement with prospects even when they are on your website. That means you get more opportunities for converting prospects and building a personalized experience for them.
Save Time
Another benefit that a SaaS business can gain from using a marketing solution is saving time. Instead of manually tying every email, you can save time by automating this process and sharing personalized emails with thousands of your subscribers. You can also save time for multiple prospects by managing their conversations simultaneously.
Reduce Marketing Cost
You can avoid spending all your marketing capital on paid ads or other campaigns. The yearly or monthly subscription cost of SaaS marketing tools will be way less compared to all your paid marketing efforts.
Improvise Your Marketing Campaigns
You can make instant changes to your marketing campaigns based on how many leads they are bringing to your business. That's not all. You can even personalize each campaign based on the target audience with the top SaaS marketing tools.
Secure Incoming Data
Product marketing tools also allow your business to secure all the data it captures after connecting with prospects. You can capture insights on how the marketing tools have helped you reach your audience, secure their data, and use it as a means to create personalized campaigns in the future.
Do you want a free Live Chat software?
We have the #1 Online Live Chat Software for instant customer support 24x7