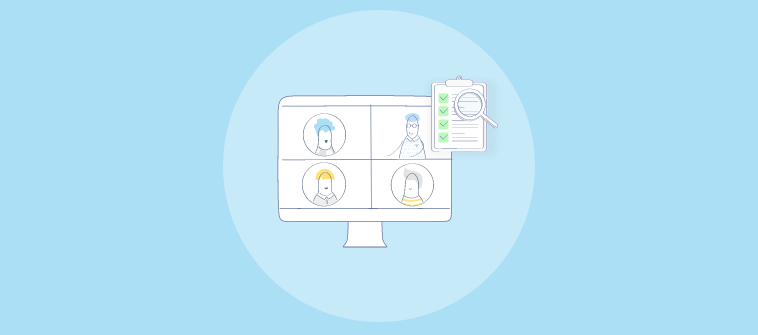 Is your business losing thousands of customers even after they have signed up for your products or services? We understand how painful it can be to see potential customers lose interest and eventually turn to your biggest rivals.
So how do you turn your newly acquired users into highly engaged customers?
Many businesses have shown faith in using live chat for user onboarding. A proactive and engaging customer onboarding process can set the right tone for their complete relationship with your product and company.
With powerful live chat software, you can invite customers to chat and share interactive product tours, how-to guides, and demos. Not only can this educate customers about how to make the most of your product but also help you get long-term paying customers.
If you wish to give wings to your user onboarding strategy, this is the right place.
In this blog, we will understand the various live chat features that can strengthen your onboarding process. Later, we will discuss the top tips and best practices for using live chat for successful customer onboarding.
Let's go!
What Is User Onboarding?
User onboarding and product tour are two different activities, but they share some similarities in certain aspects.
User onboarding is the journey where a business introduces its product/service to its customers. The entire process involves assisting new users till the time they turn loyal. The success of the user onboarding process can be realized when the customers find the value they have been expecting from the product after adopting it. This aggressive planning and execution moves through multiple steps.
User onboarding informs the new customers about the values of a product.
Once all the steps are put in the right place, onboarding new users through live chat can result in improved retention rates, reduced customer churn, enhanced customer engagement, and ultimately happy customers. Companies try every possible way to retain customers from the moment they interact with the product.
This sounds pretty simple, right? But it's way more spread out and large than you think. It's a complicated process that we will break down into a complete step-by-step guide. As mentioned above, product tours guides, product presentations, help docs, live chat, etc., are some of the important channels for onboarding customers successfully.
Why to Include Live Chat as a Part of Your Onboarding Strategy
Imagine a customer landing on your website, browsing through it, looking for support and finding no instant assistance. That's not a good experience in a fast-paced, instant gratification environment.
Nearly 73% of customers have reported finding live chat the most approachable channel for communicating with a business.
Customers prefer the live chat feature over any other communication channel since it provides instant solutions to their queries without any delay. Contrary to it, if customers' queries aren't addressed on time, they will switch to competitors and may spread negative reviews, impacting your brand image.
Businesses may find new customer acquisition an easy task. However, the mammoth challenge is customer retention. How many times have you noticed high signup rates but low conversions? Customer onboarding process, if done in the right way, can be the ideal solution here.
A live chat widget on the pricing page will help the customers get pricing queries resolved instantly. Sometimes, customers may leave items in the cart due to high shipping costs. Having a live chat widget across the website smoothens the customers' journey. And they can interact via live chat whenever they encounter any trouble.
Furthermore, dedicated live chat support to users who are using your services on a trial base, ensures a good customer relationship and can help in customer retention.
---
Read More – How to Add Live Chat to Your Website
---
The 4 Phases of Customer Onboarding
Right from the moment when a user gets to know about your product to finally becoming your customer, the journey involves several stages. Following a well-defined, transparent onboarding strategy ensures that this journey is smooth without any hiccups. Thus, they must be provided with the necessary information and support they need.
The onboarding process passes through four major stages, which are:
Awareness
Purchase
Retention
Advocacy
Let's understand a little about these stages.
1. Awareness Stage
This is the first stage in the customer journey (i.e., the awareness stage). At this stage, the customer is trying to know about your products through various marketing channels, including your website, social media, etc. This is the stage where valuable guidance is needed to inform and educate the customer and solve their initial doubts.
Chances are, this support is likely to push the customer towards next stages. If the customer isn't satisfied with the support or finds anything negative, they may leave and switch to the competitors.
2. Purchase Stage
It takes a lot to convince the customers to purchase from you. Once they fully understand your products or services and the value add they bring along, they plan to purchase. This is when the real work begins. Businesses must stay with them, provide all necessary support, and proactively communicate with them.
The customers always need support with the product after purchasing. While a part of this support can be offered via self-help content, a steady live chat support adds to offering a delightful customer experience.
3. Retention Stage
Customer retention is the most challenging aspect for every business. It's easy to acquire customers but hard to retain them. Poor customer retention can be a result of poor customer support. In fact, 65% of customers have switched to a competitor because of poor customer service.
You must ensure that you are available for your customers on all the communication platforms, be it social media, or your website through an interactive live chat. The only strategy to retain your customers is to listen to them carefully, understand their pain points and offer a solution instantly without a delay.
If you cannot diagnose the problems your customers are facing, you cannot provide a solution. Thus, proactive communication and round-the-clock support are the keys here.
4. Advocacy Stage
Brand advocacy is the final stage. Reaching this stage is like winning the battle. However, this just does not come easy and can only be attained if all the three stages are passed in flying colors. Brand advocacy helps you in marketing and customer acquisition. Loyal customers tend to spread the word about your brand with their friends and families.
This is an automated process where you just need to automate and oversee what your loyal customers are saying about your offerings.
---
Read More – How to Leverage Live Chat for Marketing
---
Advantages of Live Chat for User Onboarding Strategy
Implementing a well-defined live chat strategy on the website is one of the most important steps involved in the customer onboarding process. When you deliver delightful support to your customers, they are likely to purchase from you more and will stay with you for a long time.
Here are some advantages of using live chat for user onboarding strategy.
1. 24*7 Proactive Customer Support
A business, large or small, cannot afford to lose a customer. But if you aren't available for them, chances are they will leave you and move somewhere else. With the help of a live chat tool, you can ensure that you are available for your customers round the clock.
The chat widget can even share knowledge base articles for small queries that don't require support from agents. This reduces the load on your agents while the customers continue getting all the necessary support.
2. Personalized Customer Service
Who doesn't like personalized recommendations? This is a step which can take your customer support to the next level. You must have walked into a store, picked a shirt, and the salesperson recommended trousers to go with it. Customized live chat support can offer a similar experience to your customers thereby increasing the instances of returning customers, customer retention, and conversions.
3. Enhance Customer Engagement Rate
Customers may leave a website hesitantly. Calling or emailing a business is again something a lot of customers will refrain from doing. But with live chat, they can connect with the support reps for any query or confusion they may have regarding the product/service. Or even the support rep can text the customers and provide the necessary support.
Real-time conversation with customers is a great way to enhance the experience. Using welcome messages, solving problems in real-time, providing suggestions, etc., are some ways that add a lot to overall customer engagement. A higher engagement rate means chances of higher conversions.
4. Get an Edge Over Competition
According to a Hubspot report, 90% of customers wish to have an immediate response from businesses. And if they don't get a quick reply, they are likely to move to another business. You can understand the loss here.
Winning this battle isn't just about being available on live chat but also proactively listening to them and providing a solution that they expect. Live chat with multiple languages ensures that you can target a wider audience. Post-chat surveys help you improve your customer support by collecting feedback. Automatic chat routing is another feature that makes you stand out from the crowd.
5. Real-Time Proactive Communication
Customers love frictionless, real-time communication and support. Live chat enables you to proactively communicate with your prospects in real-time, improving your brand image. No customer would want to be put on hold/wait for a long time. Thus, regardless of the phase and age of your business, timely response is highly crucial.
Thus, delaying any customer's query is like reducing your own success rate. And a business that has just started up, cannot afford this. Real-time communication helps understand the customer pain points. This further improves customer engagement and builds trust.
Live Chat Features for Successful Customer Onboarding
Live chat support during customer onboarding results in more sales with better retention rates. Have you ever wondered why businesses lose customers? In most of the cases, it's because they are not treated well, and they are not heard well.
If you are planning to implement live chat support inside your user onboarding flow, let us discuss some top live chat features that teams can use for successful customer onboarding.
1. Chatbots
Chatbots are slightly different from live chat support. These are AI-powered bots that can mimic human conversations. The person on the other side may not be able to figure out if the conversation is being initiated by a bot or a human agent. These bots are based on Machine Learning and Natural Language Processing which lets them replicate close to human behavior.
Chatbots can be helpful in your brand's communication strategy and establishing good relationships with customers. Since these are bots, they work round the clock without any break, even at odd hours of the night. These AI-automated chatbots can answer questions any time without making the customers wait, ensuring support interactions during the onboarding process.
---
Read More – Top 15 Benefits of Chatbot for Your Business
---
2. Access Chat History
Accessing chat history is an important feature of live chat when it comes to customer onboarding. Believe it or not, no customer would want to repeat their issues over and over again. This is probably the most frustrating thing for them and the reason why you might be losing your customers, leading to a poor retention rate.
If you are able to access chat history, you can pull out all the data on customers' preferences, and previous interactions which will help in offering a more likable and customized support experience. The support team can look at the history, track the pain points the customers mentioned, and provide solutions accordingly.
3. Real-Time Tracking and Monitoring
This feature allows you to keep track of your website visitors. This further provides you with a lot of information on the visitors' activities, such as the page they are browsing, if they are chatting with your support agent, the number of chat requests, their geographical locations, time spent on the website & with support operators, etc.
This lets you check the ongoing chat, and you can even join any chat. This information helps you plan and strategize your move accordingly.
4. Canned Responses to Reduce Wait Time
Canned responses are the best ways to reduce customer wait time. If the support representatives have to answer the same questions over and over again, canned responses are the best way to avoid this situation.
It saves the support reps from the extra efforts they put into typing the answers, eliminating any chances of typos or miscommunication; this feature further improves the overall customer experience. Consistent communication delivers delightful experiences. With canned responses, you can manage multiple customers.
---
Read More – Live Chat Canned Responses Cheat Sheet
---
Tips & Best Practices of Using Live Chat Software for Onboarding Process
By now, you must have understood why live chat is important for user onboarding. However, just knowing the importance of it doesn't make you the winner. A perfect implementation helps you cover a lot of aspects such as customer acquisition, customer retention, customer satisfaction, etc.
Here are some tips you can use to streamline your customer onboarding process using live chat.
1. Clearly Understand Your Customer's Intent
Every customer comes with unique requirements when they plan to purchase your product or services. To process a smooth customer onboarding, you must understand your customer's intent, their journey, preferences, and the value add they are expecting from your products/services.
Once you are completely aware of your customer pain points, you can plan your moves in a better way. Maybe you can prepare some personalized messages for your customers and send them while onboarding.
2. Create a Knowledge-Base Page on Your Website
A knowledge-base page helps your customers with detailed information about your products or services they are planning to buy. Some of their queries can be easily resolved this way, without interacting with a service representative.
You can add links to knowledge-base pages at multiple places on the website. This may include your pricing page, footer, product pages, etc. This ensures that the customers don't have to deep dive into the website to find out this section and can easily navigate through the website. Having an easy-to-navigate help center can add to a smooth customer experience.
3. Send a Welcome Email When a Customer Purchases
Sending an email with all the necessary information and details about the next steps builds up strong trust and relationships with the customers. At times, customers may feel confused about the next steps, and a welcome email clears every doubt.
Creating a welcome email sequence ensures that you are paying complete attention to the customer and not planning to abandon them once they have purchased from you. In your first email, you can welcome the new customers by telling them the next steps. In another email, you can even schedule a one-on-one call with the account manager. You can plan this strategy based on the situation.
---
Read More – 7 Welcome Email Templates to Nurture New Clients
---
4. Train Your Team Before Onboarding
This is a crucial step in the journey of customer onboarding. Training your team for onboarding brings clarity on several important aspects of the onboarding process which your team might have. You can conduct employee training programs and provide answers to every question and situation that the team may face.
These training programs can be recorded and used for future references so that you don't have to spend extra time and resources on such programs. Once the team is fully equipped with all the necessary information, the onboarding process can run smoothly.
5. Create an Onboarding Checklist
Imagine walking into a dark tunnel without any light. You will end up nowhere, right? You don't want that to happen with your customers. A personalized customer onboarding checklist brings clarity on a lot of issues that might confuse your customers. You have to be present for them round the clock to answer their questions. They may need a solution when they get stuck in any situation.
Creating a guide can help the customers walk in a straight direction without getting stuck anywhere. This checklist also ensures that all the necessary steps involved in the customer onboarding process have been taken and to what capacity. This will further minimize onboarding time, eliminate mistakes and customer problems during the onboarding process.
---
Read More – 11 Customer Service Mistakes to Avoid
---
6. Provide a Clear and Easy Solution
Not every customer will be a tech expert. Thus, using heavy jargon, or too much technicality with them may create confusion. Your customers want simple and easy-to-understand solutions. Consider that the onboarding process is a sensitive stage. You do not want your customers to be frustrated or irritated by any of your steps.
Creating complexity in service will just add to their frustration. This may lead them to drop and switch to some other place. If you cannot give an instant solution, better to listen to them carefully and take some time to understand the situation.
Following the above-mentioned steps is crucial before onboarding users with the help of live chat.
Live Chat Is the Most Effective Way to Successful Onboarding
Customers want instant response. Whether they are browsing through the website for new products or understanding the use of a product they just purchased, they want a quick snap experience. This makes user onboarding an essential part of the customer lifecycle.
We all know that excellent customer service is the foundation of every successful business, be it at the very beginning stage, or in the later stages of acquisition and retention. Around 73% of customers feel comfortable using live chat tool to communicate with a business making it the most preferred choice of customer support.
It's hard to think of a delightful user onboarding program without having a live chat on the website in today's age. If your website is missing a live chat feature, you are missing out on a large number of customers, which can severely impact your business.
You can use ProProfs Live Chat software for user onboarding, which is an easy-to-integrate live chat software that lets you deliver a smooth customer onboarding experience. The tool lets you convert one-time buyers into regular customers and comes with features that enable smooth and hassle-free customer onboarding. The tool is easy to install, following just a few steps, and requires no coding knowledge. Try it and see the difference!
Do you want a free Live Chat software?
We have the #1 Online Live Chat Software for instant customer support 24x7