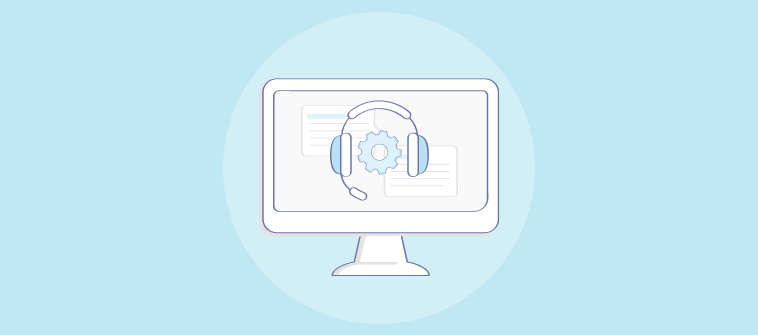 Instant responses are the norm in the customer service industry. But customers don't want you to compromise on personalization. As a result, support software is essential for efficient communication and building deeper customer relationships.
But with so many options in the market, choosing the best customer service software can be an uphill battle.
Don't worry; we are here to help! Customer support software has immense benefits for your business, such as enhanced customer satisfaction, and it helps slash support costs.
In this blog, we will cover many such benefits and the types of tools like ticketing software, live chat, knowledge base, etc.
Lastly, we have included our recommendations for the 15 best customer service platforms. By the time you are done reading, you will be an expert on finding the right software.
What is Customer Service Software?
Customer service software is a program that simplifies tracking tickets, communicating with customers, and resolving customer queries. Basically, it is a centralized system known as a ticketing system that helps you store tickets to track, manage, and prioritize them for agents.
There are various types of service software in the industry ranging from complex CRM that takes time to set up to live chat that can be set up in minutes.
What Are the Top Benefits of Customer Service Software?
Customer support solutions are essential tools for businesses; they form the backbone of a great customer experience. Such software can help reduce friction in the customer experience due to poor response times. Let's look at its benefits:
1. Satisfies Customers and Brand Advocacy
When all your support processes are in sync, it becomes easier for your teams to deliver personalized experiences. With a customer service platform, you can maintain consistency in support across multiple channels and reduce customer churn.
Also, through self-service options, you can offer customers a repository of support information without them having to wait for an agent. When customers receive a favorable CX (customer experience) that is personalized and efficient, they let others know about it.
This sustains brand advocacy and creates the potential for generating more customers.
2. Improves Capabilities of Small Teams
A faster response time is a goal that customer support teams strive to achieve as it directly influences customer satisfaction. Also, with the growing demand for personalized experiences across so many channels, it is challenging to respond quickly and resolve customer queries.
Your agents can handle multiple customers across different channels when using customer service systems. As a result, online support software can speed up their responses.
3. Lowers Support Costs
Customer support agents face a constant budget crunch, just as sales and marketing teams do. They have to offer a great customer experience at a lesser cost. But lower support costs should not come at the expense of customer satisfaction. Instead, you should work towards support efficiency and customer delight.
With customer service platforms like a knowledge base, you can reduce the time spent searching for the right information. Your agents can get the relevant information needed for solving tickets instantly.
This means that your support agents can work on important issues if they simply utilize the best customer support software; they can rise above manual tasks.
4. Keeps Customers Engaged
Customer service management software enables your agents to deliver personalized experiences. For instance, with live chat software, you can proactively message visitors based on specific user interactions. These interactions could be viewing a purchase page, browsing products, checking offers, etc.
Now, if it comes to repeat customers, you can deliver context-driven support by viewing relevant customer data imported from your CRM. This makes personalization much easier. Also, you can create upselling opportunities by knowing their previous purchase history.
5. Helps Sale Businesses
Spreadsheets allow you to document customer data but this method is outdated and inefficient. With collaborative features like a shared inbox, internal notes, etc., you can collect all your customer data in a single place. Using customer support systems, you can spend time communicating with customers; instead of wasting your time on data gathering.
Customer service solutions give you the ability to connect with customers faster and manage the backend processes easily.
What Are the Different Types of Customer Support Software?
Now that you are familiar with the different benefits of customer service support software, let us move on to the various types. Here we have mentioned some of the most common ones:
1. Ticketing System
A ticketing system is a centralized database for storing tickets that can later be routed to the concerned agent. With this software, once the ticket is routed, you can track the ticket from submission to completion.
2. Live Chat
Live chat allows you to connect with your website visitors in real-time and resolve any queries they may have while browsing. It has important features like canned responses, reporting and analytics, and targeted messaging to keep customers engaged and maintain operator productivity.
3. Knowledge Base
Knowledge Base is a self-service option that works as a repository for information on a product or service. Customers when waiting for an agent to respond can refer to it, thus, making it a great way to regulate support tickets.
4. CRM Software
CRM software or customer relationship management software allows you to manage customer data. Some of its functions are: it allows you to store leads, score them, and direct them to your sales teams.
5. Video Chat
With the rise of Zoom and Google Meets due to the pandemic, many companies have started offering video conferencing as a form of support. Video conferencing allows you to break down technical solutions for your customer. It helps offer clear communication and deepens the relationship between service reps and customers.
6. Email
It is an essential service channel that many companies still focus on. Similar to phone support, it is deeply ingrained and suits people from older generations. It is also used for communication within a company as employees can reach out to HR or IT for getting their queries answered.
Best Practices for Customer Service Software Programs
As you read in the previous section, there are many kinds of software for customer service. But how can you ensure that your customers receive the best service when using customer support solutions? Let's discuss the best practices in customer support:
1. Personalize the Experience
Knowing what your customers want from your product or service becomes clearer when you look at the data. Customer support solutions allow you to apply these insights in your engagement strategies. You can learn about customer trends and use them to understand their concerns better.
Customer trends include things like: what they are searching for, where they spend their time, and how it influences their opinion. Knowing about their expectations from your business will help you offer a more customized experience.
2. Offer Preferred Support Channels
While customers do not focus on terms like omnichannel support, they expect it from you. Since there are so many channels like social media and live chat, that allow customers to relay their issues, it becomes difficult to choose which are the right ones.
When opening a support channel, you must be mindful of your target audience. For instance, even if phone support is widespread, you should have the appropriate channels available if your client base belongs to a younger generation.
3. Try out Effective Collaboration Tools
Many large companies like telecoms and airlines face the challenge of slow response times, and customers have to go through multiple departments to get to the right agent. This is because giant companies have many employees which can make routing tickets a challenge.
With customer services software, you can streamline workflows and keep various teams in sync, ready to deliver excellent customer service.
15 Best Customer Service Software Platforms for Big and Small Business
You have explored the benefits of having online customer service software. Let us now look at a list of feature-rich tools coming at different price points. You are sure to find the right pick for your business. Read on for our top pick: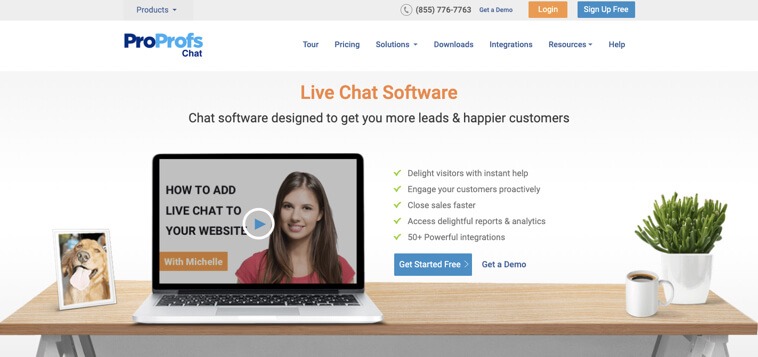 ProProfs Chat is one of the top customer service software that operators can use to engage website visitors and delight them with instant answers. It has a fast and responsive live chat widget that can be customized extensively to your wish.
ProProfs Chat allows you to offer proactive support to customers during key interactions. With essential features like greetings and announcements, you can reduce cart abandonment and drop-offs mid-purchase.
This support software offers a chatbot builder for creating conversational bots that can capture service requests. So that when your business is offline, customers can still get in touch. Moreover, you get a free trial to try ProProfs Chat, so that you can pick up the basics like creating chatbots, agent profiles, customizing your chat widget, etc.
Features of ProProfs Chat
Build chatbots that grow leads & sales & automate support.
Delight your website visitors with personalized live chat greetings.
Create answers to routine queries and use them to chat with multiple customers.
Automate chats to shoppers at the right time and minimize cart abandonment.
Route chats to the right department with intelligent routing.
Pricing
Chat like a pro with our live chat free trial. Get started today and discover our forever free plan for single operators and Team plan at USD 19.99.
What we liked: The tool offers great reports and analytics features.
What could've been better: There could have been more social media integrations.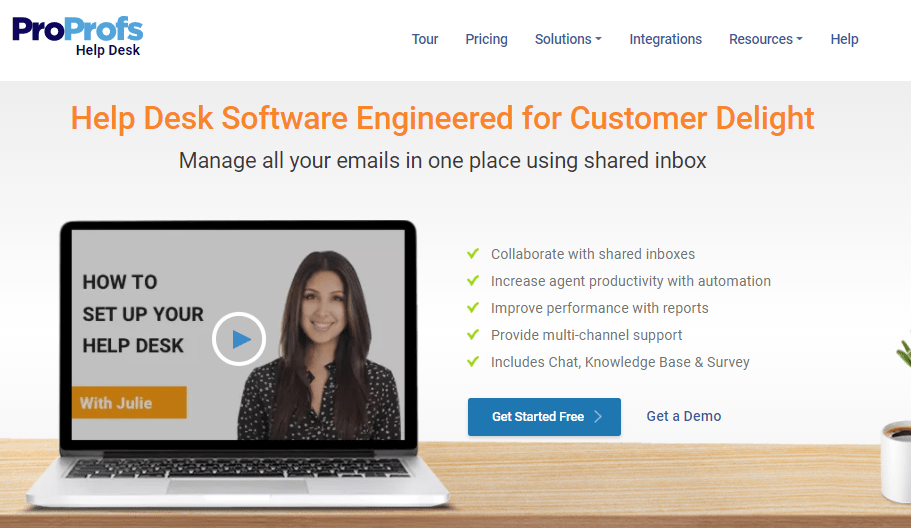 ProProfs Desk is one of our top picks for customer support management software. The tool allows you to handle internal and external support requests so that agents can focus on improving the customer experience.
It also allows you to offer multi-channel support to customers through live chat, email, web forms, help center, and other channels. What's more, ProProfs Help Desk also has essential collaborative tools like a shared inbox for a complete view of support tickets.
Features of ProProfs Desk
Track and manage incoming tickets on a single dashboard.
Break down parent tickets into child tickets.
Assign roles to various team members and define custom permissions.
Answer queries in real-time with live chat.
Create canned responses to answer repetitive questions.
Pricing
Starts from $10/month
What we liked: They offer great customer support to simplify learning the tool.
What could've been better: It needs more integration options with third-party tools.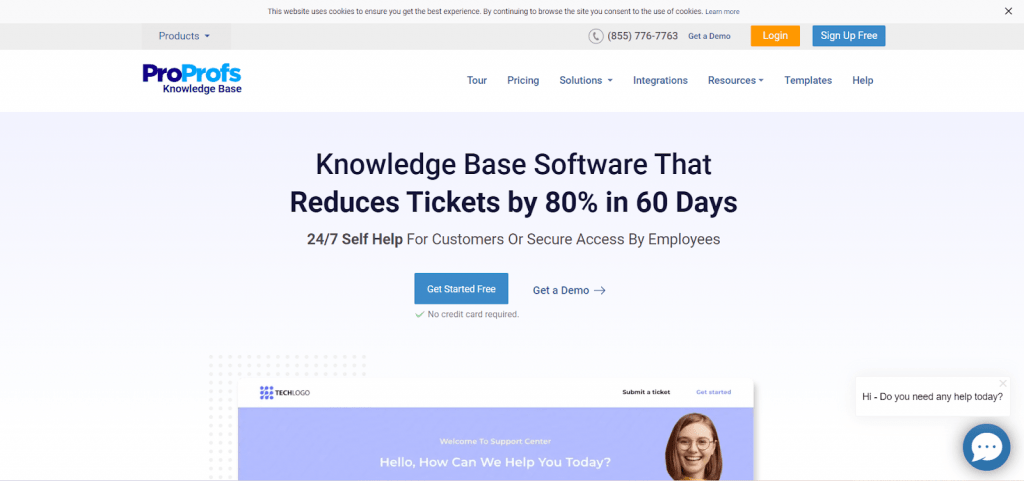 ProProfs Knowledge Base is a cloud based customer service software that allows you to create customer service portals to find answers to their queries. You can get an array of templates to create customer knowledge bases effortlessly.
With this help center software, you can create an online documentation system that can be used for both your employees and customers. You can brand your knowledge base with customization options ranging from logo and color scheme.
Features of ProProfs Knowledge Base:
Style your documents with an MS-Word-like text editor.
Receive compatibility with PDFs and Docs.
Search through the library with autocomplete predictions to help you.
Create pop-ups and lightboxes to explain concepts.
Get reports on document performance.
Pricing
Starts at $30/month
What we liked: It offers detailed insights into how customers are using your knowledge base.
What could've been better: The integrations could be made more powerful. Also, there should be more comprehensive templates.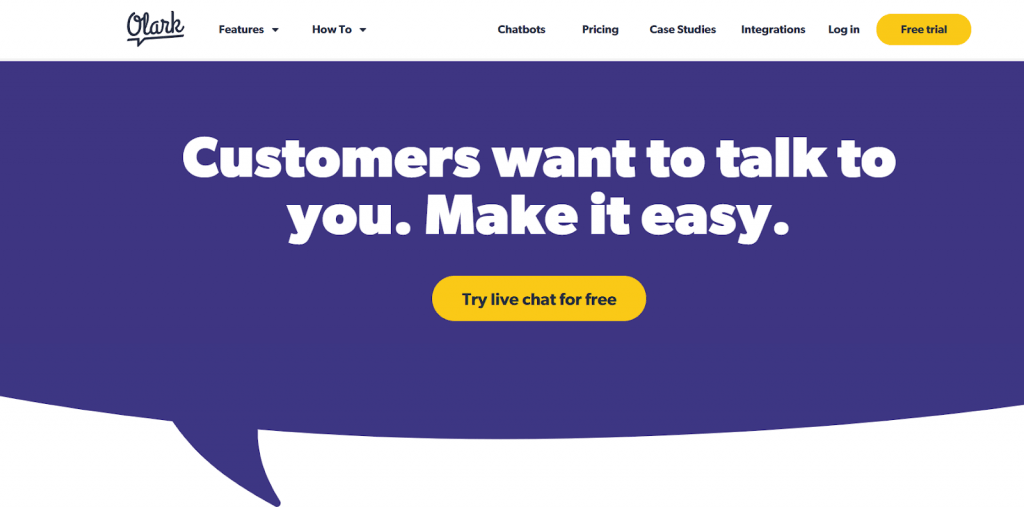 Olark is a robust live chat solution that allows you to communicate with customers in real-time and get useful user inputs. Using these user inputs, you can make changes to your products and services, thus, boosting revenue for your business.
You can store chat transcripts on your CRM or in Olark, so that agents can refer to them and improve the support experience in future conversations. As an online customer service system, it allows you to target messages to reach customers at the right moment.
Features of Olark
Measure customer satisfaction with chat ratings.
Create personalized greetings for your website visitors.
Tag chats to get routed to the right departments.
Capture leads with pre-chat forms.
Sort your chat transcripts effortlessly with a simple interface.
Pricing
Starts at $29/month
What we liked: It doesn't require too much training to get started.
What could've been better: There isn't a provision to keep a limit on the number of users you wish to connect with.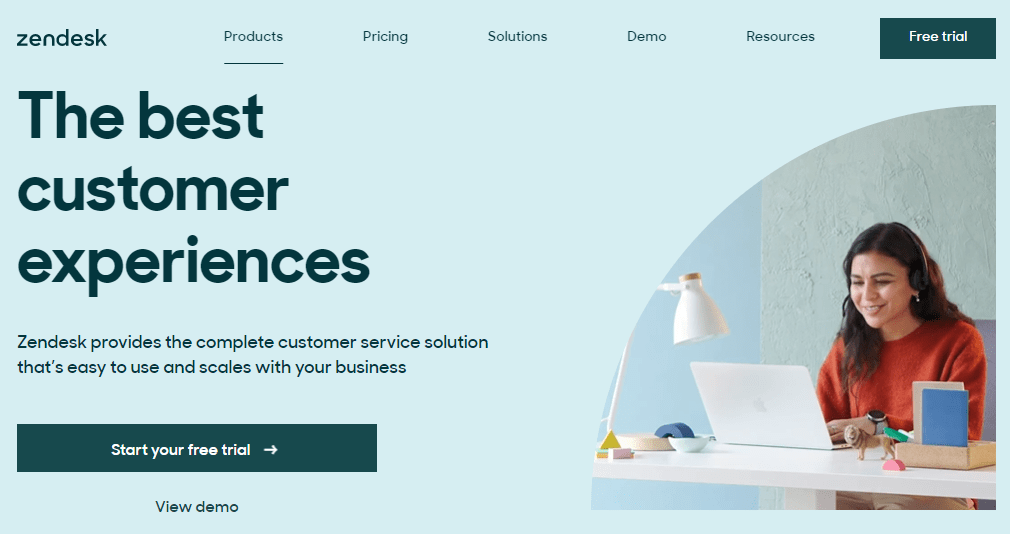 Zendesk is a complete support management software for a business of any size. The software helps you build effortless customer experience, so that customers leave with a smile.
Your agents can access relevant customer data across multiple channels while maintaining agent productivity and customer satisfaction. It is a robust and flexible customer care software that allows you to offer support across different channels like email, ticket forms, and social media.
You can also use this service center software to build a vast community forum to reduce the volume of support tickets. With intelligent ticket routing, you can automatically assign the right department to the concerned case.
Features of Zendesk
Route tickets across to the right department.
Build a help center to regulate your support volume.
Create AI-powered bots for 24×7 availability to customer queries.
Track operator performance with detailed reports.
Automate ticket assignment for quicker resolution.
Pricing
Starts at $49/month
What we liked: Sending mass emails with templates and email lists is easy.
What could've been better: The enterprise plan doesn't have a clear-cut refund policy.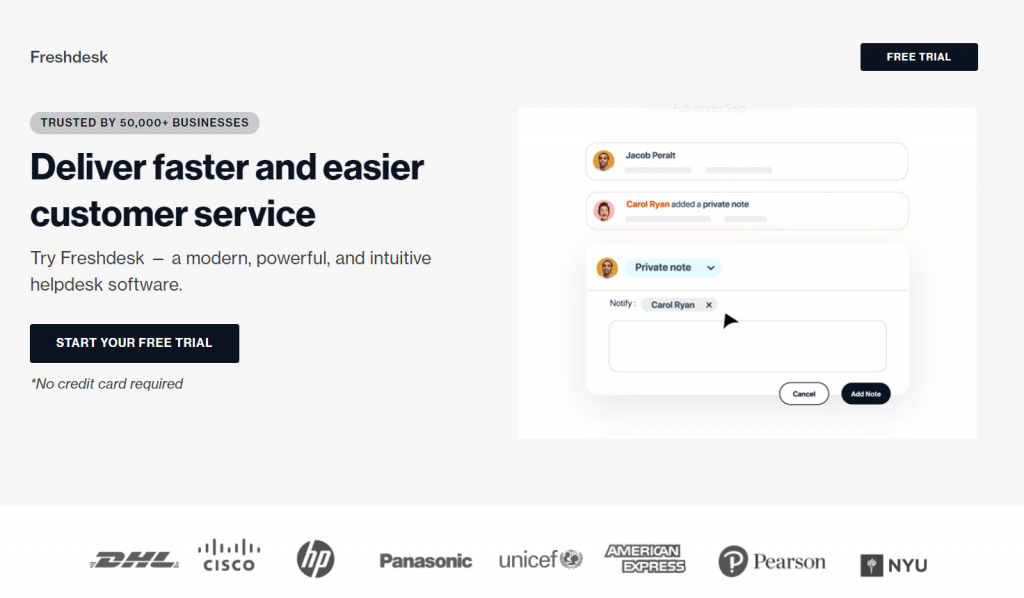 Freshdesk is one of the best customer service software that allows you to organize your helpdesk with the help of an intuitive interface. With omnichannel support, customers can reach out to your brand on the channel they love.
You get access to excellent ticketing software that does the legwork for your agents. They can deliver customer delight by tracking, managing, and prioritizing tickets for your agents. It also offers collaboration features like a team inbox to help your agents work together on issues.
Freshdesk's team inbox also helps agents prioritize tickets based on keywords. You get Freshworks Academy to train your agents. Also, guess what? You can start using it for free!
Features of Freshdesk
Check who else is replying to the ticket with collision detection.
Get access to 1000+ marketplace apps.
Create canned responses for repetitive tickets and reuse them later.
Create SLA policies from each ticket and drive prompt responses.
Set up forum moderation to stop posts in violation from going live.
Pricing
Starts at $15/month
What we liked: It has smart automation features to ensure complex processes are executed smoothly.
What could've been better: It is expensive on a per-agent basis. However, you do get a free trial plan to test out its features.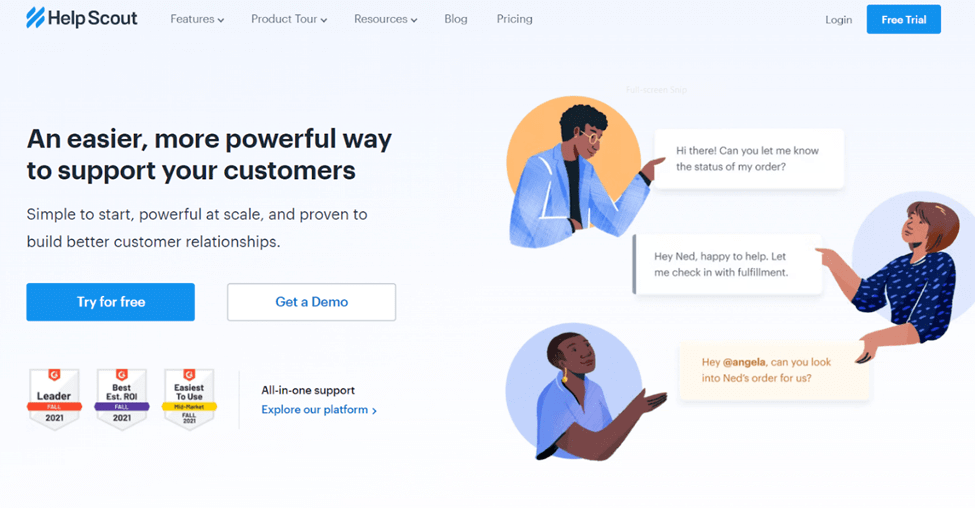 Help Scout is a comprehensive online customer support software that can work for both small and large teams. With a shared inbox, your tickets remain organized in such a way that collaborating becomes easier. You can create a comprehensive knowledge base to reduce the number of support tickets, so that agents are under less pressure.
If you are looking for great service software, then you can try Help Scout. You can connect with numerous chat, CRM, communication, and e-commerce tools for enhanced usability. It has seamless app integrations with Agile CRM, Slack, and Userlike, making it a highly customizable tool.
You get an entire run-down on previous chats and relevant information with each support request. Now, you get to know your customer before you chat with them. You get great reporting capabilities to further improve operator performance.
What's more, you can check trending queries searched by customers and create relevant content for your community forum. Yes, you can build a knowledge base from scratch.
Features of Help Scout
Check trending queries to create content for your knowledge base.
Collaborate with team members with shared inboxes.
Use Beacon to guide customers through your knowledge base.
Prioritize and escalate tickets for speedier resolution.
Track your operator performance with insightful reports.
Pricing
Starts at $20/month
What we liked: Help Scout makes it easier to manage email support by assigning email threads to a group and allowing you to manage those threads.
What could've been better: Spam doesn't automatically get routed to the spam box. This leads to a higher likelihood of getting spam texts and emails.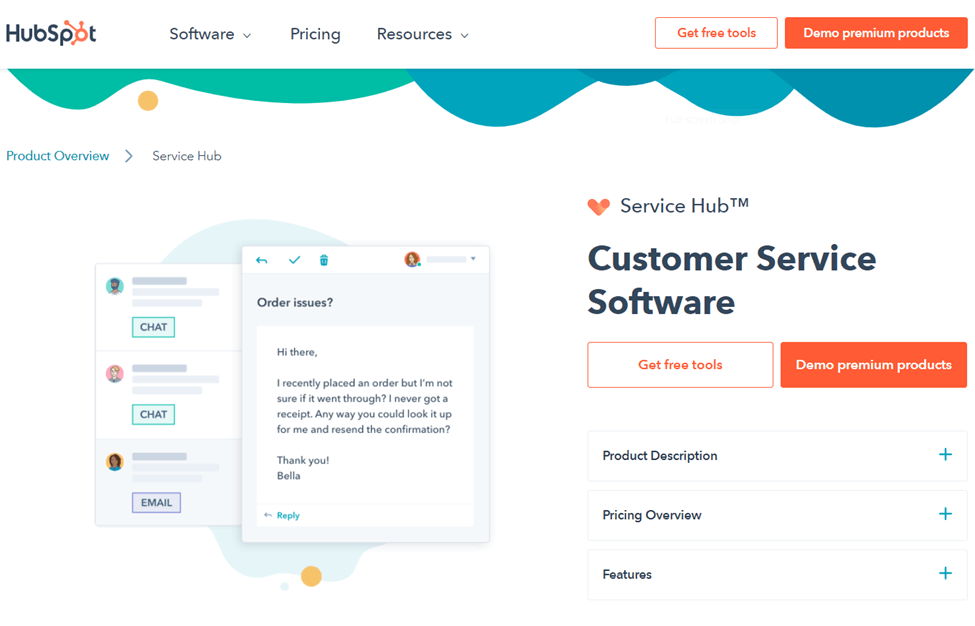 HubSpot is one of the top customer service tools in the market as it helps you manage all your customer conversations from a single dashboard. You can seamlessly track customer details across channels, making context-driven support easier.
With visual workflows, you can create complex automations in a matter of minutes. You can capture customer feedback with CSAT, NPS, CES, and custom surveys to make changes to your support processes. What's more, you get a free plan with HubSpot CRM.
Key features of HubSpot:
Manage tickets in a single place and automatically assign them.
Create a searchable library of helpful articles from common questions asked.
Enable your agents to work together with a shared inbox.
Chat with customers in real-time to generate conversions.
Bring all your conversations from different platforms to a single dashboard.
Pricing
Starts at $45/month
What we liked: It has great templates and snippets for answering routine questions.
What could've been better: Many of Hubspot's features need a lot of self-learning before you get to the topics related to them in the course material.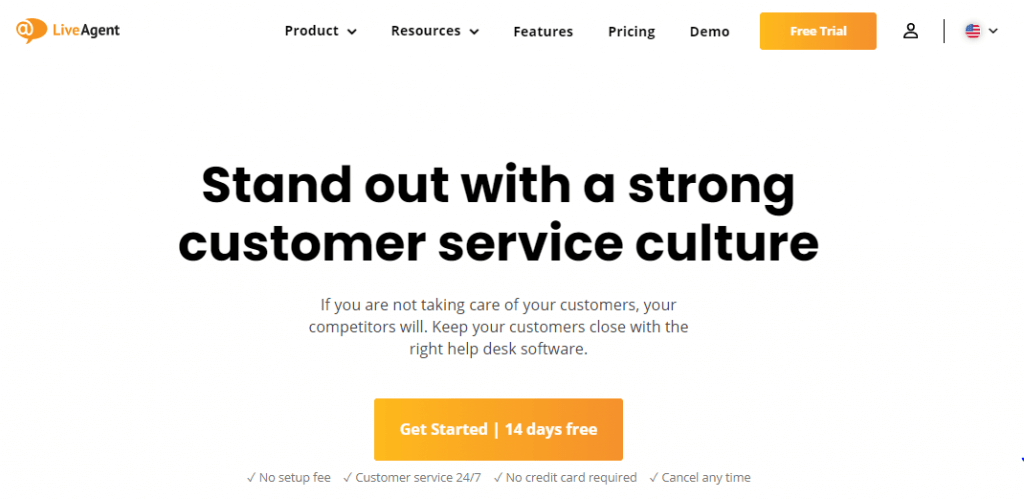 If live chat is one of the preferred channels for your customers, then you should try LiveAgent. LiveAgent is a support center software features like real-time typing view, chat invitations, and visitor tracking to help you deliver the best chat experience.
It is the fastest live chat service on the market which means your page loading time doesn't get affected. With its long list of native integrations, it becomes easier to work it into your existing workflows.
Features of LiveAgent
Track visitors with Google Analytics.
Customize your chat window.
Welcome visitors with automated messages.
Offer multilingual support to users.
Access your chats anytime, anywhere with a mobile app.
Pricing
Starts at $29/month
What we liked: Hybrid ticket stream is a great feature that allows you to manage tickets starting from live chat and continue them with email support.
What could've been better: The Android app needs some work in terms of its UI.
Also Read: Top 10 LiveAgent Alternatives for Boosting Customer Support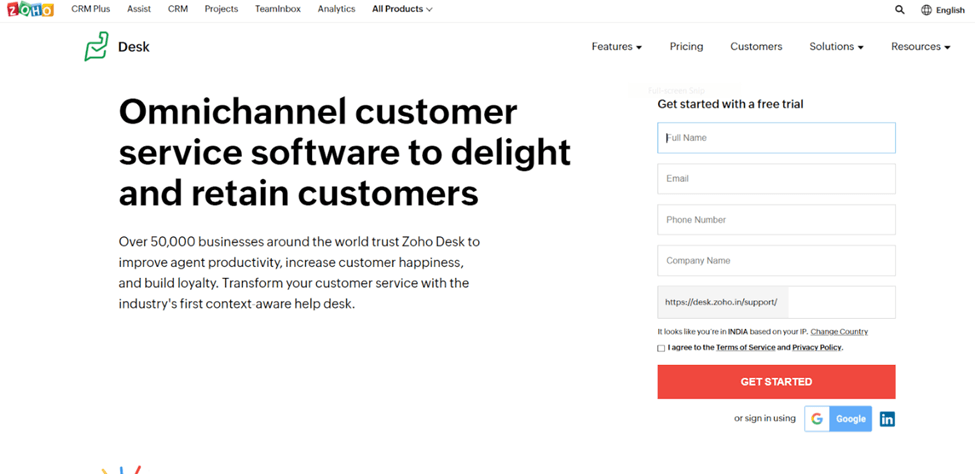 Zoho Desk is an omnichannel customer service solution that allows you manage all customer conversations in a single dashboard. With the workflow automation features, you can spot bottlenecks in your processes.
You can track accountability and tickets that have gone past the SLA at every stage with the blueprint dashboard. Creating a complete knowledge base and customizing it is simple, allowing customers to search relevant help articles.
What's more, Zoho Desk works great on mobile phones, allowing you to close tickets on the go!
Key features of Zoho Desk:
Integrate with popular apps like HubSpot, Jira, Trello, etc.
Build a self-service option with a knowledge base.
Create smart ticket assignment rules for quicker resolution.
Generate workflows of complex processes in minutes.
Stay organized with a multichannel ticketing system.
Pricing
Starts at $14/month
What we liked: It allows you to track every customer interaction over email which means you don't miss important communication.
What could've been better: It needs more user-friendly design for better navigability of the features.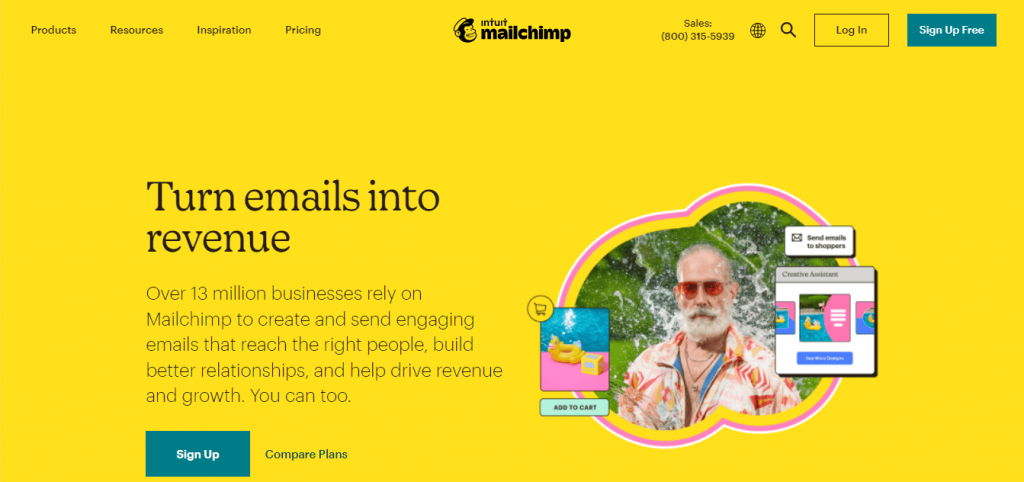 Mailchimp is the best customer support system for managing your email newsletters, signups, and much more. You can create attractive email designs for clients with dedicated email tools. You can get reports on your email marketing campaigns with metrics such as CTR and open rate.
With their Email Content Optimizer, you can design emails that give you the competitive edge. You can set triggers for events like purchases, referrals, and registering. What's more, you get access to detailed reports on the performance of your email campaigns.
Features of Mailchimp:
Preview emulated inboxes to check how the final mail will look.
Follow email marketing best practices with the Content Optimizer.
Deliver personalized emails to different customers.
Create A/B tests for subject lines and various design elements.
Design custom email forms for your customers.
Pricing
Starts at $9.99/month
What we liked: It offers a free plan to help potential users learn the basics quickly.
What could've been better: Mailchimp is trying to become an all-in-one solution to cater to the customer service systems market. They could stick to specializing in email marketing.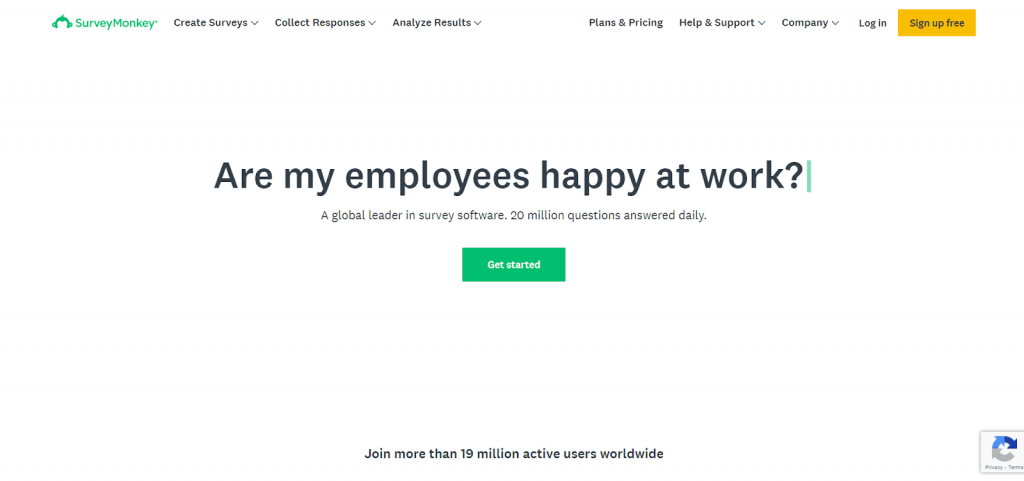 SurveyMonkey is a customer service system software that allows you to deliver online surveys, quizzes, and polls for any audience. You can run customer satisfaction surveys to capture feedback on your products and services. Also, you can get feedback from your employees.
You can ensure the data captured by your surveys is confidential with encryption, SSO, and other features that enable compliance with HIPAA and GDPR. With the data trends feature, you can analyze the results of your surveys.
Features of SurveyMonkey
View automatic charts and summaries for quick insights.
Measure customer response against industry standards.
Get access to well-written sample questions.
Explore the best practices for building the best surveys.
Export data in popular formats like CSV, XLS, PDF, PPT, and other formats.
Pricing
Request the company for a quote
What we liked: It allows you to create highly customizable surveys. For instance, you can add your logo and brand colors.
What could've been better: It would be better to have more control over the web link of the survey.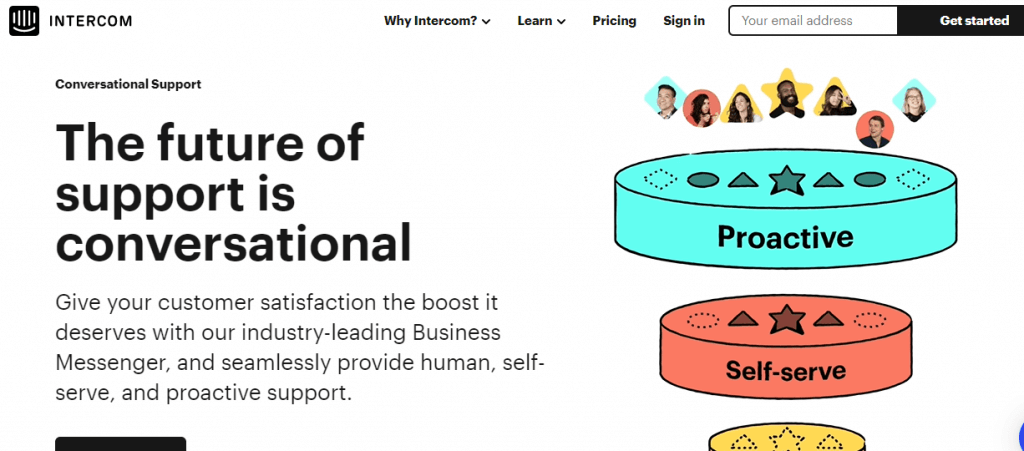 If you are looking for robust customer support software, then Intercom is one of the best picks on the list. It is a chat tool that allows you to target messages and engage in conversations with customers. Using chatbots, you can automate chats and remain available throughout the day.
You get to offer interactive product tours that keep the customer hooked to your website. Intercom offers in-depth resources that help you chart out conversational support funnels for your business.
Features of Intercom
Offer proactive support with outbound messages.
Create audience segments and run A/B tests.
Capture offline messages and respond to them at your convenience.
Serve up relevant help articles with integrations to a knowledge base.
Integrate with over 300 apps to level up customer support.
Pricing
Request the company for the quote
What we liked: It allows you to run A/B tests, which is uncommon in a live chat tool.
What could've been better: Intercom is not meant for small and mid-sized businesses as the pricing can be quite prohibitive.
Read More:  Best Alternatives and Competitors to Intercom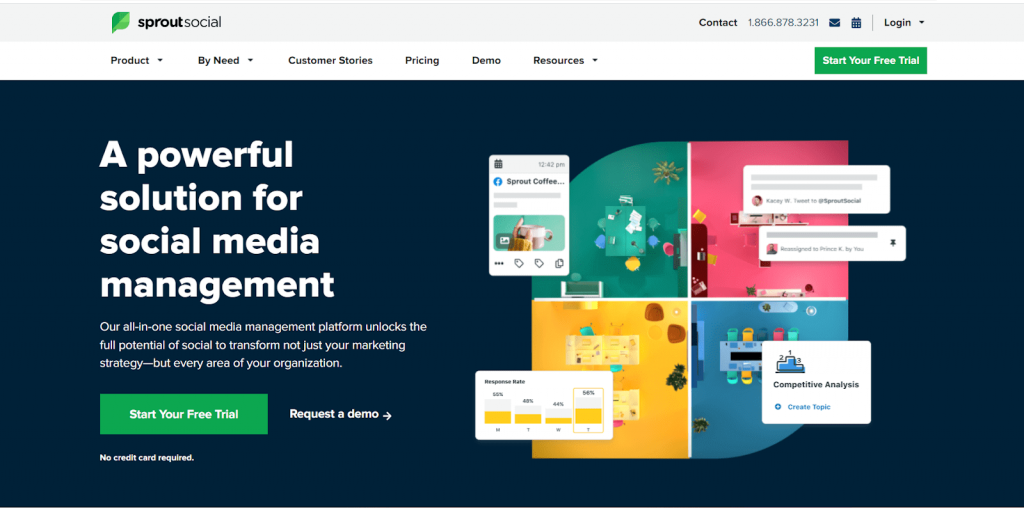 Sprout Social is a social media management tool that helps you focus on social media branding. It helps you listen to your customers' conversations with its social listening tools that allow you to assess consumer sentiment. It becomes easier to reach out to upset customers instantly.
You can personalize your customer care by assigning tasks, monitoring social activity, and fostering in-team collaboration. Also, Sprout Social offers suggestions for timing your posts to match peak hours on each channel, giving you better reach.
Features of Sprout Social
Create a social media strategy that resonates with your customers.
Integrate with social media and post your content at peak hours.
Use social listening tools to offer prompt customer care.
Automate posts for peak hours to widen reach.
View analytics of all social media profiles from a centralized dashboard.
Pricing
Starts at $89/month
What we liked: The analytics feature is great as it showcases all your relevant data in one place.
What could've been better: There are many features that need to be picked up to become an expert at the tool. Also, it doesn't integrate with Instagram accounts too well.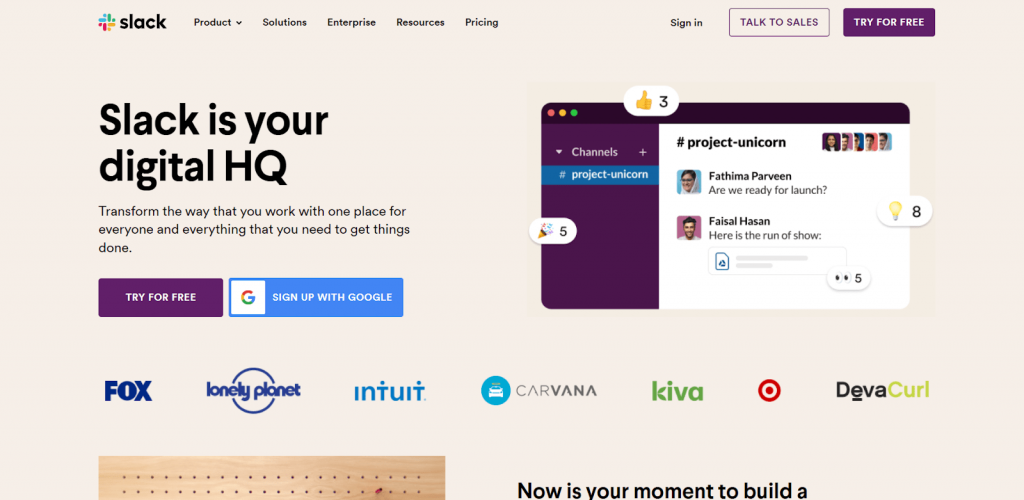 Slack is a versatile messaging app that enables your teams to collaborate with each other on tickets. With Channels, you can bring the right people to relevant information and align them with the work being done. You can start a video conversation with Slack Huddles.
With the Workflow Builder, you can automate routine tasks instantly. Moreover, Slack allows your team members to work on separate projects and tasks simultaneously. You can exchange audio, video, and other clippings with your peers to showcase work updates.
Features of Slack
Organize spaces with all people, files, and messages in channels.
Collaborate with team members with video conferencing features.
Use Slack Huddles to start a live conversation.
Secure your work with enterprise-grade security.
Send audio and video messages to discuss work progress.
Pricing
Starts at $6.67/month
What we liked: Slack Huddles are a great way to have short conversations with a colleague.
What could've been better: It needs an extremely stable internal connection to work smoothly.
How to Choose the Best Customer Service Solution?
Imagine having a large team that spends hours creating physical tickets, logging them, and manually assigning them. As your customers grow, you will need more agents to keep up with the support requests. This is where software for customer service shines!
With the best customer service software, creating personalized experiences that are quickly delivered is much simpler. You can try Help Scout to create a knowledge base and offer instant self-service.
Slack has great video conferencing features that help you keep your peers up-to-speed with your work. Lastly, SurveyMonkey can help create surveys that capture crucial feedback.
To offer personalized experiences that customers expect, you need to engage them right from the first page. A live chat solution like ProProfs Chat can help you communicate with website visitors and interact with them to convert them instantly.
Do you want a free Live Chat software?
We have the #1 Online Live Chat Software for instant customer support 24x7