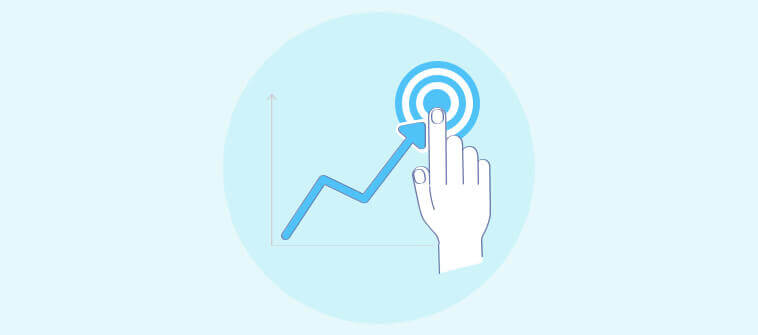 From customer service, support to experience, you have a lot to accomplish to keep your customers satisfied.
Well, that's because 87% of satisfied customers are more likely to upgrade or add services and are less likely to cancel. And, ultimately become brand loyals.
So, to make sure your customers are satisfied with your brand, you need to see if you've set the right expectations and goals for your customer service team. I strongly believe that setting realistic goals for your support team will help them build an excellent service experience for all your customers.
Customer service goals will help your support operators create an excellent customer experience effectively that results in:
52% of customers

making an additional purchase from businesses who offer a good experience

70% of customers

already choosing to support brands that deliver a great customer service experience

Attracting more business and loyal customers

Positive reviews that influence

90% of customers

when purchasing a product from your brand
With so many benefits, it becomes all the more crucial for your business to learn how to set customer service goals and objectives effectively.
Keeping this in mind, we aim to cover various aspects that will allow your business to set customer service performance goals and S.M.A.R.T. goals for customer service team effectively.
Table of Contents
I. How to Set SMART Goals for Customer Service Team
II. Factors to Consider [+Solutions] Before Setting Measurable Customer Service Goals
III. How to Set Measurable Customer Service Goals
IV. How to Make Sure You Reach Your Measurable Customer Service Goals
How to Set SMART Goals for Customer Service Team
If you thought that setting SMART goals is only possible when running a project, then think again.
This framework helps you set customer service SMART goals too. All you have to do is, think through this acronym and accordingly set goals for your customer service team. In this section, we aim to expand on the SMART acronym and suggest ideas on what goals you can set under each of them.
Let's get started!
1. Specific
Specific stands for simple, sensible, significant. That's exactly what you need to think of – setting significant yet simple goals for your customer service team.
Now goals that you can actually set under this one can be like:
Write knowledge base articles that you know your customers would likely click on when they open the chat window for support. Yes, that's very specific. But to do this, you can set different knowledge base articles that relate to a specific page. Think of the service or product and what aspects of them are likely to stir inquisitive minds to initiate a support opportunity.
Another specific measurable customer service goal example is to improve your chat operator's first response time. This will ultimately impact the average first response time too. Train your operators on how they can use multiple live chat software features to reduce first response time to keep your customers delighted.
2. Measurable
Measurable goals also stand for meaningful and motivating. That means you need to have measurable customer service goals that hold meaning for your organization's growth and keep your operators motivated to perform well.
But for this to happen, you need to measure the outcomes of your customer service team's performance closely to see whether they are moving towards the goal or not. Use solid numbers that help you measure customer support team performance.
3. Achievable
Achievable implies that you need to set goals that are realistic and something your customer support team can agree on.
For this, you need to have an open conversation with your team. Look at how they've performed during a live conversation with your customers and how they were rated after each one.
For example, if an operator can manage 6 visitors at the same time via a live chat tool, then do not try to raise the bar for them to manage more. This can impact their productivity and motivation to perform well under too much pressure.
4. Relevant
Relevant means setting reasonable, realistic, and resourced customer service goals. That means you need to align your company goals with the performance metrics of your operators to go one step ahead in achieving your SMART goals for customer service team.
5. Time-bound
Time-bound in SMART goals implies that the goals you set for your customer service team are time-based, time-limited, time-sensitive, and more. While some might find similarities between measurable goals, there's a catch. You should make sure that these measurable goals come with a sensible completion timeline.
That means your goals should be set in a way that they can be achieved in a certain period of time. So make sure you set timelines on a weekly, quarterly, or half-yearly basis.
Factors to Consider [+Solutions] Before Setting Measurable Customer Service Goals
Now that we have covered how to set SMART goals for your customer service team, it is time we head towards pivotal factors that play a major role in setting measurable customer service goals.
Let's get started!
1. Revisit Previous Chat Transcripts
The first factor that will allow you to set customer service performance goals is to revisit the previous chat transcripts.

These will help you understand:
The common issues your customer base faces

How your operators reach to the solution

How much time does each operator take to provide a solution

Did the customer look satisfied with the solution at the end of the conversation
These and other things can easily be figured out once you revisit the existing chat transcripts. Based on this, you will get a clear idea about how many customers should one operator manage. Other than that, you'll also get a clear picture of whether your operators need training or not.
2. Consider Operator Challenges
Another thing that you need to see is the kind of challenges your operators can come across when providing support to your customers.
For this, you can:
Ask your admins to sit for one-on-one meetings with the operators in their teams

View the chat transcripts to see why do they take a lot of time to resolve customer issues

Check chat history to see whether they have to deal with spammers or not

View their timesheets and understand at what hours do their productivity gets hampered

Even monitor real-time conversations to see how many times does your support admin ends up intervening during a chat to provide a better solution to your customers

Use some of the advanced call features, like predictive dialer to ensure that more client calls are made in a shorter time
These will help you understand the different challenges your operators might end up facing. This will help you set realistic customer service representative goals that can be achieved by your company. And, at the same time, you'll keep your operators motivated to perform better.
3. Consider Common Customer Challenges
Well, there are a lot of challenges that your operators have to face when dealing with customers. While they may look manageable on the outside, it isn't for your operators to work along with the following issues all the time.
It is one of the common challenges that operators face during their daily operations. One word, sentence, or even an emoji during a chat can put those customers off and willing to leave the ongoing conversation to search for a better option online.
Chat Transfer to the Right Department
There are times when operators land up with customers who are unsure of what they want or what person they should communicate with to get a solution for their troubles. That's when it becomes a tricky situation for your operators. They need to make sure that they help the customer get the right solution and avoid making them angry.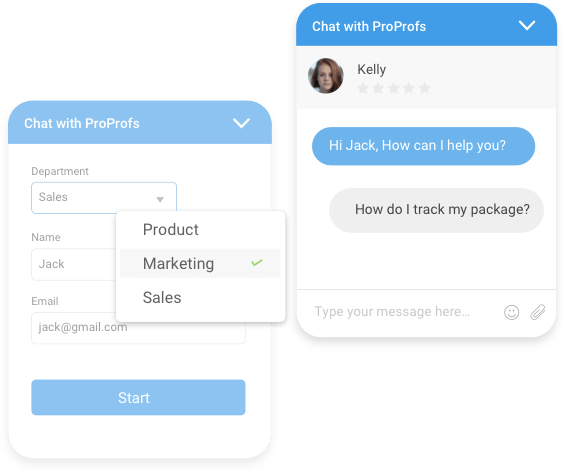 In short, there is a lot of pressure on the operator. So, to understand the problem of a customer who feels confused about it from the start and to route them to the correct department is a challenge in itself.
Requests for Product or Service Discounts
Your operators connect with customers on a daily basis who like getting frequent discounts on your products and services. Now, just imagine how challenging it can be for them to turn your customers down sometimes while still trying to retain them. In cases like these, they end up losing more time and look less productive.
While your operators are more trained towards the service aspect, they also get challenged when your customers pose feature updates or new feature requests to them. That's because they aren't sure if what your customers are requesting is possible or not from the practical aspect.
They have to confirm with multiple teams and, at the same time, make sure that the customer receives a timely response. All this to make sure that customer support ratings for the brand aren't affected that bad.
These and other customer support challenges make it hard for the operators to meet customer service goals efficiently.
---
Read More: Common Customer Service Problems and How to Resolve Them
---
4. Monitor Customer Service Metric Levels
Another factor that you should consider when setting measurable customer service goals for your team is to keep a close look at the existing metrics.
Metrics like:
Total number of tickets received

Total number of chats received

First response time

Average ticket resolution time

Average chat resolution time

Customer satisfaction score

Operator performance score

Total number of missed chats
Watch: How to Monitor Operator Performance With Live Chat Reporting 🙂

Give you the insight on what needs to be improved before setting customer service performance goals for your operators. You can even check out the chat transcripts to learn whether your operators need training or not to boost CS score.
---
Related Read: 30 Customer Service Metrics & KPIs To Track
---
How to Set Measurable Customer Service Goals
In the last section, we've covered some of the challenges, along with factors that leave a huge impact on your existing customer service representative goals.
Now, we'll take a look at how you can keep these factors in mind while actually setting your customer service goals effectively.
Please Note: You will need to monitor a few metrics that will help you understand and measure the extent to which you've achieved these customer service goals and objectives. Let's take a look at these metrics below.
1. Customer Satisfaction Score (CSAT)
With customer satisfaction score, you'll know whether your customers are satisfied with your services or not. It is a valuable indicator that also helps you determine if your efforts to create the perfect customer service experience are turning out to be fruitful or not.
For example, you plan to personalize the experience of your customers when they approach you for support. You know it is one step forward towards improving your customer service and meeting the goals too. But to see if your strategy to personalize the experience actually works with your customers, you will have to keep a track of the CSAT score.
So, set a bar for yourself. Aim to improve this metric by 10%-15% by the next quarter. And while you are at it, do consider the factors that are likely to impact this particular customer service goal.
This is just one of the customer service goal setting examples. However, this tactic is going to help you improve and perform according to the growing expectations of your customers. And in the end, you'll see them satisfied with your services.
Formula to calculate it:

2. Net Promoter Score (NPS)
This 0-10 score scale helps you to see how satisfied your customers are with your services and how likely they would recommend your brand to others.
Watch: What is NPS and Why Businesses Use it? 🙂

To improve your net promoter score, you will have to work in the same way as we discussed about improving customer satisfaction score. However, you need to make sure that while you are at it, you make use of the SMART goals for customer service reps framework.
You can't set unrealistic timelines to improve your net promoter score. Plus, you also need to decide at what intervals you would like to send the NPS survey to your customers. This gives you time to work on strategies that will turn out to be fruitful and help you improve this particular score effectively.
Learn More: How to Calculate Net Promoter Score [Explained]
3. Customer Effort Score (CES)
"84% of companies that work to improve their customer experience, witness a significant increase in their revenue."
Tweet this
And that's exactly what matters to calculate customer effort score.
This useful customer service metric is popular for measuring how engaged your customers were with the brand while buying products/services.
The metric scale looks somewhat like this:

So, when setting customer service goals on how to reduce the CES, you'll have to create strategies that allow you to:
Improve customer retention

Improve the repurchase rate

Improve customer satisfaction rate
4. First Response Time (FRT)
Another metric that makes a lot of difference for you while setting measurable customer service goals is the first response time. This metric allows you to assess how prompt your operators are when sending an initial response to customers during the support process.
So, when setting a goal on how operators can reduce the first response time, make sure to add implementable strategies that allow them to achieve it within the set deadline.
Formula to calculate first response time: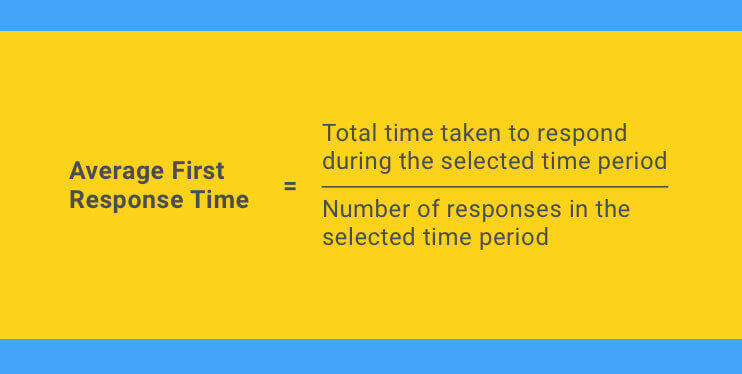 5. First Contact Resolution Rate (FCR)
Today what really matters for your customers is how fast is your brand to offer a solution and whether the issue was resolved within the first contact or not.
That's why this particular metric is really important for you to consider when creating measurable customer service representative goals. Once you look into the existing data of this metric, you'll learn about the areas where your operators need to work on and accordingly set achievable goals.
Formula to calculate FCR: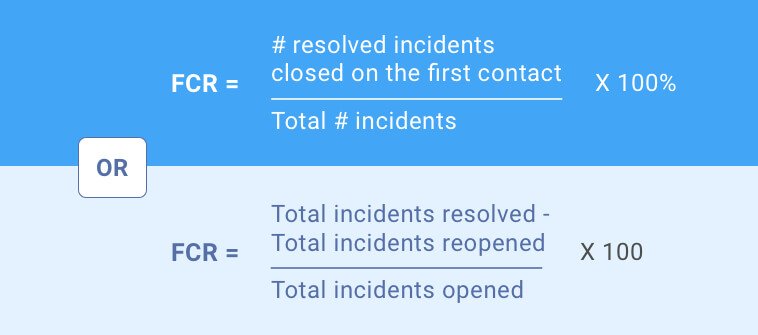 To improve the First Contact Resolution rate for your brand, you need to think of strategies that would allow you to provide faster resolution.
These can include:
Using a chat routing feature will help you ensure that the customer receives an instant solution after getting in touch with your company for the first time.

Becoming proactive is also essential for your operators. That's why emphasize on using a feature like Chat Greetings that helps your operators reach customers first and offer potential solutions effectively.
These metrics will help you set measurable customer service goals that lead to improved:
Operator productivity

Customer satisfaction rate

Sales

Brand loyalty
---
Read More: How to Reduce Customer Service Response Time
---
How to Make Sure You Reach Your Measurable Customer Service Goals
We've covered how you can set measurable customer service goals for your team. But hang on, there's still a lot to do.
To make sure that your measurable goals actually lead to positive results, you need to work on a few things first. And that's what we plan to do in this final section.
So, let's dive in!
1. Treat Every Customer With Complete Attention
Focus is the key to achieve customer service goals successfully. And, that implies explicitly to your operators.
According to Accenture, 83% of consumers report that if companies could provide customers with better live or in-person customer service, it would have impacted their decision to switch providers.
Well, that's exactly the kind of power your operators hold when they offer support services to customers. And while they are at it, they should make sure that every customer gets equal and undivided attention. Your customers like it when they get all the attention from operators because that gives them the satisfaction of being heard.
2. Build an Emotional Connect in Every Conversation
This tip means that you need to make sure that every customer experience is personalized. If anything it also helps you to improve your sales and customer loyalty.
Studies by Speechy suggests that "customers who chat are 3X more likely to buy. Live chat provides a method for more direct and personal interaction with customers, increasing in the likelihood that they will make the purchase."
3. Always Educate Customers on How to Prevent Issues
There are times when customers like finding solutions without approaching anyone for help. Well, that's a queue for you to add a knowledge repository that works seamlessly with your live chat software.
Even numbers suggest that 77% of consumers end up using a self-service support portal to find solutions instantly.
These self-help articles will help you educate customers on how they can resolve the issue faster. This not only results in achieving your customer service goals but also surpass customer satisfaction.
4. Provide Instant Answers
"Customer service means making it easy and fast for your customers to get the help they need―when and how they need it."
Steve Benson
Founder & CEO, Badger Maps
Tweet this
Well, Steve Benson has successfully put my thoughts together through his quote on customer service.
When you aim to personalize the experience for every customer, make sure that each of them gets instant answers too. Not only will it help you keep customers engaged with the brand but also keep them satisfied with your services.
5. Try Providing Solution in a Smaller Frame of Time
After covering bases like personalized and instant support, the next point that tops the list is providing a solution in a smaller frame of time.
This has an impact on your FCR rate too. So make sure that you provide a solution to your customers when they first contact your business for support. This will not only prompt them to come back again but also helps you create a strong bond with your customers.
---
Now that we've seen how to set measurable customer service goals and how you can implement them better, it is time we take a look at some of the frequently asked questions below.
Q. What are the 3 most important things in customer service?
Three things are important in customer service:
Respecting your customers

Professionalism

Product and service knowledge
Q. How to choose the right customer service objective?
To know your customers better is one of the best ways to choose the right customer service objective. Once you know the likes and dislikes of your customers, it will become a lot easier for you to come up with customer service objectives that would really help you boost sales and brand loyalty.
Q. How do you provide excellent customer service?
There are various things you can do to provide excellent customer service. Some of them include:
Instant response

Listen to your customers

Get to know your customers

Be friendly and helpful

Ask for feedback

Make complete use of the feedback received and improve your services accordingly
Q. Why is it important to set realistic customer service goals?
When setting realistic customer service goals, make sure that you've discussed them with the team to know that they can be achieved during a specific period of time. This will allow your support team to work towards a unified objective. Other than that, make sure you have:
A vision that helps you set realistic goals

Clearly defined methods on how to achieve your goals

Clear understanding of what might be the obstacles while achieving your goals

An understanding of what metrics to be used to measure if you are close to achieving the goal
Do you want a free Live Chat software?
We have the #1 Online Live Chat Software for instant customer support 24x7