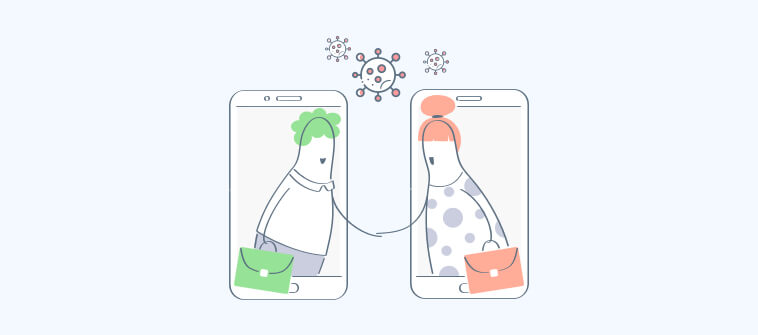 Did you watch the OnePlus April 2020 launch event?
After months of anticipation and multiple speculations, I finally had the opportunity to see what new specs made their "Lead with Speed" series special and what's new for the customers. But that's when something else caught my eye.
For the first time, I saw a flawless presentation without in-house spectators. And honestly, it's not just brands like OnePlus who've ended up witnessing a scenario such as this. Businesses across the world are forced to take a hit due to the COVID-19 spread. However, one good lesson that came out of this situation was proactive communication.
Months before the event, OnePlus created a hype among its customers. They interacted with their followers on a regular basis through their active Twitter and Instagram pages.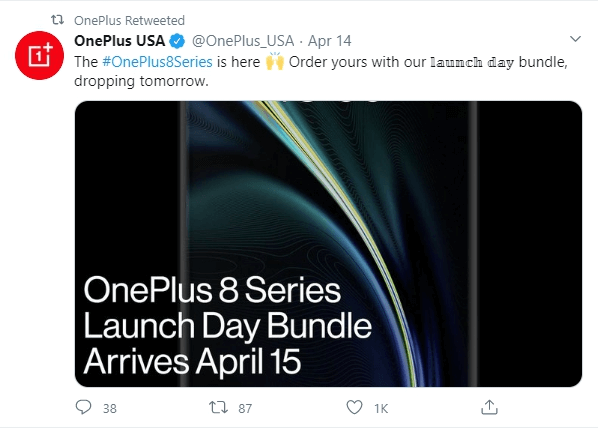 With the right measures for constant customer communication during the Covid-19 pandemic, OnePlus successfully managed to overcome a lot of roadblocks (if not all). This proactive communication helped them work towards reinstating the brand loyalty, especially when 19% of consumers feel less brand loyal and investing in whatever is available. Otherwise, we are left to see figures such as these:
In March 2020, Statista revealed that "25% of respondents accepted how they faced troubles with the supply chains, such as decreased availability from usual suppliers."
And mind you, this is just one of the roadblocks both customers and brands are subjected to during the Coronavirus pandemic. Some of the other roadblocks that workers and business owners had to face as a result of the pandemic also include: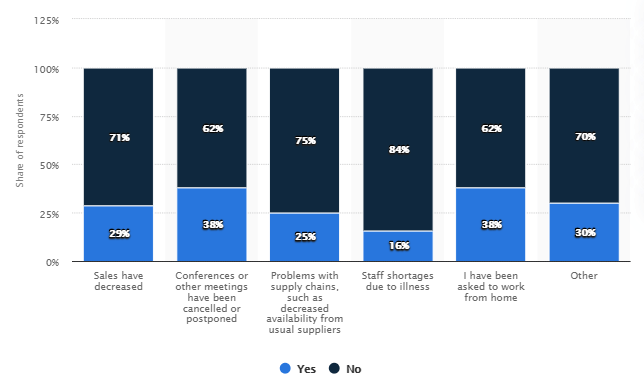 Decrease in sales

Cancellation of meetings and important conferences

Staff shortage
Now, this is the kind of wildfire you need to be prepared for and effective proactive communication measures can do the bit for you.
That's why in this article, we plan to cover some of the top steps you should act on now to improve your communication and let customers know that you are more than proactive to manage their incoming concerns and queries.
Table of Contents [Hide]
So, without further adieu, let's get started!
How to Provide Proactive Customer Communication During Coronavirus
Did you know that 66% of respondents from the United States indicated that they have a more favorable view of brands that offer or contact you with proactive customer service notifications?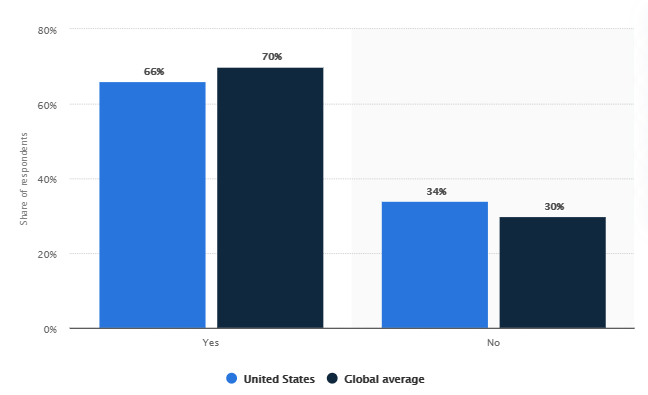 And this number only rises on the global level. But the fact is, your customers appreciate it when you are proactive and communicate things beforehand. And such a gesture during the pandemic would leave an everlasting impression of your brand.
However, you need to be careful when planning ways to execute measures for proactive customer communication during Coronavirus. And having the right mix of tools is the first step towards progress.
And rather than opting for a multichannel customer service approach, think about omnichannel instead. In times when customers are already stressed and are looking for answers (prompt ones), the last thing they would like is to repeat themselves.
---
Learn More About: Difference Between Multichannel & Omnichannel Customer Support
---
With an omnichannel customer support process, your operators would easily cater to the growing expectations of the customers and even initiate proactive conversations that bring their minds at ease.
Now that we know that omnichannel approach is the best way to offer proactive support, let's dive deep and take a look at the top 5 proactive communication steps you should take to help your customers better.
Top 5 Proactive Communication Measures You Should Take Now!
Measure 1: Decide the Intent Behind Your Message to the Customer
Kit Yarrow

, a consumer psychologist, in her recent interview expressed, 


"Tone-deaf marketing messages that fail to read the room — like a 
wool-themed fashion email blast hitting inboxes during a September heat 
wave — will fall flat no matter the socio-economic climate." 



She further explains this statement by saying, 

"But during a global health 
and financial-solvency crisis like COVID-19, they will sound like nails on 
a chalkboard to consumers, threatening to imperil a company's brand equity 
long after the dark days have passed."
This makes it all the more crucial for you to decide what you'd really like to communicate to your customers. That's why the first step towards communicating with customers during Coronavirus.
Before initiating the conversation with your customer, it is important that you work towards the intent of your message. For example, Amazon decided to keep its customers updated on the delivery process and how shipping delays are an outcome of the pandemic.

So you notice the banner they added above the navigation bar? That is one way to let your customers know what they can expect when the world is hit by COVID-19. Other ways to express your intent besides using banners or sending emails is to use a live chat tool that helps you add announcements on the website.
For example, ProProfs Chat helps you notify customers about service updates or even sales via the Announcements feature. Once you create and add an announcement, it will look something like this: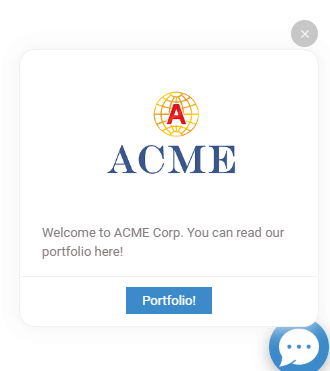 ---
Learn: How to Add Announcements With ProProfs Chat on Your Website
---
Measure 2: Work on How to Help Your Customers
"Support operators handle over 1 million messages a day in the current situation of COVID-19."
Tweet this
Exactly, your customers have more doubts, issues, and questions about your services and products. All the more reason to approach your brand for support. And this rise in customer support demands is pushing you to take action to help your customers faster.
However, be proactive when planning to provide support to your customers. That's because missing out on a support request during these testing times might also result in losing the customer altogether.
Here's what you can do to help your customers proactively:
1. Use a Live Chat Software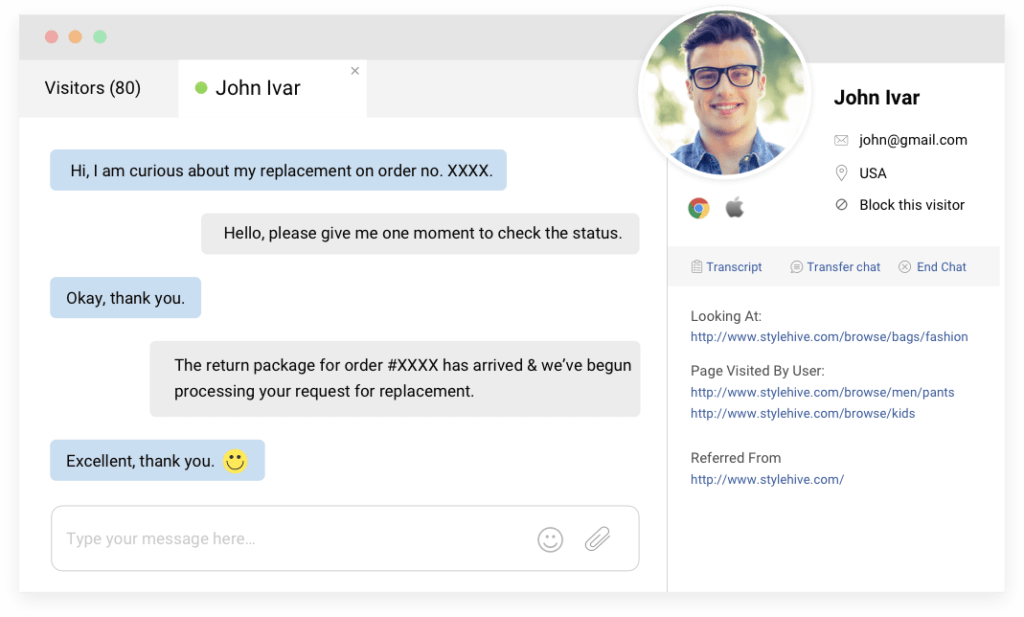 The first step towards communicating to consumers during the Coronavirus outbreak is to be proactive. And live chat software helps you do just that.
Watch: How to Install & Customize Live Chat to Your Website in Under 5 Mins 🙂
Once you add a live chat to your website, you can:
Track visitors on your website

Understand the visitor intent

Initiate a conversation

Understand recurring pain-points

Come up with a solution that benefits all

Improve customer engagement

Boost customer's experience with the brand

Work towards building loyalty during these indecisive times
Features of a live chat software that help you provide proactive support to customers include: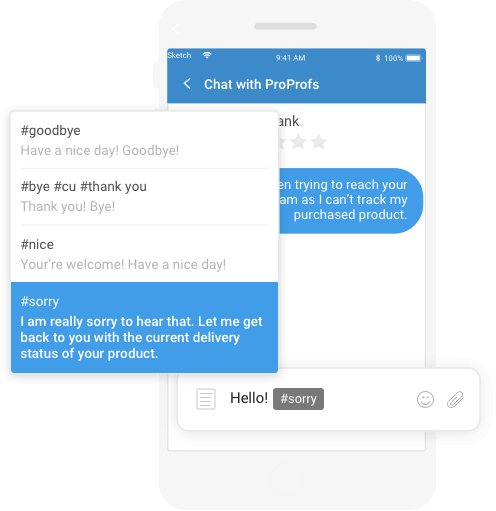 Never answer the same questions again with the help of premade message templates like canned responses. It is the best way to save common replies and use them later to avert typing efforts and typo mistakes. Plus, their use also helps users to reduce response time.

---
Read More: Live Chat Scripts for Sales and Customer Service
---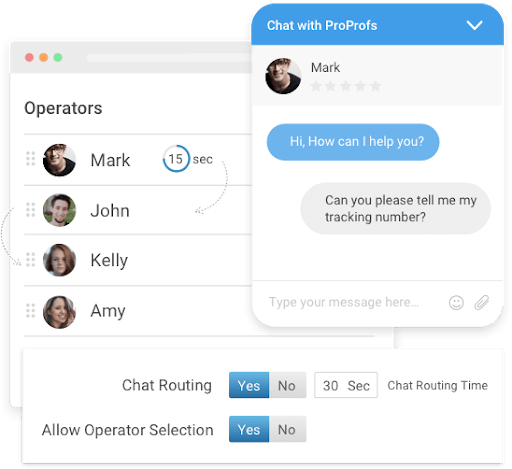 From prioritizing and routing incoming chats to assigning chats according to groups, chat routing helps you do it all. If anything, it speeds up the support process and helps customers find instant answers. By adding a department section to the pre-chat form, you can make sure that the customer received proactive support too.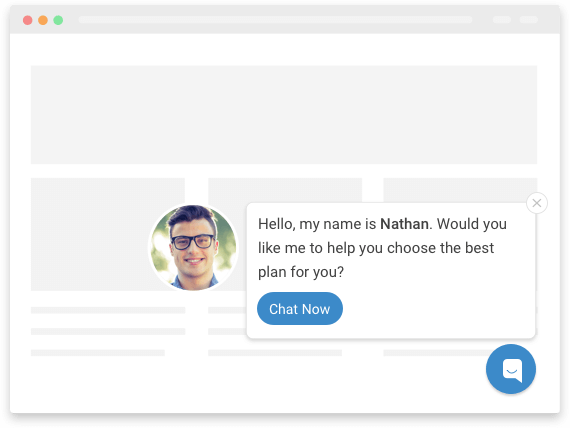 Send personalized greetings to your site visitor to boost engagement and provide proactive support to customers. Your operators can initiate a chat and make sure that they receive instant answers before they take the first step towards asking for support.
Sign up for ProProfs Chat for free to experience these features at full-length!
The possibilities are endless when you have the best live chat software in place. And especially when your customers expect answers and instant support from you.
2. Use a Knowledge Base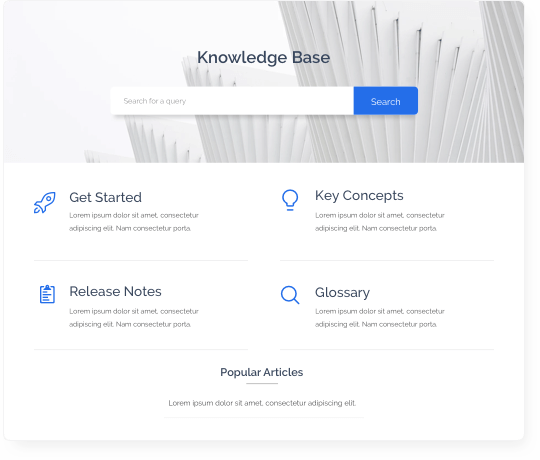 At one point, you'll realize that there are certain frequently asked questions that your operators have to answer as they communicate with customers during the testing times. These questions can be related to:
Product availability

Payment procedures

What products can be ordered

Reasons for order delivery status
That's why creating a knowledge repository would be a good idea to make sure that your customers get instant answers to their questions.
Watch Now: How to Create a Stunning Knowledge Base in 5 Minutes 🙂
Sign up for ProProfs Knowledge Base at $0 Now!
Once you get the knowledge base on board, all you have to do is create a knowledge base to get experience benefits such as:
Less support tickets

Instant ticket resolution

Constant and consistent support to customers in dilemma

Understand growing common concerns by keeping a track of search history

Improve customer confidence in the brand and boost loyalty

Improve customer satisfaction

Reduce delays to provide answers to customers
These are some of the benefits your brand can experience after using the best knowledge base software for your business.
3. Use a Help Desk Software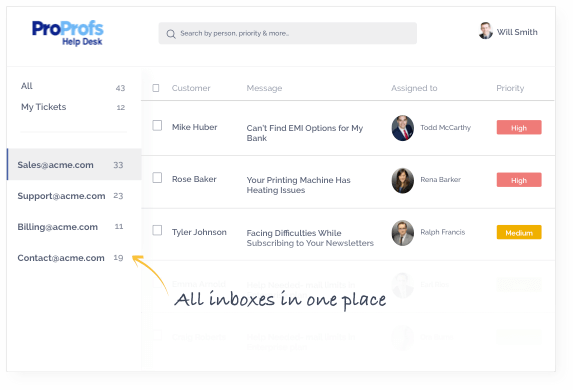 Adding a help desk software to the mix of support tools is a great idea to never miss out on a single support opportunity.
Understand this, not all customers may approach your brand for support in the same way. That's why it is important to have different support tools at your disposal to cater different customers effectively.
Once you add a customer support ticketing software, you can:
Sign up for ProProfs Help Desk at $0 Now!
Get all customer-facing emails in a shared inbox
Easily assign tickets to relevant agents faster
Add private notes & keep agents updated
Bridge communication gap among agents
Set priorities & know which tickets to address first
Close tickets instantly & effectively
Boost customer satisfaction
Increase customer loyalty
And this is just the tip of the iceberg.
Watch Now: How to Set Up Your Help Desk in Under 5 Minutes 🙂
Sign up for ProProfs Help Desk at $0 Now!
Once you set up a help desk, you can think about creating your own support suite that will help you simplify the process of communicating to consumers during the Coronavirus outbreak. For example, ProProfs Chat enables you to create your own support suite by giving you the option to integrate built-in knowledge base and help desk tools together.
Measure 3: Send Targeted Messages to Your Customers
After creating a support suite, the next step towards proactive customer communication during Coronavirus is to send targeted messages to your customers. But before you start sending out targeted messages, it is important to understand your customers better.
Their mindset isn't the same. If anything, lockdown across the globe has impacted the spending habits too.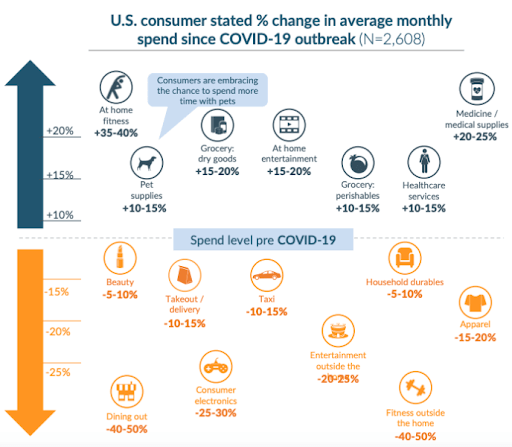 This graph is a clear indicator of how you need to step back and assess your customers again before sending targeted messages when they arrive at your website.
Capturing customer feedback is an effective way to deal with this situation.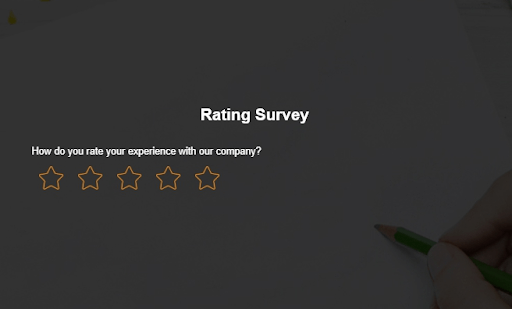 Due to COVID-19 spread, we've come across the two common problems so far:
Production process has slowed down due to unavailability of complete workforce

Supply chain getting affected due to social distancing rules
However, the demand hasn't changed much so far. If anything, a customer is switching from one brand to another on the basis of the product availability. In unpredictable circumstances such as these, it becomes a challenge for businesses to send targeted messages to customers when loyalty is at stake. That's why it is important for you to reconnect with customers by asking for their precious feedback and what are their expectations from the brand in the coming months.
This is why you need to create personalized feedback surveys that help to understand the basic expectations and needs of your customers.
Learn: How to Create a Survey Using ProProfs Survey Maker 🙂
Other than this, you can ask for feedback even on your website by using Qualaroo. With its use, you can capture 10X more valuable responses from the target audience. You can even:
Enquire about pricing feedback when somebody is checking out the pricing page

Ask visitors why are they leaving your website

Request visitors to leave website engagement feedback like did they find what they are looking for
In short, you will understand what drives the decisions of your customers during the pandemic. This will help you to send targeted messages to customers that they can relate too and arrive at a decision faster.
---
Learn: How to Use Real-Time Feedback Survey for Business Growth & Development
---
Measure 4: Improve Email Dynamics for Your Support Team
A recent article at eMarketer made me realize that brands need to work towards improving their email dynamics.
The writer expresses that, 

"I may not have cared about each of the 100-odd 
marketer emails I received about the pandemic over the past week or so, 
but there were some I was waiting for anxiously: word from the Lyric Opera 
that Wagner's "Ring" cycle will no longer be performed, and from RXBAR (an 
important part of my pantry stash) that the company would be having most 
employees work from home but didn't anticipate disruptions in its ability 
to supply customers with product. I didn't need to hear from Sherwin-Williams 
that my neighborhood store would be offering curbside pickup for safety—but I 
know there are workers in my community who did need that message."
Not every customer may land on your website or contact your support team to know what's planned ahead for them during these testing times. The stats below indicate the same.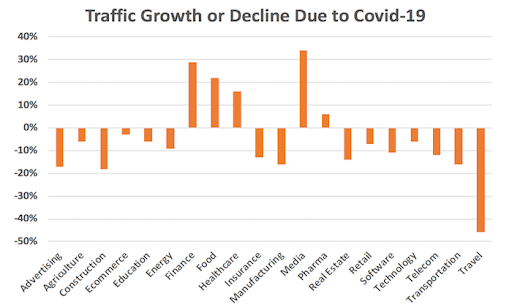 Website traffic for companies across industries took a massive hit during the COVID-19. It is a clear indication that not all customers may get in touch with your business the same way. And, if you aren't proactive during these times, chances are that your existing customers may never return.
So, what I gathered from the eMarketer article is the growing importance of email marketing strategies during the COVID-19. In times like these, customers would like to hear what your brand has to say and what actions you have in store.
Some of the steps that you can take to improve your email marketing are as follows:
1. Be Transparent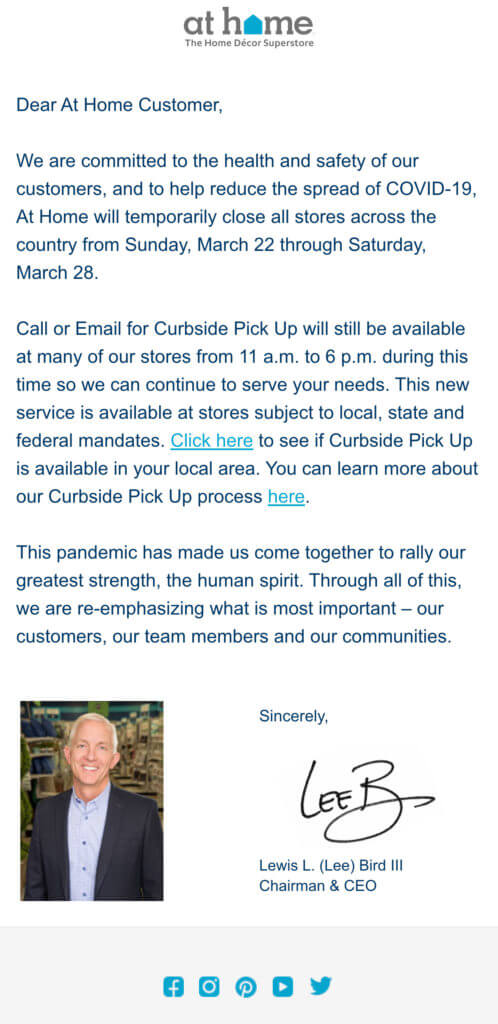 This email is a great example of how your brand should move towards being more transparent with the customer base. It talks about how a business plans to deal with the current situation and how it plans to further assist its customers going forward.
This kind of transparency helps your customers stay calm about the services they may receive, thus helping them overcome many of their concerns and anxiety.

2. Talk About Special Measures
Tell your customers what special measures your brand can take even with so many limitations around you. For example, At Home email talks about their availability from 11 AM to 6 PM to make sure that customer needs aren't kept on hold while at the same time adhering to state and federal mandates.

3. Let Your Customers Know About Upcoming Changes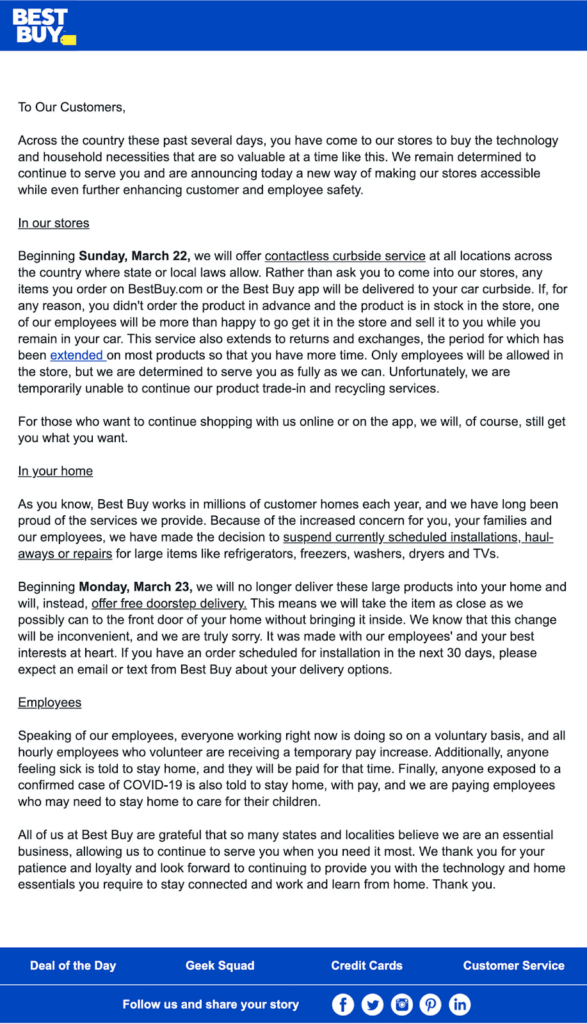 There is no way you can sit and wait for this pandemic to get over. Instead, you need to make changes to your business process to keep it going. But do ensure that your customers get to know about the changes you plan to execute to avoid any confusion.
For example, Best Buy talks about the various changes it plans to make amidst the Coronavirus pandemic and how the supply chain won't come to a halt.

Contactless service

Extending the timeline for exchange or return of goods

How only employees will be allowed in the store

No installation or repairs for large items like refrigerators, freezers, dryers, or TV will take place

Delivery of large products will be close to customer's doorstep however, they won't be kept inside the house



These email marketing measures will allow you to spread awareness and talk about the changes your brand aims to make during the pandemic.
Measure 5: Focus on Social Media Proactive Engagement
There are several numbers that indicate the importance of being proactive on multiple social media platforms. Recently Facebook came out with a study with the following results.
In many of the countries hit hardest by the virus, total messaging has increased more than 50% over the last month.
Similarly, in places hit hardest by the virus, voice and video calling have more than doubled on Messenger and WhatsApp.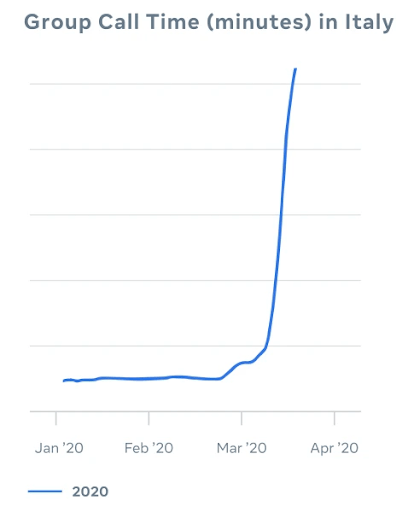 That's not all. Another study shows how people have readily embraced social media platforms, thus increasing their screen time (25% increase in engagement on Instagram and TikTok in the past month and a staggering 72% increase on #ad content by influencers).
These numbers are a wake up call for every business owner on how they should optimize their existing social media channels to communicate with their customers proactively.
Here are a few ways that can help you get started instantly:
1. Let Your Customers Know You Care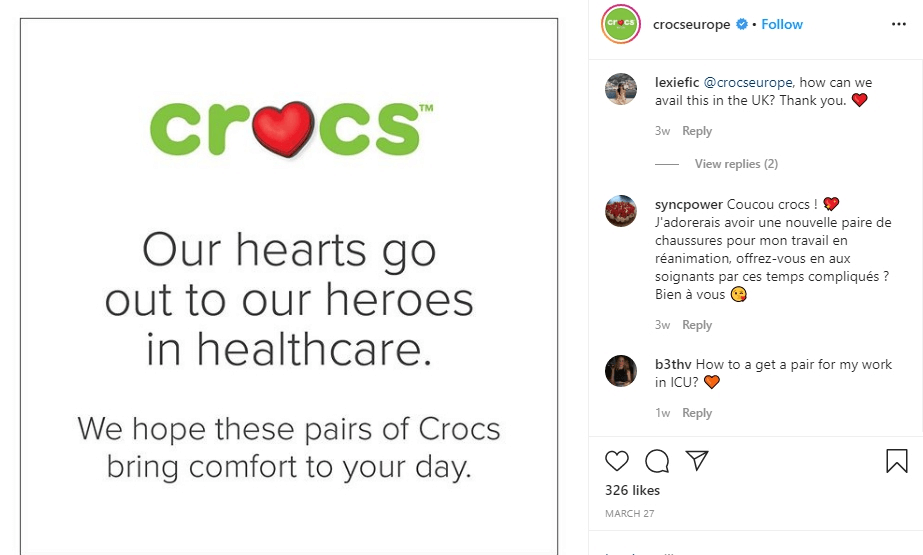 In one of its recent campaigns, Crocs Europe announced free Clogs to health workers. This is one way to let your customers know that you are sensitized to the ongoing situation and would like to make a contribution for frontline workers.
In short, you get ample opportunities to do something good and at the same time encourage your customers to be a part of your journey. This is a good way to stay connected with your customers even during testing times such as these.
2. Create Authentic Content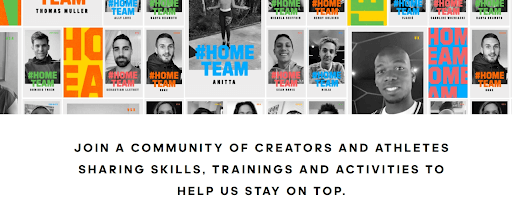 One of the finest examples of this is Adidas. Their content isn't polished, but it is unique and definitely motivated people to stay in shape. The #HomeTeam campaign has recently gained a lot of traction on social media. They've set aside the hyper-realistic settings and roped in some amazing athletes who've shared their home workout videos.
This is a great way to create content that is real and something that everyone across the globe can relate to.

3. Create Interactive Content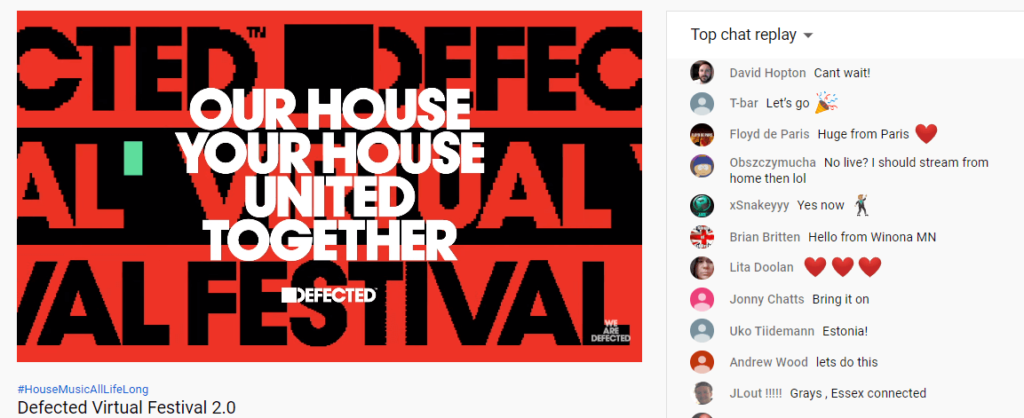 Remember one thing when creating interactive content – your customers miss connection.
On March 27th, Defected Records hosted a virtual music festival that gained 
a lot of ground amidst their followers. And that's just the beginning of it. 
They are coming with their fourth installment of the virtual festival. 
People really did connect during the festival (even if it was virtual). 
What's more, 

Defected

 will also continue to fundraise for the World Health 
Organisation's COVID-19 Response Fund, with their previous virtual event 
raising over $43,000, matched by google to make a total of $86,000.
Such interactive content has helped business owners connect with their customers and also opened up the possibilities for people to engage with others too.
Other than these, you can also opt for:
Live broadcasts

Face filters or branded effects

Create gifs for people to relate to the brand
These measures will help you communicate with customers during the Coronavirus outbreak proactively. But other than that, you also need to make sure your operators have the necessary communication skills to speak with impatient customers.
Different Skills Your Operators Would Need to Communicate With Customers
In this section, we aim to focus on some of the essential communication skills your operators will need to initiate proactive conversation.
Let's dive in!
1. Be Patient
One quality that would help you win over your customers is patience.
There is no harm in assuming that most customers may easily lose patience during the support process. So, keeping that as an expectation for your operators, let them know that the only key to avoid any arguments with the customer is being patient during the entire conversation.
No doubt, it gets taxing for operators mentally and emotionally. But with training and better ways to communicate that certain service or product won't be available for a few days can help them avert angry customers easily.
---
Read Now: 5 Ways to Politely Say No to Customers: With Real-Life Examples
---
2. Be Empathetic
"Empathy is seeing with the eyes of another, listening with the ears of another and feeling with the heart of another."
Alfred Adler
Tweet this
Patience is no doubt the biggest skill your operators need to conquer before initiating proactive conversation with customers. But at the same time, they need to show empathy to let them know you care. Remember, empathy is more than just a feeling towards a customer.
This concept is a process in itself where your operators need to:
Understand and paraphrase the existing pain-points to assure the customer that you are on the same page

Share how you may feel in case you were in the customer's position

Act upon customer's problems by offering some options and how they can benefit from each one of them
This skill will turn out to be a valuable asset when communicating to consumers during the coronavirus outbreak.
3. Avoid Negative or Bad Attitude
The last thing customers would expect is to face negative attitudes from a brand during these testing times.
Remember, your name and sales aren't the only one at stake. Your customers would expect you to be humble and understanding, especially when they have no choice but to contact you for support.
Therefore, make sure that your operators aren't communicating negative feelings or expressing a bad attitude during a live chat session.
4. Personalize the Chat Conversation
You know your customers better.
This is something that even your customers would expect.
Well, that's because you have access to their previous conversations, purchase history and even how many times have they visited your website.
Taking all these factors into account, you can work towards personalizing the support process for your customers.
If anything, personalization has great effects too such as:
44% of customers

are likely to become repeat customers

39% of customers will likely to tell about a brand to their friends or family after personalized experience

32% of customers will likely leave a positive review for a business

22% of customers will likely post a positive comment on social media about the business
---
Read More: 11 Live Chat Mistakes You're Making and How to Avoid Them
---
With these live chat communication skills, you can easily communicate with customers during coronavirus. Let us know if you have any questions or suggestions in the comments section.
Stay home and stay safe!
Do you want a free Live Chat software?
We have the #1 Online Live Chat Software for instant customer support 24x7