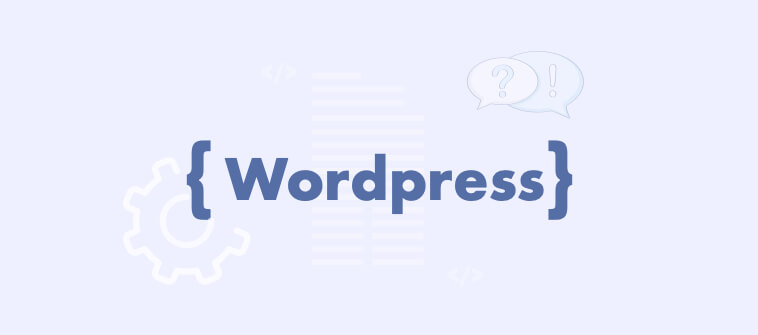 "I want to add live chat to WordPress website, but don't know where to begin."
This is something we all come across when searching for a live chat software for our WordPress website. We browse through so many articles, Quora answers, and forum websites that discuss which is the best WordPress live chat plugin or how to add live chat to WordPress website.
Except, too many answers leave us confused. What's more, many people today misconstrue live chat as a premium tool only used by large enterprises that have to answer 100s or 1000s of chats in a day or two.
But as a reader, do you really believe that live chat software is for enterprise business owners only?
Well, let's clear the air.
Live chat has become a necessity for all business owners. And the reason is clear, reaching your target audience before competitors grab their attention.
The use of live chat gives any business an edge over its competition. But how?
Makes real-time communication possible

Helps in visitor monitoring

Makes lead capture simple

Helps to simplify the sales funnel

Builds a delightful support process

Allows to track and improve operator performance

Provides anytime, anywhere support
And this list benefits doesn't end here.
However, most of you may think that it isn't easy to set up a 24/7 live support system like live chat on your website. Right?
Except, it's just an assumption and to add a live chat to your website isn't a tedious task at all. You can add a live chat software to your website within 5 minutes. Here's how you can do it with ProProfs Chat.
Coming to the initial concern to install live chat on WordPress, well that too can be done within seconds using ProProfs Live Chat plugin.
Let's learn how to install live chat plugin on your WordPress website in seven simple steps.
Add Live Chat to WordPress Website

1) Start by clicking on to "Plugins" in your WordPress Dashboard.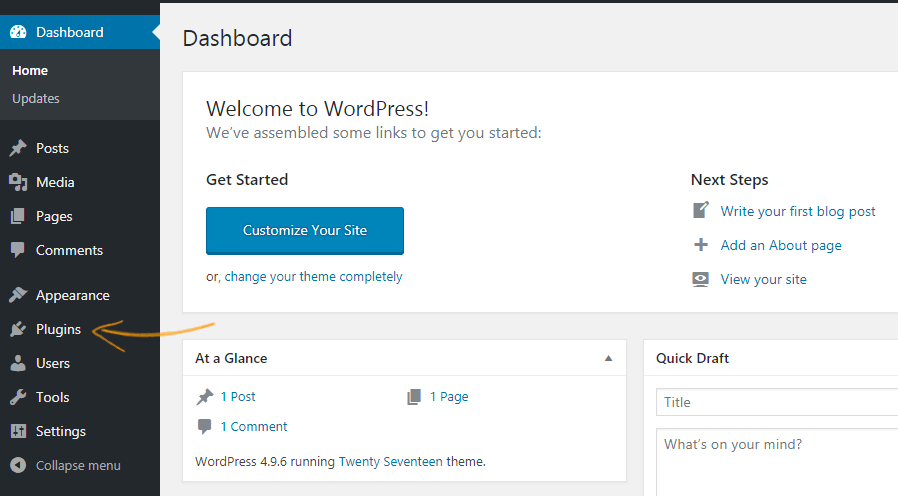 2) Next, click on the "Add New" button.

3) Type "ProProfs Chat" in the search box available in the top right corner of the screen. Click on "Install Now" once you see the option "ProProfs Chat – Live Chat Plugin for WordPress Website".

4) Next, click on the "Activate" button to start the plugin installation process.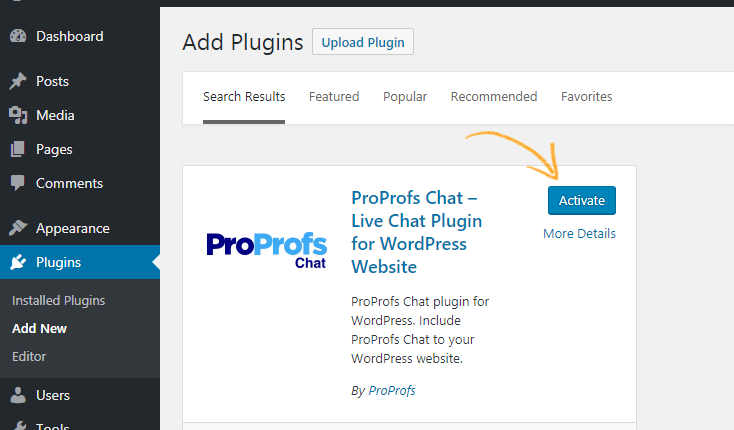 5) Once activated, you will be redirected to the plugins section. Now, click on the "Settings" button under your ProProfs Chat plugin.

6) You will be asked to add your ProProfs Chat login credentials to proceed with the setup process.
If you don't have ProProfs Chat account, you can sign up here for free.

7) Once the credentials are added, you will successfully complete the plugin installation process on your WordPress website.
What's more, you can click on "go to dashboard" button and start customizing your live chat window as per the needs of your customers.
What's more, you can also use your ProProfs Chat dashboard from here.

Now, let's see how ProProfs Chat would appear on your WordPress website: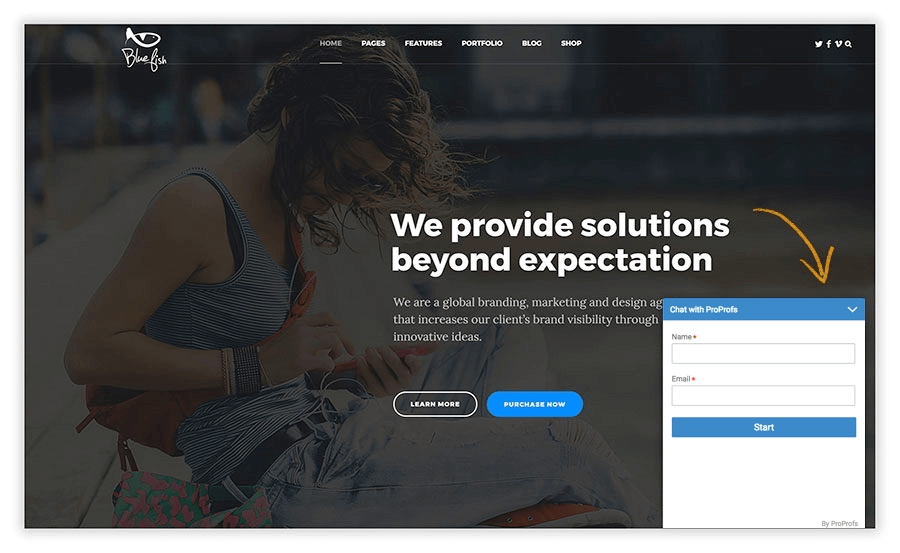 Furthermore, you can customize the chat windows as per your requirements. You can change logos with help of logo maker, fonts, and chat window themes easily. You can also use different chat windows for different pages of your website. Remember, ready-made chat templates are also available, therefore relieving you of any technical work.

Install Live Chat on WordPress Website (Video Tutorial)
Adding ProProfs Live Chat plugin to your WordPress website doesn't require any technical knowledge at your end. You can either do it yourself or may hand over the job to your developer. Still, the process hardly takes any time and you will be ready to take up questions from your visitors in real-time.

Hope you found this guide helpful. In case you have queries, you can reach out to us anytime here.
However, there is a list of questions WordPress users can come up with while planning to add live chat plugin to WordPress website.
---
Here are some of the frequently asked questions that will help you complete your live chat plugin installation process efficiently.
Q. When will the chat icon be visible on my website?
Once your plugin is installed and you have logged in to ProProfs Live Chat dashboard, all you have to do is click on Launch Chat button. This will activate your chat icon on the website.
Q. Can I access my ProProfs Live Chat dashboard from the WordPress account?
No. However, you will come across a "go to dashboard" button as you click on ProProfs Chat under plugins section. It will help operators reach their dashboard and initiate a chat with visitors on website.
Q. Can I customize chat window as per my WordPress website theme?
Yes, you can. Here's a link to help you learn some of our customization options in detail: /customization/
Q. Is forever free plan applicable for WordPress plugin?
Yes, the forever free plan is applicable for ProProfs Live Chat plugin for WordPress too.
Q. Does ProProfs Live Chat support multiple websites?
Yes, it does. You can use a single account and provide support on your multiple WordPress websites.
Do you want a free Live Chat software?
We have the #1 Live Chat software for delightful customer support starting at $0