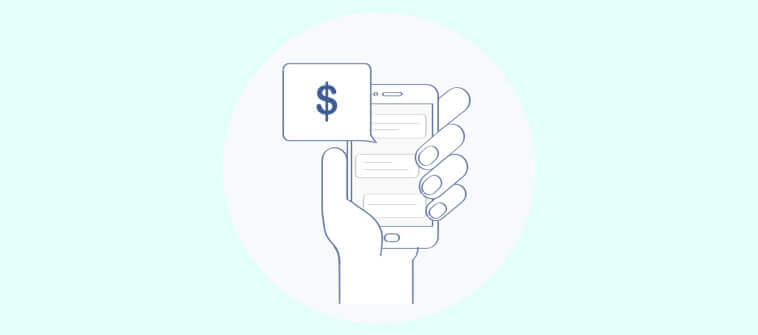 What makes live chat scripts so important for sales and customer service?
And how does their use impact your business performance?
To realize all the benefits of live chat scripts, you need to understand the importance of chat etiquette for your customers' experience and satisfaction.
The appropriate live chat communication not only increases the chances of selling your product or service but also enhances customers' loyalty, as well. And representing a tested way of communicating with customers, these premade message templates minimize the efforts your agents have to make to keep customers satisfied.
Accordingly, live chat scripts improve your support in various ways:
They speed up the communication making it easier for agents to handle multiple requests simultaneously;
They help establish a standardized, uniform tone and language, increasing customers' trust;
They provide consistent communication between your agents and your customers in the long run, helping you deliver a pleasant experience with no surprises.
Now, to help you get the most out of the use of live chat scripts, we've prepared benefits and a thorough example-based guide for diverse situations that live chat agents frequently deal with. So, if you want to be adequately prepared for these situations, read on and collect some of the most reliable customer service script templates for each of them.
Benefits of Having a Live Chat Script
The key to great customer service is of course- great response times. But to create a great first impression, your agents need to be prepared. Live chat scripts help them be prepared. Let's discuss some benefits below:
1. Consistency in messaging
When your operators connect with customers through a chat on the website, they need to be consistent in their communications. With a live chat script, you can ensure all operators deliver the same core message in similar ways. They should use stock phrases and display the kind of empathy your customers expect from your service reps.
In other words, there can be a variety of phrases but the core message remains the same.
2. Reduces pressure on operators
With live chat scripts, your operators can work on servicing clients rather than actively searching through possible answers. A well-written set of phrases allows your operators to navigate through the toughest of situations instantly.
In other words, customers will receive an appropriate response from operators because they do not feel pressured by time.
3. Important information gets relayed
During chat conversations with customers, you want to make sure that nothing important gets missed out. However, if you are improvising while speaking to customers, you might forget to include something important like legalities, privacy disclosures, etc.
Such crucial and often repeated pieces of information need to be documented in a script, so that prospects are aware that they have to use them.
4. Reduces response times
While we have discussed that a script offsets the pressure on agents, it also allows them to be receptive to the customer's problem. Your customer service reps will have to work less to navigate themselves out of a difficult situation.
In short, a script is an aid in problem-solving. The issue can be resolved quickly with a go-to phrase for complex situations. Also, it teaches your agents to become active listeners.
Useful Customer Service Scripts Templates And Examples
Communicating in the hour of need is a skill that supports operators acquire with time. But there is no harm in receiving assistance on how to polish the art of support with a few examples.
In this section, we dedicatedly focus on various customer service templates and examples at length to help you build an awesome seamless support experience for customers.
1. Customer Service Greetings Scripts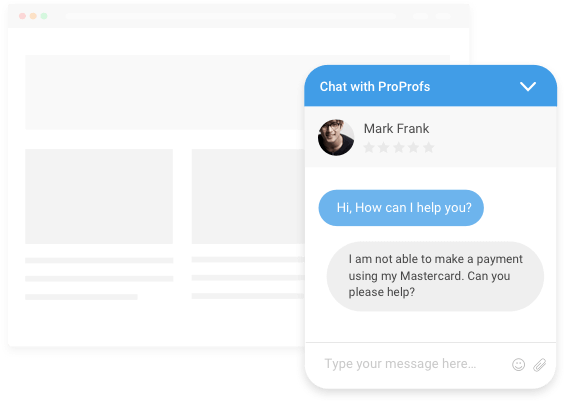 When it comes to effective greetings, it's essential to keep them friendly and pleasant as these messages can shape the rest of your chat session. So, don't make them sound too formal or serious. However, you should make a difference in the way you greet your new visitors and those who repeat a visit. So, let's check different customer service scripts for greeting customers that you may want to rely on.
1.1 General Greeting
The most convenient general greeting examples that instill confidence in your website visitors usually include your company and agent's name, as well as a friendly, polite offer to help.
Good day, thank you for reaching out to (company name) customer service. My name is (name). What can I do for you today?
Hello, thank you for calling (company name). You're speaking to (agent name). How can I help you?
1.2 Greeting Scripts for Repeat Visitors
To make a positive impression on a repeat visitor, include their name in your message, and make sure to check if their new message has anything to do with some of their previous requests. Some of the ways of doing so are listed below.
Welcome back (customer name)! Is everything okay with your (previously solved problematic situation)? How can I help you today?
Hello (customer name)! Happy to see you again! What can I do to help you today?
Nice to see you again, (customer name)! How can we help you this time?
1.3 Explaining That Chat May Be Monitored or Recorded
Now, if your company requires you to record your communication with visitors, you should include this information in your greetings. Otherwise, you may end up dealing with legal problems and having your visitors feel deceived.
So, how to explain your monitoring activities to your visitors? Let's see some good practice examples.
I want to inform you that our conversation may be monitored or reviewed for quality assurance.
To make sure you're having impeccable customer service experience, we may review this chat session for training purposes.
We want to point out that (company name) may review this chat to help improve your experience.
2. Apologizing With Customer Service Scripts
The general rule of apologizing to your customers is to do it sincerely. In terms of live chat, this means that you should sound like you really mean it, no matter how you feel about the issue. So, be pleasant, act with empathy, and, if possible, constructively.
Now, depending on the situation that made you apologize to your customers, you should have in mind different types of customer service scripts. Let's look at the best ways to apologize in different scenarios.
2.1 How to Apologize for a Problematic Situation?
(Customer name), I'm so sorry you have to deal with this problem. Let me check if I can fix it.
We're really sad about your negative experience. Tell me what happened and I'll do my best to make things right.
I understand how you feel and I'm deeply sorry about it. I'll forward your request to the responsible officer right away and try to correct this as soon as possible.
2.2 How to Apologize for Being Unable to Meet the Request?
Instead of simply acting like you don't care and risk losing customers, you should put some effort into the creation of a compassionate reply that will make your answer more acceptable for them. Or you can use one of these solutions:
I really want to help you out with this issue, but I'm not able to fulfill that request at this moment. If there's anything else I can do for you, just let me know.
We're sorry, but right now we can't help you out with that as your request is beyond the scope of our support possibilities.
2.3 How to Effectively Provide Alternative Options Using Live Chat Scripts?
Sometimes, even if you can't provide the help your customers need, you may provide them with some other acceptable solutions. To make sure you did it the right way, stick to one of these patterns:
While I can't help you out with that specific issue, I'd be happy to recommend a suitable alternative.
I'm highly convinced that your issue can be easily fixed if you try some of these options instead: …
May I recommend you try one of the following solutions as an alternative?
2.4 How to Forward a Request to the Higher-Level Operators?
If the request is out of your scope of responsibilities, you can use some of these phrases to redirect your customers:
I'd really like to help you solve this issue but your request is out of the scope of my responsibilities. Would you like me to connect you with my supervisor?
I'm sorry but I first have to check with my manager if I can handle this request.
I can't do anything for you regarding this issue but I can transfer you to a supervisor who may be able to fix it.
3. Transferring Customer Service Chats With Live Chat Scripts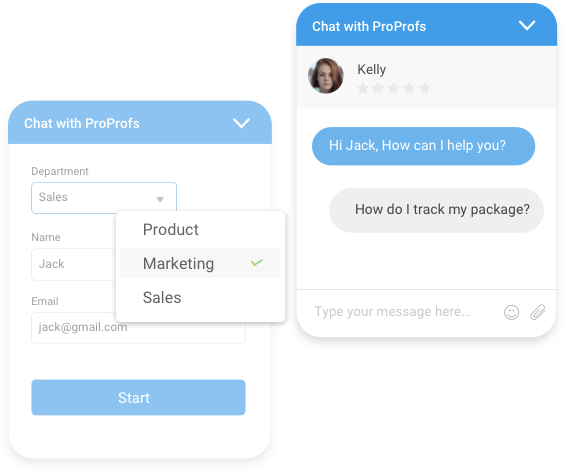 No matter whether the customers selected the wrong department when starting the chat session or they simply didn't know which option to choose to get the answer they need, you should transfer them to the agents who are trained to solve their issues.
To do this without causing customers' frustrations, check out the following customer service chat examples in different scenarios.
3.1 Customer Service Scripts for Suggesting Transfer
I'm really sorry but our department can't help you with that. Would it be okay if I transferred you to my colleagues who can handle that request?
(Customer name), let me transfer you to (department name). They'll be able to provide the best solution.
I apologize for this inconvenience but our department does not have that type of information. Would you mind us transferring you to the relevant department?
Unfortunately, I'm not equipped to help you with that issue but I can transfer you to my colleague specialized for handling this type of request. Would you like that?
3.2 Live Chat Scripts Used When Transferring Customers
Please hold on, I'll connect you with (agent name) from (department name) in no time.
Would you please hold for a moment? I'm transferring you to the right person.
3.3 Live Chat Scripts to Use When Customers Want to Speak With Another Agent
Positive Replies
Sure, I'll transfer you to (agent name) in a moment.
Can I place your call on hold, (agent name) will be with you in a moment?
Negative Reply
Unfortunately, (agent name) is not available at the moment. Can I help you out with anything today?
4. Putting Customer on Hold Using Live Chat Script Examples
If you have to put your customers on hold, you better let them know respectfully. You probably won't make them feel excited either way, but at least you'll try to reduce their frustrations.
4.1 Convenient Live Chat Scripts to Use in the Middle of the Conversation
Would you mind me putting you on hold for a moment?
May I put your call on hold while I check this for you?
Is it alright if I put you on hold until we have that information reviewed?
If you don't mind me putting you on hold, I'll be with you with the requested information in a moment.
4.2 Customer Service Script Templates to Use in the Queue
One of our agents will be with you shortly. You are in the queue, the current wait time is 1 minute.
Sorry, all of our customer support agents are busy at the moment. Please hold for a couple of minutes and we'll be with you.
Your call is important to us, all of our agents are assisting other customers at the moment. We expect one of them to handle your request in approximately (number) minutes.
4.3 Live Chat Scripts to Say Thanks for Waiting
Sorry about the wait and thank you for holding.
We apologize for keeping you waiting. I'm (agent's name) and I'm ready to help you.
Thank you for your time and sorry for the wait. How can I help you?
5. Asking for Additional Information Using Live Chat Script Examples
Asking for additional information may make your customers feel uncomfortable as you're going beyond collecting the basic details. Additional information may jeopardize their privacy and security in different ways, so you need to keep the tone that will let them know they can trust you.
5.1 How to Ask for General Information?
Would you mind us verifying some of your information?
Before we proceed, we'll need to collect some additional info, if you don't mind.
5.2 How to Ask for Billing Information and Sensitive Information Verification?
Would you mind confirming your current billing address?
Could you provide me with your credit card details so that I can place your order?
May I please have your full credit card number with its security code and expiration date?
Can you please tell me your current account zip code?
To help me verify your identity, I need you to type the phone number attached to your account before we proceed.
Before we start looking at your account information, could you please verify your birth date for me.
5.3 How to Ask for Address/Location Verification?
Can you please verify your location/address before we proceed to check where your order is pending?
Would it be possible for you to share your billing address?
To help me track your order instantly, please provide me your current billing location.
5.4 How to Ask for Account Number/Date of Birth/Last Four of SSN?
Can you please share your account number listed on the bill?
Please verify your date of birth for us to track your account information faster.
To proceed with the account verification process, I'll need either your date of birth or last for digits of your social security number.
6. Proactive Sales Chat With Live Chat Scripts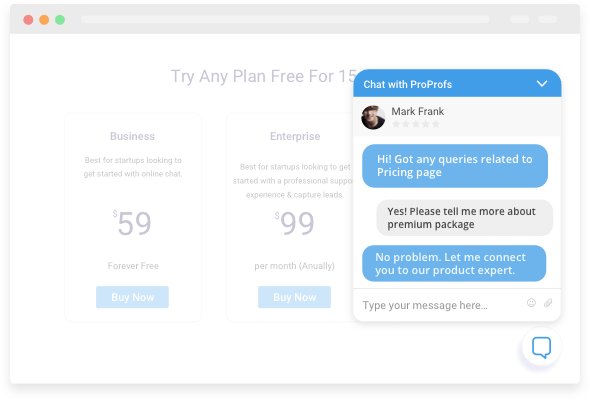 To have a proactive approach doesn't only mean to say, "Hi" first. It's about choosing the right words, which will make a positive impression on your website visitors and make them want to engage with you. So, let's see some of the most effective proactive messages in different contexts.
6.1 Useful Customer Service Scripts for Reviewing Options
If you need any help choosing the right option for you, don't hesitate to contact us.
We know that our website offers a lot of choices. Can we help you make the right decision?
Do you want us to tell you more about our best offers?
If you tell us a bit more about what you're looking for, we'll gladly help you out.
6.2 Recognizing When a Customer Needs Help
Hi there, do you need some help finding what you need?
Looking for something? Let us know if we can help you find anything.
It seems like you reviewed your shopping cart a while ago. Do you want to check-out, or do you need help finding something else?
6.3 Unresponsive Customer
Still there? It's been a while since your last message. Do you want to continue chatting?
Hey there! You've been inactive for a while. Is there anything we can do to help you out?
It seems like you've been inactive for a few minutes. Can we help you navigate our website?
Hey, we've just noticed you've been inactive for a while. If you need some help to navigate our website, don't hesitate to contact our live chat support.
6.4 Communicating Sales and Promotions
Active promotions
Hi, we just wanted to let you know that we're offering a discount on (product name). Let us know if you're interested in this deal!
It looks like you're about to check out. Before you do it, check out this limited-time deal that we're offering exclusively to you!
Hey, did you know that (product name) is on sale at the moment? Check out this offer if you want to save a few dollars.
Inactive promotions
We're sorry, this offer is no longer active. If you want to check some other awesome promotions, check this out.
Unfortunately, the time limit on that offer has expired. Do you want to check out some other great promotions we've prepared for you?
Sorry, that product is out of stock, but I can suggest other attractive specials available at this moment.
6.5 Live Chat Scripts to Use to Offer Items Frequently Purchased Together
You've just purchased (Product 1 name). It's a perfect choice! Would you like to complement it with (Product 2 name)?
If you're purchasing (Product 1), we'd suggest you also check out (Product 2).
Many customers who have bought (Product 1) have also bought (Product 2). Do you want to check it out?
6.6 Presenting the Purchasing and Shipping Options With Live Chat Script Examples
At this moment, you've got (number) items in your cart and your balance is (total).
Great news! Since your cart value is over (number), you've got a special discount.
The shipment options you can choose from are (Option 1), (Option 2), …
The estimated delivery date for your offer is (insert estimated date).
We expect your order to arrive within (the number of days).
Awesome news! Your order is (total), which qualifies you for free shipping!
7. Live Chat Sales Scripts for Sales Follow Up Chat Sessions
To make sure you're providing an impeccable purchase experience to your visitors, you should try to stay in touch with them during the entire purchase process. However, you should do it unobtrusively. To manage this successfully, you may want to rely on the scripts listed below.
7.1 Live Chat Scripts That Help Ask for Contact Details
Hi. Would you mind sharing your contact details with me, so that we can continue the process?
Hello, (customer name). To be able to update the process further, I'll need your phone number or email address.
7.2 Offering Information on Your Products or Services Using Live Chat Scripts
If you're interested in getting to know more about the subscriptions for (product name), just let me know. I'll happily detail you right away.
Hello, do you need some help understanding the installation of (product name)?
Not sure how to subscribe? Let us know if you need any additional explanations.
7.3 Asking Visitors What They Are Searching for on Your Website
Good day (customer name). What brings you to (website name)?
Hello (customer name). Would you mind telling us how you found out about our website?
Hi (customer name). Are you looking for something specific? Let us know so that we can help you out.
Hi (customer name). What are you searching for? Contact us to help us serve you better.
8. Request for Live Assistance by Co-Browsing or Video Chat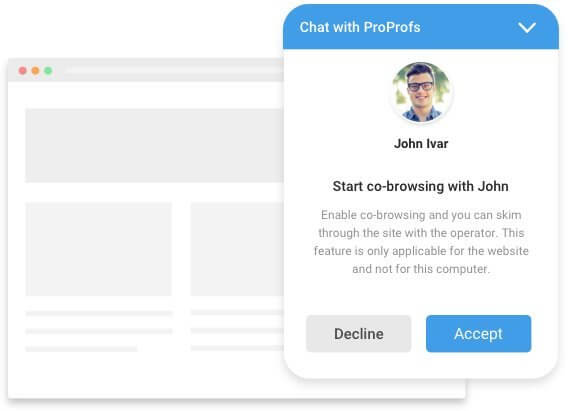 While it may seem like jeopardizing the customer's private space, sometimes, agents' interventions require live assistance and co-browsing in different forms. Here's how you should approach them to make them trust you.
8.1 Request for Live Assistance by Co-Browsing
It seems like we'll need to use screen sharing to help you out with this issue. Would you mind if we remotely accessed your browser now?
Seems like the info you provided can't help us fix this issue. Is it okay for us to see your screen to be able to proceed?
It would help us a lot to manage this request if you'd be willing to share your screen with us. Could you do it right now?
8.2: Request for Live Assistance by Video Chat
Will you be comfortable to discuss the issue via a video chat?
Is it okay for you to have a conversation through video chat? It will allow me to understand exactly which part of the product got damaged.
9. Closing Live Chat Sessions
Customers expect their conversations with the brand to come to an end on a positive note. That's why it is essential for the operators to remain courteous during the entire chat conversation to make sure that no customer leaves dissatisfied. Here's how operators can end a conversation with customers for a great ending.
9.1 Saying Thank You
Thanks for reaching out to us. Hoping to hear from you again! Have a good day.
Thank you for contacting our live chat support. If you need any further assistance, we're at your service. Have a nice day!
9.2 Addressing Unresponsive Customers
Hi there? As it seems like you're no longer responding, I'll end this chat session. If you still need any help, feel free to request a new session. Thanks for reaching out to us.
9.3 Providing Alternative Contact Options for Future Inquiries
For any type of further issues, feel free to contact us at (email address).
If a new problem arises, don't hesitate to get in touch with us. You can also reach out to our support via email (insert email address) or call our customer service line (insert phone number). You can also contact us on social media (insert accounts).
10. Providing In-App Support
When your iOS and Android app users are facing troubles, they'd like to immediately connect with your brand for support. That's probably because they are facing troubles using your app or some recurring error is hampering their experience repeatedly.
To manage this situation adequately, you can use the following mock chat examples:
Looking for immediate support? Chat with me now to get instant troubleshooting with us!
Hey (Customer Name)! Glad to connect. We have a few tutorials listed that may help you resolve your issue faster.
11. Asking for Review
If you want to get your customers' feedback to improve your product/service or create a page for testimonials on your website, you can use the following customer service script example:
Hi (customer name), we're glad to know we've solved your problem. If you're happy with our customer service, we'd highly appreciate your review for (relevant product/service name). You can do this by visiting (review page link).
12. Requesting Screen Sharing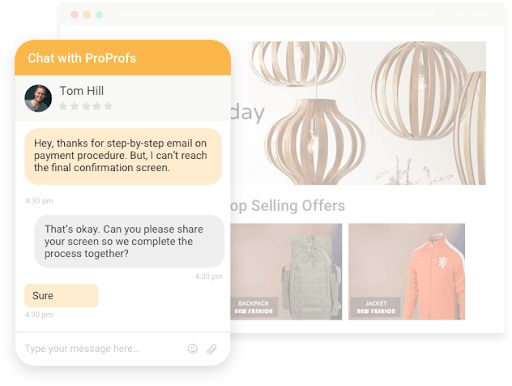 Screen sharing and co-browsing are two different processes that operators have to take when a detailed support process needs to take place. So, when you plan to request screen sharing access from customers, this is how operators need to ask for it.
We'd like to see the exact area where you are facing troubles to complete our sign up process. Is it okay for you to share the screen with me?
I'd like to confirm if it's okay for you to share your screen with me. It will help us proceed smoothly with the form fill up process.
13. Customer Retention Scripts
It's in your company's best interest to keep as many visitors as you can and motivate them to make a purchase. In this process, you can rely on one of the scripts listed below:
It looks like you're interested in some of our products but you haven't made a final purchase so far. Would you like me to show you our best promotional offers related to (relevant products)?
Hello there, would you like to get to know more about the special discounted prices of (products they're interested in)?
Hi, we're happy to announce that we're offering a special time-limited discount on (product name). Would you like to check it out?
14. Scripts That Help Taking Responsibility for a Mistake
These scripts are vitally important as they shape your future with your customers after the damage is done. To make sure you're talking to them the right way, try some of the following ideas.
(Customer name), I deeply apologize for this inconvenience. I made a mistake and showed you the old price of this product. The correct price is…
(Customer name), we accidentally sent you the wrong invoice. We'll resend it in a moment, together with a special discount voucher to make up for this inconvenience.
15. Examples of Live Chat Scripts for Saying No
The customer is always right. However, sometimes you simply need to disagree. How to do so while at the same time minimizing their frustrations as much as possible? Well, try using one of the scripts listed below.
I'm sorry, we can't do this at the moment. Would you like us to inform you when this option becomes available?
Unfortunately, you can't buy this product anymore as it's out of stock and it's discontinued. Would you like me to show you some alternatives?
16. Live Chat Script Examples on How to Take Follow-Ups
After receiving an awesome support experience, your customers would likely revisit your website. That time, your operators can take follow-ups from the customer to ensure that they had a great experience with them. Following are a few examples you can refer to when sending them follow-up messages to customers via your live chat tool.
Hi (Customer Name)! It's great to see you back. We hope that you aren't facing the same issue now. Let us know if you need any help.
Hey (Customer Name)! We were wondering to catch up and ask if you've been facing any similar issues lately. If not, then please ignore this message. It's good to see you back!
17. Live Chat Scripts for Keeping Customers Informed
If your customers are waiting for you to solve a problem they're experiencing and you don't have a solution yet, you should still get in touch with them to explain the situation in detail. Usually, you can use a script like these:
Hi (customer name), I just wanted to inform you that we're still trying to fix the issue you're experiencing. We apologize for the inconvenience and we'll let you know as soon as we have it resolved. Thank you for your patience.
Hello (customer name). We're sorry to have kept you waiting. We're still working on resolving your issue. Hopefully, it will be done within (estimated time period). We'll let you know as soon as we eliminate the malfunction.
18. Live Chat Scripts to Help You Handle Angry Customers
There are times when the chat operators can come across angry or irritated customers who would require immediate answers. They would turn out to be really impatient and would hear you out on a single excuse. So the question is how to handle such angry customers with live chat scripts.
Here are a few script examples you can refer to when managing irate customers:
I see that our product has caused inconvenience for you. Let me make sure that our team finds a definite solution so that your experience doesn't get hampered.
Your concerns are completely justified and there is no way we can ignore this pressing matter at hand. Give me some to come back to you with a definitive solution.
19. Live Chat Scripts That Help to Say I Don't Know
While your agents may be equipped with an amazing knowledge base and have excellent mutual collaboration, sometimes, they still may not know what to do. But that's not a reason for them to fall short of words while dealing with customers. So, here are some convenient scripts you can rely on:
That is an interesting question and needs expert inputs. Let me check it with my manager right away.
I'm sorry but I'm not sure if I can help with that. Would you hold on for a moment so that I can contact my supervisor?
Sorry, I don't have that information at this moment. Would you mind sharing your email/phone number with me so that we can get back to you with an accurate reply?
20. Useful Live Chat Scripts When Handling Several Clients Simultaneously
Live chat software is known for increasing agents' efficiency, as it lets them deal with several requests at the same time.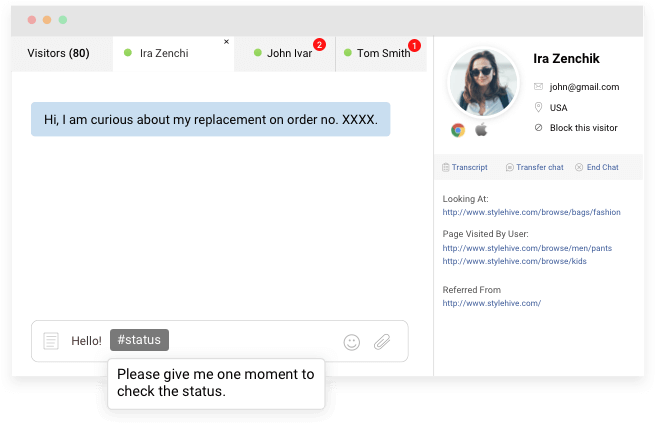 However, sometimes, things may get pretty difficult, especially if a larger number of customers face complex issues. And nobody will be happy to hear you're having a break from them to deal with other people's requests. So, let's check which scripts to use to handle all these requests wisely:
(Customer name), I'm sorry for this delay. I'm checking your account details, can I put you on hold while I pull out the related data. I'll be with you in a minute.
(Customer name), would you please bear with me for a couple of minutes? I have to review your transaction history.
21. Offering Promotions and Discounts
One thing is common when dealing with new website visitors or repeat customers. A promotional offer can change their minds quickly. After all, such offers renew the interest of the buyer. Here are some scripts you can use:
Hi! Seems like you just unlocked (offer.) You can redeem it with this purchase or in the next (time period.)
Hey! We just noticed you haven't bought anything from us yet. With this promo code, you can get (%) off on your current purchase.
22. Saying Thank You
To end the chat on a good note, it is important to thank the visitor for spending time on the website. Also, you want to appear genuine in your interactions. Here we have some examples of how you can thank customers:
Thanks for chatting with us. We hope our assistance helped resolve your issue.
Thanks for buying from us. Visit us soon if you have any issues or queries.
Summing Up: Improving Customer Service With Live Chat Scripts
As you can see, with all the available customer service scripts covering different phases of communication between agents and customers, businesses today get to communicate with significantly increased efficiency.
Introducing live chat script templates to your support system, you're practically equipping your agents well in advance for all types of situations. It is a perfect example of proactive management. Consequently, your business can get multiple benefits like improved quality of communication, the possibility of handling multiple simultaneous requests, enhanced customer support, delighted customers, etc.
Accordingly, helping you improve your live chat support system, live chat scripts make a positive impact not only on your individual chat sessions but also on your overall customer satisfaction and loyalty. Therefore, they also positively affect your general business performance, taking your brand reputation to a higher level.
---
Now that we've seen how customer support operators can manage customers during pressing hours, here are a few relevant frequently asked questions you'll find useful to create a smart experience.
How do I make Live chat scripting positive?
Every problem has a solution. So, as operators, you need to make sure that you never lose your patience with customers. Plus, you should always let them know about the current situation and how much time it may take for you and the team to come up with a definitive solution.
How do you handle angry customers?
Angry customers can be a challenge for the support team. And, it can magnify when the entire team isn't available or the holiday season has already started. But no matter what the conditions are, support operators need to stay calm to make sure that angry customers do not end up running to a competitor or leave a negative review online. To get a complete guide on how to handle irate customers, read this post!
How do you deal with a talkative customer?
There are times when customers have a lot of things to discuss with you in detail, and some may even not relate to their troubles or queries. That's when you know that they are talkative and may end up talking to you for hours. So, without being rude or impatient, you need to cut short the conversation so that it doesn't make them feel that you've brushed them off.
What are some strategies for preventing customer dissatisfaction?
The best way to curb customer dissatisfaction is to make sure that you are always around, conduct a courteous conversation, and never lose patience with customers. Besides this, you can start using a live chat mobile app, like ProProfs Chat, to make sure that no query goes unanswered and customers get support at their convenience.
How do you politely interrupt a customer?
No customer likes to interrupt when they are discussing their discomforts during a live chat session. But sometimes interruption is essential to make sure that the conversation does not head in the wrong direction. You can politely ask for clarification to make sure both of you are on the same page. You can even clear your throat and think of proper timing when thinking of interrupting a customer during a conversation.
What should you not say to customers?
Customers do not like to hear a few things like "I don't know", "Can you please repeat your question", "Let me try to do that", "Are you sure?", "That's strictly against our policies", and so on. The list may increase. But there is always a way around letting the customer know the same things in a different manner. The script examples above will help you choose the best response in such situations.
Do you want a free Live Chat software?
We have the #1 Online Live Chat Software for instant customer support 24x7