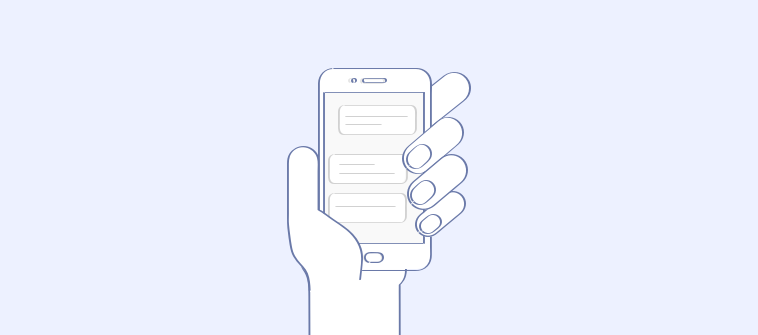 I love using live chat because it's simple, easy, and helps me get a solution instantly.
But what about you out there, reading this?
Has it leveled up your customer support process?
Well, from what I've seen and heard from other business owners – yes, live chat definitely brings a lot of value addition as a support tool.
That's because you get to save a lot of time since you can manage more customers and website visitors at the same time. Plus, you can skip those long calls too. The tool leaves no room for complaints.
But even with live chat, your operators are bound to commit mistakes. Some of these mistakes could totally kill the customer's experience with your brand. That's why we need to explore some of these mistakes and how your operators can handle them to create a delightful customer journey with your brand.
11 Live Chat Mistakes & Easy-to-Follow Steps to Avoid Them
In this section, we aim to cover all the common mistakes that you end up making with the use of live chat during an ongoing interaction or after a chat ends.
So, let's dive in!
Plus, I've listed how to avoid those mistakes made in live chat support with simple measures to help you create a delightful customer experience for your customers.
1. Customers Wait Too Long for a Solution
It is said that live chat is the most preferred customer support solution among customers, leaving legacy support tools like email and call support behind. No wonder businesses are giving live chat support more preference to match up with customer expectations. This isn't an assumption, but what studies have lately proven.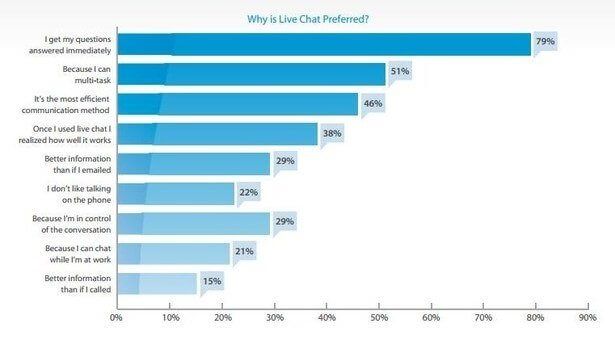 Apparently, 79% of businesses prefer to use live chat at their website instead of email (61%), phone (44%), and social media (48%) platforms to communicate with customers for instant support.
Now, what happens when the most trusted platform fails customers and their expectations for instant support?
They won't reach out to your brand or probably give more preference to your competitors instead. And yet again, this isn't a conjecture but a fact.
According to a study by Microsoft, 47% of consumers have made a choice to switch to a different brand due to bad customer service within the last year.
No customer prefers to wait for a solution, especially if they are reaching out to a brand via live chat.
How to Avoid Such Live Chat Mistakes?
Even though you are using an efficient solution like ProProfs Chat, the chances are that you could end up making such live chat communication mistakes. That's why you need to make sure that you take up the following measures to not make your customers wait in a queue or even for the final solution.
Set Rules & Conditions for Chat Routing

To help your customers get instant resolution for their questions, you need to make sure that they get routed to the right department in seconds. With ProProfs Chat, you can either route the customers manually or automatically and make sure they receive the right help from the right department immediately.

You can easily avoid operator burnout. And this will ensure that the customer's support journey is customized according to their expectations and that they receive a timely solution.


Integrate With Knowledge Base

Create your knowledge base repository and integrate it with your live chat tool. This will allow you to answer frequently asked questions. That means your customers can easily find a solution and that too faster than expected. Plus, your operators might end up with few customers who seek intricate solutions.

Yet again you'll help your operators build a personal support experience for such customers as they'll focus more on the particular customer.


Use Multiple Chat Window Feature


With ProProfs Chat, make sure that your operators are managing more chats at the same time, and no question goes unanswered. Plus, your customers won't have to wait for several minutes to get answers to their questions.

---
Also Read: 3 Tips on Achieving Zero Wait Times in Live Chat
---
2. Skipping Peak Chat Times
Businesses across the globe try to provide instant resolution to customer queries 24*7. However, the same businesses end up providing support to customers during the standard hours – nine to six.
This is where a crucial question arises – Are you confident that customers will reach out to you at the same time when you are available?
The thing is that support might be needed even at odd hours or days. So what if customers don't receive help when it's most needed?
They might avoid approaching your brand altogether. According to Dimensional Research, 39% of customers will avoid a company for two years after a bad customer service experience.
How to Avoid Such Live Chat Mistakes?
Skipping customer support requests at peak hours is yet again, a live chat support mistake that companies make frequently. To avoid this, you need to take up the following measures.
Figure Out the Peak Times for Support With Live Chat

Use your live chat software to identify the peak hours for support requests and accordingly decide measures on how to provide help to customers effectively. Once you are aware of the hours, you can set support timings or create work shifts accordingly.


Use Live Chat Mobile App

Another way to avoid common mistakes in live chat support is to ask your support team to install the live chat mobile app. This will help your operators address questions no matter where they are and what time of day it is. They can simply take up a chat, provide a solution, and make sure that no question goes unanswered.


Set Offline Message Form

Use offline message form to never miss out on your customers. This is another solution you can use to avert such live chat mistakes.
3. Missing Opportunities to Extend Help
Imagine this: Your customer has approached you to learn about the availability of a product. They would like to know when it will be back in stock. Now, you are aware that the product is no longer being sold in the market. And if anything, it's updated version is soon to arrive in the market.
Now, how do you plan to take the conversation forward?
If you say NO simply, the conversation can come to an end. The customer will leave with a sad face and may not trust the brand to help in the future because the answer was a simple NO.
What's more, they might not just complain at all. Giving you no opportunity to improve or work upon your services to make sure such incidents never occur.
According to Kolsky, 91% of customers who are unhappy with a brand will just leave without complaining.
How to Avoid Such Live Chat Mistakes?
There is another way to keep the customer engaged in the scenario mentioned above. And, this is how it can go.
Emily:
Hey Clark, I'm Emily. How can I help you today?
Clark:
Hi Emily, I am looking for a specific motorcycle model. I see that it's out of stock and can't be pre-booked at your website. Is it possible that your site could notify me of its arrival when restocked?
Emily:
Can I ask you if you would be interested in the new upgraded model?
Clark:
Sure. But I haven't heard of the news on when you guys plan to launch it.
Emily:
The company is about to launch the latest model in the same series you are referring to in another two weeks. If you subscribe to our newsletter, you'll get updates on pre-booking.
Clark:
Thanks Emily, for the information! Looking forward to the new launch!
Emily:
Glad to know! Is there anything else I can help you with?
Clark:
No, that will be it.
Emily:
Thank you for connecting with us today. Have a great day!
Your customers expect a personalized experience. But more than that, they seek a solution and that too instantly. The above conversation is an example of how you can create a personal experience while providing a different alternative as a solution.
Besides this, you can also make use of the following live chat software features.
Chat Greetings

Send proactive messages to your customers to keep them engaged with your website in real-time. Your operators would get to understand customer pain points better and end up creating a delightful support experience.


Visitor Monitoring

Monitor visitor activities to understand what they've come searching for on your website. This will help your operators understand the visitor's intent and capture essential information that allows them to initiate a chat at strategic moments and provide a valid solution.
4. Customers Working Hard to Reach for Support
Live chat has emerged as a great tool that companies can use to capture qualified leads for the business. No wonder they add pre-chat forms to capture essential data that helps them personalize the support experience.
However, some businesses end up adding way too many fields in the form. And that results in frustrated customers.
Now, customers use live chat because it is convenient and makes support accessible. They can easily reach out to a brand for support in seconds. Plus, their wait time reduces significantly.
But if the use of live chat tends to hamper their experience and makes it too hard for them to reach a brand, they'll give up on approaching a brand altogether.
How to Avoid Such Live Chat Mistakes?
No doubt, customer data is essential for you to create a personalized support experience. However, it shouldn't feel as if you are pressing them for data.
So, here's a list of dos you need to keep in mind for mistakes to avoid with live chat.
Keep Your Pre-Chat Form Short

Capture necessary data that doesn't require much effort from the customer's end. Generally, a pre-chat form is used to capture visitor data. And later, this data is saved as leads in a CRM system. Just capturing the name, email, and location of the visitor will allow you to store data that are necessary to offer personalized support. At best, you can also add a section called departments that will help your visitors reach the right department for instant support. But that's pretty much you should include


Go the Extra Mile

With visitor monitoring feature, you see details like visitor's location, pages they visited, how long they've browsed a page and the website, and much more. So, rather than asking for too many details in one go via pre-chat form, how about making an effort to save essential data received via visitor monitoring feature manually. This way you won't be hampering the customer support journey.
5. Lack of Acknowledgment for Returning Customers
Have you ever wondered why customers return to the same brand?
That's probably because customers expect a brand to provide the same personalized support they received previously. But most importantly, customers expect a brand to remember them and greet them personally.
But how will the customer feel when they wouldn't receive the same acknowledgment at their next visit?
They'll feel disappointed. That's because they might get the impression that they aren't necessary and cared for.
How to Avoid Such Live Chat Mistakes?
Mistakes that companies make with the use of live chat support can be avoided with the following measures.
Use Visitor Monitoring Window to Identify Visitors

With ProProfs Chat and its feature visitor monitoring, learn if the visitor is new or returning to your website. This way, you can track when was the last time they came to your website and accordingly support them.


Use Chat History Records

You can use the chat history record to see which operator provided them instant support and what solution was offered. You can also check if the visitor was satisfied with the support process. And if yes, then you can route the visitor to the same operator (if available) to make sure that they receive the same support experience (and probably way better).
---
Must Read: Return Customers Spend 3 Times More: Here Are 4 Ways to Retain Customers
---
6. You Sound Robotic
It's estimated that by 2020, 85% of customer service interactions will be automated.
No wonder chatbots are on the rise and will continue to expand their reach in the market. But customers also miss the human touch to a conversation.
However, some customers end up complaining that they can't spot a difference between human agents and chatbots. That means your operators end up sending automated replies to customers that leave customers frustrated with the support process.
How to Avoid Such Live Chat Mistakes?
Firstly, you need to work on not sounding too formal, automated, or robotic. Customers feel flustered if the chat conversation includes sentences like:
Is this how you wish to proceed further?
Why don't you try doing the process again and see if it works
We're sorry, we don't understand your query.
If anything, operators need to sound as if they understand the customer's problems and are ready to find a solution. All this needs to be done with a personal touch too. You can use phrases like:
Hi, I see you've been on this page for quite some time. Is there anything I can help you with?
I see you've been searching for a solution for too long. I have a different approach that can help you out faster.
I see repeating the same process again isn't working for you. Could you please share your screen so we can identify the problem?
From what I recollect from your messages above, you need help with the checkout process. Correct me if I am wrong.
Also, operators need to reduce their use of canned messages. No doubt, the use of canned messages helps them keep the conversation going and manage multiple chats at the same time, but the less you use them, the more personalized your support process becomes.
The following live chat software features would help your operators to add a personal touch to the conversation with the customers.
7. Using Excessive Emojis
The last thing you would want your customers to do is misinterpret the entire conversation. And, there is a possibility that the use of emojis might result in customers misinterpreting your intentions during the support process.
How to Avoid Such Live Chat Mistakes?
No doubt adding an emoji or two may add a personal touch to the conversation. However, excessive use needs to be toned down. Also, operators need to make sure that they aren't using emojis that represent anger or suggest otherwise.
Other than that, there are specific scenarios where the use of emojis seems to fit. Here is a small list that helps operators know when they can use an emoji during live chat conversation.
Use an emoji to convey your tone

Make sure when the emoji is used during a conversation, it has a purpose

Let the customer set the tone of the conversation (wait to understand if the customer has an angry, frustrated or confused tone)
8. Lack of Personalization
Imagine this: A visitor has landed on your website. They've browsed a specific product page and are sitting idle wondering what should be their next action. With the visitor monitoring feature, one of your live chat operators decides to reach out to the customer. And this is what they send:
Now, looking at this message your operator has left the visitor wondering if this is a genuine effort or just a way to sell the product. And, the customer might just leave the page.
What do you learn from this incident?
Your target audience is interested in checking out what you have to offer them. They are willing to take a look. But at the same time, it is not just about purchasing a product or a subscription. It is about the service that the company is willing to offer to them.
And for that, you need to make sure that the customer's journey is personalized.
However, you need to be careful with how you initiate a conversation with them. Customers won't give you access to the data until and unless they don't find your approach convincing.
Did you know that 44% of consumers say they will likely give a company repeat business after receiving a personalized experience?
All the more reason for you to change your ways of approaching your website visitors and create a personalized experience for them!
How to Avoid Such Live Chat Mistakes?
As suggested in the stat above, your customers will only convert into repeat customers once you learn the art of personalization and become consistent with this approach.
If you ask me, you can easily create a personalized experience for your target audience once they land on your website. And that too, with the help of live chat software. So, let's take a look at how you can avoid such common mistakes with live chat.
Use automated greetings that are customized after the visitor's behavior has been on the watch for a long time. You can send messages like:


Hey! I see you've been scrolling this page for a while. How can I help you?

If there are any doubts regarding the product, I can help you understand it better!

White-label your chat with your branding.

This adds to personalizing the conversations.




What's more, the moment your visitor would see your brand name at the bottom of the chat widget, they are more likely to see the authentication and that you are worried about them.

Integrate live chat with your favorite CRM tool to save data on your potential leads only to use it later on their next visit. This gives you more insight into how the visitor is and what approach should be used to personalize the conversation with them going forward.

Let your visitors reply once you send a chat greeting to them. This way they won't find you persistent towards proving your point and would feel as if you are ready to hear them out.
Use less automation. And by this, I mean, reduce using canned responses.
Reduce response time. No doubt,

they are great and help you in reducing the response time.

But you need to understand that customers do not work on automated messages and can easily figure them out if used too often. They connect

emotionally

and appreciate when you give them the time and space to explain their concerns.

Show your appreciation to visitors once the chat comes to an end by giving them a small discount or a coupon that they can use while checking out with one of your products. Not only will they feel that they are important to your brand, but they also feel motivated to return to your brand the next time.
9. Lack of Trained Staff
"Customer service is not a department. It is a philosophy to be embraced by every employee – from the CEO to the most recently hired."
— Shep Hyken, Customer Service & Experience Expert
While this is a fact that every employee, including the CEO, should be on the same page regarding customer service, yet it's a rare sight to see. And the lack of trained staff leads to negative customer experience. This often results in outcomes such as:
47% of consumers have made a choice to switch to a different brand due to bad customer service within the last year.
This stat is a clear indication of how live chat mistakes companies make can lead to loss of customers.
How to Avoid Such Live Chat Mistakes?
There is a lot you can do to avert mistakes that companies make with live chat support tools. If you are finding it a little hard, then here's a list of suggestions to help you out:
Use live chat transcripts to train your chat operators efficiently.

Once a customer query is closed, an operator can always analyze if the customer was actually satisfied or not.

Also, newly hired operators can also use these as training material to understand different customer personas and what works the best with each one of them. They can also see how many customers feel encouraged to come back to the brand and ask for support through the transcripts.

Let your operators learn the relevance of offline messages. As you train your operators, help them learn how offline messages allow them to catch customer support opportunities even when they are not offline. An offline message form gives them the time to know their customers and prepare a solution that matches their expectations.
---
Also Read: How to Chat With Customers Online: 9 Effective Tips for Customer Support
---
10. Creeping Customers With Data-Spilling
There is no doubt that live chat allows you to capture pivotal data on your customers. This may also include sensitive data that customers give willingly.
So imagine this, a customer who has a tendency of returning to your brand frequently for support. Let's say, it is their 5th visit and they have a few doubts. Now, your operator knows how many times they've come to your website, how many times they asked for support, what aspects have been discussed during a chat, and what solution was offered on the spot.
This information is sensitive. So what happens when one of the details gets spilled during the conversation?
Your customer might end up getting freaked out. They'll find it creepy that how come the operator has mentioned one fact that they haven't discussed during any of the previous conversations.
How to Avoid Such Live Chat Mistakes?
Such live chat support mistakes can easily be avoided once you increase data transparency.
Let your customers know what they're up for. Now do not take this in a negative sense. When I say this, I mean, let them know what all data will be captured once they fill in the pre-chat form. According to the GDPR compliance form, you need to let your customers know that their data will be safe.
11. Failing to Take Regular Follow-Ups After Support Process
And finally, one of the most common live chat mistakes that brands make today – failing to take regular follow-ups.
It's true that once an issue is resolved, you leave customers with a satisfying experience with your brand. They'll surely remember the effort you took to keep them satisfied with your services.
But how long do you think they'll remember the service experience with your brand?
And will that faint memory prompt them to return to your brand?
How to Avoid Such Live Chat Mistakes?
Well, you need to take regular but not persistent follow-ups with your customers. For this, I'd recommend you to get the best CRM and email marketing tools to integrate with the live chat support tool.
With both in place, you can:
Track when was the last time you spoke to your customers

Create an email campaign customized as per their journey with your brand

Keep track of their interaction in the CRM

Set specific dates for your emails to reach your customers

Use pop up messages on their next visit asking them how are they doing
In short, these measures not only help you take regular feedback but also allows you to show your customers that you are approachable for help.
Always Gauge Your Live Chat Mistakes
Making mistakes is not the exact problem, which poses a threat to customer relationships is when no lessons are learned from these mistakes, and there are no amends.
You can check out how to avoid live chat mistakes section to understand how you can stop making these mistakes in the first place. Plus, you can walk away with awesome solutions that help you provide consistent support service.
Now that we have taken into account the 10+ live chat mistakes and how you can avoid them, it is time we take a look at the frequently asked questions below.
What do you do when you make a mistake with a customer?
Acknowledge the fact that a mistake has been made and apologize right then and there. Let the customer know that 'you can only imagine the discomfort they must have gone through' and let them know exactly what went wrong. And finally, provide them a solution that resolves the question or problem hassle-free.
How do you apologize for a mistake to a customer?
Write a personalized email to customers admitting that you were wrong and that you apologize for the mistake that happened. Make sure you add an explanation and acknowledge the goals of your customers. Do include your plan of action to the current situation and ask for forgiveness as customers have faced inconvenience because of the mistake caused. Also, do ask if your plan of action really helps them and make sure you add a feedback form too.
Advice: Do not take your customer's suggestions or anger demonstrated negatively.
How can live chat customer service standards be improved?
In a matter of 4 steps, you can easily improve your customer service standards effectively. All you have to do is collect customer feedback where you get to see what they really think about your overall services and rate the performance accordingly. This will help you to strengthen your customer service team as you'll know where they lack and where they can be trained.
The next step is to make good use of Customer Relationship Management System. Keep a track of your customer's journey so far with the brand and accordingly make changes to your support and sales process and strategies. And lastly, do leverage the use of multi-channel servicing to provide your customers' different mediums to reach your brand.
What customers expect from excellent customer service?
There are a lot of expectations that your customers have when they think of excellent service. But they these expectations can easily be narrowed down to proactive service, different contact options that a brand offers, timely response to their questions, being heard, witness how the brand builds a personalized experience for them and getting the perfect resolution to their troubles.
How do you deliver good customer service?
To deliver not just good but a delightful customer service experience, you need to make sure of a few aspects. These aspects are inclusive of product knowledge that means you need to know the product or service inside-out. Always initiate a customer service process on a positive note or with a smile.
Other than that, make sure you never forget to say 'Thank You' and work towards providing accurate training to all your support reps who aim to build each experience a delightful one. Moreover, focus on listening and being patient with the customer and never disrespect them during the conversation.
And lastly, always be responsive during all your chats and ask for final feedback to learn if they were satisfied with the services. Learn the greatest hacks for providing good customer service.
Do you want a free Live Chat software?
We have the #1 Online Live Chat Software for instant customer support 24x7