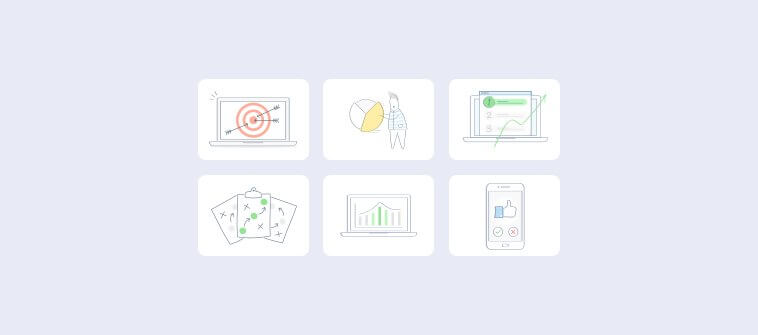 Is live chat helping my support team achieve their customer service and sales goals?
That's a valid question that can be answered by tracking the right live chat metrics and KPIs. Chat analytics assist you in understanding real-time customer satisfaction rates and help you gauge the performance of each support team member.
To help you understand which live chat metrics your business must track to assess your performance as a brand, we've listed the top 14 KPIs to get you started.
Top Live Chat Metrics & KPIs and How to Improve Them
In this section, we'll explore a list of live chat metrics you should track. But other than that, we'll also plan to cover pointers that will allow you to effectively improve each live chat performance metric.
Please note: These pointers for improvement may also talk about managing data under each section. That's because not each section needs improvement. They may also need points for better management.
Also, note that every metric listed here may not be available with the same name in your live chat software. However, most of them will be the same.
So, let's get started!
1. Total Chats
If you want to know the busiest hour, day, week, or month for your support operators, then this is the live chat metric you should monitor.
Total chats metric helps you keep track of incoming chat requests your business receives in a day. You also get hold of data that gives you a sneak-peak into the intensity of incoming chats and if there is a particular time or day of the week where you see their numbers soaring.
How to Categorize Your Chats Better?
Now total chats indicate not only the number of chats you've received so far but also the ones you've resolved. So, to avoid any confusion for your admins and yourself, you can categorize total chats into the following categories:
Rated Chats – Chats rated by your customers out of total chats.
Missed Chats – Total chats your operators missed out on while online.
Chat Summary – Get comparative data on chat requests, accepted chats, and missed chats.
2. Missed Chats
While you need to know the total chats your support team has received so far, it is also crucial to look into metrics like missed chats.
This metric will help you see the total number of missed chats in a specific time duration. You can add hourly, daily, weekly, or monthly filters to see when and at what time did your support team miss out on incoming chats.
How to Improve Missed Chat Metrics?
If you want to avoid having missed chats, you can add offline messages. With its addition, you can:
Never miss out on support opportunities as offline messages can be saved as chat tickets.

Make sure to never miss out on potential leads for your business.
3. Average Chat Duration
I feel that there are other metrics that you should keep a track of, for example, average chat duration. It is important to see how actively engaged your operators are during a chat. Like other metrics, you can add filters to this one too. This will help you see that at which hour, day, week, or month were your operators more engaged with the visitors.
You can also track the total time an individual operator spends during a chat too.
How to Improve Average Chat Duration?
It is important to see how much time each operator spends on a single chat. In case they are spending too much time with a customer, then here are a few measures you can take to improve the average chat duration.
Canned responses – Use canned messages to reduce response time and reduce the chat duration.
Integrate Knowledge Base – To help your chat operators provide instant response and reduce the average chat duration, it is important you integrate a knowledge base software. It will help them learn about the product faster, provide answers to frequently asked questions, and a lot more.
Add a Chatbot – Enable your chatbot functionality to respond and communicate with customers even when your business is offline. This will allow you to capture support requests and help ensure customers that help be on its way.
4. Average Resolution Time
Average resolution time is another live chat KPI reporting metric that you should keep a track of. This metric helps you understand the amount of time your operators take to wrap up a chat successfully. While this may sound like average chat duration, still there is one difference that sets these two live chat metrics apart.
Average chat duration is applicable for individual chat operators. That means you can observe the performance of every chat operator and how much time did they spend to find a resolution for every customer. Whereas, average resolution time indicates the amount of time your entire support team takes to resolve customer issues effectively.
How to Improve Average Resolution Time?
Since the average resolution time indicates the amount of time the entire support team takes to resolve the issue, that's why you need to focus on training them effectively.
To train them, you should monitor:
Ongoing chats to see where operators have issues when tackling customer problems.
Chat transcripts will help you see previous conversations went, and whether the customers became impatient with the chat turning out to be a lengthy one.
Website traffic to understand what part of the sales funnel prompts your customers to approach the support team and whether the time taken was justified.
These aspects will help you train your team better and allow you to reduce the average resolution time efficiently.
---
Related Read: How to Train Live Chat Agents
---
5. Operator Rating & Feedback

One of the key chat support metrics you should always have your eye on is the operator's rating and feedback. Your customers are very honest when it comes to the service and support experience. And so is their rating and feedback for your operators. That's why you need to make sure that the overall operator rating and feedback do not go down.
How to Improve Operator Chat Rating & Feedback?
Here are a few measures your operators should take to improve their rating and feedback:
Chat greetings – Use chat greetings to initiate a conversation with the website visitor who's been stuck on a page for long. You can even personalize the greeting message for every operator based on their department too
Monitor visitor behavior – Another thing that chat operators can do to avoid bad ratings from customers is to see their website browsing patterns. This will help them understand the visitor intent on the website and curate better experiences going forward.
---
Related Read: Chat Rating: Best Way to Get Customer Feedback
---
6. Response Time
Another metric to help you complete the live chat performance evaluation process is the response time. This metric will help you understand the amount of time your operators took to respond back to a chat.
This metric is a great way to keep a track of operator efficiency too. Plus, it also helps you understand whether your customers are happy or not. Understandably, more than 80% of customers seek immediate responses to sales or marketing questions. And this number rises up to 90% when their questions are solely about sales.
How to Reduce Response Time?
Besides integrating a knowledge base and using canned responses, you can also work upon chat routing rules where you can change the chat settings for every operator based on their performance.
For example, if an operator can manage 7 chats simultaneously, then make sure you change their chat settings and enable them to manage 7 chats too. This will allow you to not only reduce response time but also bring more quality to the conversations.
Other than this, you can also hire new live chat operators to reduce response time. You can identify if you need to hire new operators to the support team by taking a look at the chat queue. If the chat queue ends up being long for visitors and some of them leave while some of them fill in the offline message, then you need to hire more operators.
---
Read in Detail: How to Reduce Customer Service Response Time
---
7. Chatbot Performance Report
Chatbot is an essential feature of the live chat software. Tracking its efficiency becomes crucial as it helps you connect and engage with visitors in the absence of operators. That's why you can't miss out on its performance reports. Here's a quick list of chatbot metrics you should consider when assessing its performance.
Total chats received
Total valid chats
Total invalid chats
You can even track the number of time visitors spent engaging with your chatbot and when the chat dropped. These metrics will help you arrive at measures that will allow you to improve the chatbot's performance further.
How to Improve Your Chatbot?
Here's what you can do to improve your chatbot's performance and increase possibilities of engagement on your website:
Collect feedback once a chat with the chatbot comes to an end. This feedback form can appear once a chat ends.You can ask open-ended questions to understand how customers feel when they interact with the bot and feel that chatbot can be improved.
Assess the number of valid chats you get in a certain period and track how long each of them lasted or when the customer decided the chat needed to end. This will help you update conversation flows and ensure that you increase the engagement time between the two.
8. Net Promoter Score
"How likely are you to recommend our company after your interaction with our support team?"
This is one question that we've heard a lot about. Well, that's probably because it allows us to understand the likelihood of returning and loyal customers for our business.
This NPS question helps you see:
Detractors who range between 0-6 on the scale 0-10

Passives who range between 7-8 on the scale of 0-10

Promoters who range between 9-10 on the scale of 0-10
While promoters are brand loyalists, still you shouldn't take them lightly. You need to come up with plans that help you rope in the promoters for a long haul along with passives and detractors.
How to Improve Net Promoter Score (NPS)?
Here's what you can do to improve your net promoter score:
Take regular follow-ups with the detractors to make sure the problem they discussed is resolved or not.
Never take customer feedback lightly. Make sure to come up with a solution that not only fits within the limits of the product or service but also helps you to keep your customers satisfied. That's the ultimate goal.
Start with an awesome loyalty program that newbies can join too. Talk about the offers you have in mind and how your brand loyalists can benefit from them.
---
Read More: How to Calculate Net Promoter Score [EXPLAINED]
---
9. First Contact Resolution
Popularly known as FCR, First Contact Resolution is one of the important metrics that helps you understand how prompt your operators are to build an instant connection with your customers. This live chat KPI is very self-explanatory. It helps you understand your operator's ability to resolve a question the first time a customer reaches out to your brand for support.
How to Improve First Contact Resolution?
To improve the first contact resolution for your business, you need to make sure that operators follow through the measures given below:
Understand customer pain-points and collaborate with other teams at the same time to work towards a resolution.
Anticipate a customer's behavior during an ongoing chat.
Learn to take ownership of the customer and work towards providing a personalized experience.
10. Customer Satisfaction Score (CSAT)
According to ProProfs, Customer Satisfaction Score (CSAT):
"let your customers rate their experience using a 1 to 5 metric scale. On this scale, number 1 represents the lowest level of satisfaction, and number 5 refers to the highest satisfaction level."
How to Improve Customer Satisfaction Score (CSAT)?
As one of the crucial live chat software KPIs, you need to make sure that the company has a good CSAT Score.
Only then can you attain benefits such as:
Gain the status of a recommended brand in the eyes of the satisfied customer

Helps you gain a better competitive edge over others in the market

Helps you reduce risk during a product launch

Good customer satisfaction score helps you convert your customers into allies
But for all these benefits to take place, you need to work towards improving CSAT Score.
Well, here's what you can do to improve your score:
Try to respond to customers' problems faster.

In case you end up promising something to the customer, make sure you follow it through till the end.

Add more channels to the mix so that it becomes easier for your customers to reach your brand faster.

Learn to set the right goals for support agents.
---
Related Read: How to Boost Your Business Growth Using Customer Satisfaction Score
---
11. Website Traffic
I'd say you also need to monitor another live chat performance metric such as website traffic report. It helps you get access to data that allows you to track the number of visitors your website is attracting at different intervals of time.
How to Improve Website Traffic With Live Chat?
For website traffic to improve, you need to work on adding active engagement strategies. These strategies can be inclusive of:
The use of

proactive chat triggers

that prompt your customers to engage with your brand effectively.

Track operator's engagement through in-depth

reports and analytics

to come up with more strategies.

An a

nnouncement

that will allow you to update your customers about upcoming sales, product upgrades, discounts, and more.
---
Read More: How to Lower Bounce Rate with Live Chat Software
---
12. Overall Average Rating
Finally, we have the overall average rating as one of the crucial live chat metrics to help you measure the success of your support team and the tool itself. It provides the average rating maintained by your support team, and also how many chats were rated 'five stars', 'four stars' and so on.
How to Improve the Overall Average Rating?
To improve the overall average rating of your support team, you need to take measures such as:
Personalize support experience for your customers.

Offer omnichannel support experience that helps your customers avoid repeating their problems every time.

Focus on customer complaints and compliments to come up with great solutions that keeps everyone satisfied.

Work towards improving the wait time for your customers.
13. Average Queue Time
To let your customers know that whether they are in a queue to get support is important. That's why we have a metric called average queue time. It helps you understand the average number of customers who are waiting to get support from your team.
The only reason why this metric is crucial to your business and to measure the success of your live chat softw
are is because it helps you:
Track agent performance.

Set live chat performance benchmarks.

Learn whether you are short on support operators or not.
How to Improve Average Queue Time?
To reduce your average queue time, it is important that you and your operators take the following measures.
Make better use of canned responses to reduce response time.

Integrate knowledge base with live chat to reduce incoming chat flow by up to 80%.

Integrate help desk with live chat to let your customers know that they don't have to wait in a queue and that your operators will contact them.

Hire more operators in case the chat queue is long to make sure no customer leaves without a resolution.
14. Agent Utilization Rate
This live chat support metric helps you track the amount of time your operators spend on providing support to your customers. To track this metric for live chat agents, you can browse their timesheets in the reports section.
How to Improve Agent Utilization Rate?
It is essential for you to know how productive your operators turn out during a live chat session. Only then can you work towards the following measures to improve their utilization rate.
Create and set achievable customer support goals for the team to make sure they do not feel exhausted while accomplishing them.

Set achievable productive hour targets for your team members in different slots to make sure they do not have burnouts.
Conclusion
These are some of the key metrics that help indicate the success of live chat software. While there is room to get more granular with data, these essential metrics will help you get started with tracking customer satisfaction, operator efficiency, and overall support workflow – the factors that affect any company's long-term success!
The success of live chat use is dependent not just on the features it encompasses but also on the way how these features are used.
---
Now that we've taken into account the top 13 live chat metrics and KPIs that will help you measure its success and that of your team, let's take a look at some of the frequently asked questions below.
How to Improve Performance with Every Live Chat Interaction?
To improve performance with every live chat interaction, you can take up the following measures:
Always have empathy towards your customers

Always be active while having a conversation during an ongoing live chat session

Always take feedback once a chat comes to end for it helps you to train your support operators

Always find ways to personalize the conversation with your customers

Do not prompt your customers to spill all the beans, let them open up to you about their problems as and when the conversation unfolds
How to Measure Live Chat Agent Performance?
To see how your live chat agents are performing, all you need to do is keep a track of the following:
How prompt they are to recall product details and knowledge during an ongoing chat

How much have they contributed towards the increase in sales

How many visitors did they attend to and whether they were able to provide a solution during the first contact itself

How satisfied are your customers with the services provided by the agents

How many chats did individual agent answer to in a day

How fast was each agent to provide a response to your customers during the chat
How to Decide the Number of Chats an Individual Operator Should Manage at the Same Time?
To decide how many chats an individual operator should manage at the same time, you need to see:
How many chats are they managing currently?

Are they able to manage them with quality conversations?
If the answer to these questions is yes, then decide how many more can they handle with the existing ones? Understand this, chat routing can be a tricky business. If done right, you will be able to keep many of your customers happy. If not, then many will leave without receiving proper answers or quality service experience which might not prompt them to return to your brand.
Do you want a free Live Chat software?
We have the #1 Online Live Chat Software for instant customer support 24x7