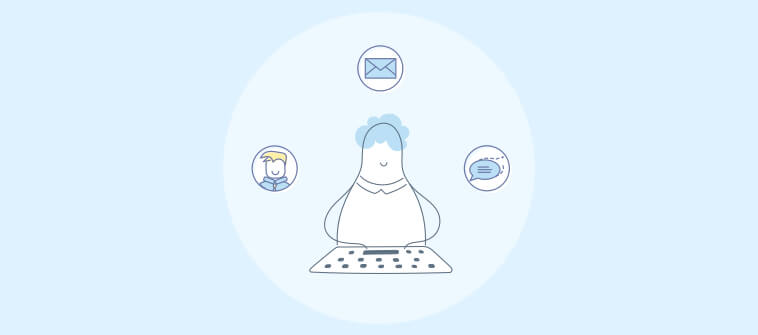 Millennials, or those between the ages of 18 and 35, hold a large portion of the market in commerce. They'll be responsible for $200 billion in annual buying power starting in 2017, according to Advertising Age, and by the end of their lifetimes, they'll have spent over $10 trillion in the commerce sector. Though they don't make up the bulk of buying power in commerce, they're still a force to be reckoned with.
Working with this customer base means recognizing and learning from millennials and their customer service demands. They're interested in very specific things and they don't like to be held back or distracted from their end goal. Businesses of all sizes can learn a thing or two about millennial customer service preferences in order to improve their overall customer experience.
Self-Service is a Must
Millennials have also grown used to the way that technology has made shopping a solitary act, and they like it that way. They'd prefer not to be too bothered as they make purchases, and all too often, millennials will abandon a purchase rather than dealing with a customer service rep.
Nothing is more frustrating to a millennial customer than an inability to help oneself with a customer service problem. They'll call a listed number as a last resort but they prefer other forms of communication, like chat boxes and contact forms, to make connections with companies.
Millennials Tend to Ignore Ads
Advertisements are simply not a huge motivating factor for millennials. According to findings from Forbes, only one percent of millennials say that a compelling advertisement has any influence on their purchasing decisions. Many even use ad blockers when they're surfing the web, which virtually eliminates their contact with the advertising world.
This isn't to say that advertisements are ineffective – they can still lead to conversions and brand imprintation. However, it does show that when dealing with customers, the advertisements used won't make customers instantly love you. You must use other tactics to keep customers involved in the relationship.
They Like Talking to People with Personality
Customer service reps tend to approach problems with that "on your best behavior" tone of voice. They speak slowly and carefully and are often more chipper than is necessary for the conversation.
Putting a little more personality into interactions is not only a welcome idea, but is also preferred. Though a rep should never introduce a personal bias or say something potentially offensive, it's okay to crack the occasional joke or share an opinion that could be beneficial to the experience.
Access to Multiple Devices
Pew Research Center shows that 86 percent of those between the ages of 18 and 30 have a smartphone, 73 percent own a laptop or desktop, and 45 percent own a tablet. They're often intermingling these devices and switching between consoles to do their shopping and interact with businesses.
These statistics show the necessity of providing responsive designs. A mobile-first strategy is also strongly recommended to improve navigation abilities. It's no longer enough to simply make websites responsive to different sized screens. Companies must also offer password remembering, easy payment, speedy loading, and the same personalization that desktop sites offer.
Social Influences Decision Making
Millennials spend more time on social media than any other age group. Their social consumption has become the status quo, and as a result, it's a big part of their decision making. Though they're not terribly interested in advertisements, they do want to forge relationships with businesses that are fun, inspiring, entertaining, and personable.
Recognizing social habits is a huge factor in successful customer service. The way millennials interact with companies online will dictate the way they want to work with any business. Watching and understanding these social signals will hail a new era for customer service.
Do you want a free Live Chat software?
We have the #1 Online Live Chat Software for instant customer support 24x7